Combine your favorite Mexican dishes in a bowl to make this incredibly flavorful, but simple Mexican rice bowl. Perfect for a weeknight dinner, or served buffet style at a gathering.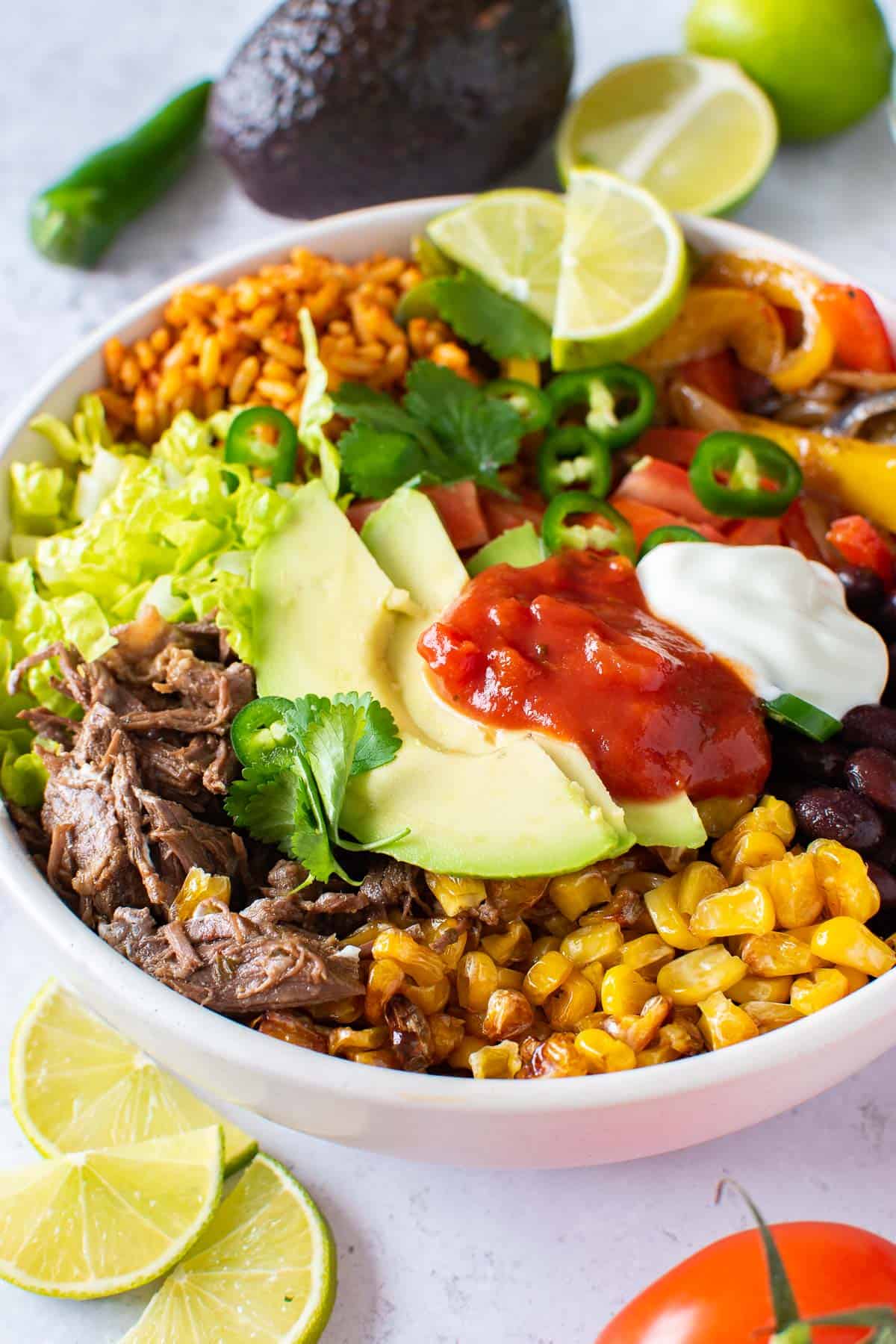 Jump to:
This post may contain affiliate links. Read more about it in the privacy policy.
Everything you love mixed in one bowl Mexican style. That's the best way I can describe this dish. It's like a beef burrito bowl or an unwrapped burrito in a bowl. And it's absolutely amazing.
This is one of my favorite types of dinners because it's so easy to put together, and you can vary it endlessly. It incorporates several smaller, easy Tex Mex recipes, which you can substitute, omit or add to as you please. This is also great if you're cooking for a crowd, since everyone can create their own plate with their favorite dishes and toppings.
If you're not a fan of Mexican beef recipes, don't worry - you can replace the beef with your favorite source of protein, like shrimp, fish, chicken, or beans.
💡 TIP! This dish is always popular with a crowd! Serve up a rice bowl buffet for your next birthday party or social gathering. You can even ask your guests to bring their favorite Tex Mex dish.
Why you'll love it
Easily customize the dish by adding your favorite ingredients
Make it dairy free, gluten free, vegan, low calorie, or suitable for any other dietary requirements
Adjust the recipe to prepare fewer or more servings as needed
A flavorful and colorful meal that's really easy to prepare
Fantastic alternative to taco night!
Experiment by adding new Mexican or Tex Mex side dishes
Adjust the seasoning in the dishes to make a mild or spicy rice bowl
Ingredients
This recipe will teach you how to make my version of a Mexican bowl, but you can honestly vary these ingredients so much. Here are some of my favorite ideas:
Rice: Use your favorite rice dish as a base for this recipe. You can use leftover plain basmati rice, a pouch of your favorite microwave rice, Nando's Spicy Rice, Instant Pot Mexican Rice, Instant Pot Cilantro Lime Rice, Chili Lime Rice, or any other rice recipe. I like to add some kind of taco seasoning or Tex Mex spices, just to add some flavor to the dish. However, white rice or brown rice also works perfectly fine!
Beef: I absolutely love my Instant Pot Shredded Beef for rice bowls, as it's so easy to make and always tastes amazing. You can also make taco seasoned ground beef, or substitute with a different type of meat, like grilled chicken breasts or crockpot pulled chicken. Omit the beef to make a veggie version.
Sauces: I love to add sauces as a topping. They are almost like a dressing for your rice bowl. I like to use salsa, sour cream, guacamole, or my favorite Tex Mex sour cream sauce. You can also add for example vinaigrettes, hot sauce, sriracha, or Cilantro Lime Aioli. Simply pick your favorites!
Black beans: I always love to add some cooked or canned black beans to my rice bowls. If you're not a fan, you can always omit them, or replace them with other beans like pinto beans, chickpeas, or black eyed beans. You can either add plain, drained beans to your bowl or add some lime juice or cilantro.
Corn: I'm a big fan of corn. As I don't have access to fresh corn for most of the year, I often use Roasted Frozen Corn or Air Fryer Corn on the Cob to cook frozen corn. You can also use canned corn or fresh corn from the cob. Add the corn fresh, or cook it first if you like.
Bell pepper: Fresh red bell peppers or green bell peppers taste fantastic with Mexican flavors. You can add raw, crunchy peppers to the rice bowls, but I like to make Sauteed Onions and Peppers. It only takes a few minutes, and it makes the dish taste like fajitas.
Fresh vegetables: Add any fresh veggies that you like. Cucumbers, red onions, tomatoes, radishes, grated carrots, lettuce, spinach, kale, green onions or scallions, and red cabbage are all great options.
Salads: You can also make a fresh salad to add to your Mexican burrito bowl. For example, Black Bean Corn Salad, or Quinoa Salad with Black Beans. You might find it easier to prepare a salad instead of serving individual vegetables.
Avocado: Add fresh cubed or sliced avocado, make your favorite guacamole or Avocado Lime Ranch Dressing. You can also make a small avocado salad. My favorite is Avocado Chickpea Salad. I love pairing avocado with Mexican inspired recipes, and this really makes the dish more filling.
Other additions: Try adding Mexican Potatoes, grilled halloumi, Swordfish Tacos, Air Fryer Tortilla Chips, Baked Sweet Potato Fries, Air Fryer Zucchini & Corn Fritters, Spiralized Potatoes, Air Fryer Kale Chips or any other side dishes or snacks that you like!
Topping ideas: Top your Tex Mex bowl with fresh cilantro, diced tomatoes or avocado, your choice of sauces, sliced jalapenos or chilies, or a drizzle of a flavorful dressing.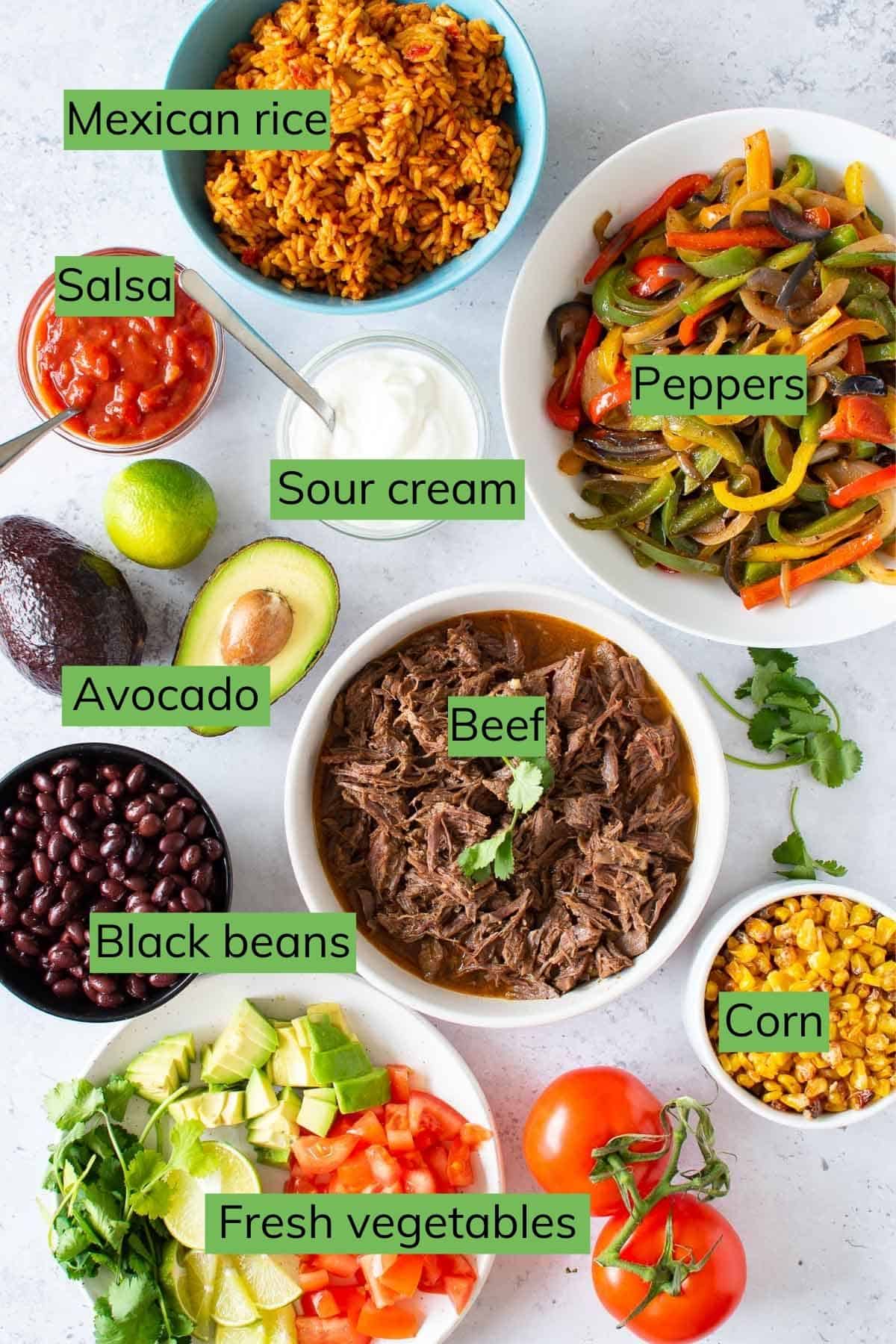 Instructions
You can find full instructions + ingredient measurements in the recipe card at the bottom of this page
One: Prepare your Mexican beef or any other type of protein. You can use any leftover beef, but I like Instant Pot Shredded Beef, ground beef, or Pulled Chicken.
Two: While the beef is cooking, you can cook several ingredients on the stove. For example, sautee vegetables, cook your rice, or make a sauce. I like to cook bell peppers and onions in olive oil and seasoning over medium heat as an easy veggie side dish.
Three: Roast ingredients in the oven. Diced vegetables, sliced smoked sausages, corn, and chickpeas are perfect to prepare this way.
Four: Lastly, combine the ingredients you have prepared, and serve. I like to plate everything nicely next to each other, but you can also mix everything together before you serve the rice bowl.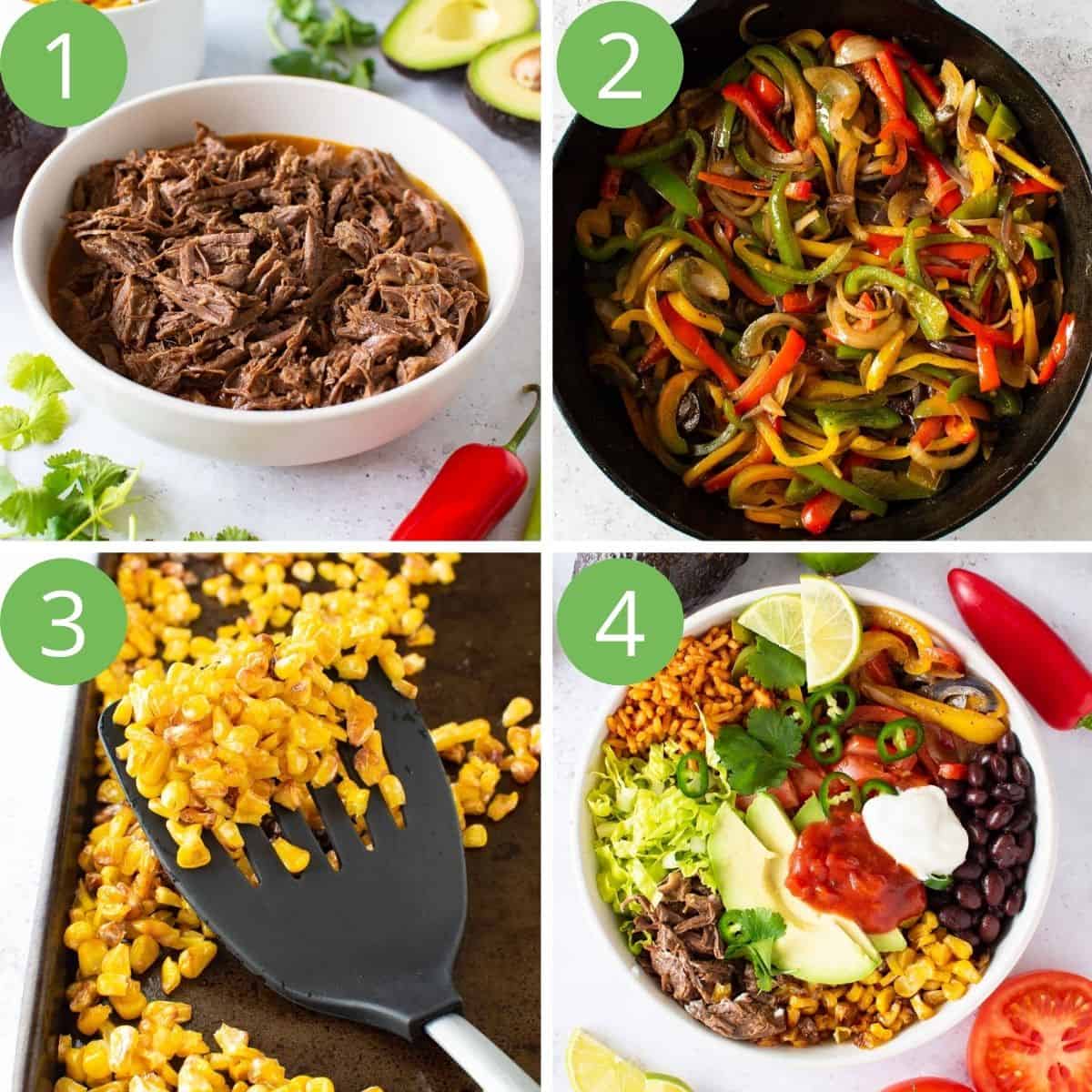 Top tips
Serve this dinner family style or buffet style. Allow everyone to assemble their own rice bowl with their favorite ingredients.
Make a healthy burrito bowl by using healthier cooking oils, and plenty of vegetables.
Start cooking the rice and beef first, as they will take longer to finish. You can prepare the other ingredients while you wait.
Keep the warm ingredients warm until you're ready to serve.
To save time, you can prepare some of the ingredients the day before, and simply reheat them when you're ready to enjoy the dish. For example, you can precook the rice and beef, or slice the vegetables in advance.
Make a simpler dish by only using 2-3 dishes. For example, you can make a Mexican brown rice burrito bowl by only using brown rice, shredded beef, and a salad. Or, for a vegetarian version; rice, salad and black beans.
💡 TIP! Don't know how to make Mexican rice for burritos? Tex Mex style rice is actually really simple to make in your Instant Pot. Prepare a big batch and freeze it down in portion sizes. You'll be able to make your favorite Mexican beef rice bowl anytime!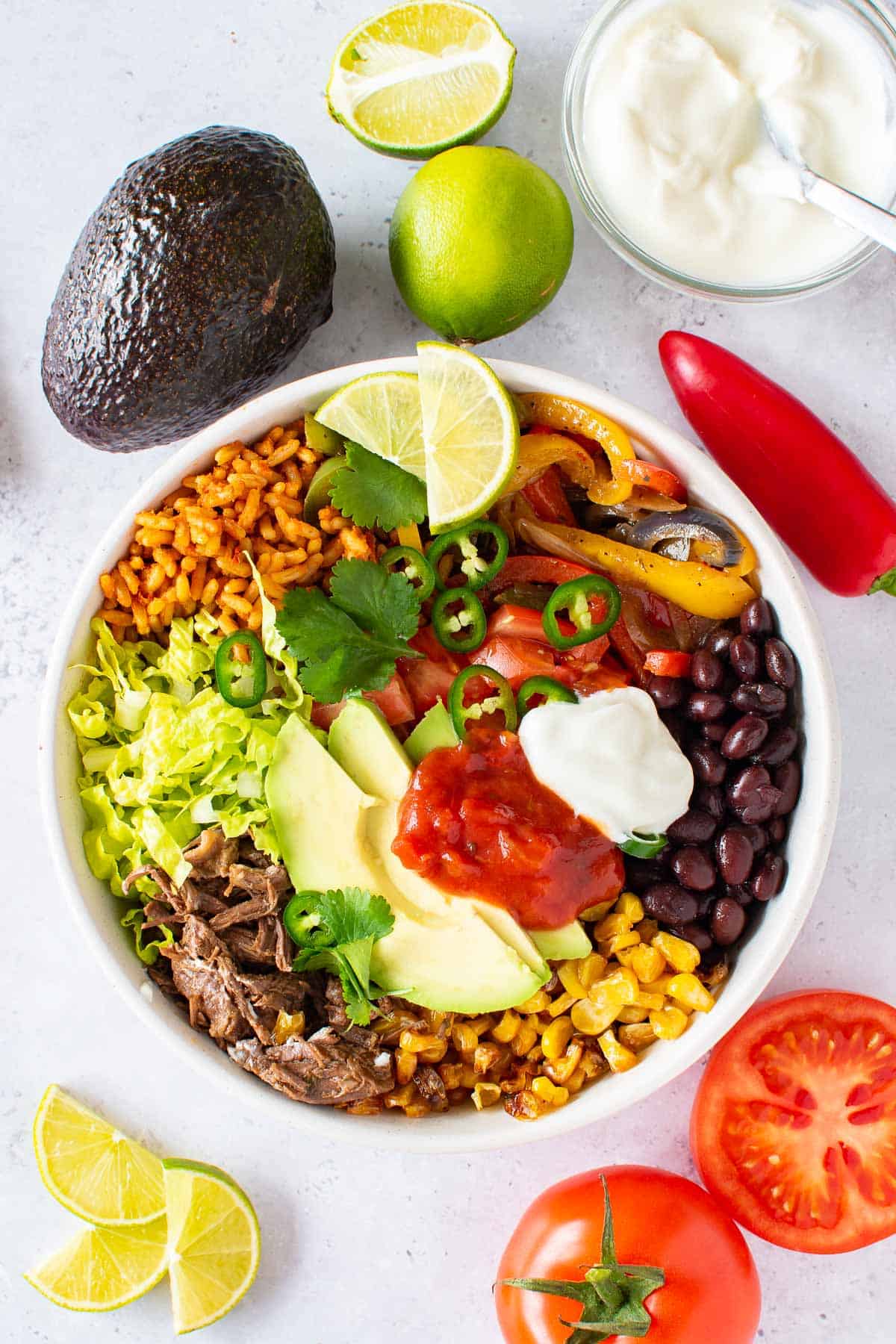 Variations
I always make this dish a little different every time I cook it. This is a fantastic one bowl dish that you can customize based on what's available in your fridge, what's available in your store, and what you feel like. In addition to all the ingredients suggested above, here are some fun variations that you can try:
Healthy Mexican bowl: Make this dish healthier by using a lean cut of beef, or substitute it for black beans, grilled chicken, or Fajita Stuffed Chicken. Make sure to add plenty of healthy vegetables as suggested above. If you want to make a lighter version with fewer calories, you can omit the sour cream or replace it with Greek yogurt, and use healthier brown rice.
Hot Mexican rice bowls: If you want to bring the heat, you can add a little spice to all of your ingredients. For example, add extra chili powder or cayenne to make spicy shredded beef or spicy Mexican rice. You can also top the dish with a spicy sauce, or serve with freshly sliced or chopped chilies.
All warm ingredients: If you want to meal prep this dish, I recommend that you omit cold ingredients like lettuce and avocado, and only add warm ingredients like cooked vegetables, rice, and beef. This allows you to easily reheat the whole bowl in the microwave, without separating out the different ingredients first.
All cold ingredients: As above, you can easily turn this dish into a Mexican salad bowl by only adding ingredients that taste good when served cold. You can still add rice and beef if you enjoy these cold. Then, add lettuce, tomatoes, chopped onions, and other salad ingredients that you like. Enjoy cold leftovers straight out of the fridge when you're ready to eat!
Equipment
The exact equipment needed to make this dish will vary, depending on which side dishes you want to include.
I like to prepare shredded Mexican beef in my Instant Pot or slow cooker. However, if you're preparing grilled chicken or taco ground beef, you can cook these in a skillet or on a griddle.
Additionally, you might need some pots or frying pans to prepare the other ingredients, like the rice and charred vegetables. If you want to bake or roast any ingredients, you will also need a baking pan or sheet pan.
I always recommend using a sharp knife and cutting board to safely cut your ingredients.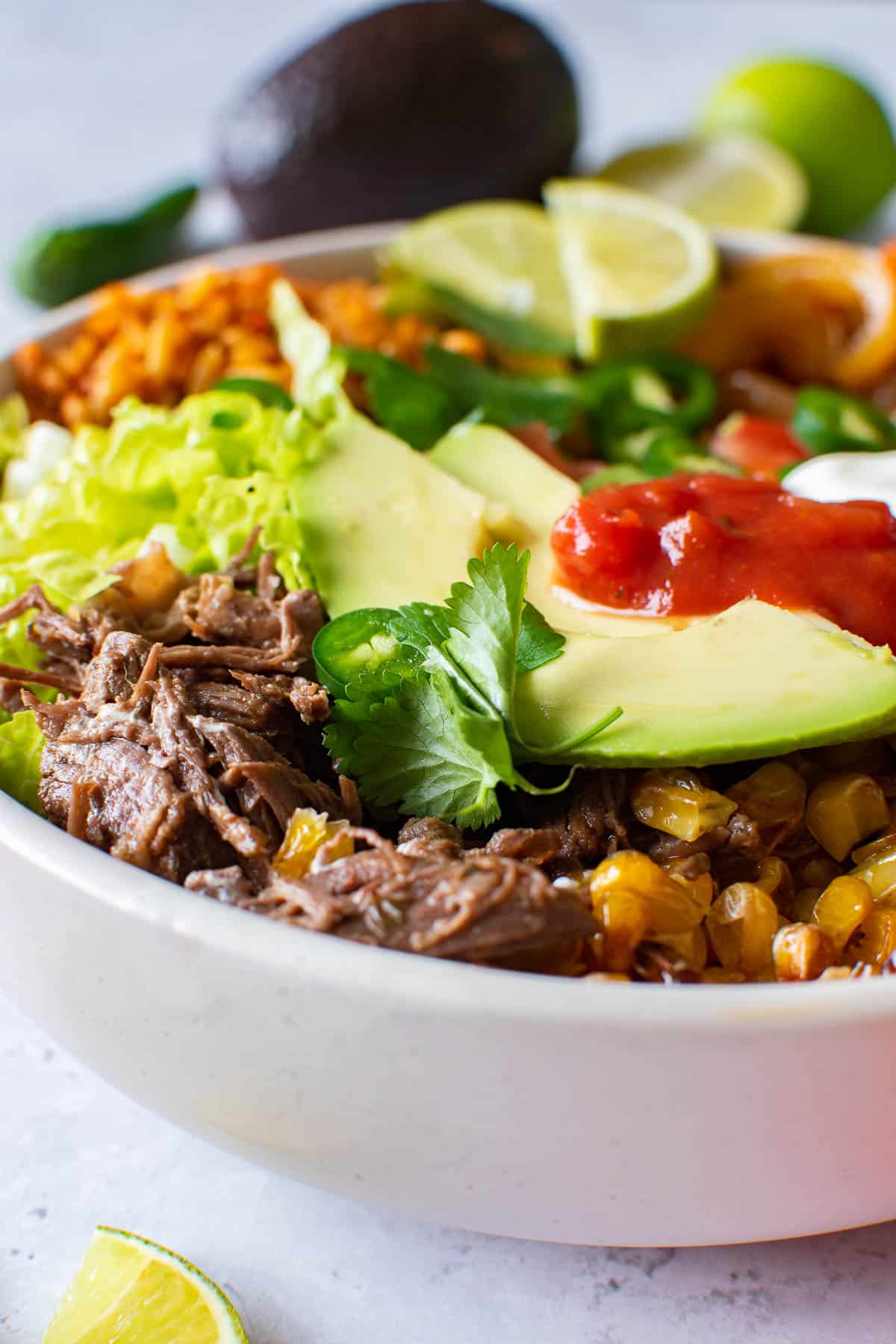 Storage
Store leftover rice bowls in sealed containers in a refrigerator for up to 2 days.
If you store the different ingredients separately, they will often keep fresher. This will also allow you to reheat the warm ingredients like rice and beef before you plate them with the cold ingredients.
Some ingredients can store much longer if kept separated. For example, fresh vegetables can store for many days, and the same goes with stir fried bell peppers or roasted corn.
You can reheat the dish in a microwave for a few minutes. The rice and Mexican pulled beef can also be reheated separately in a skillet, microwave, or air fryer before you assemble the bowls.
Frequently asked questions
What is a Mexican rice bowl?
A Mexican rice bowl or Mexican burrito bowl is simply a meal consisting of Mexican rice and various other dishes or ingredients, served in a bowl. It often includes black beans, salsa, beef or chicken, and side dishes or ingredients commonly used in Mexican cooking. For example, they often include onions, bell peppers, guacamole or avocado, cilantro, and tortilla chips.
Are Mexican rice bowls healthy?
You can absolutely make a healthy Mexican bowl or Tex Mex bowl; it just depends on which ingredients you use. If you make a bowl with vegetables and lean meat cooked in healthy oils, then the dish will be healthy.
What is the difference between Asian rice and Mexican rice?
The varieties of rice used in Asian and Mexican cooking are very similar. While Asian rice is usually cooked quite plain with minimal seasoning, or seasoned with Middle Eastern and Asian spices (think curry type spices), Mexicans tend to cook their rice with typical Mexican flavors (think taco style). Mexican rice has a lot in common with South Asian rice, as they are both often cooked with tomatoes, chilies, onions, and seasoning.
You might also like these recipes
If you make this recipe, make sure to post a photo to Instagram with #hintofhealthy!
Recipe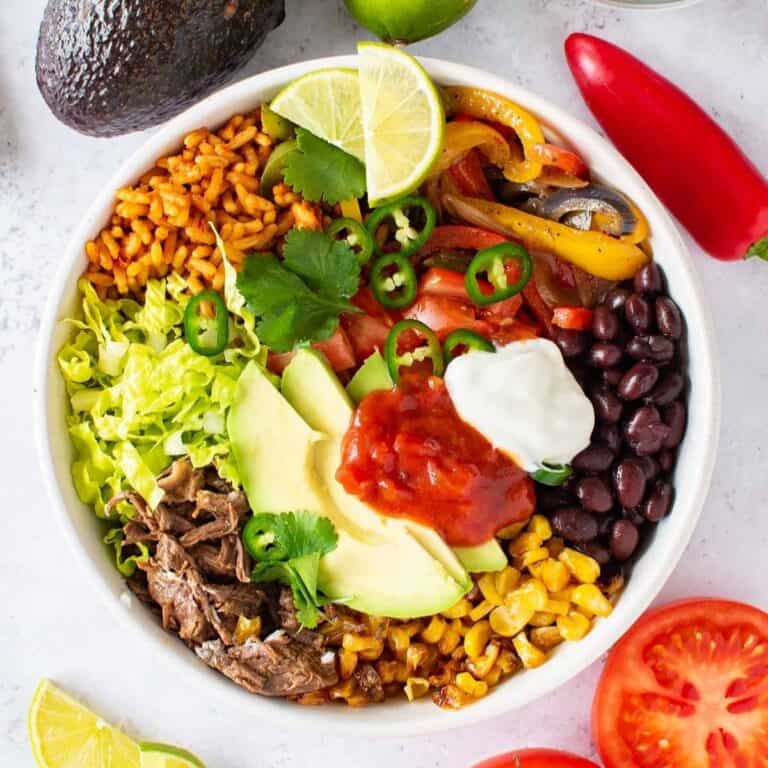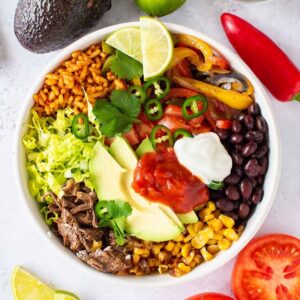 Mexican Rice Bowl
Make the best Mexican rice bowl by combining shredded beef and Mexican rice with your favorite side dishes. This healthy burrito bowl is easy to make and tastes absolutely delicious. A new family favorite that everyone will love!
Instructions
Prepare your rice, beef, corn and cooked vegetables. You can use the recipes found by clicking the links above, use your own recipes, or buy these dishes precooked. For example, feel free to use microwave Mexican rice pouches if that is easier.

2 cups Mexican rice,

2 cups shredded beef,

2 cups roasted corn,

2 cups sauteed bell peppers and onions

Wash, and dice or slice the cilantro, tomatoes, avocado and lettuce. Slice the limes.

1 avocado,

⅓ cup cilantro,

2 tomatoes,

2 cup lettuce,

2 limes

Drain and rinse the black beans.

Combine the prepared dishes in a bowl, and add the fresh vegetables.

1 cup salsa,

1 cup sour cream

Serve with a few slices of lime, and a spoonful of salsa and sour cream on top of each bowl. Alternatively, serve the meal family style, and allow everyone to assemble their own bowl with the dishes they prefer.
Notes
Serving idea: Prepare Mexican style side dishes, and serve them like a buffet. Allow everyone to assemble their own rice bowls.
Storing: Store any leftovers separately in the refrigerator to keep them fresh. The beef and rice can be stored for up to 2 days, and reheated in a microwave. The vegetables normally stay fresh for longer.
Alternative ingredients: The dishes listed in this recipe are only suggestions. Feel free to replace any of them with any other Mexican dishes you love. I have recommended many alternatives in the post above.
Cooking time: The exact cooking time and ingredients needed will vary depending on which dishes you add to your rice bowl. You should be able to prepare everything in less than 1 hour in total. If you replace the shredded beef with a quicker recipe, the cooking time is reduced to 30-40 minutes.
Nutrition
Calories:
486
kcal
Carbohydrates:
50
g
Protein:
25
g
Fat:
23
g
Saturated Fat:
9
g
Polyunsaturated Fat:
2
g
Monounsaturated Fat:
10
g
Trans Fat:
1
g
Cholesterol:
74
mg
Sodium:
410
mg
Potassium:
1126
mg
Fiber:
10
g
Sugar:
9
g
Vitamin A:
2671
IU
Vitamin C:
83
mg
Calcium:
108
mg
Iron:
4
mg
Food safety tips
Do not use the same utensils on cooked food, that previously touched raw meat
Wash hands after touching raw meat
Don't leave food sitting out at room temperature for extended periods
Never leave cooking food unattended
Use oils with high smoking point to avoid harmful compounds
Always have good ventilation when using a gas stove