The secret to eating an entire bag of kale in one sitting? Turn them into kale chips! These crispy air fryer kale chips are an excellent healthy snack, and you can make them in only 5 minutes.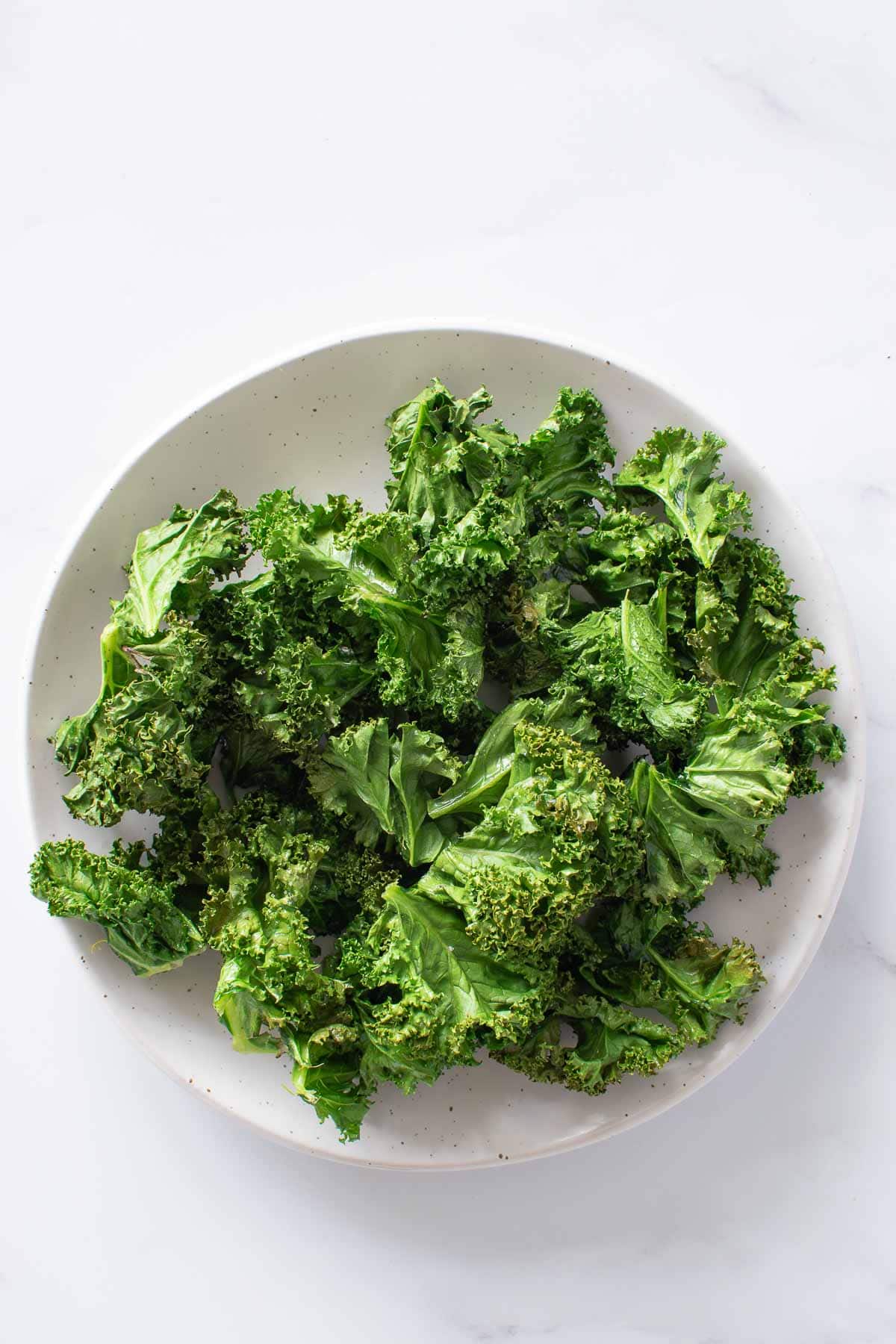 Jump to:
This post may contain affiliate links. Read more about it in the privacy policy.
Kale chips are pieces of kale that are baked or roasted until crispy. The kale has the consistency of really thin chips, with a great kale flavor.
This dish makes for a great healthy snack, an amazing crispy topping for savory meals like soup, and is one of my favorite ways to serve kale.
Why you'll love it
A super easy healthy snack
Choose your seasoning based on your preferences
Suitable for most diets. These chips are vegan, keto friendly, low carb, whole30, paleo, vegetarian, dairy free, gluten free and soy free.
A great way for kids and adults to eat leafy greens
Serve as a snack, crispy side dish, or topping for soups, salads or sandwiches
🍴 More AIR FRYER RECIPES from Hint of Healthy
Ingredients
Kale: Use any raw, cleaned kale. There are lots of different types of kale, but curly kale or lacinato kale, also known as dinosaur kale or cavolo nero, are best for kale chips.
Olive oil: The olive oil helps to make the kale crispy. You only need a tiny amount.
Salt: The salt is optional, but adds a little flavor to the kale chips. You can also use any other seasoning - there are lots of suggestions in the seasoning section of this post.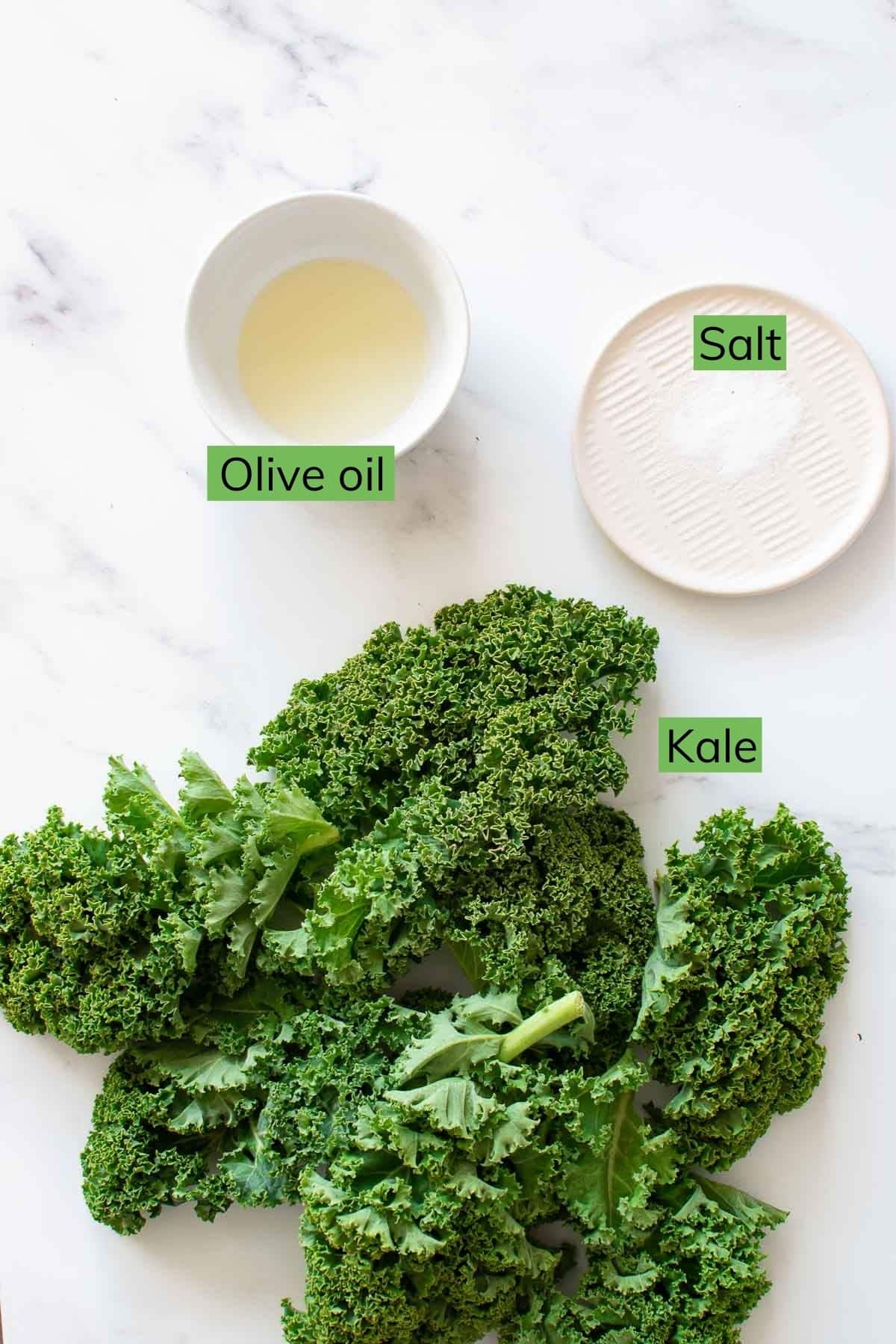 Instructions
These air fryer kale chips are really easy to make!
Simply wash and dry your kale, and cut or rip it into bite sized pieces. Then, add your kale to a mixing bowl with olive oil and salt, and stir to coat the leaves evenly.
Preheat your air fryer to 375 °F / 190 °C, and air fry for about 2-3 minutes. Shake the air fryer basket occasionally.
The kale chips can burn really fast, so I like to check them every 20 seconds. Touch them with your hands to check that they are crispy.
The chips will shrink a little as they cook, and the color should turn bright green.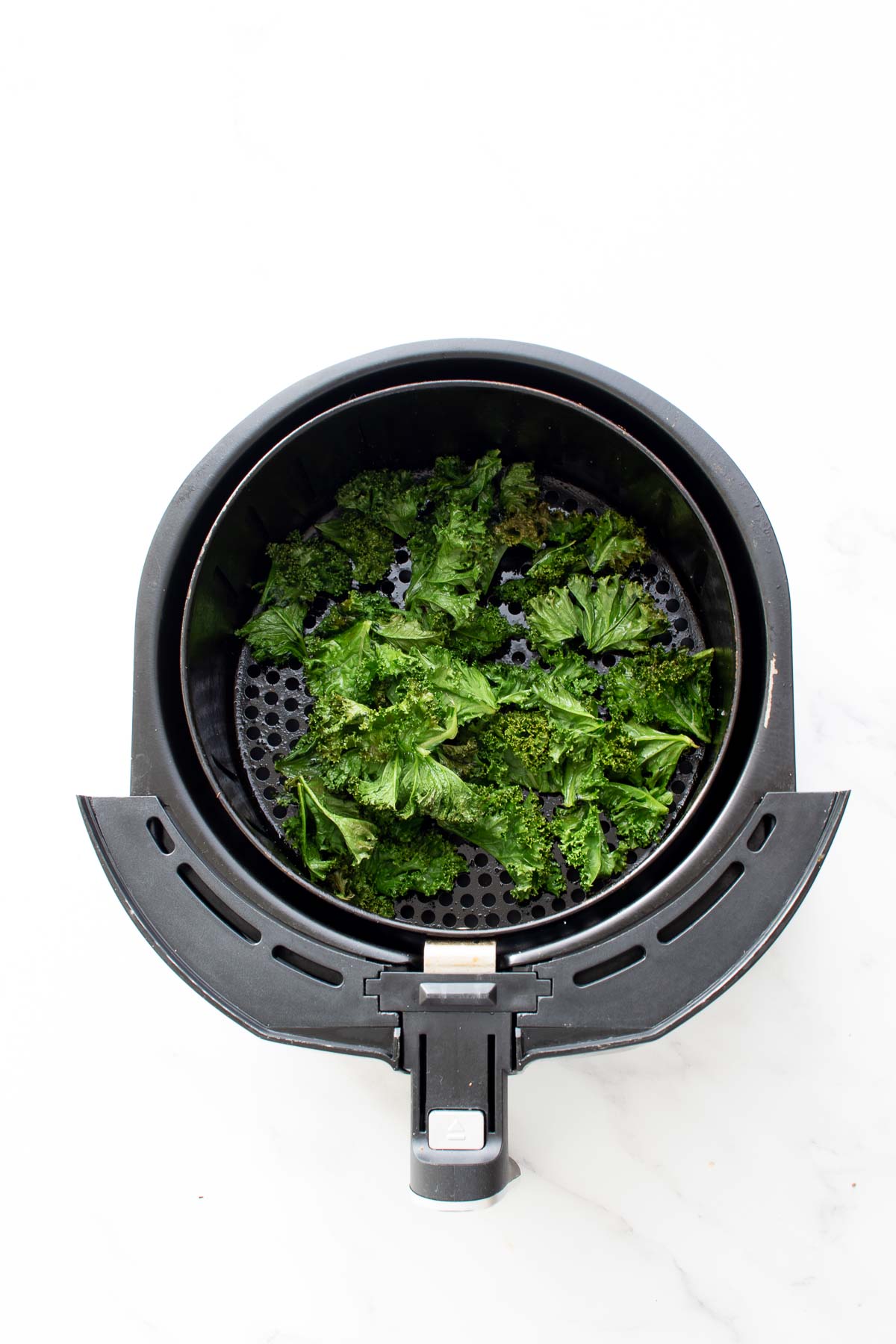 Top tips
These chips can go from perfectly crisped to burned within 30 seconds. Keep an eye on them!
Your air fryer might cook faster or slower than suggested.
The chips look extra nice if you cut the kale into larger leaves.
Serving suggestions
Air fryer kale chips are best served as a healthy, savory snack. I also like to serve them as a crispy topping for dishes like soups or sandwiches, or add them to salads for a little extra crisp. Here are some dishes I like to pair them with: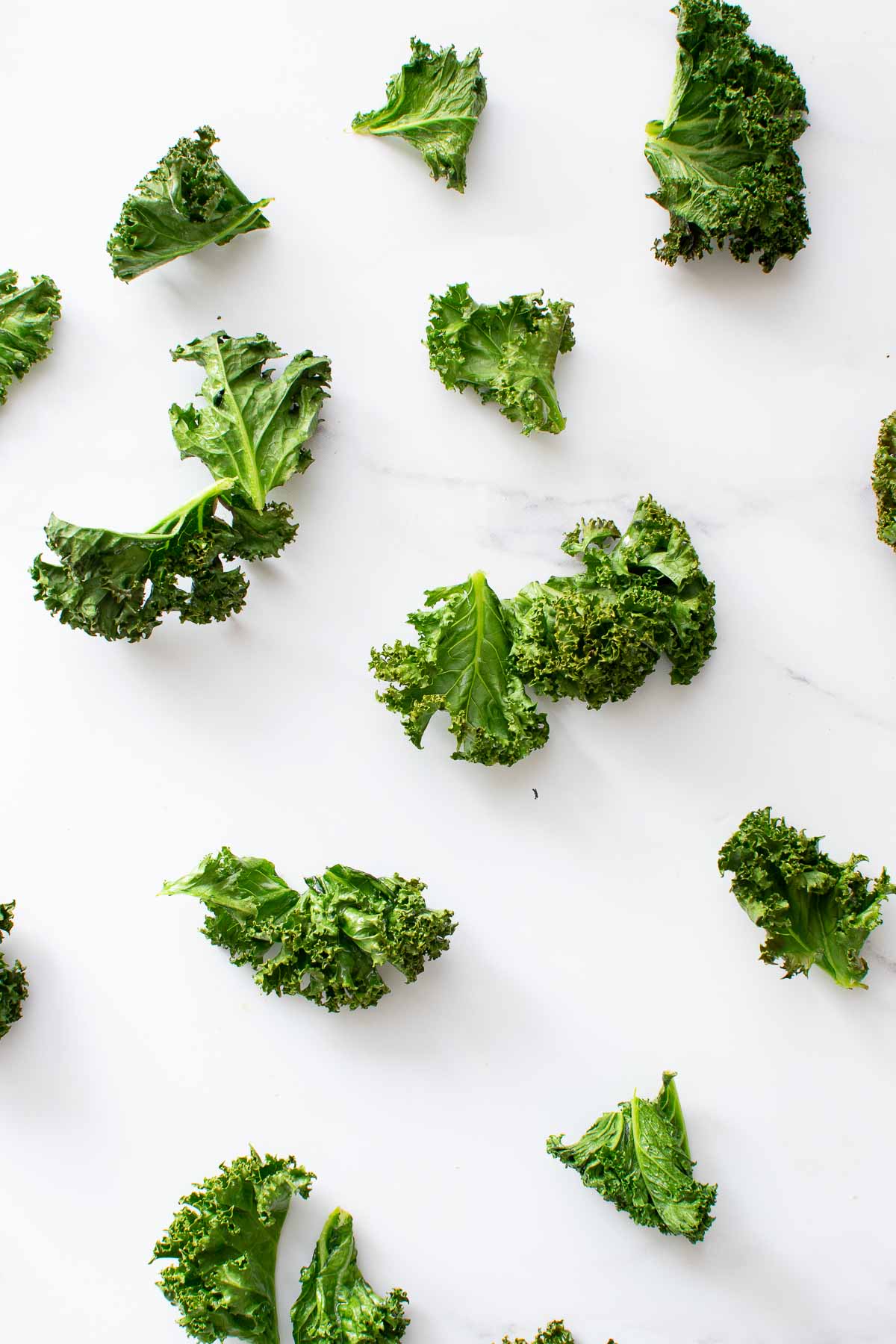 Kale chips seasoning
Spicy kale chips: Add ¼ teaspoon chili powder, or a pinch of red pepper flakes to make the kale chips a little spicy.
Lemon garlic: Add a drizzle of lemon juice and ¼ teaspoon garlic powder. This is a great option if you want to add some more flavor to the chips.
Smoky BBQ flavor: Add some BBQ seasoning, or a combination of smoked paprika, garlic, cumin and salt.
Parmesan: For a cheesy twist, you can coat the chips in a little grated Parmesan. The cheese can be added before or after air frying.
No oil: You can omit the oil if you please. Keep an eye on the chips, and shake the basket well to prevent the leaves from sticking to the bottom.
Leftovers
You can store air fryer kale chips in an airtight container at room temperature for up to 5 days. Avoid freezing or refrigerating the chips, or they will become soft.
These chips are so quick and easy to make, and a great healthy meal prep snack for the lunchbox. Make a big batch, and portion them out for the week.
🍴 More AIR FRYER RECIPES from Hint of Healthy
Frequently asked questions
Why are my kale chips brown?
Kale turns brown when burned. Kale chips can burn quickly, so watch them carefully as they cook, and remove them from your air fryer as soon as they are crispy.
Are air fryer kale chips crispy?
Absolutely! Air fryer kale chips are just as crispy as oven baked chips, but are much faster and easier to make.
You might also like these recipes
If you make this recipe, make sure to post a photo to Instagram with #hintofhealthy!
Recipe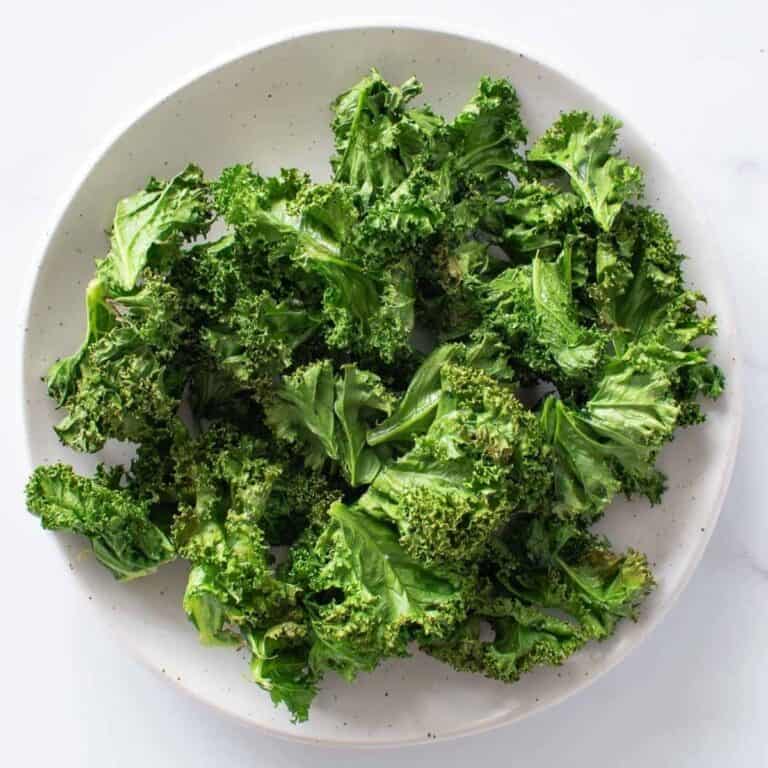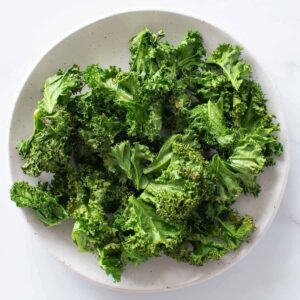 Air Fryer Kale Chips
These crispy air fryer kale chips are perfect as a healthy snack, and you can make them in less than 5 minutes.
Instructions
Wash the kale, and allow it to dry completely.

Preheat your air fryer to 375 °F / 190 °C.

Remove the tough stem from the kale, and rip of cut the leaves into bite sized pieces. Add them to a mixing bowl, along with salt and olive oil. Coat the leaves evenly in the seasoning.

Add the kale to the air fryer. Depending on the size of your air fryer, you might want to cook the chips in 2-3 batches; make sure not to overcrowd the basket.

Air fry the kale chips for 2-3 minutes, and shake the basket every 30 seconds. The chips are done when they are crispy, or slightly golden on the edges.
Notes
Store kale chips in a sealed container at room temperature for up to 5 days.
Nutrition
Calories:
25
kcal
Carbohydrates:
3
g
Protein:
1
g
Fat:
1
g
Saturated Fat:
1
g
Sodium:
303
mg
Potassium:
160
mg
Vitamin A:
3247
IU
Vitamin C:
39
mg
Calcium:
49
mg
Iron:
1
mg