Air fryer asparagus is a simple, easy side dish you can prepare in less than 10 minutes.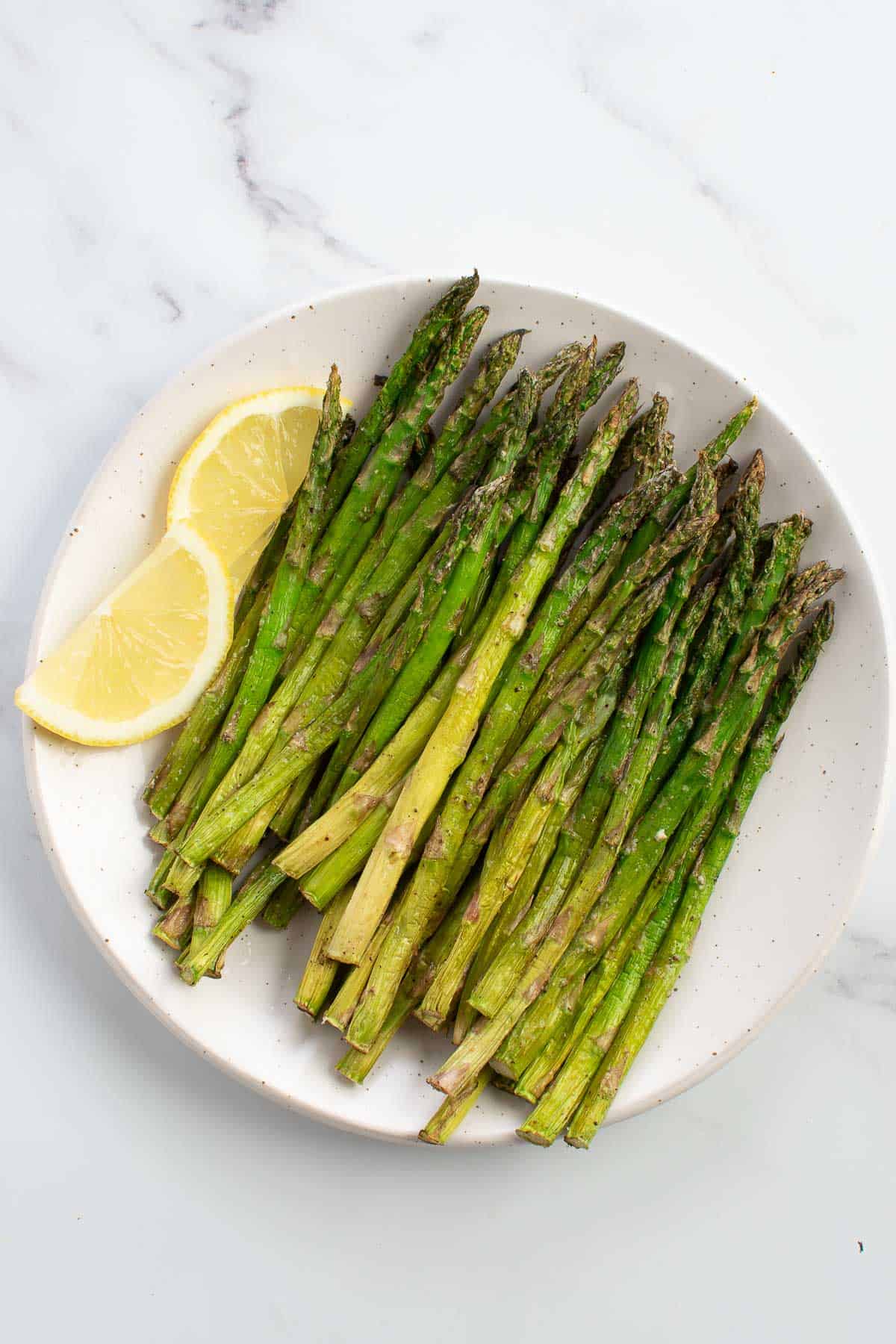 Jump to:
This post may contain affiliate links. Read more about it in the privacy policy.
Why you should cook asparagus in the air fryer
It's much faster than roasting asparagus in the oven.
The texture is spot on; perfectly roasted asparagus.
This dish is one of few that's suitable for almost any diet, including vegan, keto, low carb, low fat, whole30, paleo and more.
Asparagus is healthy AND tasty. No compromises!
Objectively one of the best in-season vegetables for spring.
Ingredients
You will want to use fresh, raw asparagus in this recipe. I don't recommend using frozen asparagus, as it tends to be quite soft when it's cooked, rather than roasted and crunchy.
Additionally, you will need olive oil or cooking spray, salt and pepper, and optionally lemon and garlic powder or any other seasoning that you like.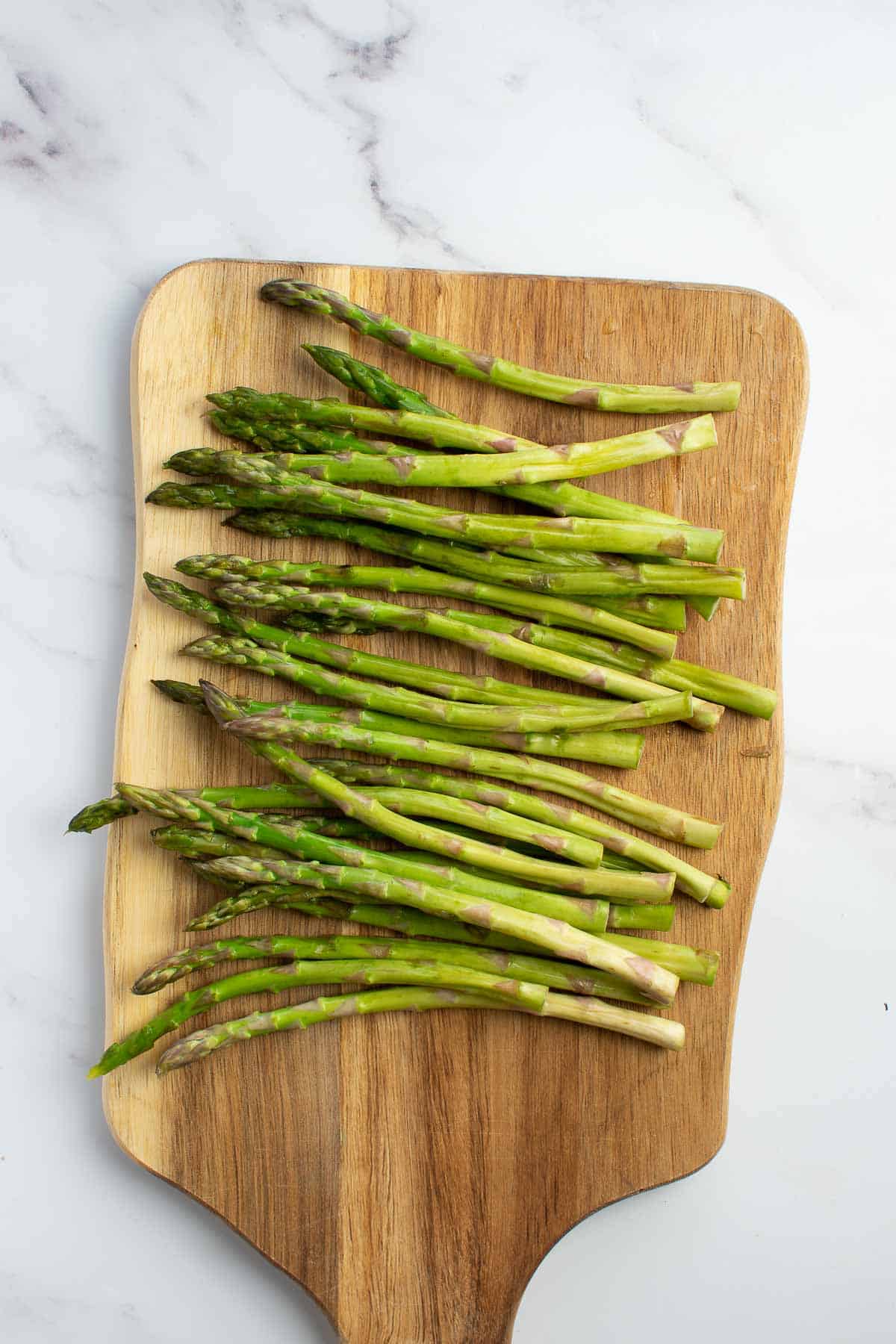 💡 TIP! I like to experiment with seasoning on plain vegetables. If you enjoy a little spice, I recommend adding some red pepper flakes to your asparagus. It's delicious!
Instructions
This recipe could not be easier! All you have to do is simply coat the asparagus with olive oil, and season.
Then, air fry the vegetables at 400 F / 200 C for about 5-7 minutes, or until they are roasted. They should be tender, slightly browned or charred, but still have some bite to them.
Thicker pieces of asparagus will typically need 7 minutes of cooking time, while thin, small stems usually only require 5 minutes. The exact cooking time can also vary slightly depending on which air fryer you use.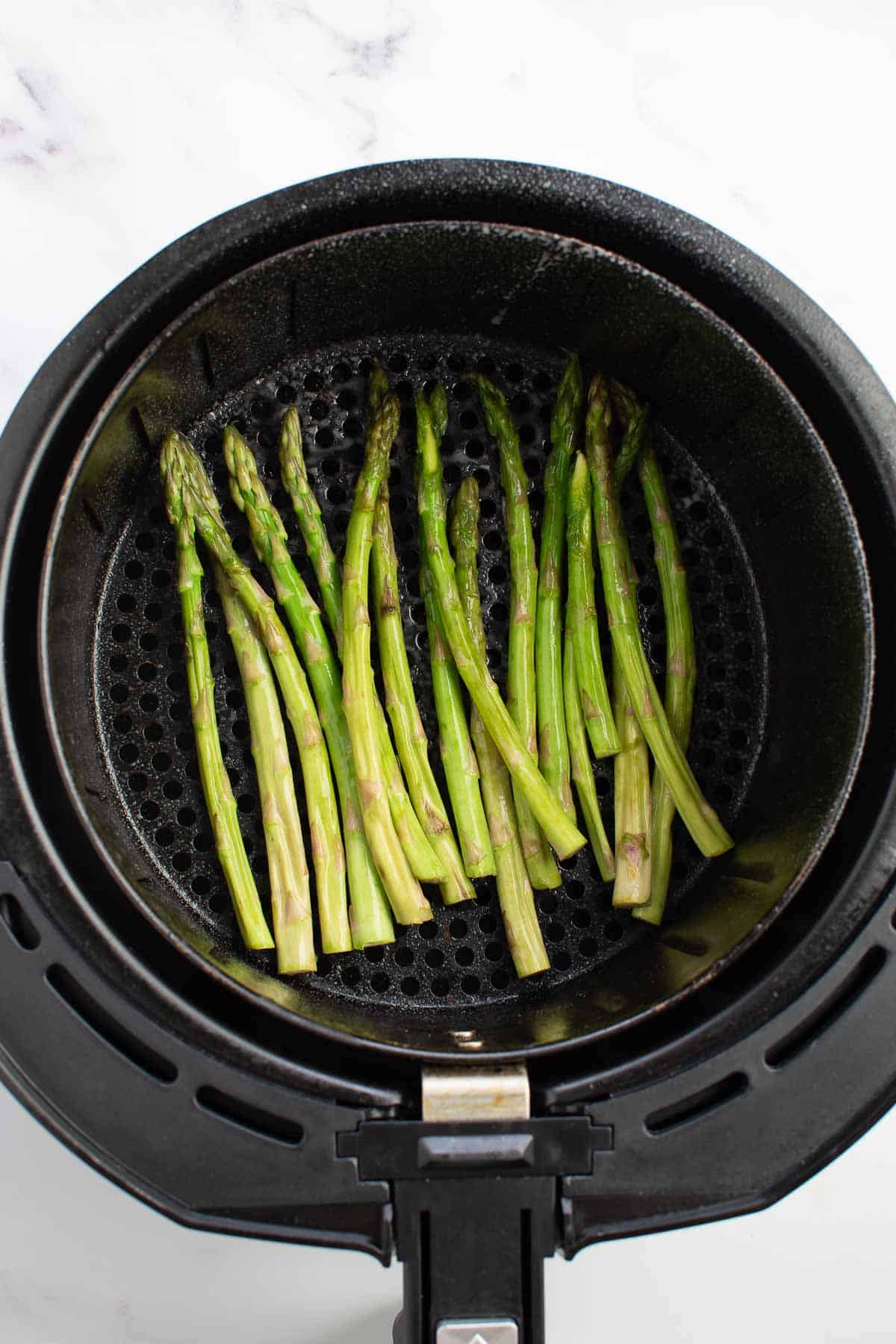 Top tips
Here's my best tips to succeed with this recipe:
As different air fryers can cook a little differently, you should keep an eye on the asparagus to make sure they don't burn. Note down the cooking time your air fryer needed for next time!
Don't be afraid to add toppings to your vegetables before serving. Lemon juice, Parmesan, finely chopped mint or parsley, or yogurt dill sauce can make the dish a lot more enjoyable.
Browse my collection of healthy air fryer vegetable recipes for more meal ideas.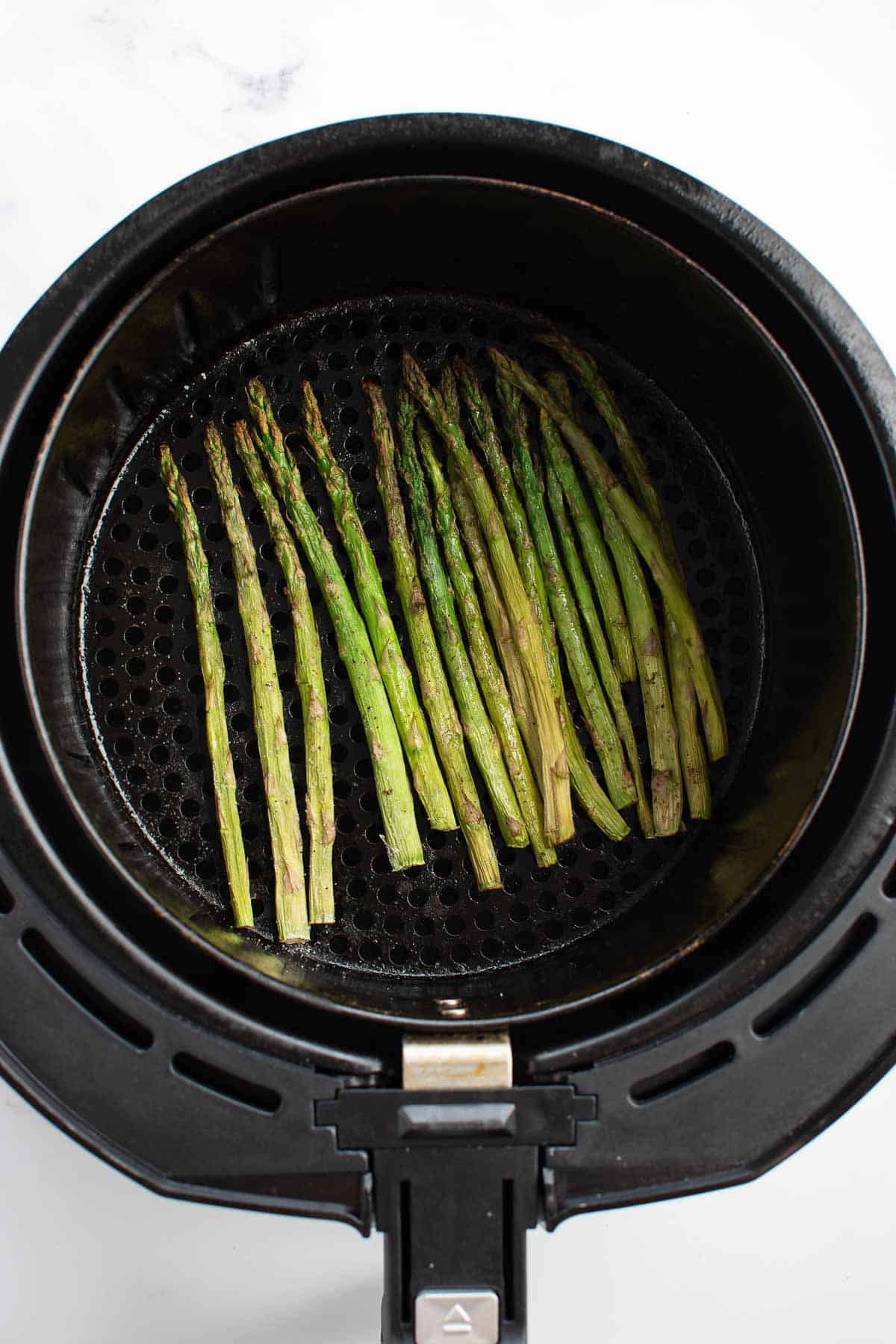 Serving suggestions
Air fried asparagus can be used as an ingredient in dishes such as salads and quiches, or enjoyed as a healthy side dish for any meal. It's such a simple and basic recipe that it pairs incredibly well with almost any entree. Here are some of my favorite serving suggestions: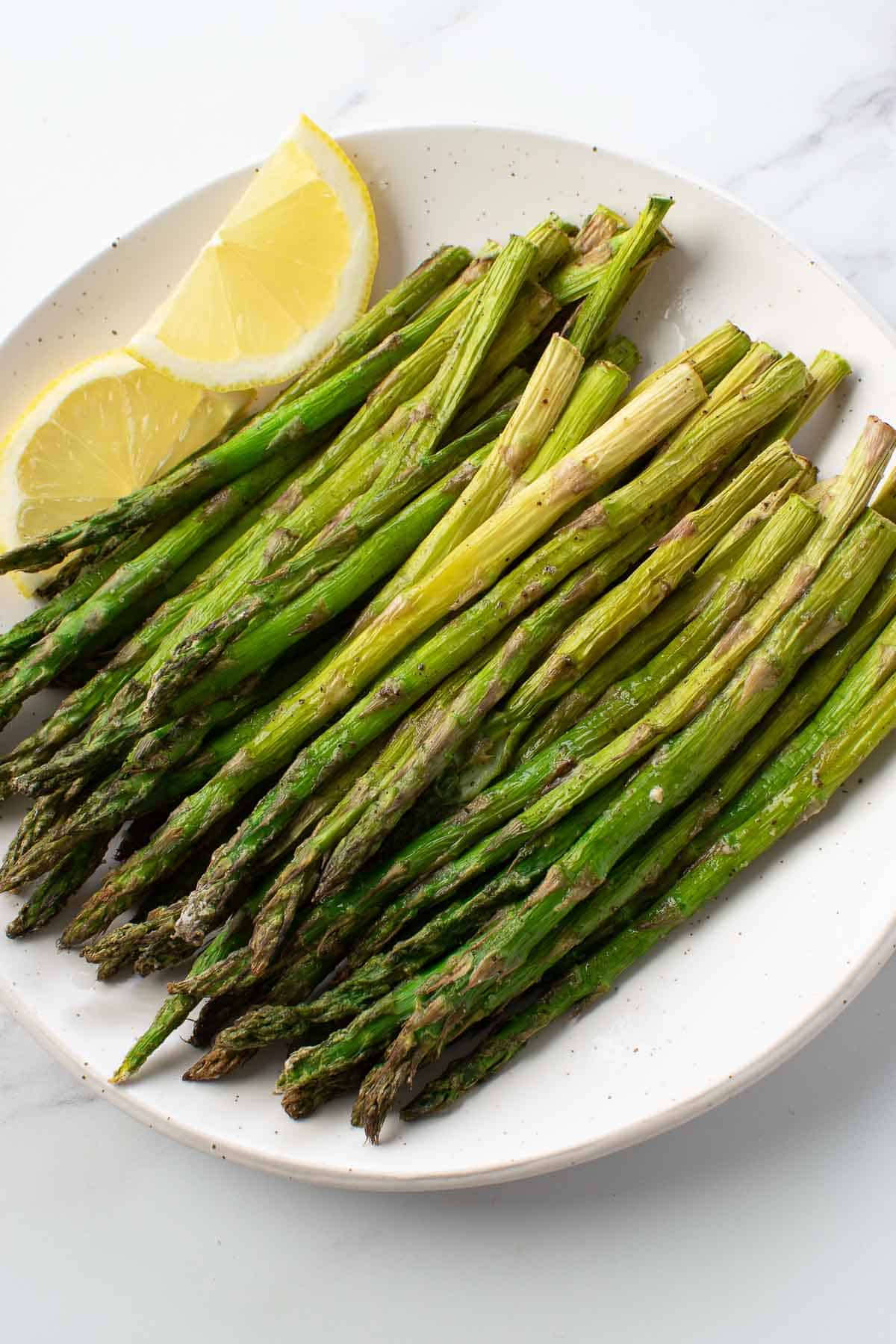 Variations
With other veggies: You can air fry asparagus with other vegetables that take the same amount of time to cook. Try cooking them with green beans, onions, mushrooms cut in half or sliced peppers to prepare multiple vegetables at the same time.
With toppings: Top your air fryer asparagus with Parmesan, feta cheese, sun dried tomatoes, sauces, dressings, red pepper flakes, lime juice, fresh herbs, vinaigrette and more for a different flavor profile.
Different seasoning: Feel free to experiment with different seasoning. Salt and pepper is a great combination, but adding a little garlic powder, onion powder, smoked paprika, cumin or dried mint can completely change the dish.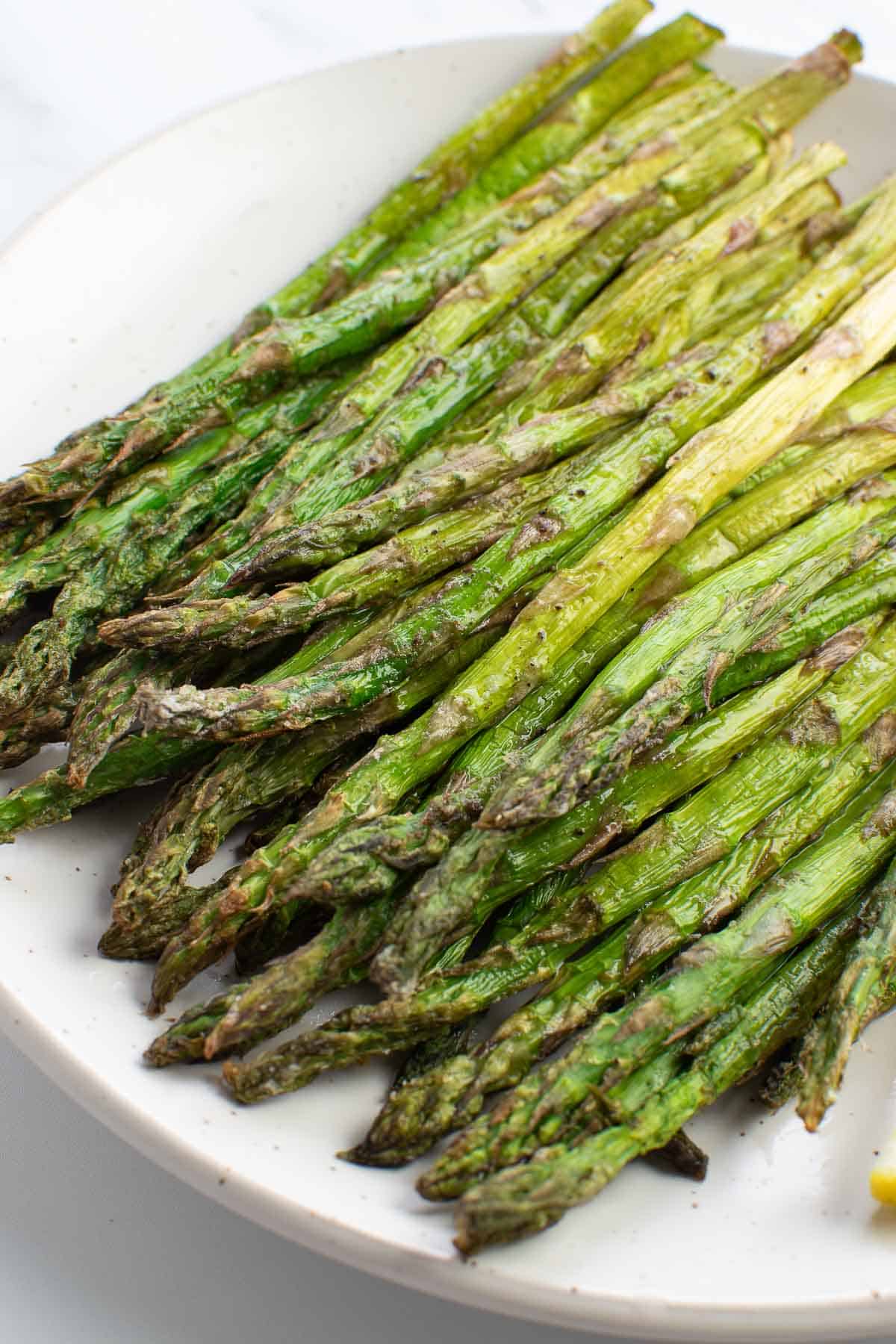 Leftovers
You can store leftover asparagus in a sealed container in a refrigerator for up to 3 days. The asparagus will soften, but still tastes great. I like to reheat it in a microwave or air fryer for a few minutes, before serving it as a side or using it in other dishes.
Frequently asked questions
Do you rinse asparagus before cooking?
Yes! Rinse the asparagus thoroughly under cool running water before cooking to remove any debris and grit.
How do you know when asparagus is done?
Asparagus is done when it's tender, but still crisp. If you're not certain, you can do a little taste test to see if it's to your liking.
Can you eat asparagus raw?
Yes, you can definitely eat asparagus raw, however, it tends to be a little tough, which is why it's more common to cook it first.
You might also like these recipes
If you make this recipe, make sure to post a photo to Instagram with #hintofhealthy!
Recipe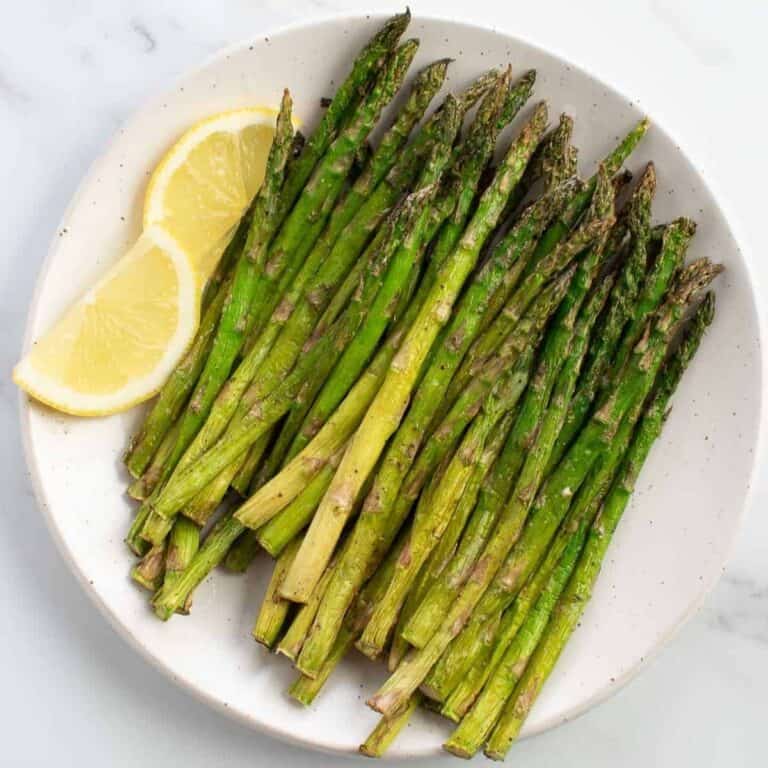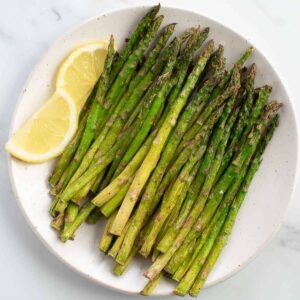 Air Fryer Asparagus
Air fryer asparagus are incredibly easy to make in less than 10 minutes, and make for the perfect healthy side dish. Suitable for any diet, this is truly a fantastic way to enjoy this vegetable.
Instructions
Rinse the asparagus, and cut off the tough ends of the stalks.

Add the asparagus to the air fryer basket, and add seasoning and olive oil. Shake the basket, or turn the asparagus with tongs to make sure that they are all coated evenly.

Air fry at 400 F / 200 C for about 5-7 minutes, depending on the thickness of the asparagus. Thin stalks only require 5 minutes, thicker stalks require up to 7.

Remove the asparagus from the air fryer, and optionally drizzle some lemon juice over the top. Serve immediately.
Notes
Store leftover asparagus in a refrigerator for up to 3 days. Reheat in a microwave or air fryer.
You can season the dish however you like.
Nutrition
Calories:
60
kcal
Carbohydrates:
10
g
Protein:
5
g
Fat:
1
g
Saturated Fat:
1
g
Sodium:
296
mg
Potassium:
473
mg
Fiber:
5
g
Sugar:
5
g
Vitamin A:
1701
IU
Vitamin C:
20
mg
Calcium:
54
mg
Iron:
5
mg