Here is a great alternative for your next Taco Tuesday! These pulled chicken thigh tacos are prepared in the slow cooker, and assembled in no time. Topped with creamy guacamole and your favorite veggies, this makes for an excellent, healthy weeknight dinner that the whole family will love. The slow cooker makes the preparation really fast, as the meat is already finished by the time you are ready to eat.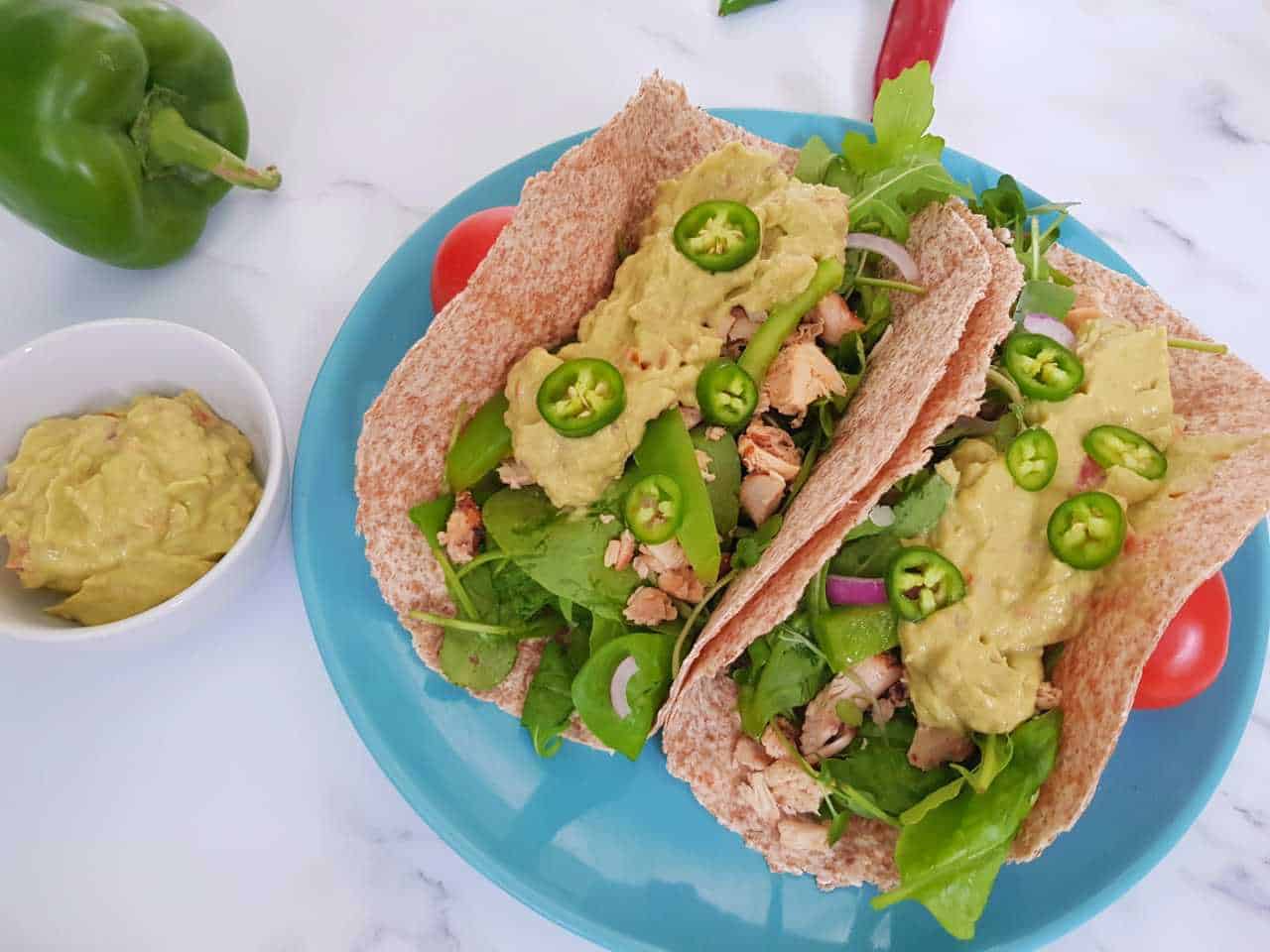 This post may contain affiliate links. Read more about it in the privacy policy.
What do I need to make pulled chicken thigh tacos?
Chicken thighs
Spices (taco spice mix or several Mexican spices)
Tortillas or wraps
Your preferred toppings. I used leafy greens, green peppers, red onion, this awesome guacamole, and green chilies.
You also need a slow cooker, a knife and a chopping board. The slow cooker takes about 6-8 hours, but you can leave it for longer as well. I turned mine on before I left for work, and it was done when I got home 9 hours later. All I had to do was pull the meat apart and assemble the tacos. Talk about quick dinner!
How do you make pulled chicken in a slow cooker?
Making slow cooker pulled chicken is easy! Add chicken and spices to the slow cooker. Cook on "low" setting for 6-8 hours. Remove the chicken from the slow cooker. Use two forks to pull the flesh apart, or cut into small pieces with a knife. Make sure to remove all bones and skin. Use the spices you prefer - there is a lot of room for improvisation in this dish. Feel free to use a taco spice mix. If you want to add more spice, add some sriracha, chili sauce or hot sauce either while cooking, or stir it in after pulling the chicken apart. This recipe calls for quite standard taco flavors, and is family friendly with little to no heat.
Can you freeze pulled chicken?
Pulled chicken lasts for up to 5 days in the fridge, and is perfect for leftover meals. Let it cool down before you add it to an airtight container. Alternatively, you can freeze pulled chicken thighs for up to 3 months.
More tacos
Recipe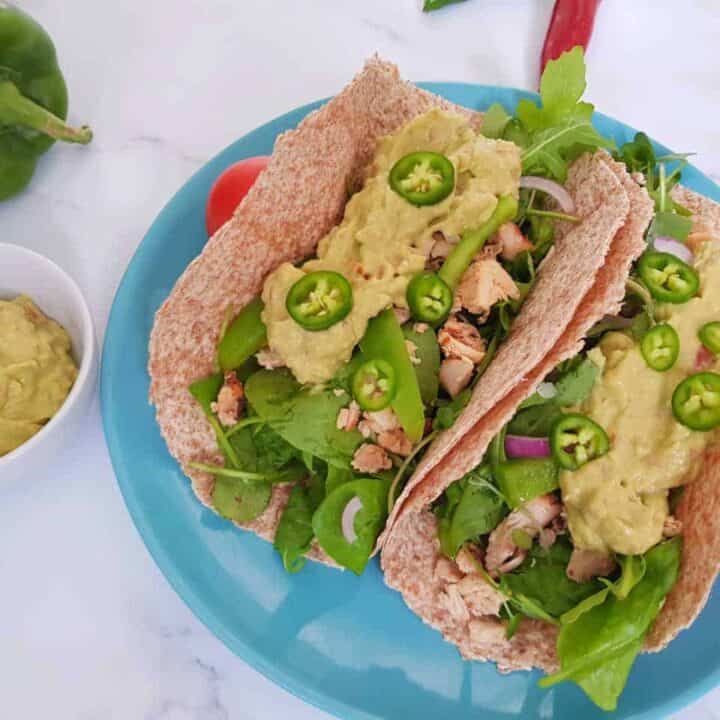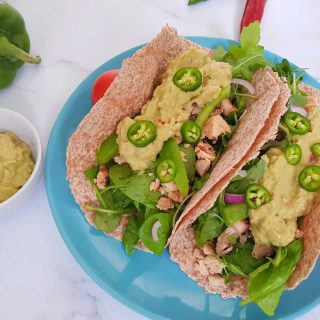 Pulled chicken thigh tacos
These pulled chicken thigh tacos are a healthy, delicious alternative for Taco Tuesdays. Use a slow cooker to make the chicken tender. When you are ready for dinner, simply assemble with guacamole and your favorite taco toppings.
Instructions
Add the chicken thighs to a slow cooker, skin side up

Combine the spices in a bowl, and sprinkle over the chicken

Cook on "low" setting for 6-8 hours

Remove chicken from the slow cooker, and remove bones and skin. Use a fork or knife to pull the meat apart.

Assemble on tortillas with your favorite taco toppings
Notes
This dish requires some planning, as you have to start the slow cooker hours before you eat, but in return you don't have to worry about spending the afternoon in the kitchen!
Use your favorite toppings. 
I used my favorite guacamole, green peppers, green chilies, mixed leafy greens and red onion. Other great options are black beans, tomatoes, salsa, sweet corn, olives and jalapenos.
Change the spices!
The suggested spice blend is mild and very tasty. You could always use a taco or fajita spice packet, or you could replace or remove one of the spices if you prefer. Feel free to add more chili powder, or stir some hot sauce or chili sauce into the pulled chicken thighs if you prefer more heat.
Nutrition