These sauteed onions and peppers are a delicious side dish for any Tex Mex or Mexican dinner. They are easy to make in only 10 minutes and add both flavor and color to your dinner table.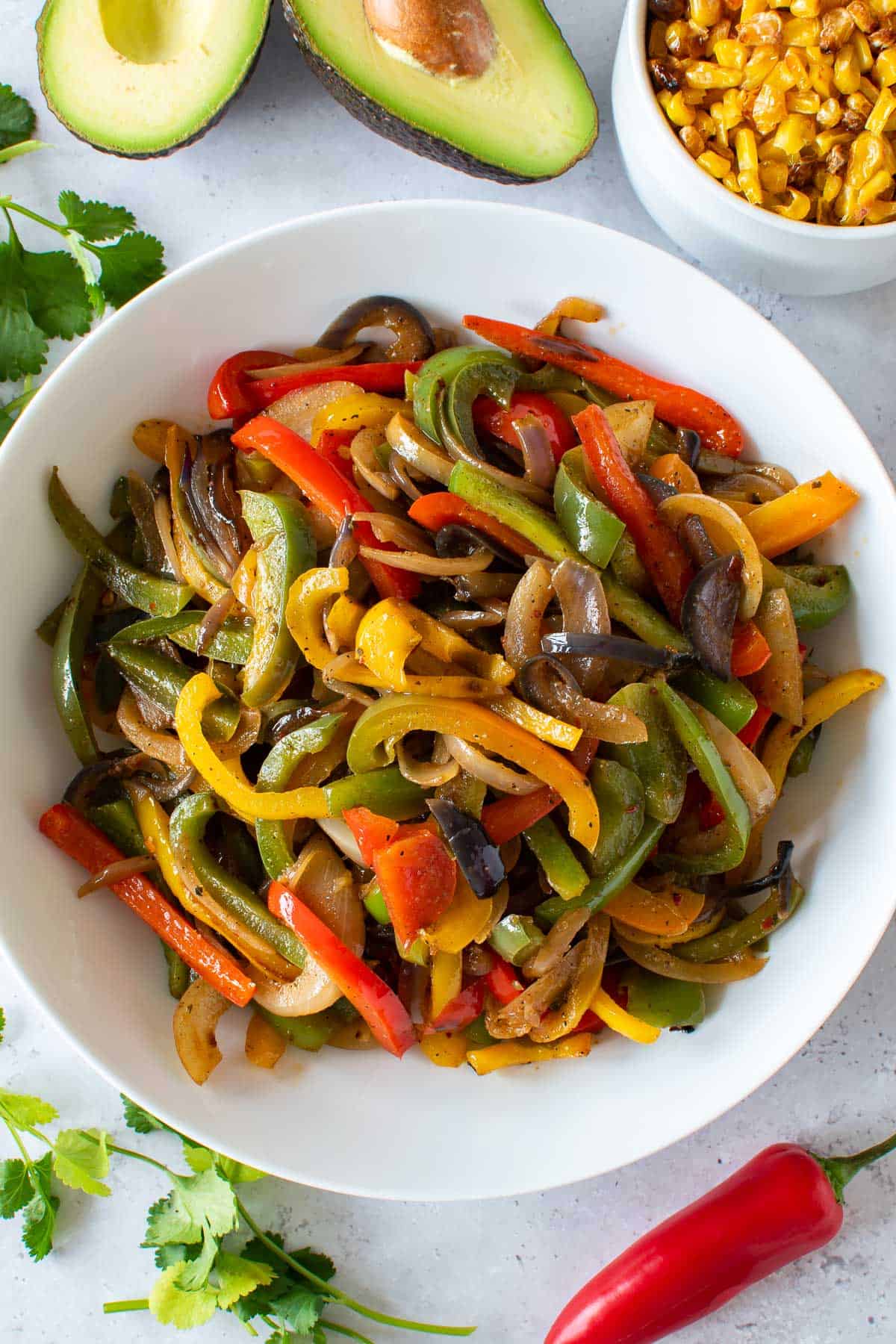 Jump to:
This post may contain affiliate links. Read more about it in the privacy policy.
Sautéed onions and peppers are perfect as an easy, healthy side dish for fajitas, tacos, burritos or other Tex Mex meals. They are so easy to prepare, but you can also batch cook them to use in several future dishes.
Cooking onions and peppers together is really easy, and the combination of flavors is absolutely fantastic.
Why you'll love it
Easy Mexican side dish recipe
Pairs perfectly with a variety of entrees
Adjust the seasoning to suit your preferences
A great way to use up leftover bell peppers
Dairy free, gluten free, vegan and low calorie
Ingredients
Bell peppers: I like to use peppers in different colors, mainly because it makes the dish look a lot more colorful and appetizing. However, you can use any color peppers that you like. Red bell pepper, green bell pepper, yellow bell pepper, and orange bell pepper all work perfectly fine in this recipe.
Onions: Use red, yellow, or white onions or a combination of the two. I tend to use whatever I have on hand, and it always tastes great!
Olive oil: The oil will prevent the onions and peppers from sticking to the pan and will keep them juicy and nice. You can substitute this with butter or any cooking oil that you like, for example, canola oil, vegetable oil, or coconut oil.
Seasoning: In this recipe, I have used salt, black pepper, oregano, garlic powder, cumin, and red chili flakes. You can easily adjust the seasoning to taste, so feel free to substitute these with what you like. See some suggested alternatives in the Variations section below!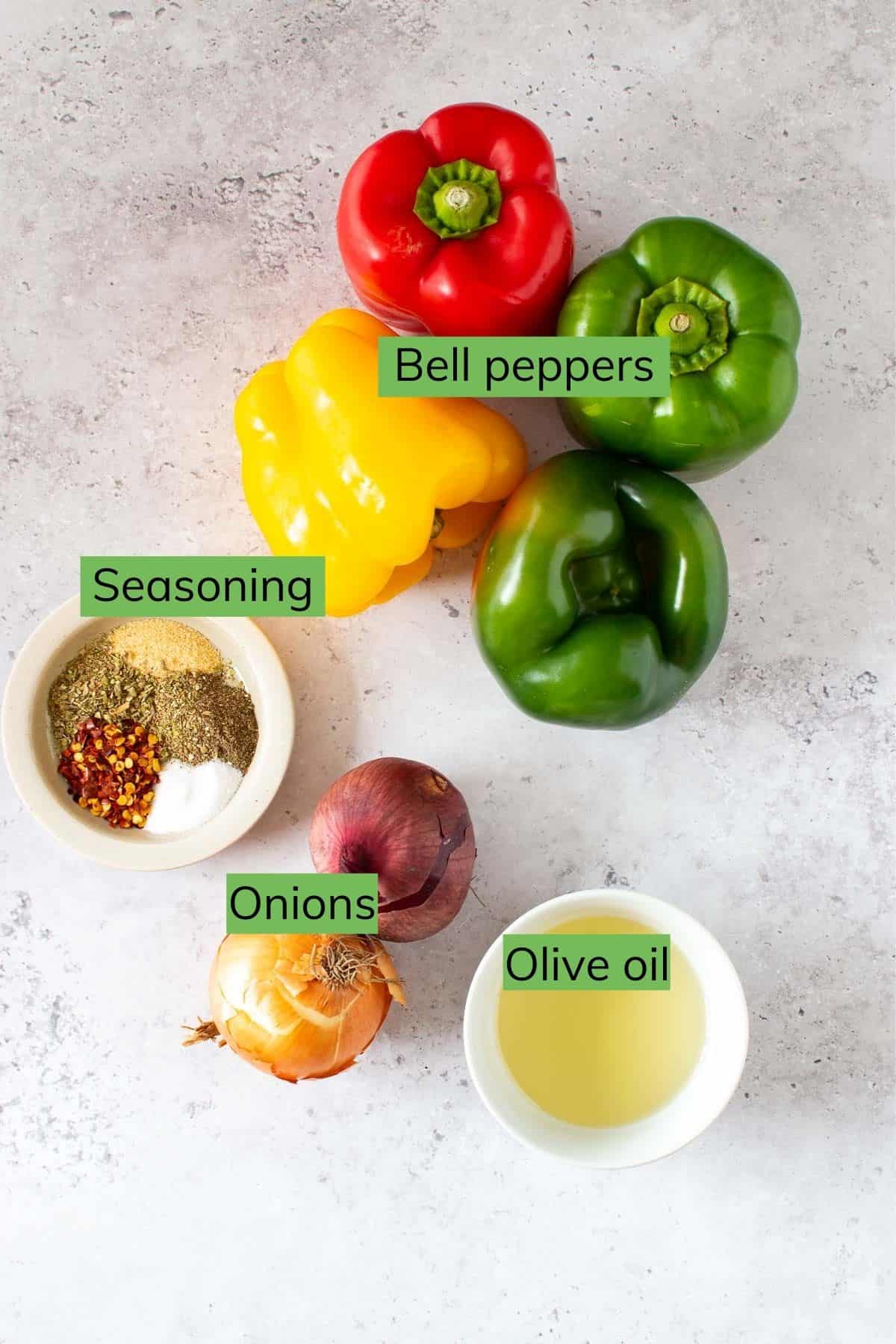 Instructions
You can find full instructions + ingredient measurements in the recipe card at the bottom of this page
Sautéed peppers and onions are incredibly easy to make. Add olive oil to a large cast iron skillet or a frying pan, and allow it to warm up over medium heat. Peel and slice the onions and bell peppers into strips, and add these to the skillet.
Allow them to cook while stirring regularly for a few minutes until the peppers are starting to soften. Then, add the seasoning, and sautee for a further 3-5 minutes.
You can reduce the cooking time slightly if you want the peppers to have a good crunch to them, or cook them for longer if you prefer them to be soft.
Serve the sauteed onions and peppers immediately while they are warm.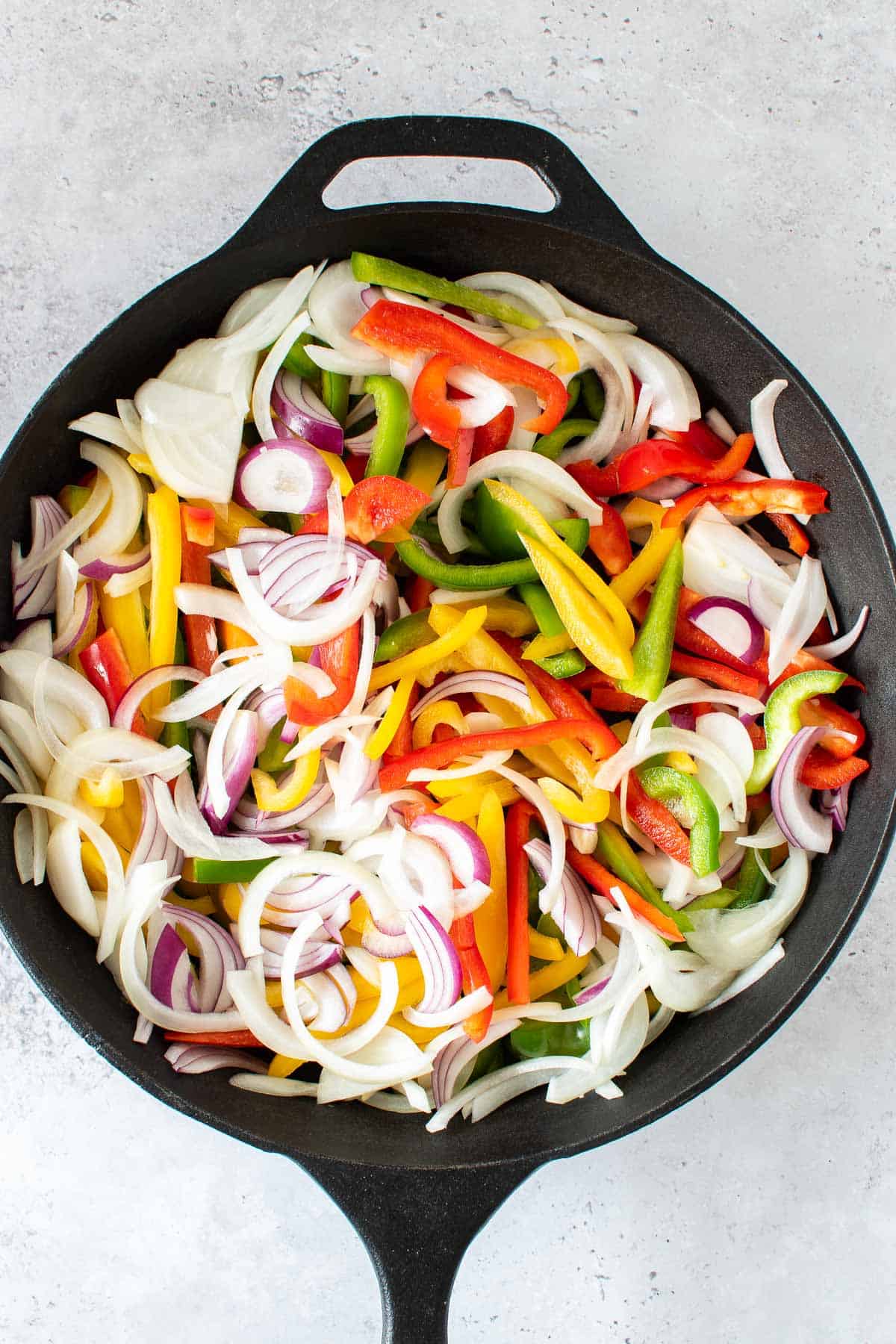 Top tips
Add more oil if the peppers and onions and sticking to the pan.
Feel free to adjust the seasoning and ingredients as you like.
The vegetables will reduce slightly in size as they cook.
Add color to the dish by using peppers and onions in various colors.
Serving suggestions
Sauteed onions and peppers are often served with chicken as fajitas. You can find plenty of delicious fajita recipes on the blog. Try my Halloumi Fajitas, Pork Chop Fajitas or Air Fryer Fajitas.
You can also serve these as a side dish with a hearty entree like Air Fryer Steak or Peri Peri Chicken. Alternatively, add the peppers and onions to a sandwich, salad, Mexican Rice Bowl, shredded beef tacos, or a casserole that you like.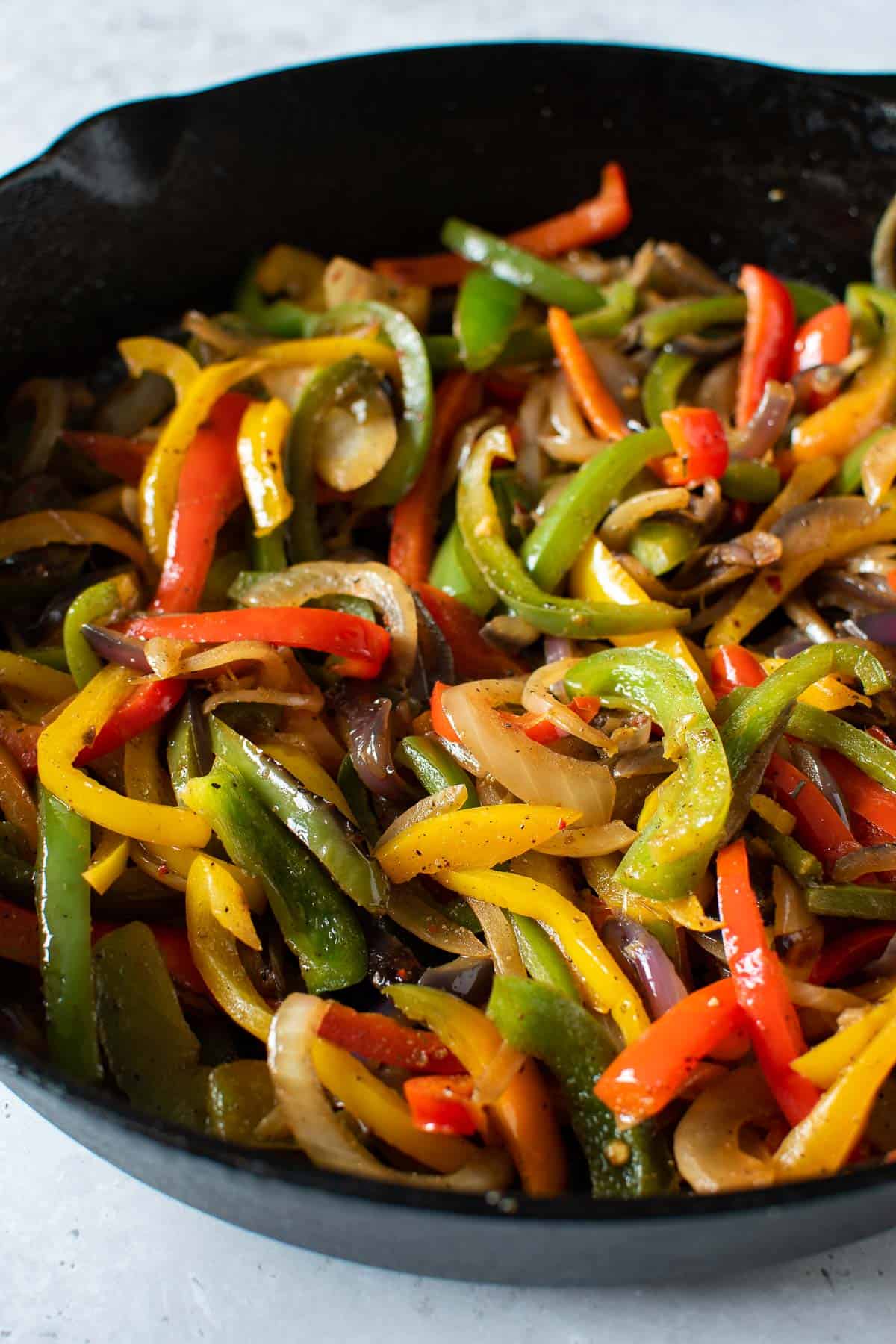 Variations
Other seasonings: You can easily adjust the seasoning in this recipe however you like. Feel free to add any herbs or spices that you like, like for example chili powder, coriander, onion powder, or paprika. You can also use premade seasoning mixes like taco seasoning, fajita seasoning or Cajun seasoning.
Add more flavor: In addition to seasoning, there are also other ingredients that can be added to the dish. Try adding lime juice, cilantro, garlic, sliced chili or jalapenos.
Equipment
To make this recipe, you will need a frying pan, griddle, or skillet. Make sure to use a large skillet, or one with high edges to make sure that the ingredients can fit in the pan.
I like to use cast iron skillets, as I find that they give the vegetables a really nice char. But you can use whatever frying pan you have available.
Additionally, you will need a spoon, tongs or spatula to turn the vegetables. You will also need a sharp knife and a chopping board to prepare the ingredients.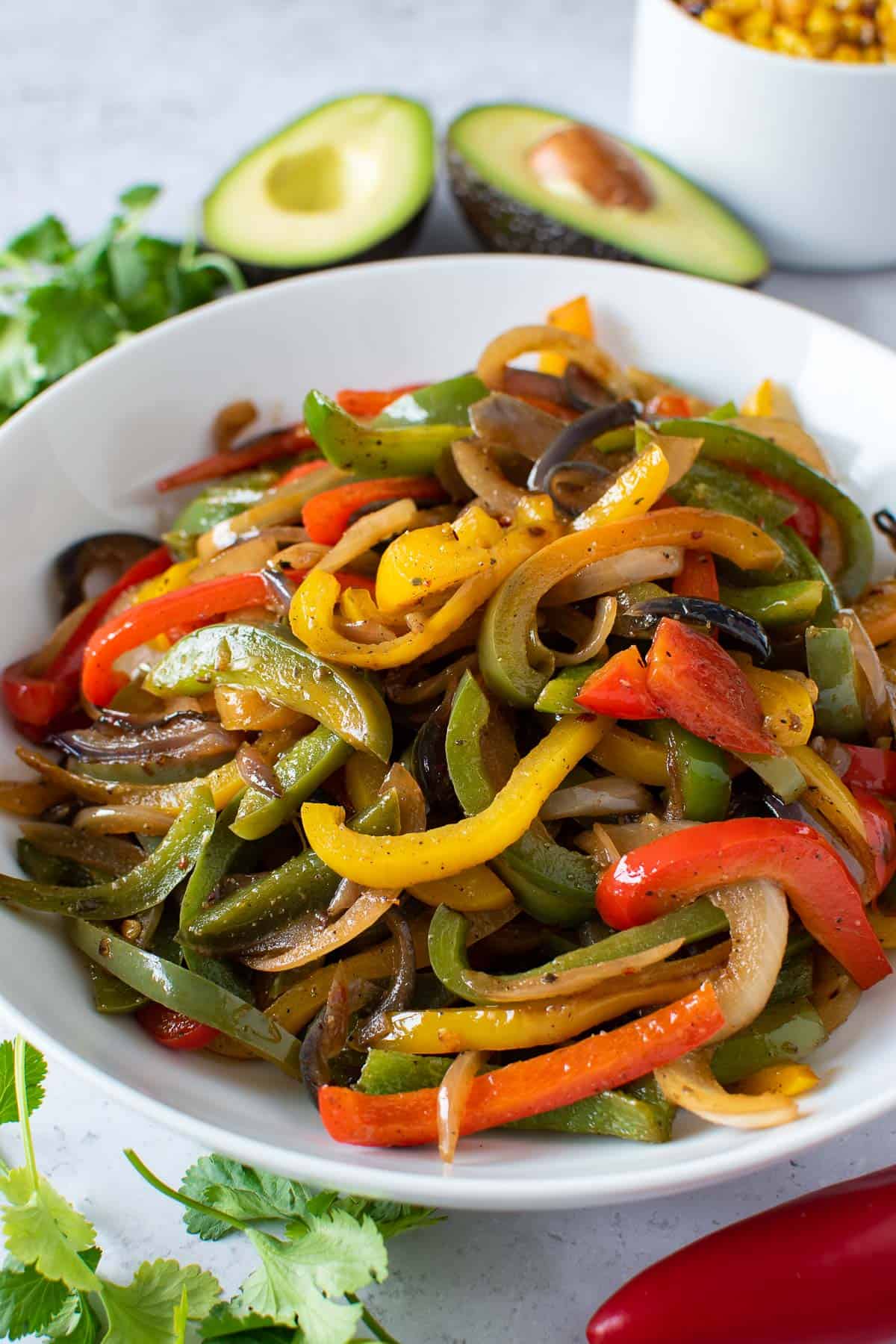 Storage
Store any leftover sauteed onions and peppers in a sealed container in a refrigerator for up to 4 days, or freeze for up to 6 months.
I love to meal prep these veggies to use in several meals throughout the week. You can also freeze them down in portion sizes to use in future fajitas.
Serve the leftover vegetables cold, or reheat them in a skillet or microwave for a few minutes if you prefer.
Frequently asked questions
Do peppers and onions cook at the same rate?
Yes, onions and peppers cook at approximately the same rate. They can therefore easily be sauteed at the same time.
How do you sautee?
Sauteeing really means that you cook something over high heat in oil while you flip it continuously. However, for every day cooking, sauteeing really just means that you keep stirring the food continuously, or at least very regularly, while it cooks.
Can you freeze sauteed onions and peppers?
Yes! You can freeze them for up to 6 months. Thaw and reheat them to use in any dishes that you like.
You might also like these recipes
If you make this recipe, make sure to post a photo to Instagram with #hintofhealthy!
Recipe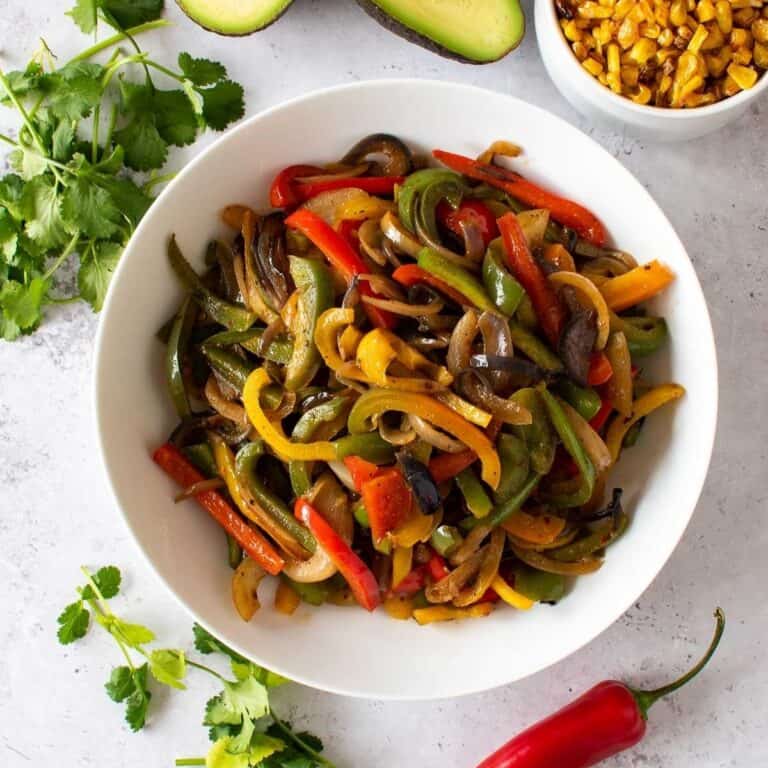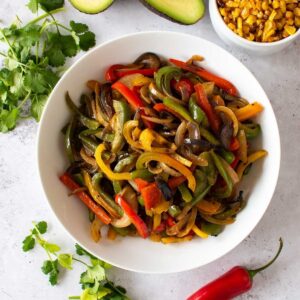 Sauteed Onions and Peppers
These easy sauteed onions and peppers is a flavorful side dish that you can make in only 10 minutes. Perfect to serve with fajitas or any other Mexican meal.
Ingredients
3

bell peppers

(any colors)

2

onions

(any colors)

1

teaspoon

olive oil

½

teaspoon

kosher salt

½

teaspoon

cumin

½

teaspoon

garlic powder

½

teaspoon

oregano

½

teaspoon

red pepper flakes

¼

teaspoon

black pepper
Instructions
Peel and slice the onions and bell peppers.

Heat up the olive oil in a large skillet or frying pan over medium heat. Add the onions and peppers, and sautee for a few minutes.

Then, add the seasoning. Sautee for a few more minutes, or until the onions and peppers have softened to your liking.

Serve the dish warm with your favorite main course, or add them to your recipe of choice.
Notes
Refrigerate leftovers for up to 4 days, or freeze for up to 6 months.
Feel free to adjust the seasoning. You can use fajita seasoning, taco seasoning, or any spices that you like, such as cayenne pepper, chili powder, coriander, paprika, or lime juice.
Use your favorite bell peppers and onions. Combine different colors to make the dish more colorful.
Nutrition
Calories:
42
kcal
Carbohydrates:
8
g
Protein:
1
g
Fat:
1
g
Saturated Fat:
1
g
Polyunsaturated Fat:
1
g
Monounsaturated Fat:
1
g
Sodium:
201
mg
Potassium:
192
mg
Fiber:
2
g
Sugar:
4
g
Vitamin A:
1919
IU
Vitamin C:
79
mg
Calcium:
18
mg
Iron:
1
mg
Food safety tips