These balsamic caramelized onions are the best onions you will ever make. Perfect on burgers and hot dogs, or to serve as a side dish with other meals.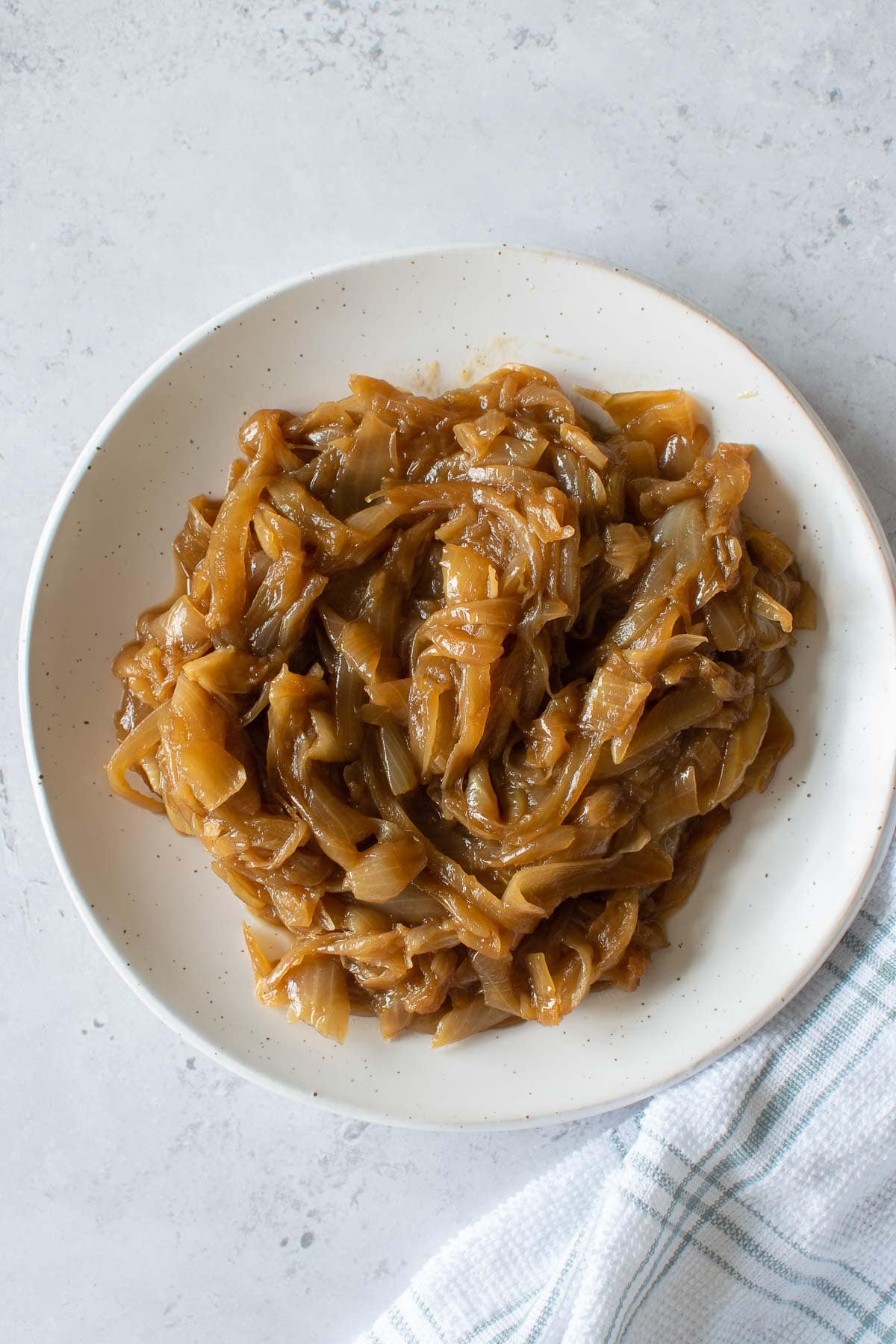 Jump to:
This post may contain affiliate links. Read more about it in the privacy policy.
Why you'll love it
Delicious sweet onions
It takes a while, but it's really simple
Perfect topping for sausages, burgers and more
Kid friendly
Stores incredibly well
Ingredients
Onions: Most types of onions can be caramelized, and you can even use a combination of several types of onion.
Butter or olive oil: Caramelize the onions in high quality butter or olive oil. Butter is the more traditional cooking method, but some prefer the olive oil version.
Balsamic vinegar: The acidity in vinegar compliments the sweet caramelized onions, and the rich balsamic flavor makes the onions even better.
Water: Splashes of water are added to deglaze the pan. For a richer flavor, you can use chicken broth or red wine instead.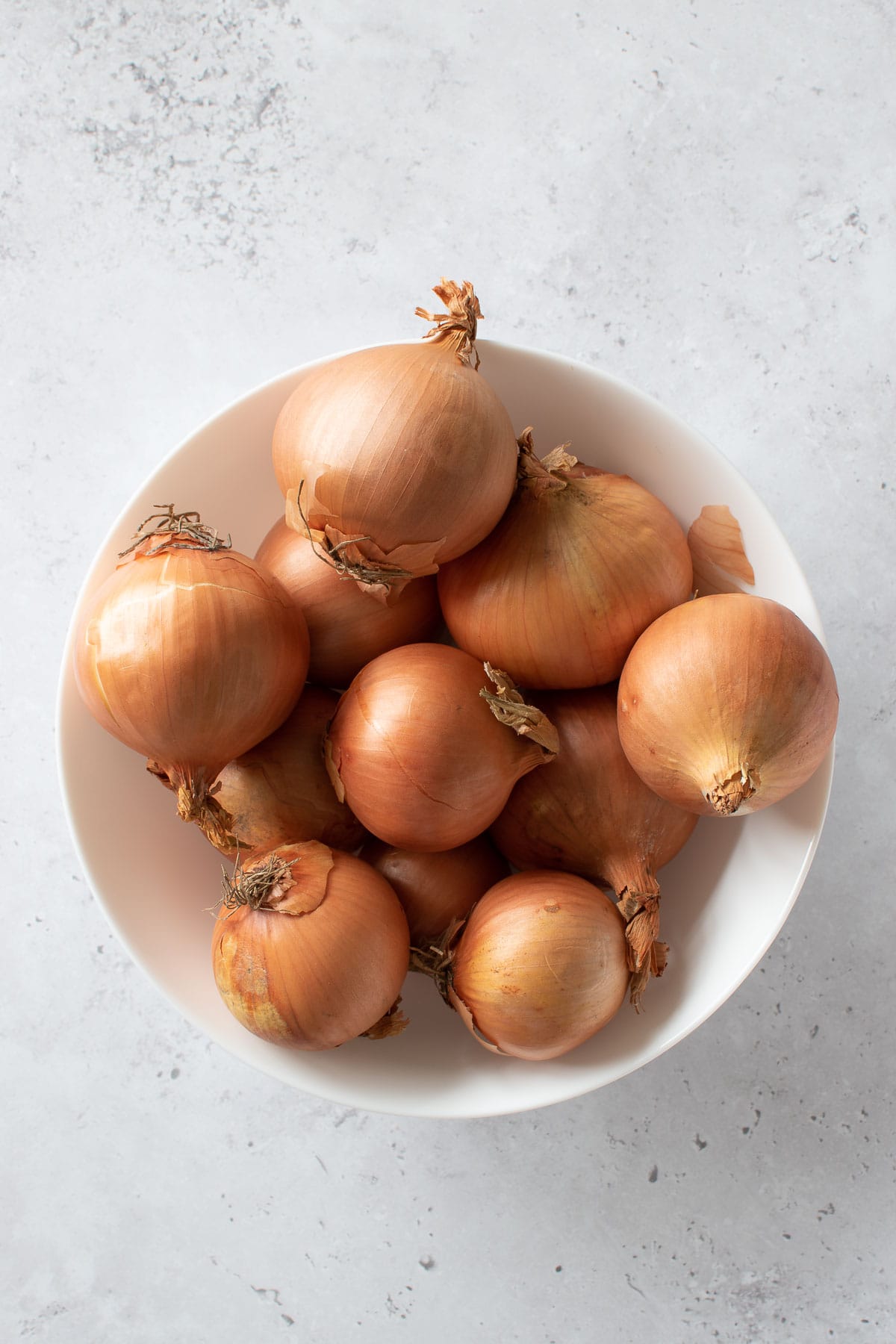 Types of onions
You can make caramelized red onions, white onions or yellow onions. They all cook similarly.
Red onions tend to be extra sweet, but the caramelization process will bring out the natural sweetness in any onions.
You can even use a combination of different types of onions. This recipe is perfect for using up random onions from your pantry.
Sauteed onions vs caramelized onions
Sauteed onions and caramelized onions can look similar at a glance, but the flavor in these are completely different.
Sauteed onions are made by cooking onions on a medium to high heat for about 5-10 minutes, until the onion is soft and slightly charred.
For a rounded caramelized taste, the onions need to be slow cooked for much longer. We cook the onions on a lower heat for up to an hour, and add liquid through the cooking process to deglaze the pan and make sure the onions don't dry out and burn.
The slow cooking process allows the natural sugars from the onions really break down, and create a sticky layer surrounding the onions. The onions turn golden brown, soft and sticky, almost glazed, without adding any sugar or sweeteners.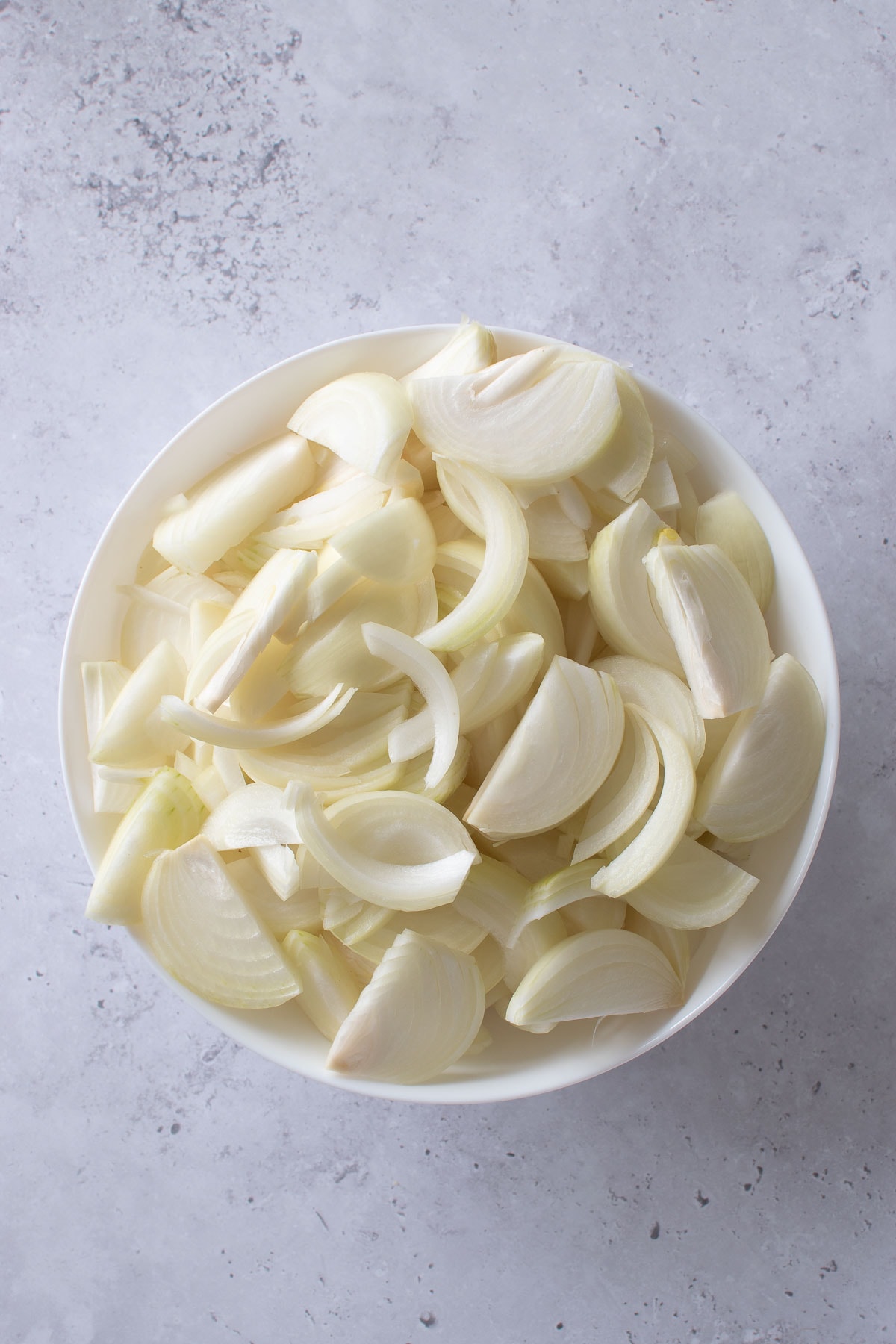 How to caramelize onions
You can find full instructions + ingredient measurements in the recipe card at the bottom of this page
Slice the onions in thick slices. Add butter to a large pot or saucepan on low to medium heat. Allow the butter to melt, then add the onions.
To caramelize onions, we will have to slowly cook them for a long period of time on low heat. The cooking process will take about 45 minutes to 1 hour. Stir through the onions every 5 minutes. If the pan goes dry and the onions start sticking to the bottom, deglaze the pan by adding a splash of balsamic vinegar and scraping the bottom of the pan to loosen up any sticky bits.
Repeat this process and deglaze the pan as many times as needed until the onions looks golden dark, sticky and perfectly caramelized.
Top tips
Keep the temperature low
Check the onions every 5-10 minutes, and add water as needed
Stir regularly to prevent the onions from sticking to the bottom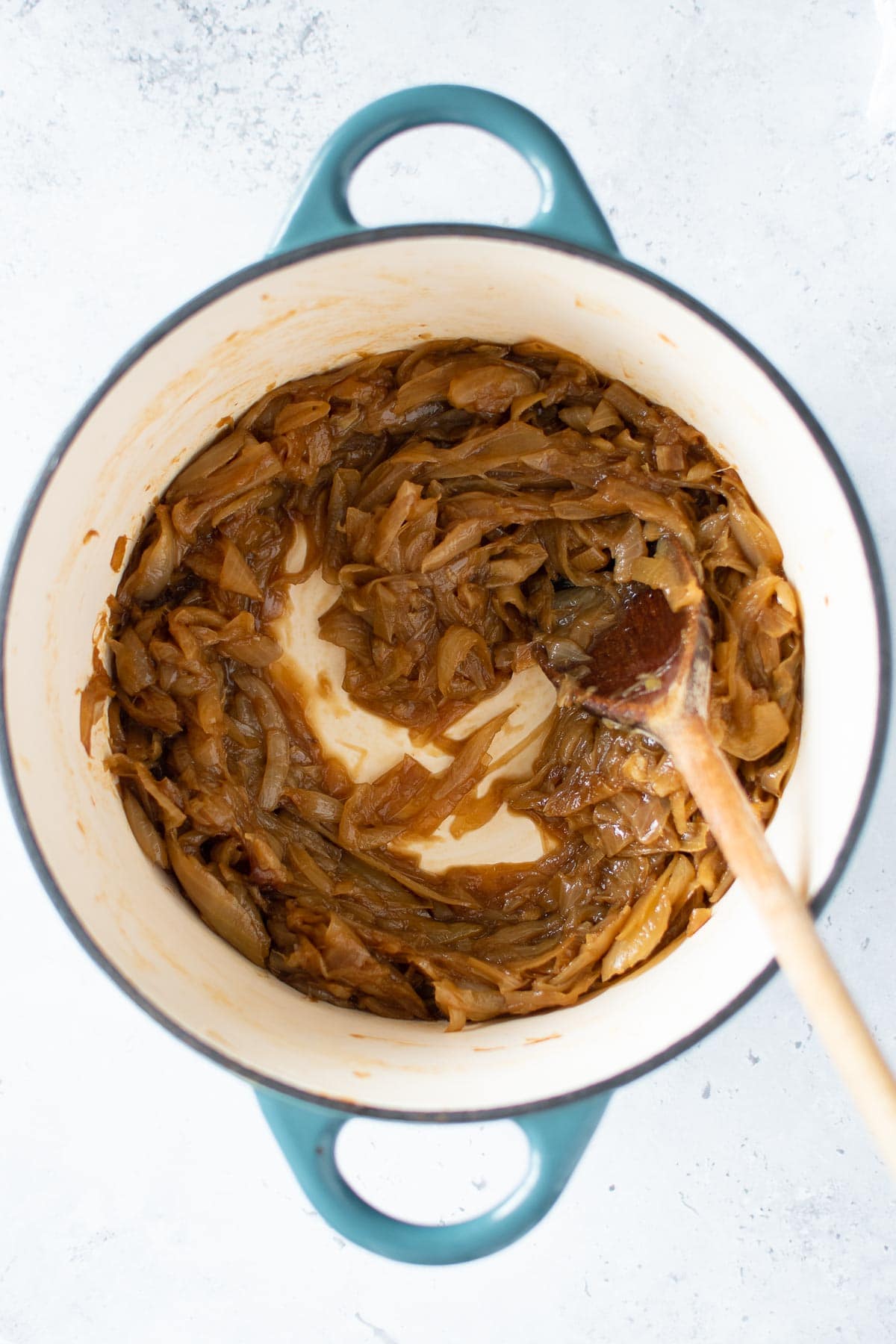 Serving suggestions
Here are some of my favorite dishes that taste even better when topped with caramelized onions:
Variations
Other liquids: Use white wine, red wine or apple cider vinegar instead of balsamic vinegar and/or water. These will all slightly alter the flavor of the onions.
Vegan caramelized onions: Use olive oil, or make sure that you use a vegan butter alternative.
Quicker version: Add a teaspoon of sugar. This will make the caramelization process a little faster, but it will still take 30-45 minutes to finish the onions.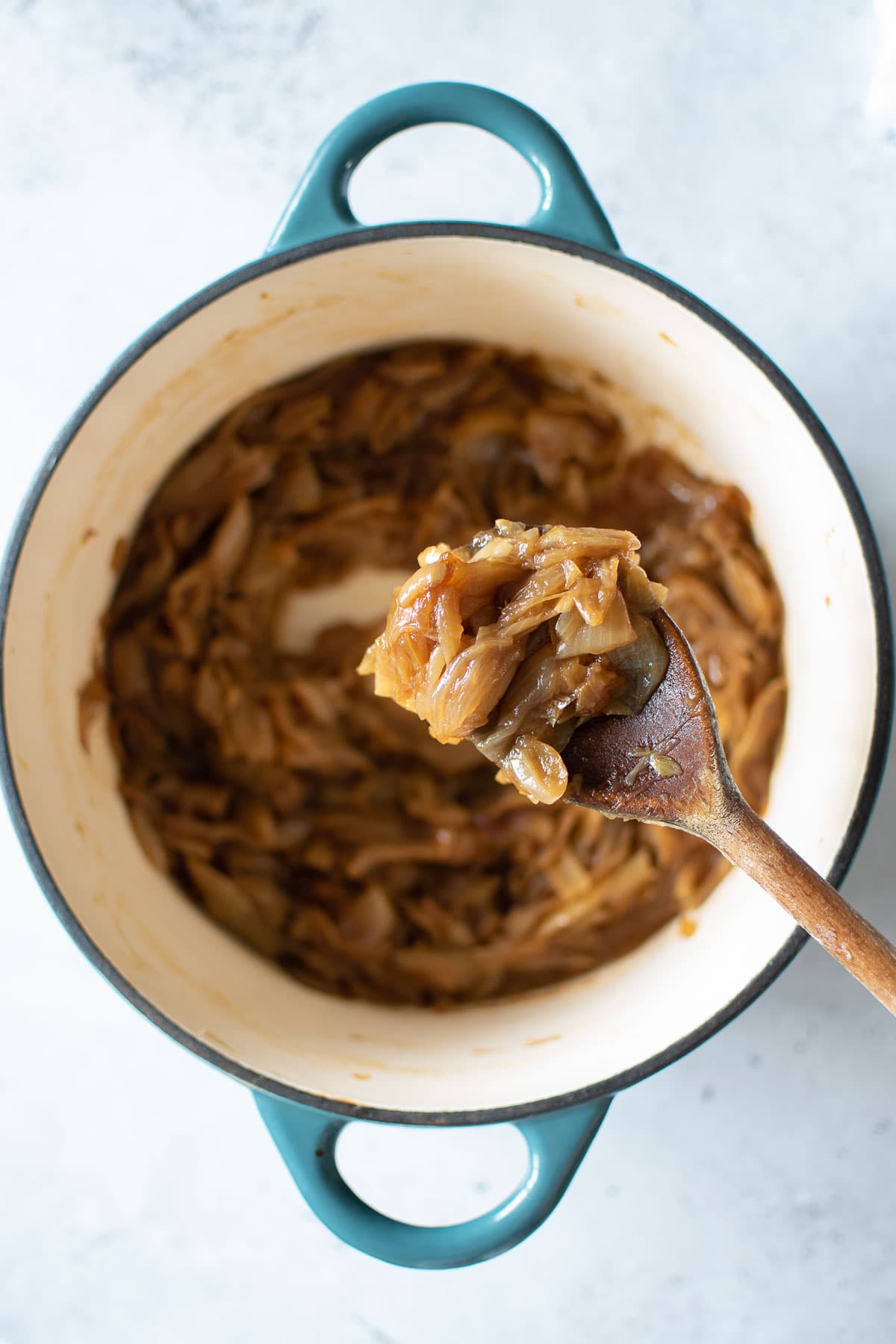 Leftovers
Store leftover balsamic caramelized onions in a refrigerator for up to 5 days, or freeze for up to 3 months.
I like to make a big batch, and freeze it down in smaller portions to use in multiple meals. I often do this in the summer, when I want to have caramelized onions often for my backyard BBQs, but I don't necessarily want to have to make them from scratch every time.
Frequently asked questions
Can you make caramelized onions ahead?
Yes. Caramelized onions can be stored in the fridge for up to 5 days. Keep in mind that they taste way better when served warm, so I highly recommend reheating leftovers if you're able.
Can you freeze caramelized onions?
Absolutely! Allow them to cool completely before you freeze them for up to 3 months. Defrost them in a refrigerator overnight, and reheat in a microwave or on the stove before serving.
You might also like these recipes
If you make this recipe, make sure to post a photo to Instagram with #hintofhealthy!
Recipe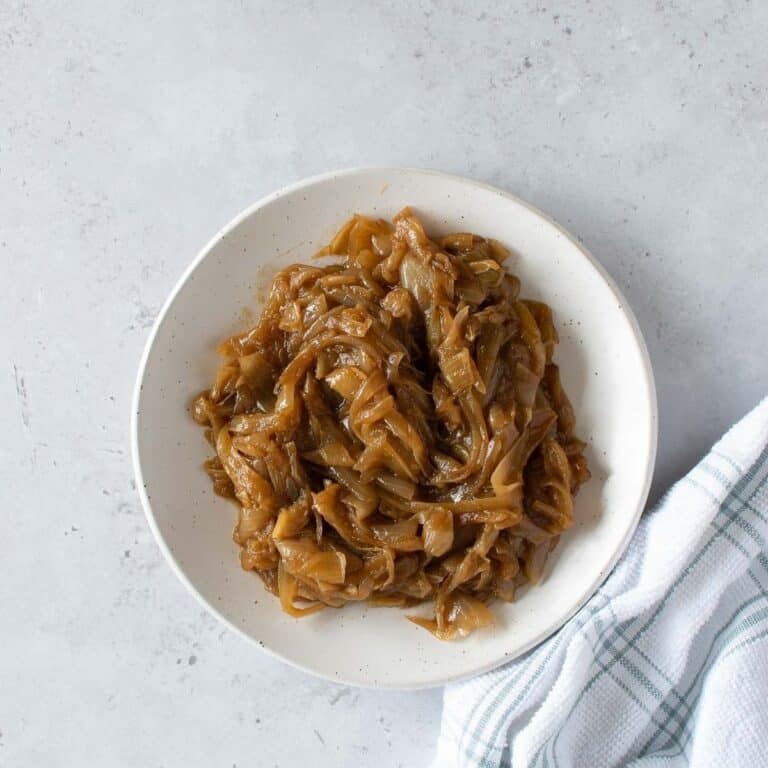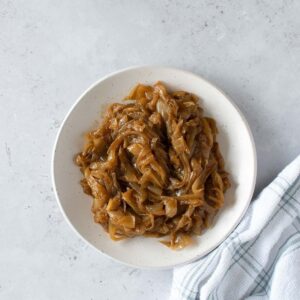 Balsamic Caramelized Onions
These balsamic caramelized onions are slowly cooked on the stove top, allowing the natural sugars in the onions to break down and create a sweet exterior while leaving the onions perfectly soft. Try them on burgers, hot dogs or steaks!
Ingredients
1

tablespoon

butter

(or olive oil)

8

onions

2

tablespoon

balsamic vinegar
Instructions
Melt the butter in a saute pan or pot on low to medium heat.

Slice the onions, and add them to the saute pan. Stir to coat them in the butter, and leave them to cook until they soften.

Stir through the onions every 5 minutes to make sure they don't stick to the bottom of the pan. When they start to stick, add some balsamic vinegar to deglaze the pan and prevent the onions from burning.

Repeat as often as needed, adding splashes of vinegar to prevent the burning. The onions will have to cook for 45 min - 1 hour to fully caramelize.
Notes
Store leftover balsamic caramelized onions in a sealed container in a refrigerator for up to 5 days, or freeze for up to 3 months.
Use olive oil instead of butter if you prefer.
Nutrition
Calories:
60
kcal
Carbohydrates:
11
g
Protein:
1
g
Fat:
2
g
Saturated Fat:
1
g
Trans Fat:
1
g
Cholesterol:
4
mg
Sodium:
18
mg
Potassium:
165
mg
Fiber:
2
g
Sugar:
5
g
Vitamin A:
46
IU
Vitamin C:
8
mg
Calcium:
27
mg
Iron:
1
mg