These easy halloumi fajitas are perfect for quick and easy meals. Halloumi cheese, peppers, onions and seasoning are cooked to soft, tender perfection, and served in warm tortilla wraps.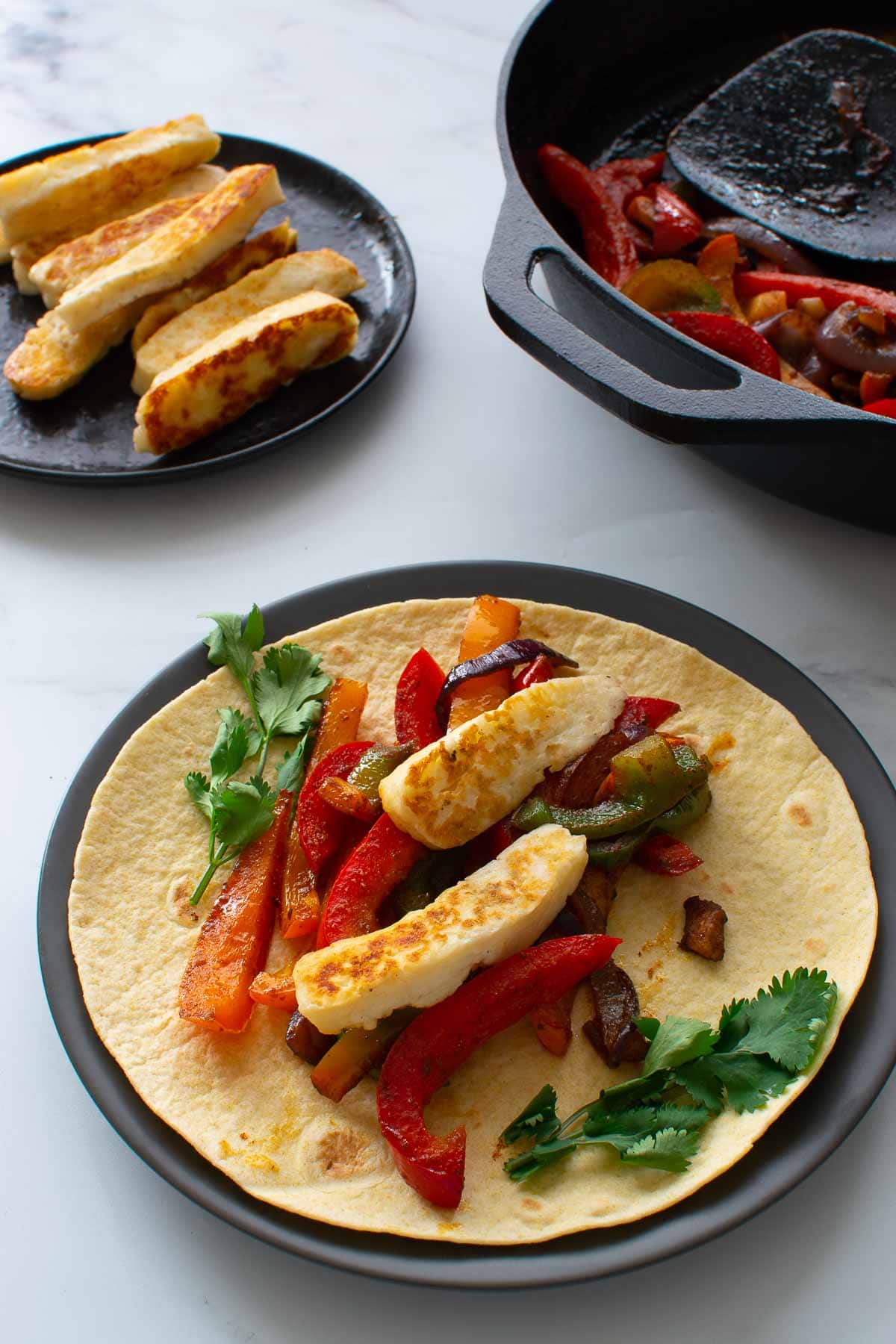 Jump to:
This post may contain affiliate links. Read more about it in the privacy policy.
Why you'll love it
Easy 10-minute recipe
Everything is cooked in one skillet
Packed with incredible flavor
Make it mild or spicy to suit your preference
Healthy and nutritious
A great vegetarian lunch or dinner
Inexpensive ingredients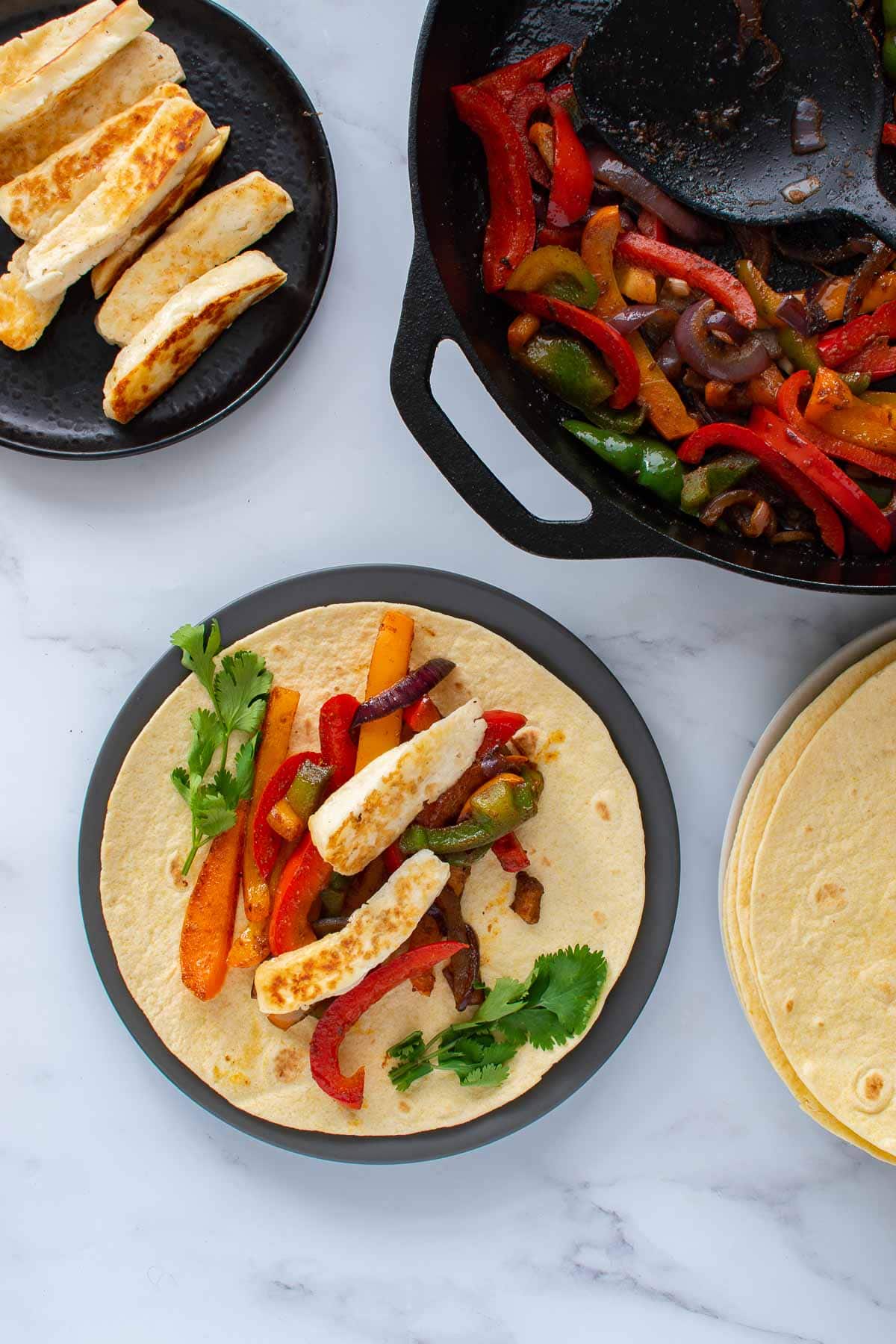 Ingredients
Halloumi cheese: Halloumi is a Cypriot cheese with a high melting point. This means that you can cook it, and it will keep its shape, and become soft and delicious instead of melting. This is a key ingredient in halloumi fajitas. Make sure that your halloumi does not contain rennet if you want it to be vegetarian.
Peppers: You can use any peppers that you like. I prefer to use a combination of different colors, as it makes the fajitas both look and taste better.
Onion: Use whichever onions you have available. I usually make fajitas with red or white onions, but yellow onions work great too.
Tortilla wraps: Serve your fajita filling in your favorite tortillas. I like corn tortillas, but flour tortillas work great as well.
Seasoning: For this recipe you will need a combination of salt, black pepper, smoked paprika, garlic powder, cumin and chili powder or cayenne pepper. You can also replace these with a store bought fajita seasoning mix, or use my favorite homemade Fajita Seasoning.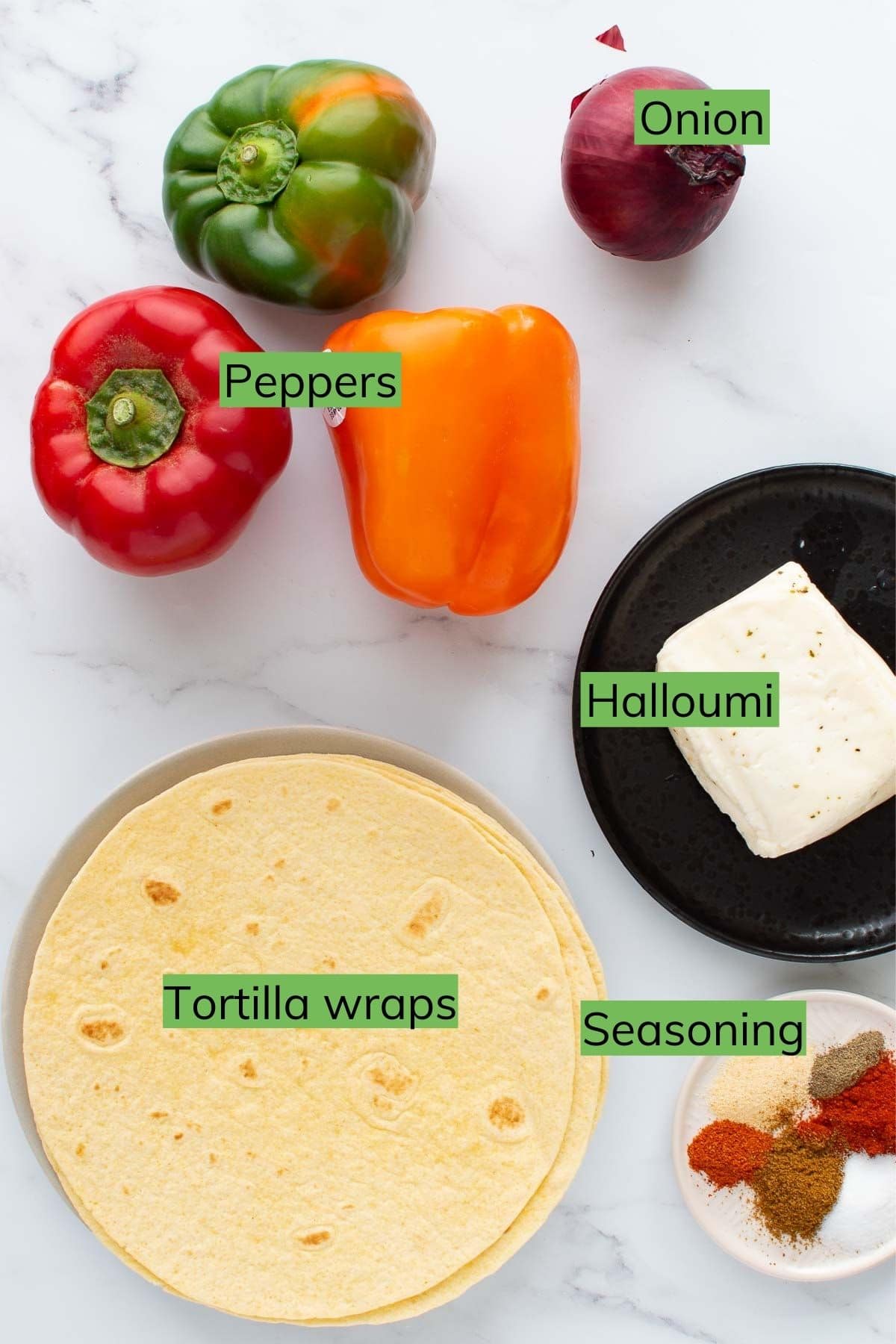 Instructions
These easy 10-minute halloumi fajitas can be made in only a few simple steps.
First, slice the peppers, halloumi and onion. Sear the halloumi in a skillet until golden brown, then sauté the peppers, onion and seasoning until they have softened to your liking.
Warm the tortilla wraps in a skillet, oven or microwave, and serve the peppers and halloumi in the tortillas.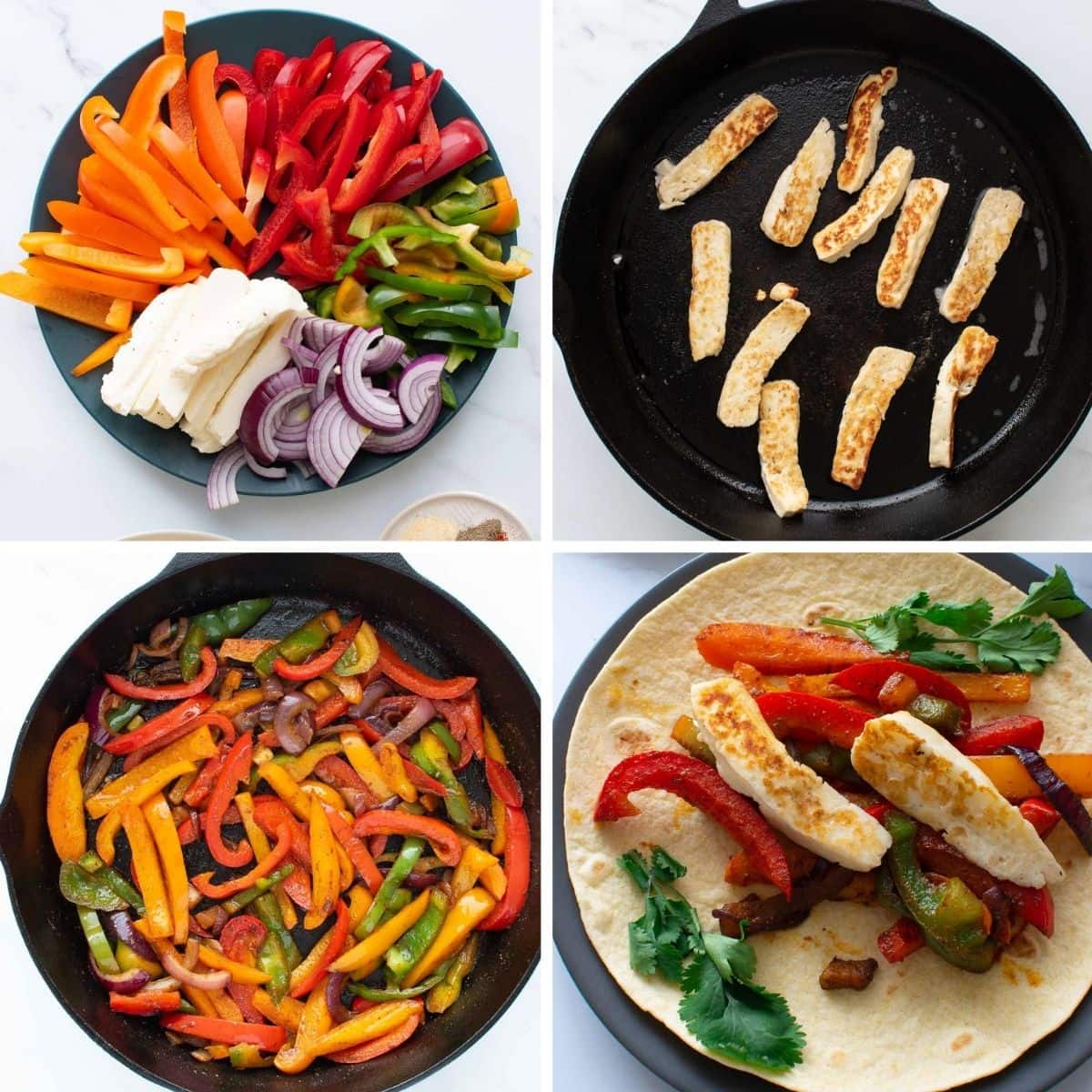 Top tips
I like to cook the halloumi and peppers separate, as it makes it easier to evenly distribute the halloumi onto the wraps. If you don't care, you can cook the halloumi, peppers and onions together in the skillet at the same time.
Serving suggestions
These halloumi cheese wraps are best served for lunch or dinner. They are definitely filling enough on their own, and you don't have to serve them with any side dishes if you prefer not to. But here are some side dish ideas that could make this meal even better: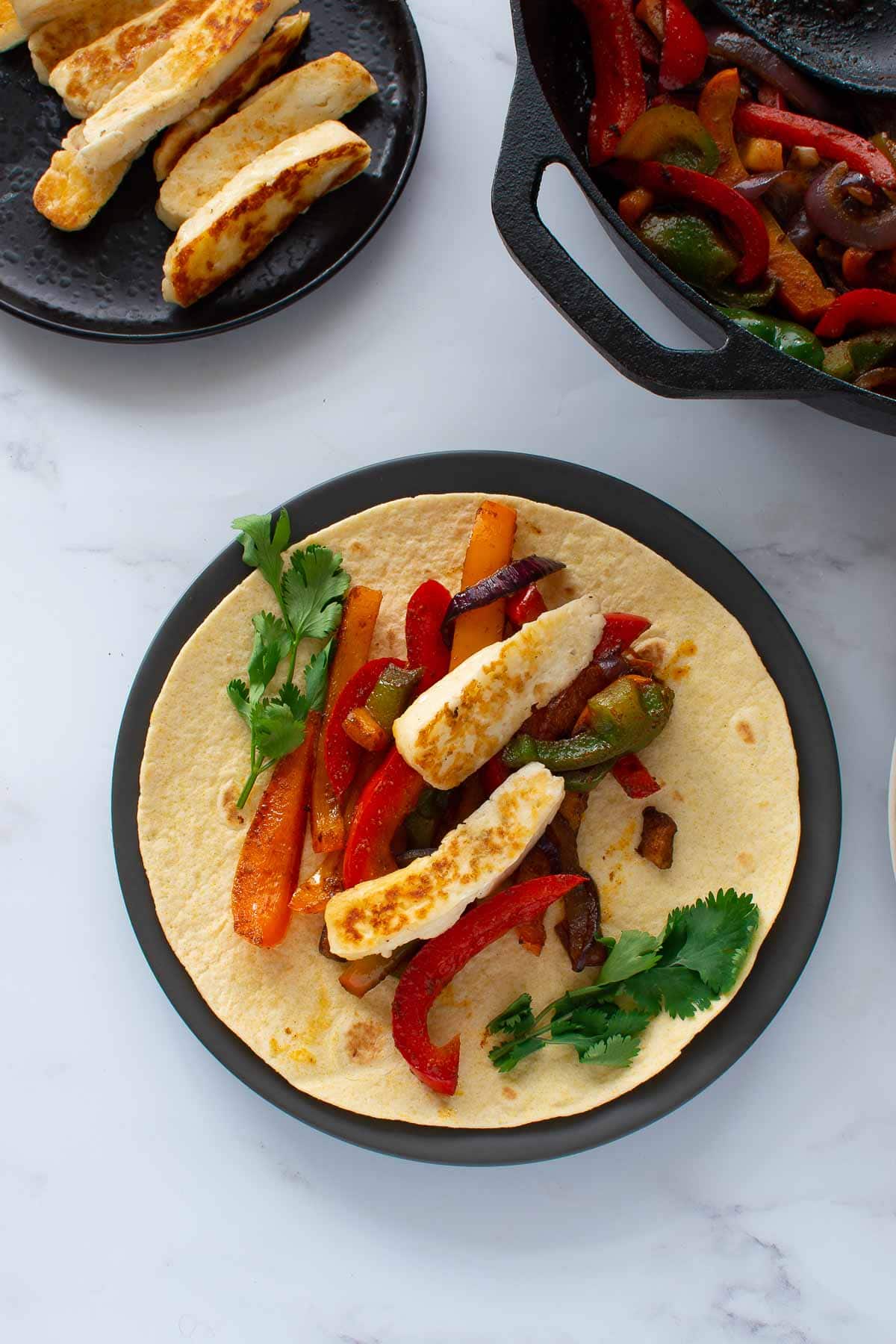 Variations
Gluten free: Make sure to use gluten free tortillas, or omit the tortillas and serve the peppers and halloumi as an entree with other side dishes like rice.
Keto + low carb: The peppers, onions, halloumi and seasoning is already keto friendly. Serve them in low carb tortilla wraps, or replace them with lettuce wraps instead.
With more protein: For added protein, feel free to add beef strips, shredded chicken, roasted chickpeas or black beans to the dish.
Spicy fajitas: If you want to make spicy halloumi fajitas, you can double the amount of chili powder or cayenne pepper, or add some diced raw chilies to the pepper mixture.
Leftovers
If you have any leftovers, I suggest you store the wraps and the fajita filling separately. Store the tortillas according to the package instructions, and store the halloumi + peppers in sealed containers in a refrigerator for up to 4 days.
Reheat the fajitas, and serve them in tortilla wraps for future quick and easy dinners.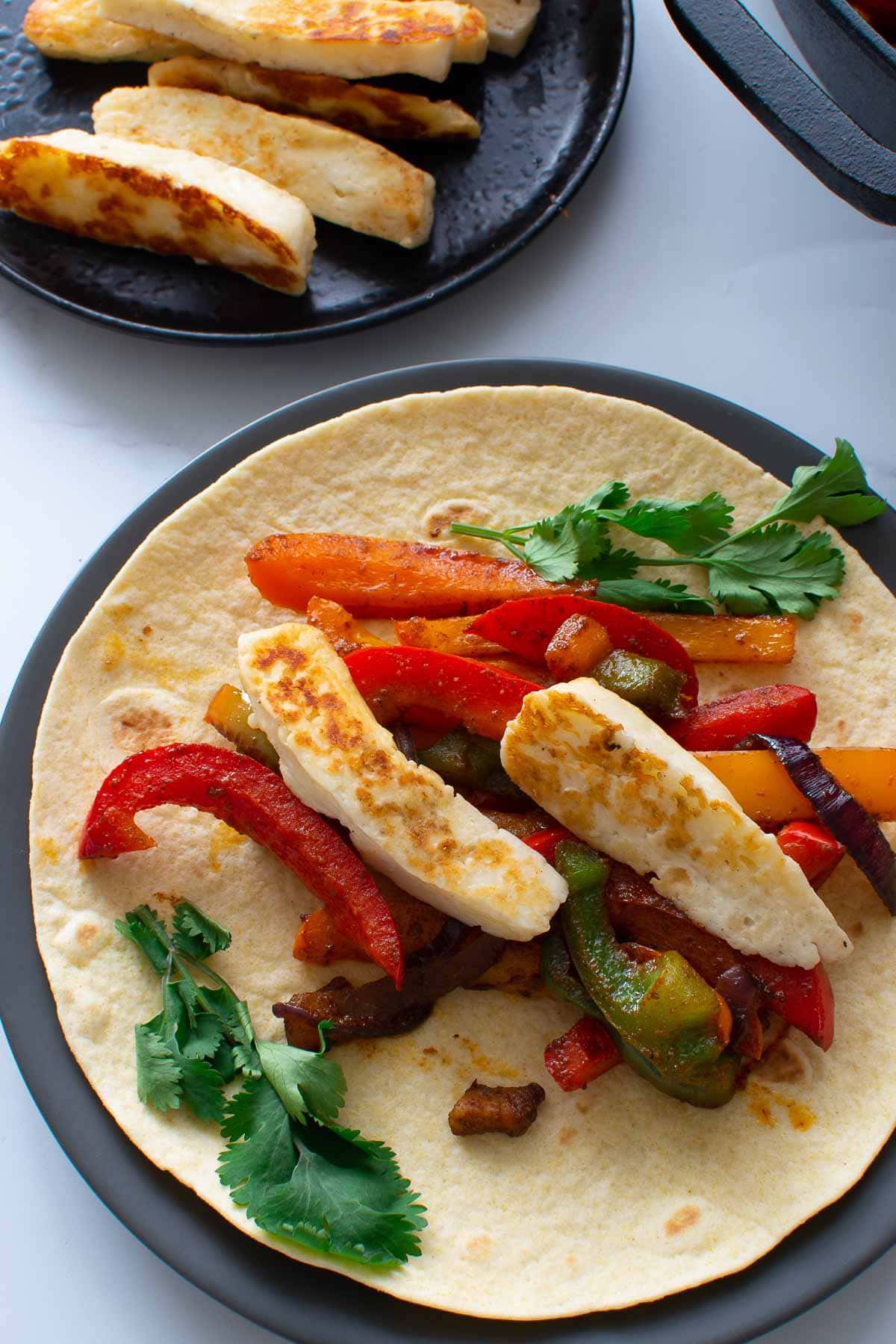 Frequently asked questions
Can you fry halloumi in a pan?
Yes. Fry halloumi in a pan with a little oil until it's golden on both sides.
Is halloumi vegetarian?
Most halloumi is vegetarian, but certain brands contain rennet, which would make them non-vegetarian. Make sure to read the nutrition label on the package before buying halloumi.
You might also like these recipes
If you make this recipe, make sure to post a photo to Instagram with #hintofhealthy!
Recipe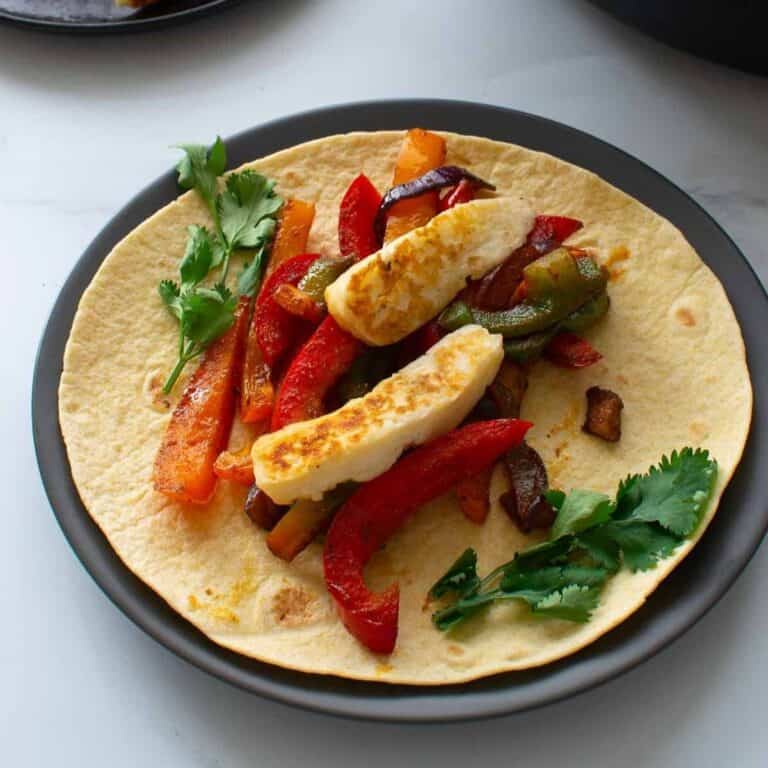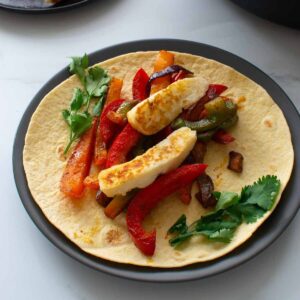 Halloumi Fajitas
These easy halloumi fajitas are made by pan searing halloumi cheese, peppers, onions and fajita seasoning until tender, soft perfection. Serve them in a warm tortilla wraps for a quick, simple and delicious meal.
Instructions
Slice the peppers, onion and halloumi cheese.

Warm up some oil in a skillet, and pan sear the halloumi until it's golden on both sides. Remove from the pan, and set the cheese to the side.

To the same pan, add peppers, onion and all seasoning. Sauté for a few minutes until the peppers have softened to your liking.

Warm up the tortillas in an oven, skillet or microwave.

Serve the seasoned peppers and cooked halloumi in the wraps.
Notes
Store leftover fajita filling in sealed containers in a refrigerator for up to 4 days. Store any leftover tortilla wraps according to the instructions on the package.
Nutrition
Calories:
311
kcal
Carbohydrates:
24
g
Protein:
16
g
Fat:
16
g
Saturated Fat:
10
g
Sodium:
1039
mg
Potassium:
291
mg
Fiber:
3
g
Sugar:
7
g
Vitamin A:
2957
IU
Vitamin C:
116
mg
Calcium:
614
mg
Iron:
2
mg