This amazing crispy chicken burger is easy to make, and tastes great. Chicken breasts are covered with flour, and shallow fried to crispy perfection. Serve it in a bun for a quick and easy meal.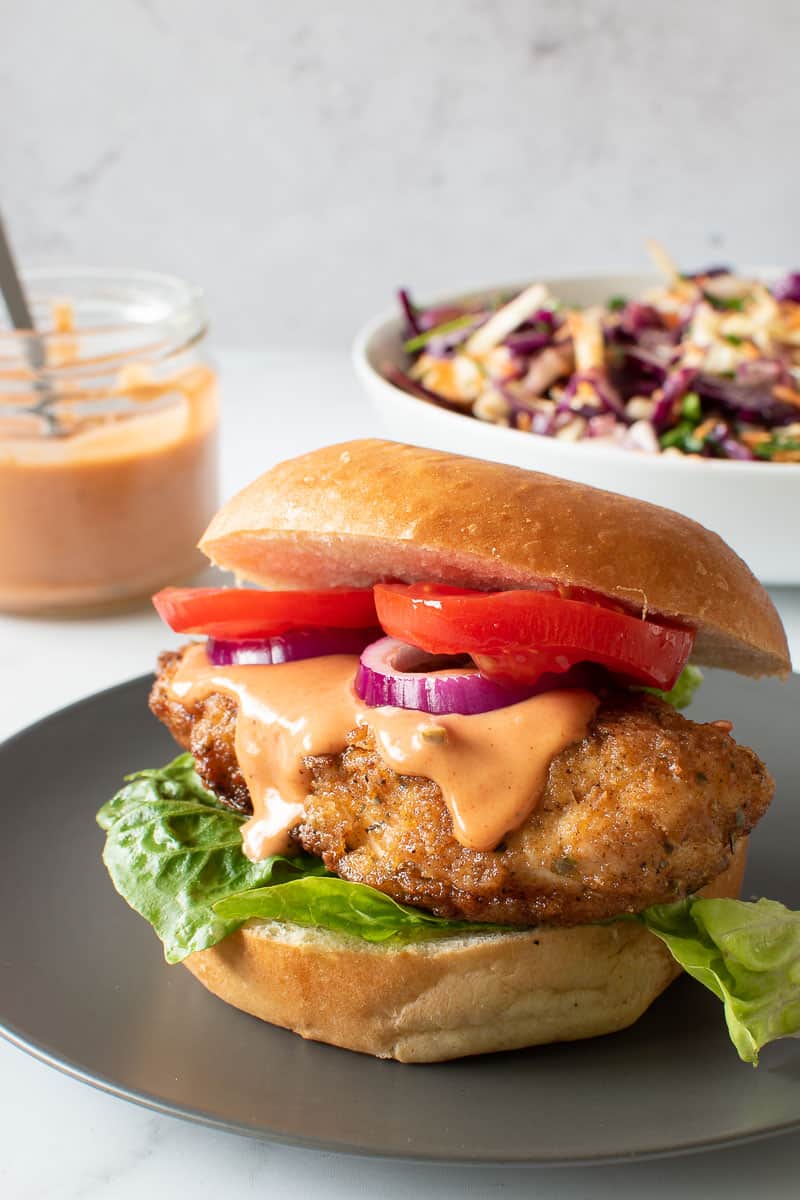 Jump to:
This post may contain affiliate links. Read more about it in the privacy policy.
This buttermilk fried chicken is perfect for crispy chicken sandwiches, or a traditional chicken burger. In this recipe, we shallow fry the chicken rather than deep frying it, which makes it a little healthier, but still perfectly crispy.
You can vary the burgers endlessly by serving them with different toppings. From blue cheese and caramelized onions, to tomatoes, lettuce, onions and burger sauce, there is a version for every one.
If you love a KFC chicken burger, and you're looking for a healthier version, this crispy chicken burger recipe is for you! It's a fantastic burger for summer, but as it's cooked in a frying pan, you can make it all year around.
Why you'll love it
Easy to make
Perfect crispy chicken burger
Shallow fried chicken is healthier than deep fried chicken
Lots of serving options
Ingredients
Chicken breast: This lean piece of chicken is perfect for burgers!
All-purpose flour: A coating of flour gives the chicken a crispy surface.
Buttermilk: Used as a marinade, and makes the chicken tender.
Seasoning: A combination of oregano, salt, pepper, paprika, onion powder, garlic powder and cayenne pepper adds flavor to the burgers.
Vegetable oil: Used to cook the burgers.
Salt + pepper: Adds flavor to the buttermilk marinade.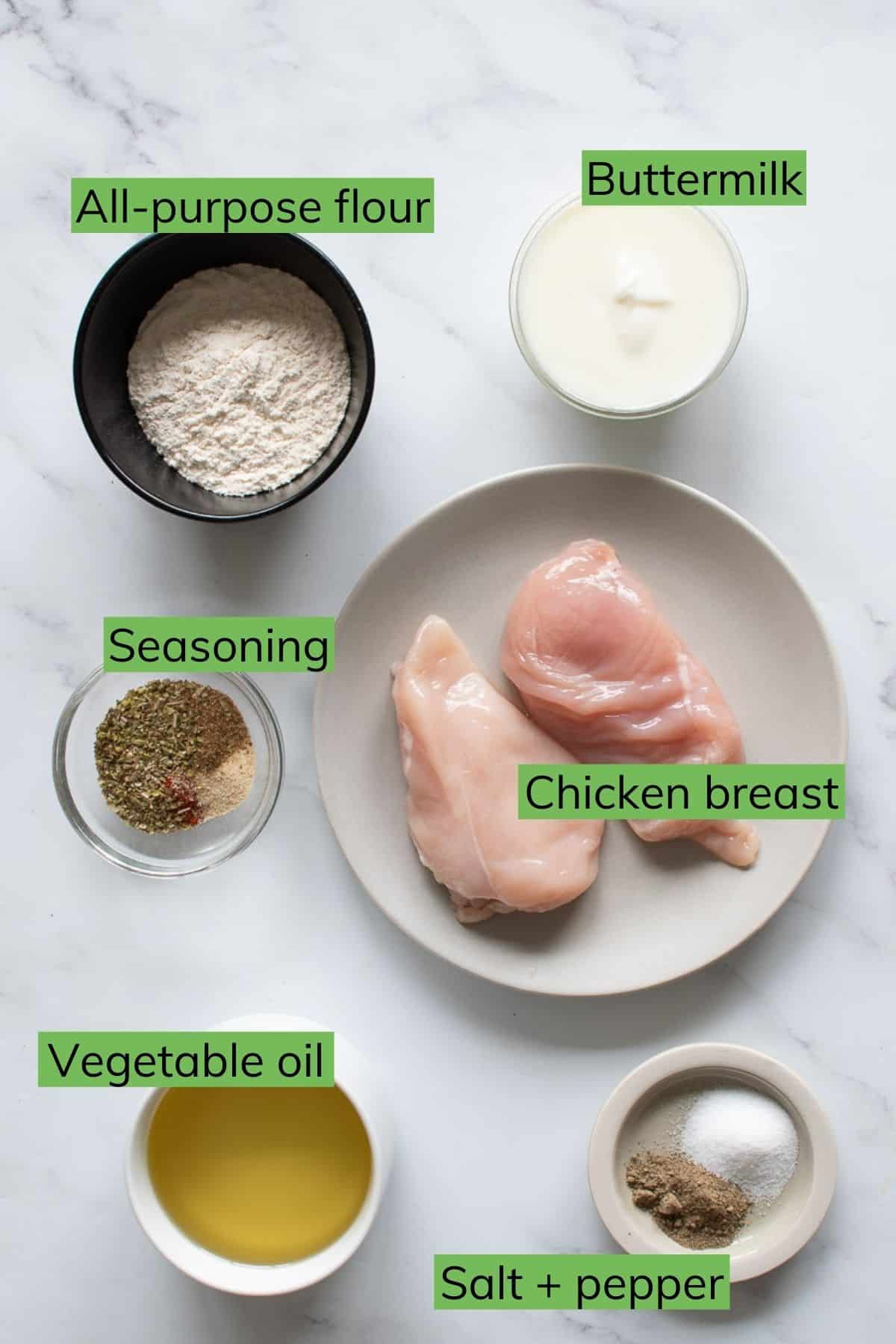 Instructions
You can find full instructions + ingredient measurements in the recipe card at the bottom of this page
One: Season the chicken breasts with salt and pepper on both sides, and place them in a bowl of buttermilk. Leave the meat to marinate in a refrigerator for 1-24 hours.
Two: Combine the flour with the seasoning in a bowl. Shake off excess buttermilk from the chicken, and add the breasts to the flour.
Three: Coat the chicken thoroughly with flour, and again shake off the excess.
Four: Cover the bottom of the frying pan with vegetable oil until about ½ inch. Warm up the oil on high heat. Add the chicken burgers, and shallow fry them for about 4 minutes on both sides. When the surface is golden brown, and the chicken is cooked, you can remove the burgers from the pan and pat off any excess oil with a paper towel.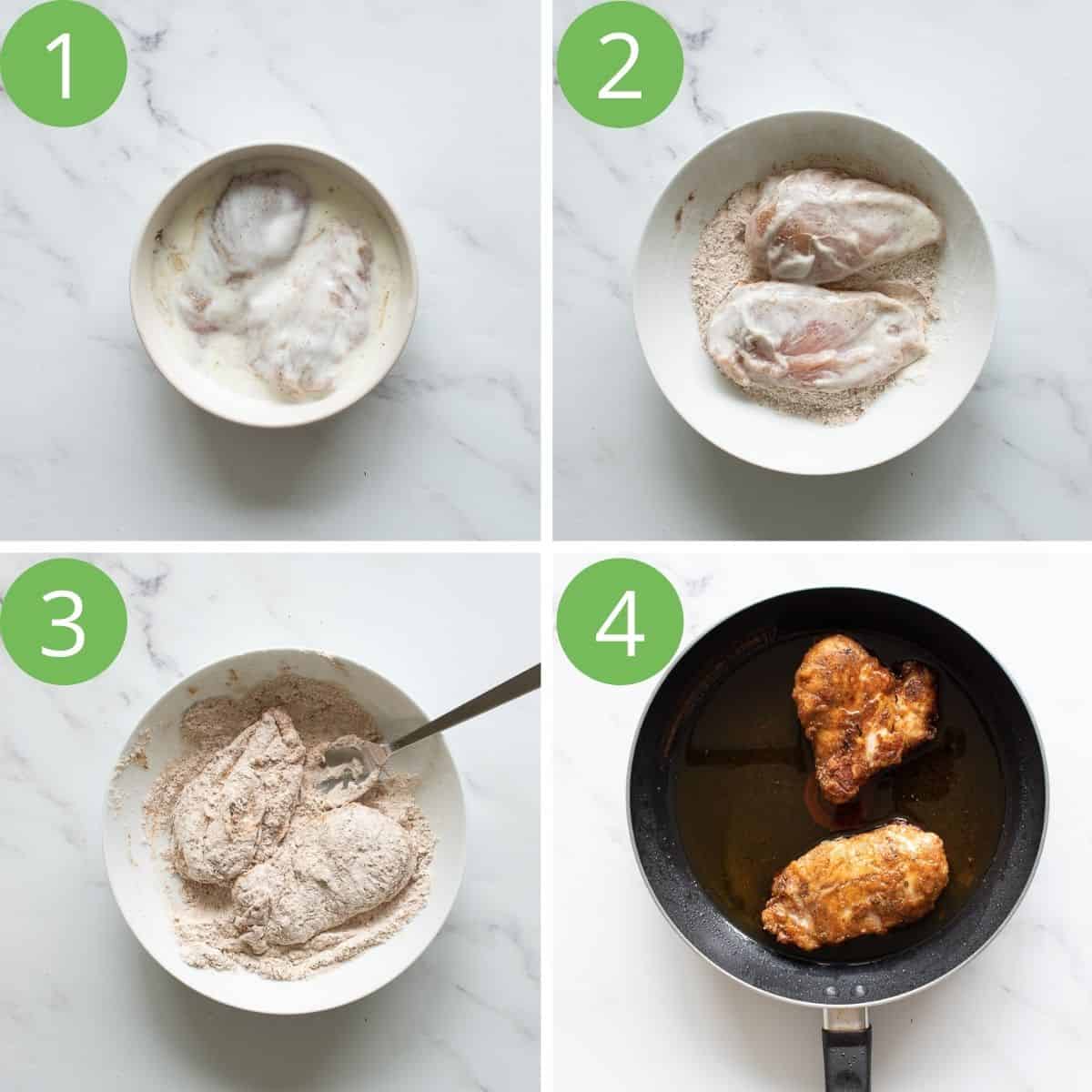 Top tips
Always use a meat thermometer to ensure that the chicken is cooked through.
The chicken will be extra tender if you allow it to marinate overnight.
Use tongs or a slotted spoon to carefully and safely turn the chicken burgers in the frying pan. Be careful with the hot oil.
Discard the leftover oil by allowing it to cool down, and then transfer it to a container like a sandwich bag. Cooking oil should never be poured down the drain, as it can cause clogs.
Feel free to change up the seasoning if you want. Use your favorite dry rub or spice mixes.
Serving suggestions
These amazing chicken breast burgers are best served as an entree for lunch or dinner. Serve them in a classic burger bun with a fantastic sauce, some vegetables, and your favorite sides.
Here are some side dishes that pair really well with burgers: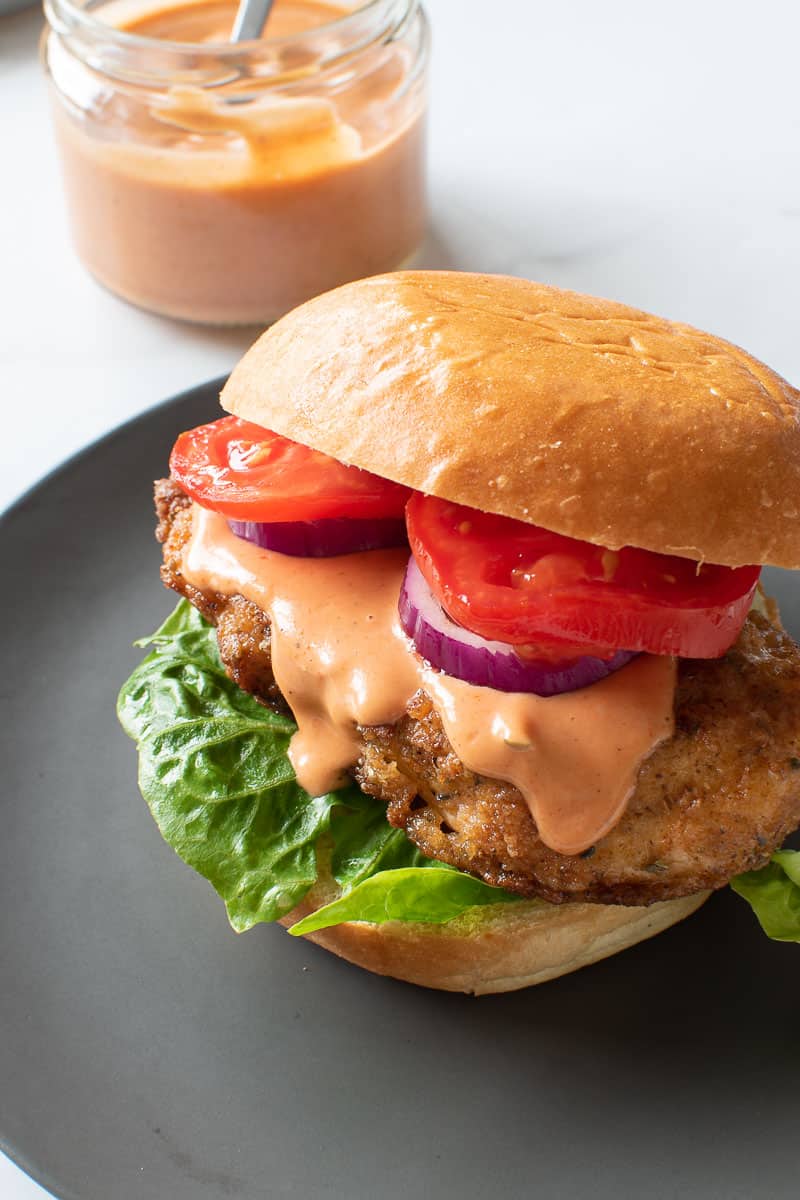 Variations
Various toppings: The easiest way to change the flavor of burgers, is to try different burger toppings. Try a new burger sauce, other vegetables, cheese or any other toppings that you like.
Change up the seasoning: You can use any seasoning you like. Try various spices and dried herbs that you love, or use your favorite spice mix. I love making these burgers with Fajita Seasoning for a taco flavored version.
Gluten free: You can use a gluten free alternative to all-purpose flour, which you can find in the allergy friendly section in most supermarkets. Also, make sure to serve the burgers in gluten free buns.
Healthier: Serve the burgers in lettuce cups rather than burger buns for a lighter version of the dish, and replace your traditional burger sauce with a lighter option, like ketchup.
Leftovers
You can store leftover chicken burgers for up to 2 days in a sealed container in a refrigerator. The coating will not be as crispy after storing, but the chicken still tastes great.
I highly recommend storing the chicken separate from the burger buns and toppings, and assemble the burgers right before serving. This will help to keep the ingredients as fresh as possible.
Reheat the chicken in an air fryer or skillet for a few minutes, and serve it warm. Alternatively, you can slice the chicken and use it in other dishes like salads or casseroles.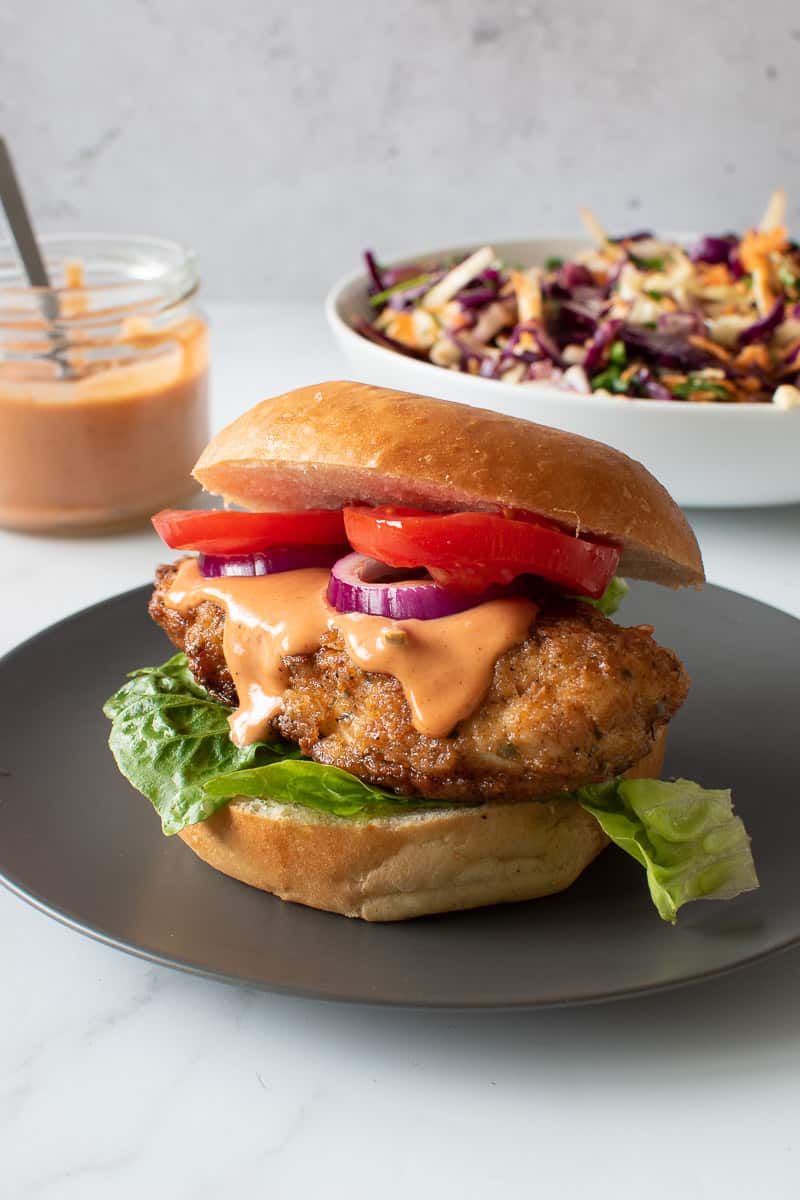 Frequently asked questions
Why do you soak chicken in buttermilk?
Soaking chicken in buttermilk makes it tender, while keeping the meat juicy. It's a great way to marinate chicken before cooking it.
Why is my fried chicken not crispy?
If the chicken isn't crispy, it's most likely because the oil wasn't hot enough. Make sure that the oil is really hot before you add the chicken. The oil should sizzle as soon as the meat touches it.
Can I fry crispy chicken without flour?
Yes. You can make crispy chicken without flour if the chicken still has the skin on. Frying the chicken will then make the skin really crispy, instead of the typical crispy flour crust.
Will this taste like deep fried chicken?
No, this is not deep fried chicken. Deep fried chicken is typically made with a batter instead of a flour coating, and includes submerging the chicken into hot oil. The texture of the crispy coating will be quite different, and in many ways less greasy.
You might also like these recipes
If you make this recipe, make sure to post a photo to Instagram with #hintofhealthy!
Recipe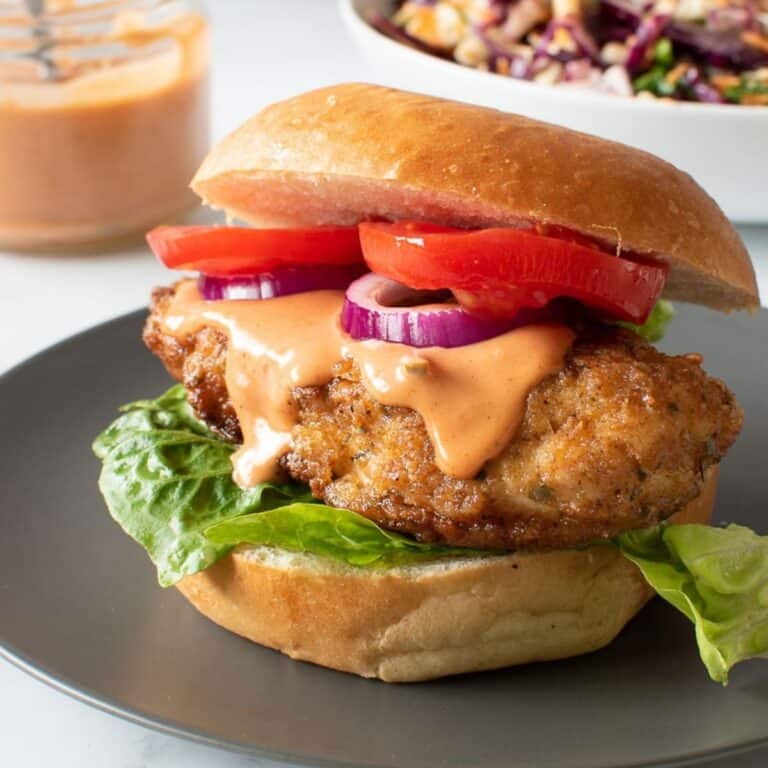 Crispy Chicken Burger
This delicious crispy chicken burger is a fantastic dinner or lunch entree that you can prepare with only 20 minutes of cooking. Tender buttermilk chicken is covered with a flour mix, and shallow fried in a frying pan until crispy.
Ingredients
Instructions
Season the chicken breasts with salt and pepper. If you're using very large chicken breasts, you might want to cut them in half lengthwise to make them easier to cook, and easier to eat.

Add the chicken to a mixing bowl or storage container, and cover with butter milk. Leave the chicken to marinade in a refrigerator for between 1 and 24 hours. You can for example allow it to marinate overnight.

Combine the ingredients for the crispy coating in a large mixing bowl or on a plate.

Shake off excess buttermilk from the chicken breasts, and transfer them to the flour. Make sure that the chicken is evenly coated in the flour coating.

Meanwhile, add enough vegetable oil in a frying pan to cover the entire bottom of the pan around ¼ inch high. Heat up the oil on high heat.

When the oil is hot, carefully transfer the chicken fillets into the oil. It should be so hot that it sizzles when the meat hits the oil. I like to use tongs for this to prevent any hot oil from splashing.

Pan fry the chicken for about 4 minutes, then carefully flip and cook the chicken on the other side for 4 more minutes. The exact cooking time required can vary depending on the size of the chicken breasts, so use a meat thermometer to ensure that the internal temperature of the chicken is at least 165 °F (74 °C) before you remove it from the oil.

Place cooked chicken breasts on a paper towel to soak up any excess oil. Repeat the cooking process for any remaining chicken breasts.

Serve the chicken burgers in buns with your favorite toppings.
Notes
Nutritional information: To calculate the amount of vegetable oil, flour and buttermilk used, I measured the amount before and after cooking. 
Vegetable oil: The exact amount needed can vary depending on the size of your frying pan. Make sure to cover the bottom of the pan completely.
Store leftover burgers in a sealed container in a refrigerator for up to 2 days. Keep the chicken separate from the toppings and buns, and assemble the burgers when you're ready to eat.
Nutrition
Serving:
1
chicken burger (without toppings)
Calories:
260
kcal
Carbohydrates:
8
g
Protein:
25
g
Fat:
14
g
Saturated Fat:
10
g
Trans Fat:
1
g
Cholesterol:
73
mg
Sodium:
826
mg
Potassium:
457
mg
Fiber:
1
g
Sugar:
1
g
Vitamin A:
141
IU
Vitamin C:
3
mg
Calcium:
81
mg
Iron:
1
mg
Food safety
Practice safe cooking with these easy tips:
Cook to a minimum temperature of 165 °F (74 °C)
Do not use the same utensils on cooked food, that previously touched raw meat
Wash hands after touching raw meat
Don't leave food sitting out at room temperature for extended periods
Never leave cooking food unattended
Use oils with high smoking point to avoid harmful compounds
Always have good ventilation when using a gas stove