These easy halloumi burgers are made in only 10 minutes, perfect for quick and simple lunches or dinners.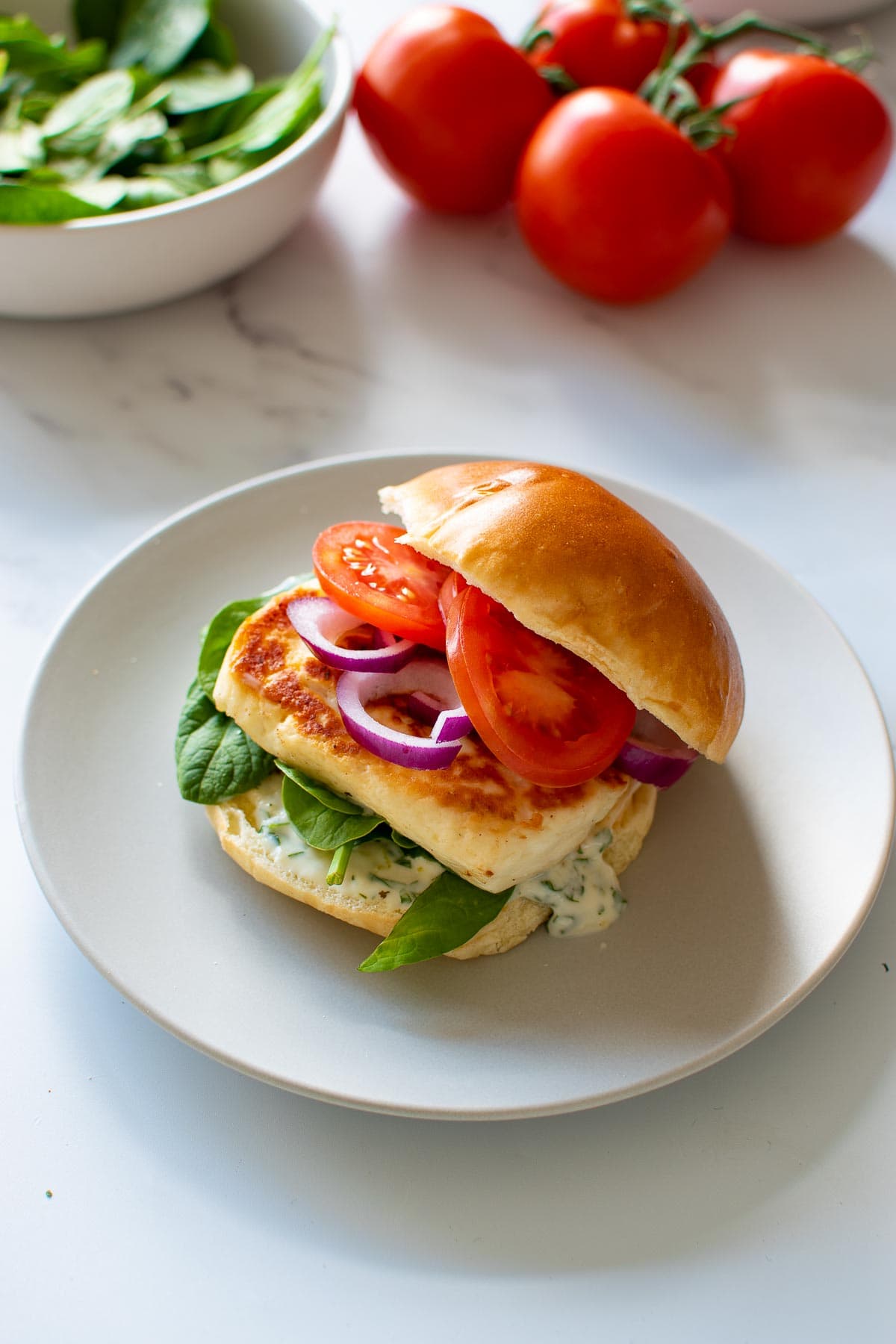 Jump to:
This post may contain affiliate links. Read more about it in the privacy policy.
Why you'll love it
Made in only 10 minutes
Super simple and easy recipe
An excellent vegetarian burger recipe
Use any burger toppings and dressings that you like
Make it in a pan, or on the grill
Serve with a variety of side dishes
Ingredients
Halloumi cheese: This Cypriot cheese is well-known for having a high melting point, which makes it great for pan frying or grilling. Halloumi cheese does not melt, but will rather become soft and delicious when warmed. This makes it a fantastic meat substitute.
Brioche burger buns: I like to serve my burgers in traditional burger buns. You can also use any other buns or rolls, or even lettuce cups for a low calorie option.
Vegetables: I like to add red onion, tomatoes and spinach to my burgers, but you can top yours with any vegetables that you like. See the serving suggestions below for more topping ideas.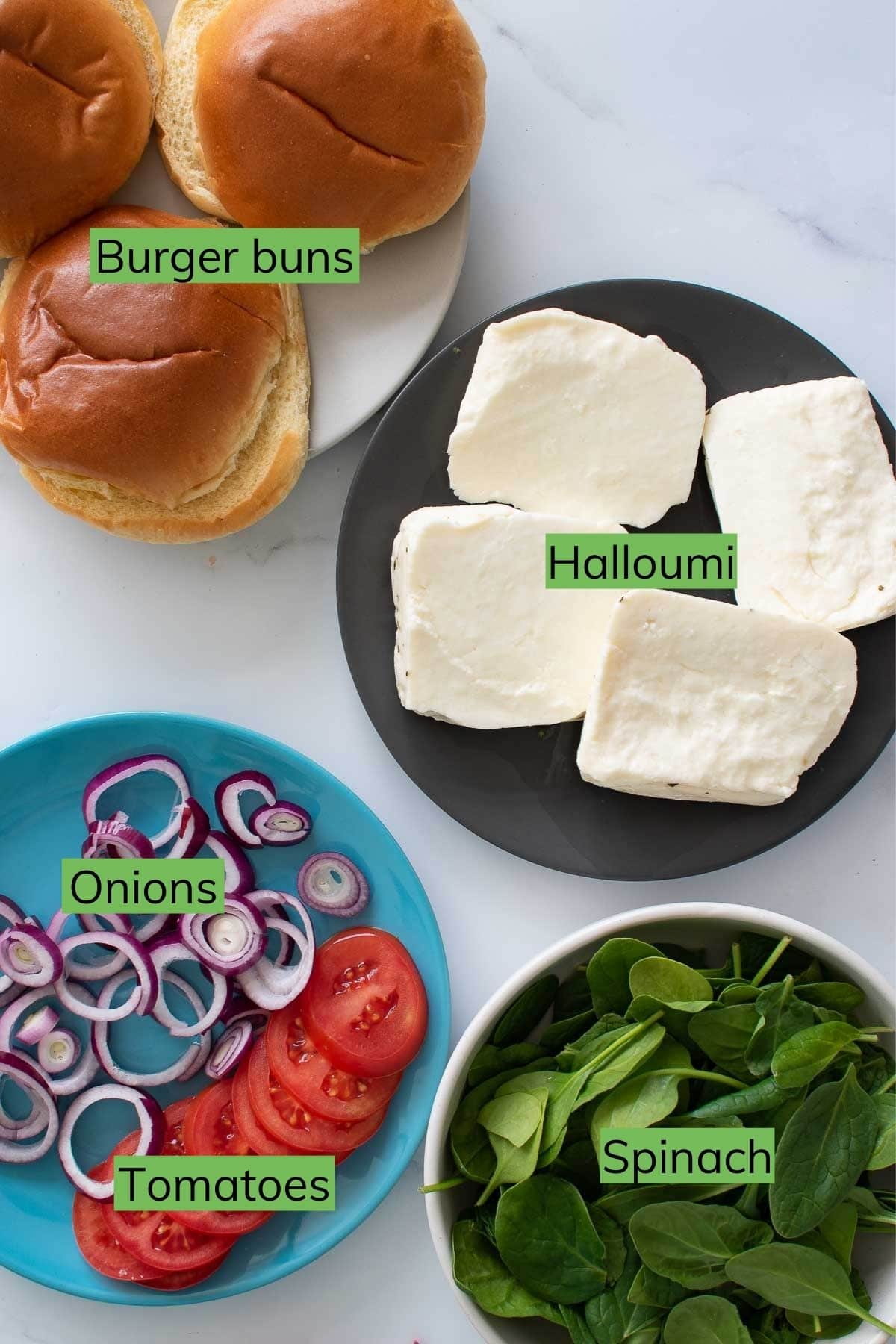 Instructions
Warm up a little oil in a pan on medium to high heat, or warm up your grill. Cut the halloumi into thick, wide chunks, and pan sear for a few minutes on both sides until it's golden brown on the surface.
Assemble the halloumi burgers by adding cooked halloumi, spinach, red onions, sliced tomatoes and any other toppings or sauces that you like, and serve immediately.
💡 TIP! Halloumi is also safe to eat cold and uncooked. However, it tastes much better warm. Serve the warm halloumi immediately, before it cools down, to achieve the best results.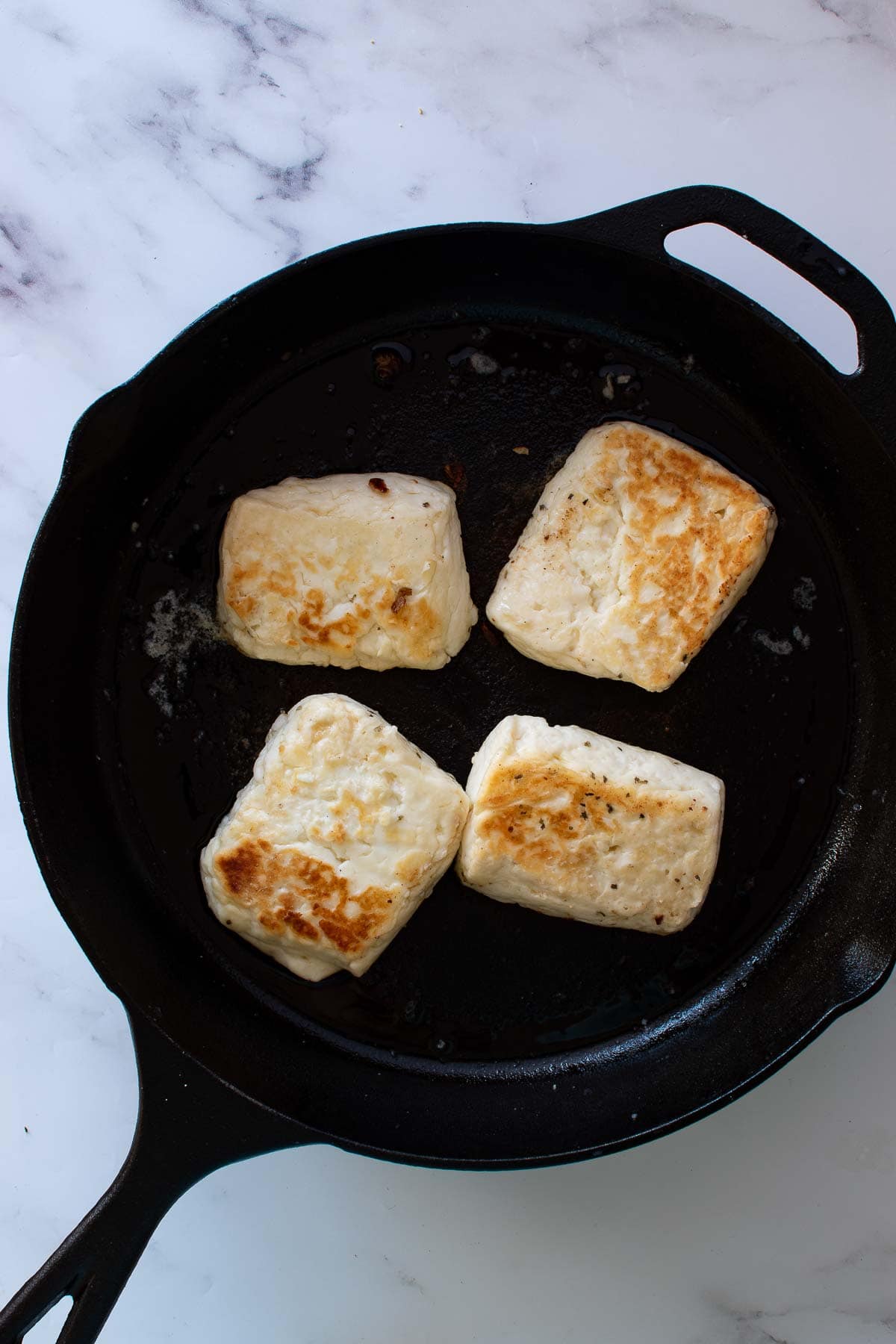 Top tips
Make sure to grease the pan with a little oil to prevent the halloumi from sticking to it
The halloumi is cooked when the surface is nice and golden. Keep an eye on it, as the exact cooking time can vary.
Serving suggestions
These burgers are best served for lunch or dinner. Add any toppings, sauces or side dishes that you like; here are some great options: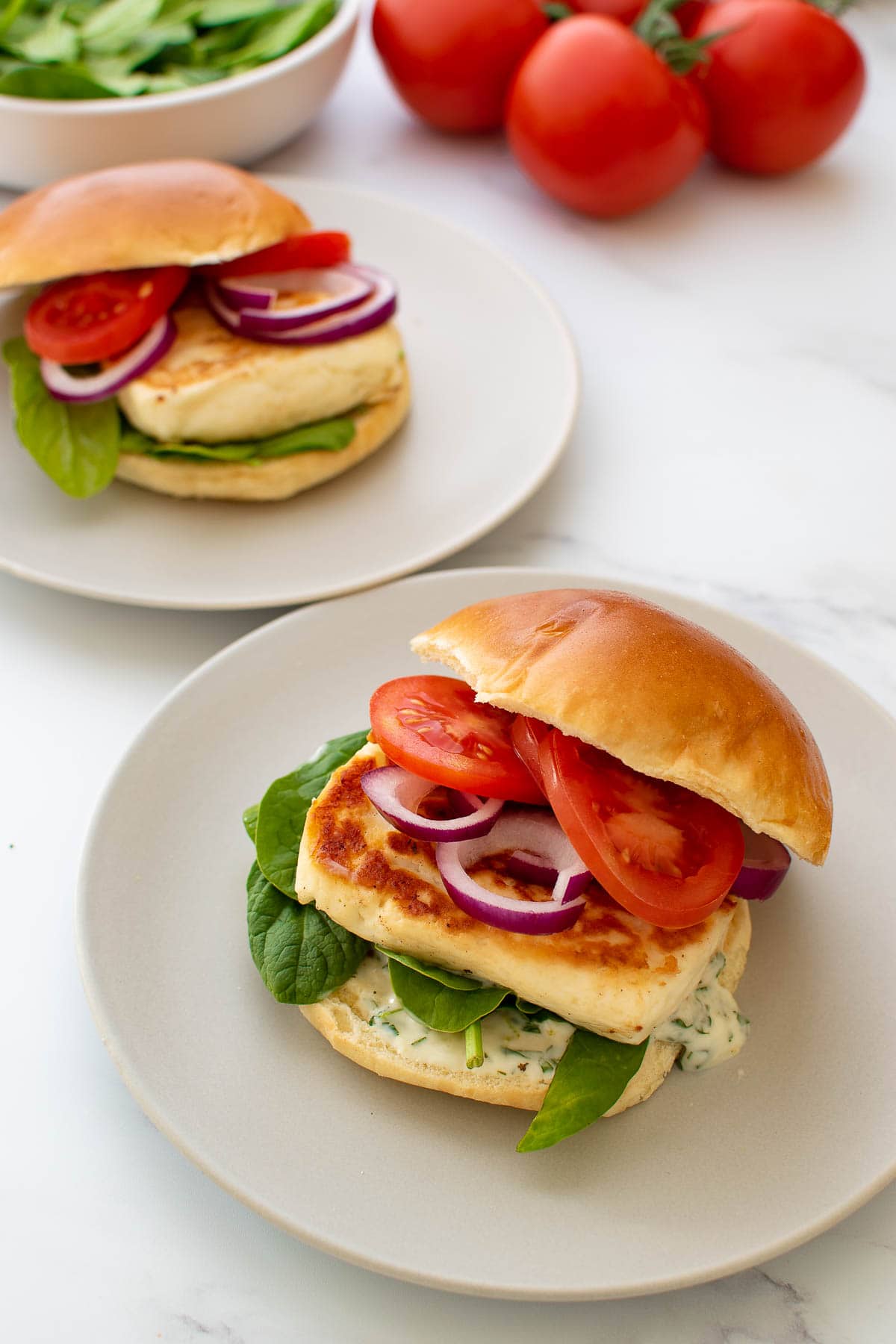 Variations
Crispy halloumi burgers: If you want the burgers to be a little more crispy, you can coat the halloumi in a thin layer of all-purpose flour before cooking it.
Halloumi and chicken burgers: If you want to add meat to the burgers, you can stack the halloumi over a grilled chicken breast or a piece of breaded chicken. This will make the burger a lot more filling.
Low carb + keto + gluten free: Make the burger suitable for any of these dietary restrictions by using diet friendly burger buns, or by replacing the buns with lettuce cups.
Leftovers
You can store leftover halloumi cheese burgers in a refrigerator for up to 4 days.
Store the burger buns, halloumi and toppings separately. Then, you can reheat the halloumi in a pan or microwave, and assemble the fresh burgers immediately before serving.
Any leftover ingredients can also be used in other dishes, such as casseroles, pasta or salads.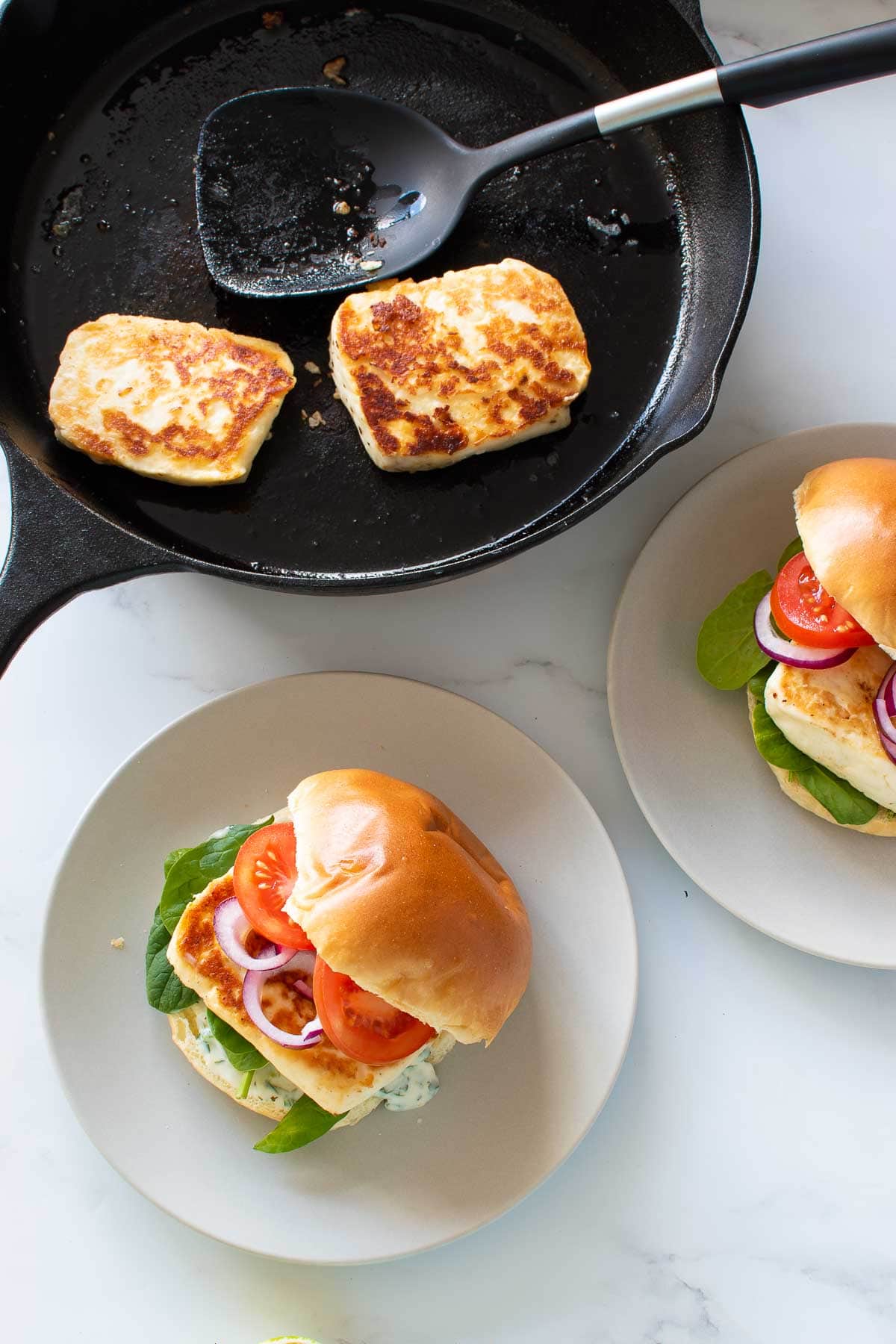 Frequently asked questions
What is a halloumi burger made of?
Halloumi burgers are made of a slab of halloumi cheese. The cheese is sometimes cooked as is, and occasionally battered or breaded.
Are halloumi burgers healthy?
Halloumi is a cheese, and is high in fat and salt. It's a great high protein alternative to meat, and perfectly fine to consume in moderation.
Is halloumi vegetarian?
Most halloumi is vegetarian, however some brands contain rennet, which is not suitable for vegetarians. Check the label to find out whether your halloumi is vegetarian.
You might also like these recipes
If you make this recipe, make sure to post a photo to Instagram with #hintofhealthy!
Recipe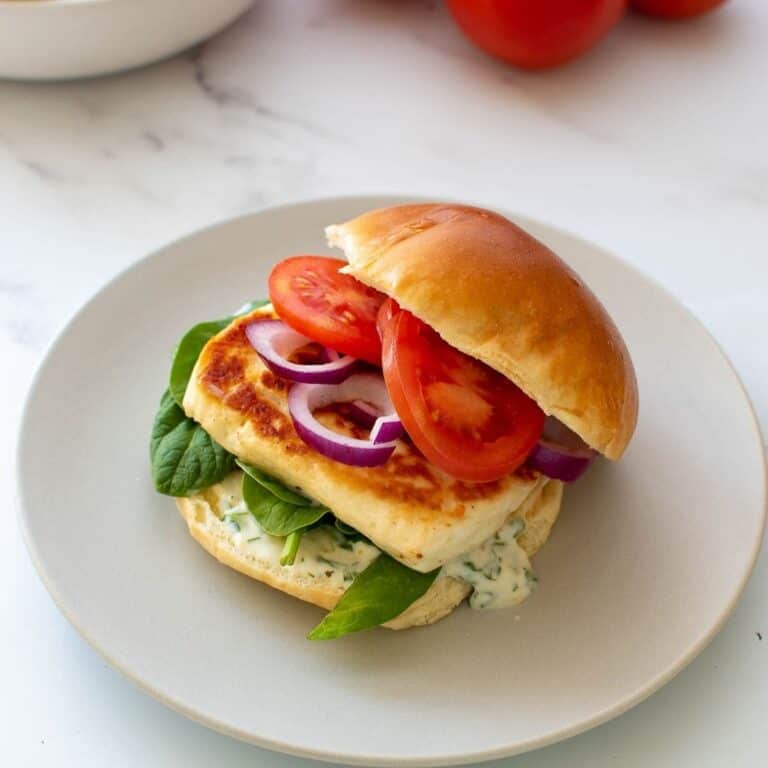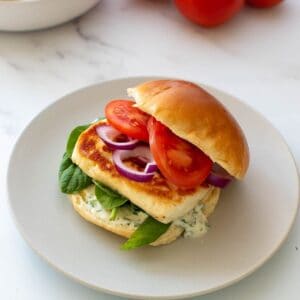 Halloumi Burgers
These easy halloumi burgers are perfect for quick lunches or dinners. This amazing vegetarian burger is made in only 10 minutes, and tastes absolutely amazing.
Ingredients
14

ounces

halloumi

4

burger buns

1

cup

spinach

2

tomatoes

(sliced)

1

small

red onion

(sliced)
Instructions
Heat up a little olive oil or vegetable oil in a skillet on medium to high heat. Alternatively, heat up your grill.

Slice the halloumi into 4 thick slices. Cook them in the pan or on the grill until the cheese is golden on both sides, about 5 minutes.

Add the cooked halloumi cheese to the burger buns, along with sliced tomatoes and red onions, and spinach leaves.

Serve the burgers immediately while they are warm.
Notes
Store the leftover cooked halloumi for up to 4 days. Reheat in a skillet or microwave, and assemble the burgers when you are ready to eat.
Feel free to use any other burger toppings that you like.
Nutrition
Calories:
456
kcal
Carbohydrates:
28
g
Protein:
27
g
Fat:
26
g
Saturated Fat:
17
g
Sodium:
1416
mg
Potassium:
282
mg
Fiber:
2
g
Sugar:
6
g
Vitamin A:
1217
IU
Vitamin C:
13
mg
Calcium:
1087
mg
Iron:
2
mg