This easy chickpea and halloumi curry is a quick and easy weeknight dinner that you can prepare in only 15 minutes. Soft cubes of halloumi cheese and canned chickpeas are cooked together in a flavorful curry sauce.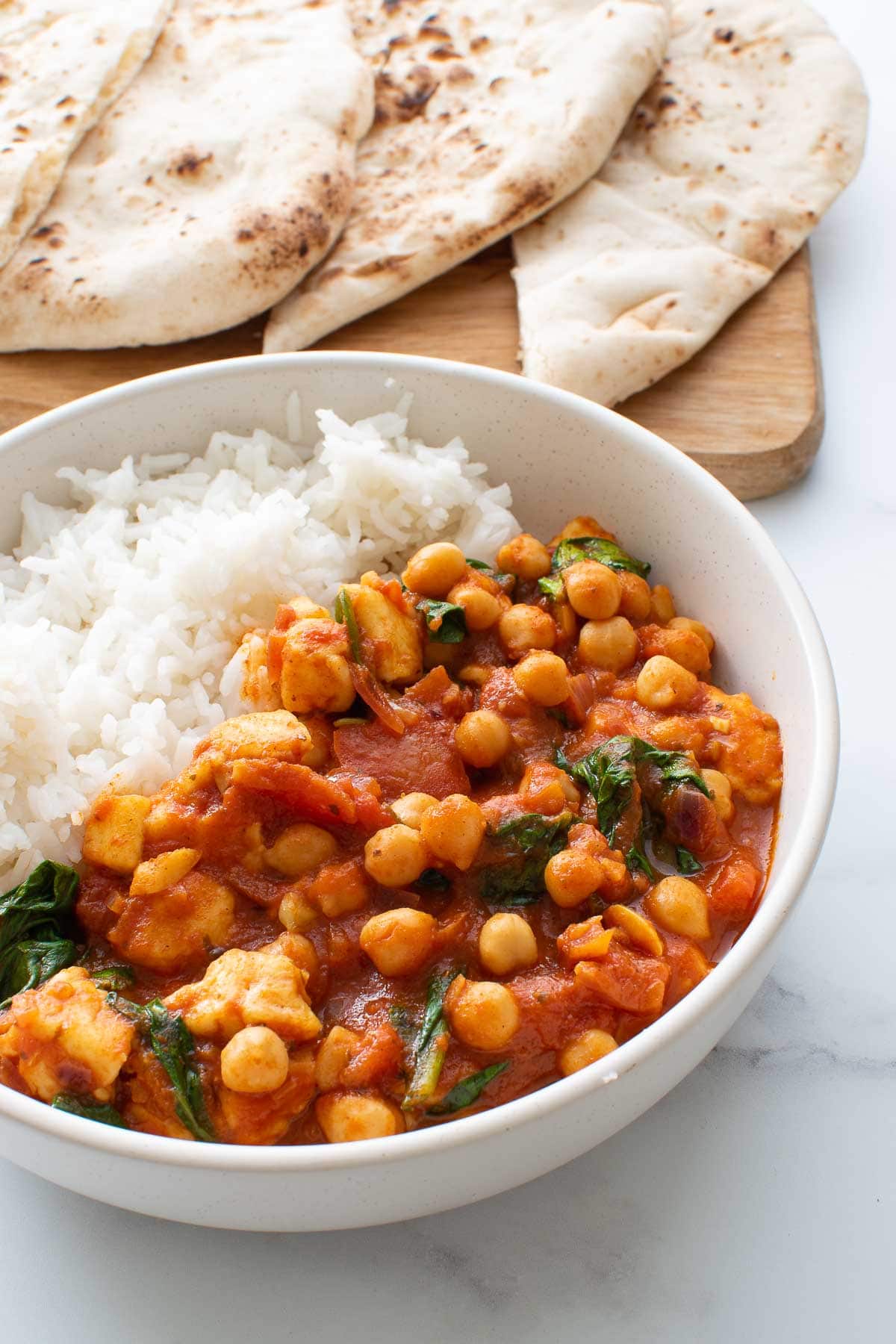 Jump to:
This post may contain affiliate links. Read more about it in the privacy policy.
Why you'll love it
A flavorful 15-minute dinner entree
Really easy to make, with inexpensive ingredients
Great option for Meatless Monday, or a vegetarian dinner
Adjust the seasoning and ingredient to suit your preferences
Healthy, filling and delicious
🍛 More CURRY RECIPES from Hint of Healthy
Ingredients
Halloumi cheese: Halloumi is a firm cheese with a high melting point. In this curry, it will be soft and delicious, but keep its shape nicely. You can alternatively use paneer instead.
Chickpeas: Chickpeas are amazing in a curry. They are an excellent source of vegetarian protein, and add both texture and flavor to the dish. Use canned chickpeas; dry chickpeas are not suitable for this recipe.
Curry paste: You can use any curry paste that you like, either homemade or store bought. I use tikka masala paste, but any flavor will work well.
Onion, garlic & ginger: These all add flavor to the curry.
Canned diced tomatoes + tomato paste: (UK: tinned tomatoes and tomato puree) These ingredients make the majority of the sauce. You can also use tomato sauce (UK: tomato passata) instead.
Spinach: The spinach adds texture and interest to the curry. You can replace it with any leafy greens such as kale, or omit it completely.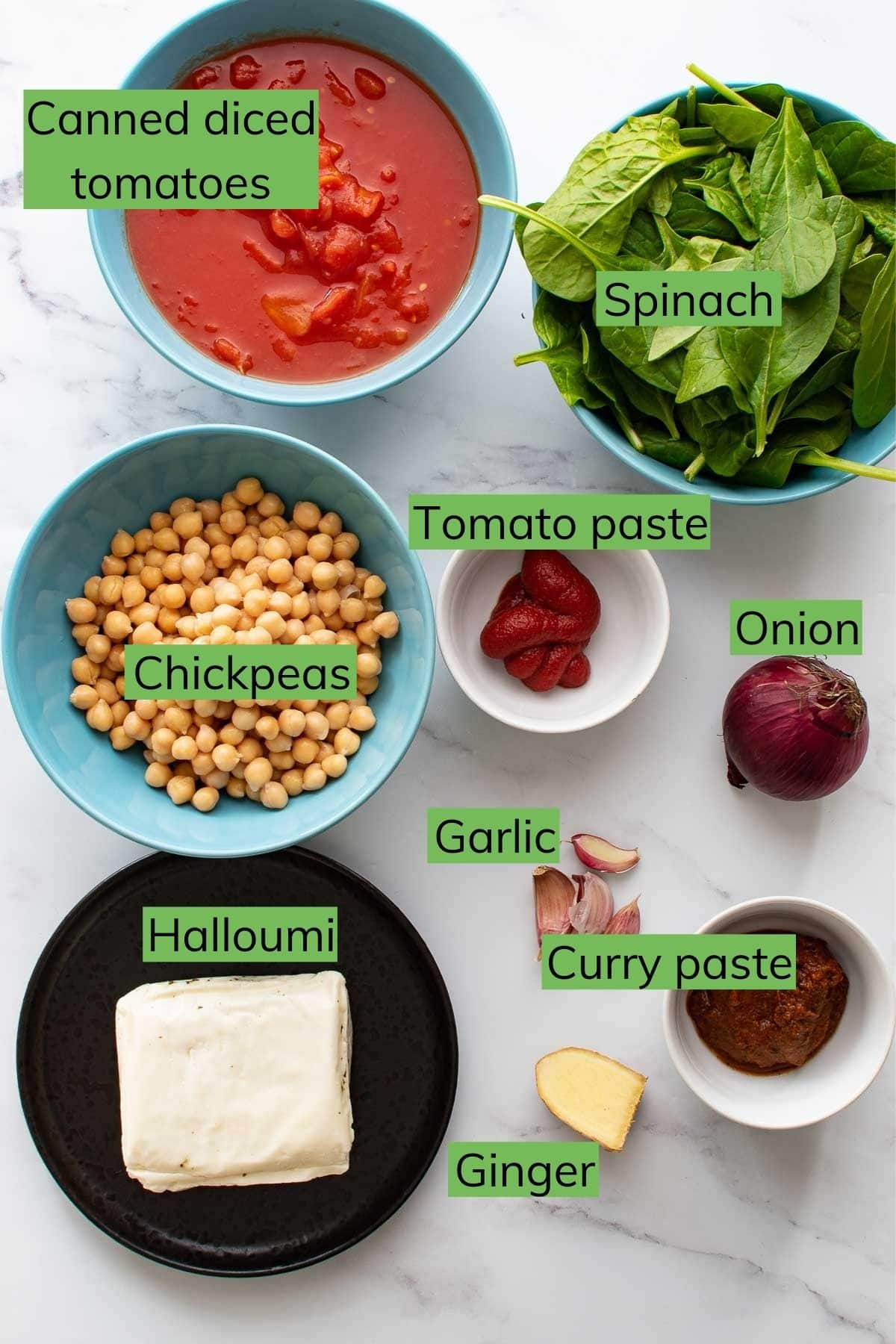 If you're looking for more easy vegetarian curry recipes, you might also like my Egg Curry or Zucchini Curry.
Instructions
Halloumi curry can be made in less than 10 minutes, and only requires a few steps.
First, sauté finely diced onion, garlic and ginger in vegetable oil or olive oil for a few minutes. Add tomato paste and curry paste, and sauté for another minute. This allows the flavors to develop.
Add canned diced tomatoes, drained and rinsed canned chickpeas and diced halloumi. Stir to combine, cover the pot with a lid, and leave to simmer for about 5 minutes.
Lastly, add washed spinach to the pot, stir it through, and leave the leaves to wilt for a minute or two. It might seem like a lot of spinach at first, but the leaves shrink a lot when they are warm.
Serve the chickpea and halloumi curry warm with your favorite side dishes.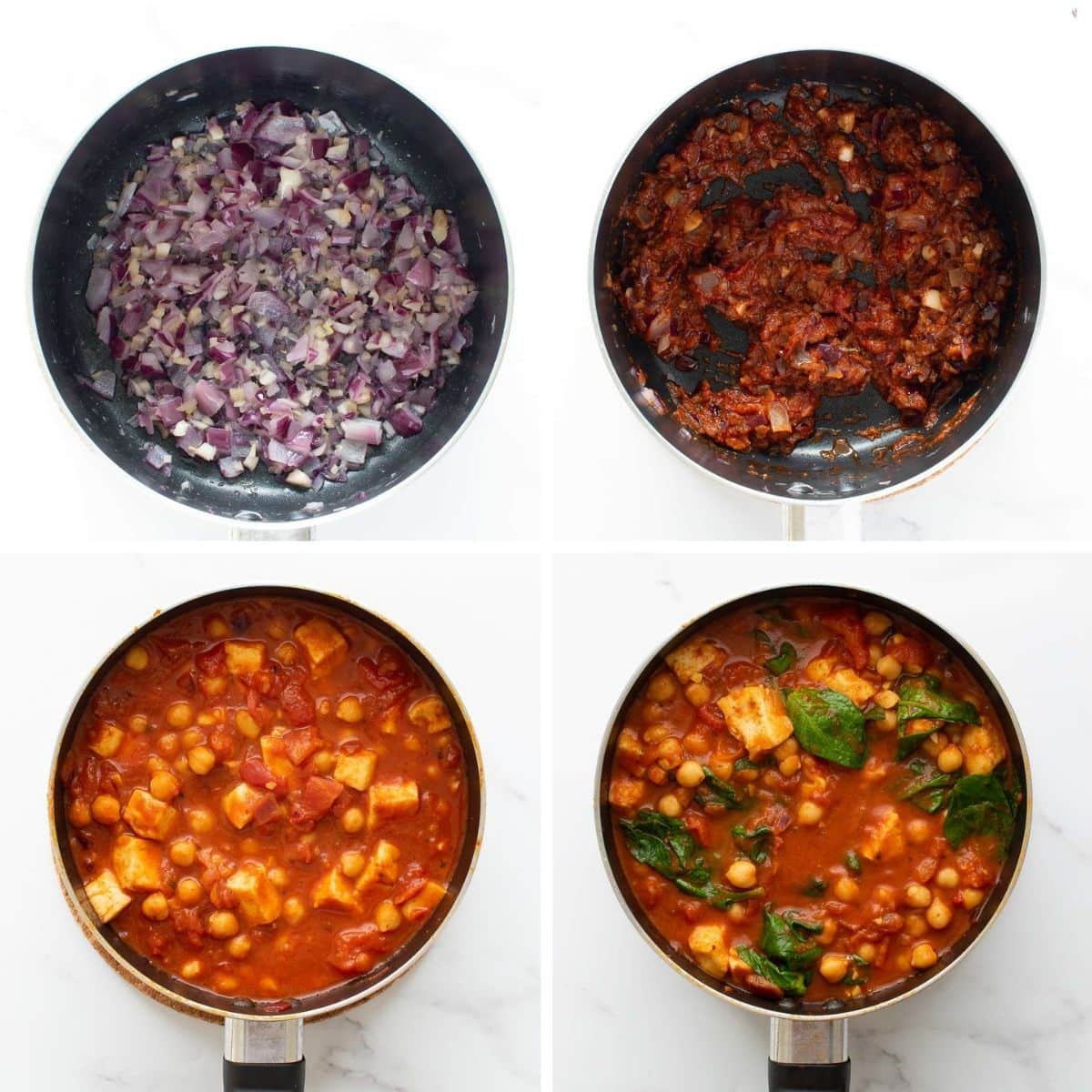 Top tips
This recipe can be varied endlessly by adding extra seasoning, using different curry paste, or adding vegetables.
Dice the ginger, garlic and onion into very small pieces. This improves the texture and flavor of the dish.
Serving suggestions
I usually serve my halloumi chickpea curry as an entree for lunch or dinner. I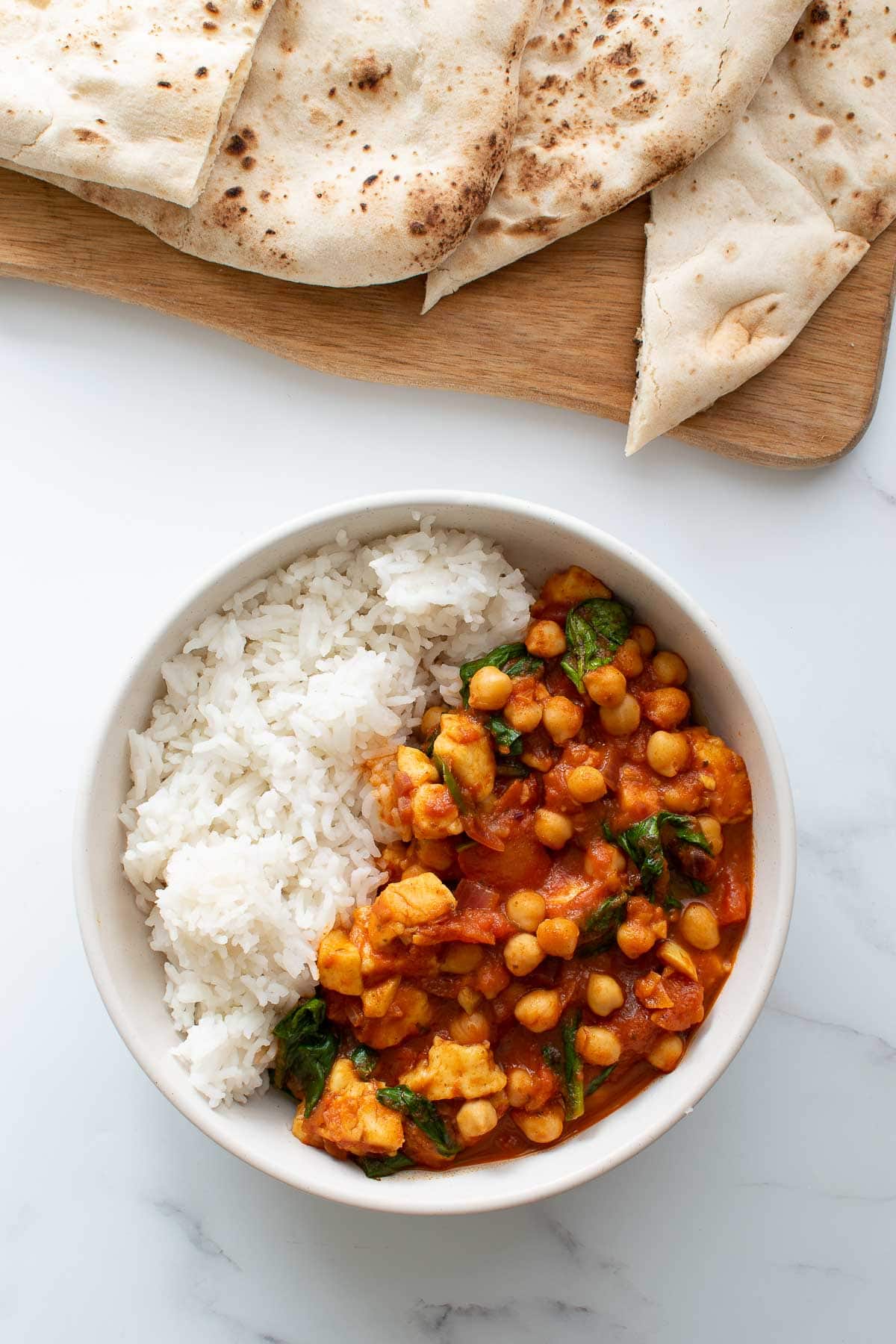 Variations
Creamy halloumi curry: If you want to make the curry extra creamy, you can add about half a can of coconut milk. This is also a great way to make the dish a little milder if you use a spicy curry paste.
Spicy curry: If you prefer a little spice, you can add a diced red chili, or a teaspoon of chili powder to the dish. You can also simply use a spicy chili paste.
With vegetables: Add any diced vegetables that you like. Halloumi potato curry is a great alternative, or you can add eggplant (UK: aubergine), peppers or cauliflower.
Different curry paste: Curry paste gives the curry a lot of flavor. You can completely change up how the curry tastes simply by using a different curry paste. Try cooking with tikka masala, jalfrezi, madras, rogan josh, korma or balti pastes, and find your favorite.
Without legumes: Omit the chickpeas to make halloumi spinach curry. To make it a little more filling, you can double the amount of halloumi or add vegetables instead.
With meat: You can add extra cooked meat, or replace the chickpeas with meat. Shredded or diced cooked chicken, or leftover roasted turkey are excellent options.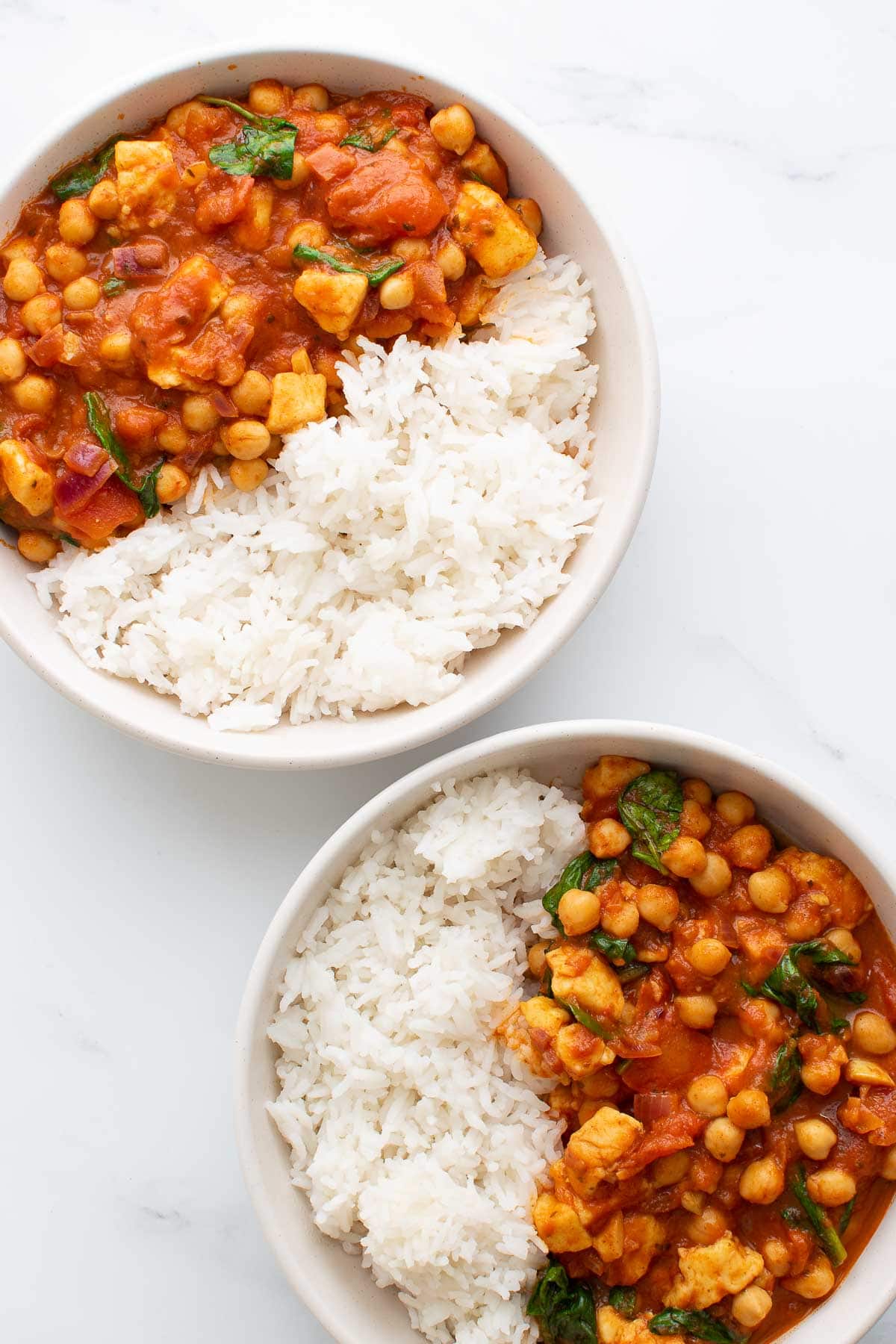 Leftovers
Store leftover halloumi cheese curry in a sealed container in a refrigerator for up to 5 days. You can reheat it in a microwave for a few minutes, or in a pot on the stove top until it's warm, then serve.
You can also freeze the curry for up to 6 months. Thaw or defrost it in a refrigerator overnight, then reheat it before serving.
This healthy curry recipe is perfect for meal prep or make ahead meals. I like to make a double or triple batch, and freeze it down in portion sizes for quick and easy meals.
Easy lunch idea: Portion out curry and rice in containers, and store them in a refrigerator. Then, you can simply pop a container into the microwave for a quick and simple meal.
🍛 More CURRY RECIPES from Hint of Healthy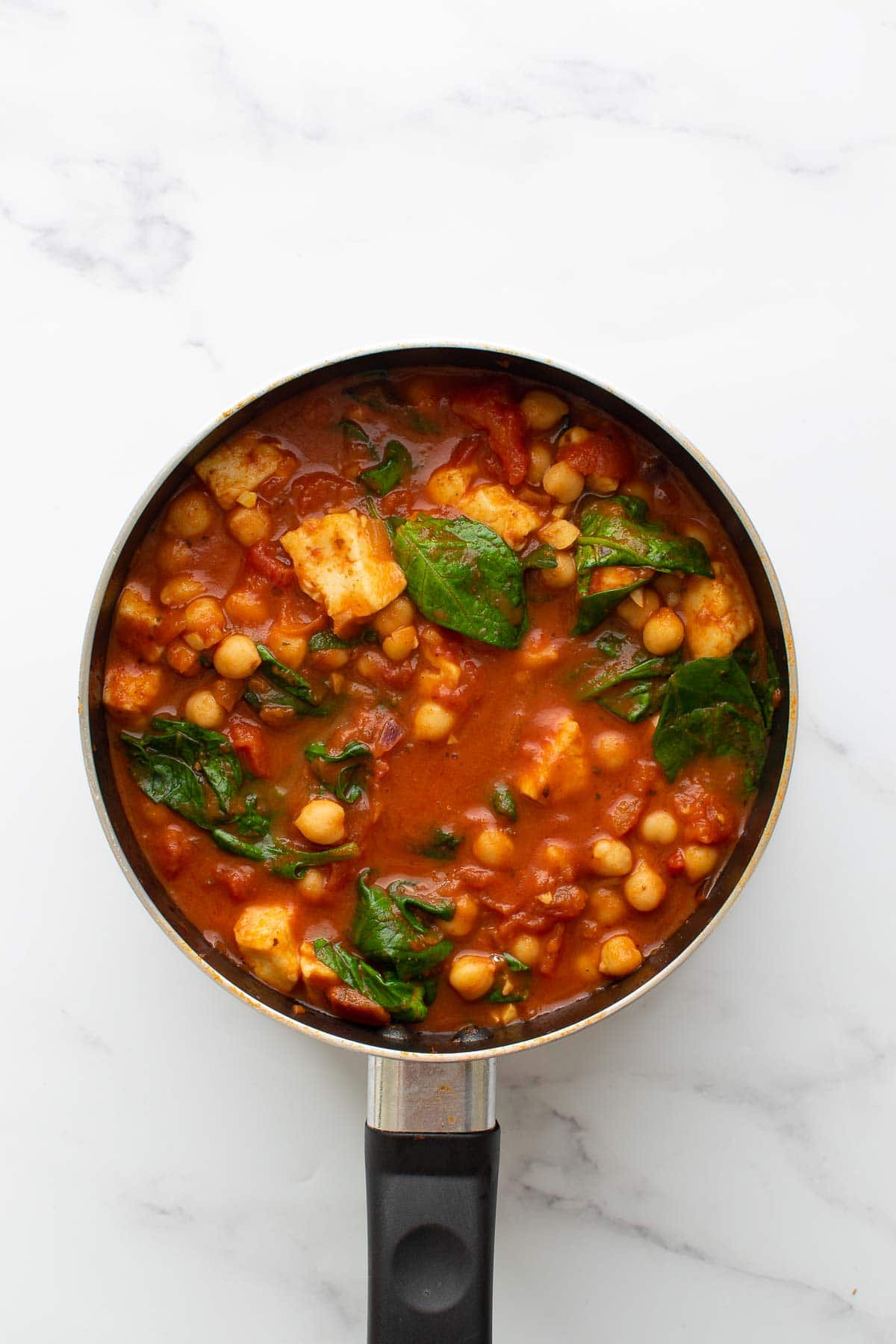 Frequently asked questions
Can halloumi be used instead of paneer?
Yes. Although they don't taste the same, both halloumi and paneer have high melting points, and can often be used interchangeably in recipes.
How do you cook halloumi?
Halloumi can be cooked in sauce in a pot, fried in a skillet, baked in an oven, or grilled. You can also eat halloumi uncooked.
You might also like these recipes
If you make this recipe, make sure to post a photo to Instagram with #hintofhealthy!
Recipe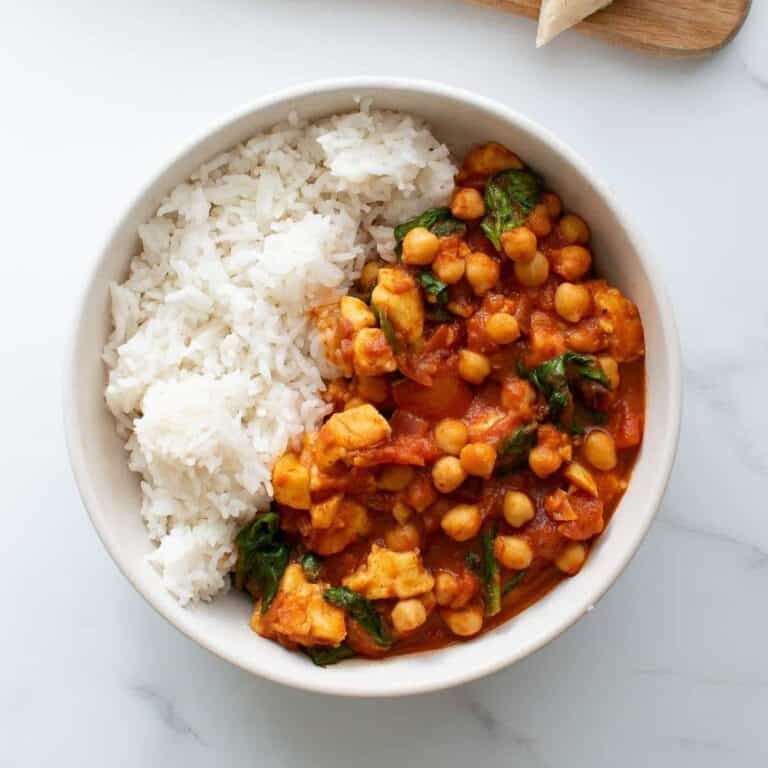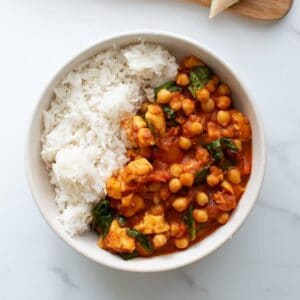 Chickpea and Halloumi Curry
This healthy chickpea and halloumi curry is a quick and easy recipe, perfect for simple weeknight dinners. Chickpeas, halloumi and spinach are cooked together to tender perfection.
Instructions
Heat the vegetable oil or olive oil in a saucepan or pot on the stove top.

Add finely diced garlic, onion and ginger to the pot. Sauté for a few minutes until the onion is translucent.

Add tomato paste and curry paste to the pot, and saute for another minute to allow the flavors to develop.

Then, add canned diced tomatoes, diced halloumi and drained and rinsed canned chickpeas to the pot. Stir to combine the ingredients. Cover the pot with a lid, and leave to simmer for about 5 minutes.

Finally, add washed spinach to the curry, and stir for a minute to allow the leaves to wilt.

Add salt and pepper to taste, then serve.
Notes
Store leftovers in a refrigerator for up to 5 days, or freeze for up to 6 months.
Nutrition
Calories:
325
kcal
Carbohydrates:
25
g
Protein:
20
g
Fat:
17
g
Saturated Fat:
10
g
Sodium:
1156
mg
Potassium:
499
mg
Fiber:
7
g
Sugar:
5
g
Vitamin A:
2726
IU
Vitamin C:
18
mg
Calcium:
676
mg
Iron:
3
mg