Learn how to cook perfect tender lentils in your Instant Pot. This is a quick and simple method that results in perfect cooked lentils every time. Lentils are a great vegetarian protein source, and can be used in a variety of meals and dishes.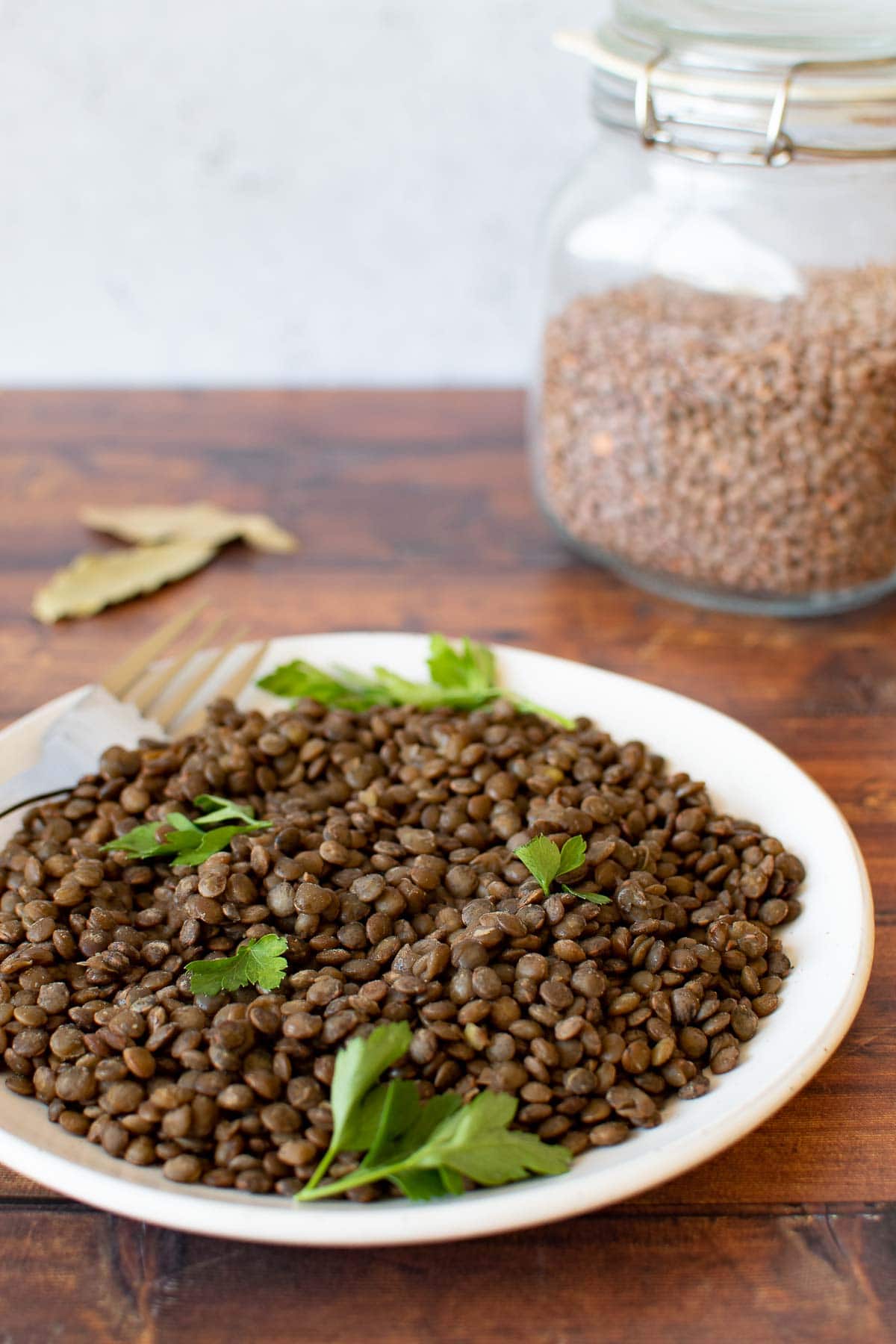 Jump to:
This post may contain affiliate links. Read more about it in the privacy policy.
Although I absolutely love lentils, I have always hated cooking them. Most lentils, like brown lentils or green lentils, have to be soaked in water for at least a few hours, THEN cooked for a long period of time. Quite frankly, I don't have that kind of patience, so I've always chosen to buy canned lentils.
The Instant Pot is such a game changer. Pressure cooked lentils come out perfect every time, and only take 20 minutes to prepare, without the need to soak them beforehand.
This is such a great way to prepare a batch of lentils to use in any recipe. You can meal prep lentils to use in multiple meals throughout the week, or only cook what you need at the moment.
Why you'll love it
Perfect cooked lentils
Use it in any recipe!
Works for green or brown lentils
Quick recipe
No soaking needed
Customize the seasoning to suit your preferences
Ingredients
Lentils: Use your favorite dry lentils. I prefer brown or green lentils, but you can cook most types of lentils in the Instant Pot.
Water: Use plain water, or vegetable stock if you want to add some flavor to the lentils. The lentils will absorb the water while they cook, and soften.
Seasoning: You can use any seasoning that you like. Choose your seasoning based on how you plan to serve or eat the lentils. Salt, pepper, bay leaves, cumin, garam masala, or garlic powder are great options.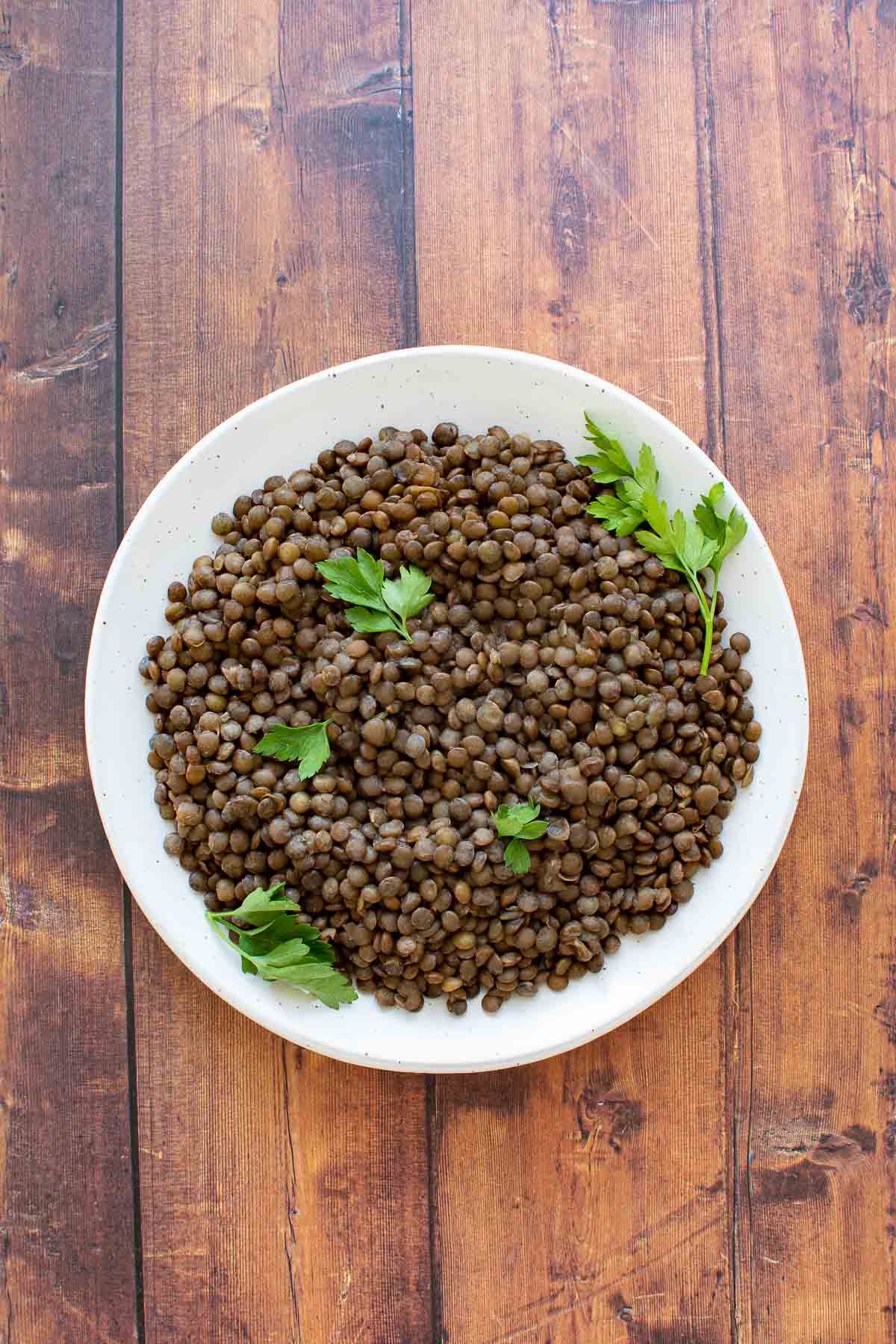 How to cook different types of lentils
There are so many types of lentils, and this recipe works for most of them. As a general rule, this recipe will work well for whole lentils, but not split lentils.
Brown lentils: These are probably the most commonly used lentils. Brown lentils are slightly larger and thicker than the other types of lentils, and have a great flavor. They can be used in salads, stews, soups or a range of other dishes. If you want to eat the grains whole, like in a salad, cook them for 8 minutes. Increase to 10 minutes for softer lentils, or 15 minutes if you want them quite mushy.
Green lentils: These are also quite common, and very similar to brown lentils. Cook them for 8 minutes if you like them quite firm, 10 minutes for soft lentils, or 15 minutes for mushy lentils. I love to use green lentils in daals or stews.
French Puy lentils: Puy lentils are slightly smaller than brown lentils, and tend to hold their shape better. Cook them for 6 minutes for firm lentils, or 8 minutes if you like them a little softer. These are great for salads or in dishes where you want slightly more firm lentils.
Red lentils: Red lentils are thinner than green or brown lentils, and therefore cook faster. They don't keep their shape particularly well, and instead they become creamy after cooking. Red lentils are perfect to add to soups or stews. Cook them in the pressure cooker for 4 minutes. They will already be mushy after cooking. If you cook them for around 8 minutes, they will completely dissolve into a paste, which is great if you're cooking them in a thick soup.
Split yellow lentils: These are often even thinner than red lentils, and cook quite similarly. If you're cooking plain split yellow lentils, I recommend pressure cooking them for 2-3 minutes. They will come out quite mushy. However, split yellow lentils are more commonly used in recipes like curry or soups, and rarely cooked plain.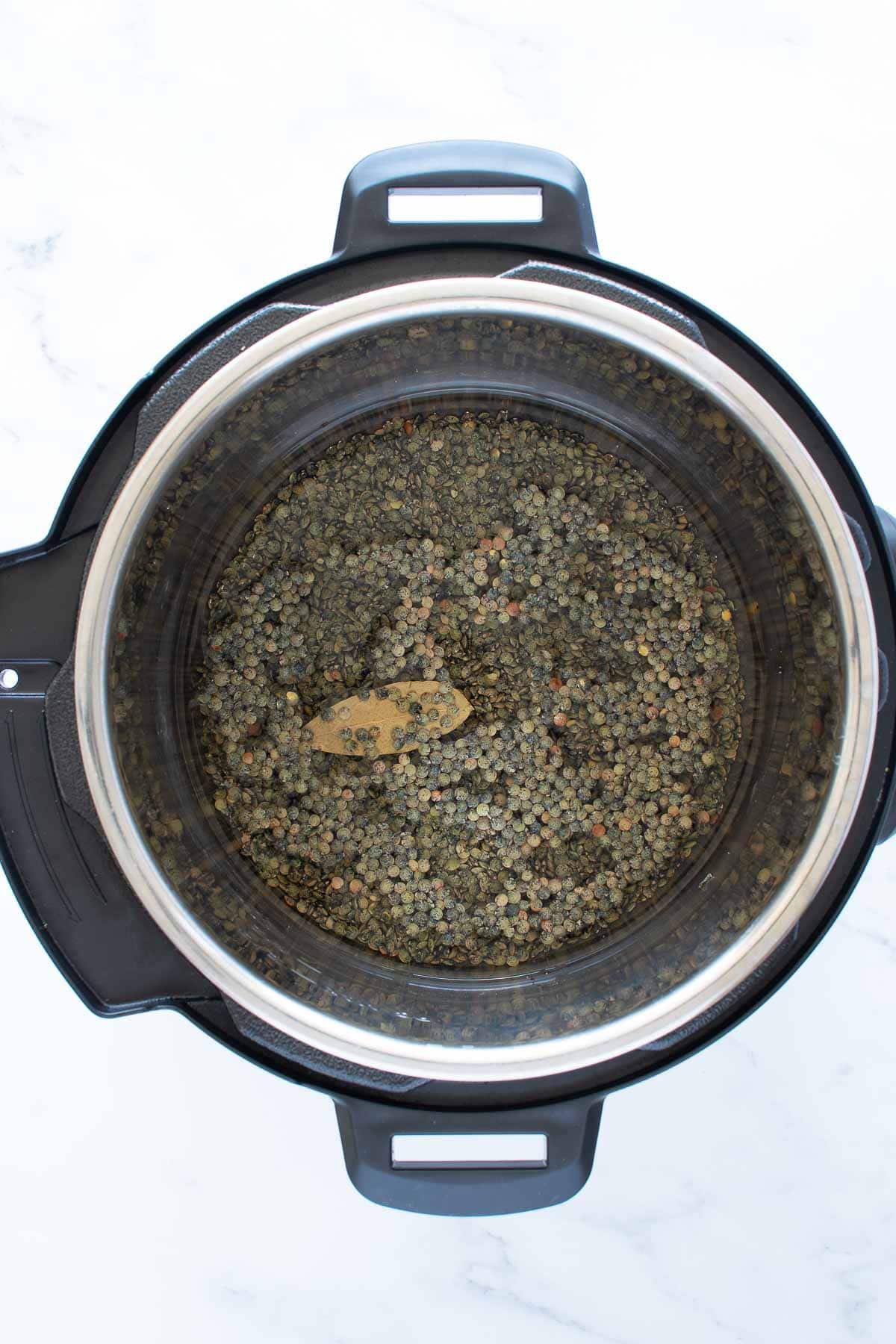 Instructions
You can find full instructions + ingredient measurements in the recipe card at the bottom of this page
One: Combine the ingredients in the Instant Pot.
Two: Select the PRESSURE COOK or MANUAL setting, and set the timer to the desired time. The cooking time varies depending on which type of lentil you use, and how soft you want them. See the section above for more details.
Three: Allow the pressure to release naturally for 10 minutes after cooking. Then, turn the valve to perform a quick release of the remaining pressure following the manufacturer's instructions.
💡 TIP! The steam being released from the Instant Pot tends to be really warm. Keep your hands at a safe distance by using a wooden spoon or tongs to turn the venting valve, or use oven gloves.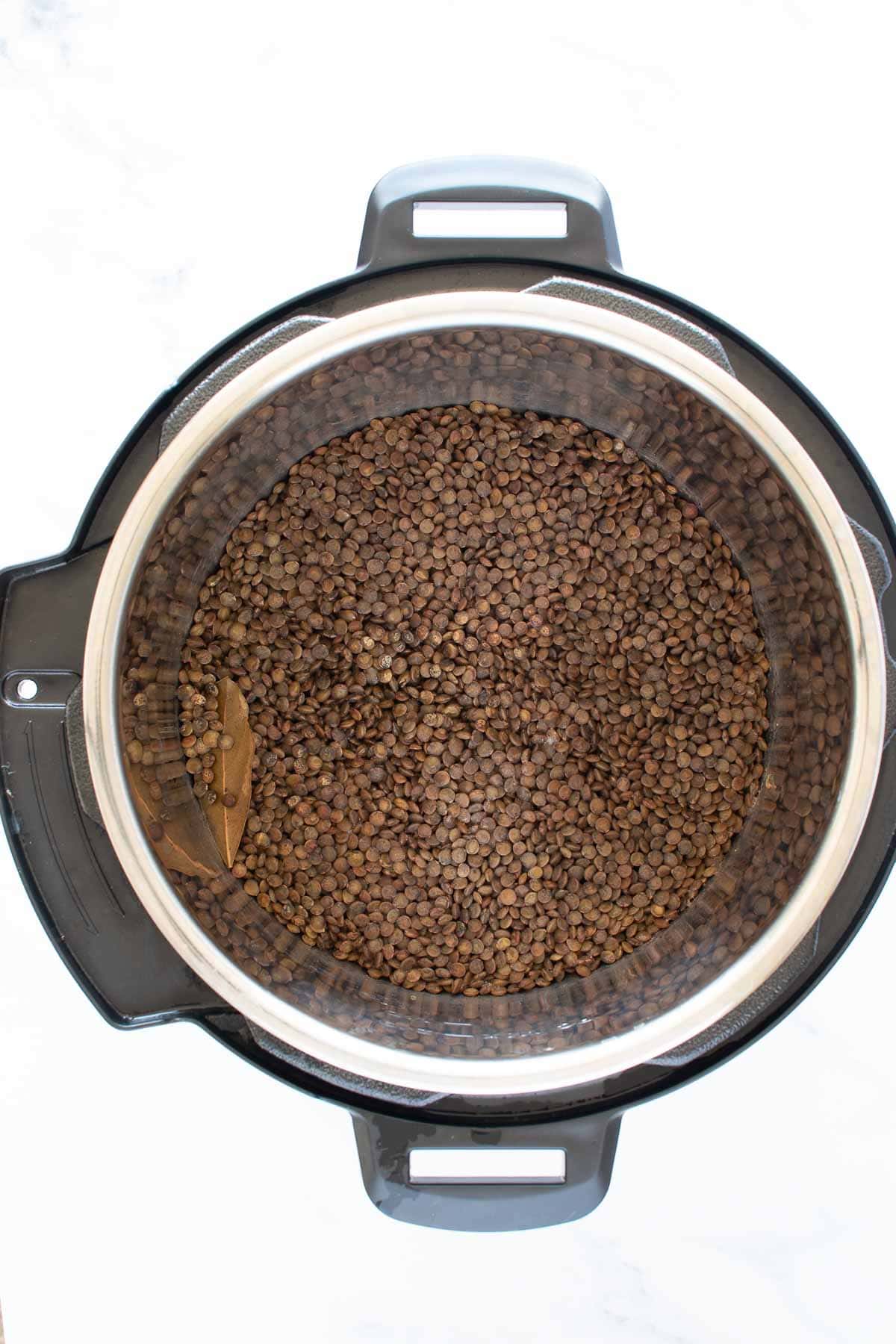 Top tips
Maintain the same lentil to water ratio if you double or triple the recipe. Then you don't have to worry about the lentils becoming soggy or burning.
Don't soak the lentils beforehand. The suggested cooking times are for dry, plain lentils.
Different lentils require different cooking times. Make sure to follow the correct instructions for the type of lentils you have!
Serving suggestions
Pressure cooked lentils are really just an ingredient. You can use cooked lentils in a variety of recipes, or add the lentils to any meal.
Here are some of my favorite recipes using cooked lentils:
These dishes would taste great with added Instant Pot lentils: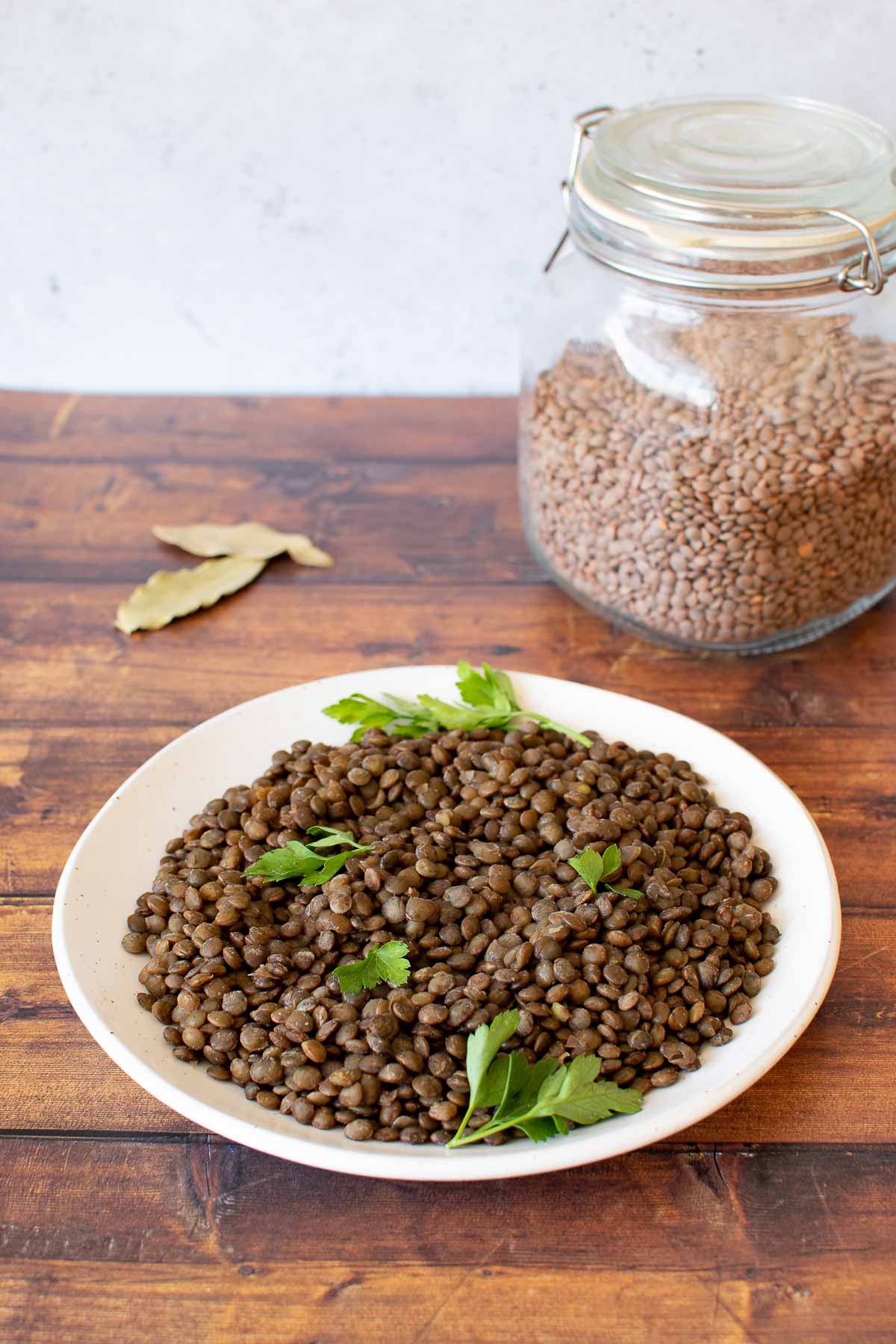 Variations
Add aromatics: Sauté some onion, garlic, chili, scallions, or ginger in the Instant Pot before you add the remaining ingredients. This will add even more flavor to your lentils.
Mexican style lentils: Add some diced jalapenos, or Mexican style seasoning like cayenne pepper and cumin. You can even use taco seasoning or fajita seasoning. Perfect for lentil tacos or burrito bowls.
Indian flavored lentils: Add cumin, coriander, ginger, garam masala and turmeric. You can also add curry powder, or an Indian spice mix. This is great if you're planning to use your Instant Pot lentils in a curry.
Mediterranean herbs and lentils: Add dried herbs like thyme, rosemary, oregano, parsley and basil. I love to use this version in salads or soups.
Leftovers
Store leftover cooked lentils in a refrigerator for up to 4 days, or freeze them for up to 6 months. This is a great method to prepare lentils for several meals!
Defrost and thaw the frozen lentils in a refrigerator overnight. You can serve lentils cold in salads, or add them to warm meals like curries or stews.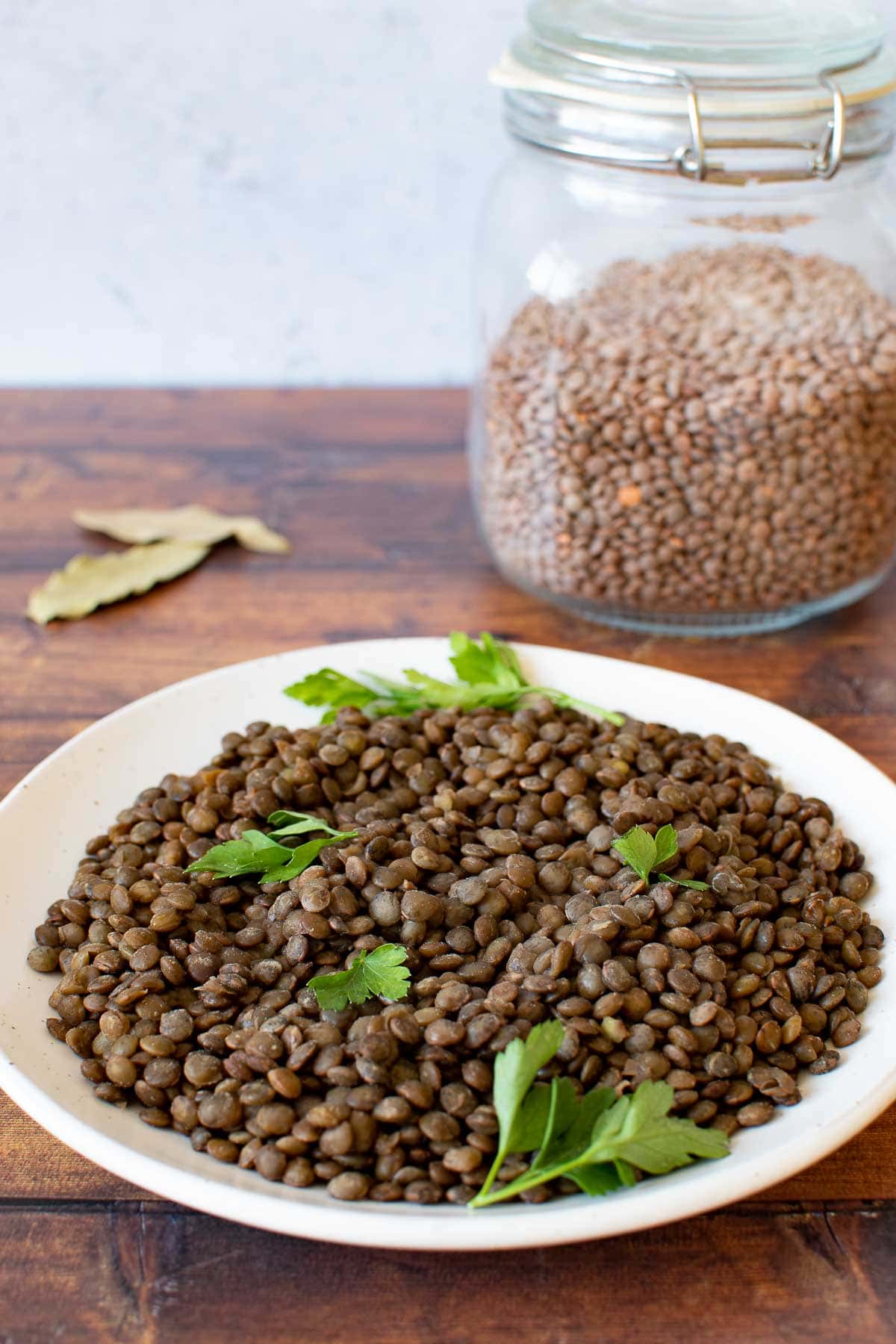 Frequently asked questions
Do you have to soak lentils before pressure cooking?
No! Lentils can be pressure cooked in just a few minutes without having to soak them beforehand.
What do lentils taste like?
Different lentils taste differently! Brown lentils are earthy, green lentils are peppery, and red lentils are sweeter.
Can you eat uncooked lentils?
No. Dry lentils are hard, and have to be boiled before they are edible.
More Instant Pot Recipes
If you make this recipe, make sure to post a photo to Instagram with #hintofhealthy!
Recipe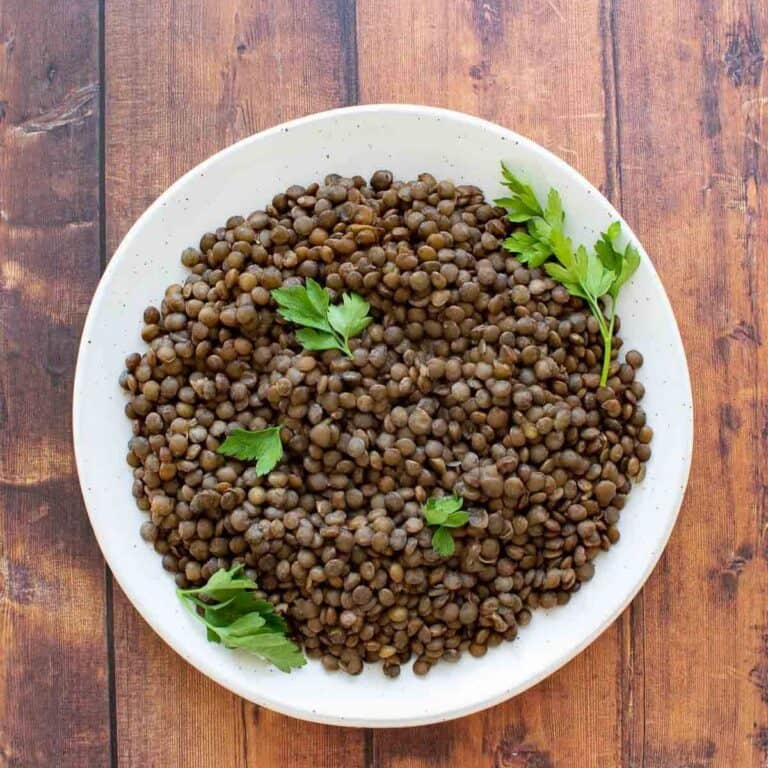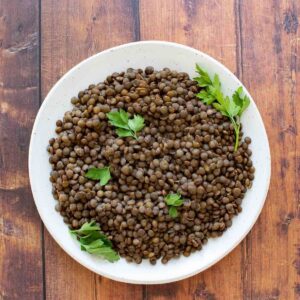 Instant Pot Lentils
Instant Pot lentils are so easy to make, perfectly tender, and ideal for meal prep. Prepare a big batch of lentils to use in multiple dishes like salads, stews, curries and more. You can pressure cook green lentils, brown lentils, red lentils and puy lentils with this simple method.
Ingredients
1

cup

lentils

1 ¾

cups

water

seasoning
Instructions
Add the ingredients to your Instant Pot.

Seal the lid, and select the PRESSURE COOK or MANUAL setting. Set the timer to 4 minutes for red lentils, 8-15 minutes for green lentils, or 8-15 minutes for brown lentils. Select the shortest time for firm lentils, or the longest time for mushy lentils.

After the lentils are cooked, allow the pressure to release naturally for 10 minutes, before you carefully turn the valve to perform a quick release according to the manufacturer's instructions.

Remove the lid from the Instant Pot. Leave the lentils to cool down, and use them in any dish or recipe that you like.
Notes
Store in a refrigerator for up to 4 days, or freeze for up to 6 months.
Nutrition
Calories:
226
kcal
Carbohydrates:
38
g
Protein:
17
g
Fat:
1
g
Saturated Fat:
1
g
Sodium:
11
mg
Potassium:
611
mg
Fiber:
20
g
Sugar:
1
g
Vitamin A:
25
IU
Vitamin C:
3
mg
Calcium:
40
mg
Iron:
5
mg