These easy baked turkey burgers perfect for quick weeknight dinners. Made with ground turkey and seasoning, they are lean but delicious.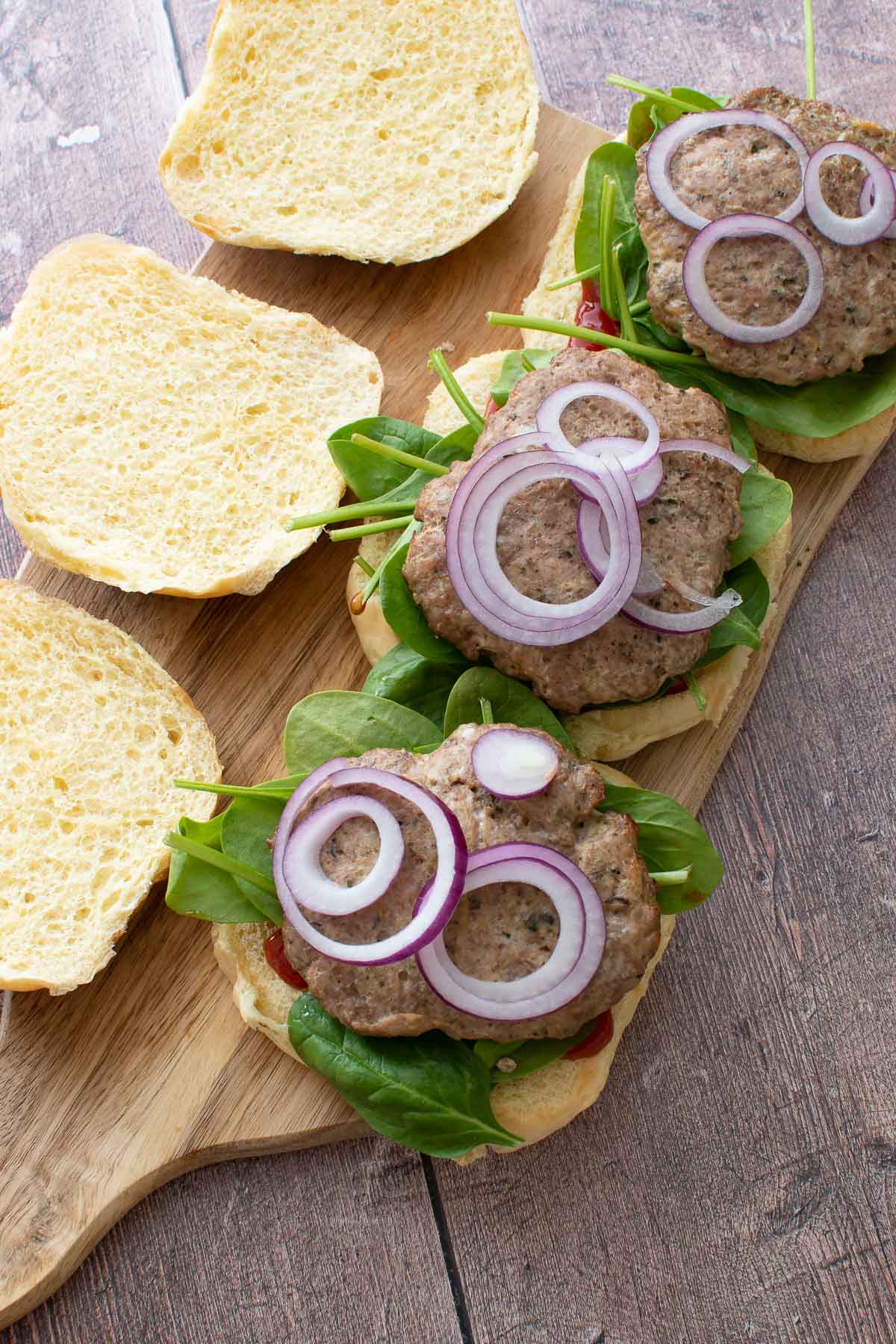 Jump to:
This post may contain affiliate links. Read more about it in the privacy policy.
Although I love a good burger, I often hesitate to cook them indoors. The mess and smell puts me off! Luckily, that is not a problem at all with my baked turkey burgers. No greasy smell, and minimal washing up.
These burgers are lean, but juicy. The minimal ingredients really bring out the flavor of the seasoned meat, and keep the moisture in them. If you're looking for an alternative to grilled burgers, this is definitely the one!
Check out my Halloumi Burgers or Air Fryer Hamburgers for more delicious burger inspiration!
Why you'll love it
Only a handful ingredients
Low carb, keto friendly, gluten free, dairy free and low calorie
Super easy cooking method
Minimal cleaning (no grease splatter!)
Tasty turkey burgers
Ingredients
Ground turkey: Use good quality ground turkey. If you want to use frozen turkey, you have to defrost it in a fridge overnight first.
Egg: This helps to bind the burgers together, and prevents them from falling apart.
Seasoning: Add some flavor to your burgers with salt, black pepper, garlic powder, onion powder and Italian seasoning. If you don't have access to the Italian seasoning mix, you can use any dried herbs instead.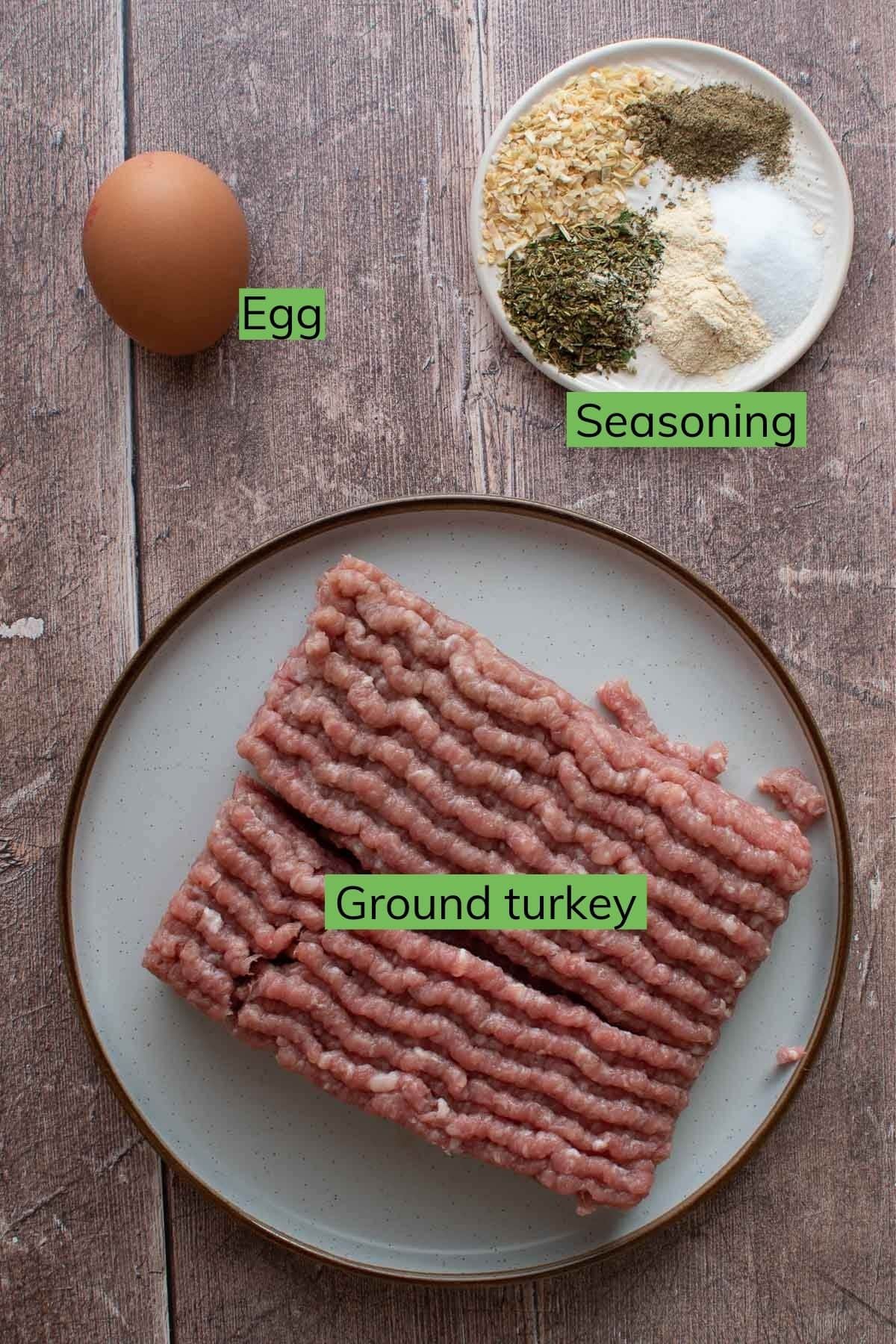 Instructions
You can find full instructions + ingredient measurements in the recipe card at the bottom of this page
One: Combine ingredients in a bowl.
Two: Shape into burger patties, and place on a baking sheet.
Three: Bake at 400 F / 200 C for about 20 minutes, flipping once halfway through cooking.
Four: Serve with your favorite toppings.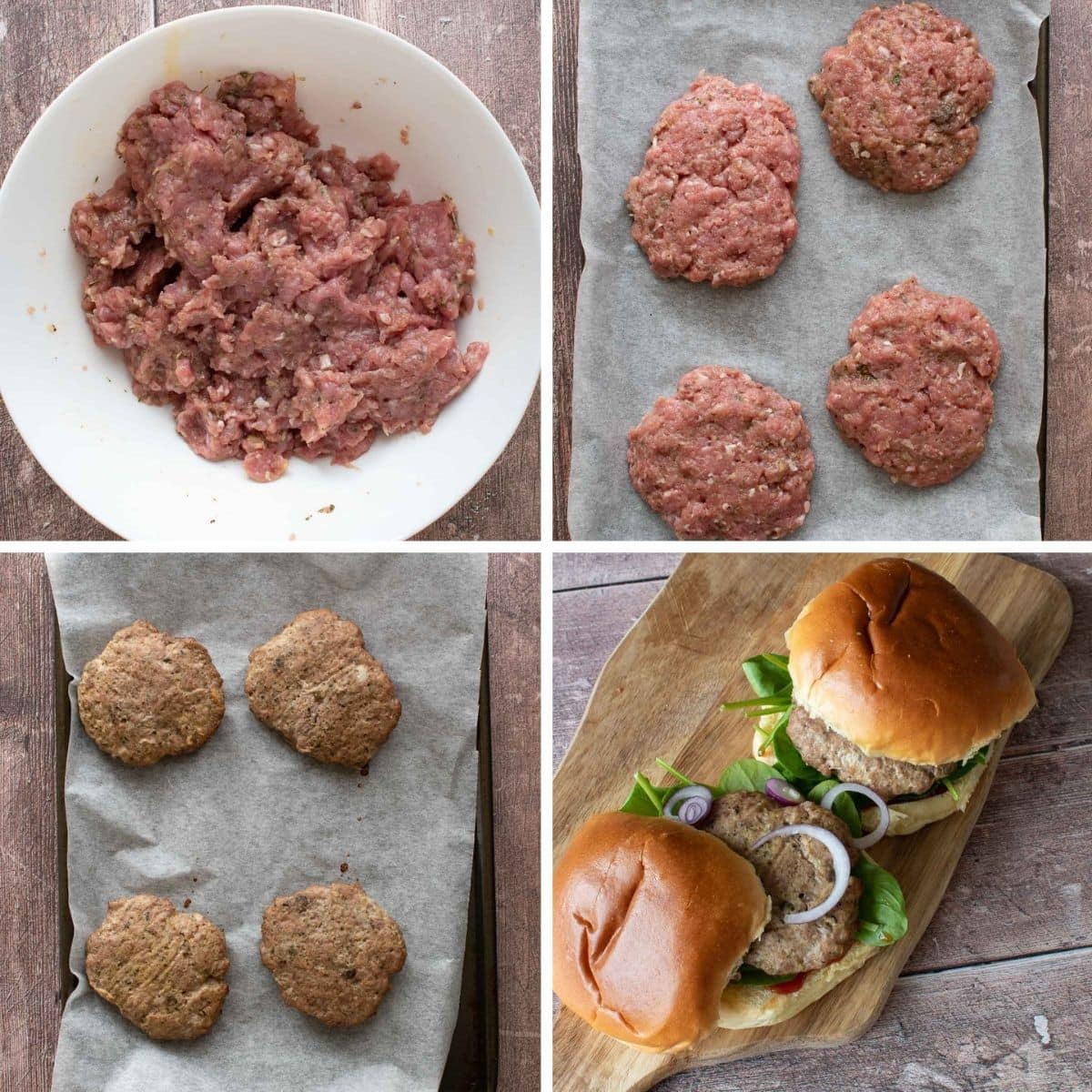 Top tips
Only mix the ingredients until just combined. Don't over mix the meat, or it will dry out.
If you use low quality turkey meat, the burgers could express a lot of water during cooking. In this case, I recommend placing the burgers on a roasting rack with a drip tray underneath.
The exact cooking time will vary depending on the thickness of your burgers. Use a meat thermometer to ensure that your burgers are cooked to perfection.
Serving suggestions
Turkey burgers are best served as an entree for lunch or dinner. The burger patties can be served in burger buns or lettuce wraps, topped with vegetables and any of your favorite toppings. Here are some of my favorite recipes to make with them: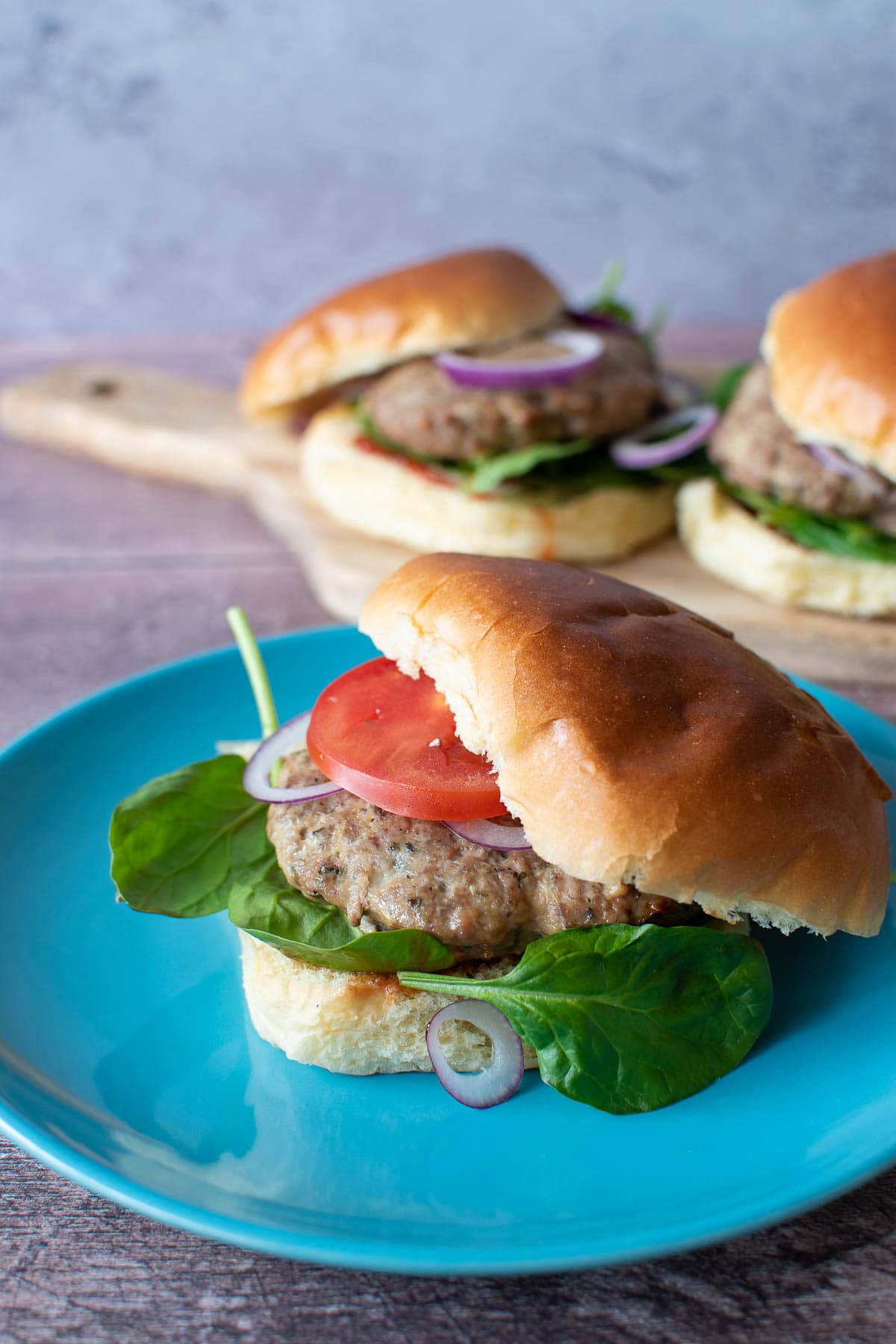 Variations
With fillings: Add your favorite fillings to the burger patties. Keep in mind that adding a lot of fillings can affect the burgers abilities to keep their shape. Add shredded or diced cheese, chopped spinach, sun dried tomatoes, Caramelized onions, or other flavorful ingredients.
Seasoning: Add any of your favorite seasoning to your turkey burgers. I love adding fresh or dried herbs, like oregano, parsley or basil. You can also use chili powder or red pepper flakes to make spicy turkey burgers.
Low carb: Serve the burger patties in lettuce wraps, with low carb friendly sauces and toppings.
Leftovers
Store leftover baked turkey burgers in a sealed container in a refrigerator for up to 2 days, or freeze for up to 6 months. You can cook the frozen burgers the same way that you would cook any frozen store bought burgers; in the oven, pan, air fryer or on a grill.
I love to prepare a batch of patties, and serve them for multiple meals, like dinner one day, and lunch the next day. You can easily double the recipe, and make even more burgers at the same time.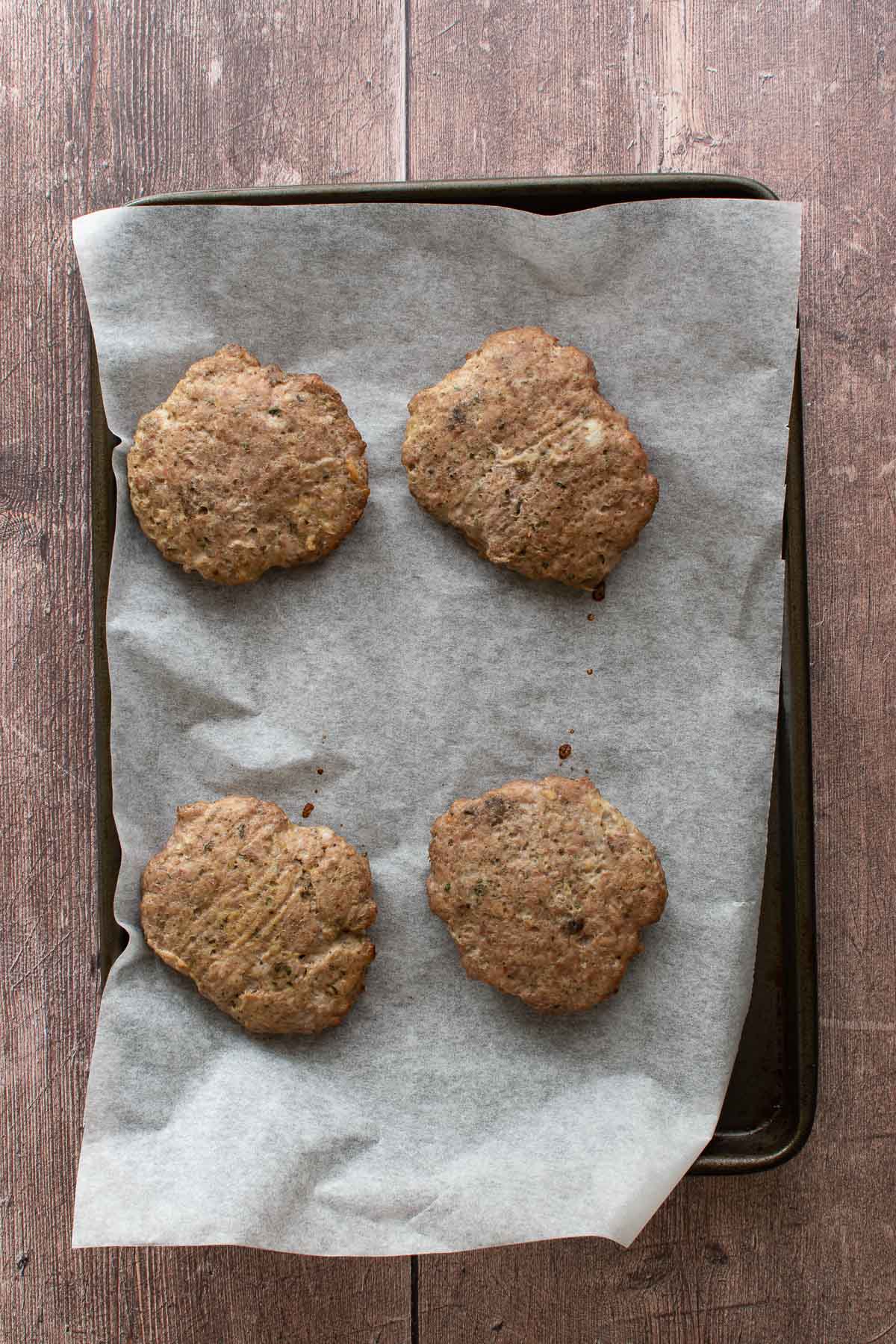 Frequently asked questions
Can you cook ground turkey in the oven?
Absolutely. You can cook ground turkey in the oven the same way as you would cook beef. Shape the meat into meatballs or burgers, or add it to casseroles or other dishes.
Can turkey be pink?
Generally speaking, turkey meat is white when it's cooked. The exception is if you're using smoked turkey, which stays red or pink.
How do you know when turkey is done without a thermometer?
The safest way is always to use a meat thermometer. However, you can also use into the meat. The juices should run clear, and the meat should be white.
Is it better to cook burgers in the oven or on the stove?
Some would argue that pan seared burgers taste better, but I find that baked burgers are just as good. Baking them in the oven is also much easier, it allows you to cook multiple burgers at the same time, and there's a lot less to clean up.
You might also like these recipes
If you make any of these recipes, make sure to post a photo to Instagram with #hintofhealthy! Follow Hint of Healthy on Instagram, Facebook or Pinterest for more healthy recipes.
Recipe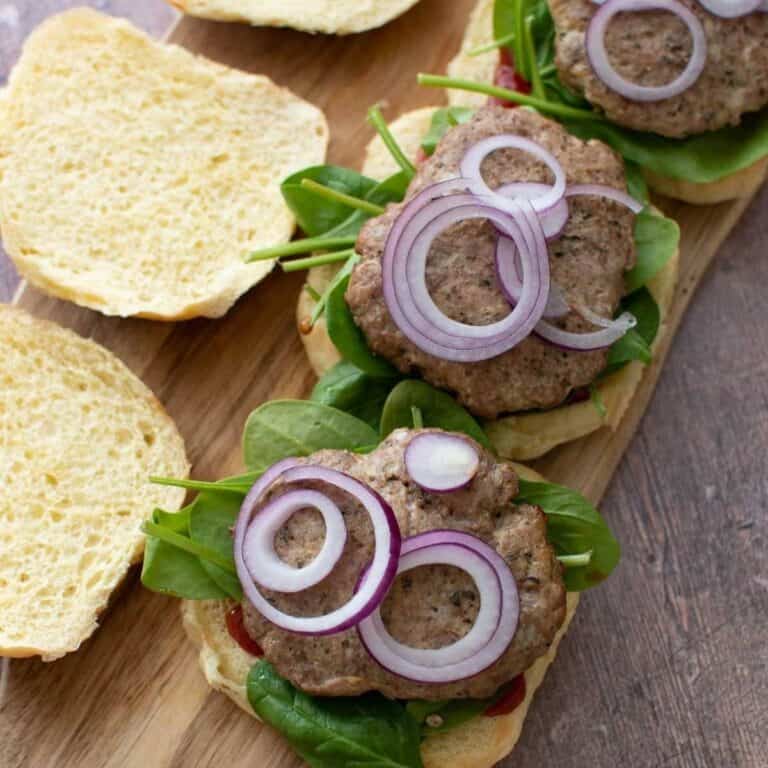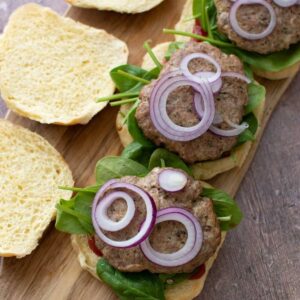 Juicy Baked Turkey Burgers
These baked turkey burgers are made with ground turkey and seasoning, and cooked in the oven until tender perfection. This quick and easy method is perfect for weeknight dinners.
Ingredients
1

pound

ground turkey

1

egg

½

teaspoon

salt

½

teaspoon

black pepper

1

teaspoon

Italian seasoning

½

teaspoon

garlic powder
Instructions
Preheat your oven to 400 F / 200 C / 180 C fan oven.

Combine the ingredients in a mixing bowl, and mix until just incorporated.

Shape into 4 burger patties, and place on a baking sheet lined with parchment paper. If your ground turkey contains a lot of water, I recommend placing the burgers on a roasting rack fitted with a baking sheet underneath.

Bake for about 20 minutes, flipping once halfway through cooking. Use a meat thermometer to check that the burgers are done. The internal temperature of the burgers should read 165 F / 74 C.

Remove from the oven, and serve with your favorite toppings or sides.
Notes
Store leftover burgers in a refrigerator for up to 2 days, or freeze for up to 6 months.
Serve with your favorite toppings, like burger buns, lettuce cups, tomatoes, cucumbers, onions and burger sauce.
Nutrition
Calories:
146
kcal
Carbohydrates:
1
g
Protein:
28
g
Fat:
3
g
Saturated Fat:
1
g
Trans Fat:
1
g
Cholesterol:
103
mg
Sodium:
365
mg
Potassium:
364
mg
Fiber:
1
g
Sugar:
1
g
Vitamin A:
98
IU
Vitamin C:
1
mg
Calcium:
19
mg
Iron:
1
mg