These easy turkey steaks are made in less than 10 minutes. Perfect for a quick weeknight dinner, or as a simpler alternative to roast turkey. Serve the steaks with your favorite side dishes, like green beans, mashed potatoes, rice, salad and more.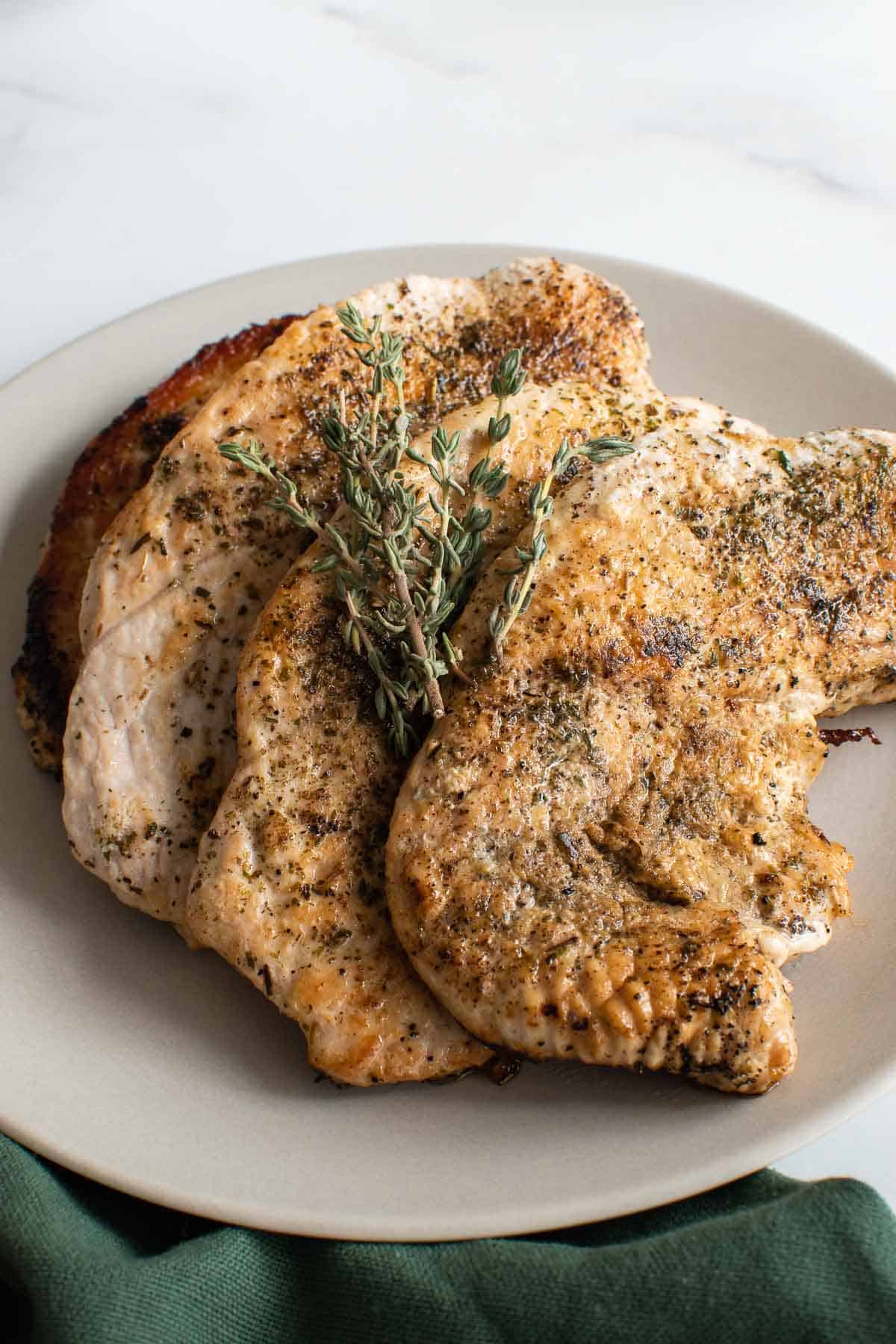 Jump to:
This post may contain affiliate links. Read more about it in the privacy policy.
If you're looking for easy turkey steak recipes, you've come to the right place! They are really simple to make, taste amazing, and a much faster alternative to a whole roasted turkey. Learning how to make turkey steaks has been a game changer for me, and I now cook a quick turkey dinner on a regular basis.
Whether you're looking to cook turkey steaks for Christmas or Thanksgiving, or if you're just looking for healthy turkey steak recipes in general, I highly recommend that you cook them in a frying pan, just like how you would cook any other steak.
Why you'll love it
Easy to make
10-minute turkey entree
Tastes amazing
An affordable and light alternative to beef steak
Use any seasoning that you like
For weeknight dinners, special occasions, or even holiday meals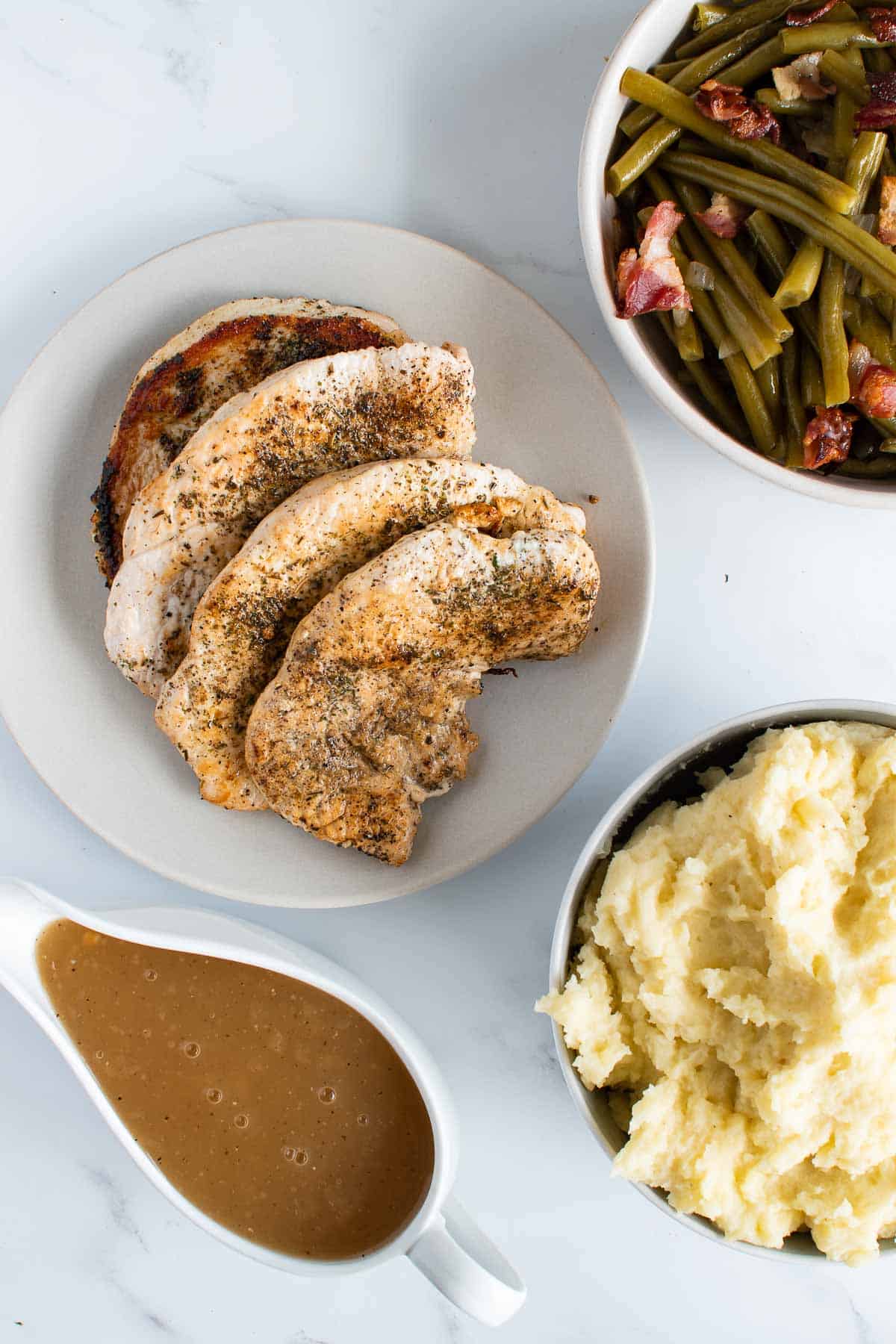 About turkey steaks
Turkey steaks are boneless turkey breasts which are cut into ½-inch steaks. They look similar to a thin chicken breast, or exactly how you would expect a steak to look like.
The steaks can be cooked in a frying pan or skillet, or in an oven, air fryer, BBQ or other appliance. Because they are so thin, they cook within a few minutes, which makes them a quick alternative to cooking a whole turkey breast. You can season them with traditional flavors,
You can buy turkey breast strips in most supermarkets. In the UK, they are available all year around, but in the US and Australia they are more commonly found from October to December, around the holiday season.
Ingredients
Turkey breast steaks: You can buy pre-cut steaks, or use a sharp knife to slice a turkey breast into steaks. If you want to use frozen steaks, you will have to defrost them beforehand.
Olive oil: The oil keeps the meat juicy, and prevents the turkey from sticking to the frying pan. You can also use melted butter, avocado oil or vegetable oil instead.
Seasoning: Salt, pepper and Italian seasoning or mixed dried herbs add lovely flavor to the turkey. You can find other seasoning suggestions below.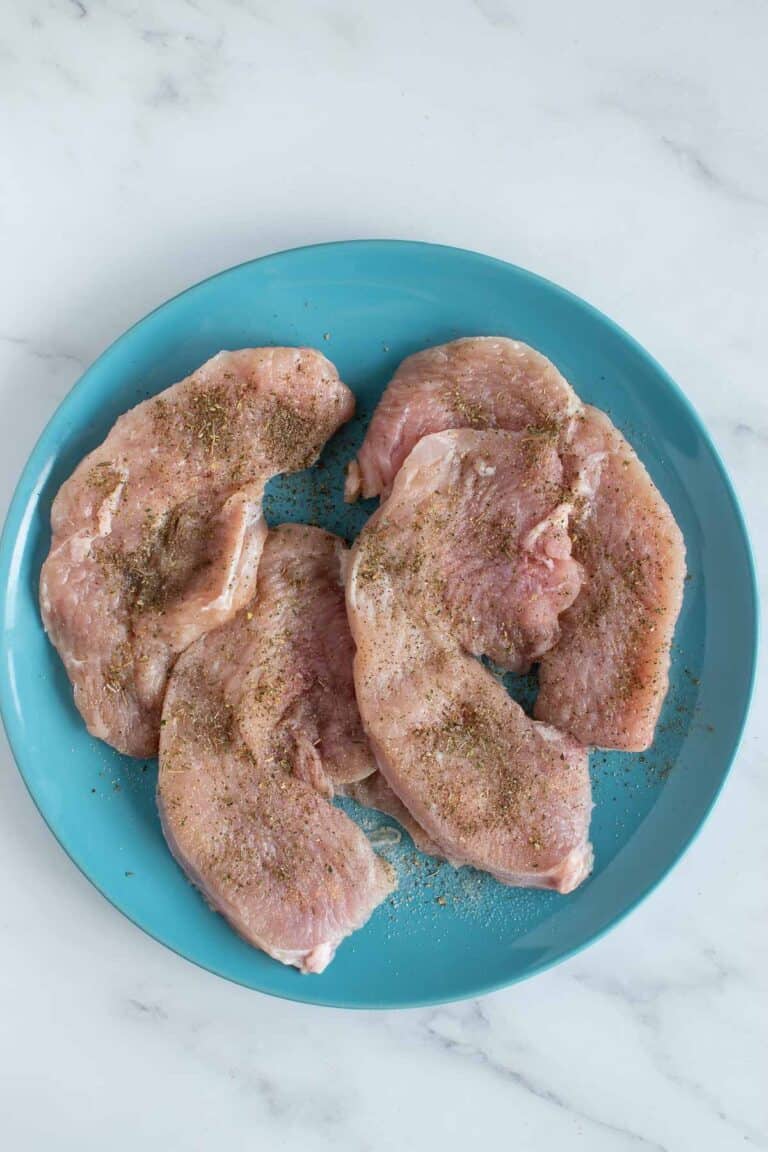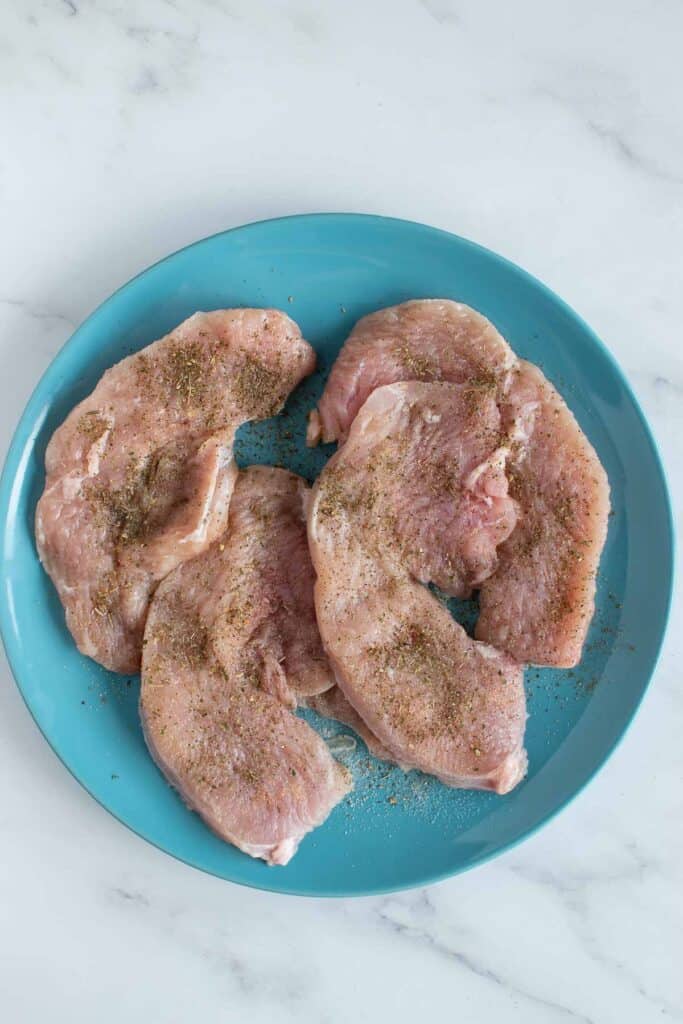 Instructions
You can find full instructions + ingredient measurements in the recipe card at the bottom of this page
One: Season the turkey well on both sides.
Two: Heat up the cooking oil in a frying pan over medium heat. Place the steaks in the pan, and make sure to eave a little space between each steak. Cook for 3-5 minutes, or until the meat is golden brown on the bottom. Then, flip and repeat until it's cooked on the other side. This will take between 5-10 minutes in total.
Leave the steaks to rest for up to 10 minutes, or serve them immediately.
💡 TIP! Make sure that the meat is thawed before use. To make the meat extra tender, you can use a meat tenderizer before adding seasoning.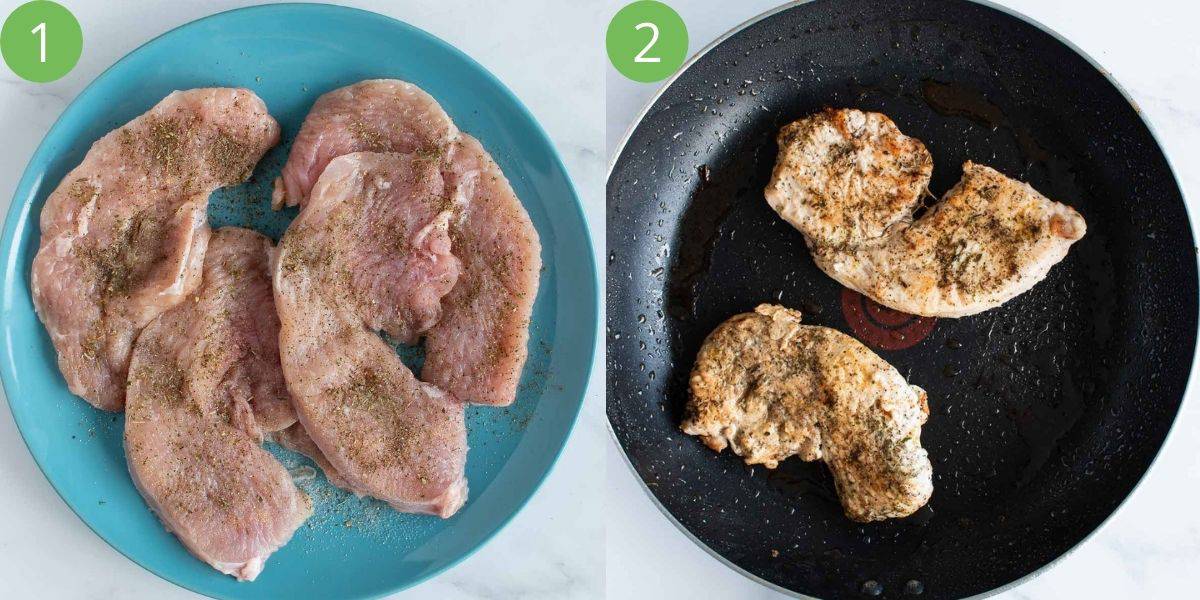 Top tips
Avoid overcrowding the pan to ensure an even cooking result. You might have to cook the steaks in multiple batches.
Make sure that the turkey steaks are thoroughly defrosted before you start cooking them.
Adjust the seasoning to taste. You might prefer to add more or less seasoning, or change the seasoning completely.
Make sure that the meat is cooked through before serving. The best way to do this, is to use a meat thermometer. The internal temperature of the turkey should read 165 F / 74 C.
Serving suggestions
Pan seared turkey steaks are best served as an entree or main course for dinner or lunch. You can also dice them up, and add to stews, soups, salads and more.
I love to serve these as a quick and simple roast dinner, with slow cooker green beans, mashed potatoes, cranberry sauce, turkey gravy, mashed sweet potatoes, roasted tenderstem broccoli, garlic parmesan brussels sprouts or sauteed red cabbage.
Alternatively, you can also serve the steaks with other sides, like Mexican rice, Avocado Chickpea Salad, or Honey Roasted Potatoes.
If you change up the seasoning, you can serve these steaks with any sides you like. Serve them how you would serve chicken breasts, beef steaks or pork loin.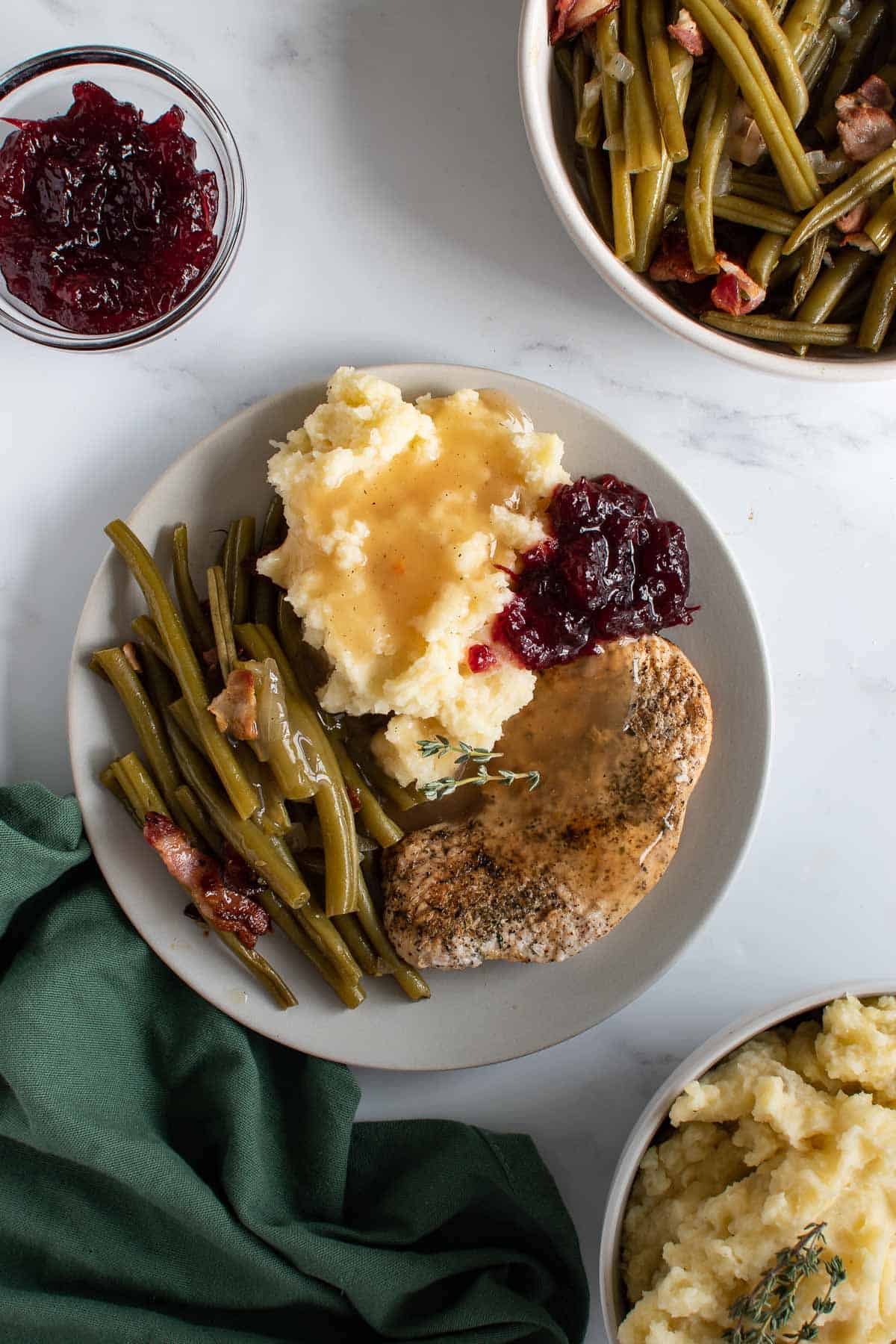 Variations
Use a seasoning mix: Replace the suggested spices and herbs with your favorite spice mix. For example, try using Cajun seasoning, taco seasoning, chicken dry rub, or BBQ spice mix.
Marinated turkey steaks: You can use your favorite marinade, either store bought or homemade. You can also make a simple marinade by combining olive oil, lemon juice and and herbs or spices that you like. Sauces like BBQ sauce, sweet chili sauce and teriyaki are also great as marinades.
Other herbs: Replace the Italian seasoning or mixed dried herbs with any dried herbs that you like. Basil, parsley, thyme, oregano and rosemary are all excellent choices.
Other spices: Turkey pairs nicely with a variety of flavors. Try adding garlic powder, paprika, lemon zest, cumin, smoked paprika or mustard powder.
Baked, roasted or air fried: Cook the steaks at 400 F / 200 C for 5-15 minutes. The exact cooking time will vary. Use a meat thermometer to ensure that the meat is cooked through.
Equipment
To make this recipe, all you need is a frying pan or skillet. A cast iron skillet is a great option, as it will sear the surface of the steaks nicely. You can also use a non-stick pan to make sure that the meat doesn't stick to the pan.
Additionally, you will need a spatula to flip the steaks. Make sure to use separate kitchen utensils for handling raw and cooked meat.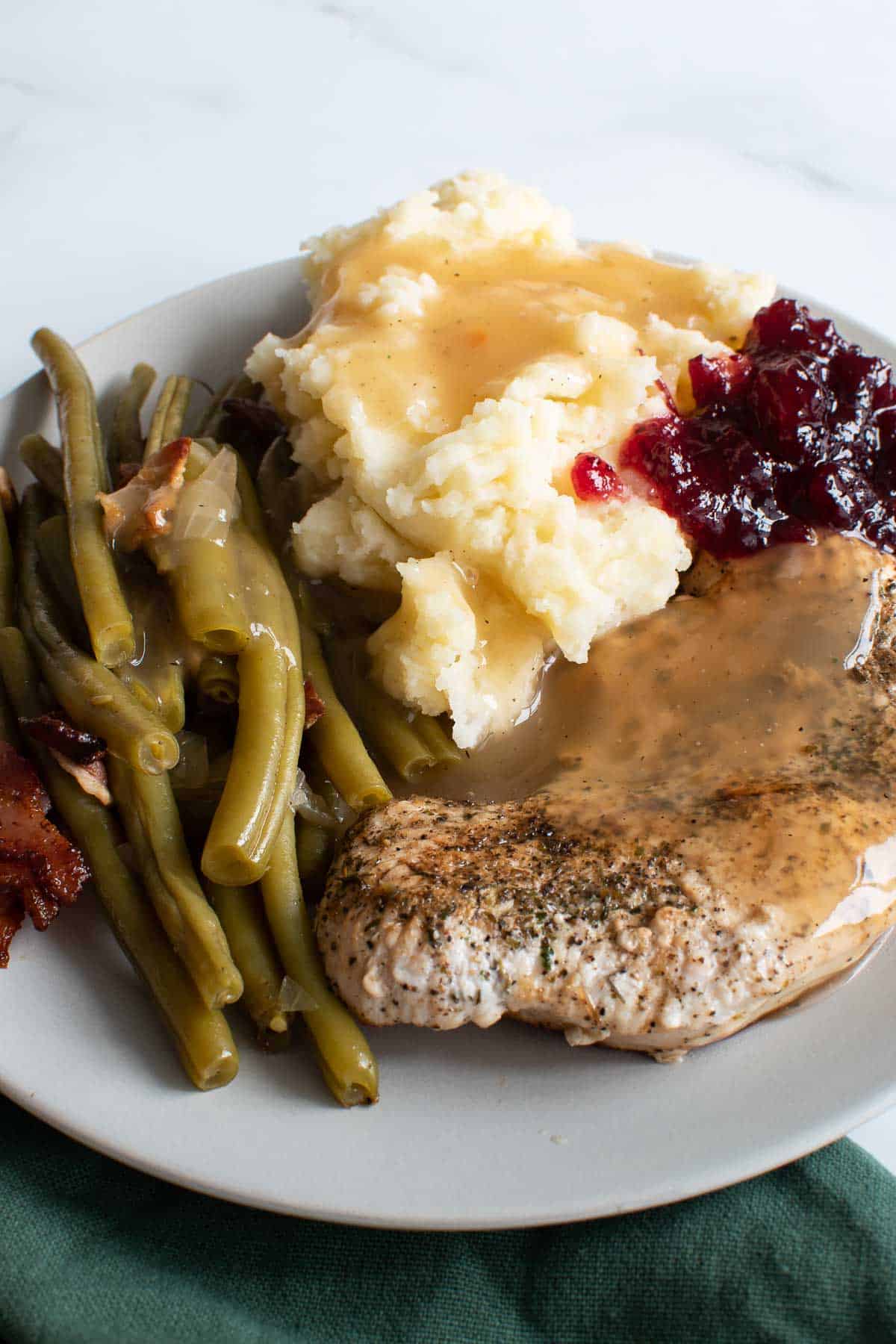 Storage
Store leftover turkey steaks in a sealed container in a refrigerator for up to 2 days. You can reheat them in a microwave or skillet for a few minutes, and serve them warm.
Alternatively, slice or dice the meat, and add it to other dishes like casseroles, pasta, salads or soups. You can use sliced turkey instead of chicken in this lemon chicken pasta, or add it to my Mexican casserole.
Frequently asked questions
Can you cook turkey steaks from frozen?
I don't recommend cooking the steaks from frozen, as this tends to make the meat quite dry. However, if you want to try, you can bake them in the oven at 400 F / 200 C for about 20-30 minutes. Cook them in a sauce or marinade to keep them juicy.
How long do turkey steaks take to cook?
They take between 5-10 minutes to cook, depending on the cooking method and temperature used. The meat should ideally be cooked on both sides, at around 400 F / 200 C.
What are turkey steaks made of?
Turkey steaks are usually made from turkey breast. The breast is sliced into thin steaks, which are much easier to cook, but taste just as good.
You might also like these recipes
If you make this recipe, make sure to post a photo to Instagram with #hintofhealthy!
Recipe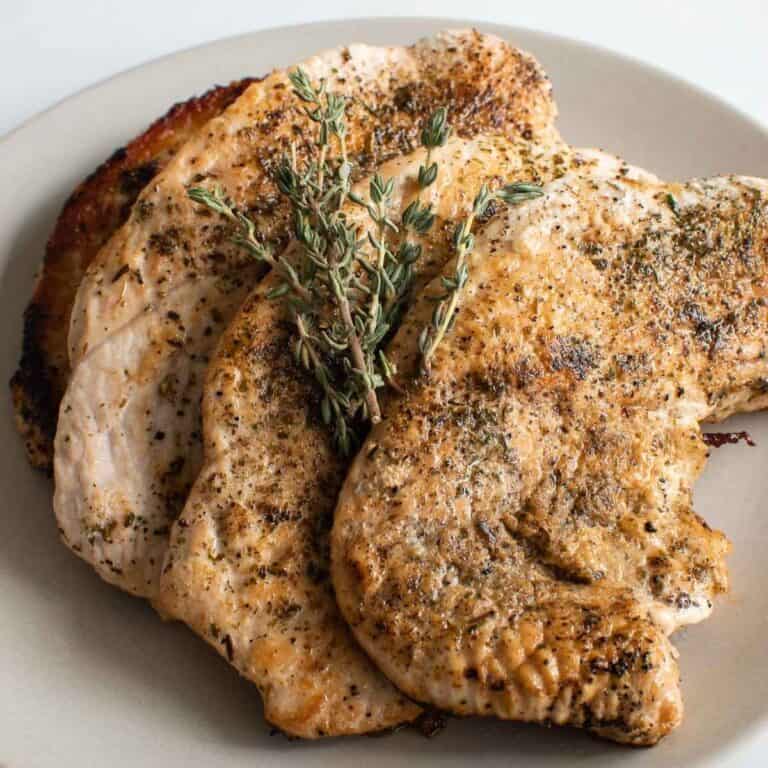 Easy Turkey Steaks
These juicy turkey steaks are easy to make in only 10 minutes. Perfect for an easy weeknight dinner, or as a simple alternative to roast turkey.
Ingredients
Instructions
Season the turkey steaks with salt, pepper and Italian seasoning on all sides.

Warm up the olive oil in a large frying pan over medium heat. Carefully add the steaks to the pan, and make sure to leave some space between each piece.

Cook the steaks until they develop a light golden brown color on the bottom, then flip and repeat on the other side. The steaks will typically require 3-5 minutes of cooking on either side.

Serve the steaks immediately.
Notes
Feel free to replace the seasoning with any spices or dried herbs that you like.
Use a meat thermometer to ensure that the meat has cooked through. The internal temperature should read 165 F / 74 C.
Depending on the size of your frying pan, you might have to cook the steaks in multiple batches. I typically only cook 2-3 steaks at a time.
Nutrition
Calories:
122
kcal
Carbohydrates:
1
g
Protein:
28
g
Fat:
1
g
Saturated Fat:
1
g
Polyunsaturated Fat:
1
g
Monounsaturated Fat:
1
g
Cholesterol:
70
mg
Sodium:
342
mg
Potassium:
10
mg
Fiber:
1
g
Sugar:
1
g
Vitamin A:
10
IU
Vitamin C:
1
mg
Calcium:
9
mg
Iron:
1
mg
Food safety tips
Cook to a minimum temperature of 165 °F (74 °C)
Do not use the same utensils on cooked food, that previously touched raw meat
Wash hands after touching raw meat
Don't leave food sitting out at room temperature for extended periods
Never leave cooking food unattended
Use oils with high smoking point to avoid harmful compounds
Always have good ventilation when using a gas stove