Braising steak, chuck steak or beef chuck is an affordable cut of beef that's perfect for slow cooking. This slow cooker braising steak makes the most amazing, tender shredded beef. Cooked with a broth based sauce and onions, it's the perfect entree for easy, but flavorful dinners.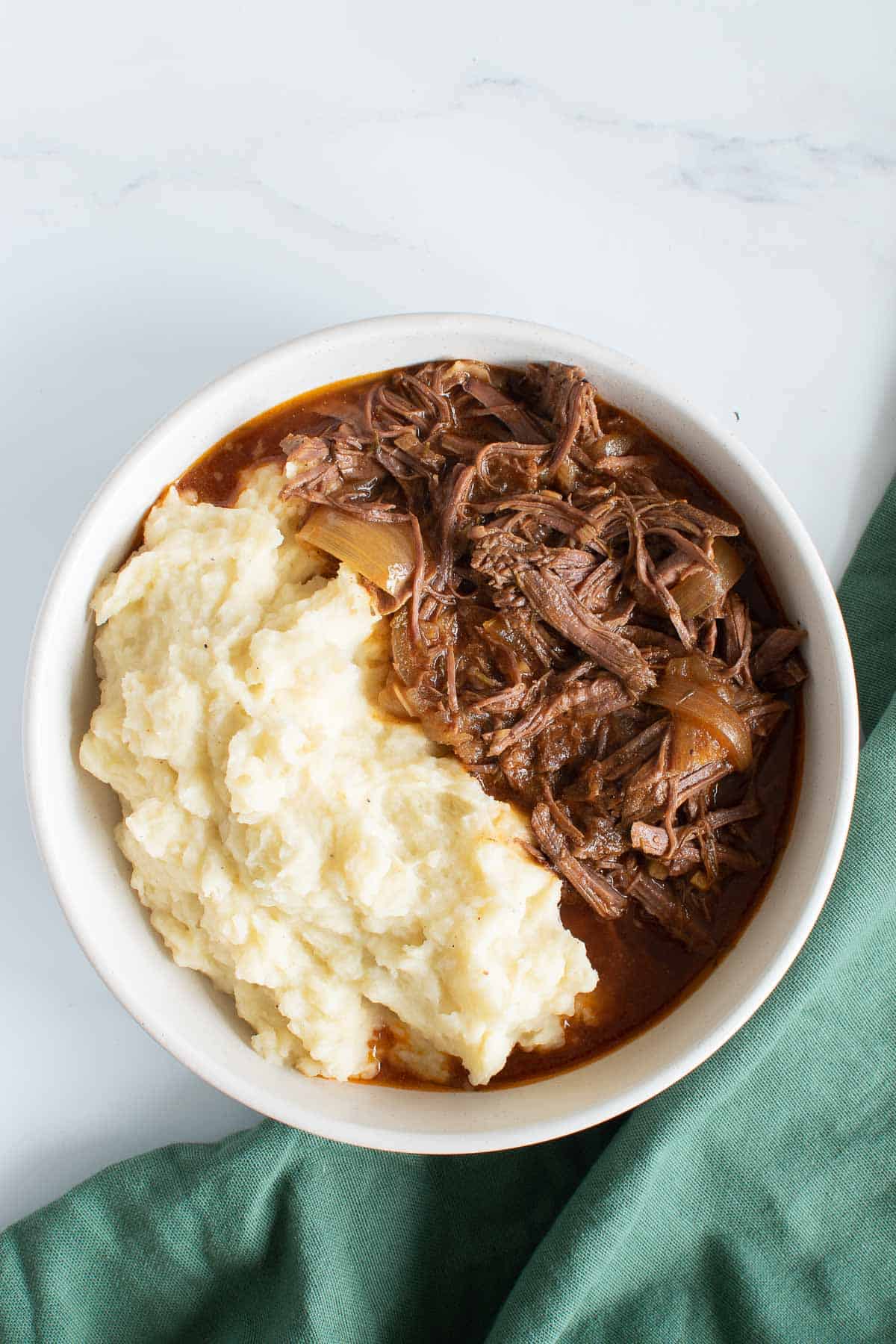 Jump to:
This post may contain affiliate links. Read more about it in the privacy policy.
Slow cooker braised steak and onions is a family favorite, and for good reason. Using one of the most affordable cuts of beef, it's an economical alternative for a healthy beef dinner. It's also incredibly easy to cook, even for beginners, and shredded beef tastes amazing.
Why you'll love it
Really easy to make
Affordable ingredients
Easy to customize
Perfect fall-apart tender beef
Serve it with any side dish that you like
A great way to meal prep beef
Gluten free, dairy free, and suitable for many diets
🥘 More SLOW COOKER RECIPES from Hint of Healthy
Ingredients
Braising steak: This is a common cut of beef in the UK. In the US, you will most likely find this as chuck roast, chuck beef or chuck steak. You can use one large piece of meat, or several smaller pieces.
Beef stock: Use store bought or homemade stock, bone broth, or make it using beef bullion cubes.
Onion + garlic: Adds flavor to the beef.
Seasoning: Bay leaves, salt, pepper, thyme and mustard powder add flavor to the dish. You can omit or substitute any spices as you like.
Tomato paste (UK: tomato puree): Adds a tomato base flavor to the beef stock. You can also use a little tomato sauce, tomato passata or ketchup as an alternative.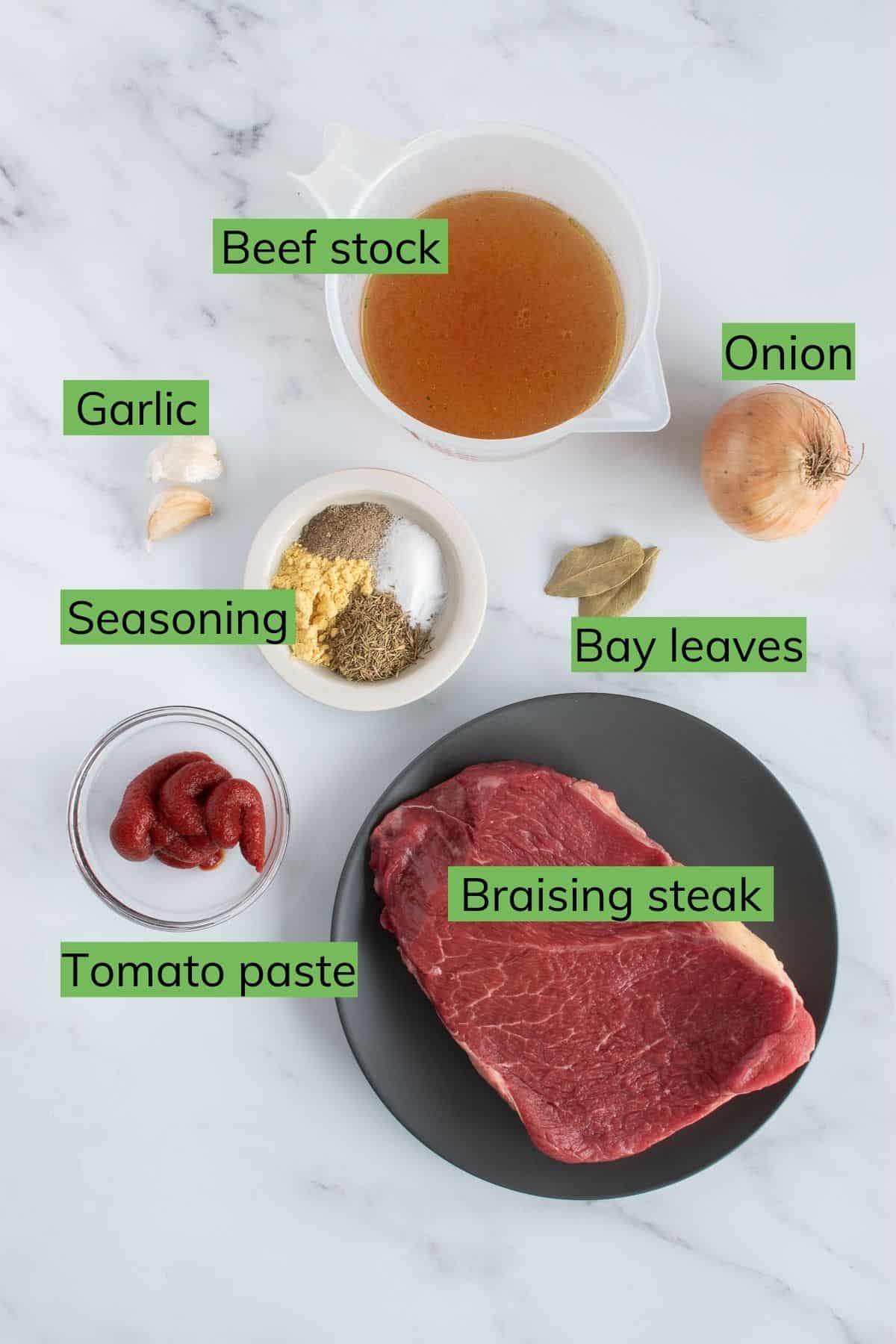 Instructions
You can find full instructions + ingredient measurements in the recipe card at the bottom of this page
One: Season the braising steak with salt, pepper and mustard powder on all sides. Sauté with a little oil in a frying pan or skillet for a few minutes on medium heat until it's browned on the surface.
Two: Add the braising steak to a 3 qt or 6 qt slow cooker. Add chopped garlic, sliced onion, and the remaining ingredients to the Crockpot. Cover with a lid, and cook on LOW for 6-8 hours, or on HIGH for about 4 hours.
Three: When the meat is cooked, it will be so tender that it easily shreds and falls apart. Shred the beef in the pot using two forks. Serve it immediately, optionally topped with the flavorful broth based sauce.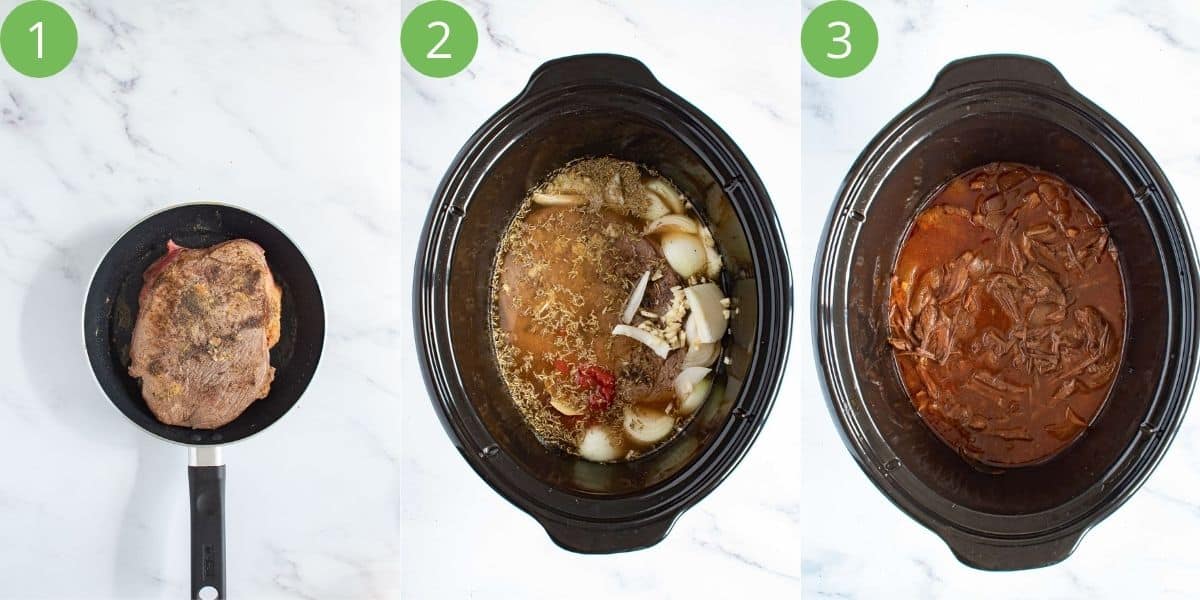 Top tips
If you want to make a thicker sauce, you can thicken it by adding cornstarch slurry or gravy granulates after you have shredded the beef.
The step of browning the beef in a frying pan is optional, but recommended. To save on time, you can just add it straight to the slow cooker instead.
You can easily double or triple the recipe as long as your slow cooker can fit the ingredients!
I like to use a slotted spoon or tongs to remove the beef from the slow cooker. This allows you to easily drain off the sauce.
After 8 hours of cooking, you can safely leave the beef on WARM setting for a few hours until you're ready to eat.
🥘 More SLOW COOKER RECIPES from Hint of Healthy
Serving suggestions
Slow cooker braising steak is best served shredded, paired with delicious side dishes, or incorporated into other recipes. I like to serve it for lunch or dinner, and often use it as an alternative to beef roast.
The shredded meat can be served as tacos, added to wraps, or served over baked potatoes.
Here are some of my favorite side dish recipes to pair it with: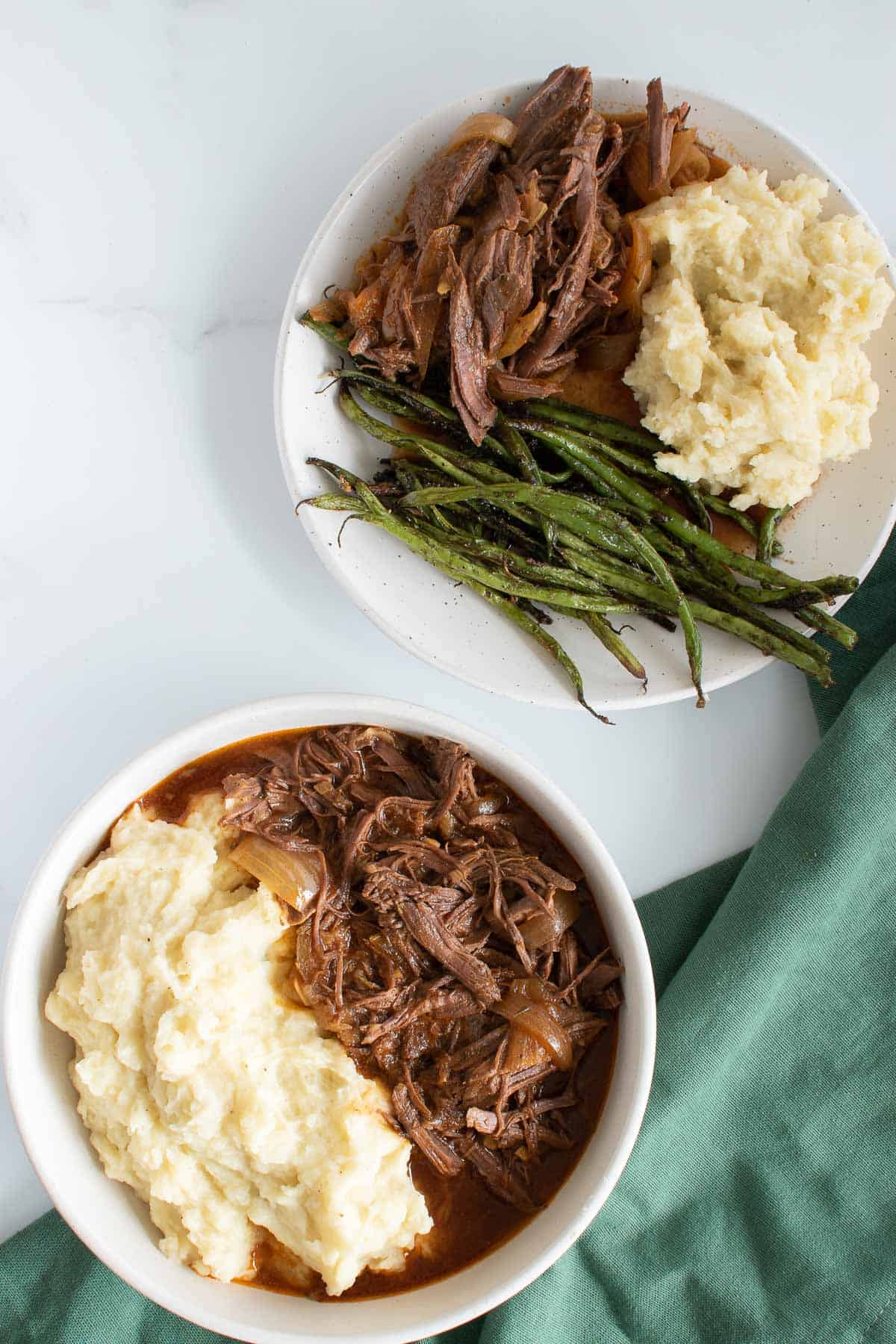 Variations
Thicker sauce: If you want to thicken up the sauce, you can combine 1 tablespoon or cornstarch with 1 tablespoon of cold water to form a paste. Add this to the slow cooker after you have shredded the beef. Stir it in, and cover with a lid. After 20 minutes, the sauce will thicken. Alternatively, you can add some gravy granulates for a quicker solution.
Different seasoning: Feel free to change up the seasoning! Use any spices or herbs that you like. Taco seasoning would make the beef perfect for Mexican meals like tacos or nachos, most dried herbs should taste great, or you can use a pre made beef seasoning packet.
Equipment
To make this recipe, you will need a slow cooker or a Crockpot. I use a 3 qt slow cooker, but you can also use one that's a little smaller or larger, as long as the ingredients fit.
Additionally, you will need a skillet or frying pan to sear the beef before you slow cook it. This is an optional step which you can skip if needed.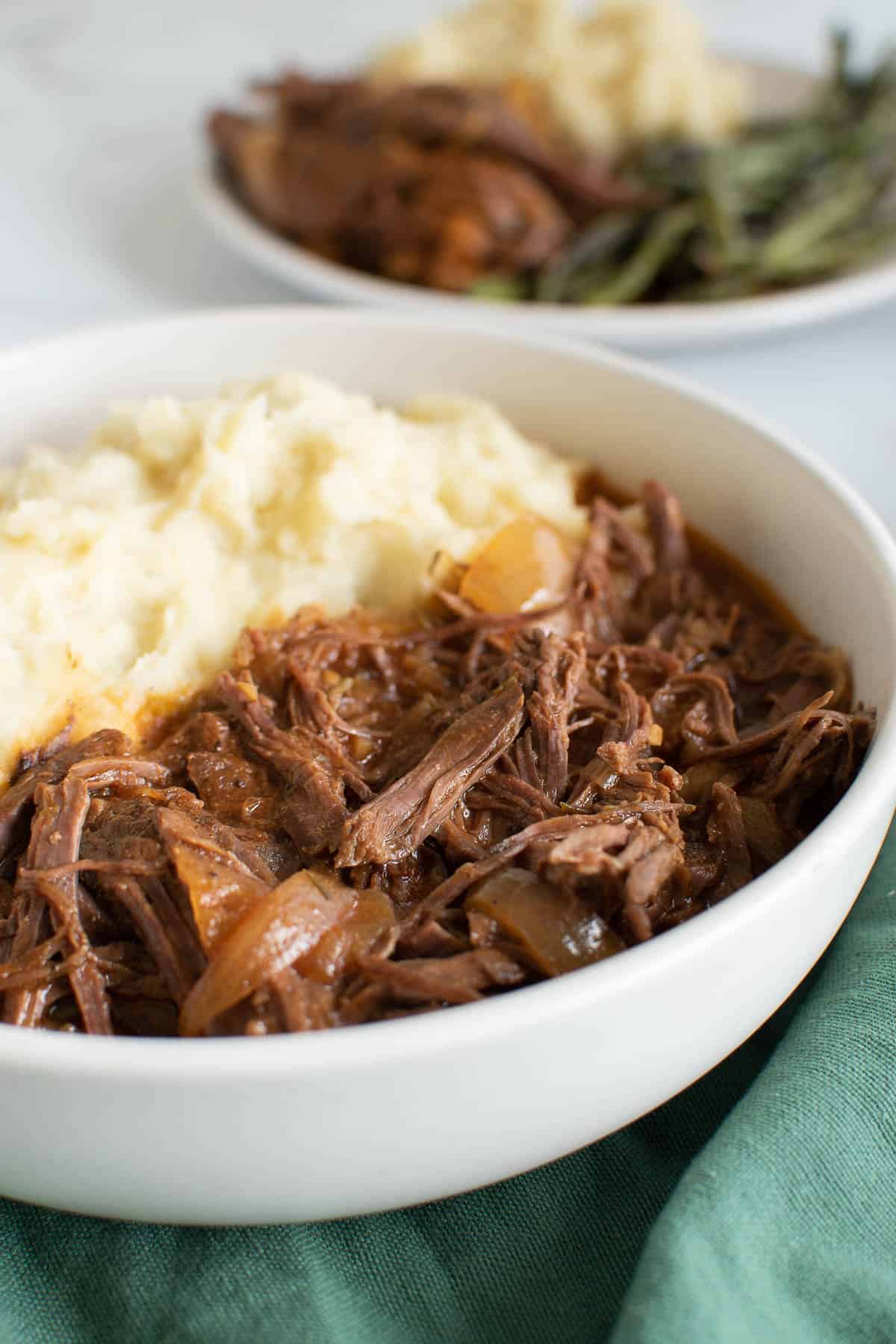 Storage
Store your leftover slow cooker shredded braising steak in a sealed container in a refrigerator for up to 3 days. You can reheat the meat in a frying pan or microwave for a few minutes, and serve it warm.
You can also freeze leftover shredded beef for up to 3 months. Thaw it before use, and then reheat it if you want to serve it as an entree, or use it in your favorite dishes.
Frequently asked questions
Can you slow cook braising steak?
Yes, absolutely! Braising steak is in fact best suited for slow cooking. It becomes incredibly tender, and falls apart. The result is fantastic, flavorful shredded beef.
How long do you slow cook braising steak for?
Braising steaks can be slow cooked for at least 3 hours on high temperature, or up to 10 hours on low temperature. Additionally, you can leave it to cook even longer on the warm setting if you plan to eat it later.
What's the best cut of beef to cook in a slow cooker?
Many cuts of beef can be slow cooked. Chuck, silverside, brisket, braising steak and oxtail are popular choices for slow cooking.
You might also like these recipes
If you make this recipe, make sure to post a photo to Instagram with #hintofhealthy!
Recipe
Slow Cooker Braising Steak
This juicy slow cooker braising steak is so tender that it completely falls apart on its own. Shredded beef is delicious and versatile, and it's incredibly easy to make in your Crockpot.
Ingredients
400

g

braising steak

(1 pound)

500

ml

beef stock

(2 cups)

1

onion

2

garlic cloves

1

tablespoon

tomato puree

2

bay leaves

½

teaspoon

salt

½

teaspoon

pepper

½

teaspoon

mustard powder

1

teaspoon

dried thyme
Instructions
Optionally, slice the fat off of the braising steaks before cooking.

Season the meat with salt, pepper and mustard powder.

½ teaspoon salt,

½ teaspoon pepper,

½ teaspoon mustard powder

Heat up some cooking oil in a frying pan on medium to high heat. Sear the meat on all sides until it's browned on the surface.

Place the seared beef in the slow cooker. Add sliced onions, chopped garlic, and the remaining ingredients. Cover with a lid.

1 onion,

2 garlic cloves,

1 tablespoon tomato puree,

2 bay leaves,

1 teaspoon dried thyme,

500 ml beef stock

Cook on HIGH for 4-6 hours, or on LOW for 6-8 hours, or until the beef is so tender that it easily shreds apart when you touch it with a fork.
Notes
Store leftovers in a refrigerator for up to 3 days, or freeze for up to 3 months. Thaw and reheat it before serving.
If you want to thicken the broth based sauce, you can add some cornstarch slurry (1 tablespoon cornstarch mixed with 1 tablespoon water) after the beef is shredded. Cover with a lid, and cook on low for an extra 20 minutes. Alternatively, use gravy granulates.
The step of searing the beef is optional, and can be skipped if you're short on time.
Braising steak is also known as chuck roast, chuck steak, beef chuck or braising beef. These are all the same cut of meat, only in different shapes and sizes. Use whichever one you can find in your supermarket.
Nutrition
Calories:
250
kcal
Carbohydrates:
5
g
Protein:
22
g
Fat:
16
g
Saturated Fat:
7
g
Polyunsaturated Fat:
1
g
Monounsaturated Fat:
7
g
Trans Fat:
1
g
Cholesterol:
68
mg
Sodium:
609
mg
Potassium:
645
mg
Fiber:
1
g
Sugar:
2
g
Vitamin A:
50
IU
Vitamin C:
3
mg
Calcium:
41
mg
Iron:
3
mg
Food safety tips
Do not use the same utensils on cooked food, that previously touched raw meat
Wash hands after touching raw meat
Don't leave food sitting out at room temperature for extended periods
Never leave cooking food unattended