Boulangere potatoes is a delicious potato side dish that's really easy to make. Thinly sliced potatoes are baked in seasoning and vegetable stock. Serve it with any of your favorite entrees for a simple and filling dinner.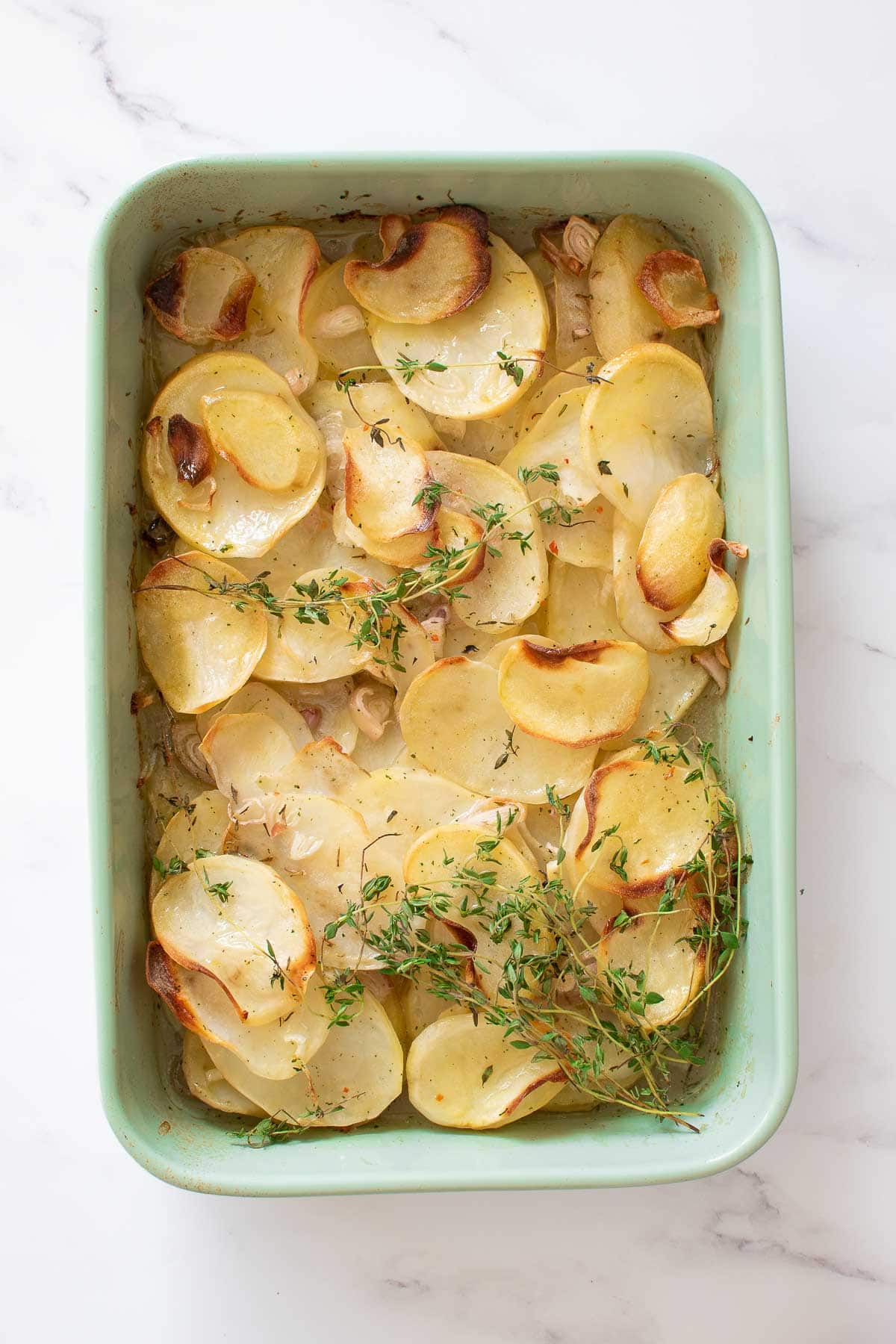 Jump to:
This post may contain affiliate links. Read more about it in the privacy policy.
Why you'll love it
A great potato side dish
Perfect if you want to try something new
Mild flavor, perfect for kids
Pairs perfectly with a variety of entrees
Really easy to make
Only requires a handful ingredients
Ingredients
Potatoes: Floury potatoes are best for this recipe. Use potatoes that you would normally use to make french fries or roasted potatoes, like Desiree, Maris Piper or King Edward.
Vegetable stock: Use any stock or broth. I like vegetable stock, but chicken stock or beef stock also works well, particularly if you're serving the potatoes with chicken or beef.
Shallots: Shallots are small, mild onions. You can also use a regular onion.
Thyme: Fresh thyme adds a lot of flavor to the potatoes. You can also substitute with other herbs like rosemary.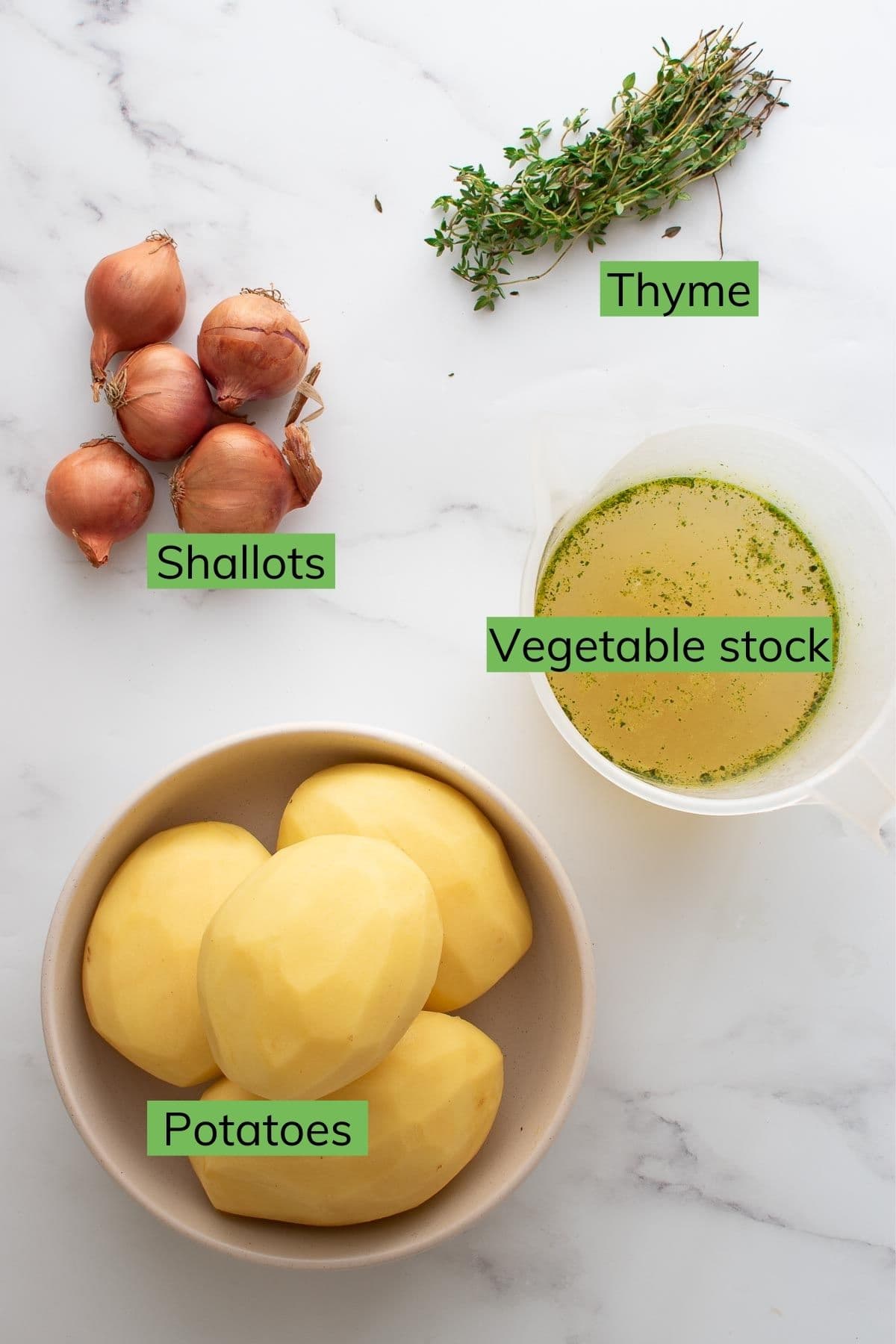 Instructions
This simple dish can be made with only a few steps.
The key part to this recipe is to peel the potatoes, and slice them into very thin slices. You can use a sharp knife, but you might find that slicing them with a vegetable peel or food processor is much easier.
Then, layer potatoes, shallots and thyme in a casserole dish. Pour over vegetable stock until the liquid almost reaches the top potato slices.
Bake the boulangere potatoes in the oven at 400 F or 200 C for 45 minutes to 1 hour. Use a fork to make sure that the top potatoes are crispy, and the bottom potatoes are soft and cooked through.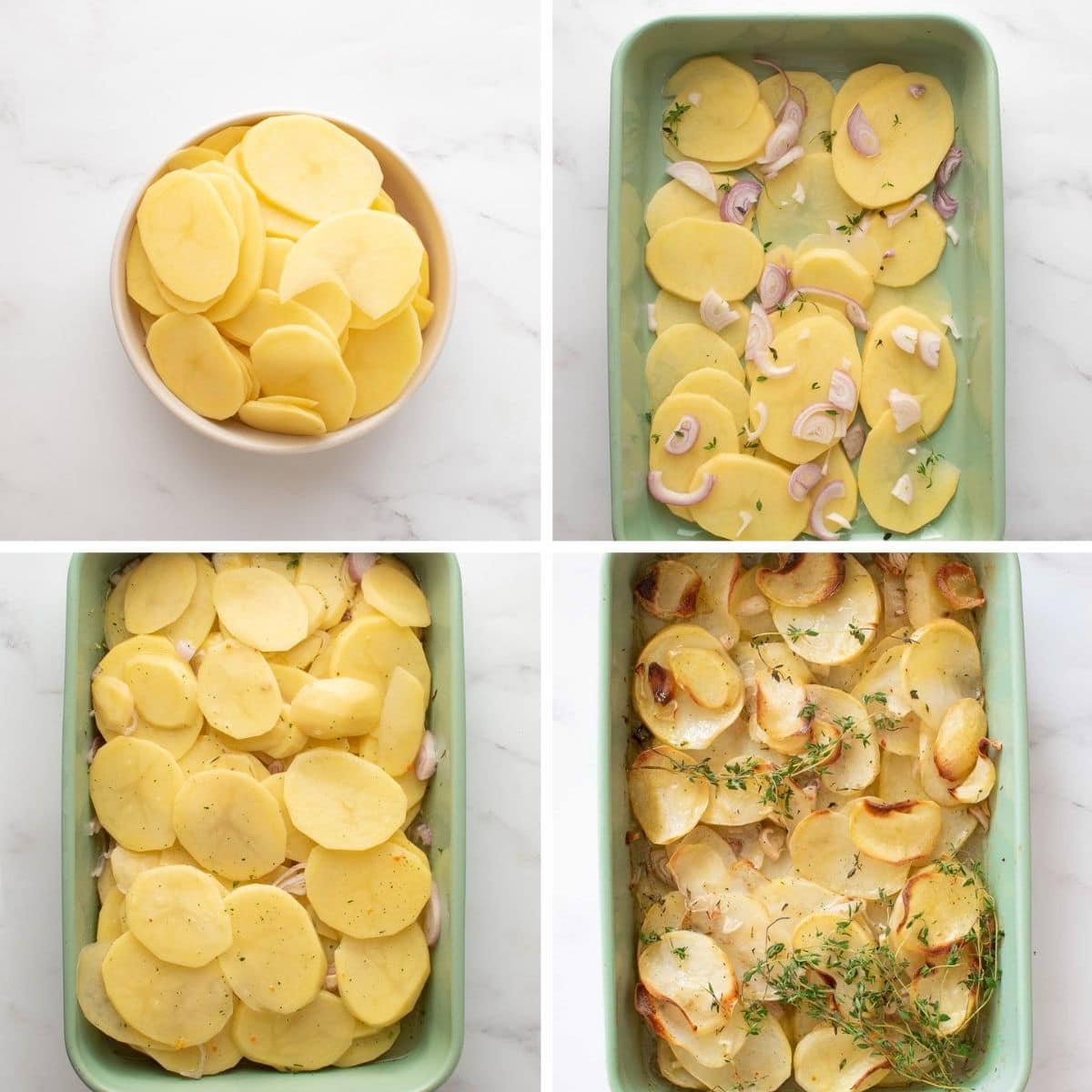 Top tips
Make sure to slice the potatoes very thinly for a good result.
The exact cooking time will vary depending on how thick the potato slices are. Make sure to keep an eye on them.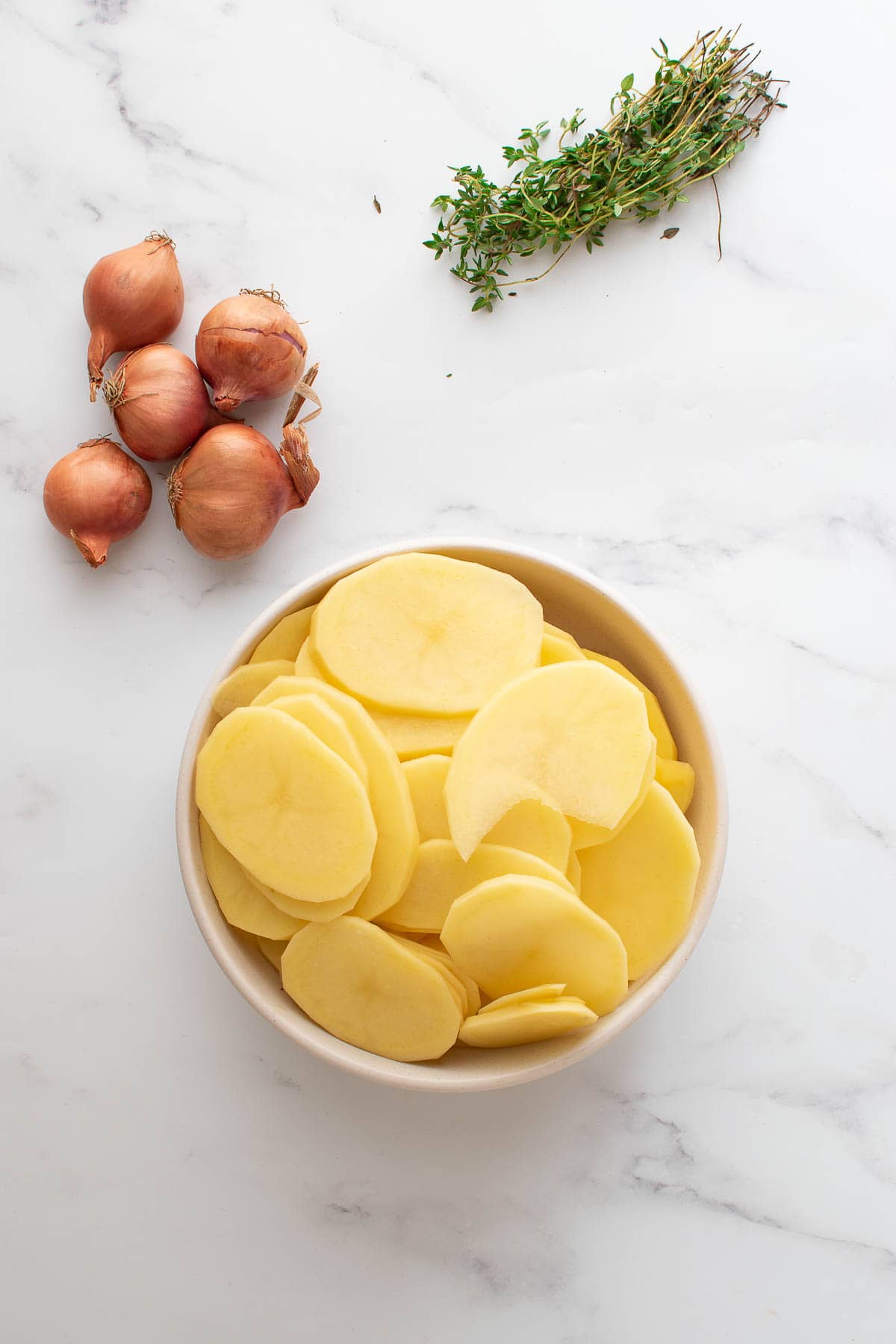 Serving suggestions
This easy potato recipe is the perfect healthy side dish that pairs with any entree. Boulangere potatoes are particularly great for a traditional steak dinner, or a Sunday roast. Here are some of my favorite dishes to serve it with: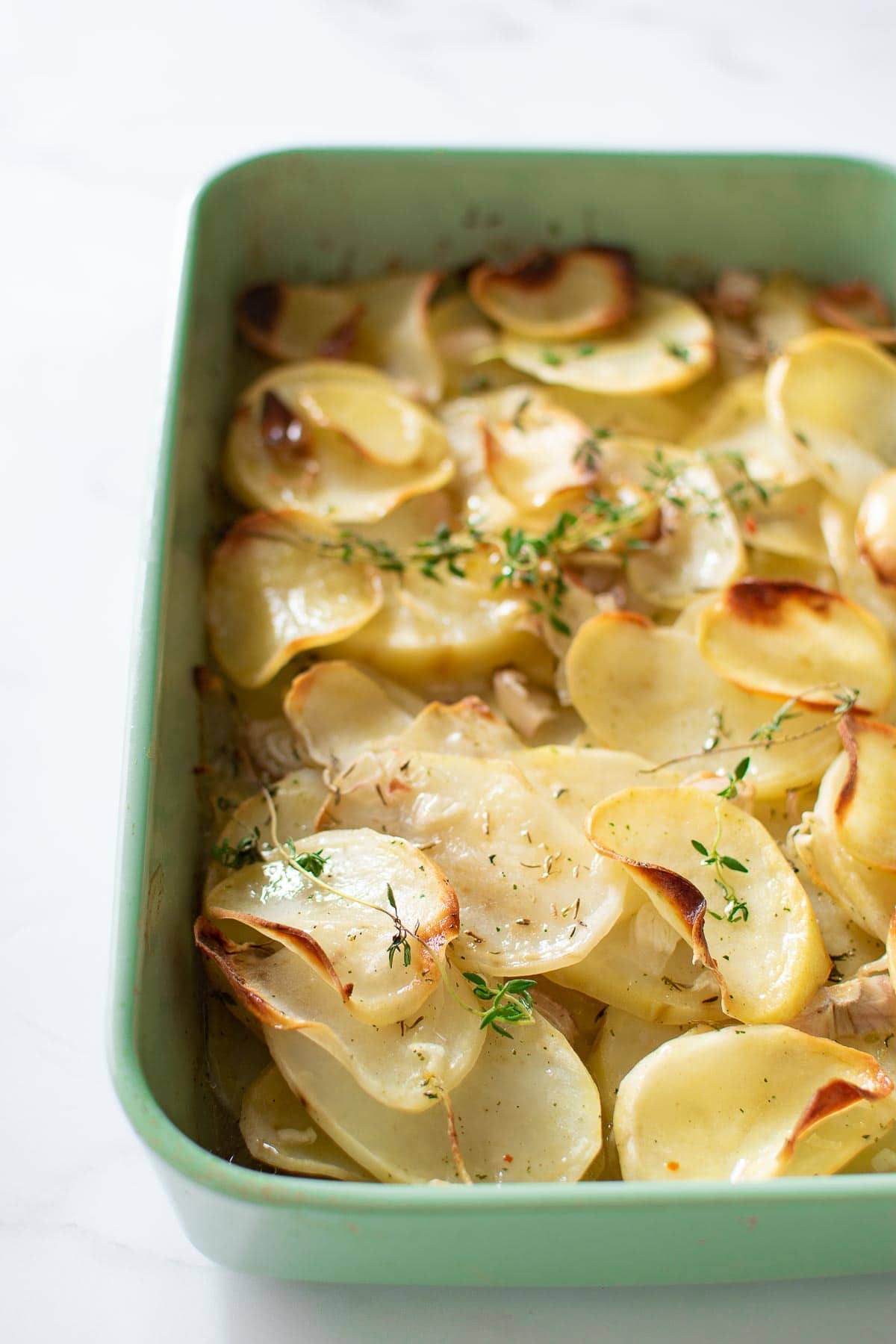 Variations
Cheesy boulangere potatoes: To make the dish cheesy, you can top the potatoes with shredded cheese for the last 15 or 20 minutes of the cooking time.
Mixed vegetables: Layer the sliced potatoes with other sliced root vegetables, like beetroot, parsnips, swede, turnip, sweet potatoes or carrots. This will make the dish a lot more flavorful and colorful, and is an easy way to add more vegetables to your meal.
Extra herbs: If you want to add more flavor, feel free to use extra herbs. A combination of multiple fresh and dried herbs like parsley, basil, oregano, thyme, dill and rosemary will taste great.
Leftovers
Store leftover boulangere potatoes in a sealed container in a refrigerator for up to 4 days.
You can reheat the potatoes in a microwave or oven and serve them warm. Alternatively, repurpose them in a different dish like soups, casseroles and more.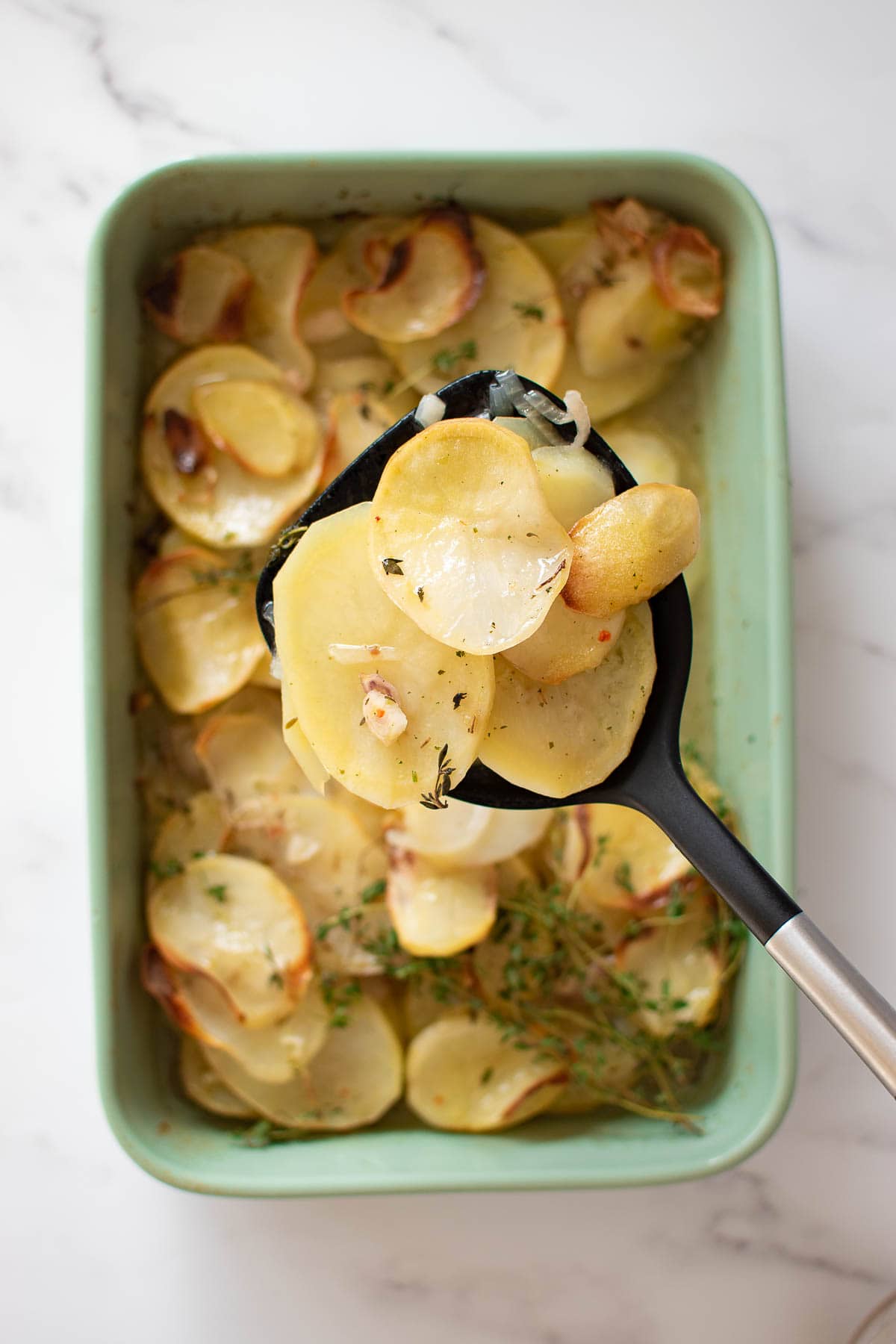 Frequently asked questions
Can you reheat boulangere potatoes?
Absolutely! You can reheat the potatoes in a microwave, or in the oven at 400 F / 200 C. This dish tastes just as good the next day, so make sure to enjoy the leftovers.
How do you slice potatoes thinly?
You can slice potatoes thinly by using a sharp knife. However, using a food processor or vegetable peeler can make the job much easier.
You might also like these recipes
If you make this recipe, make sure to post a photo to Instagram with #hintofhealthy!
Recipe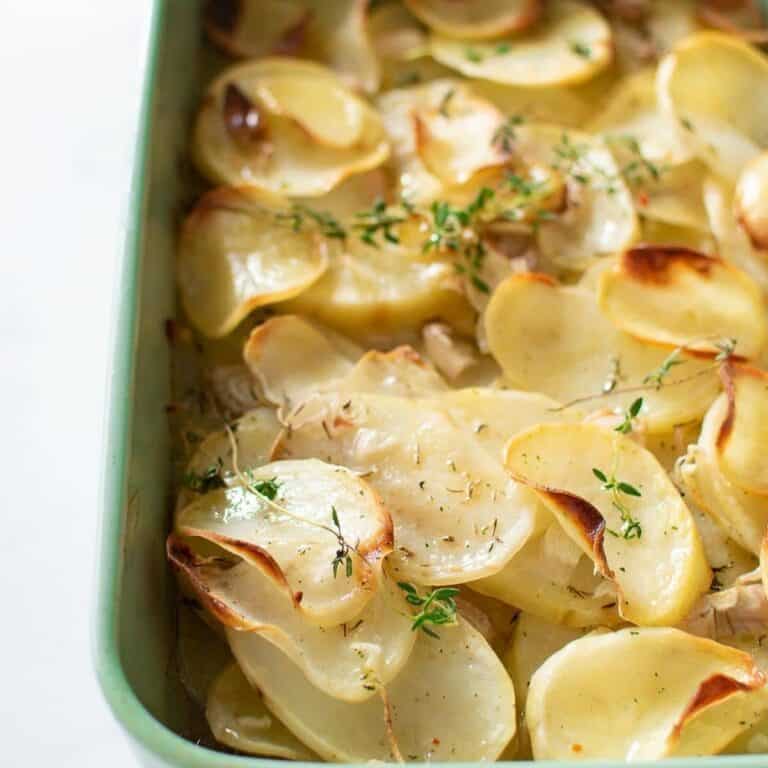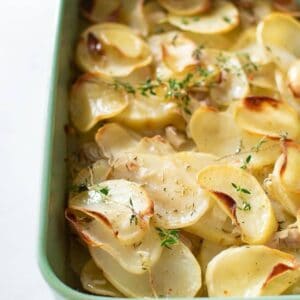 Boulangere Potatoes
These boulangere potatoes are a simple, but delicious side dish that pairs perfectly with pretty much any entree. Try this potato dish as a tasty alternative to traditional roasted potatoes.
Ingredients
3

pounds

potatoes

2

cup

vegetable stock

5

shallots

(or 1 onion)

5

sprigs

thyme
Instructions
Preheat your oven to 400 F / 200 C.

Peel and wash the potatoes, then slice the potatoes thinly. You can do this with a knife, food processor, or a vegetable peeler.

Finely dice the shallots or onion.

Rub olive oil in the bottom of a casserole dish. Add a layer of sliced potatoes, and sprinkle some diced shallots and thyme over the top. Repeat until all the potatoes are layered (about 3-4 layers).

Pour vegetable stock over the potatoes. The stock should almost reach the top of the potatoes, but not quite.

Bake the potatoes for about 45 minutes to 1 hour, or until the top potatoes are golden and crispy, and the bottom potatoes are cooked through.
Notes
Store leftover boulangere potatoes in a sealed container for up to 4 days. Reheat them in a microwave or oven, or repurpose the cooked potatoes in another dish like a soup or salad.
Nutrition
Calories:
194
kcal
Carbohydrates:
44
g
Protein:
5
g
Fat:
1
g
Saturated Fat:
1
g
Sodium:
330
mg
Potassium:
1029
mg
Fiber:
6
g
Sugar:
4
g
Vitamin A:
212
IU
Vitamin C:
48
mg
Calcium:
38
mg
Iron:
2
mg