Oven roasted green beans are a quick, easy and healthy side dish that pairs perfectly with any entree.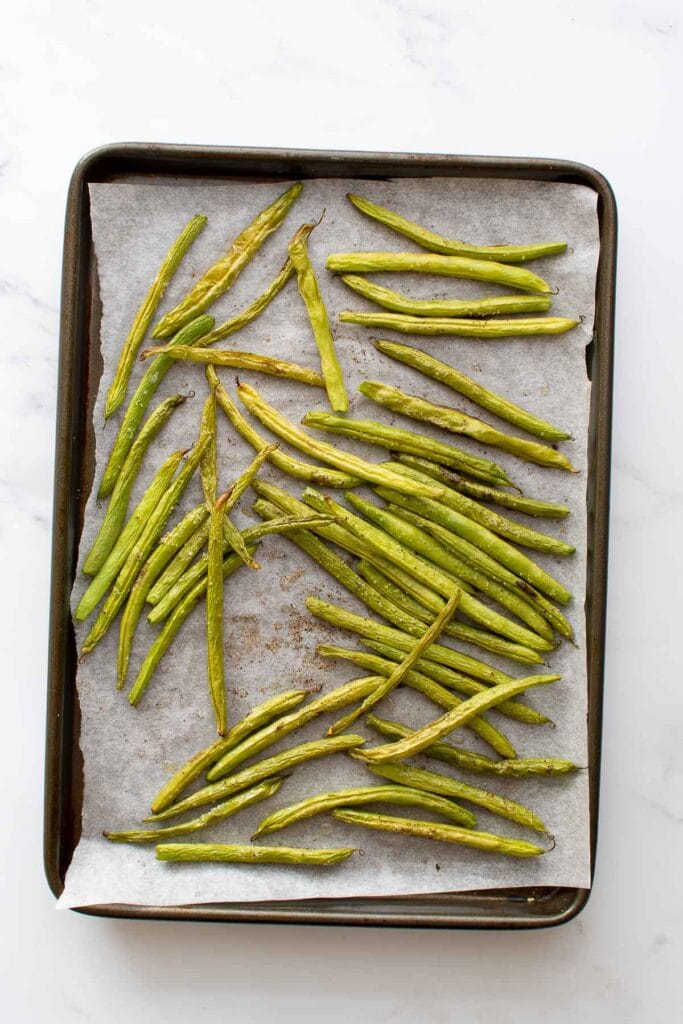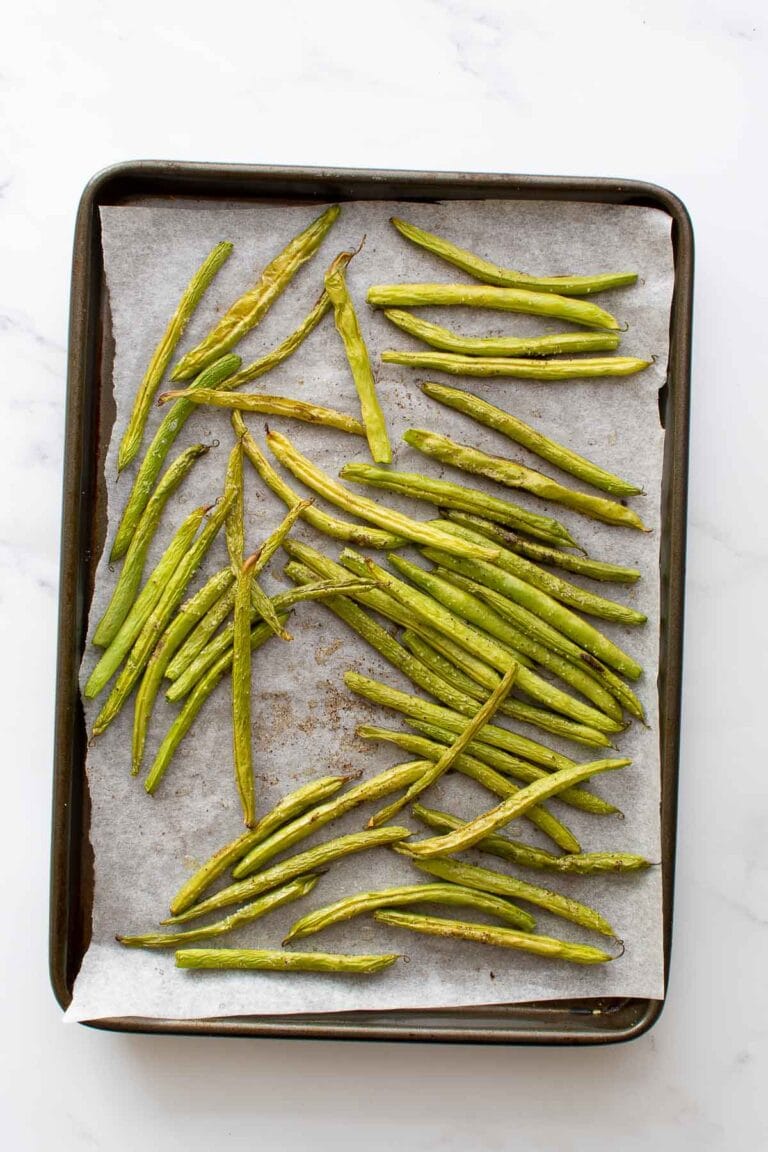 Jump to:
This post may contain affiliate links. Read more about it in the privacy policy.
Why you'll love it
Easy to make side dish
Made in only 20 minutes
Adjust the seasoning to suit your preferences
Healthy, tasty, and suitable to most diets
Vegan, vegetarian, low carb, low calorie, keto, paleo and whole30 friendly
Pairs well with practically any entree or main course
Ingredients
To make oven roasted green beans, all you need is green beans, olive oil and some seasoning.
Green beans: Use fresh, raw green beans. Canned green beans or frozen green beans will not have the same texture, and is better suited for other cooking methods.
Olive oil: Add some oil to the green beans to make sure that they don't dry out during roasting. You can replace this with other cooking oils, such as cooking spray, vegetable oil or canola oil.
Seasoning: I use salt and pepper, which makes the green beans taste great. You can also add more flavor to the dish by using other seasoning options. See the variations section below for some ideas!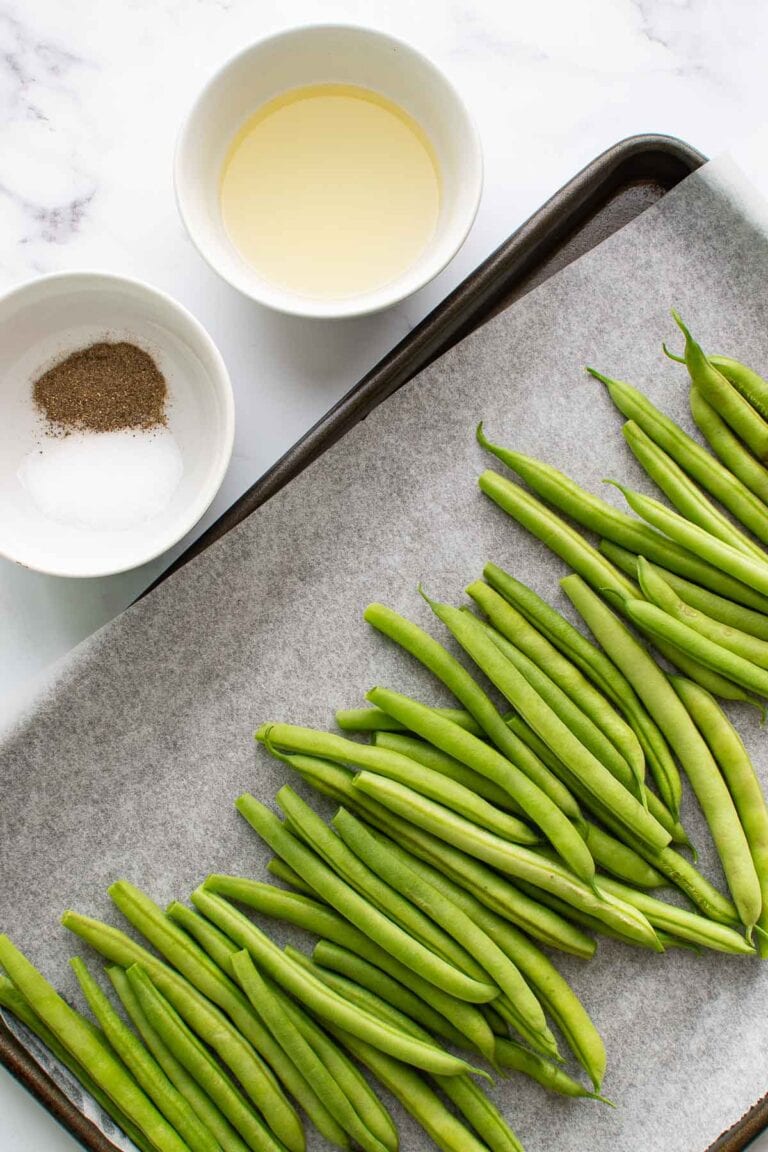 Instructions
This oven roasted green beans recipe is really easy, and only requires a few minutes of preparation.
First, prepare your green beans by washing and drying them, and cutting off any stalks that might still be attached to the ends.
Preheat the oven to 400°F / 200°C.
Place the green beans on a baking sheet covered with parchment paper or a silicone baking mat. Add salt, pepper and olive oil to the beans, and use tongs or your hands to coat the beans evenly with the seasoning.
Roast green beans in the oven until they are tender, with crispy and slightly golden edges. This takes between 10-15 minutes. Make sure to keep an eye on them.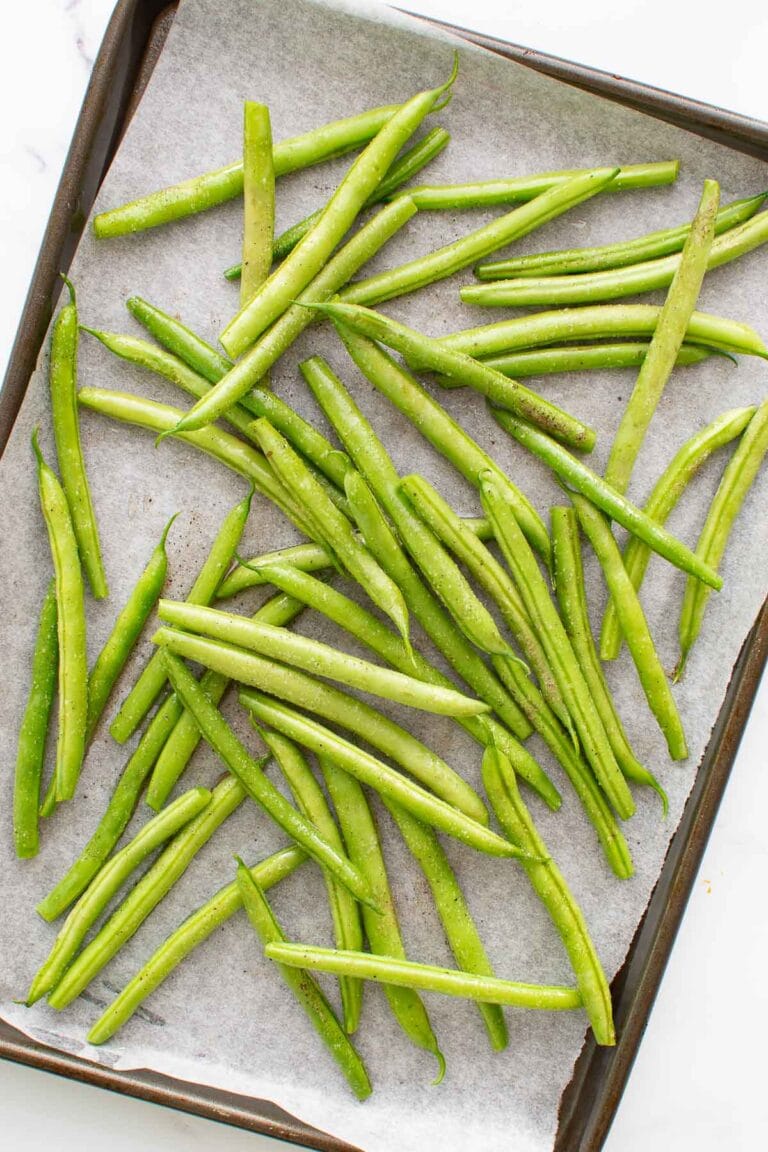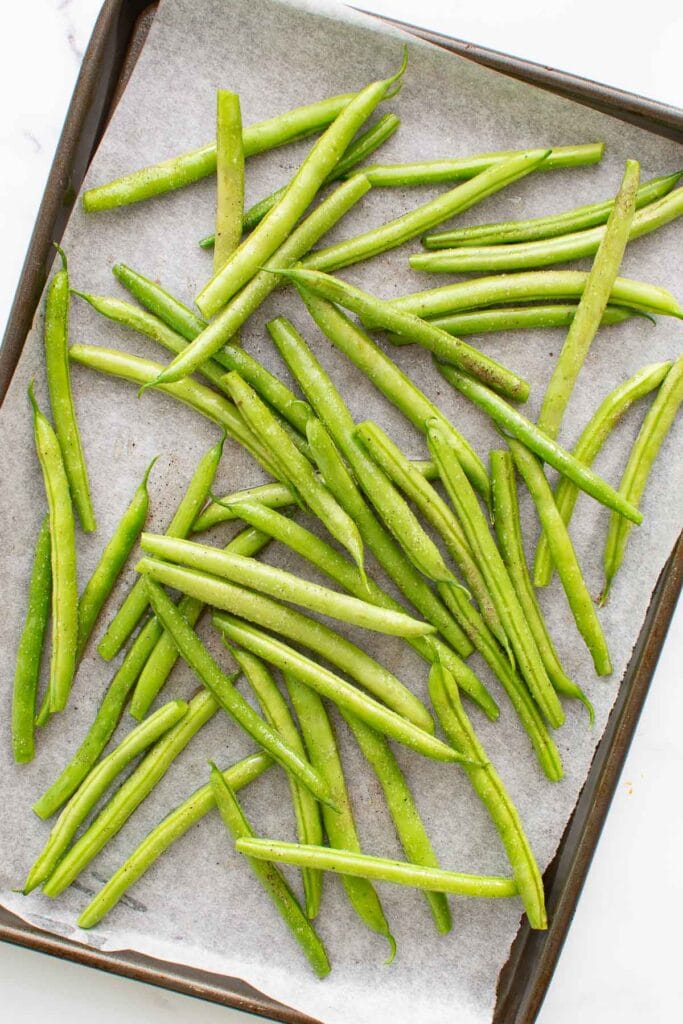 Top tips
Wash and dry the green beans before you season them. You might also want to cut off the ends if they still have a small piece of the stalk attached.
The cooking time might vary depending on several factors, like the temperature in your oven. Keep an eye on the green beans, and remove them from the oven when they are slightly browned on the edges.
Serving suggestions
This dish best served as a side dish for lunch or dinner. You can also use them as an ingredient in a variety of other dishes, such as salads or casseroles. Here are some of my favorite recipes to pair them with: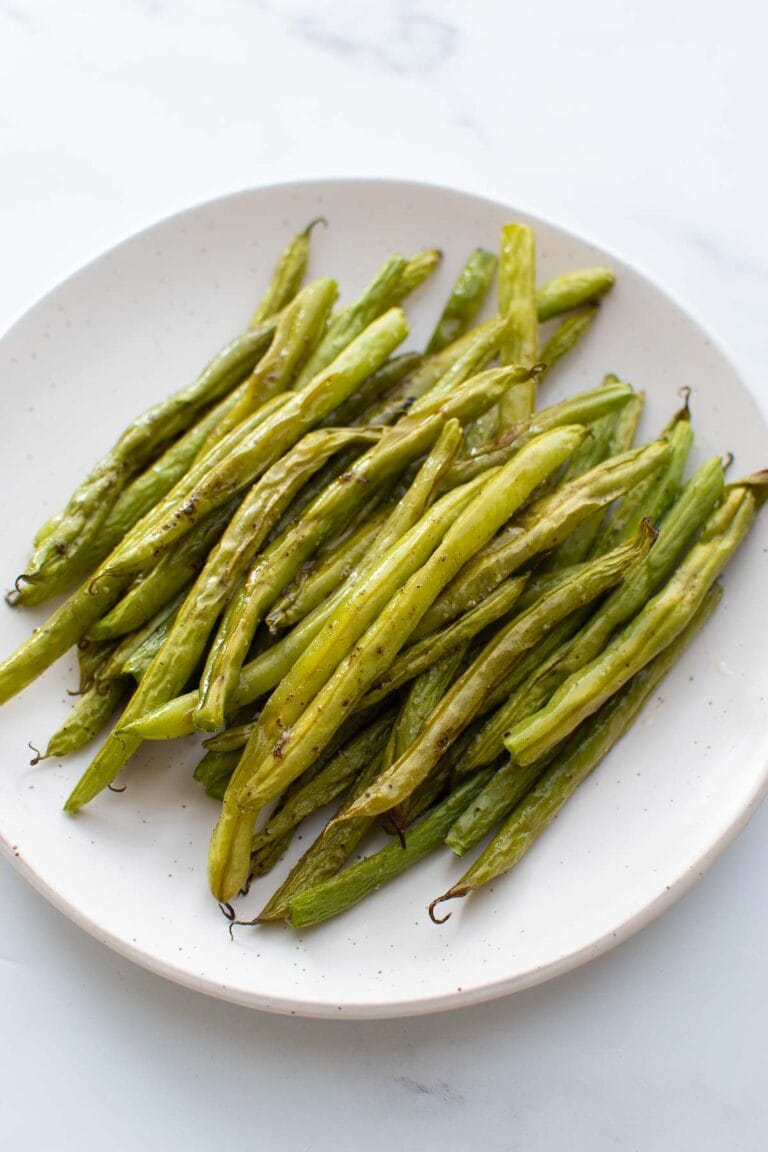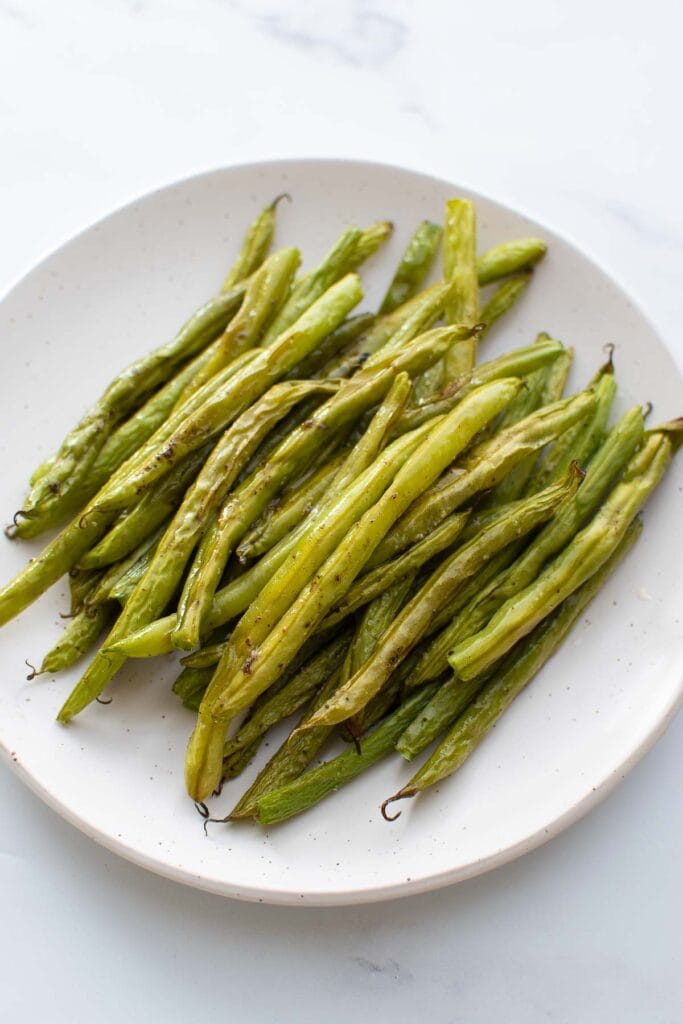 Variations
Sheet pan dinner: Add diced chicken, salmon fillets or thin cut pork chops to the baking sheet with the green beans. The protein will roast along with the beans. This is a great way to prepare an entire meal on one baking sheet in the oven.
Mixed roasted vegetables: Add other vegetables of the same size to the baking sheet, and roast them along with the green beans. Cherry tomatoes, sliced peppers, cauliflower florets, zucchini and diced radishes are great options.
Lemon pepper green beans: Add some lemon juice to the seasoning. This is a great way to prepare the beans if you're serving them with a Mediterranean entree.
Spicy green beans: Sprinkle over some red pepper flakes, or add some chili powder to the seasoning.
Garlic Parmesan: Add garlic powder or grated garlic to the seasoning, and sprinkle some grated Parmesan over the green beans before or after roasting. This version is much more filling, and a lot more flavorful!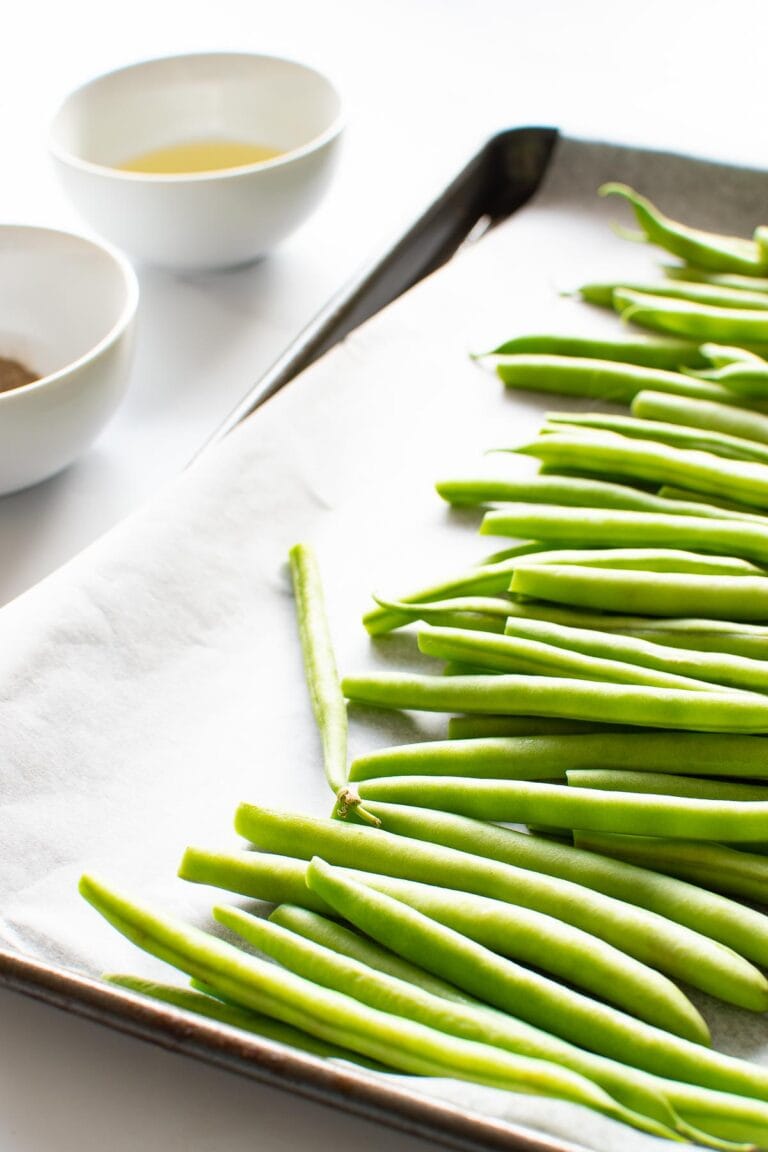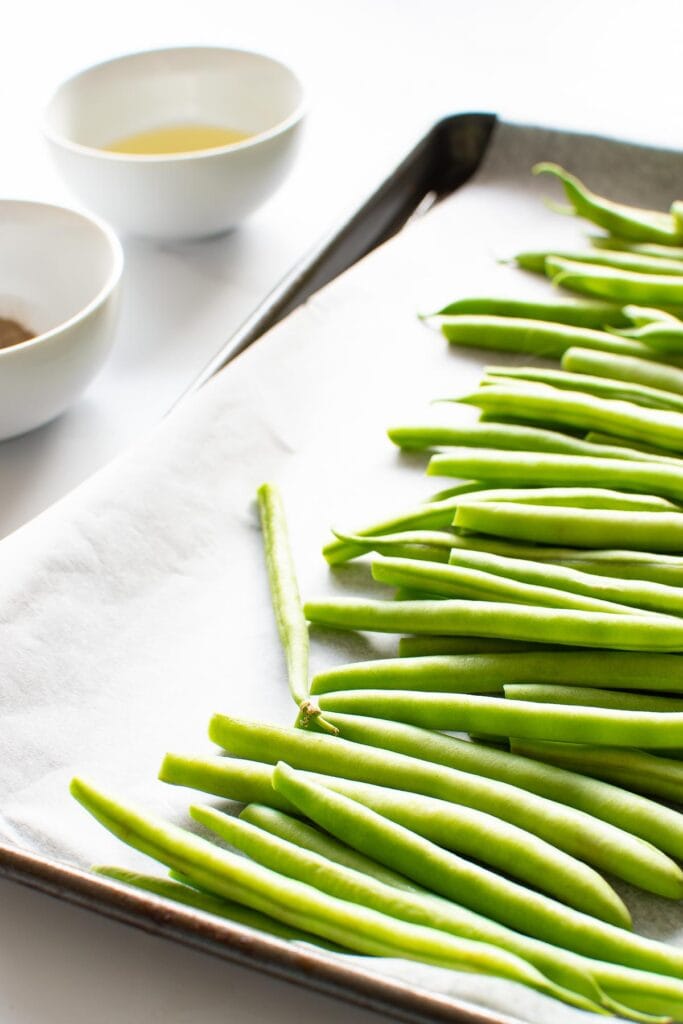 Leftovers
Store leftover green beans in a sealed container in a refrigerator for up to 4 days. You can reheat the green beans in a microwave, skillet or oven, and serve them as a side dish with future meals.
💡 TIP! Looking to save time in the kitchen? Roast a big batch of green beans at the start of the week, and store them in a refrigerator. Use them as an easy side dish for multiple lunches or dinners throughout the week.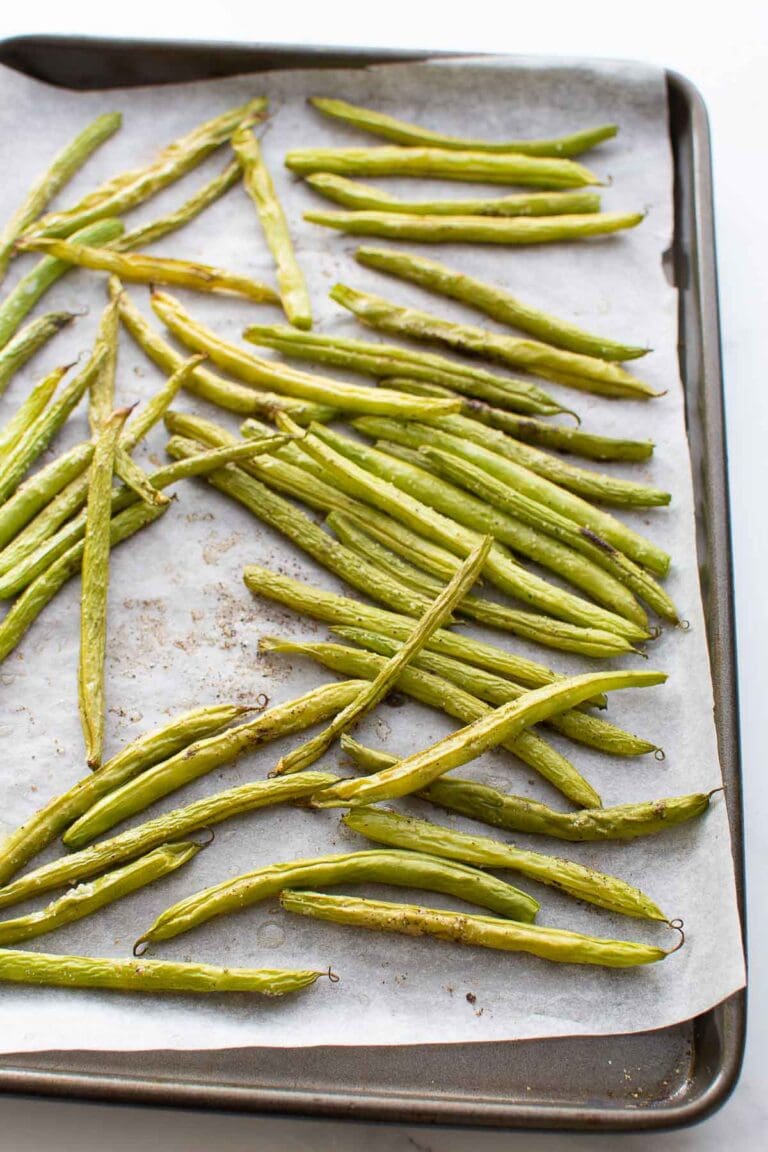 Frequently asked questions
Can you cook green beans too long?
Yes. If you cook green beans too long, they will burn and become really dry. Remove them from the oven as soon as they are starting to brown on the edges.
Can you roast canned green beans?
No. Canned green beans are not suitable for roasting, as they don't have the same texture as raw green beans.
You might also like these recipes
If you make this recipe, make sure to post a photo to Instagram with #hintofhealthy!
Recipe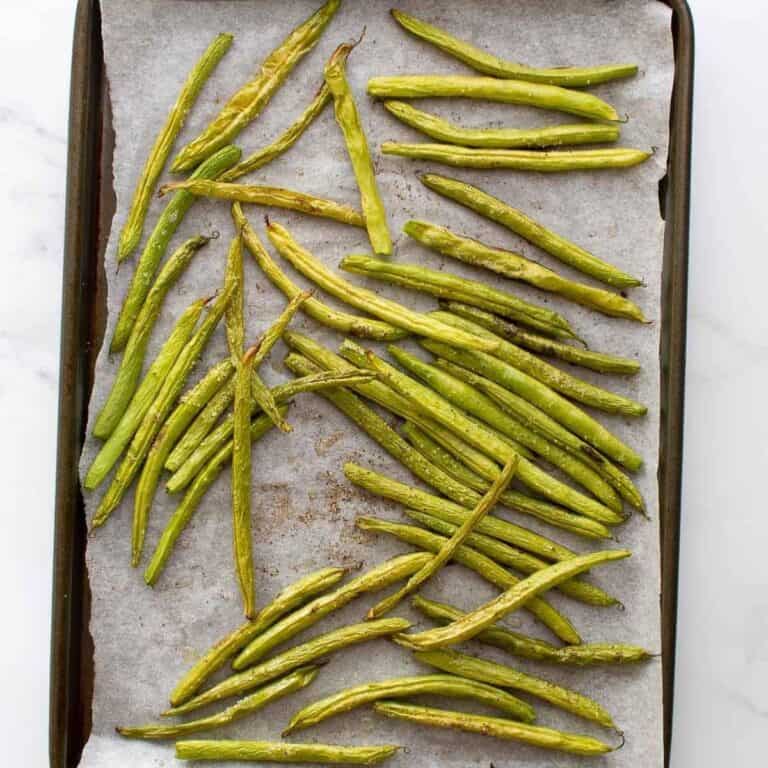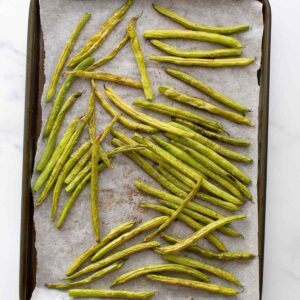 Oven Roasted Green Beans
These oven roasted green beans is a simple, easy and delicious side dish perfect for any entree. Roast green beans to crispy perfection, and serve them up for a quick and healthy weeknight dinner.
Instructions
Preheat your oven to 400°F / 200°C / 180°C fan oven.

Rinse and clean the green beans, and add them to a baking sheet.

Sprinkle the oil over the green beans, and season with salt and pepper. Combine it all so that the beans are completely covered in oil.

Roast the green beans in the oven until they are softened, with golden and crispy edges. This usually take about 10-15 minutes.
Notes
Store leftovers in a sealed container in a refrigerator for up to 4 days.
Feel free to change the seasoning if you like. Try garlic and Parmesan, lemon juice or red pepper flakes for a different flavor profile.
Nutrition
Calories:
35
kcal
Carbohydrates:
4
g
Protein:
1
g
Fat:
2
g
Saturated Fat:
2
g
Sodium:
294
mg
Potassium:
123
mg
Fiber:
2
g
Sugar:
2
g
Vitamin A:
393
IU
Vitamin C:
7
mg
Calcium:
22
mg
Iron:
1
mg