I can't think of any salad vegetables more popular than cucumbers and tomatoes. Even people that usually don't particularly like salads accept these guys. This tomato and cucumber salad is such a simple recipe, but it's honestly a perfect side dish that will go with so many mains, and people will actually eat it. I've jazzed it up by using multicolored tomatoes and cucumber ribbons, but you can just dice cucumber and tomatoes and call it a day.
This post may contain affiliate links. Read more about it in the privacy policy.
What you need to make a tomato and cucumber salad
Tomatoes
Cucumber
Basil, fresh or dried (italian seasoning or thyme can also be used)
Optionally, olive oil or balsamic vinegar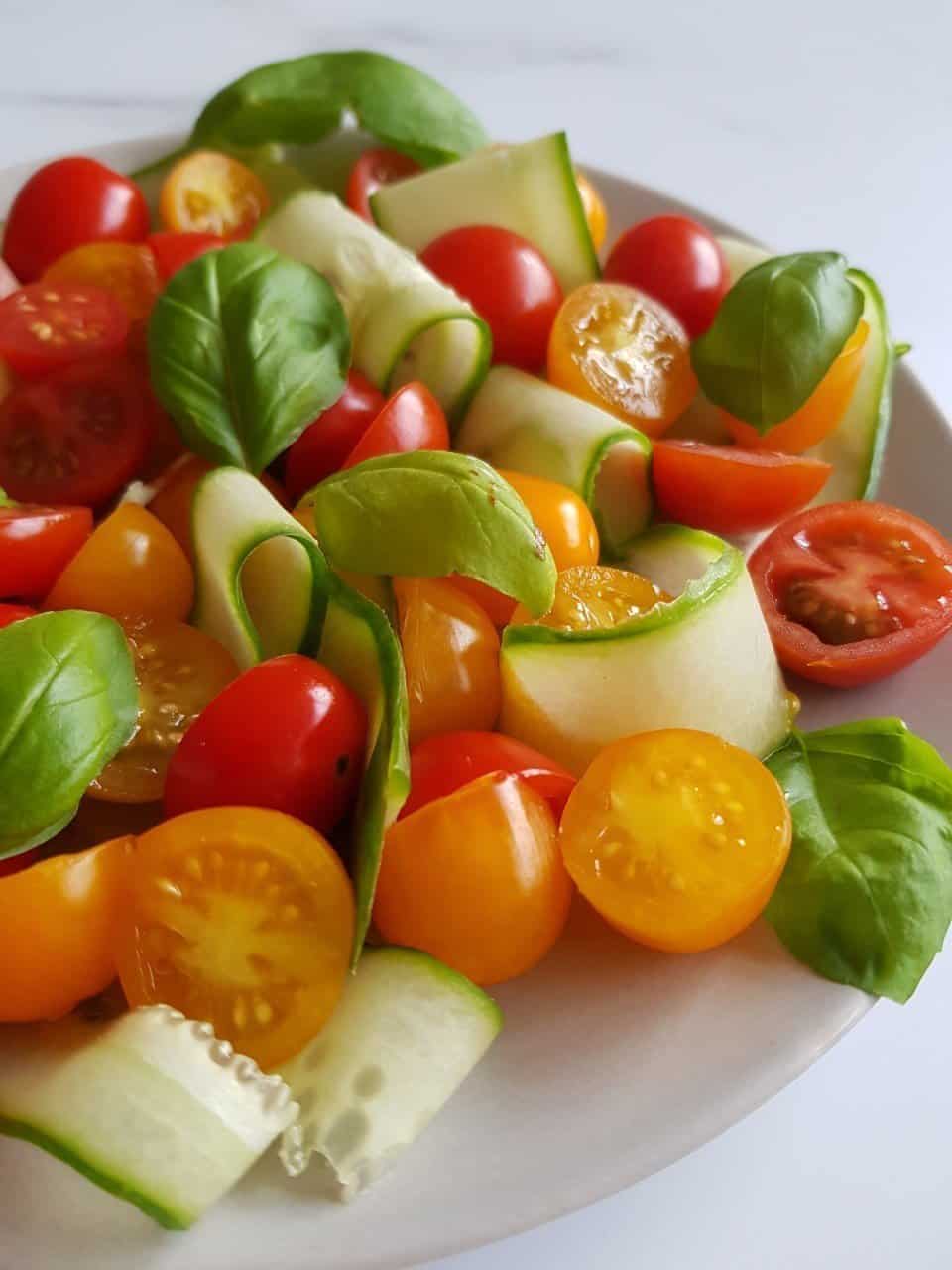 How to make tomato and cucumber salad
Dice, cut or chop your tomatoes and cucumber. I used small plum tomatoes that I simply cut in half, but if you use large salad tomatoes, you can either slice them into circles, or cut them into small chunks or wedges. The cucumbers can be diced, cut into half moons or discs, or you can use a vegetable peeler to create ribbons like I have done. As this salad is very simple and plain, I like to style it with some ribbons when I want to be fancy, but for a regular weeknight dinner I'd just dice them and be done with it.
I add some fresh basil leaves to my dish. This makes it look a bit more interesting, but also adds a bit of flavor. Herbs are great in a salad. If you don't have fresh basil, you can add a little bit of dried basil or thyme. Optionally, you can also add a drizzle of balsamic vinegar or extra virgin olive oil for a bit of a dressing. Since tomatoes are so juicy by themselves, I chose not to use a dressing this time.
If using dressing, add the vegetables to a salad bowl, add the herbs and the oil or vinegar, then stir to combine.
How to make vegetable ribbons
Vegetable ribbons look super cute in a salad, and adds a different texture than simply dicing them would. All you need is a regular vegetable peeler. Hold the cucumber still, and peel on the same spot. The first peel will mainly be the green cucumber skin, but the second and third peel will be thicker, like these ribbons. You can use this method with a variety of vegetables. I have done it with carrots, courgette, butternut squash, sweet potatoes and peppers to just make them slightly more interesting in a dish.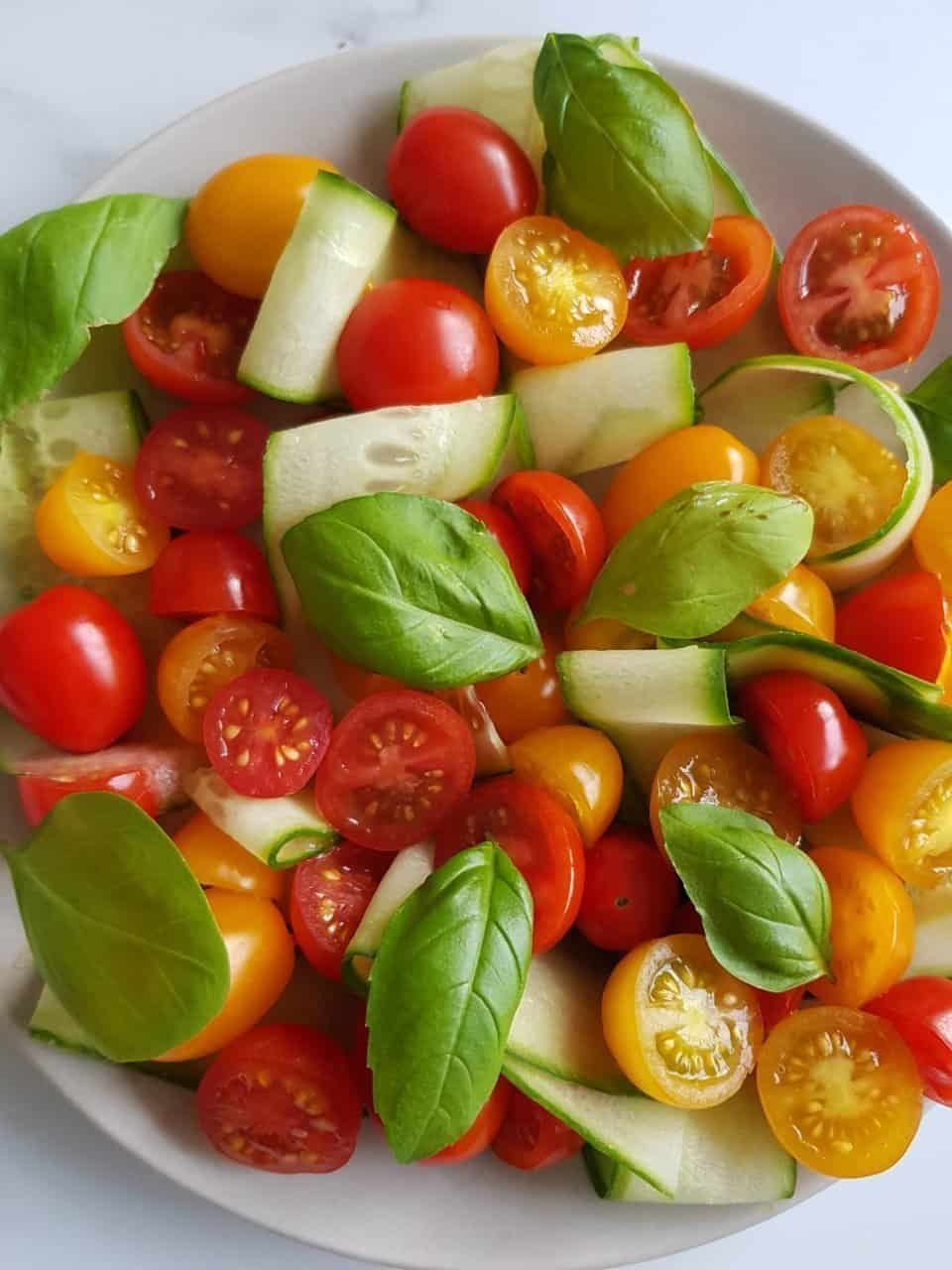 Which main dishes go with a tomato and cucumber salad?
This dish is so versatile, it can compliment many main dishes. It would be great with a plain chicken dish, like this Easy slow cooker apricot chicken with thyme, or with a creamy pasta dish like Chicken and chorizo pasta or Salmon and creme fraiche pasta. If you're really into tomatoes, or you have an abundance of tomatoes from your garden, you can combine this salad with Pasta with roasted tomatoes, feta and basil for the ultimate vegetarian late summer meal.
What is the difference between yellow and red tomatoes?
Yellow and red tomatoes are similar in flavor, nutrients and texture, and can be substitutes for each other. Adding both versions to a dish adds more color. Yellow tomatoes are less acidic and way juicier, which makes them less ideal for cooking compared to red tomatoes. Their skin is also softer which makes them bruise easier, which is why it's harder to farm them with machines, and the reason why they aren't as commonly found in grocery stores.
Yellow tomatoes are a lot sweeter than red tomatoes, and they are perfect for snacking or eaten raw like in this salad. Yellow tomatoes are also higher in zinc, niacin, potassium and folate, all of which are amazing nutrients, with folate being particularly important for pregnant women.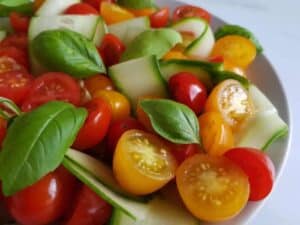 Tomato and cucumber salad
This delicious, healthy and easy to make tomato and cucumber salad is a perfect side dish that will compliment a wide variety of mains. Using the most popular salad ingredients, this is the salad your family and guests will actually eat!
Ingredients
1

cucumber

fresh basil leaves

handful

tomatoes

I used plum tomatoes
Instructions
Chop, slice, dice, cut or peel the tomatoes and cucumbers to your preference

Add to a salad bowl or serving dish

Add a little bit of fresh or dried basil

Optionally, add a splash of extra virgin olive oil, balsamic vinegar or other dressing of your choice
Notes
The salad can be stored in the fridge in an airtight container for up to 3 days. It is best when served the same day.
About the herbs
I love using fresh basil with this salad, as it looks appealing and brings a great flavor. If using dried herbs, you only need a little, about 1/4 tsp. You can also omit the herbs, or substitute for thyme or italian seasoning. 
About the dressing
These tomatoes are so juice, I usually don't use a dressing with this salad. However, a drizzle of extra virgin olive oil, balsamic vinegar, or a vinaigrette will taste great with these flavors. The calorie estimate does not count any dressings.
Print Recipe