This juicy slow cooker apricot chicken with crispy skin is in my humble opinion one of the best dishes you can make in your slow cooker. And it's so easy!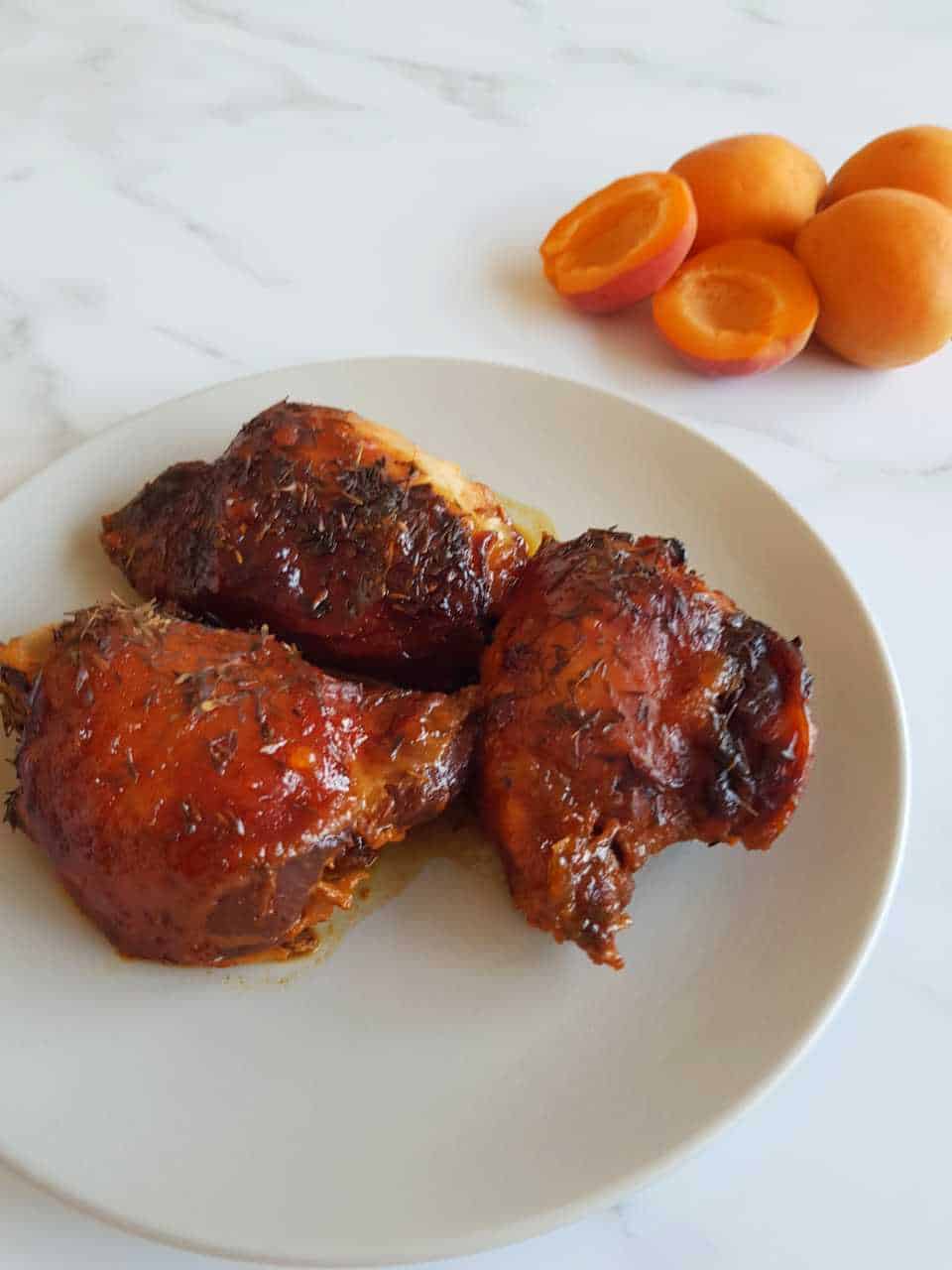 Jump to:
This post may contain affiliate links. Read more about it in the privacy policy.
Ingredients
This easy chicken recipe only requires 3 ingredients!
Chicken thighs - with bones and skins for the best result.
Apricot jam - sticky, sweet and delicious.
Dried thyme - don't forget to season!
How to make slow cooker apricot chicken
Add raw chicken thighs to a slow cooker, skin side up. Use a spoon or spatula to spread the jam over the chicken thighs. Try to completely coat the surface of the skin. Sprinkle with thyme, place the lid on top and cook on low setting for 6-8 hours.
Tips & substitutions
Here are my best tips to get this recipe perfect.
Avoid removing the lid while the chicken is cooking, as this causes the slow cooker to loose a lot of heat. Doing this will increase the cooking time.
If you use any other cut of chicken, like boneless chicken thighs or chicken breasts, this might change the cooking time.
Always use a meat thermometer to ensure that the chicken has reached an internal temperature of 75 C / 165 F before serving it.
For more tips, learn how to use a slow cooker.
Storing leftovers
You can store leftover apricot chicken in an airtight container in the fridge for up to 4 days. Alternatively, it can be frozen for up to 3 months.
Keep in mind that the chicken skin might not be as crispy after storing it. If you don't appreciate the texture of leftover chicken skin, you can discard the skins and bones, and shred the leftover apricot chicken. Use shredded chicken in sandwiches, salads, casseroles and more.
Serving suggestions
I love serving slow cooker apricot chicken with a light and easy side dish. Lemon and garlic rice, Pasta salad with roasted brussels sprouts and bacon, or sweet potato fries are all excellent options.
More slow cooker chicken recipes
Browse all slow cooker chicken recipes, or try one of these:
Recipe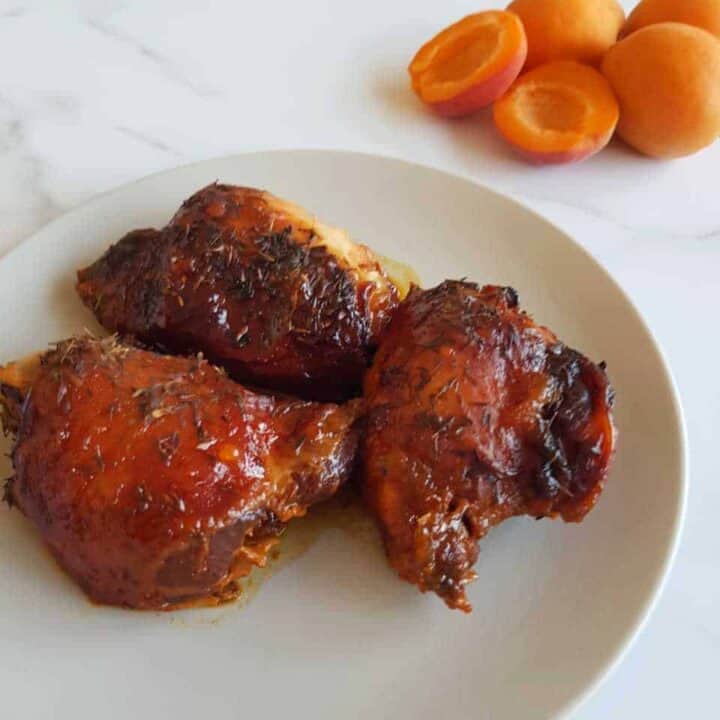 Apricot chicken in the slow cooker
This delicious, simple slow cooker apricot chicken is so easy to make, and makes a perfectly tender, sweet chicken. Simply add the ingredients, and leave it for 6-8 hours until ready to serve.
Ingredients
3

chicken thighs

3

tablespoon

apricot jam

1

teaspoon

dried thyme
Instructions
Add the chicken thighs to a slow cooker, skin side up

Use the back of a spoon or a spatula to spread the jam over the chicken thighs, try to cover the entire surface of the skin*

Sprinkle the thyme over the chicken, again trying to cover the whole surface

Cook on low setting for 6-8 hours, and serve.
Notes
*When spreading the jam on the chicken, be careful not to put any utensil that has been in contact with the raw chicken into a jam jar as this leads to cross contamination. Instead, temporarily move the jam to a small bowl or plate before spreading it over the meat.
This recipe is very simple, but this is actually just as easy as it sounds. You usually get the best results from slow cooker meals if you leave it with the lid on until it's done and ready to be served. There is no need to open the lid or stir the chicken. Don't worry - it won't burn! The chicken is ready after approximately 6 hours, but you can easily leave it for a few more hours. The chicken will just be more tender. I tend to start my slow cooker before leaving for work in the morning, and it's perfectly fine when I come back home in the evening.
Estimate 1-2 chicken thighs per person, and serve with your favorite side dish. 
Try other jams
Apricot chicken is a classic, but I think this recipe would be just as good with marmalade or cranberry jam.
Try other spices
I love thyme with sweet chicken, but you could definitely remove it, or replace with another herb or spices. I imagine cinnamon, coriander, basil and oregano would go great with this dish.
Nutrition