This strawberry walnut salad is so simple, yet absolutely delicious. The perfect summer side salad, packed with fresh ingredients and a simple vinaigrette dressing.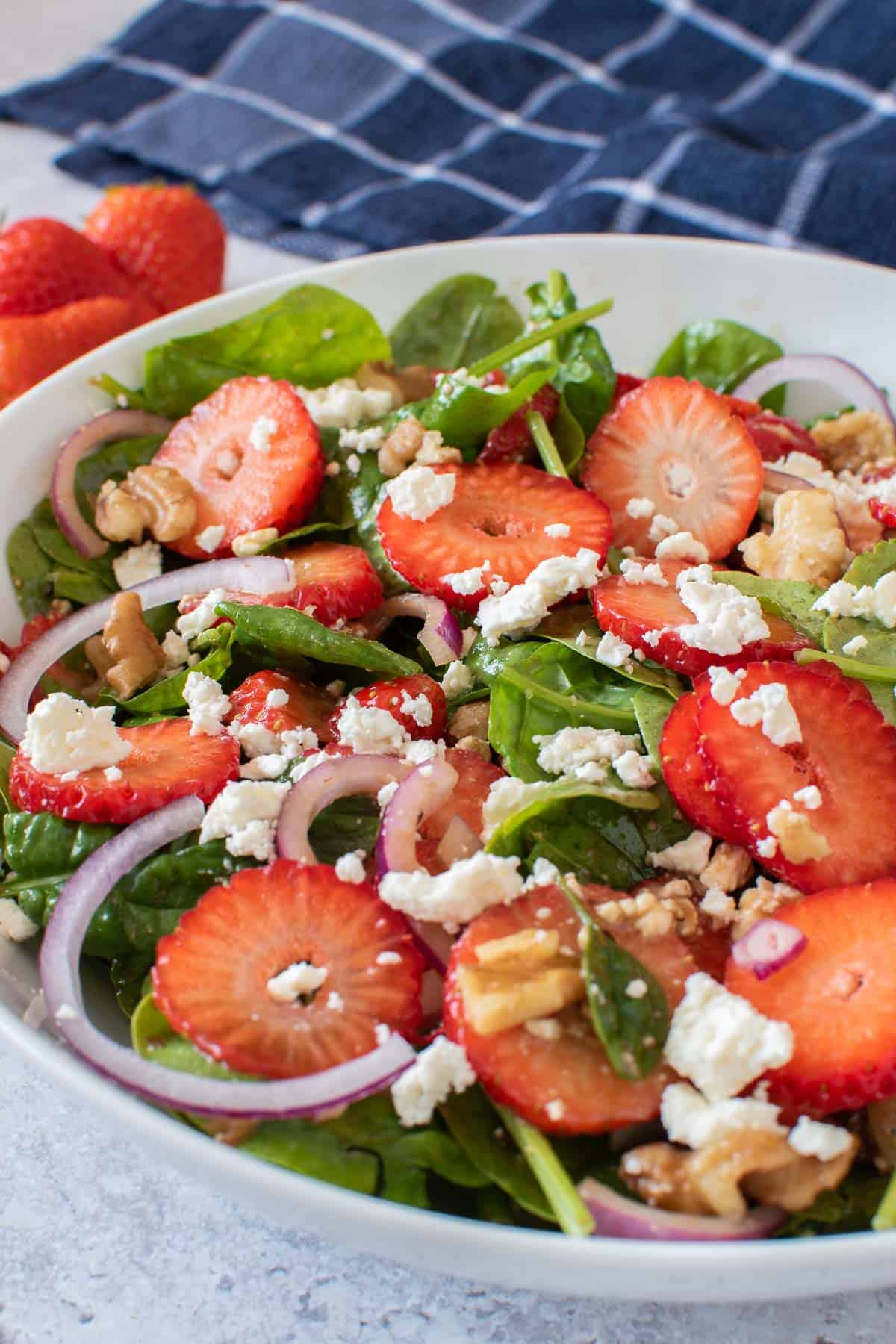 Jump to:
This post may contain affiliate links. Read more about it in the privacy policy.
What could be more typical of summer than a fruity salad? This spinach strawberry salad with walnuts is one of my go-to side dishes for my summer BBQ, or any light chicken or fish entree.
Not only does it look fantastic, but it also tastes great. And better yet: it's so quick and easy to make! In fact, the entire salad comes together after only a few minutes of chopping ingredients.
Why you'll love it
A great way to enjoy strawberries in season
Easy to make in only 10 minutes
Customize the recipe to suit your preferences
Add some protein to turn this into a light main course
Perfect combination of sweet, salty and savory
Ingredients
Spinach: Washed baby spinach serves as a base for this salad. Make sure to wash it, and shake off any excess water before use.
Strawberries: Fresh strawberries taste best when they are in season. I would not recommend using frozen berries in this recipe.
Walnuts: Roughly chopped walnuts are a fantastic, crispy addition to the salad. Use raw walnuts or toasted walnuts.
Red onion: Red onions are great in salads! Don't use white or brown onions, as they have very overpowering flavors when served raw.
Feta cheese: Crumbled feta cheese is a completely optional, but delicious addition to this salad. It gives the salad a great texture and tastes great. Alternatively, you could also use goat cheese.
Balsamic vinegar: A key component to making the balsamic dressing. Balsamic vinegar and strawberries taste fantastic together. If you don't have it available, you could also use fresh lemon juice instead.
Olive oil: Extra virgin olive oil is a fantastic base for any vinaigrette or salad dressing.
Black pepper: Freshly ground black pepper adds a little kick and balances out the sweetness in the dish.
Honey: The honey adds a lovely sweetness to the dressing. Alternatively, use agave nectar, maple syrup, or a pinch of sugar.
Dijon mustard: I love the addition of mustard in my salad dressings, but you can absolutely omit this if you prefer. Yellow mustard or grainy mustard will also work!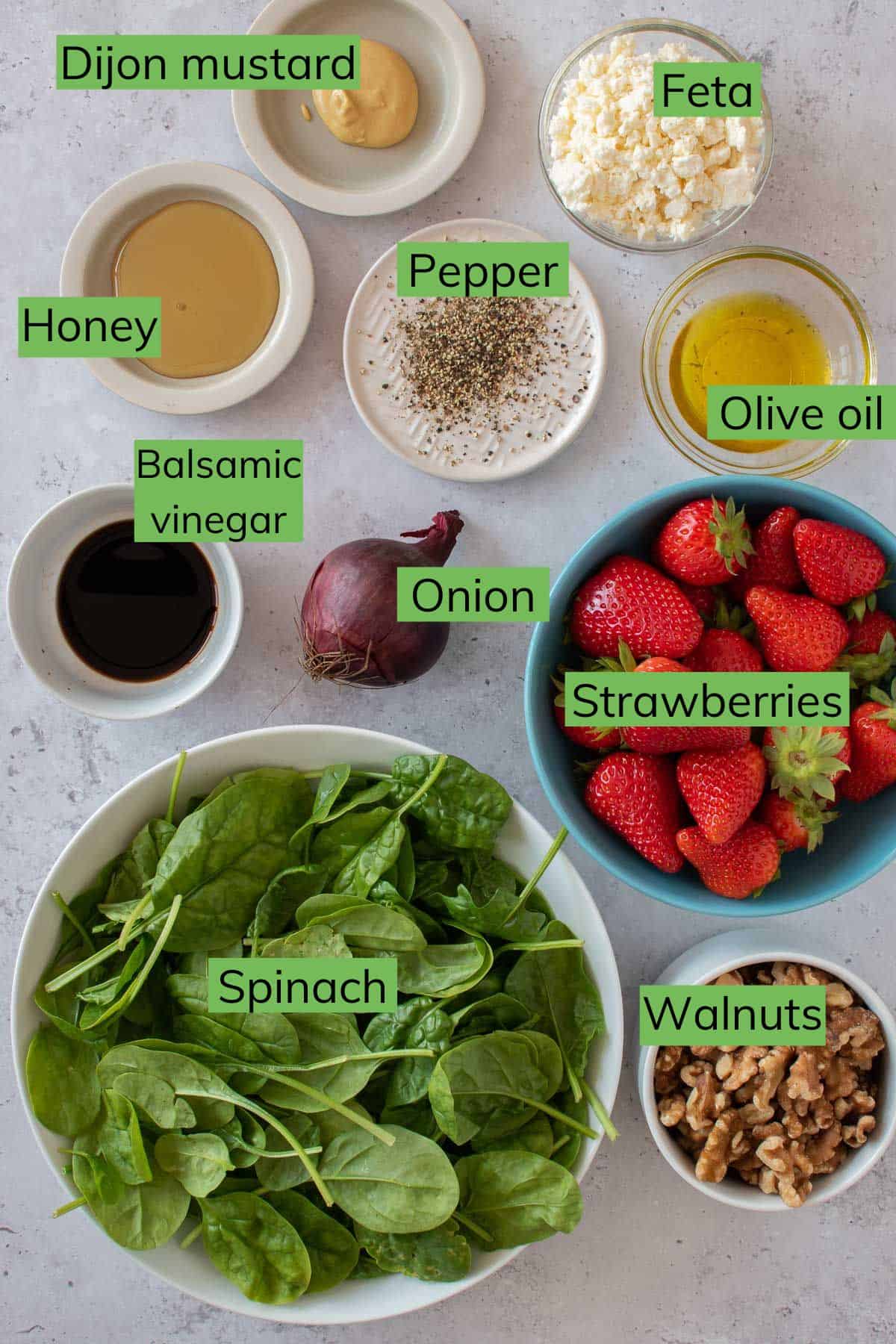 Instructions
You can find full instructions + ingredient measurements in the recipe card at the bottom of this page
One: Combine the ingredients for the balsamic salad dressing in a small bowl.
Two: Wash and slice the onion and strawberries. Add them to a bowl with spinach, crumbled feta cheese, and walnuts. Pour the dressing on top, and toss the salad to combine.
🥗 More SALAD RECIPES from Hint of Healthy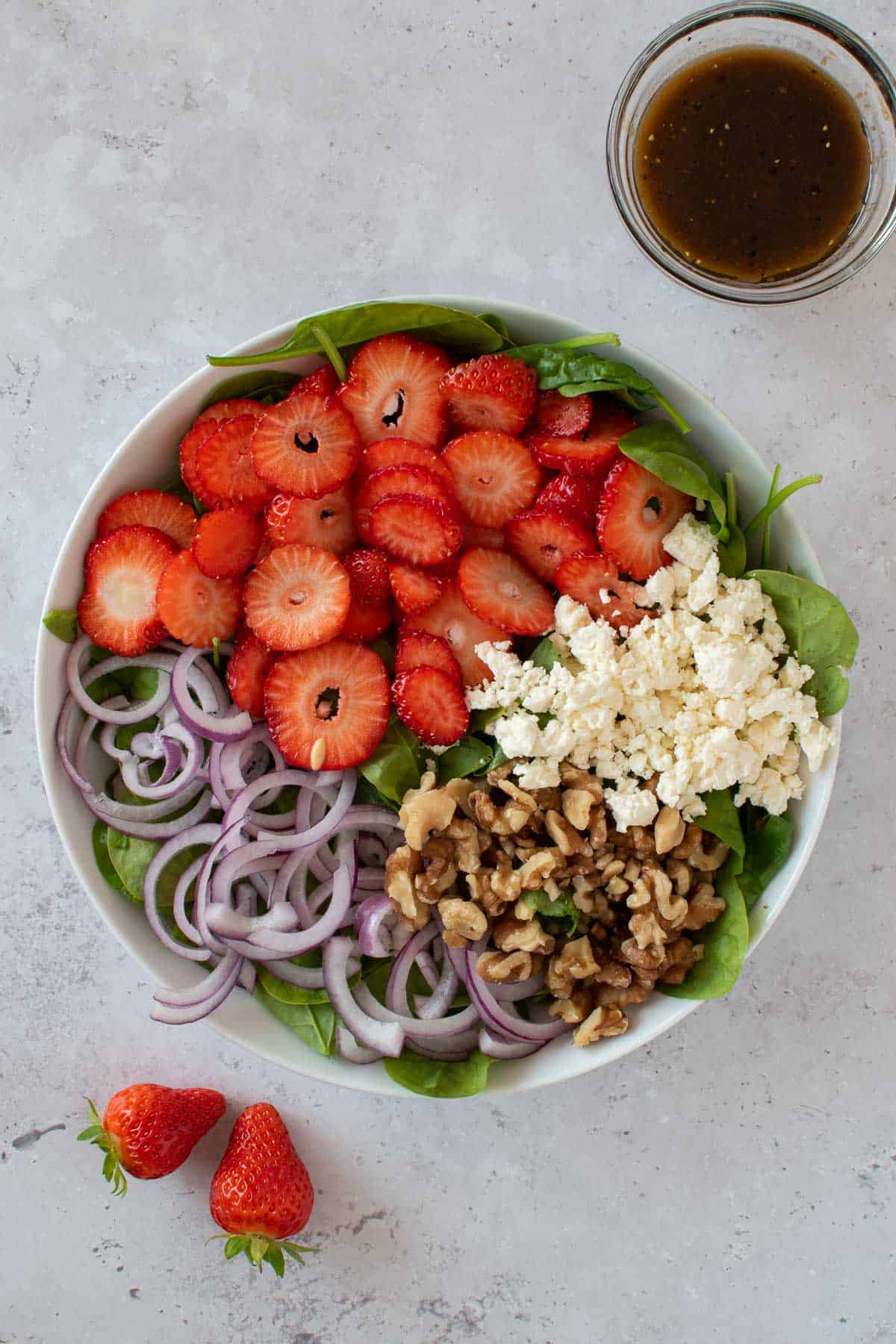 Balsamic vinaigrette
The salt umami flavor of the simple balsamic vinegar dressing pairs perfectly with the sweet strawberries. You can use a store-bought vinaigrette, but it's really easy to make your own using a few pantry staples.
I like to use a small spoon or whisk to combine the condiments for the dressing. Whisk until the ingredients are evenly incorporated.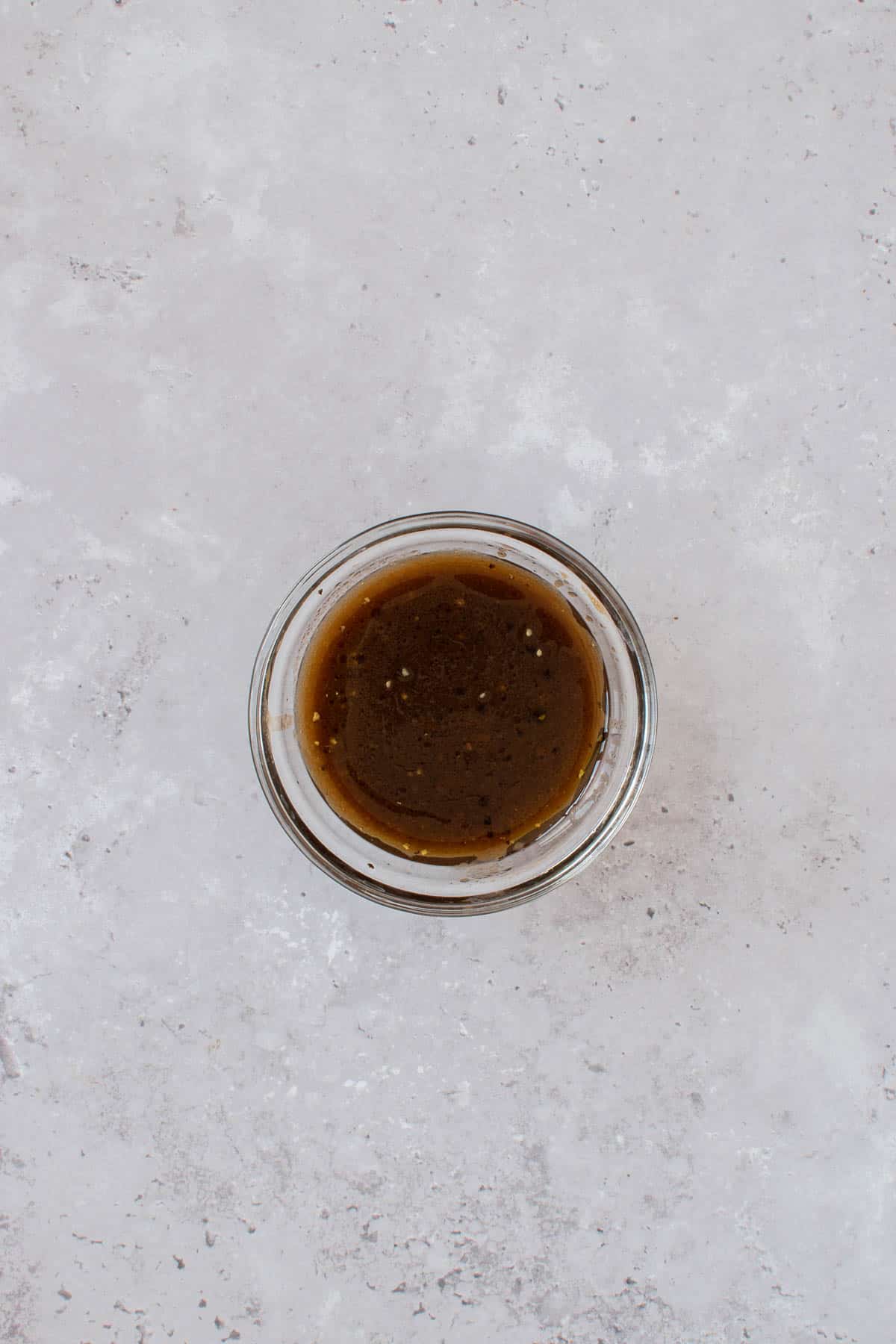 Top tips
To save time and ingredients, you could also just use a store-bought vinaigrette or any salad dressing that you like.
Make sure to wash and dry the ingredients thoroughly.
Slice the onions very thinly to prevent them from overpowering the other flavors. You will need a sharp knife to achieve this.
Serving suggestions
Spinach strawberry salad is best served as a side salad for lunch or dinner. I love to pair it with grilled or roasted meat, like Baked Chicken Leg Quarters, BBQ Baked Chicken Wings, Pork and Apple Burgers, or Blackened Swordfish.
Alternatively, you can also serve the salad as a light main for lunch, paired with a side of crusted bread, garlic bread, or flaxseed crackers.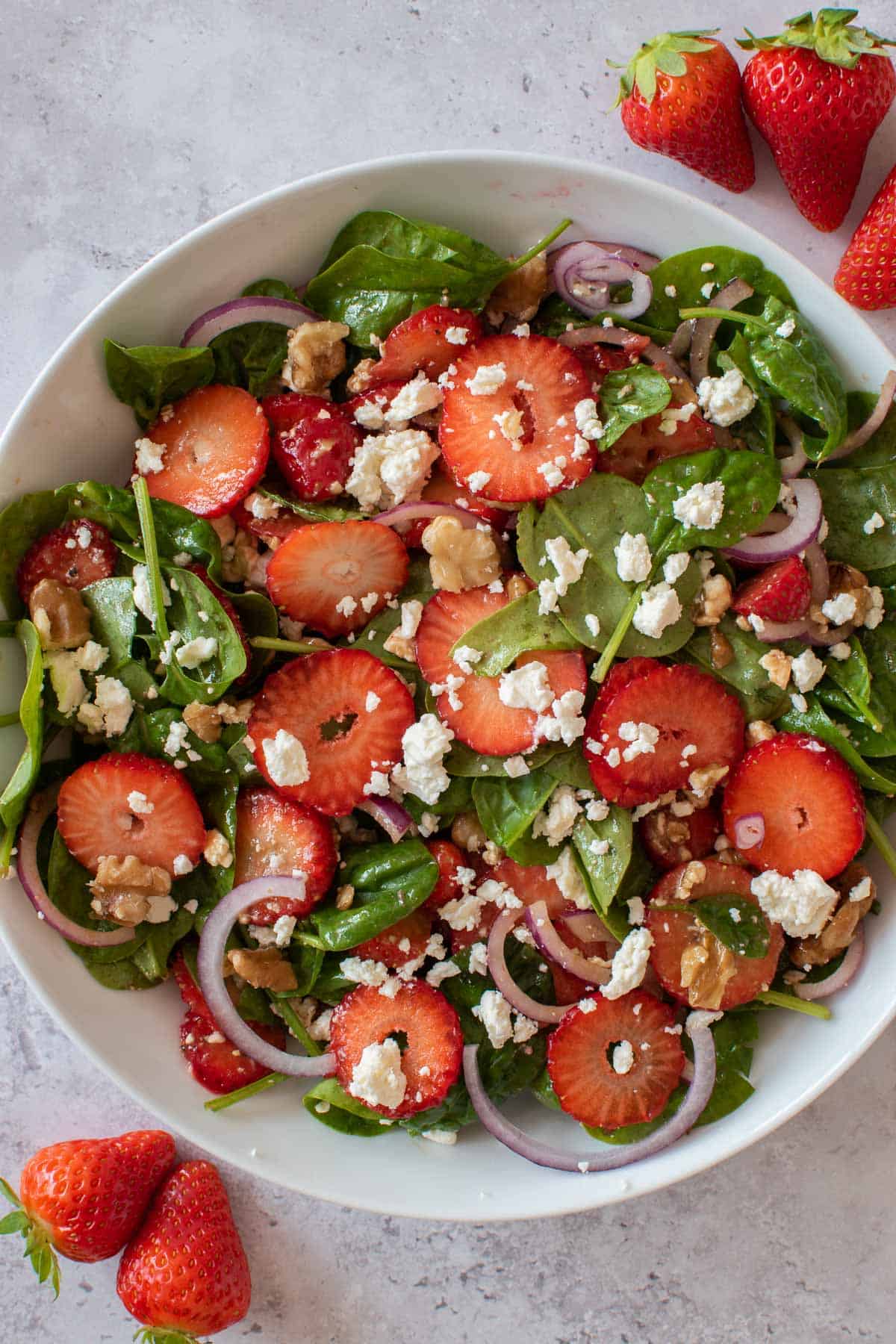 Variations
Other salad dressings: If you're not a fan of balsamic vinegar, you could also substitute it for strawberry vinaigrette, apple cider vinaigrette, or any other dressing that you like.
Make it an entree: Add other filling ingredients to turn this side dish into a main course. I love adding grilled chicken, roasted chickpeas, or salmon to this dish.
Make it vegan: To make a plant based version of the dish, simply omit the feta cheese. You can also use a vegan feta substitute, which you can find in many major supermarkets.
🥗 More SALAD RECIPES from Hint of Healthy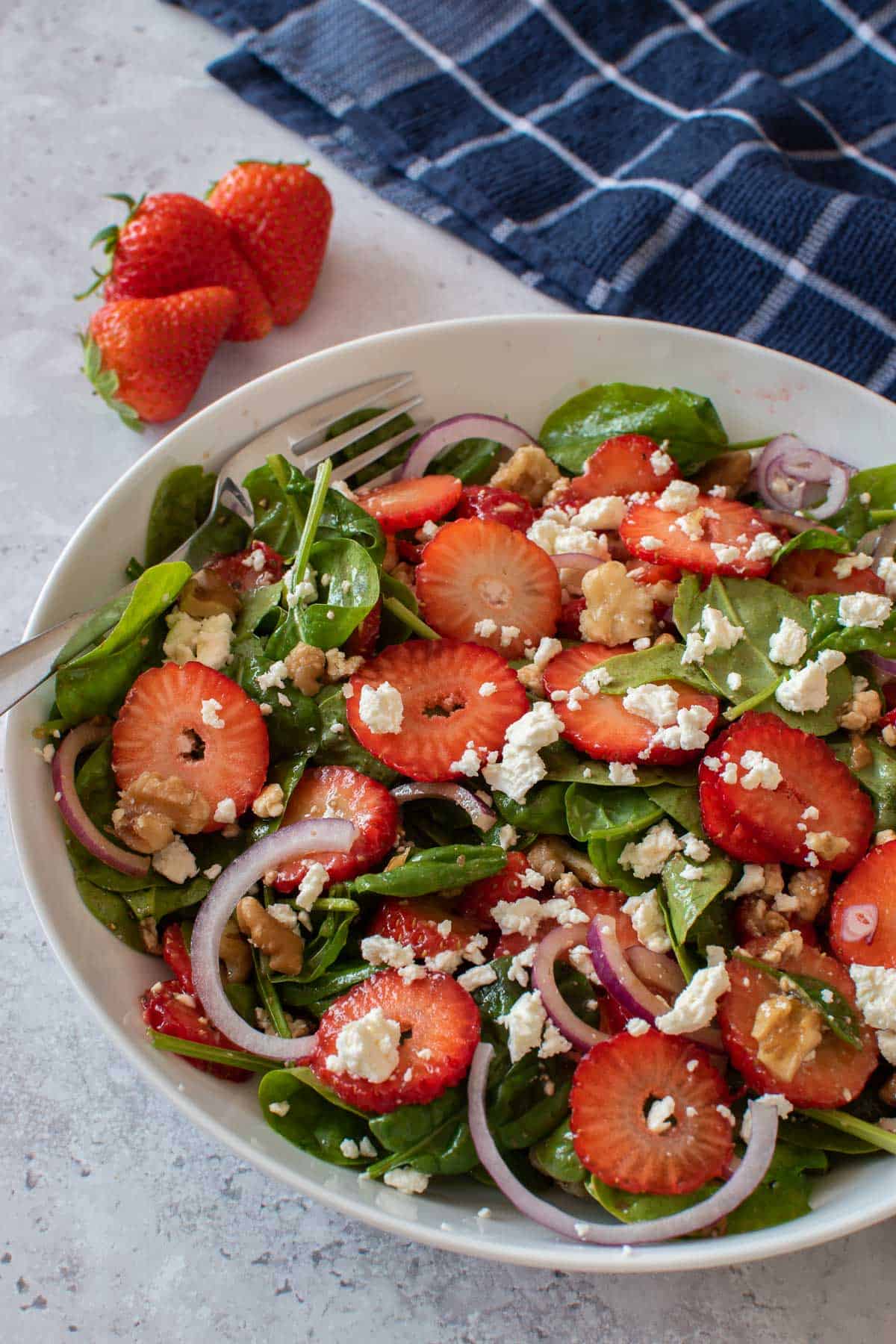 Storage
Spinach strawberry salad definitely tastes best when it's freshly made. You can refrigerate it for up to a day if needed.
I recommend storing the dressing in a separate container from the salad, and only combining the two when you are ready to serve the dish. This keeps the ingredients fresh for longer.
Frequently asked questions
Are walnuts good in a spinach salad?
Absolutely! Walnuts are great in salads, as they give the dish an extra crunch. Other nuts are also suitable for salads, for example, pecans.
How can you make a salad taste better?
Salad always tastes better if you serve it with a flavorful dressing. Make sure to combine different flavors and textures in your salad; for example, include nuts, fruit, and cheese along with the vegetables.
Can you freeze salad?
No, I don't recommend freezing salad as the ingredients will be really soft and unappetizing when defrosted.
You might also like these recipes
If you make this recipe, make sure to post a photo to Instagram with #hintofhealthy!
Recipe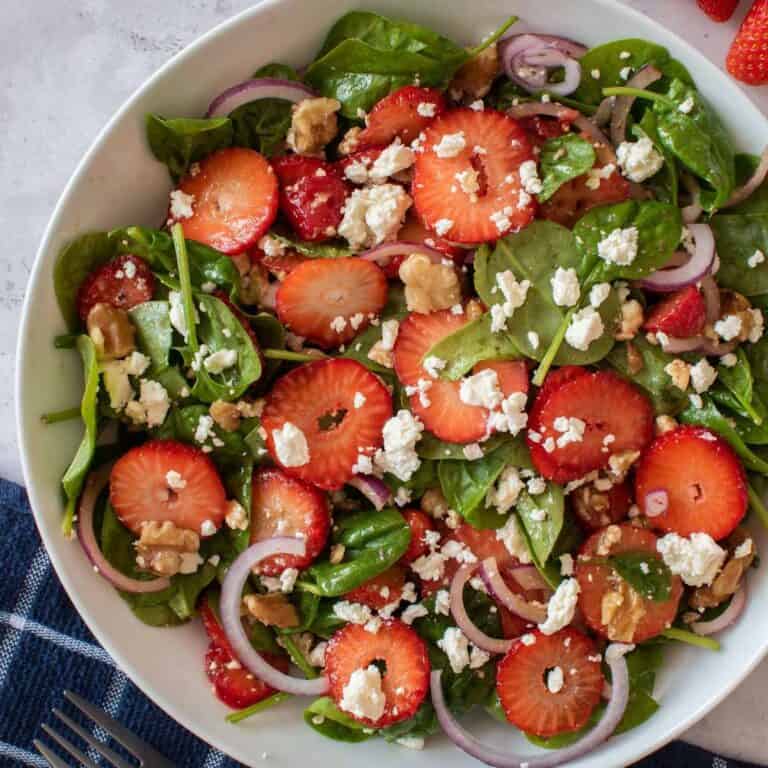 Strawberry Walnut Salad
This easy and delicious spinach strawberry walnut salad is the perfect summer side salad. Topped with feta cheese and a balsamic vinaigrette, it's both beautiful and delicious.
Ingredients
Strawberry salad
4

cups

spinach

1

pound

strawberries

1

small

red onion

3

tablespoons

feta cheese

½

cup

walnuts
Blasamic vinaigrette
2

tablespoons

extra virgin olive oil

2

teaspoons

balsamic vinegar

1

teaspoon

honey

1

pinch

black pepper

1

teaspoon

Dijon mustard

(optional)
Instructions
Combine the ingredients for the balsamic vinaigrette in a small bowl. Wish or stir until the ingredients are evenly incorporated. Set aside.

2 teaspoons balsamic vinegar,

1 teaspoon honey,

1 pinch black pepper,

1 teaspoon Dijon mustard,

2 tablespoons extra virgin olive oil

Wash the spinach. Wash and thinly slice the red onion and strawberries. Roughly chop the walnuts.

4 cups spinach,

1 pound strawberries,

1 small red onion,

½ cup walnuts

Combine crumbled feta cheese, spinach, onion, strawberries and walnuts in a bowl.

4 cups spinach,

1 pound strawberries,

3 tablespoons feta cheese,

½ cup walnuts,

1 small red onion

Pour the dressing over the salad, and toss to combine. Serve the salad immediately.
Notes
Feel free to use a different salad dressing if you prefer. You can also save some time by using a store-bought dressing.
Turn this side salad into a main course by adding a source of protein. Grilled chicken, chickpeas, or salmon are all great options.
Nutrition
Calories:
254
kcal
Carbohydrates:
17
g
Protein:
6
g
Fat:
20
g
Saturated Fat:
4
g
Polyunsaturated Fat:
8
g
Monounsaturated Fat:
7
g
Cholesterol:
11
mg
Sodium:
186
mg
Potassium:
459
mg
Fiber:
4
g
Sugar:
9
g
Vitamin A:
2885
IU
Vitamin C:
77
mg
Calcium:
133
mg
Iron:
2
mg