Some dishes are so tasty and so convenient that they end up becoming one of your routine dinners. This pasta with roasted tomatoes, feta and basil is likely to be one of them. A quick, delicious weeknight meal that looks impressive, but is actually incredibly easy to make.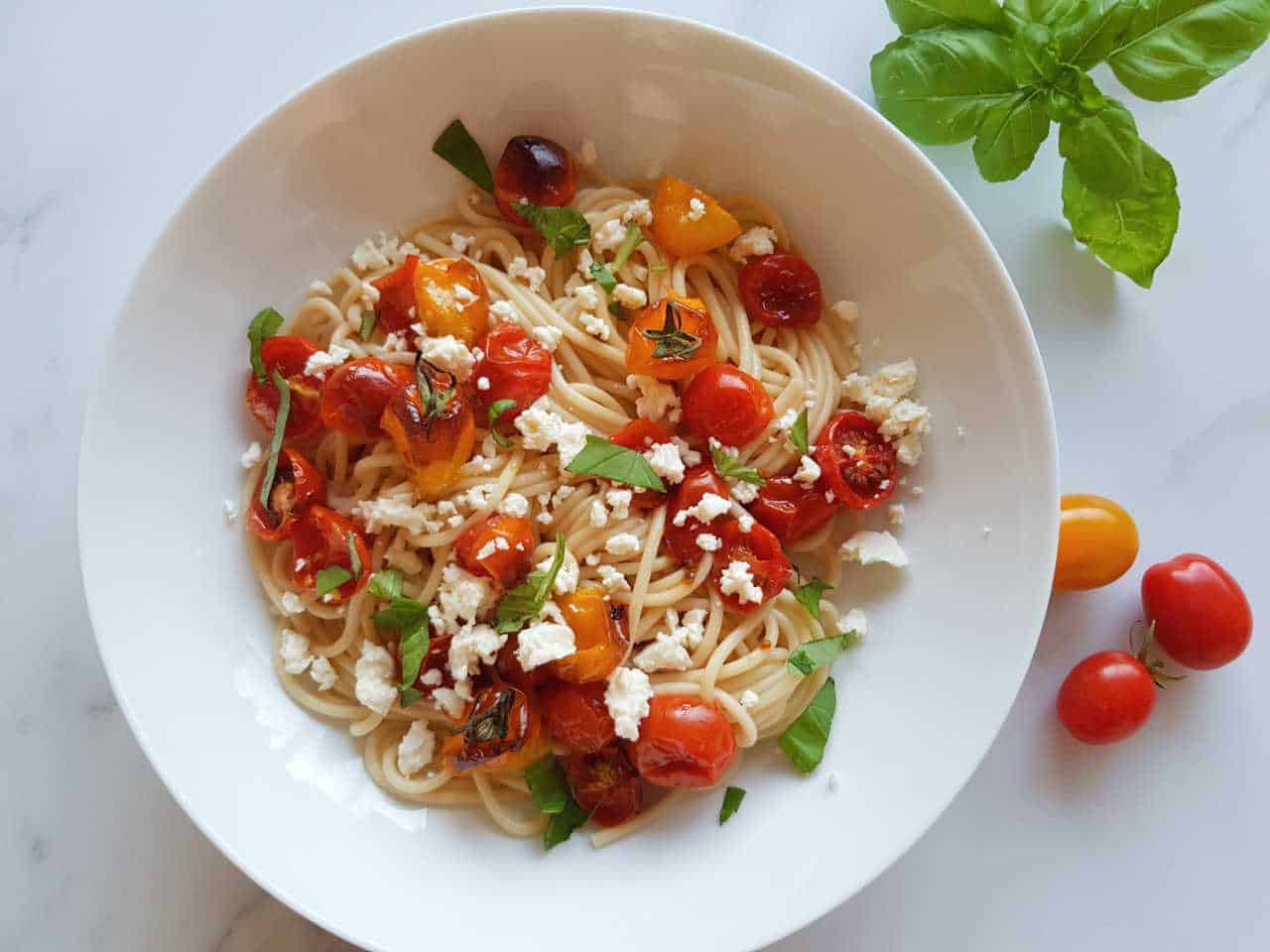 This post may contain affiliate links. Read more about it in the privacy policy.
Ingredients
Pasta. I used spaghetti, but fusilli, tagliatelle or any other variety will work just as well
Cherry or plum tomatoes
Basil
Feta cheese
Olive oil

How to roast cherry tomatoes
Roasting tomatoes is very straight forward. If you want to add more flavor, you could add some spices or dried herbs to the tomatoes before roasting. The exact roasting time will vary depending on the size of your tomatoes, and the temperature of your oven. Keep an eye on them as you don't want them to burn.
Slice tomatoes in half, and add to a baking sheet covered baking tray. Drizzle olive oil over the tomatoes, and spread them to make sure they get baked evenly. Bake them for about 15 minutes on 200 C / 180 C fan oven / 390 F, or until the tomatoes have started to brown slightly.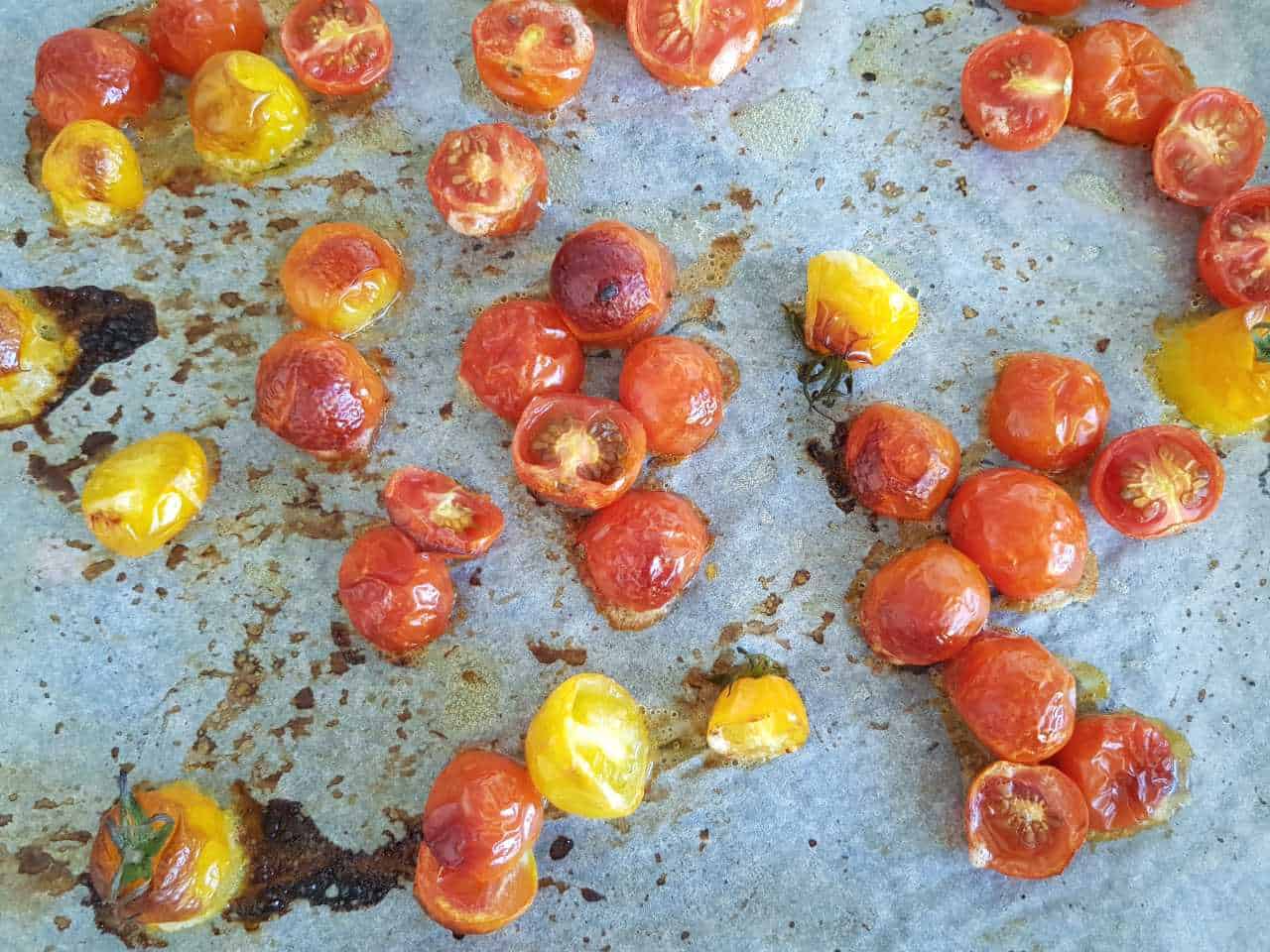 How to make pasta with roasted tomatoes, feta and basil
Cut cherry or plum tomatoes in half, and add to a baking tray. Drizzle a bit of olive oil on top, and make sure the tomatoes are covered. Roast them in the oven at 200°C for about 15 minutes, until they start to brown. Meanwhile, boil the pasta following package instructions. When they are both done, add them to bowls and crumble feta cheese over. Garnish with chopped basil, and optionally some more olive oil. Pasta with roasted tomatoes is great on its own, or it can be served with a green side salad.
Boil pasta following package instructions. Add cooked pasta to plate or bowl. Add the tomatoes on top. And garnish with crumbled feta and basil.
Tips & substitutions
Store leftovers in the fridge for up to 3 days. Reheat them in the microwave before serving. I do not recommend freezing the dish, but you can safely freeze the roasted cherry tomatoes separately.
Omit the feta cheese for a vegan, dairy free version.
More easy pasta dishes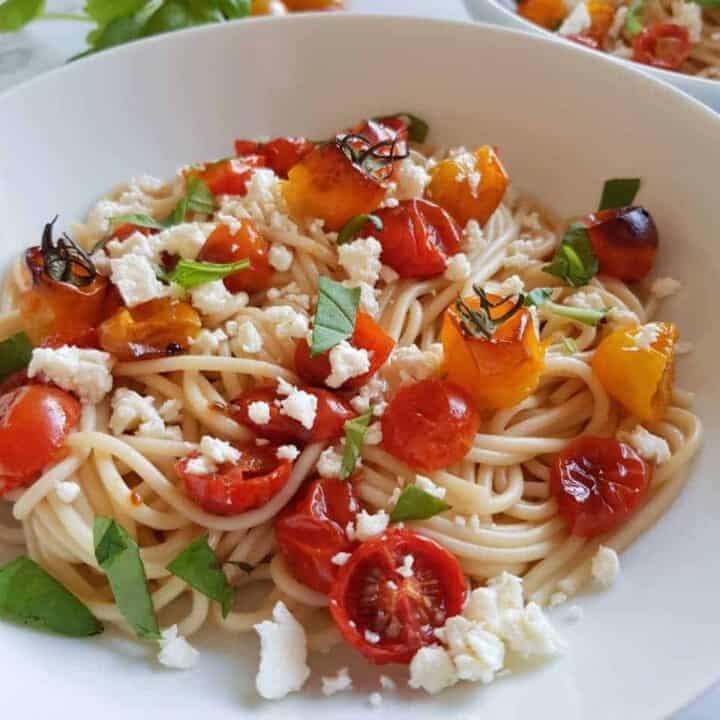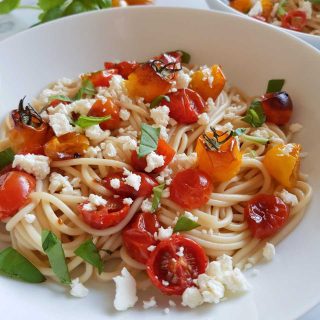 Pasta with roasted tomatoes
A quick and easy recipe for pasta with roasted cherry tomatoes. A healthy weeknight meal made in 15 minutes!
Ingredients
Instructions
Tomatoes
Preheat the oven to 200°C.

Slice tomatoes in half and add to a baking sheet covered baking tray. Drizzle with olive oil, and add to the oven.

After 10-20 minutes the tomatoes will start to brown. This means they are done and ready to come out.
Pasta
Fill a pot generously with water and bring to a boil

Add the pasta, and cook until desired consistency. Pasta typically takes 5-10 minutes to cook through. To check if it's done, use a fork to fish out a piece of pasta and try it. Remove from the heat and drain off water when you're satisfied with the softness.
Assembly
Add tomatoes over the pasta

Garnish with crumbled feta cheese and chopped fresh basil
Notes
Be careful not to leave the tomatoes for too long, as they can easily burn.
No feta?
You can replace the feta cheese with mozzarella or parmesan, or you can remove it altogether to make a vegan and dairy-free version of the dish.
No basil?
If you don't have fresh basil at hand, you can remove it and the dish will still taste great.
Nutrition
[/vc_column_text][/vc_column][/vc_row]