These garlic parmesan potato wedges are the perfect side dish for any occasion, or great as a delicious snack on its own. I love making potato wedges as a lazy dinner, or as a Sunday TV snack. And if you think that potatoes are kind of boring, say hello to these crispy, garlicky, cheesy wedges, and I promise you'll change your mind.
This post may contain affiliate links. Read more about it in the privacy policy.
Like this recipe? Check out my air fryer rutabaga fries!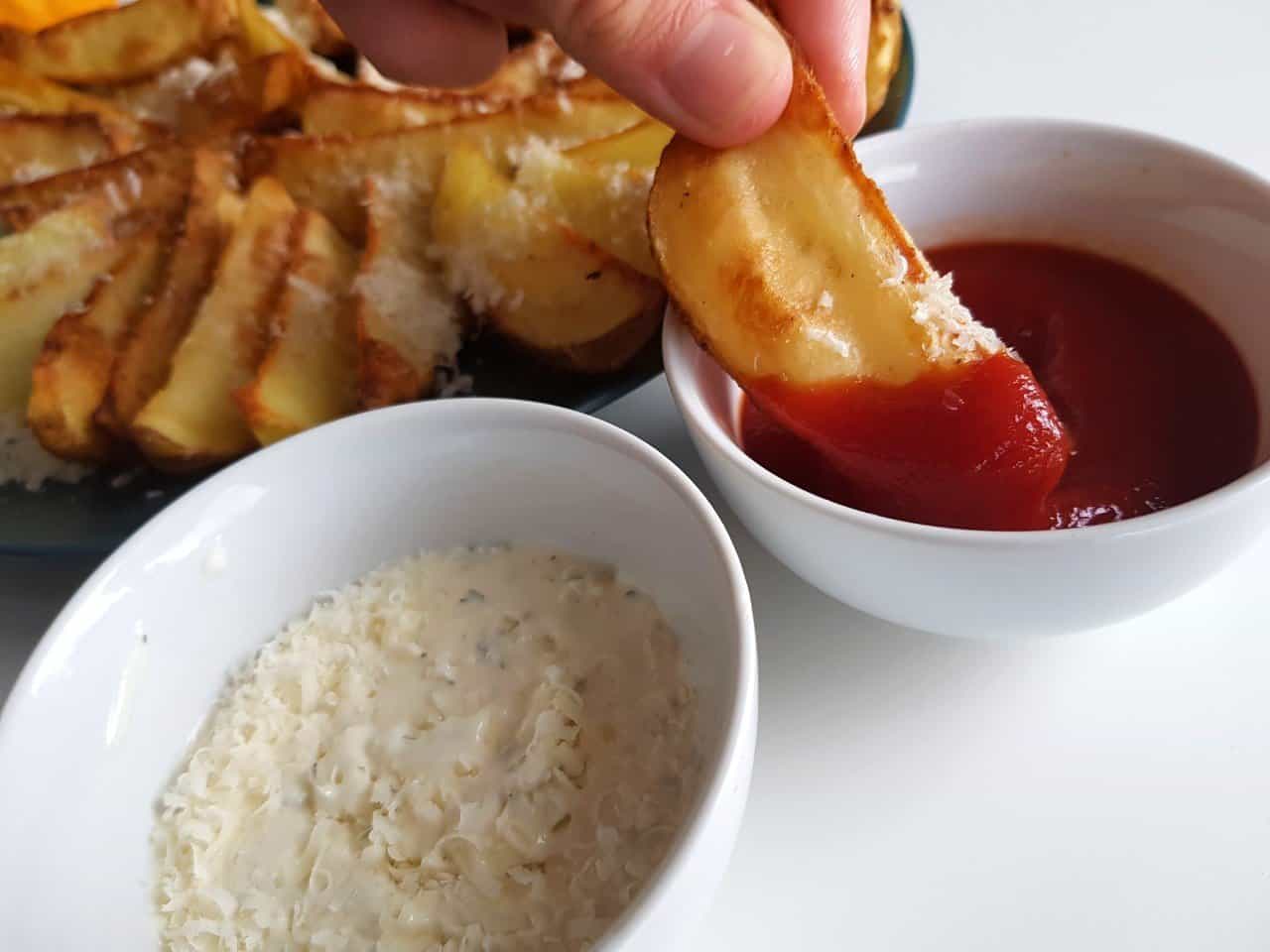 What you need to make these amazing potato wedges
Potatoes
Parmesan
Salt and pepper
Vegetable oil or sunflower oil
Dipping sauces
How to make garlic parmesan potato wedges
First, preheat your oven, then start cleaning your potatoes. You can also peel them if you want, but I think crispy potato skin is amazing on potato wedges, so I just make sure to scrub and clean them properly. Cut the potatoes into wedges. You decide the thickness of the wedges, just keep in mind that they should all be around the same thickness to roast at the same rate. Add them to a baking sheet, and add garlic powder, oil, salt and pepper. Spread the wedges evenly on the baking sheet, and place in the oven.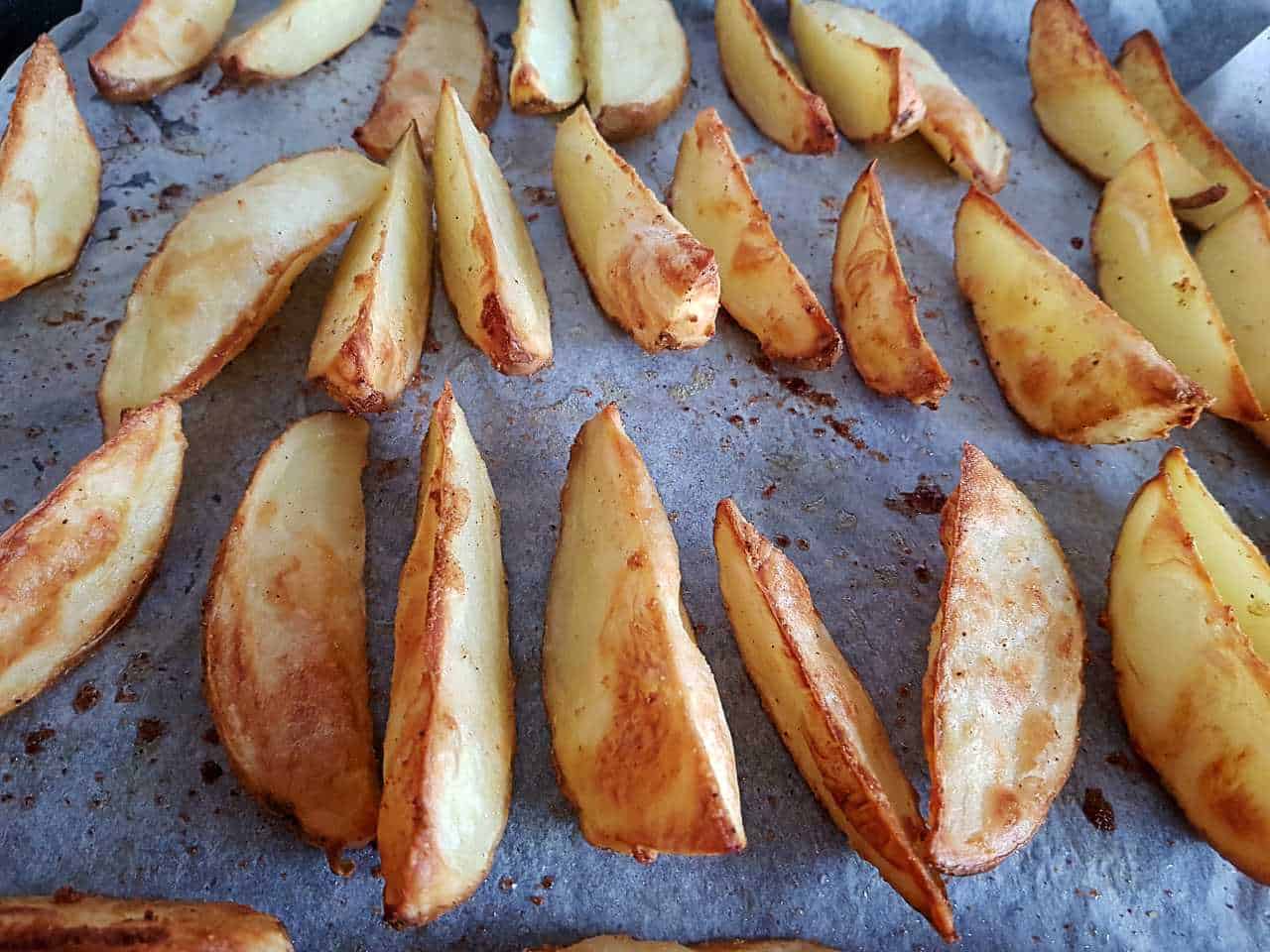 The cooking time will vary depending on your oven, the size of the wedges and the type of potato you use, but it's typically between 40-60 minutes. When the wedges are roasted and look crispy and perfect, take them out and cover with shredded parmesan. Serve immediately, or add them back to the oven for a minute if you want to let the cheese melt into the potatoes - yum.
Are potato wedges good for you?
Potatoes have received a pretty bad reputation by dieters. Although potatoes are high on carbs and very starchy, they are also high on fiber, full of vitamins, and keep you full for hours. Frozen, ready made potato wedges are often deep fried or covered in large amount of oil and/or sugar, so this homemade version is a much healthier option, even with the added cheese. It also tastes so much better, it's almost as easy to make, and it's at least ten times more impressive.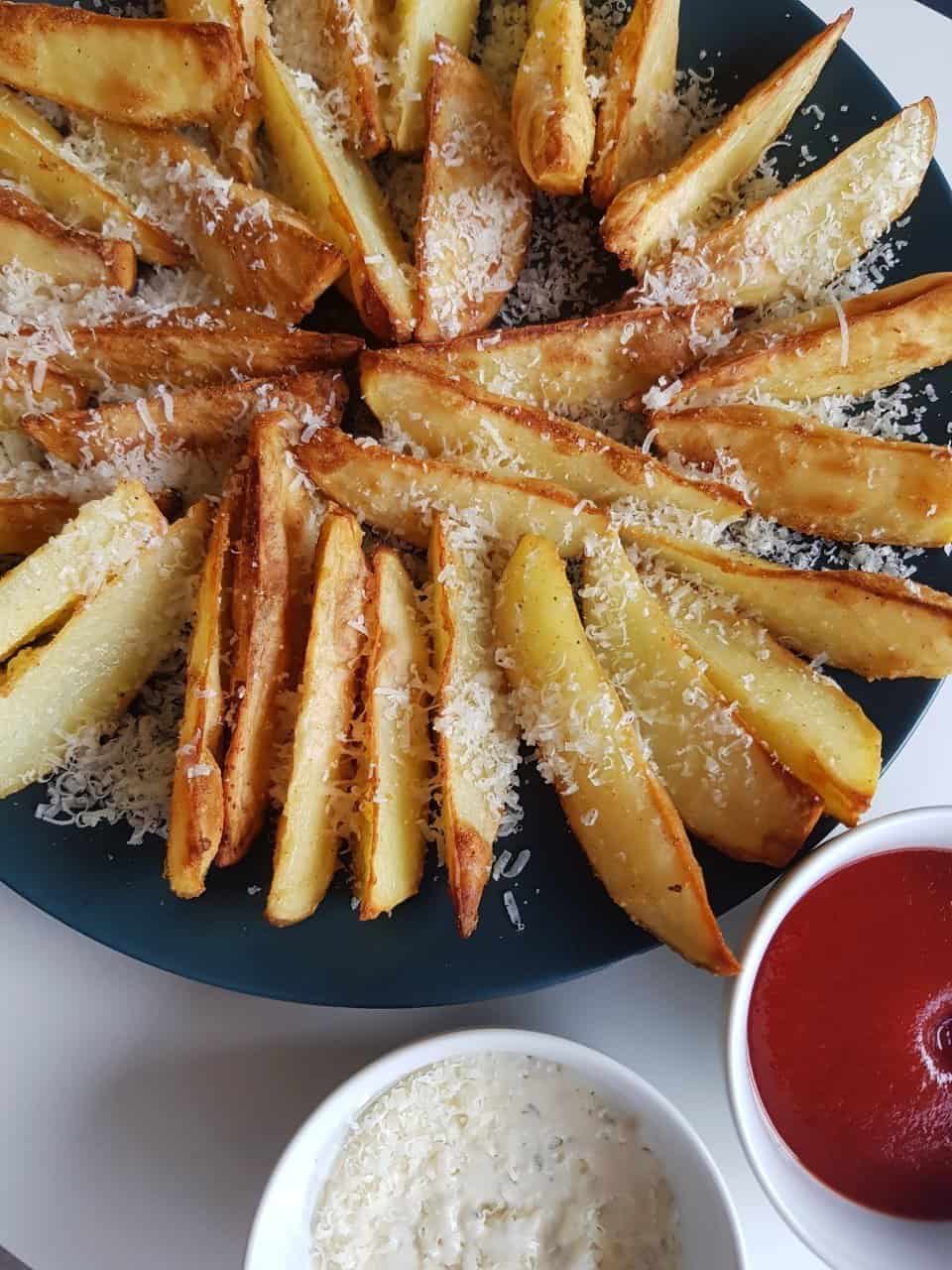 Dipping sauces for potato wedges
Dips are my favorite! We usually stick to ketchup, cheesy sour cream dressing, sweet chili or BBQ sauce when we want to keep it simple. If you want to put a little bit more effort into the dish, I can highly recommend serving it with creamy guacamole, butternut squash sauce or homemade sweet and sour dip.
Mains you could serve these potato wedges with
Recipe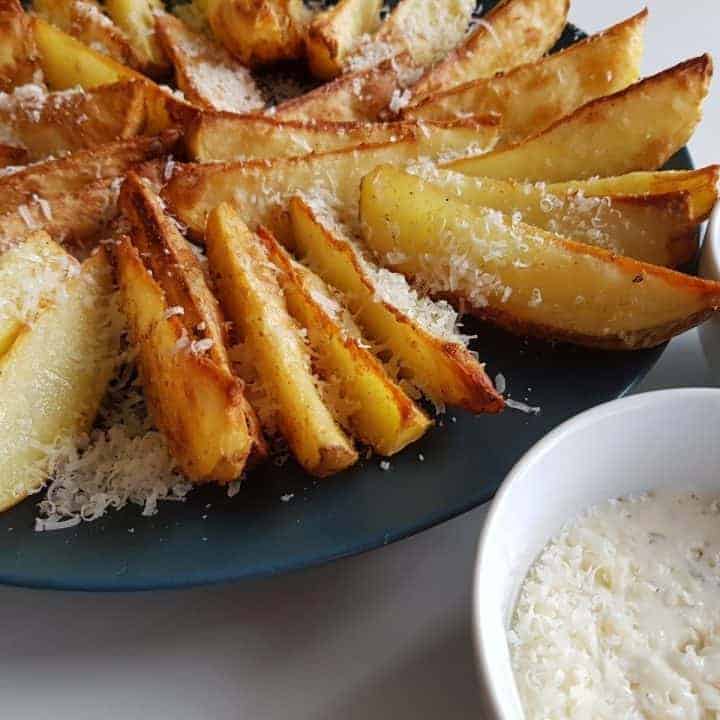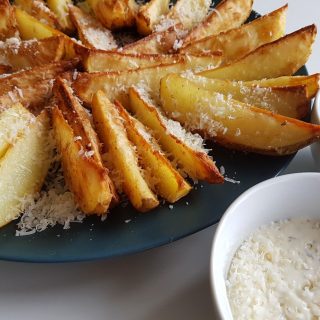 Garlic parmesan potato wedges
These perfect crispy garlic parmesan potato wedges are a great side dish, an amazing snack or a delicious lazy dinner.
Instructions
Preheat the oven to 200°C / 180°C fan oven / 400°F

Wash your potatoes properly and cut them into evenly sized wedges and place on a baking sheet

Add garlic powder, salt, pepper and oil over the potatoes, and combine so that every potato wedge is completely covered with the oil and seasoning

Roast in the oven until the wedges are golden. The potatoes will be soft in the middle, and have perfect, crispy skin. Remove them from the oven, and add shredded parmesan. If you prefer the cheese to be melted, you can add the baking tray back into the oven for 2-3 minutes, or you could serve immediately
Notes
Potato wedges can technically be stored in the fridge, but they are definitely best served immediately. These wedges are soft and nice on the inside, with crispy skin and edges - perfect!
Serve potato wedges with BBQ sauce, ketchup, guacamole, pesto, sweet chili sauce or the sauce or dressing of your choice.
Nutrition
Calories:
223
kcal
Carbohydrates:
45
g
Protein:
5
g
Fat:
3
g
Saturated Fat:
3
g
Sodium:
16
mg
Potassium:
1071
mg
Fiber:
6
g
Sugar:
2
g
Vitamin C:
49
mg
Calcium:
30
mg
Iron:
2
mg