This delicious zucchini slice with bacon, onion and cheese is perfect for any meal of the day. A quick and simple recipe, with lots of possible variations!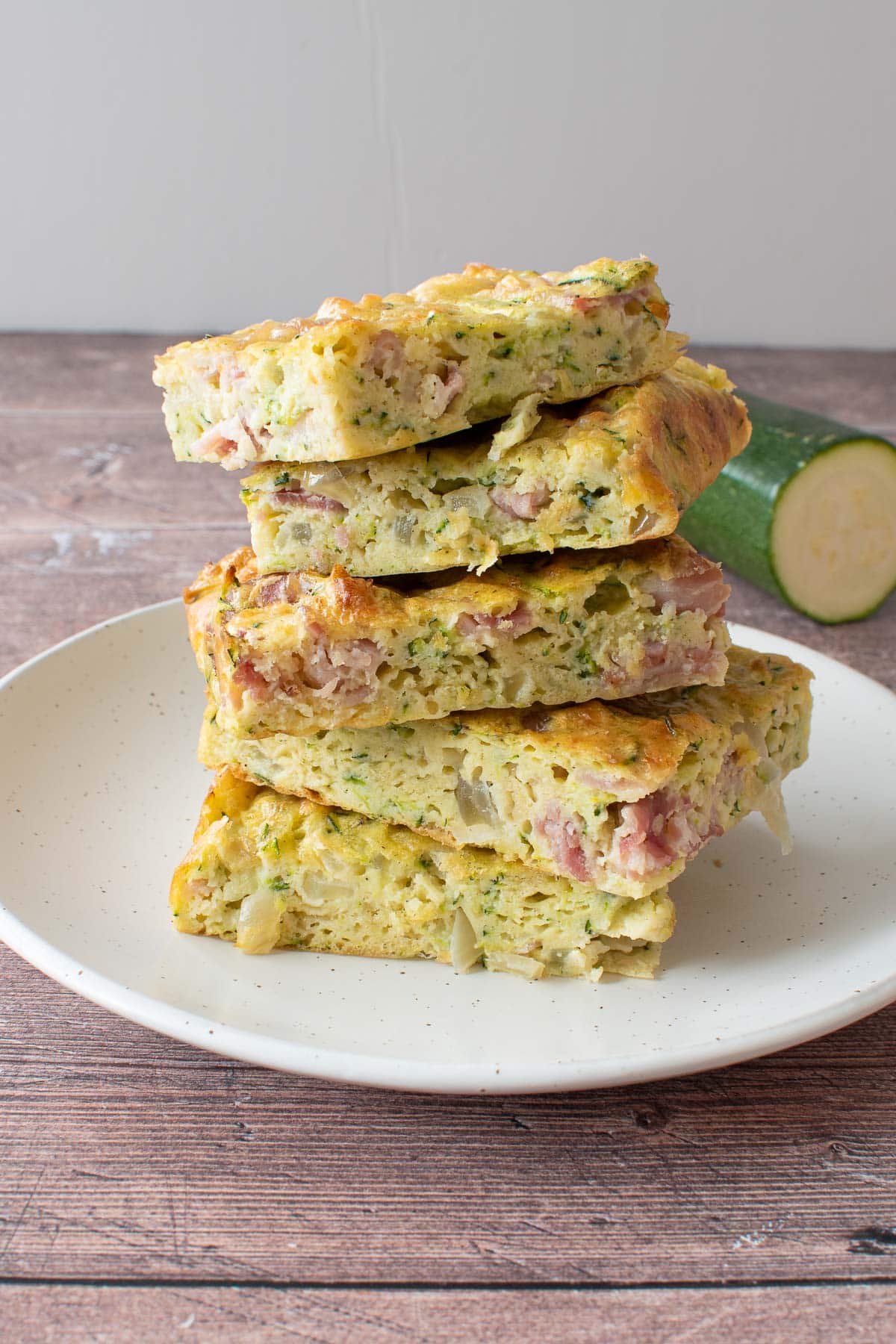 Jump to:
This post may contain affiliate links. Read more about it in the privacy policy.
Zucchini slice, or courgette slice, has a texture that's somewhere between zucchini bread and a quiche. It's soft, but dense, and packed with flavorful ingredients including summer squash.
I love to serve this as a finger food, to add them to my lunch box, to serve them as an entree for light meals, or as easy grab and go breakfasts.
My healthy zucchini slice recipe is really easy to make, and you can customize it to suit your preferences. They are superb for even the youngest kids, and so easy to adapt for different dietary requirements.
Why you'll love it
Easy to make
Perfect for meal prep
Can be served hot or cold
Stores well
Easy to customize
Serve it for breakfast, lunch or dinner
Kid friendly
Ingredients
All-purpose flour: The flour gives the slices a more bread-like texture.
Bacon: Use any bacon rashers that you like. Pork bacon, turkey bacon or vegetarian bacon will all work well.
Onion: Add some flavor to the dish.
Baking powder: Improves the texture, and makes the slices a little less dense.
Zucchini: The main ingredient in this recipe. A delicious summer vegetable.
Olive oil: You can also use vegetable oil or melted butter.
Eggs: The eggs give the slices a great texture.
Cheddar cheese: I love cheddar in this recipe, but you can use any cheese that you like. Feta cheese or mozzarella would be excellent alternatives.
Salt + pepper: Add flavor to the dish.
💡 TIP! You can also replace all-purpose flour with self raising flour. With this option, you can omit baking powder in the recipe, as the flour contains enough raising agent on its own.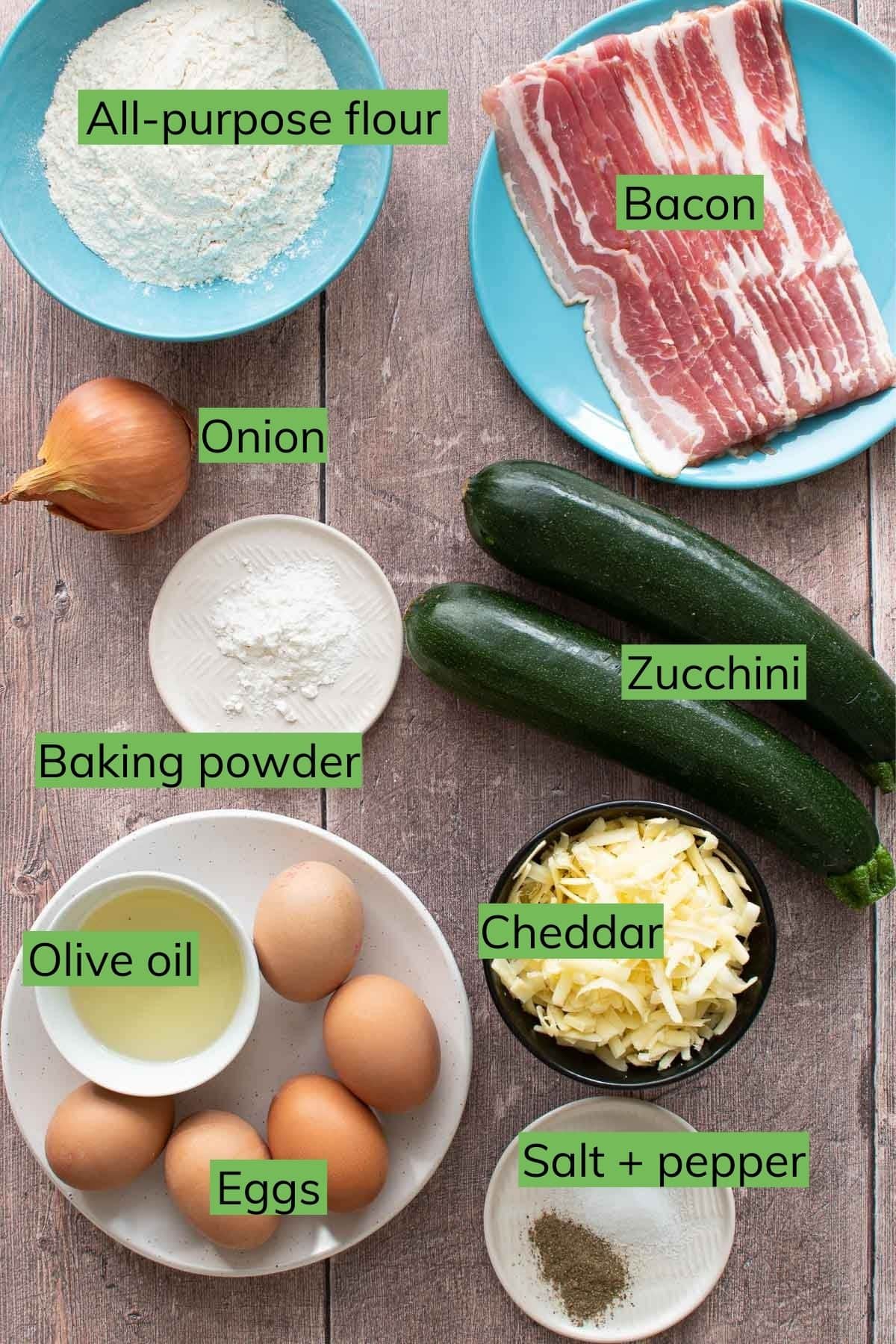 Instructions
You can find full instructions + ingredient measurements in the recipe card at the bottom of this page
One: Whisk the eggs into a large mixing bowl. You only want the eggs to have a uniform texture, so you don't have to mix them for too long.
Two: Add shredded cheese and zucchini, finely diced bacon and onion, and the remaining ingredients to the mixing bowl. Stir until everything is evenly incorporated.
Three: Line a 13x9 inch baking pan with parchment paper. Pour the batter into it, and use the back of a spoon or a spatula to spread it out evenly.
Four: Bake in the oven at 360 F / 180 C for about 30 minutes, or until the egg has set, and the top is golden.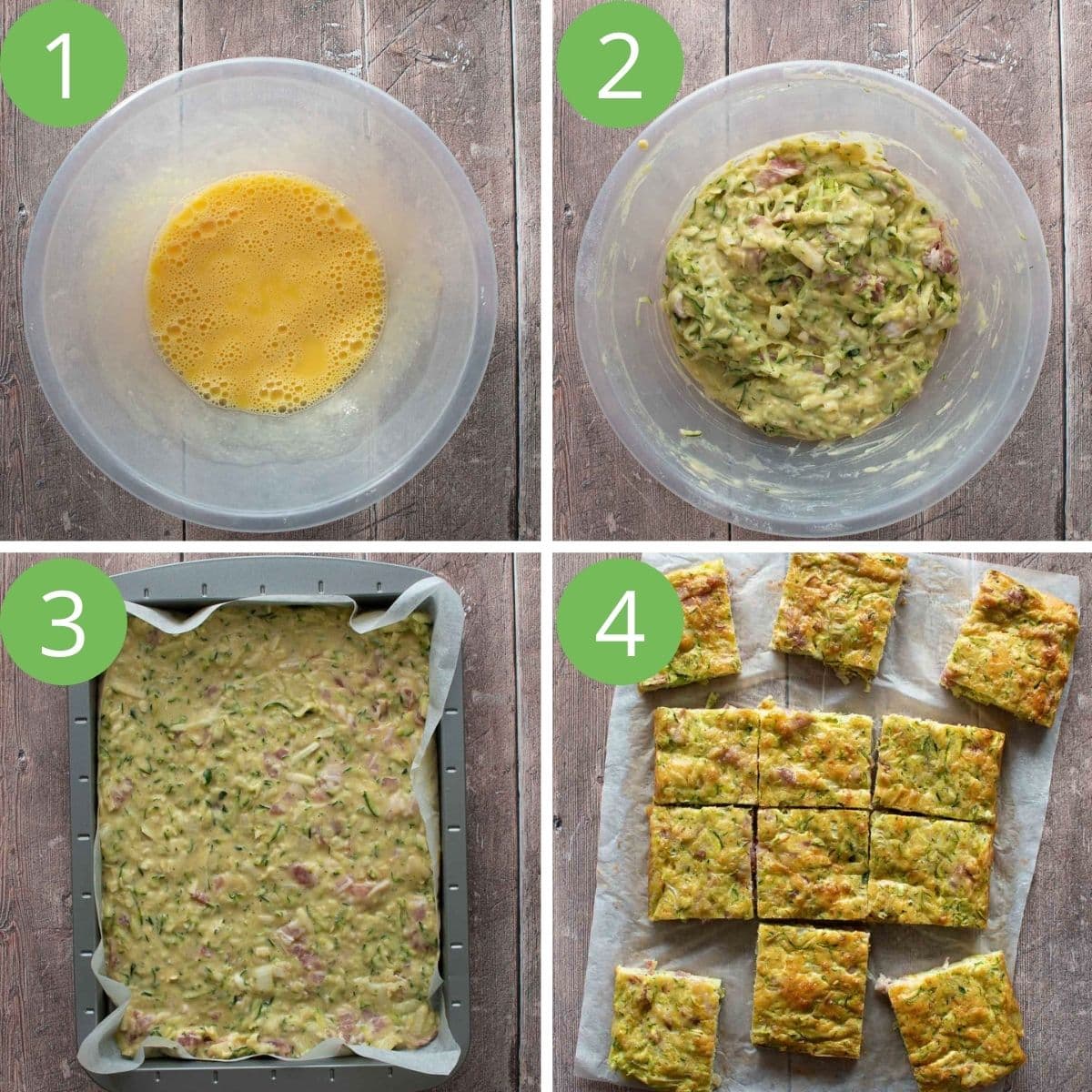 Top tips
Don't over mix the ingredients. They only have to be just combined.
As the dish is baked, you don't have to cook the onions and bacon before use.
Slice the finished dish into as many pieces as you'd like. I often cut them into little squares, but smaller fingers also work well.
If you use a slightly smaller or larger baking pan, this could affect the cooking time. Keep an eye on the dish, and remove it from the oven when the top starts to turn golden.
🍳 More BREAKFAST RECIPES from Hint of Healthy
Serving suggestions
Enjoy baked zucchini slices for any meal of the say; as a quick breakfast, as a healthy snack, or as an easy lunch or dinner. You can serve them individually, but if you want to enjoy them as a complete meal, you might want to pair them with a side dish or two. Here are some of my favorite choices: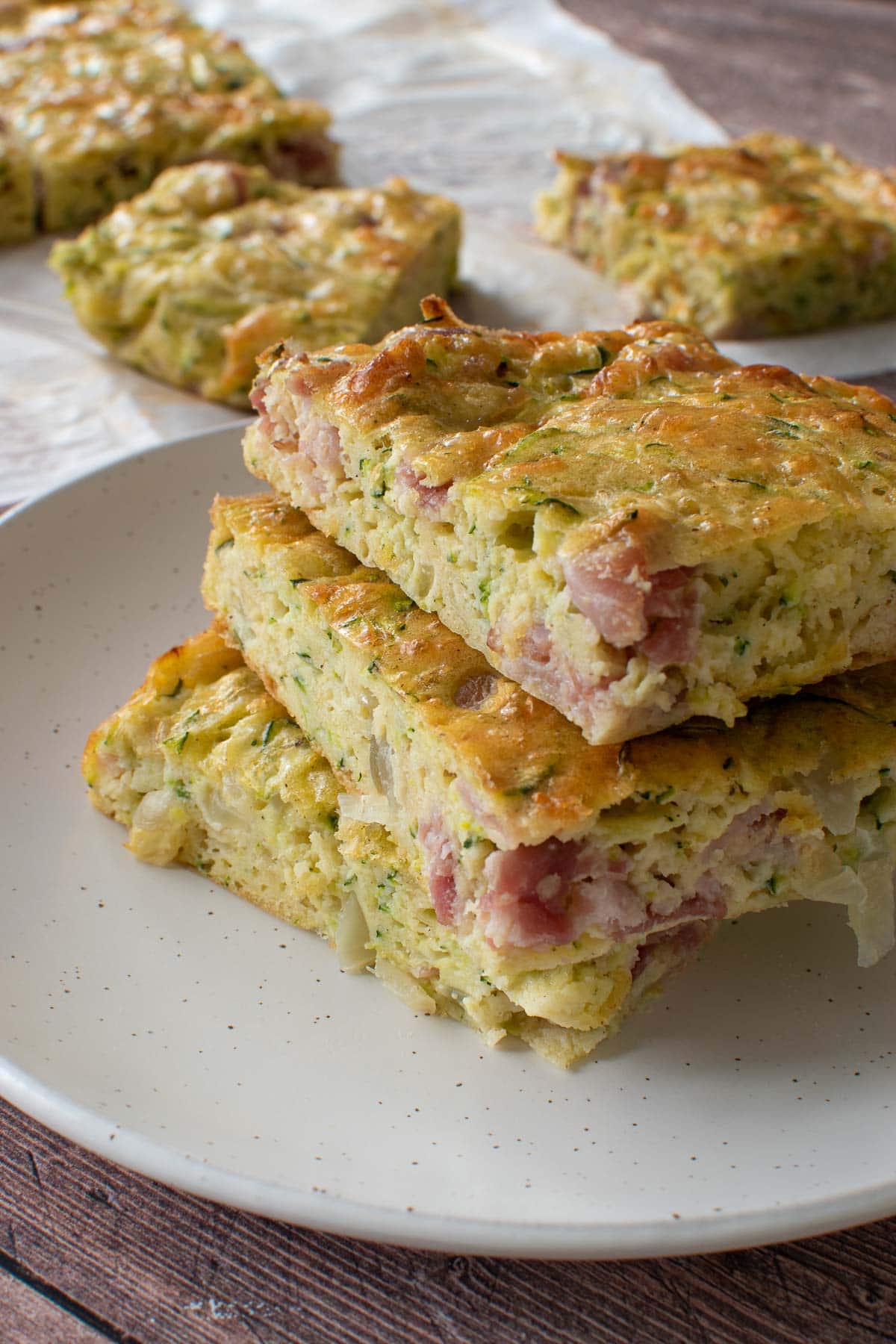 Variations
Vegetarian zucchini slice: Omit the bacon for a vegetarian version. Alternatively, replace the bacon with finely diced mushrooms, vegan bacon substitute or diced vegetables.
Vegetable variations: You can add other vegetables to the dish, such as canned corn, diced peppers, grated carrot, diced mushrooms or spinach. This is a great recipe to use up whichever vegetables you have at the back of your fridge.
Dairy free: Substitute the cheese with a dairy free cheese alternative. You can find this in most major supermarkets.
Gluten free: Use a gluten free flour substitute. I have not yet tried using specialty flours, like oat flour or almond flour, but regular gluten free baking flour works great!
Leftovers
You can store leftover zucchini slice in a refrigerator for up to 5 days. This recipe is absolutely perfect for meal prep, as you can make one batch to last you through the whole week.
The slices can be served cold straight from the fridge, or you can warm it up in a microwave, air fryer or oven for a few minutes before serving.
You can also freeze this for up to 6 months. Defrost it in a refrigerator overnight before use.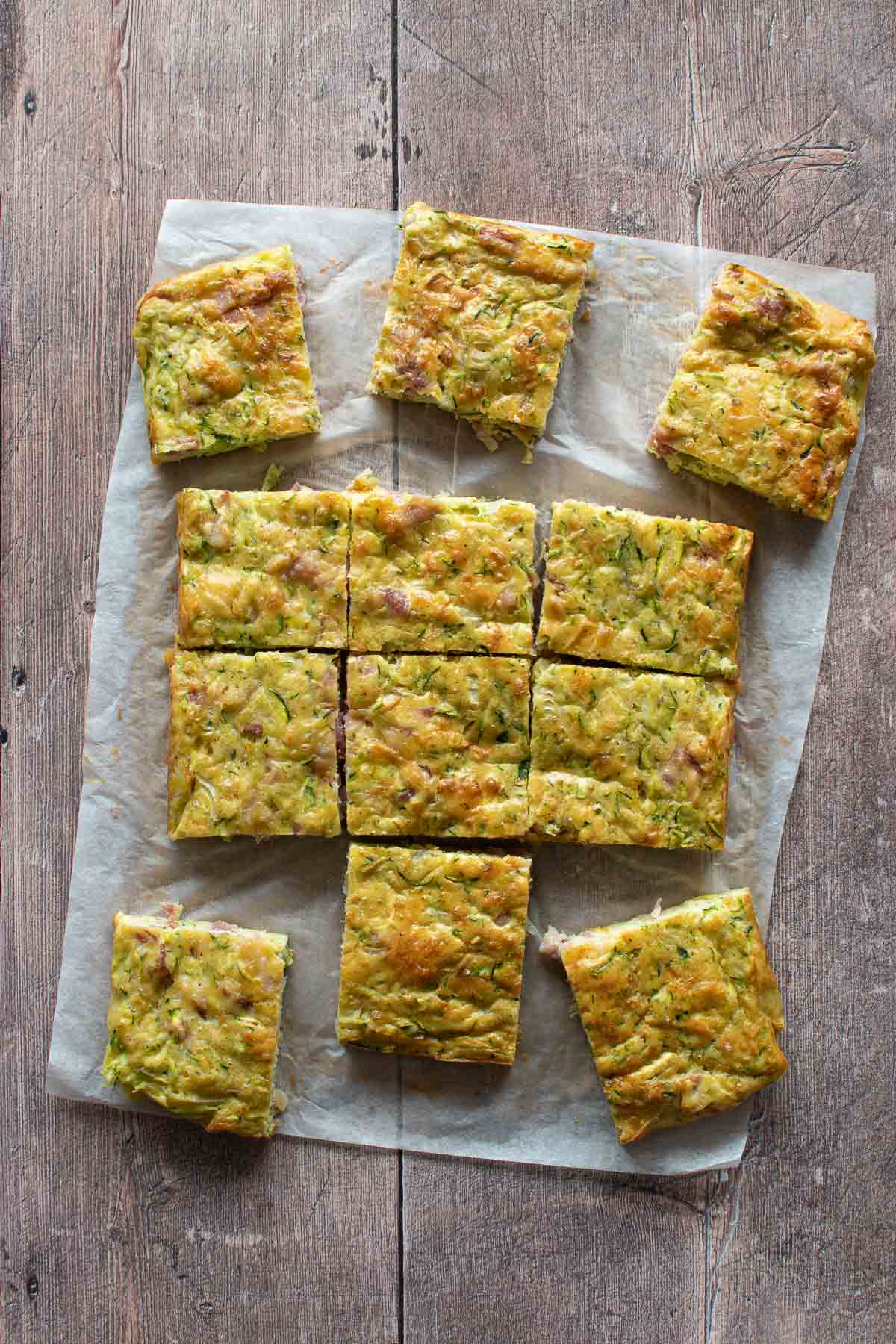 Frequently asked questions
Is zucchini slice healthy?
Absolutely! Zucchini slice contains protein, vegetables and plenty of nutrients, making it a healthy meal option.
Is zucchini slice low carb?
No. Traditional zucchini slice is not low carb, as it contains flour. You can however modify the recipe to fit with a low carb diet.
Why does my zucchini slice sink in the middle?
The reason your zucchini slice sinks in the middle, is most likely because the eggs have been over mixed, creating air bubbles in the batter. Try mixing your eggs less next time!
🍳 More BREAKFAST RECIPES from Hint of Healthy
You might also like these recipes
If you make this recipe, make sure to post a photo to Instagram with #hintofhealthy!
Recipe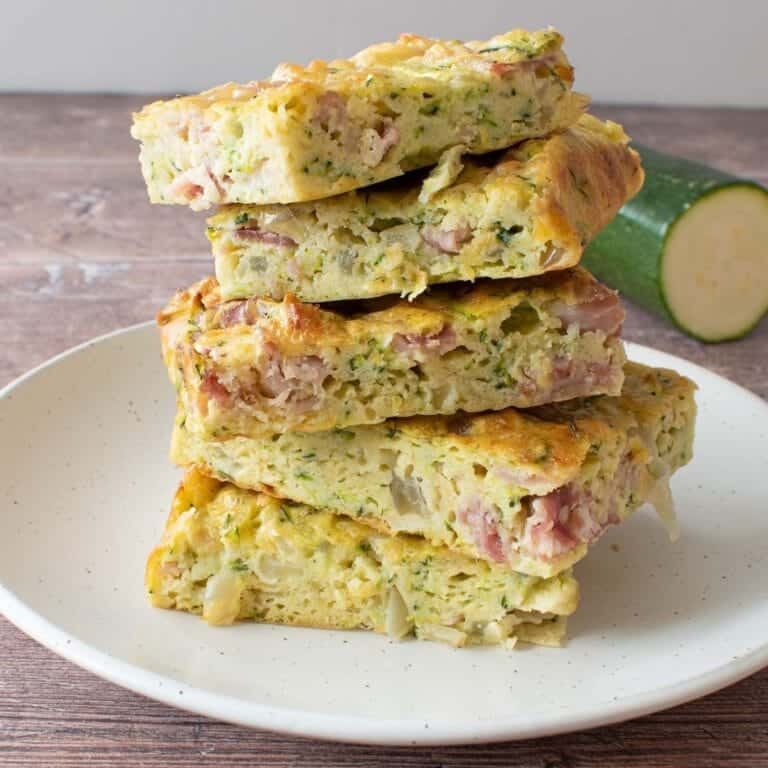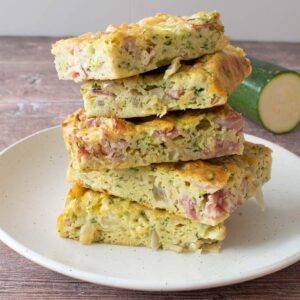 Zucchini Slice
This easy zucchini slice recipe is perfect for any meal of the day. Packed with healthy zucchini and eggs, it's great for breakfast, lunch, dinner or a snack. Make it in only 40 minutes, and store it for up to 5 days in your refrigerator!
Equipment
Baking Pan

Parchment Paper
Ingredients
1

cup

all-purpose flour

5

eggs

10

bacon strips

1

cup

shredded cheddar

375

g

zucchini

(about 2 zucchini)

1

onion

1

tablespoon

vegetable oil

1

teaspoon

baking powder

½

teaspoon

salt

½

teaspoon

black pepper
Instructions
Preheat the oven to 360 F / 180 C.

Whisk the eggs in a mixing bowl until they are just combined.

Dice the onion, slice the bacon and grate the zucchini.

Add the onion, bacon, zucchini, flour, baking powder, olive oil, seasoning and cheese to the mixing bowl. Stir to combine everything evenly.

Line a 9x13 inch baking pan with parchment paper, and pour the batter into it. Even out the surface with the back of a spoon or a spatula.

Bake the zucchini slice in the middle of the oven for about 30 minutes, or until the surface is starting to brown.

Remove from the oven, and leave it to cool down for a few minutes. Serve zucchini slice warm, or enjoy it cold later.
Notes
Store leftover zucchini slices in a sealed container in a refrigerator for up to 5 days, or freeze for up to 6 months. Serve them cold, or reheat them in a microwave, oven or air fryer.
Make a vegetarian version by omitting bacon, or substitute it with mushrooms or other vegetables.
Nutrition
Calories:
198
kcal
Carbohydrates:
10
g
Protein:
9
g
Fat:
14
g
Saturated Fat:
6
g
Trans Fat:
1
g
Cholesterol:
90
mg
Sodium:
341
mg
Potassium:
178
mg
Fiber:
1
g
Sugar:
1
g
Vitamin A:
263
IU
Vitamin C:
6
mg
Calcium:
108
mg
Iron:
1
mg