It's so easy to make perfect hard boiled eggs in your Instant Pot. This method is much simpler than boiling eggs on the stove, and allows you to prepare a big batch of eggs with minimal effort.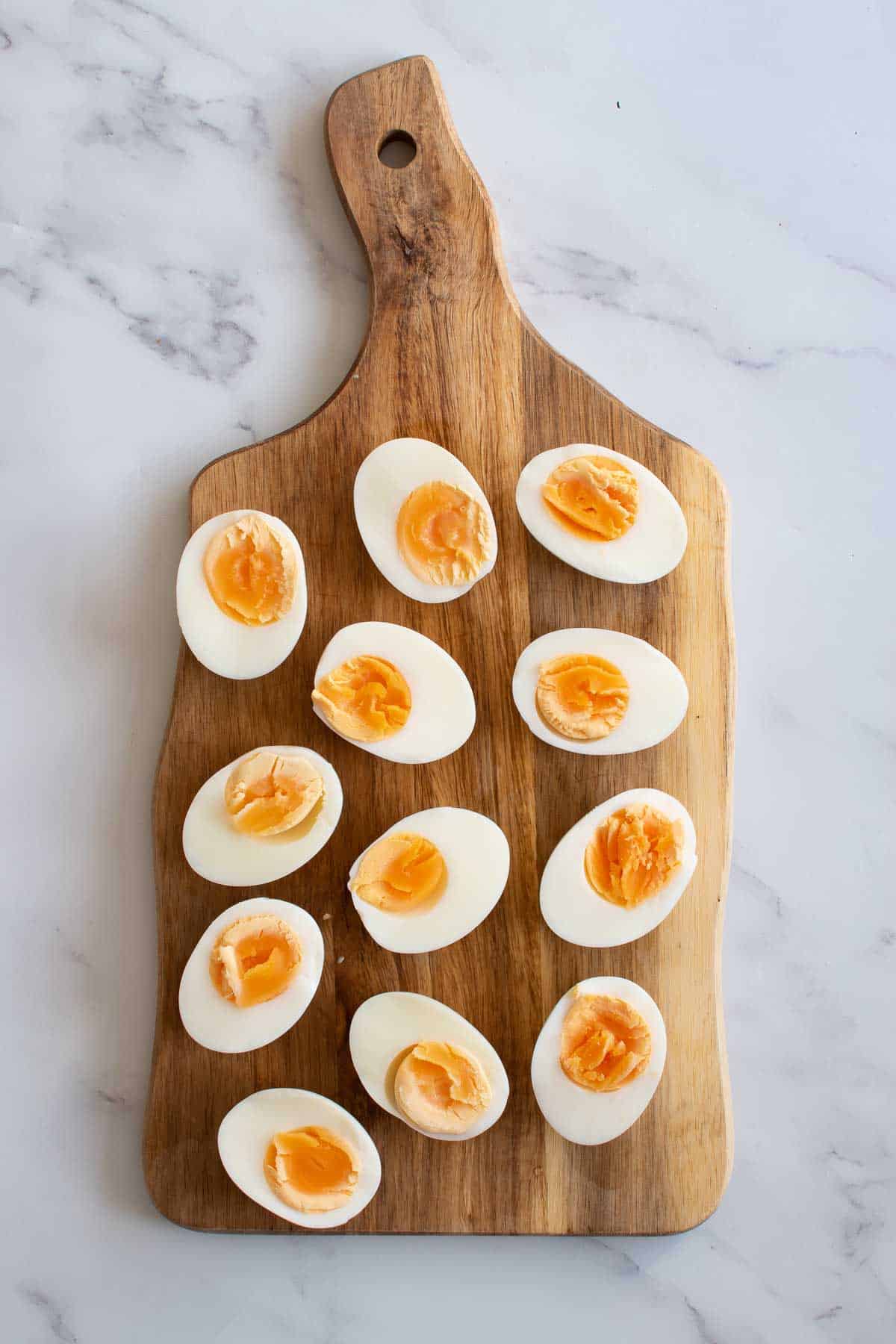 Jump to:
This post may contain affiliate links. Read more about it in the privacy policy.
I absolutely love hard boiled eggs. They are perfect for a quick snack, and can be used in a variety of delicious recipes, like salads or on toast.
If you've never tried pressure cooking eggs before, this recipe will probably surprise you. It's my favorite way to make boiled eggs easy, and the eggs can be peeled really fast.
🍳 More BREAKFAST RECIPES from Hint of Healthy
Why you'll love it
Easy way to batch cook several boiled eggs
The eggs are incredibly easy to peel
Low effort: no need to watch the water boil!
Perfect result every time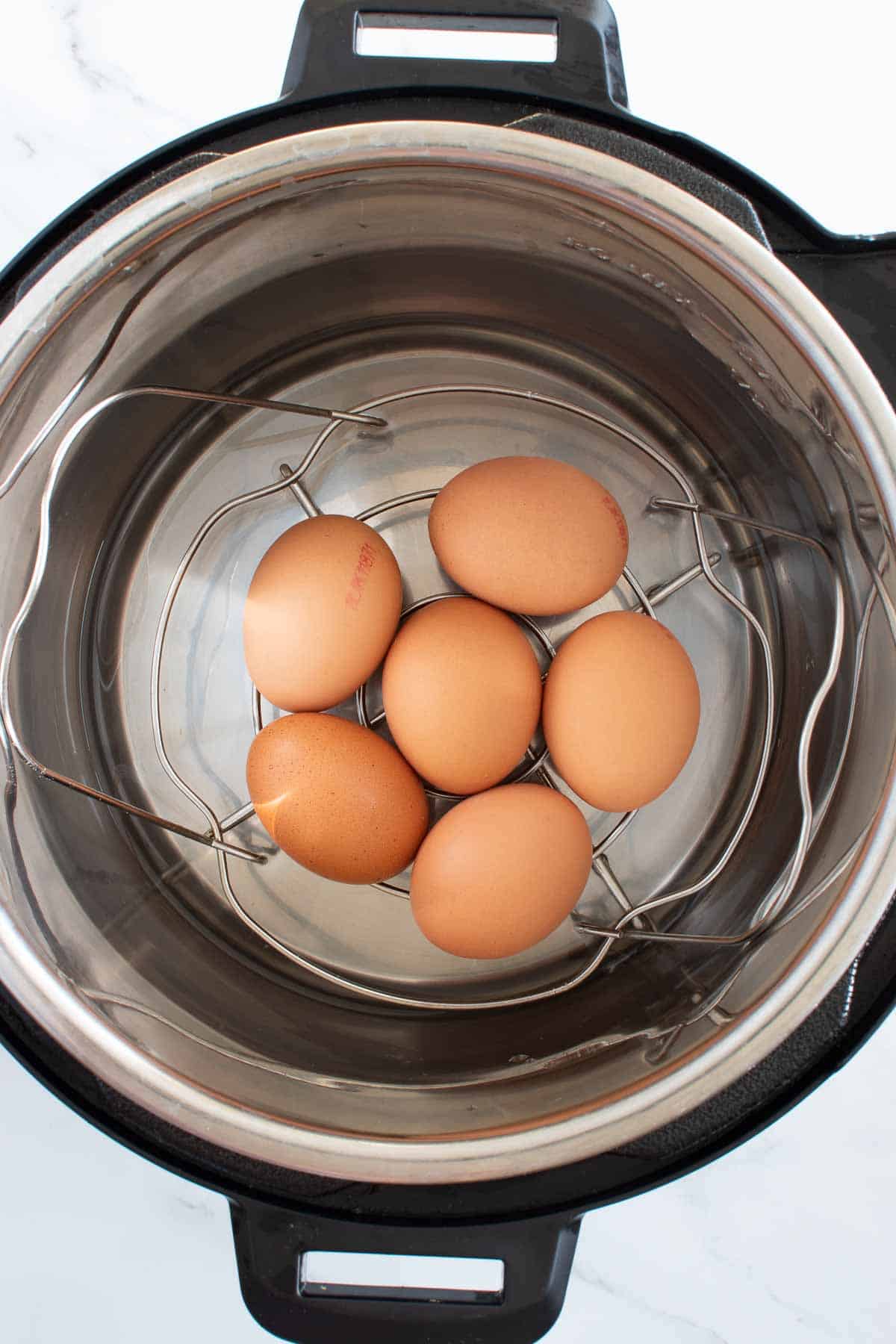 The best eggs for boiling
I have made this recipe using any size of chicken eggs, and honestly, it doesn't matter which ones you use. You can use small, medium, or large eggs. They can be at room temperature or cold straight out of the fridge. I tend to get the same results every time regardless.
If you want to boil any other type of egg, like duck eggs or quail eggs, you will have to adjust the cooking time depending on the size of the eggs. Smaller eggs will cook much faster, and larger eggs will need a little longer. I recommend that you adjust the cooking time by a few minutes, and pressure cook one egg at a time to find the cooking time that works best for your eggs.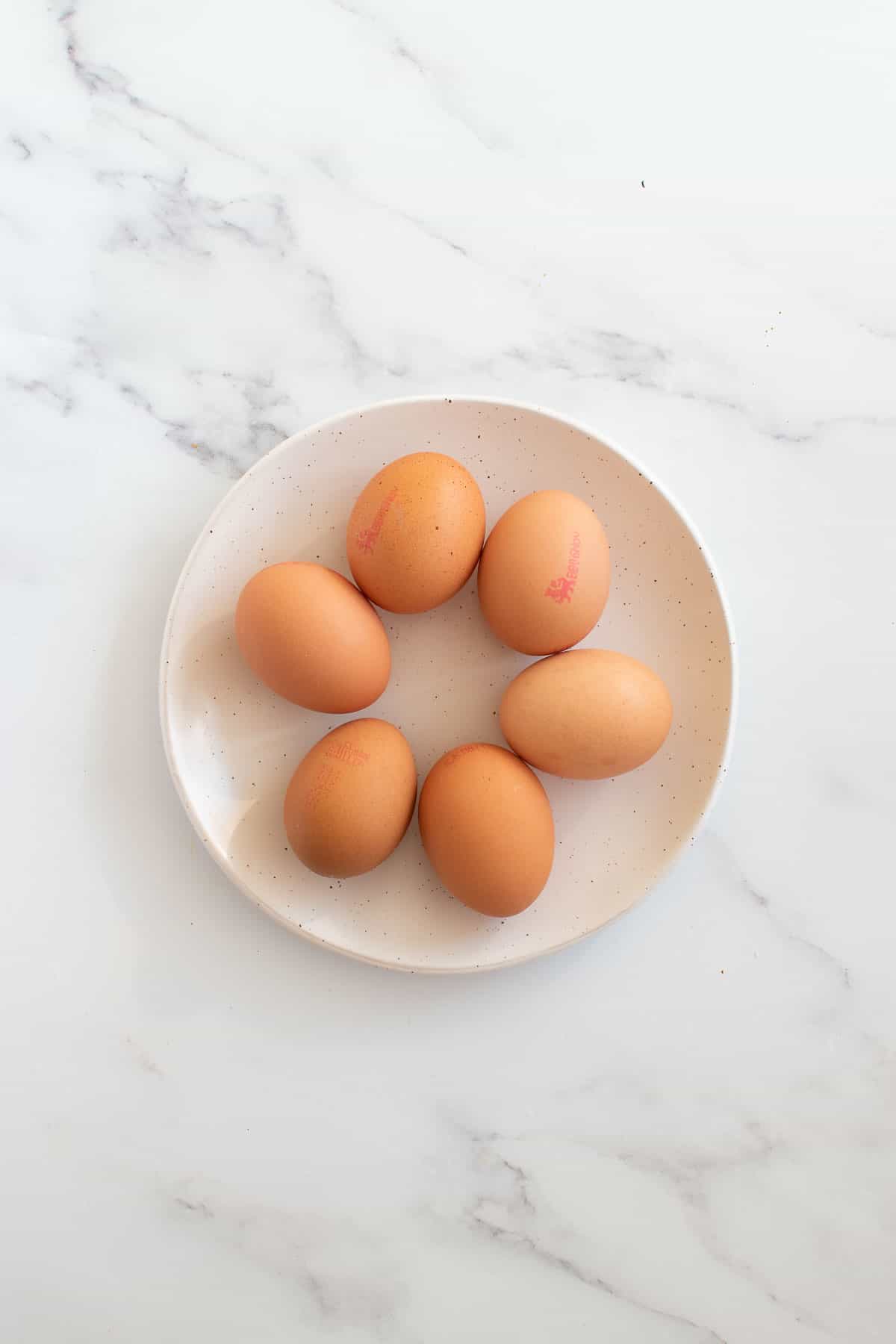 Instructions
You can find full instructions + ingredient measurements in the recipe card at the bottom of this page
One: Pour about a cup of cold water into the inner pot of the Instant Pot. Then, place a sieve or a trivet at the bottom of the pot. The trivet should balance above the water. Place your eggs on top; they should not be touching the water. Pressure cook on HIGH pressure for 5 minutes.
Two: When the timer is up, perform a quick pressure release according to the manufacturer's instructions. Transfer the boiled eggs to a bowl of ice-cold water, or leave them under a running tap. Leave them here for a few minutes, or until the eggs have cooled down.
Three: Peel the eggs! These easy peel eggs should be really fast to peel. If they still feel a little warm, transfer them back to the ice water, or peel them under running cold tap water.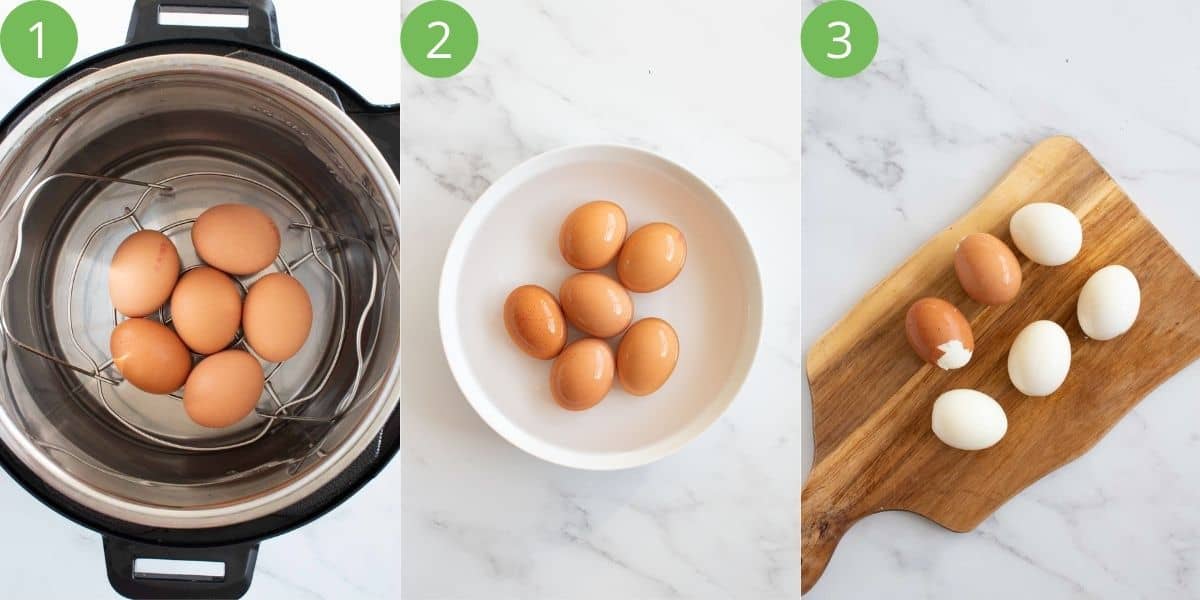 Top tips
If you're meal prepping, you can cool the eggs and refrigerate them with the eggshells on. This will make them last much longer.
If possible, avoid stacking eggs on top of each other, and prevent them from touching the sides of the Instant Pot. In some cases, this can cause the eggs to cook unevenly, or even crack.
Be careful when releasing the steam from the Instant Pot. Keep your distance, and use a utensil like tongs, or even gloves, to safely turn the venting valve.
Keep in mind that the pressure cooked boiled eggs are really hot. I like to use oven gloves to transfer them while they are warm.
Use eggs that are a few days or weeks old instead of completely fresh eggs. Older eggs are much easier to peel!
Serving suggestions
Boiled eggs are fantastic as a snack on the go, as a breakfast option, or added to various dishes like salads or curries.
I love to serve these as egg on toast, or on a nice bagel. You can also serve them on a bagel board, or any brunch table.
Eggs are also amazing in savory snacks, lunches, or dinners. For example, try my Egg Curry, Air Fryer Scotch Eggs, or Tuna Nicoise Salad.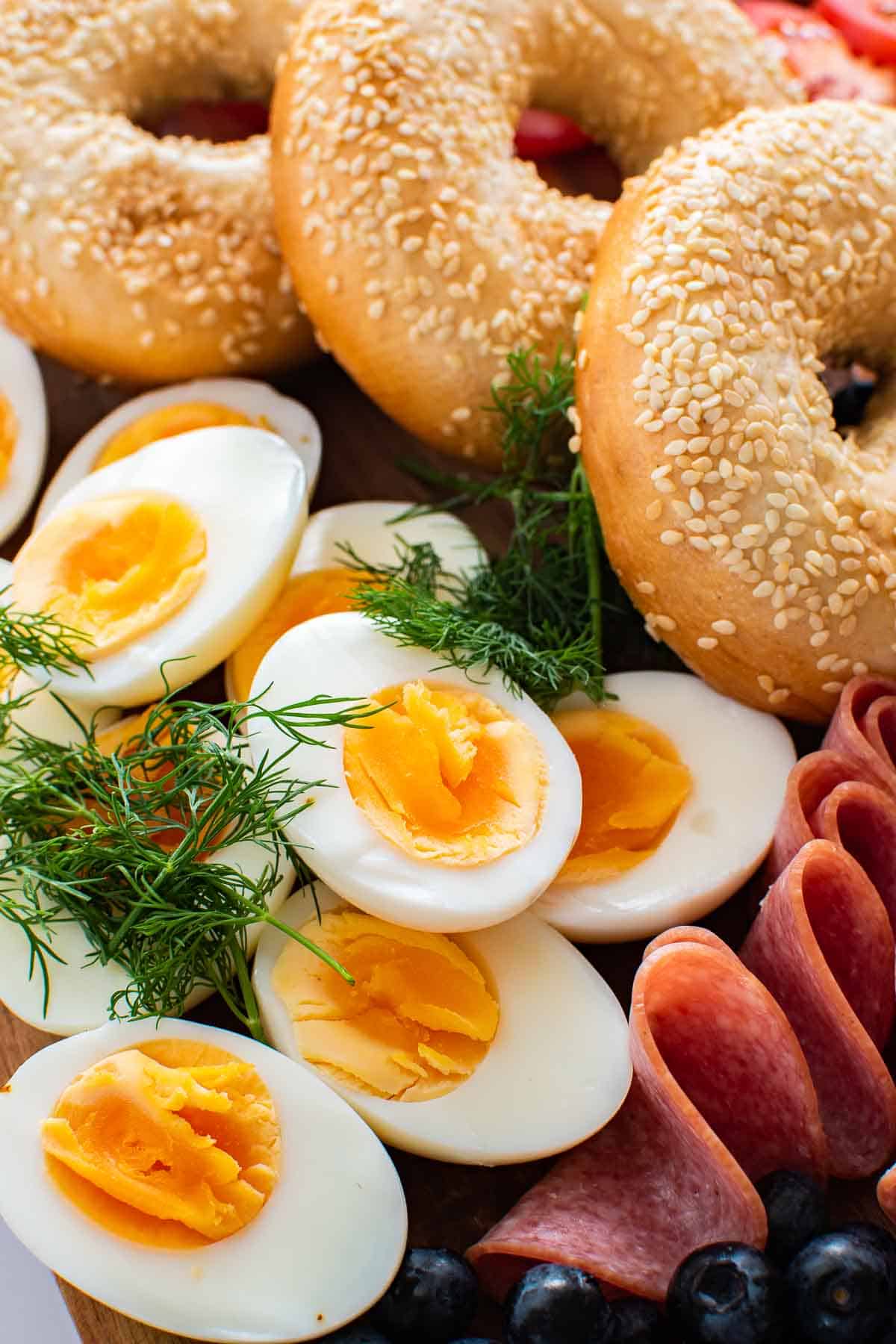 Equipment
To make this recipe, you need an Instant Pot, or any other pressure cooker. Additionally, you will need a metal strainer or steamer basket, or a trivet, that fits inside the pressure cooker.
My Instant Pot is 6 quart, but you can use a pressure cooker of any size. The size of the appliance will determine how many eggs you can fit inside to cook at the same time.
Storage
Store your peeled hard boiled eggs in a fridge for up to 3 days. Keep them in a sealed container to prevent them from absorbing the odors of the other food in your fridge.
If you refrigerate the eggs in their shells, they will last up to 7 days. I prefer to use this method, as it keeps the eggs fresher, and you can simply peel them when you want to eat them.
🍳 More BREAKFAST RECIPES from Hint of Healthy
Frequently asked questions
Can you freeze hard boiled eggs?
I don't recommend that you freeze hard boiled eggs, as this process will completely ruin their texture and make the eggs rubbery.
Do Instant Pot hard boiled eggs peel faster?
Yes! Pressure cooker boiled eggs peel much faster than eggs cooked on the stove.
You might also like these recipes
If you make this recipe, make sure to post a photo to Instagram with #hintofhealthy!
Recipe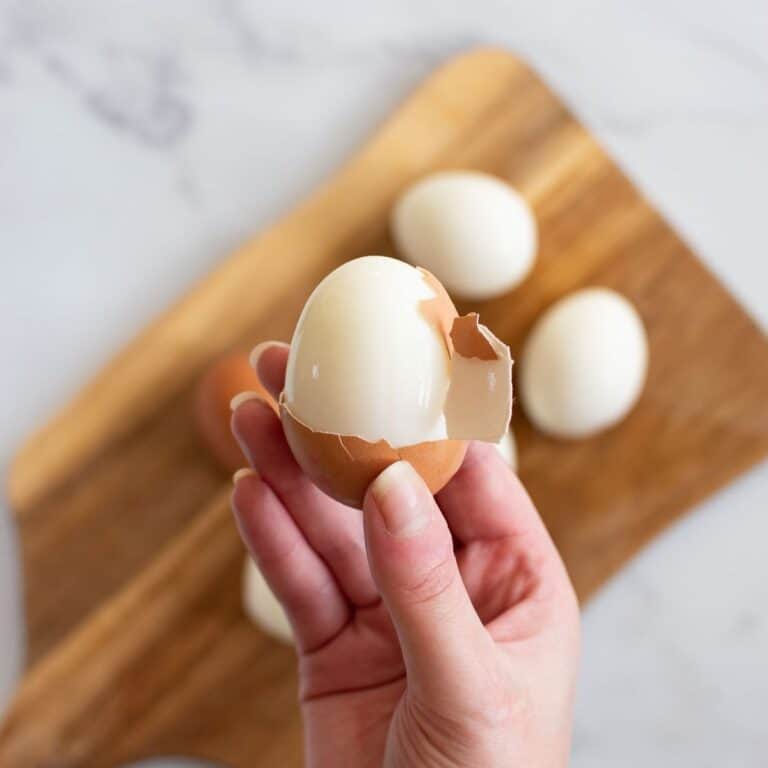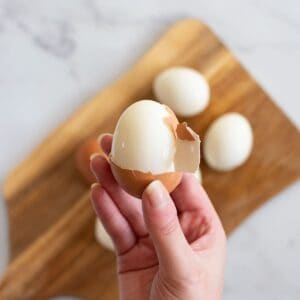 Instant Pot Hard Boiled Eggs
Make perfect easy peel eggs with this easy Instant Pot egg recipe. Perfect for meal prep, or if you're preparing a large egg salad or brunch.
Instructions
Pour 1 cup of cold water into the Instant Pot, and place a trivet or a steamer basket on top. Place the eggs onto the trivet, and prevent them from touching the water.

Seal the lid on top of the pressure cooker, and select the PRESSURE COOK or MANUAL setting. Set the pressure to HIGH, and set the timer to 5 minutes.

The Instant Pot will take a few minutes to gain pressure, before the timer starts counting down.

When the timer is up, perform a manual pressure release according to the manufacturer's instructions.

Remove the eggs from the Instant Pot, and place them in a bowl with icy cold water. Leave them to cool down for a few minutes before you peel them.
Notes
This recipe works for refrigerated or room temperature eggs, and you can use small, medium, or large eggs.
Avoid overcrowding the Instant Pot. The eggs should ideally not touch the sides of the pot, or they could crack.
Store boiled eggs unpeeled in a refrigerator for up to 7 days. Peeled eggs will only last for 2-3 days in the fridge.
Nutrition
Serving:
1
egg
Calories:
63
kcal
Carbohydrates:
1
g
Protein:
6
g
Fat:
4
g
Saturated Fat:
1
g
Polyunsaturated Fat:
1
g
Monounsaturated Fat:
2
g
Trans Fat:
1
g
Cholesterol:
164
mg
Sodium:
64
mg
Potassium:
61
mg
Sugar:
1
g
Vitamin A:
238
IU
Calcium:
26
mg
Iron:
1
mg
Food safety tips
Don't leave food sitting out at room temperature for extended periods
Never leave cooking food unattended
Be careful not to touch the hot steam when you release the pressure