This delicious vegan eggnog is a comforting hot beverage made with cinnamon, and dairy free milk varieties. It's a tasty and comforting drink for the holiday season and Christmas.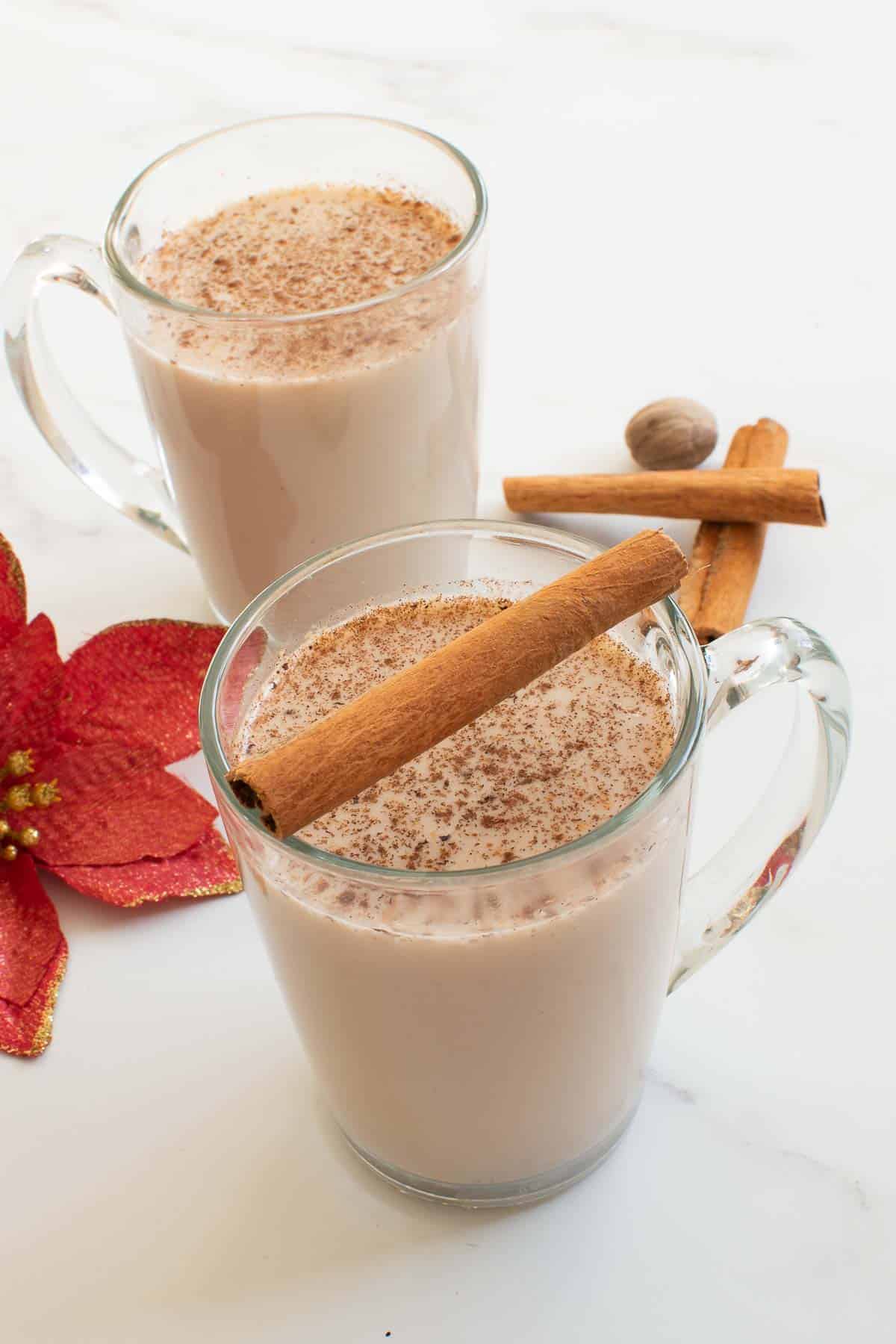 Jump to:
This post may contain affiliate links. Read more about it in the privacy policy.
This vegan eggnog recipe is a great alternative to traditional eggnog. It's easier to make, tastes amazing, and is suitable for most dietary requirements.
In an eggnog taste test, you might notice that this drink is free from eggs, but trust me, it's not lacking anything. The comforting nutmeg cinnamon milk is incredibly delicious, and tastes fantastic hot or cold.
Why you'll love it
Easy to make eggnog recipe with 6 ingredients
Make it in only 5 minutes
Egg free, dairy free and vegan
A comforting hot beverage suitable for kids and adults
Eggnog is a very traditional drink with good reason
A healthier alternative to hot chocolate
Customize the recipe to suit your preferences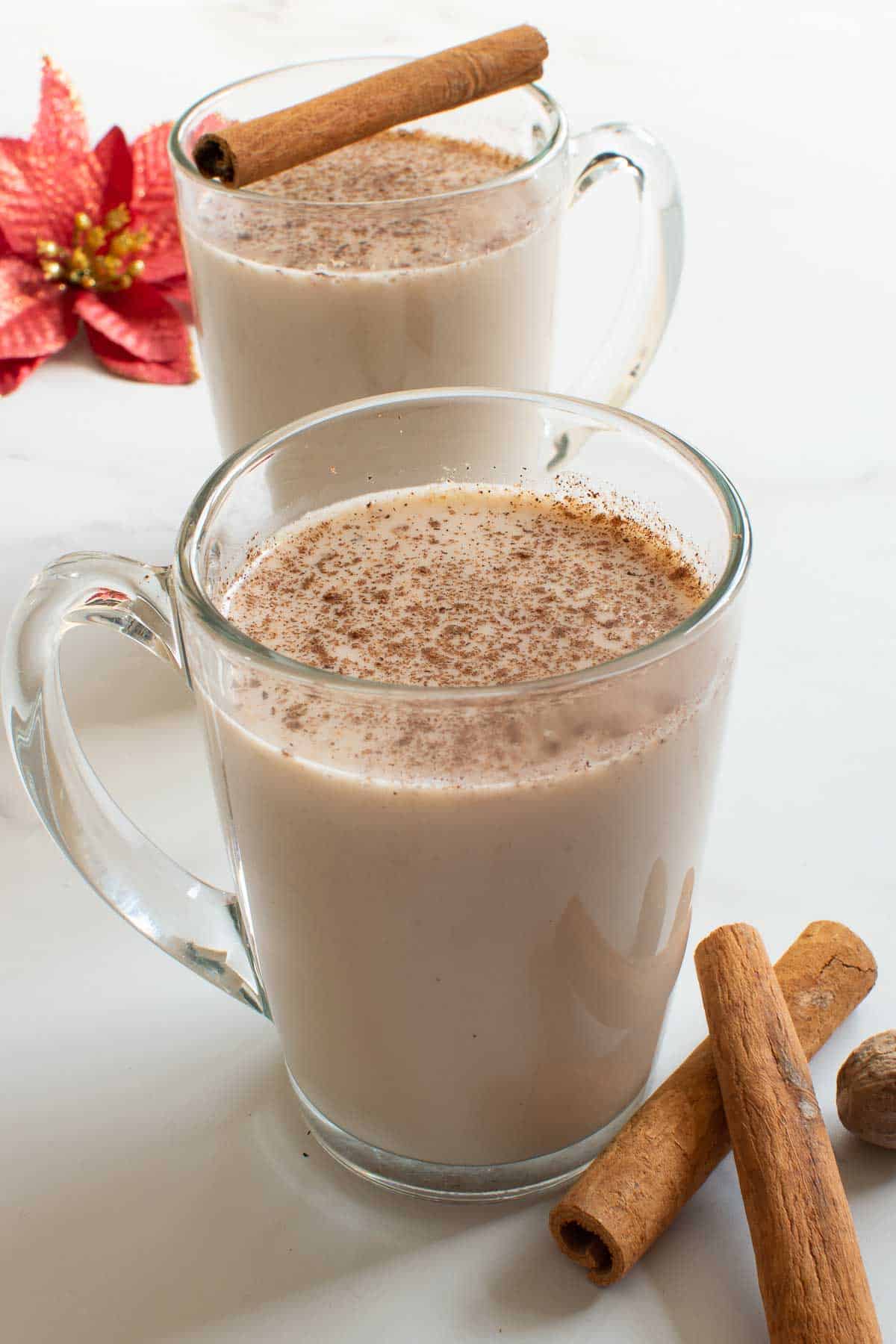 Ingredients
Oat milk: This milk, creamy milk alternative is the perfect choice for eggnog. You can also use any other dairy-free milk, for example almond milk.
Coconut milk: Use full fat coconut milk from a can. Light coconut milk will be less creamy.
Maple syrup: Makes the eggnog a little sweeter.
Vanilla extract: A little vanilla pairs perfectly with the other flavors in the eggnog. Optional.
Cinnamon: Ground cinnamon or ground sweet cinnamon will both work well.
Nutmeg: Buy ground nutmeg, or freshly grate a whole nutmeg.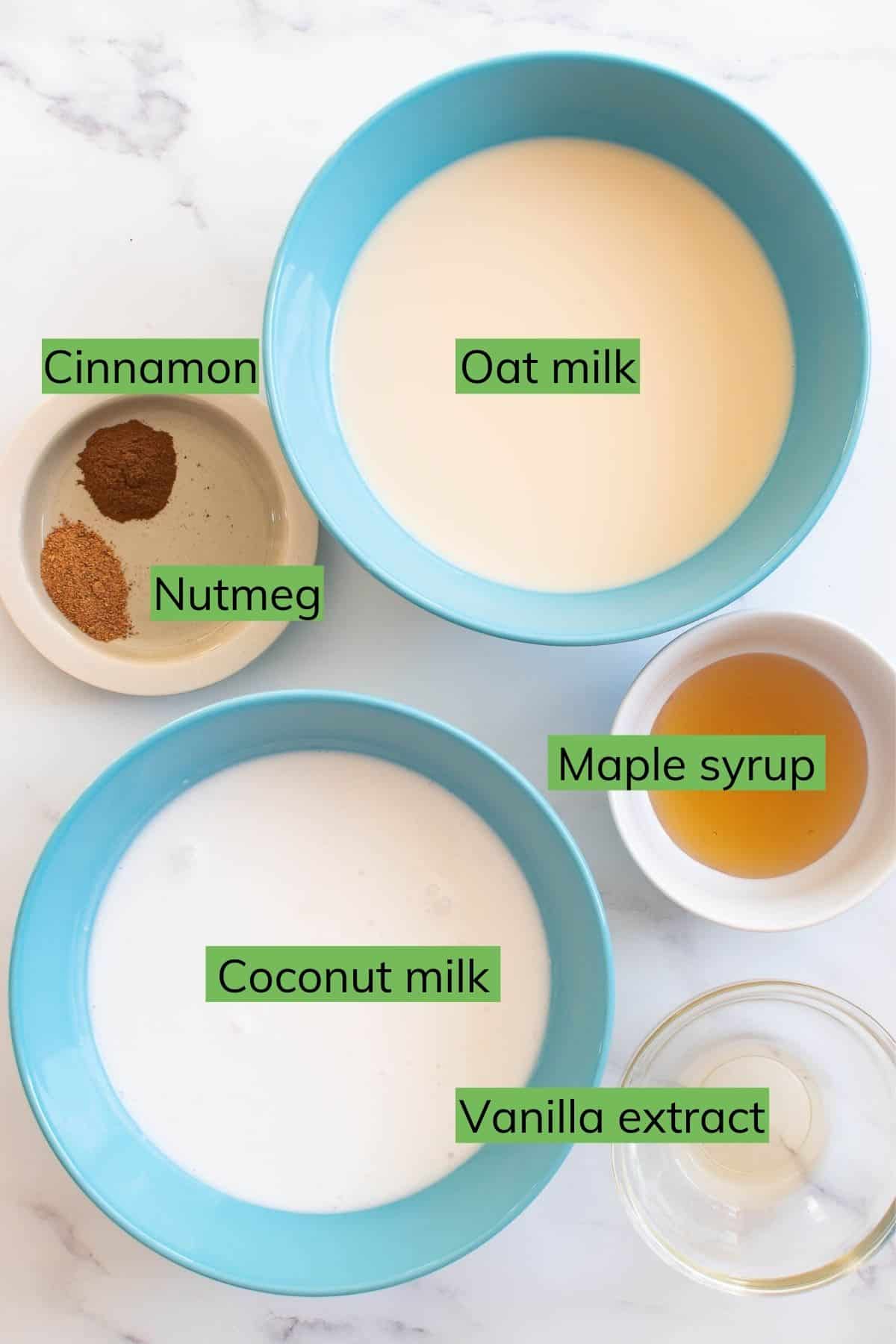 Instructions
You can find full instructions + ingredient measurements in the recipe card at the bottom of this page
One: Add all ingredients to a pot or small sauce pan. Whisk to combine.
Two: Bring the eggnog to a light simmer over medium heat. Whisk regularly, and keep an eye on the drink as it will warm up fast.
Three: Serve the eggnog in cups, garnished with ground nutmeg. If you prefer the beverage chilled, you should allow it to cool down a little, and then transfer it to a refrigerator.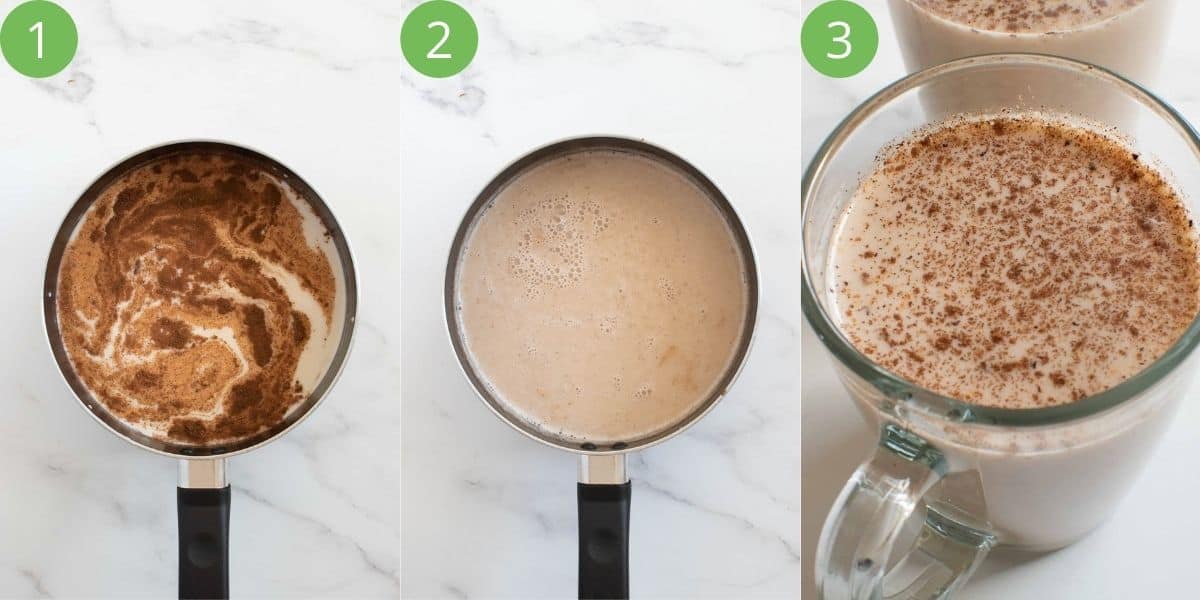 Top tips
Adjust the amount of nutmeg, cinnamon and vanilla to suit your preferences.
Add any alcohol that you like if you wish. You can also mix the eggnog with the alcoholic beverage of your choice.
Keep an eye on the eggnog while it cooks, as it will heat up really quickly.
Use a whisk to incorporate the ingredients evenly.
The drink should not boil. Instead, only bring it to a gentle simmer.
Serving suggestions
This dairy free eggnog with coconut milk is best served as a hot or cold drink during the holiday season and in December. Serve it with your Santa Pancakes or bagel board for your Christmas breakfast, as a special treat, or as a comforting beverage in the evening.
I love to pair it with a snack or dessert like Date Energy Balls, Puff Pastry Mince Pies, Lussekatter, or Puff Pastry Apple Pie.
You can also use this as an ingredient in Eggnog Bread Pudding or Eggnog Coffee.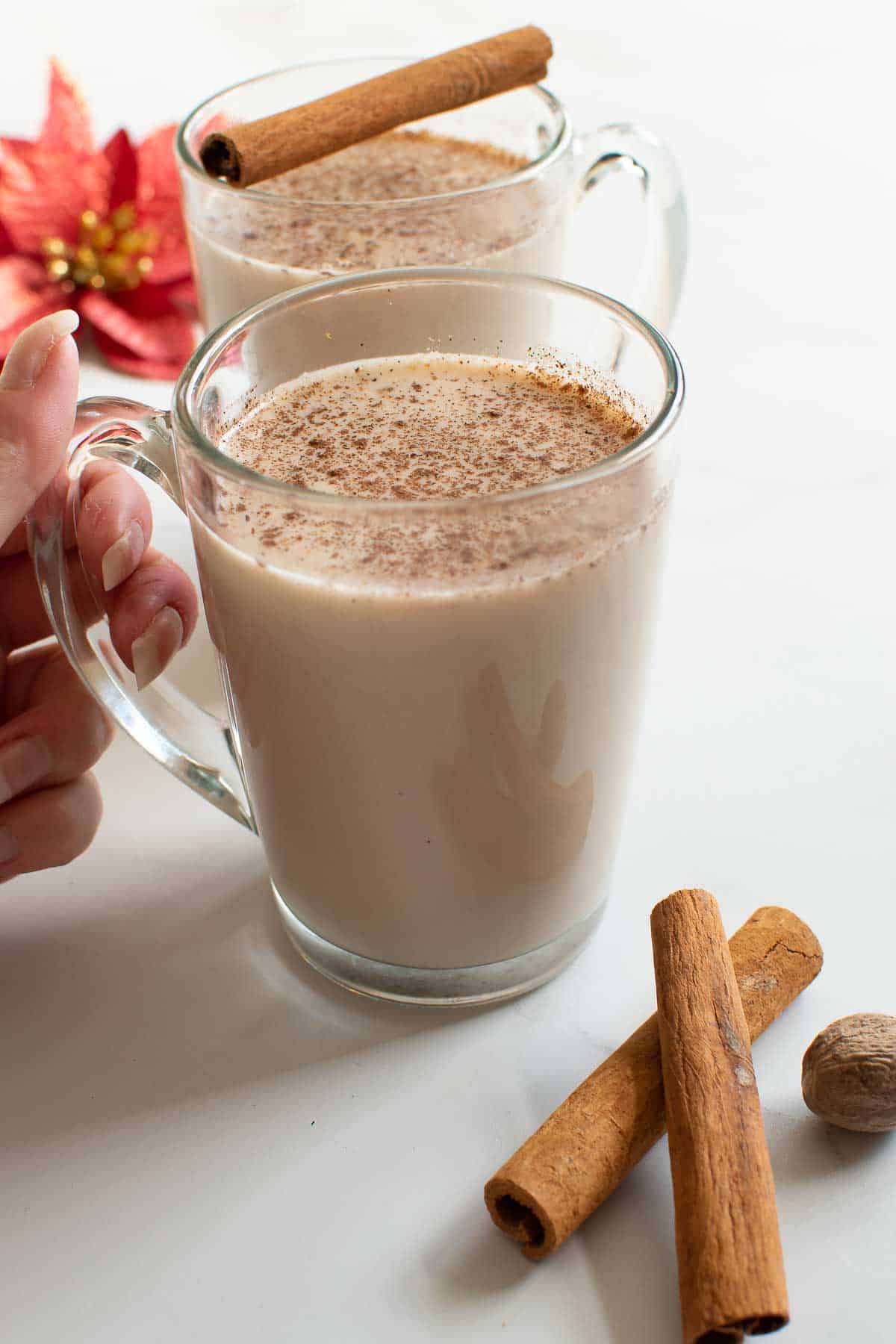 Variations
Other milk alternatives: I like to use oat milk and coconut milk, as they are thick and creamy. If you prefer, you can also use other types of milk, such as almond milk, cashew milk, soy milk or rice milk. Oat milk is a great nut free alternative.
Boozy option: Feel free to add a little bourbon, whiskey or rum if you wish.
Added spice: Change the flavor of the eggnog by adding extra spices. Try adding cloves, allspice, vanilla bean, or cashew nuts.
Change the sweetener: Omit the maple syrup to make a low calorie, less sweet eggnog. You can also replace it with agave nectar, pitted blended dates, coconut sugar, brown sugar, or refined sugar.
Equipment
This easy vegan eggnog only requires a small pot and a whisk. It should be prepared on the stove top to allow the ingredients to incorporate evenly.
If you prefer to serve your eggnog cold, you should allow it to cool down in a jug or container in a refrigerator for a few hours before serving.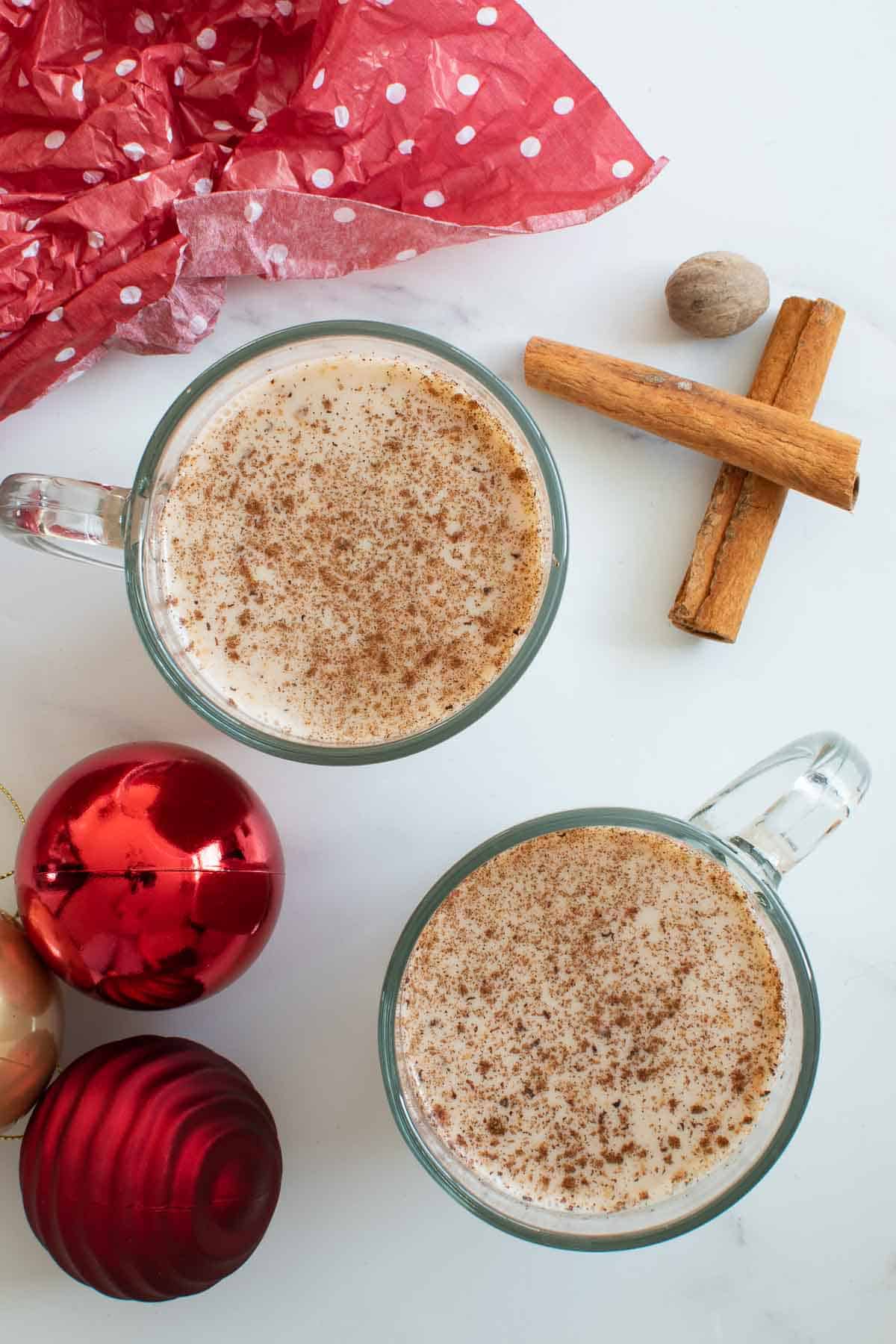 Storage
Store any leftover vegan eggnog in a refrigerator for up to 3 days. Serve it cold, or reheat it in a microwave or on the stove if you prefer it warm.
This is also a fantastic make ahead holiday drink, as you can prepare a big batch and enjoy it over several days.
Frequently asked questions
What is vegan eggnog made of?
Vegan eggnog is usually made by combining a thick, creamy vegan milk alternative like coconut milk or oat milk with cinnamon and nutmeg.
Can you make eggnog without alcohol?
Absolutely. Some eggnog recipes contain alcohol, but it's easy to make a tasty version completely alcohol free.
You might also like these recipes
If you make this recipe, make sure to post a photo to Instagram with #hintofhealthy!
Recipe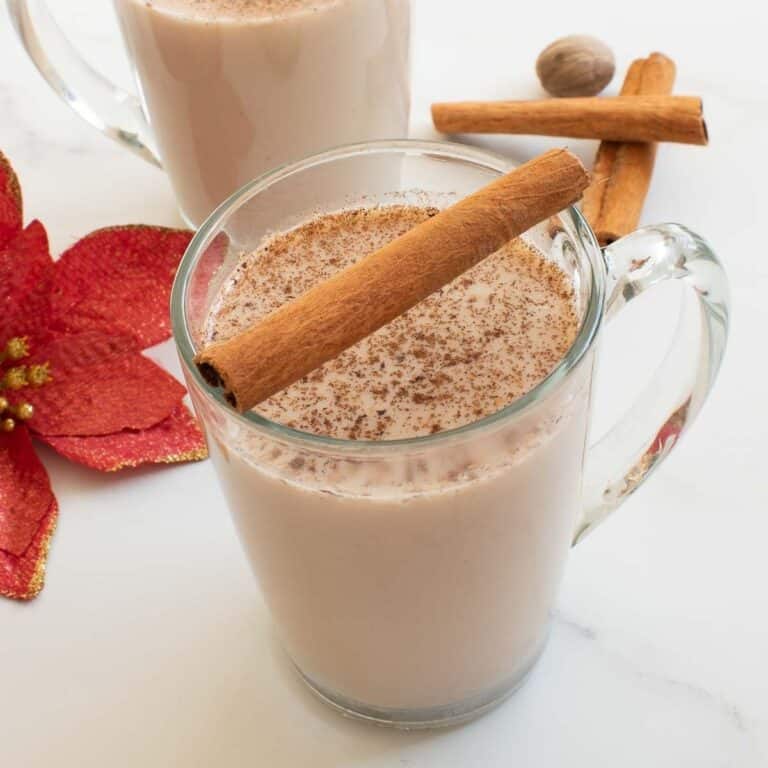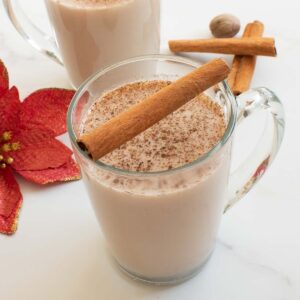 Vegan Eggnog
This creamy and delicious vegan eggnog with coconut milk and oat milk is a comforting beverage packed with flavor. Made in less than 5 minutes, this is the perfect hot beverage for the holiday season and Christmas.
Instructions
Add all ingredients to a small pot or sauce pan.

Bring the eggnog to a slight simmer over medium heat while whisking. The drink does not have to be boiled, only warmed.

Serve hot eggnog in cups, topped with ground cinnamon or nutmeg. Alternatively, allow it to cool down and refrigerate it before serving if you prefer to drink cold eggnog.
Notes
Refrigerate leftover vegan eggnog for up to 3 days. You can serve it cold, or reheat it if you prefer warm eggnog.
Feel free to replace the maple syrup with other sweeteners like coconut sugar, agave nectar or date sugar.
Double or triple the recipe to make a bigger batch.
Add a splash of rum, bourbon or whiskey to make a grown up eggnog.
Nutrition
Calories:
306
kcal
Carbohydrates:
18
g
Protein:
4
g
Fat:
26
g
Saturated Fat:
22
g
Polyunsaturated Fat:
1
g
Monounsaturated Fat:
1
g
Sodium:
72
mg
Potassium:
322
mg
Fiber:
1
g
Sugar:
12
g
Vitamin A:
248
IU
Vitamin C:
1
mg
Calcium:
203
mg
Iron:
5
mg
Food safety tips