Lussekatter, or Scandinavian saffron buns, are traditionally enjoyed in December to celebrate St Lucia. They are easy to make and taste fantastic, particularly paired with a cup of tea or coffee!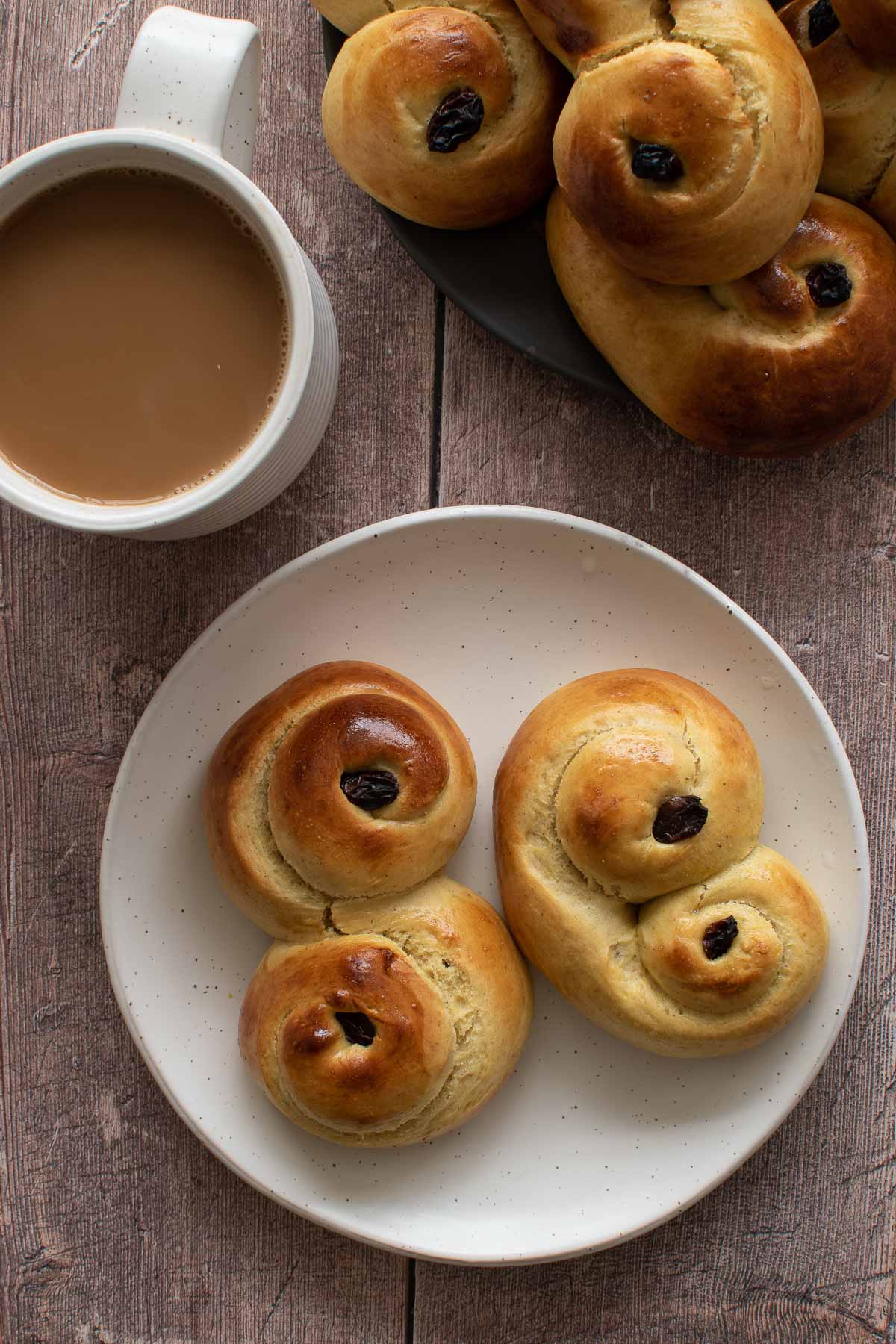 Jump to:
This post may contain affiliate links. Read more about it in the privacy policy.
Norwegian lussekatter, also known as Swedish lussebullar, are Scandinavian saffron buns made with yeast. They are sweet and soft, and typically served as a treat, dessert or sweet breakfast.
Traditionally, lussekatter are baked for St Lucia, which is celebrated on December 13th, however many enjoy them throughout winter and leading up to Christmas.
Make perfect, traditional lussekatter from scratch with this super easy recipe. Swedish saffron buns can be made any time of the year, outside of the traditional celebratory period, and is easy to make in a big batch.
Why you'll love it
Delicious baked good
Really easy to make
Kids love shaping the dough
A traditional Scandinavian Christmas recipe
Perfect to serve as a treat or breakfast
Ingredients
All-purpose flour: Regular all-purpose flour is perfect for baking these. Alternatively, use any standard flour suitable for making sweet breads.
Instant yeast: This is a dry type of yeast. It is also sometimes known as quick yeast, fast action yeast or easy blend yeast or easy bake yeast.
Butter: Makes the buns really soft.
Sugar: Adds sweetness to the buns.
Saffron: This is mostly added for color, as lussekatter are meant to be yellow. You can use ½ teaspoon turmeric instead as a more affordable alternative.
Ground cardamom: This lovely spice gives the buns a warm flavor. Cardamom is very commonly used in Scandinavian baking, and considered an essential.
Salt: An important ingredient for both flavor and texture.
Milk: Using milk as the liquid for these buns will give them a great flavor, but also make them extra soft. Any milk will work, but I recommend using full fat milk or oat milk.
Egg + Raisins: Optional, and used for decoration. Omit the eggs to make them egg free, and leave the raisins out if you prefer.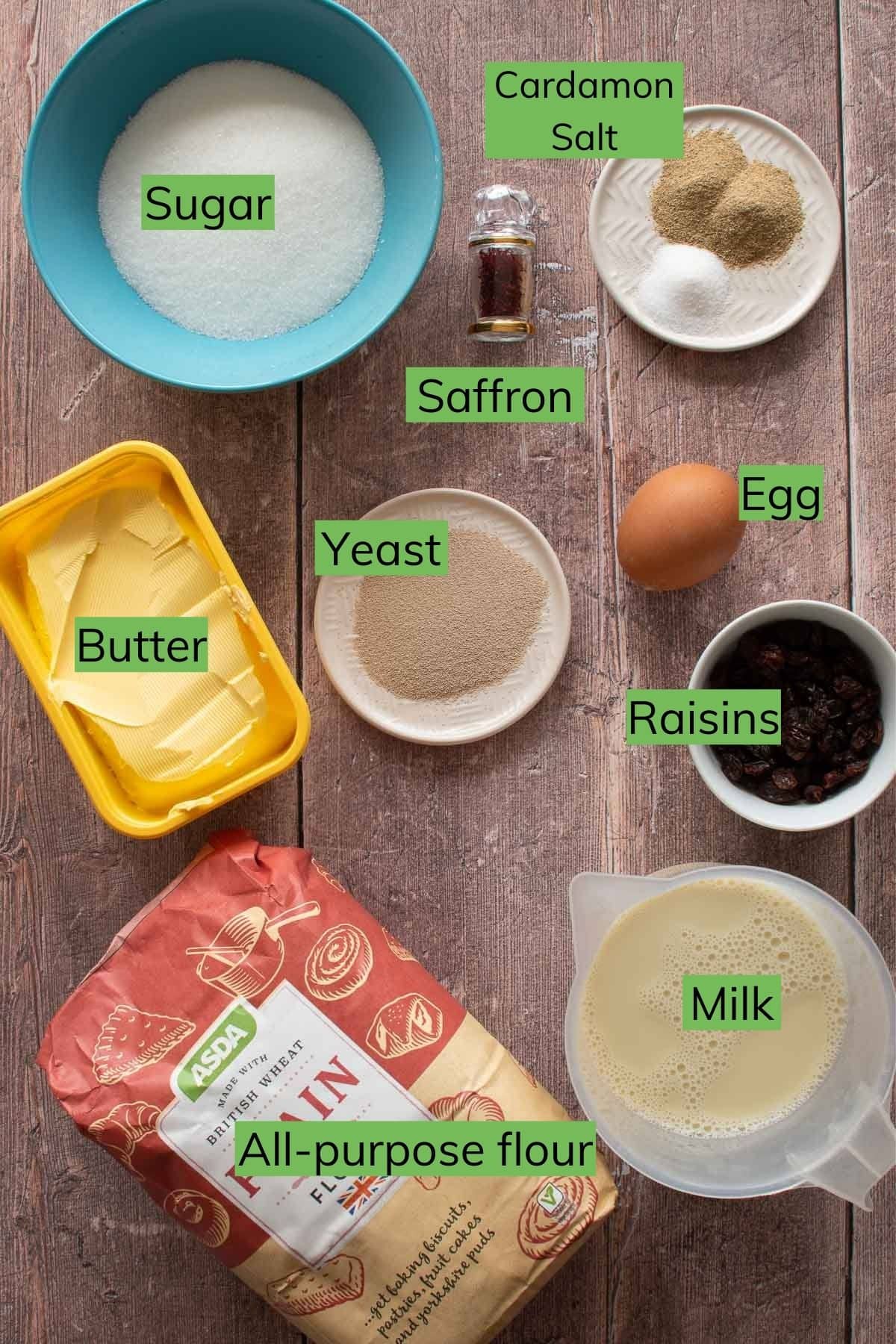 Instructions
You can find full instructions + ingredient measurements in the recipe card at the bottom of this page
One: Melt butter in a small pot on the stove. Add saffron and milk. The liquid should be quite warm, but not super hot. It should be slightly warmer than body temperature, but still not too hot to touch.
Two: Meanwhile, combine the dry ingredients in a mixing bowl.
Three: Add the warm wet ingredients to the dry ingredients, and knead into a dough. You can use a stand mixer with a dough hook, or do it with your hands. Knead for about 5 minutes, or until a solid dough takes shape.
Four: Cover the dough with a lid, clean kitchen towel or plastic wrap, and leave it in a warm place to rise until it has doubled in size. This takes about 30-45 minutes.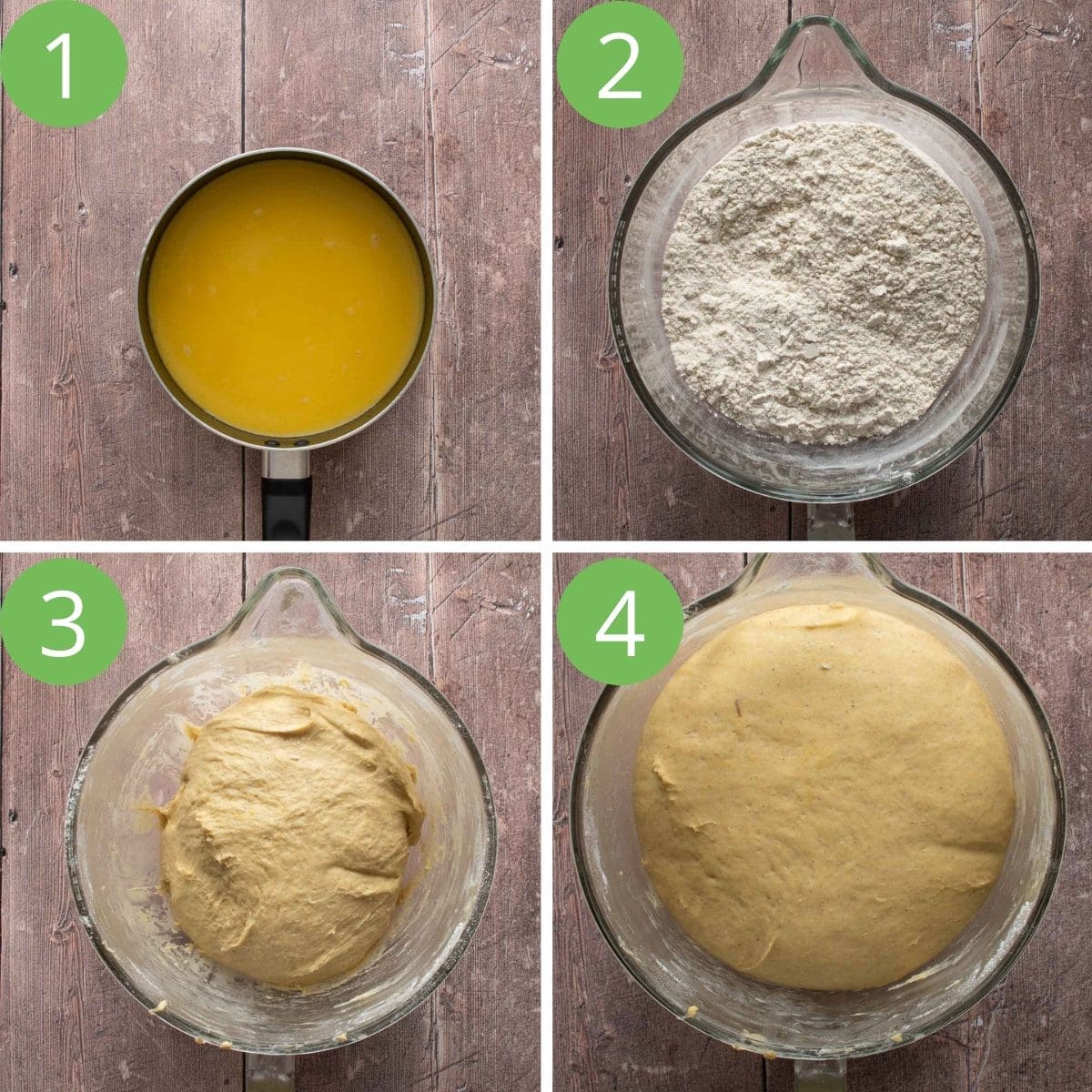 Five: Transfer the dough onto a floured surface, and knead it well to remove any air bubbles.
Six: Separate the dough into 20 equally sized pieces. To make this easier, you might want to cut the dough into halves, then quarters, and then cut each quarter into five pieces.
Seven: Shape each piece of dough into a little bun. Lussekatter can be shaped however you like, but see the section below for some ideas. Leave them to rest on a baking sheet covered with parchment paper for about 15 minutes.
Eight: Decorate the buns with raisins. Whisk an egg together in a small bowl to create an egg wash. Use a pastry brush to gently brush on a thin layer of whisked eggs on each bun. Bake at 480 F / 250 C for about 5-7 minutes, or until the surface is golden brown.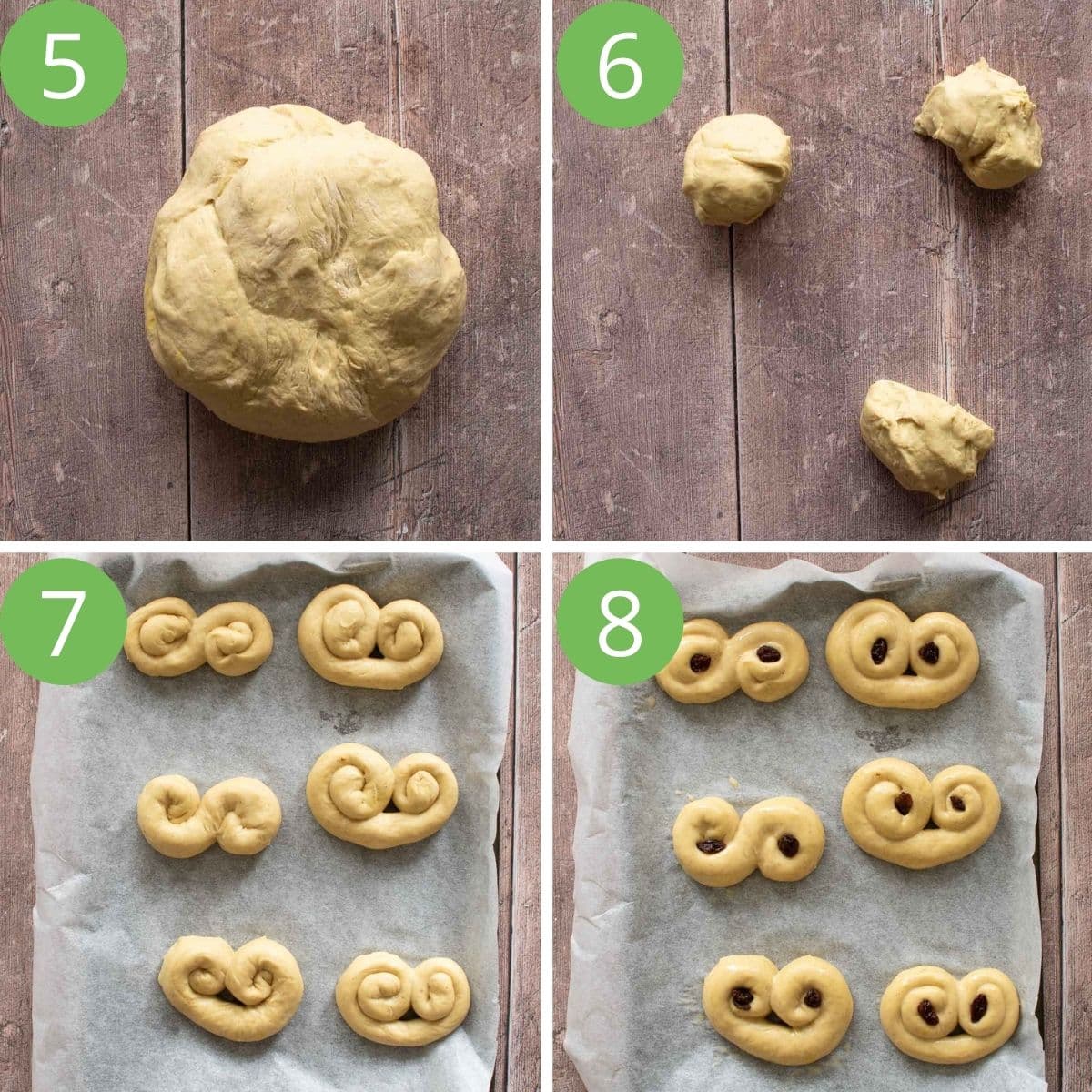 How to shape Lussekatter
Lussekatter can take on many shapes, and creating your own shapes is part of the fun.
Start by separating the dough into 20 equally sized pieces, to make sure that the buns will be equal in size.
Then, one by one, roll them out into a long string. Below you can see two of the most common traditional shapes, where the dough has simply been rolled from both edges.
You can also roll the string of dough from only one end, resulting in something that looks almost like a cinnamon roll, or create a completely different shape. Kids love helping out with this step, and you can let the imagination completely lose.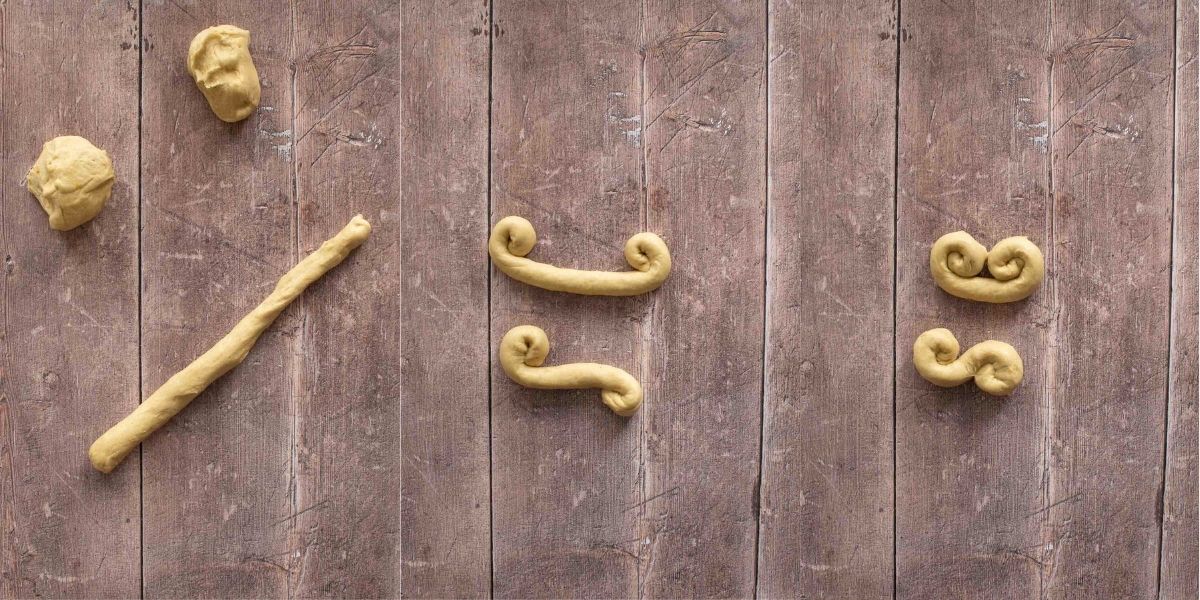 Top tips
Make sure that the wet ingredients have the correct temperature, as this will help the yeast to activate correctly.
If you're baking in a particularly cold room, the dough could need much more time to rise. If your house is cold, consider placing the dough to rise near a heat source, or in warm sunlight.
In a fan oven, you can bake multiple trays of buns at the same time. In a regular oven, bake them one tray at a time for an even result.
If the dough doesn't rise at all, this could either be because the liquid was too hot or too cold, or because your yeast is out of date.
Allow the buns to cool down slightly on a cooling rack before serving.
Serving suggestions
St lucia buns are typically served in the middle of December. It's often enjoyed with a cup of tea or coffee as an afternoon treat, as a dessert, or sometimes as a sweet breakfast.
Some like to eat these plain, others prefer to slice them in half and top them with a sweet spread. Here are some of my favorite spreads and jams to serve with lussekatter: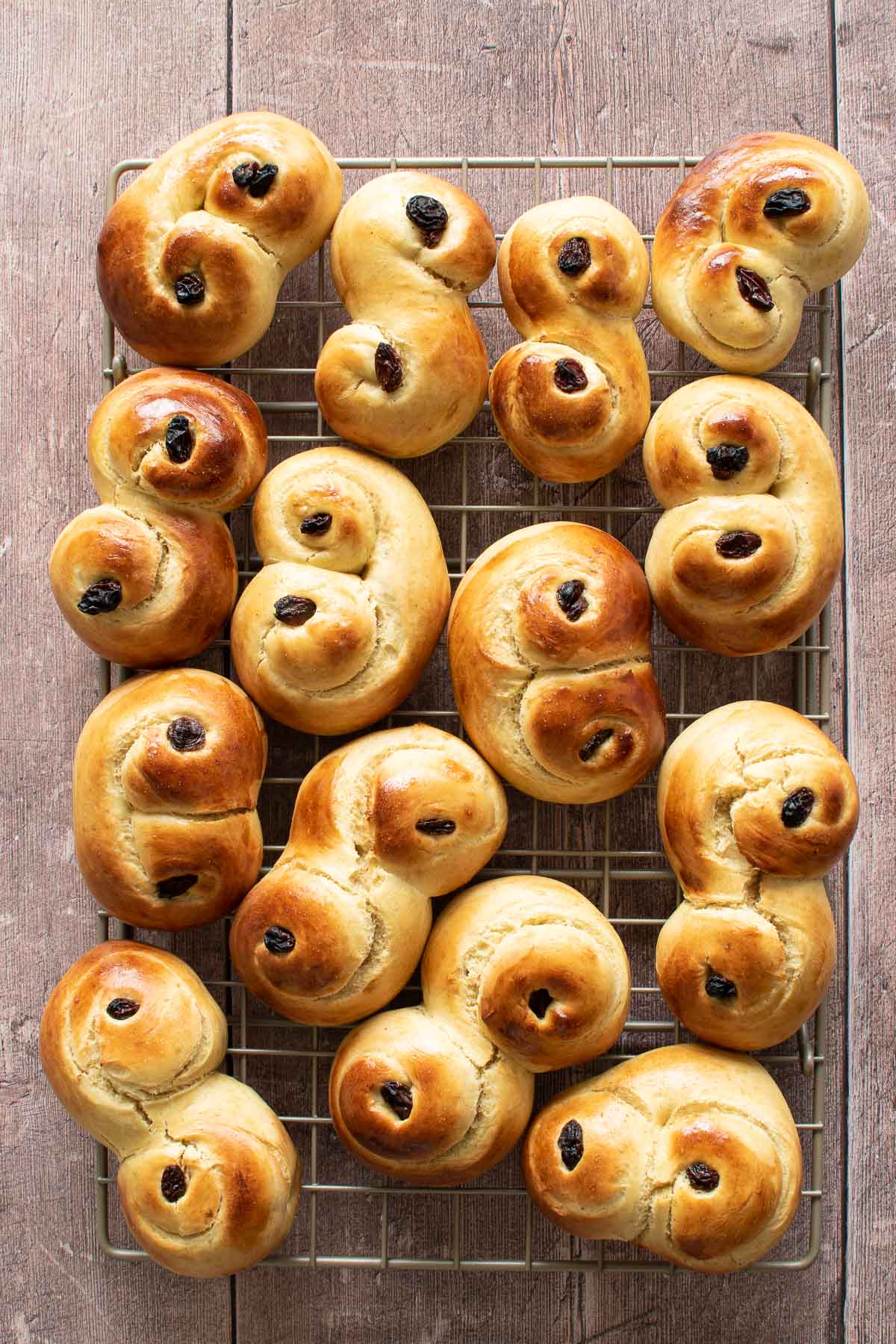 Variations
Egg free: Omit the egg. Optionally, you can brush the buns with a little milk instead for a similar effect.
Dairy free: Use vegan or dairy free butter and milk alternatives. You can find vegan butter in most supermarkets. Use a plant based milk alternative, such as oat milk, almond milk, hazelnut milk or soy milk.
Vegan: Follow the instructions for dairy free and egg free buns.
No raisins: Omit the raisins, or replace them with dried cranberries if you prefer. The raisins are only added for decor, and can also easily be picked off after baking.
Using fresh yeast: Replace the instant yeast with 50 g fresh yeast. If you use fresh yeast, you should allow the wet ingredients to cool down to body temperature, around 98 F / 37 C. You should also crumble the fresh yeast into the liquid, and leave it to sit for a few minutes before you add it to the dry ingredients, to allow the yeast to activate.
Leftovers
Store leftover lussekatter in a sealed container at room temperature for up to 5 days, or freeze them for up to 6 months.
You can defrost frozen saffron buns by leaving them out in room temperature for a few hours.
This recipe is easy to double or triple if you have a big enough mixing bowl. Consider making a double or triple batch, and freeze down the buns for whenever you're craving freshly made baked goods!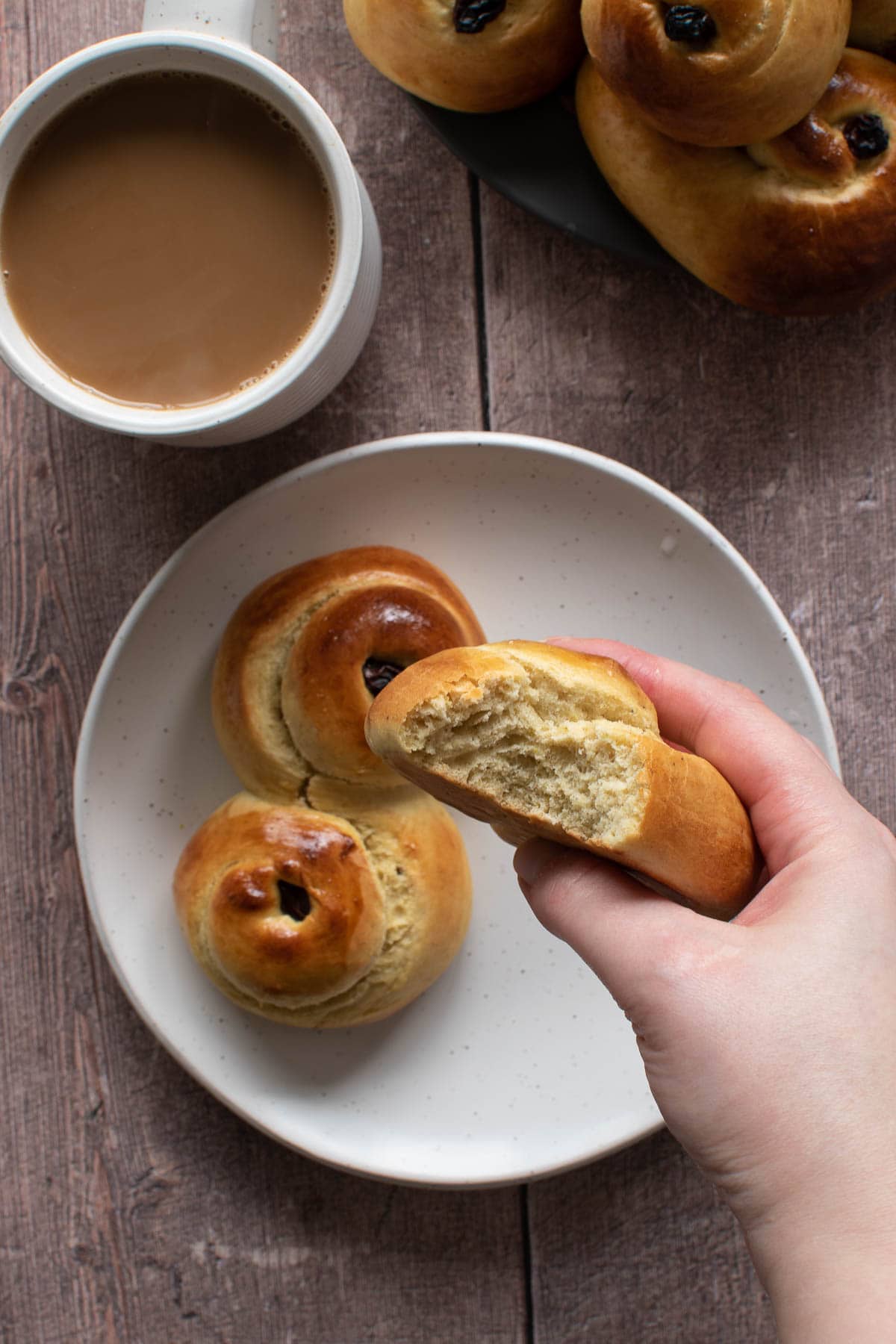 Frequently asked questions
Who invented saffron buns?
Saffron buns are a traditional baked good which was first made in Scandinavia. They are a popular treat created to celebrate St. Lucia.
Is saffron used in cakes?
Absolutely! You can use ground saffron or saffron threads in baking. It's typically combined with warm milk. The yellow milk will give the whole cake a lovely color.
What does lussekatter mean?
Lussekatter are simply Scandinavian sweet rolls made to celebrate St Lucia. The word is made by combining "lusse", which stems from Lucia, and "katter", which means cats. The buns have received their name because they are shaped like a cat's tail.
You might also like these recipes
If you make this recipe, make sure to post a photo to Instagram with #hintofhealthy!
Recipe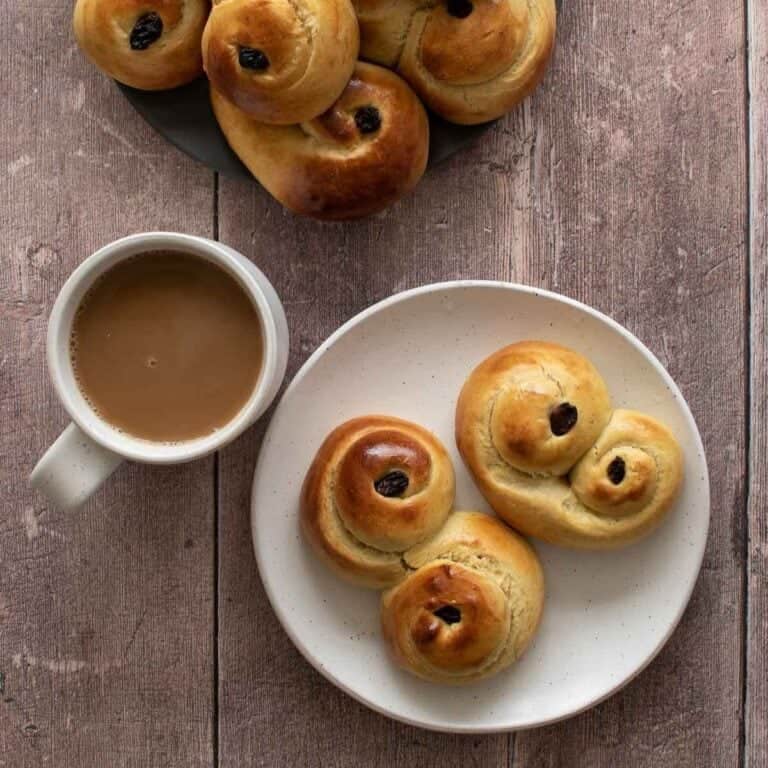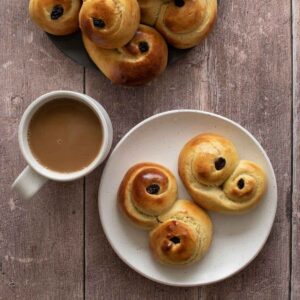 Lussekatter
Lussekatter are delicious Scandinavian saffron buns, traditionally made to celebrate St. Lucia every December. These buns are really easy to make, and taste absolutely amazing.
Instructions
Melt the butter on the stove, and add milk. Add saffron, and set it to the side. Make sure that the mixture is slightly warmer than body temperature.

Combine all-purpose flour, sugar, salt, cardamom, and instant yeast in a bowl. Add the milk mixture. Knead the dough by hand, or use a stand mixer if you have one, for 5-15 minutes, or until the dough forms a ball. You can add more flour if the dough feels too wet.

Cover the mixing bowl with a clean kitchen towel or plastic foil, and leave the dough to rise until it's doubled in size, about 30-40 minutes.

Sprinkle flour on a work top or table, and knead the dough thoroughly by hand to remove any air bubbles. It should not be very sticky.

Separate the dough into about 20 equally sized balls. Roll them individually into long strips, about as thick as a finger. Then roll the strips into any shape you like to form lussekatter. Use your imagination to create different shapes!

Place the lussekatter on a baking sheet covered with parchment paper. Leave a little space between each, as they will rise when they bake.

Preheat the oven to 480 F / 250 C. Meanwhile, leave the lussekatter to rest for a further 15 minutes covered by a clean kitchen towel.

Whisk the egg in a small bowl, and use a pastry brush to brush a thin layer of egg over each bun. Decorate with raisins.

Bake in the oven on the middle shelf for 5-7 minutes, or until they are golden on top. Remove from the oven, and leave them to cool down on a cooling rack.
Notes
Store lussekatter at room temperature for up to 4 days, or freeze for up to 6 months. You can defrost frozen buns by leaving them at room temperature for a few hours.
Shape your lussekatter however you like. Make little braids, knots or rolls. 
Nutrition
Calories:
232
kcal
Carbohydrates:
36
g
Protein:
5
g
Fat:
8
g
Saturated Fat:
4
g
Trans Fat:
1
g
Cholesterol:
27
mg
Sodium:
127
mg
Potassium:
91
mg
Fiber:
1
g
Sugar:
9
g
Vitamin A:
240
IU
Vitamin C:
1
mg
Calcium:
37
mg
Iron:
2
mg