Mango pancakes are the BEST fruity pancakes for summer. They are soft and fluffy, easy to make, and are packed with delicious chunks of mango. Serve them for breakfast, add them to the lunchbox, or enjoy them for dessert or brunch!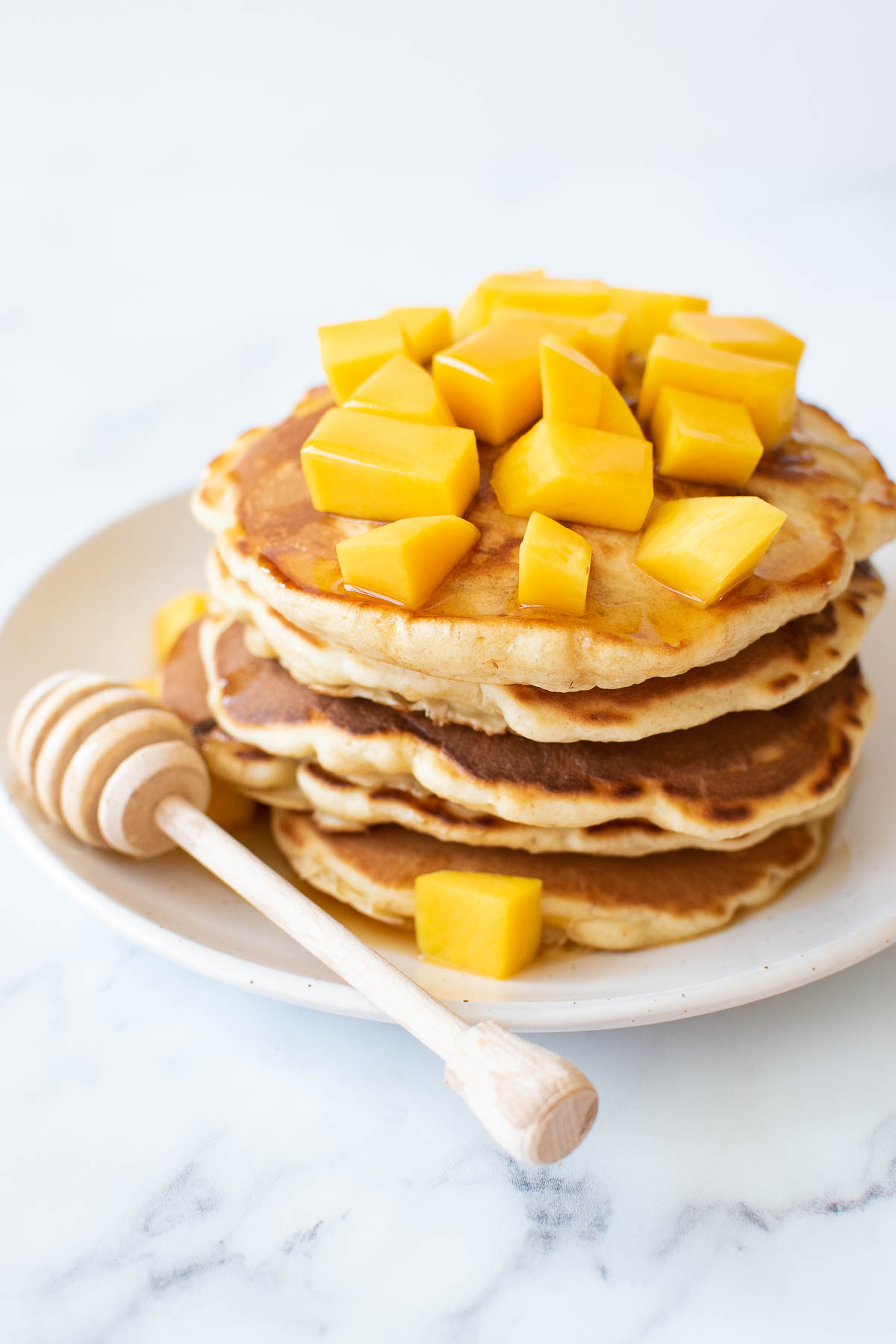 Jump to:
This post may contain affiliate links. Read more about it in the privacy policy.
The latest addition to my collection of healthy pancakes and waffles are these amazing mango pancakes. I have experimented a lot with adding different ingredients to pancakes, and let me tell you; mango is definitely a winner!
The soft and fluffy pancakes are so easy to make and taste great. With the addition of mango chunks in the batter, AND serving the pancakes with even more mangoes on top, this double mango breakfast is packed with flavor. It's also a great way to enjoy more fruit in the morning.
Why you'll love it
Easy to make
Affordable ingredients
Dairy free and nut free
Kid-friendly and kid approved
Perfect breakfast, brunch or dessert recipe
Really fluffy
Packed with juicy mango
Ingredients
Flour: I use all-purpose flour, but you can also use whole wheat flour, or a combination of the two.
Milk: Use any milk that you like. Oat milk, cow's milk, soy milk or almond milk will all work well.
Eggs: The eggs help the pancakes stick together.
Banana: The banana improves the textures in the pancakes, and give them a natural sweetness. This means that we don't have to add any other sweeteners!
Mango: Use ripe, in-season fresh mango for the best results.
Baking powder: Makes the pancakes rise and become thick and fluffy.
Salt: A pinch of salt balances the sweetness, and give the pancakes a more pancake-y flavor.
Vegetable oil: A little oil will prevent the pancakes from sticking to the pan. You can also use melted butter if you prefer.
Optional sweetener: If you like your pancakes really sweet, you can add a little brown sugar, honey, agave nectar or maple syrup. This ingredient is completely optional.
Instructions
You can find full instructions + ingredient measurements in the recipe card at the bottom of this page
One: Mash banana into a mixing bowl, and add finely diced mango.
Two: Add milk and eggs to the bowl. Whisk together the ingredients.
Three: Add the remaining ingredients. Stir to combine the ingredients.
Four: Warm up some oil in a skillet on medium to low heat. Add a spoonful of the pancake batter, and cook until the pancake is set and golden on the bottom. Then, flip and cook for about a minute on the other side, or until golden. Repeat this step until all the pancake batter has been used.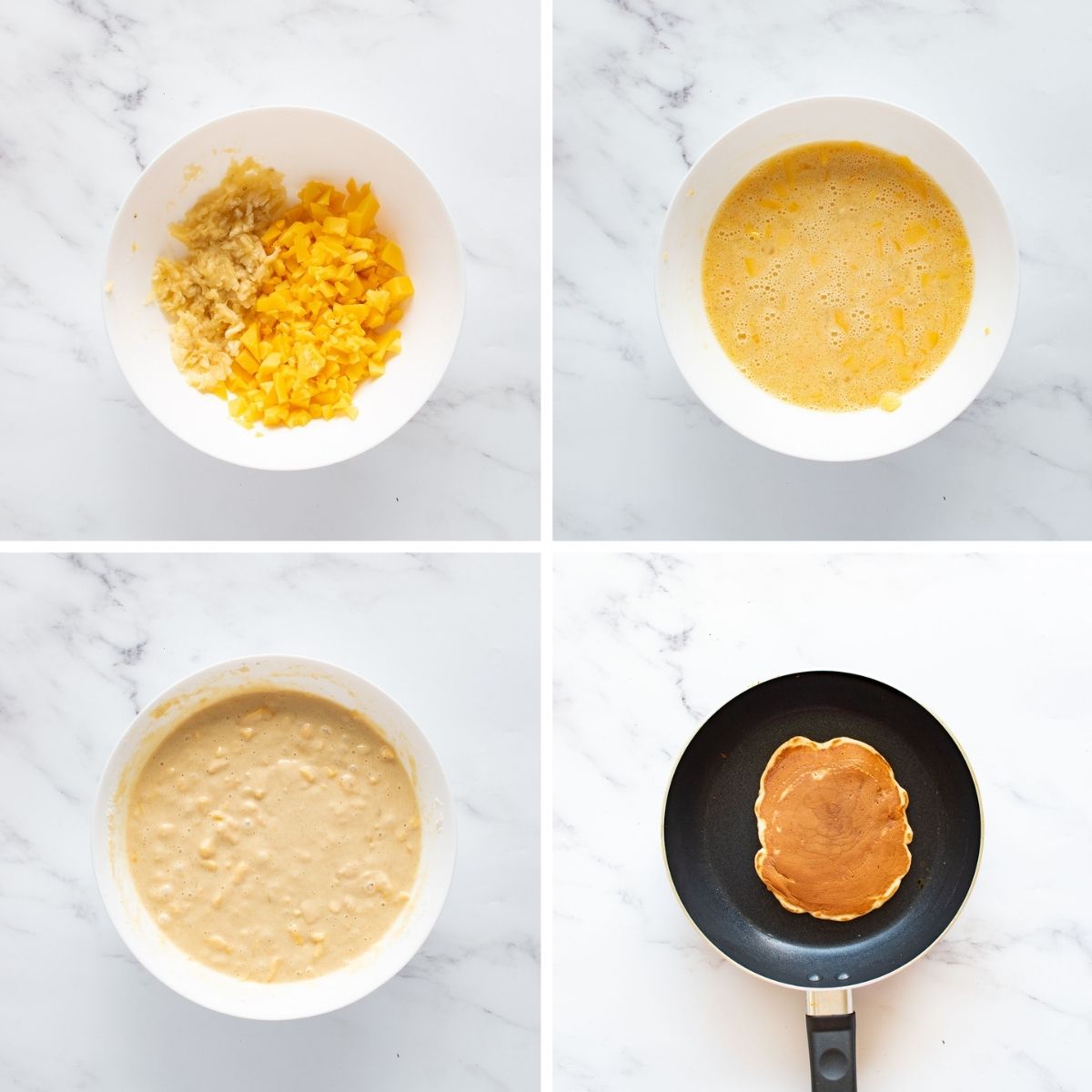 Top tips
Use really ripe bananas, as they are easier to mash.
Make sure to dice the mango into very small pieces to evenly distribute them throughout the pancakes.
Carefully cook the pancakes on medium to low heat. If the temperature is too high, they will burn quickly.
Keep the cooked pancakes covered under a clean kitchen towel or aluminum foil. This will keep all pancakes warm until you have cooked them all.
Serving suggestions
Pancakes are often served for breakfast, but they are also an excellent dessert or brunch. These pancakes are amazing served with diced mango and maple syrup on top, but you can also top them with a sweet spread.
Here are some of my favorite spreads to pair with mango pancakes:
For a dessert version, I also recommend adding shredded coconut, whipped cream, icing sugar or chocolate sauce!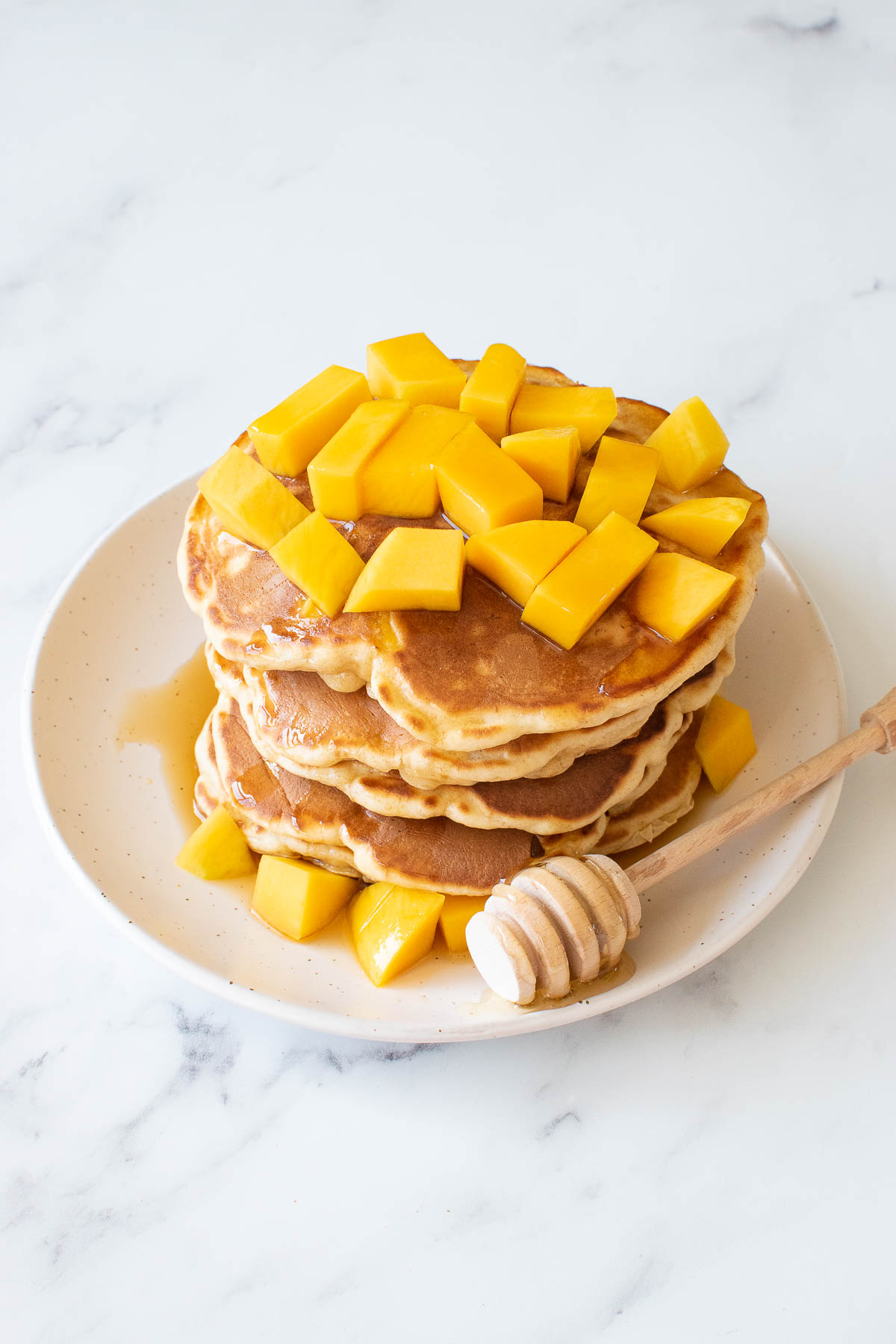 Variations
Double mango: Increase the mango flavor by substituting half the milk for mango juice instead.
Add some seasoning: Try adding ½ teaspoon cinnamon, or a pinch of chili powder for a little added flavor.
Other flours: You can make this recipe using all-purpose flour or whole wheat flour. I have not tested the recipe using any other types of flour, but if you try it, let me know how it works!
Leftovers
Store leftover mango pancakes in a refrigerator for up to 3 days. You can serve the pancakes cold, or reheat them in a microwave and skillet for a few seconds if you like them warm.
I love to cook a batch of pancakes to eat throughout the week. It's such a great
Frequently asked questions
What makes pancakes fluffier?
Pancakes are made fluffier by using rising agents like baking powder and baking soda. Making a thick pancake batter also helps!
Why is the first pancake always bad?
Perfect golden brown pancakes require two things: an even distribution of heat on the cooking surface, and an even distribution of oil or butter. The first pancake tends to be a little discolored because the surface and grease haven't evened out yet. Cooking the first pancake will assist in distributing the grease evenly, which means that the following pancakes tend to turn out better.
Is it better to cook pancakes in butter or oil?
Vegetable oil is usually the best choice for cooking pancakes. Avoid using flavored oils like olive oil, as this can give your pancakes a funny flavor. You can also use butter, but be careful as regular butter can burn in the pan and make the pancakes taste bad.
Is it better to cook pancakes on low or high heat?
Medium heat is best! Cooking pancakes on low heat means that they won't be golden brown. If the pan is too hot, this will not necessarily cook the pancakes faster, but rather cook them unevenly or burn them on the outside. Stick to medium for the best result.
You might also like these recipes
If you make this recipe, make sure to post a photo to Instagram with #hintofhealthy!
Recipe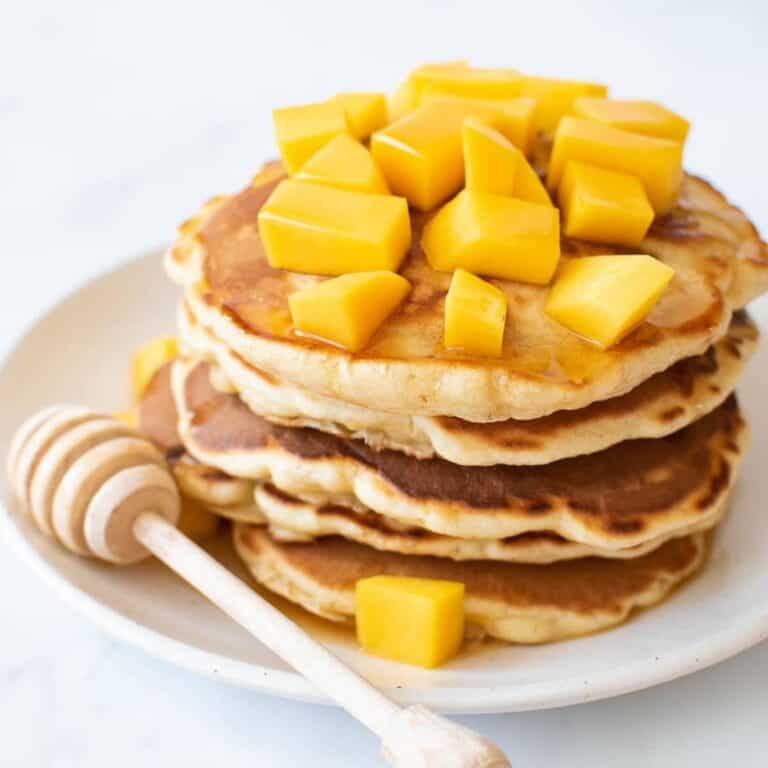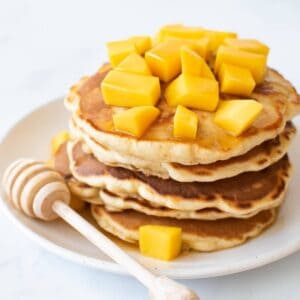 Mango Pancakes
These fluffy mango pancakes are perfect for breakfast, brunch or dessert. They are really easy to make, and packed with delicious chunks of mango.
Instructions
Mash a banana into a mixing bowl, and add a finely diced mango.

Add eggs and milk to the mixing bowl, and use a whisk to combine the ingredients.

Add flour, baking powder and salt. Stir to combine, and to remove any lumps.

Heat up a little vegetable oil in a skillet on medium heat.

Add a large spoon of the pancake batter to the pan or skillet, and cook for about a minute, or until the pancake is set, and golden on the bottom. Flip, and cook until the other side is golden.

Set the pancake to the side, and repeat the process until the pancake batter is completely used. Depending on the size of your pancakes, this recipe should make about 10 pancakes.
Notes
Store the pancakes in a sealed container in a refrigerator for up to 3 days. Reheat them in a microwave, or serve them cold.
Milk: You can use any milk that you like, including cow's milk, soy milk or almond milk.
Nutrition
Calories:
147
kcal
Carbohydrates:
23
g
Protein:
4
g
Fat:
5
g
Saturated Fat:
1
g
Trans Fat:
1
g
Cholesterol:
49
mg
Sodium:
117
mg
Potassium:
126
mg
Fiber:
1
g
Sugar:
6
g
Vitamin A:
340
IU
Vitamin C:
9
mg
Calcium:
87
mg
Iron:
1
mg