These amazing quark pancakes are fluffy, soft and delicious. They are easy to make with only 5 ingredients, and the perfect choice for a healthy brunch or breakfast.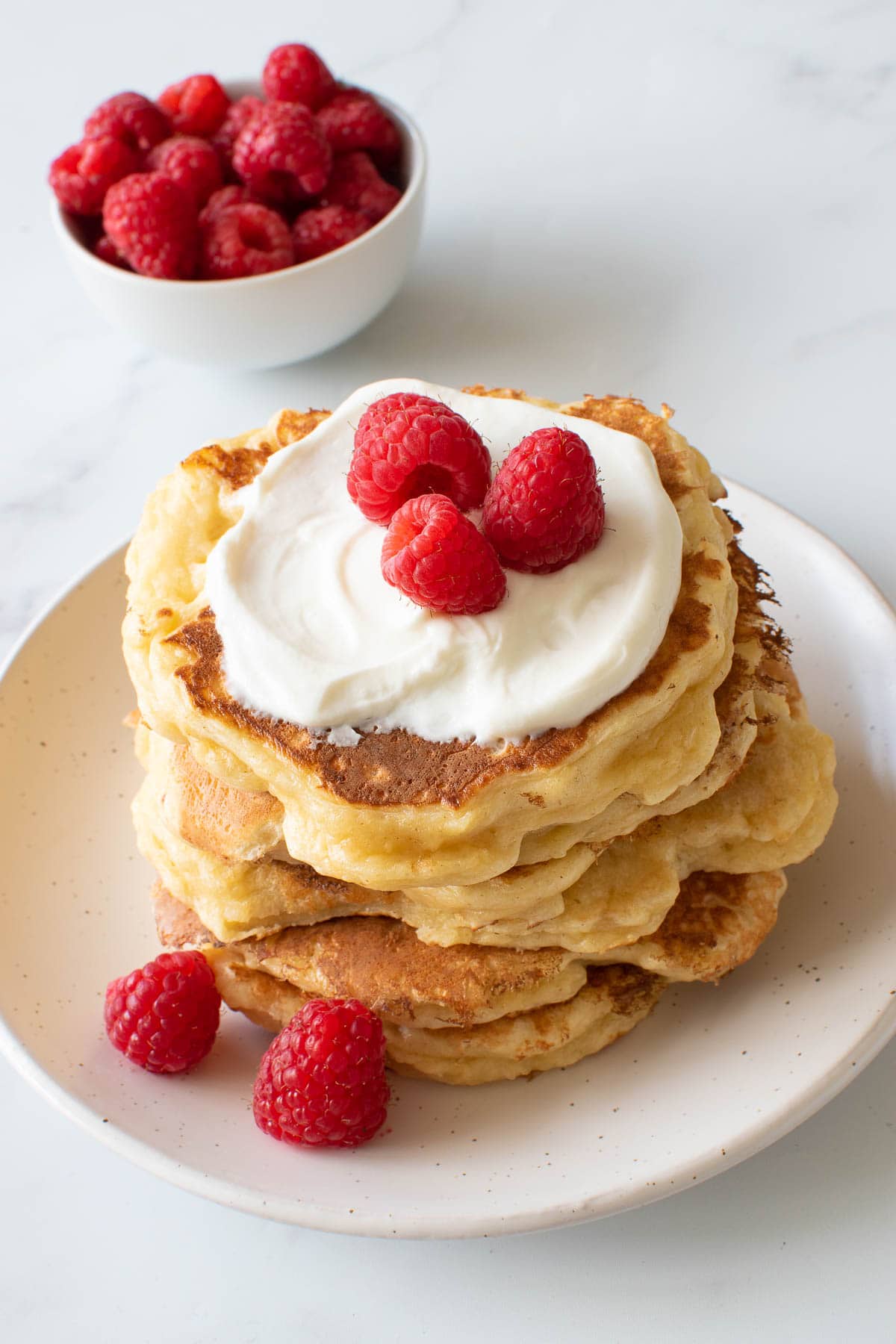 Jump to:
This post may contain affiliate links. Read more about it in the privacy policy.
Quark, or quarg, is a dairy product commonly used in several European countries. It has become a lot more popular in recent years due to its high protein content.
The texture of quark is almost like a thick, soft yogurt, or somewhere in between cream cheese and yogurt.
These pancakes are some of the softest pancakes I have ever made. This is the perfect healthy pancake recipe for beginners, and you can customize it however you like.
If you want to try some other European pancakes, you will love my Norwegian Pancakes!
Why you'll love it
Easy to make
Only 5 ingredients needed
Kid friendly
Higher protein than most pancakes
🥞 More PANCAKES AND WAFFLES from Hint of Healthy
Ingredients
All-purpose flour: This is also known as plain flour, or regular wheat flour. A traditional flour to use in pancakes. You can also try using whole wheat flour, although this will slightly alter the texture of the pancakes.
Quark: You can find quark, quarg or kvarg in the refrigerated dairy section in most major supermarkets. Use plain quark, or a flavored version if you prefer.
Eggs: Help the pancakes hold their shape.
Baking powder: Allows the pancakes to rise.
Vanilla extract: Adds a little flavor. You can omit this if you like.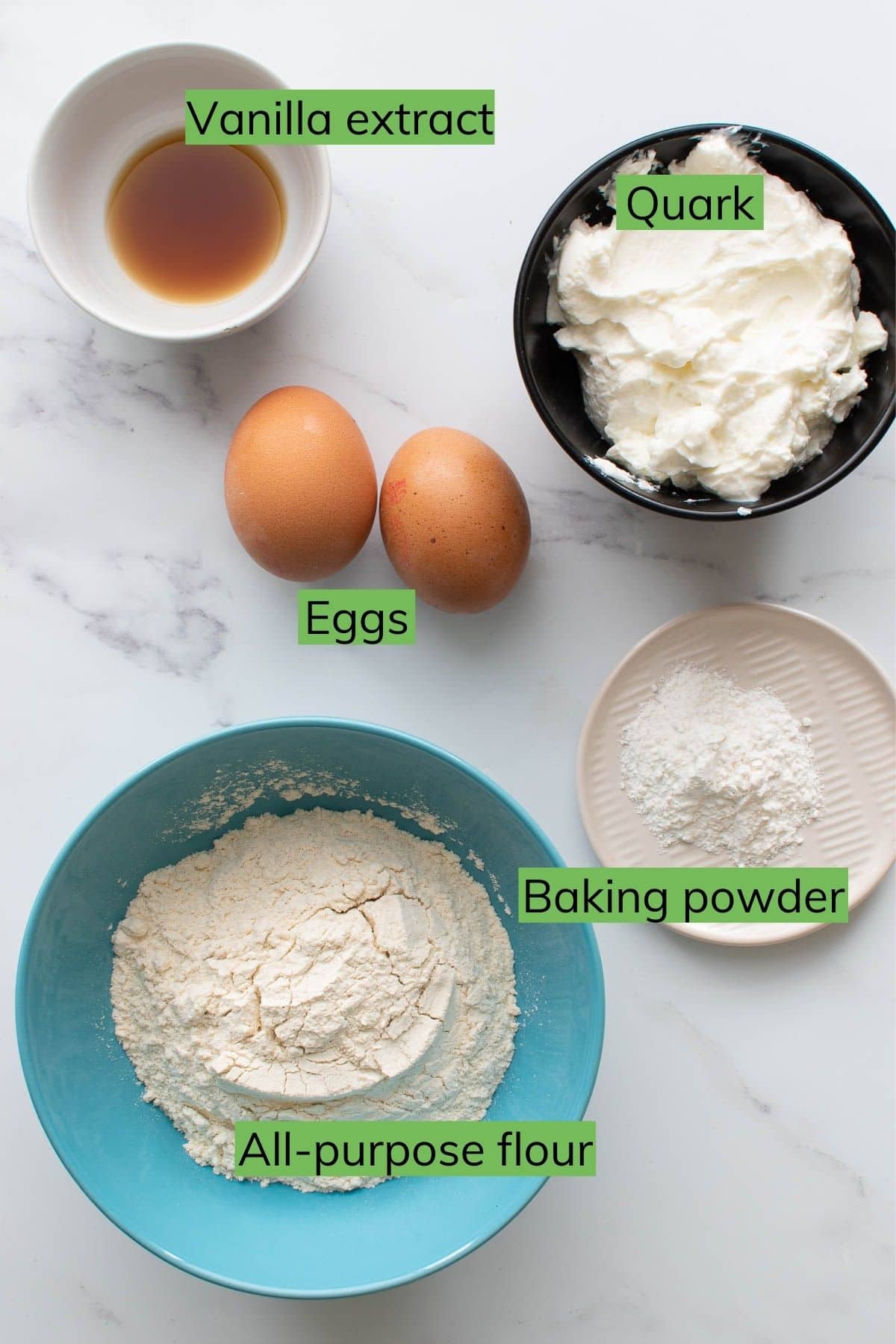 Instructions
You can find full instructions + ingredient measurements in the recipe card at the bottom of this page
One: Combine all ingredients evenly in a mixing bowl.
Two: Heat up a little olive oil or vegetable oil in a skillet or frying pan. Spread the thick pancake batter onto the skillet with the back of a spoon, and cook until golden on both sides. Repeat to make multiple pancakes.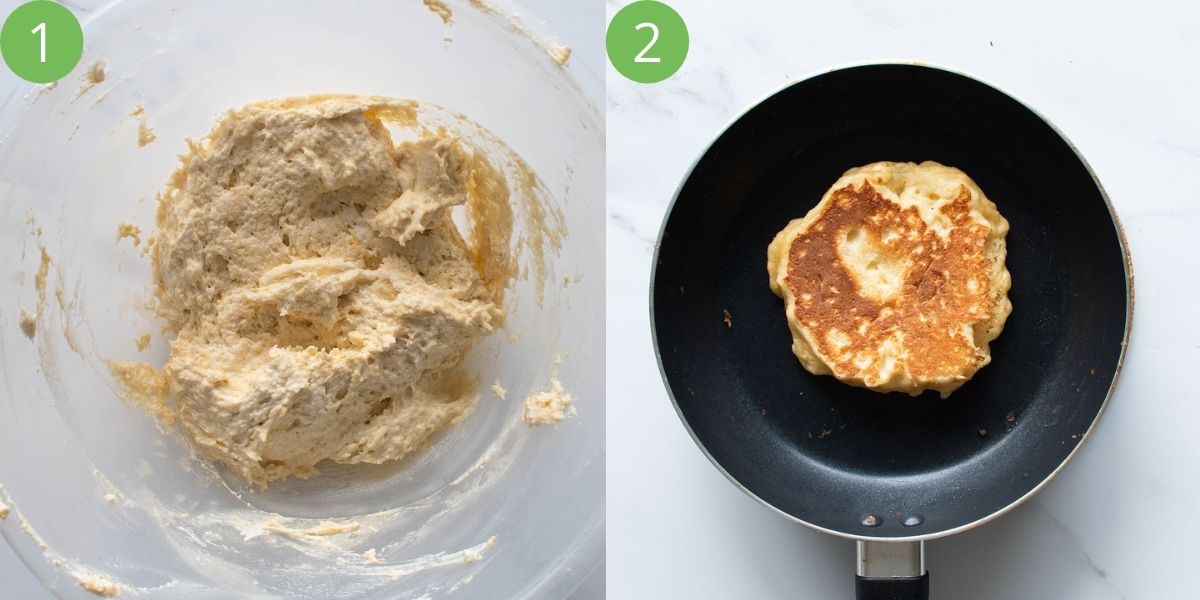 Top tips
Make sure to preheat the skillet with the oil for an even cooking result
The pancake batter will be very thick. I like to use two spoons to spread it across the skillet.
The thicker the pancake, the longer the cooking time.
Use a wide spatula to flip the pancakes.
This recipe makes 6 regular pancakes. You can adjust the size as needed.
Cover the cooked pancakes with a clean kitchen towel to keep them warm until you're ready to serve them.
If you like extra sweet pancakes, you can sweeten them by adding a little honey or real maple syrup. Alternatively, serve the pancakes with maple syrup on top!
🥞 More PANCAKES AND WAFFLES from Hint of Healthy
Serving suggestions
I love to serve pancakes for breakfast or dessert. Quark pancakes is a great option for a Mother's Day brunch, or to treat anyone who likes pancakes.
Toppings are the best part of pancakes in my opinion. Pancakes are often topped with fresh fruit or berries, chocolate, cream, yogurt, or a variety of sweet spreads. Here are some of my favorite recipes to pair with these pancakes: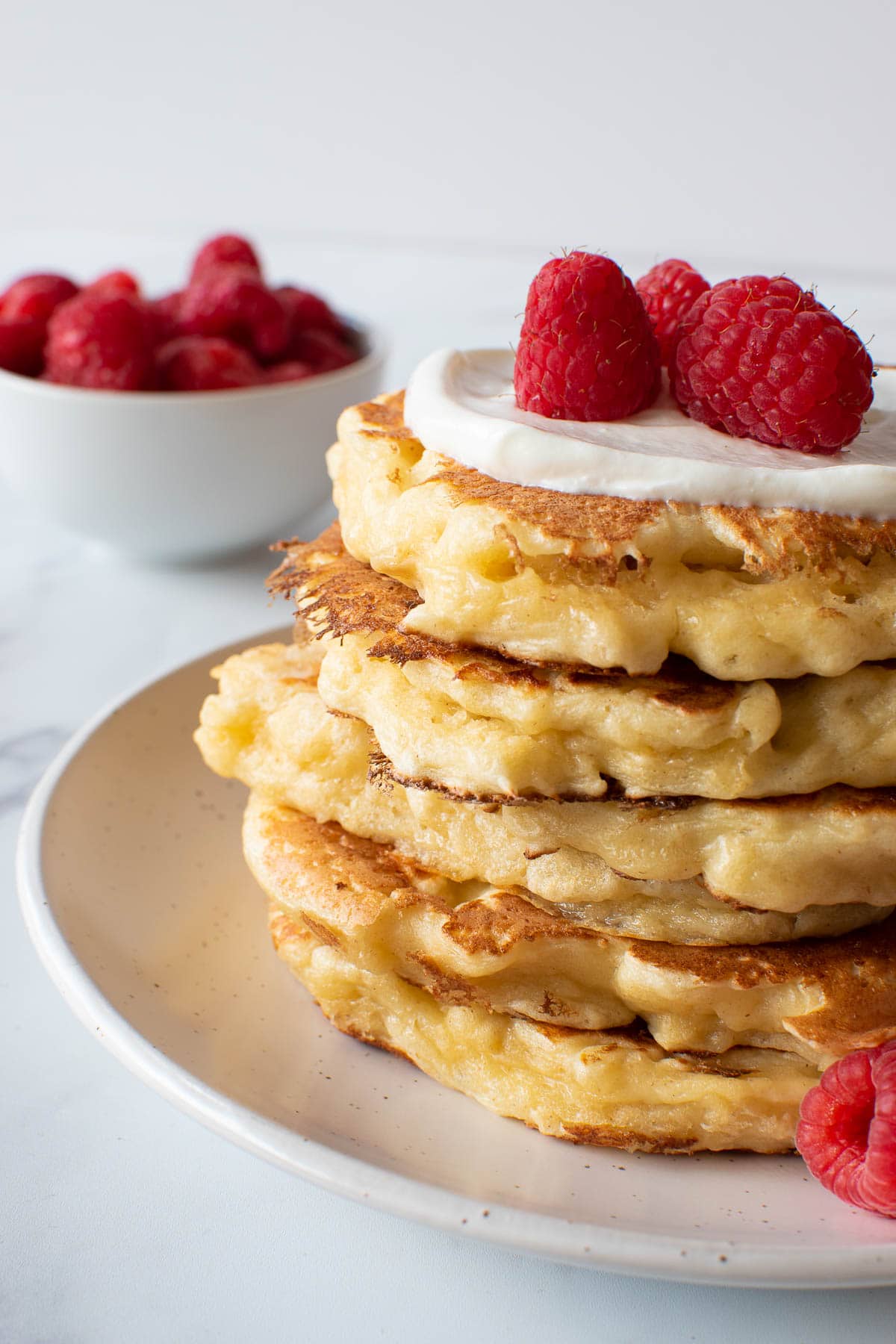 Variations
Various flavors: You can add flavor to your pancakes by using flavored quark, flavor extracts or liquid flavorings like lemon juice. My personal favorites are white chocolate quark and raspberry quark.
Stuffed pancakes: Add fillings to the pancake batter. Chocolate chips, diced fruit or berries, sprinkles, peanut butter, diced nuts or herbs are all excellent options.
Mini pancakes: Mini pancakes are more fun to eat! To make them mini, simply cook smaller pieces of batter. The mini pancakes often cook faster than the larger version.
Leftovers
You can store leftover quark pancakes in a sealed container in a refrigerator for up to 4 days. Reheat them in a microwave or skillet, or simply serve them cold.
I love to make these pancakes ahead of time, and often make a double batch to enjoy over multiple days. This is a great way to prepare breakfast in advance to save time in the morning.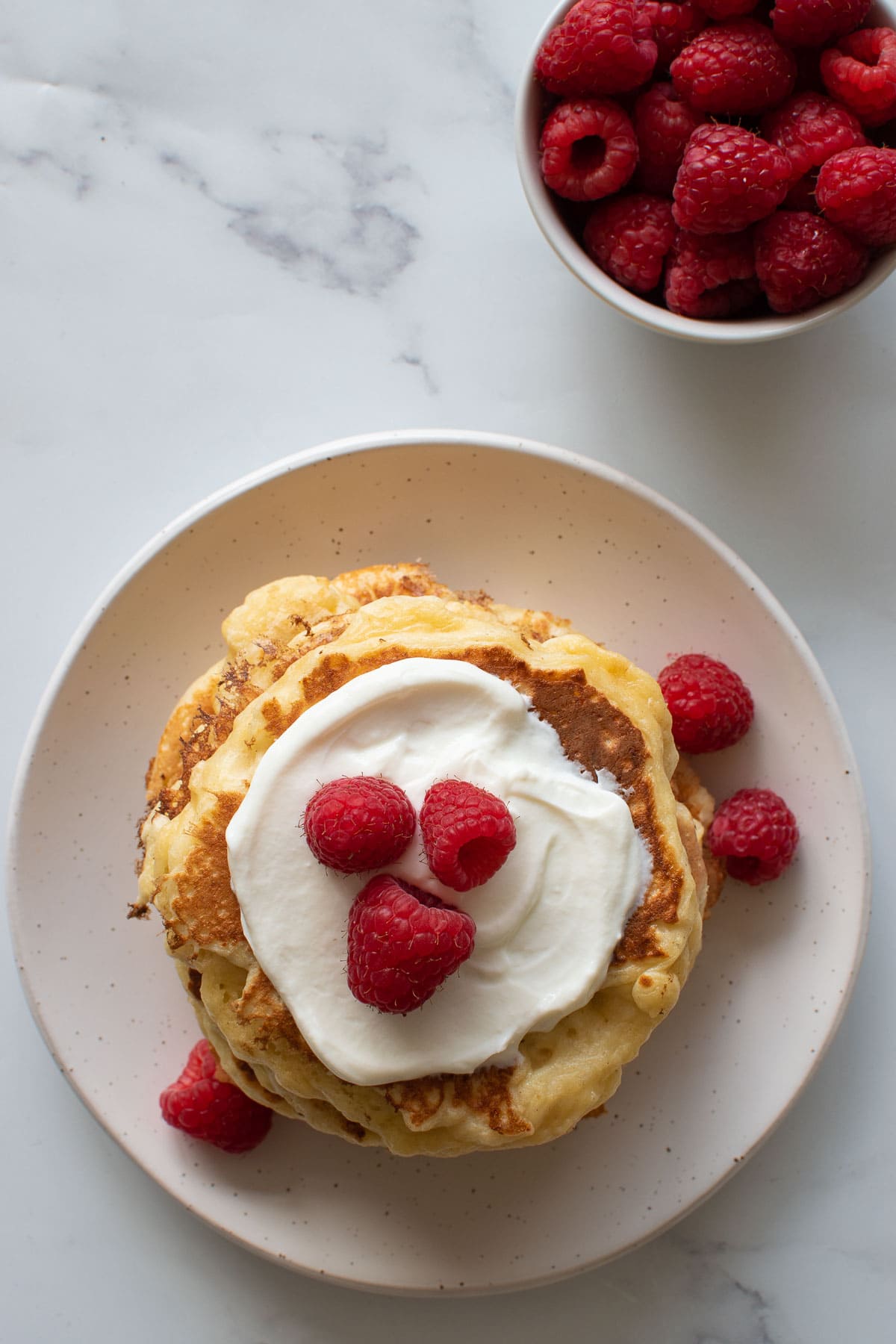 Frequently asked questions
Can you eat quark for breakfast?
Absolutely. Eat quark for breakfast instead of yogurt, or use it to make amazing breakfast pancakes.
How is quark made?
Quark is made by warming soured milk until it curdles, or solidifies, then straining it.
Can you freeze quark?
Freezing quark is not recommended, as this will ruin the texture.
Where do I buy quark?
You can buy quark from many large supermarkets in Europe, or from the International section in other countries. You can also find it in most Eastern European stores. It's often placed near other dairy products.
You might also like these recipes
If you make this recipe, make sure to post a photo to Instagram with #hintofhealthy!
Recipe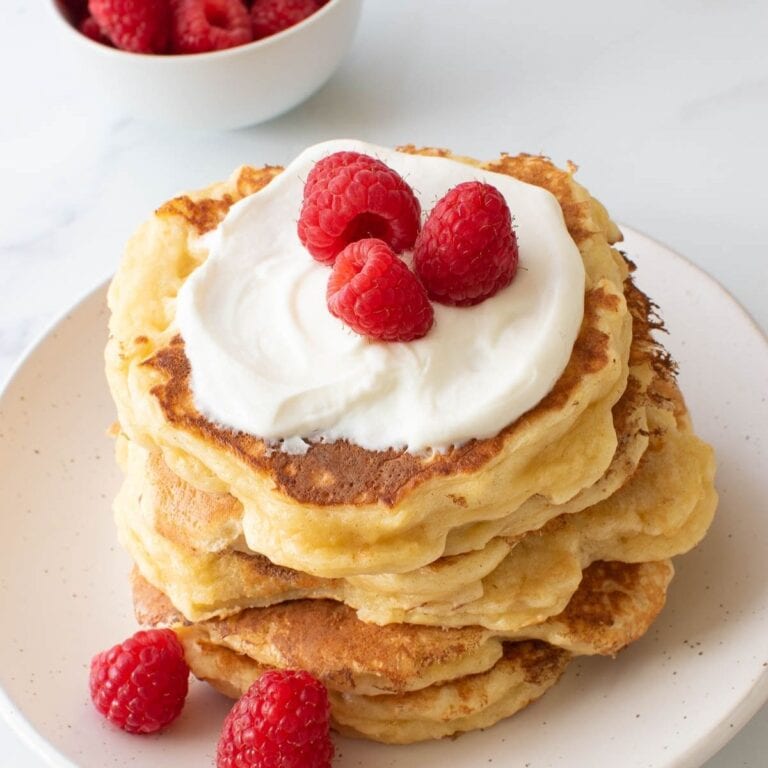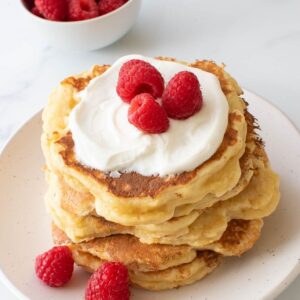 Quark Pancakes
These fluffy quark pancakes are made in 15 minutes, and only require 5 ingredients. Serve these high protein pancakes for breakfast, brunch or dessert!
Notes
Store leftover pancakes in a refrigerator for up to 4 days.
Serve your pancakes with your favorite toppings! I love fresh fruit, jam, chocolate spread or peanut butter on mine.
Nutrition
Calories:
110
kcal
Carbohydrates:
13
g
Protein:
9
g
Fat:
2
g
Saturated Fat:
1
g
Trans Fat:
1
g
Cholesterol:
55
mg
Sodium:
144
mg
Potassium:
36
mg
Fiber:
1
g
Sugar:
2
g
Vitamin A:
79
IU
Calcium:
69
mg
Iron:
1
mg