Your kids will love decorating these fun santa pancakes! Create your own unique version of a santa claus face using sliced fruit, berries and whipped cream. Perfect for a fun brunch throughout December, or for your Christmas breakfast.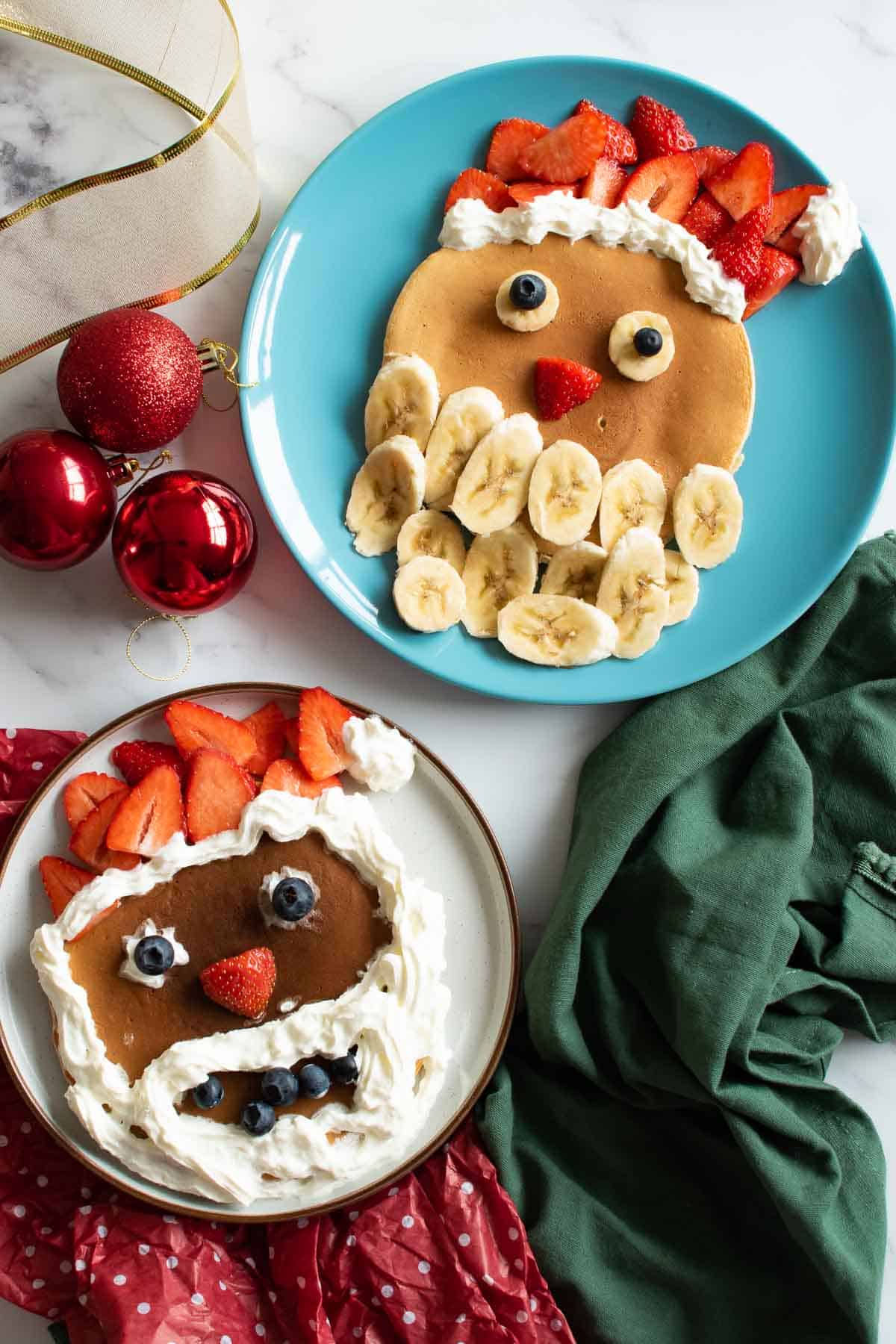 Jump to:
This post may contain affiliate links. Read more about it in the privacy policy.
These easy Santa pancakes are really easy to make for both kids and adults. Fluffy pancakes are decorated to look like a santa face, using whipped cream, strawberries, blueberries and bananas to create the santa hat, beard, eyes and nose.
Making these is the perfect activity for a fun Christmas morning, and a great way to spend some quality time for breakfast. I use my favorite easy homemade pancakes, but you can use your favorite pancake recipe. The fun part is decorating them however you like.
Why you'll love it
Fun and creative Christmas breakfast
Both kids and adults will love decorating them
Use your favorite pancake recipe, or store bought pancakes
You can make the pancakes ahead to save time
Use whichever ingredients you like; there are plenty of options available
Perfect for a festive breakfast or brunch in December
Turn any plain pancake into special Christmas pancakes with a few toppings
🥞 More PANCAKES AND WAFFLES from Hint of Healthy
Ingredients
Milk: Use any milk that you like. Oat milk is my personal favorite, but skim milk, whole milk, soy milk or almond milk also works well.
All-purpose flour: Also known as plain flour, this is the best flour for making pancakes. Use a gluten free version if you want, or whole wheat flour for a healthier version.
Vegetable oil: Prevents the pancakes from sticking to the skillet or frying pan. You can also use canola oil, coconut oil, avocado oil, olive oil or melted butter.
Cinnamon: Adds flavor to the pancakes. You can omit this, or replace it with gingerbread spice or vanilla extract if you prefer.
Salt: A pinch of salt adds more flavor to the pancakes.
Eggs: Binds the other ingredients together, and allows the pancakes to keep their shape. You can also use an egg replacer, or try my Eggless Pancakes as an alternative.
Sugar: Makes the pancakes sweeter. You can omit this, or replace with any sweetener of your choice, like stevia, honey or maple syrup.
Baking powder: Makes the pancakes nice and fluffy. Don't confuse this with baking soda, as these are different items.
Bananas: Sliced bananas can be used to create eyes, beard or hair on your santa pancakes.
Whipped cream: Whipped cream is great for creating the beard, hair, or parts of the santa hat. You can also use it as a form of glue to make the fruit stick to the pancakes.
Blueberries: Use blueberries to create the eyes, nose and mouth. You can also use chocolate chips or blackberries instead.
Strawberries: Sliced strawberries are perfect for making the santa hat, nose and mouth. You can also use raspberries instead.
💡 TIP! You can use any toppings you like, and not just the fruit suggested in this recipe. See the Toppings section below for more ideas.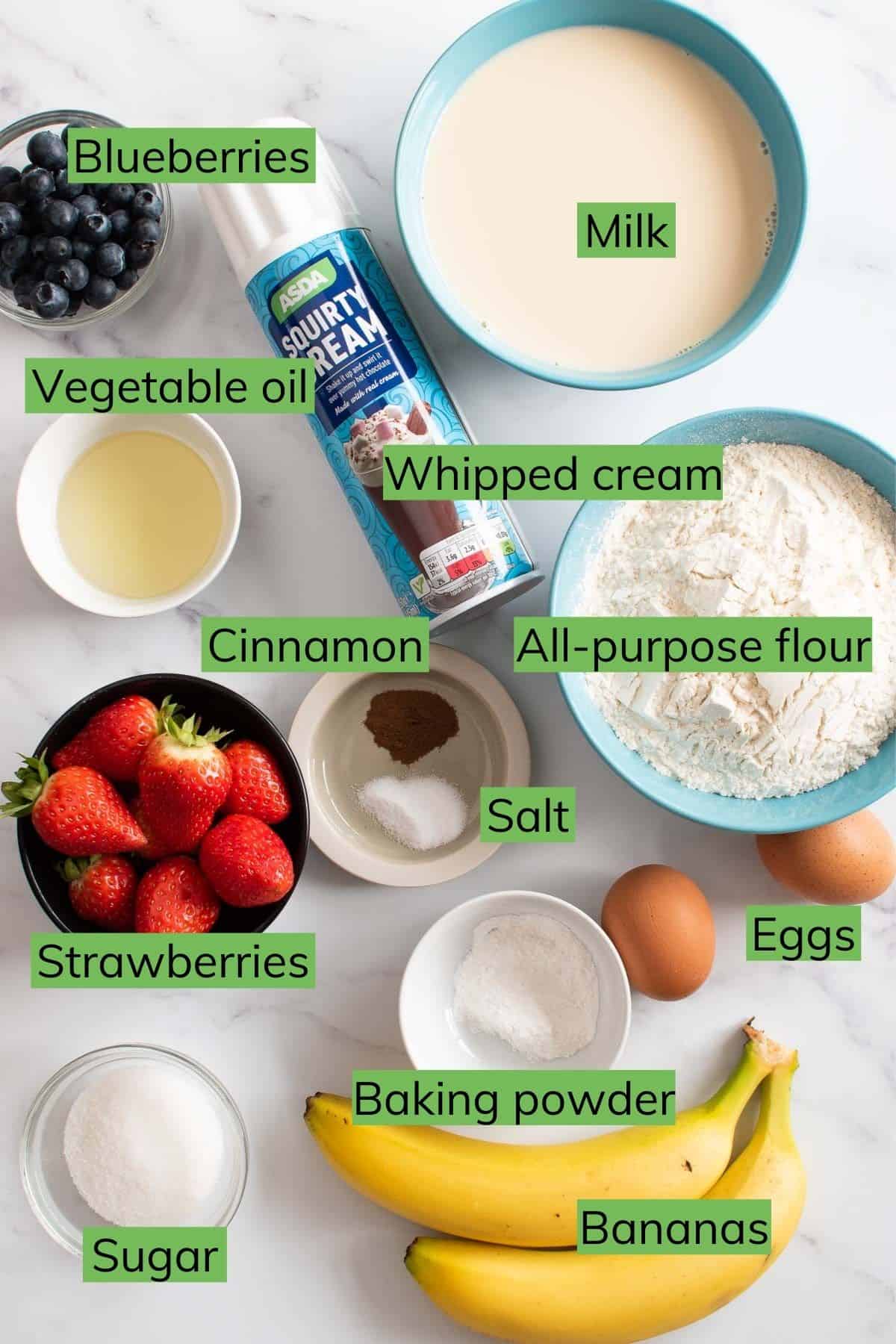 Instructions
You can find full instructions + ingredient measurements in the recipe card at the bottom of this page
One: Combine the dry ingredients in a large bowl. Then, add the wet ingredients. Whisk these together to create a simple pancake batter.
Two: Warm up the vegetable oil in a skillet over medium heat. Add a ladle of pancake batter to the skillet, and cook until the batter is completely solid, and golden brown on the bottom. Use a spatula to flip the pancake, and repeat until the other side is golden brown as well. Repeat these steps to cook as many pancakes as you like.
Three: Wash and slice the fruit, and place them on a table. Decorate the pancakes however you like! Spray whipped cream to create santa's beard, and use fruit to make the hat, eyes, nose and mouth.
💡 TIP! Adjust the size of the pancakes by using a smaller or larger skillet, or adjust the amount of pancake batter used for each pancake.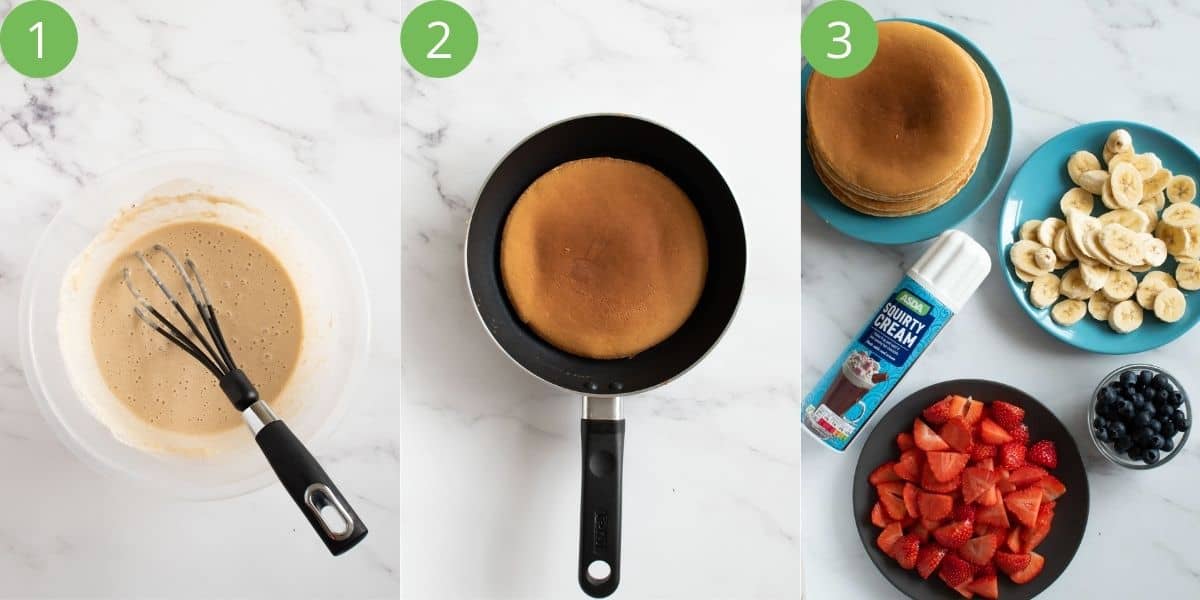 Top tips
I like to use a smaller skillet to prevent the pancakes from getting too big. You can use any size frying pan that you like.
It might be helpful to allow the pancakes to cool down slightly before you decorate them. This can prevent the whipped cream and any other toppings from melting.
Use any toppings that you like! Choose your favorites.
Make the pancakes ahead of time, and store them in a refrigerator for quick and easy pancake breakfasts.
Feel free to use your favorite pancake recipe. Any pancakes can be decorated to look like santa.
To save time, you can also use premade or store bought pancakes.
Serving suggestions
Santa pancakes are best served for breakfast, brunch, or as a treat during December. They are particularly great to serve as a Christmas breakfast, or maybe on the morning before Christmas.
The pancakes are very plain, as you decorate them with a variety of flavorful toppings. Select the toppings you like, such as carious sweet sauces, fruit, berries, candy, chocolates, marshmallows, chocolate chips and more.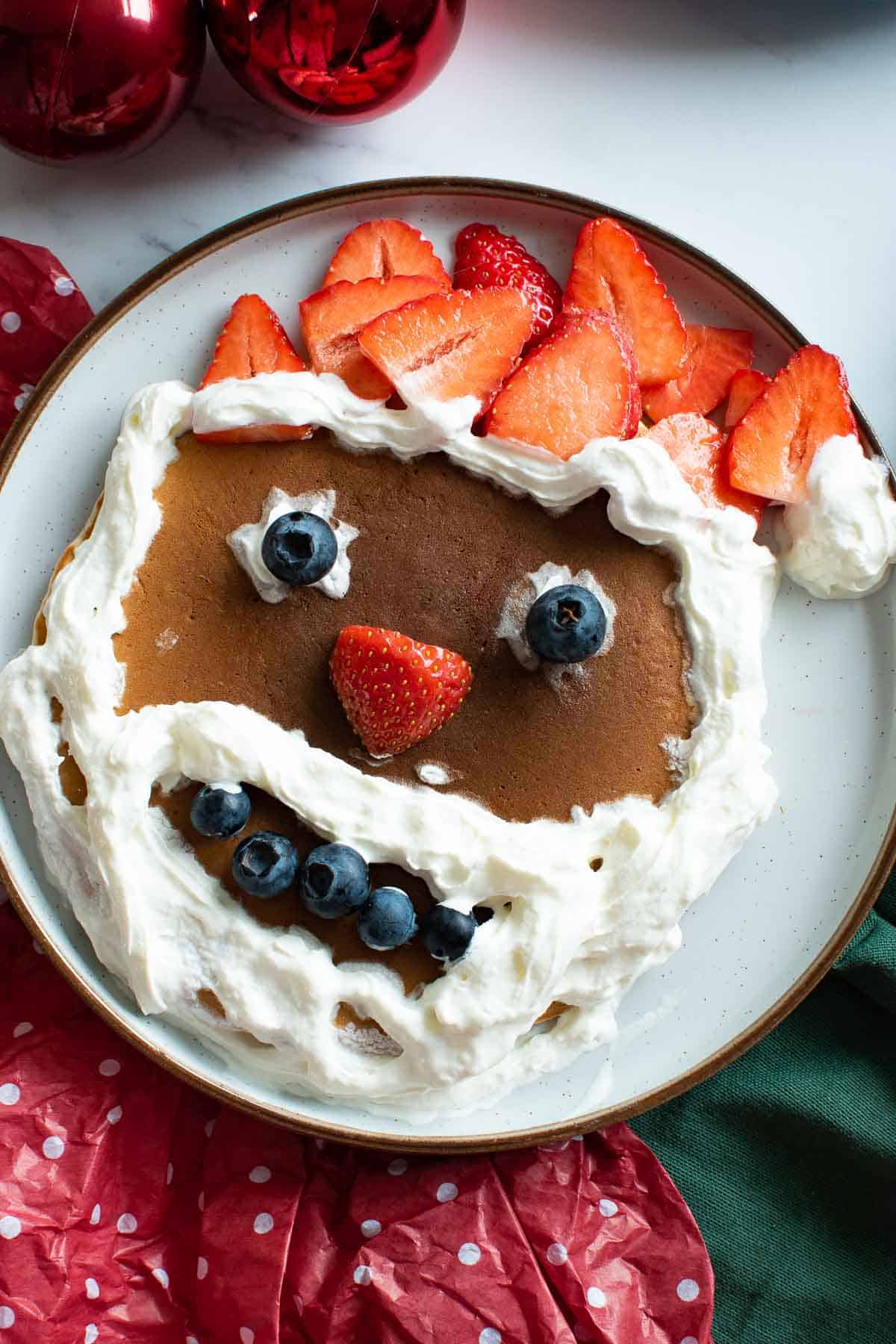 Variations
The pancake recipe can be adjusted to suit your preferences. Use gluten free alternatives to all-purpose flour to make a gluten free version.
You can also make the pancakes vegan by using oat milk and replacing the eggs with a vegan egg replacer. These can be found in many major supermarkets.
Feel free to make the pancakes healthier by using whole wheat flour, and omit the sugar if you wish.
Toppings
Santa hat: Use sliced strawberries, raspberries, or red candies like strawberry ribbons or red m&m.
Santa beard: Use sliced bananas (or Dried Banana Chips), whipped cream, marshmallows, or mini merengues.
Eyes: Whipped cream, marshmallows or banana slices are great to make the white parts of the eyes. Chocolate chips, blueberries, sliced kiwi, blackberries, raspberries, chocolate truffles or candies can be used to make the pupils.
Nose: Use any piece of fruit, a berry or a small piece of chocolate.
Mouth: You can make a cap in the beard to create a mouth. Use mini marshmallows or berries to create teeth. You can also use a piece of strawberry to create a tongue.
Extras: You can use chocolate sauce, whipped cream, twizzlers, chocolate chips or blueberries to make hair. Strawberry sauce or strawberry jam can be used as a blush to make rosy red cheeks. Chocolate sauce can be used to make glasses around the eyes.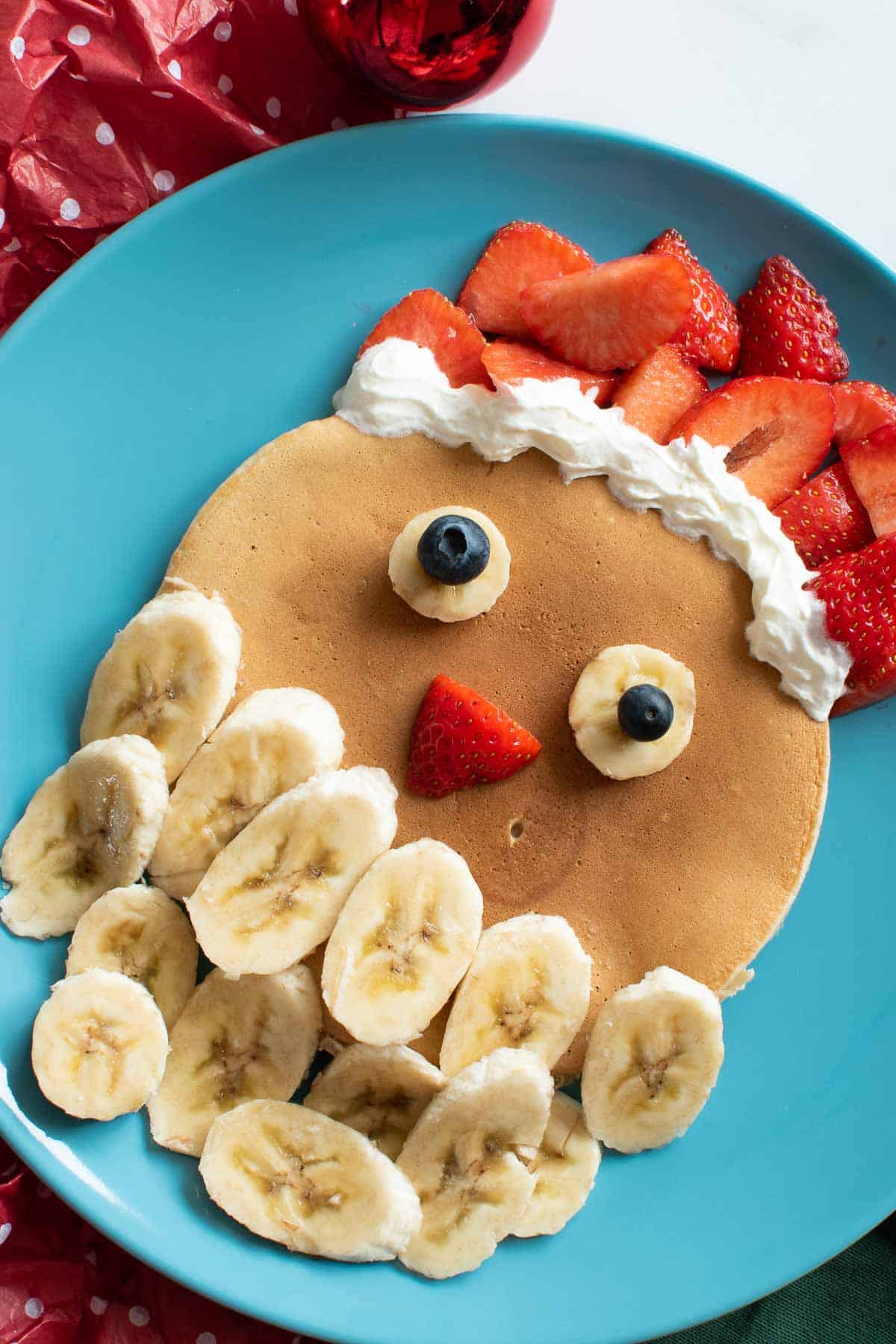 Equipment
To make these easy santa pancakes, you will need a skillet or frying pan to cook the pancakes. You will also need a mixing bowl and whisk to prepare the batter. A ladle and spatula will make it much easier to cook and flip the pancakes.
Additionally, you will need a cutting board and a sharp knife to prepare the fruit. It can also be helpful to place the prepared toppings in bowls or on plates before you start assembling the pancakes.
Storage
Store any leftover pancakes in a refrigerator for up to 4 days. You can reheat them in a microwave, or serve them cold. The pancakes can also be frozen for up to 3 months.
The toppings don't store as well as the pancakes, and I only recommend storing leftover prepared toppings, or decorated pancakes in a fridge for up to 1 day.
To save a little time in the morning, you can prepare the pancakes ahead of time. Prepare the fruits, and assemble the pancakes immediately before serving them.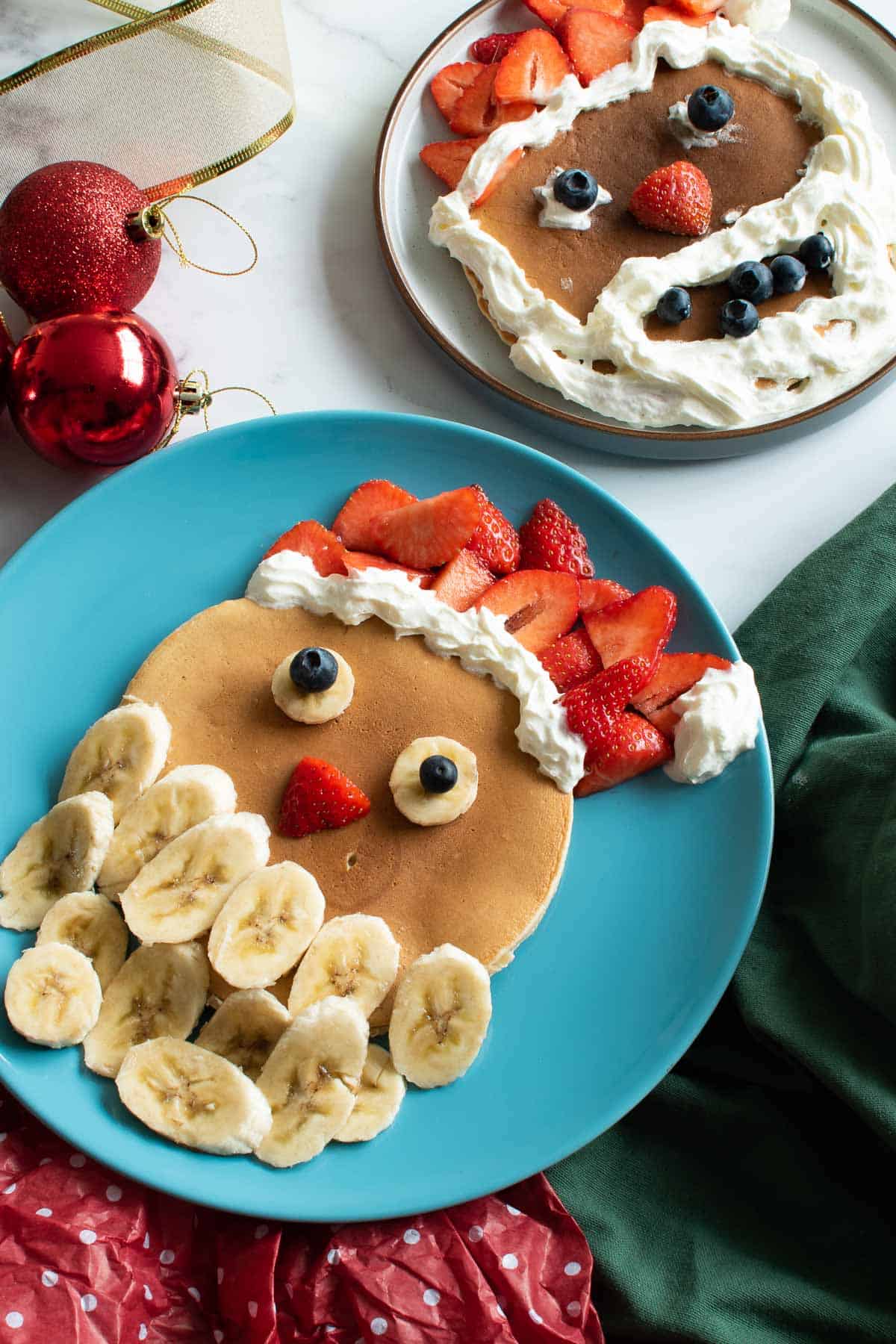 Frequently asked questions
Which pancakes are used for santa pancakes?
Santa pancakes are just decorated pancakes. You can use any regular pancakes to make them.
Are pancakes good as a Christmas breakfast?
Absolutely! Pancakes are perfect as an easy Christmas breakfast. Make them more special by decorating them to look like santa's face!
You might also like these recipes
If you make this recipe, make sure to post a photo to Instagram with #hintofhealthy!
Recipe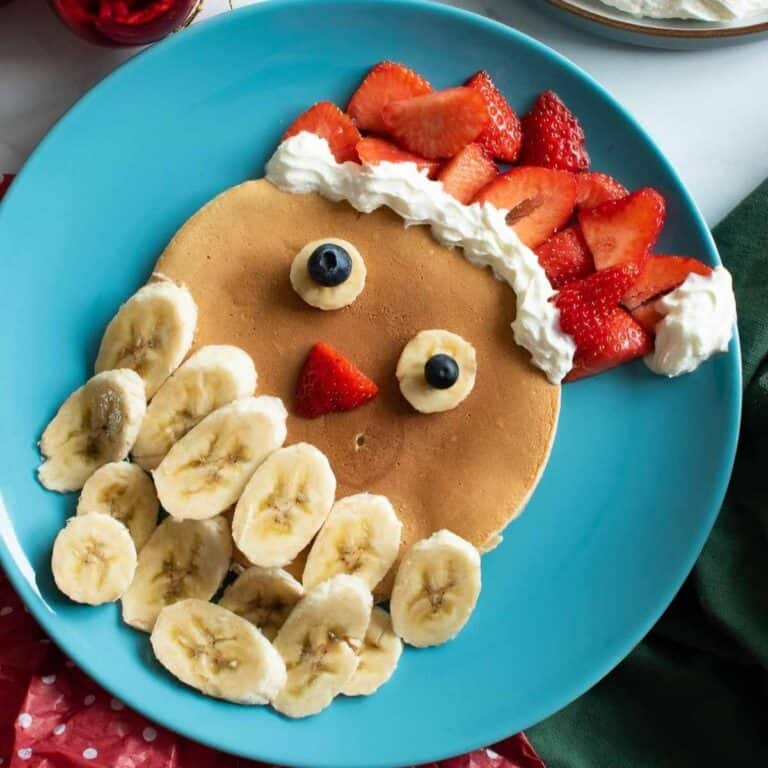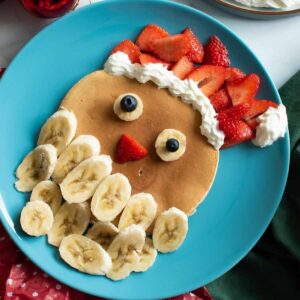 Santa Pancakes
These festive santa pancakes are super fun to make, and perfect for a delicious Christmas breakfast. Your kids will have fun decorating these easy homemade pancakes to look just like santa! Use your favorite toppings, for example whipped cream, strawberries or bananas.
Ingredients
Toppings
2

bananas

1

pound

strawberries

1

cup

blueberries

whipped cream
Instructions
Add the wet ingredients to a large mixing bowl, but only use 1 tablespoon vegetable oil. Whisk to combine.

2 cups oat milk,

2 large eggs,

3 tablespoons vegetable oil

Then, add the dry ingredients to the wet. Whisk to incorporate these evenly. Avoid overmixing them; it's fine if the pancake batter has a few small lumps.

1 tablespoon baking powder,

¼ teaspoon salt,

½ teaspoon cinnamon,

1 tablespoon sugar,

2 cups all-purpose flour

Add a little vegetable oil to your skillet. Warm it up over medium heat.

Add a ladle full of pancake batter to the skillet or frying pan. Spread it evenly across the skillet. Allow it to cook for a few minutes, until you can see that the batter is solidifying, and the bottom is turning golden brown. Then, use a spatula to flip the pancakes, and cook on the other side.

Proceed to cook pancakes until all batter is used. If the pancakes start sticking to the skillet, you can add a little more vegetable oil. The exact amount of pancakes you get can vary depending on how much batter you use in each pancake.

Prepare the fruit and toppings. Clean and slice them as required.

2 bananas,

1 pound strawberries,

1 cup blueberries,

whipped cream

Place the pancakes on individual plates, and decorate them with your toppings. You can use images for inspiration, or just decorate them however you like.
Notes
Store leftover pancakes for up to 4 days. The toppings don't last as long, and should only be stored for up to 1 day.
Use any toppings you like! You can also use chocolate chips, candy, marshmallows, raspberries, chocolate sauce or strawberry jam.
Make the pancakes ahead to save time in the morning.
Use oat milk for a vegan and dairy free option. 
Use whole wheat flour to make the pancakes a little more filling and wholesome.
Nutrition
Calories:
301
kcal
Carbohydrates:
61
g
Protein:
9
g
Fat:
3
g
Saturated Fat:
1
g
Polyunsaturated Fat:
1
g
Monounsaturated Fat:
1
g
Trans Fat:
1
g
Cholesterol:
62
mg
Sodium:
373
mg
Potassium:
384
mg
Fiber:
5
g
Sugar:
19
g
Vitamin A:
302
IU
Vitamin C:
50
mg
Calcium:
265
mg
Iron:
4
mg
Food safety tips