Can you make pancakes without eggs? Absolutely! These easy eggless pancakes are soft, delicious, and made with common ingredients. Perfect for breakfast, brunch, or as a delicious treat.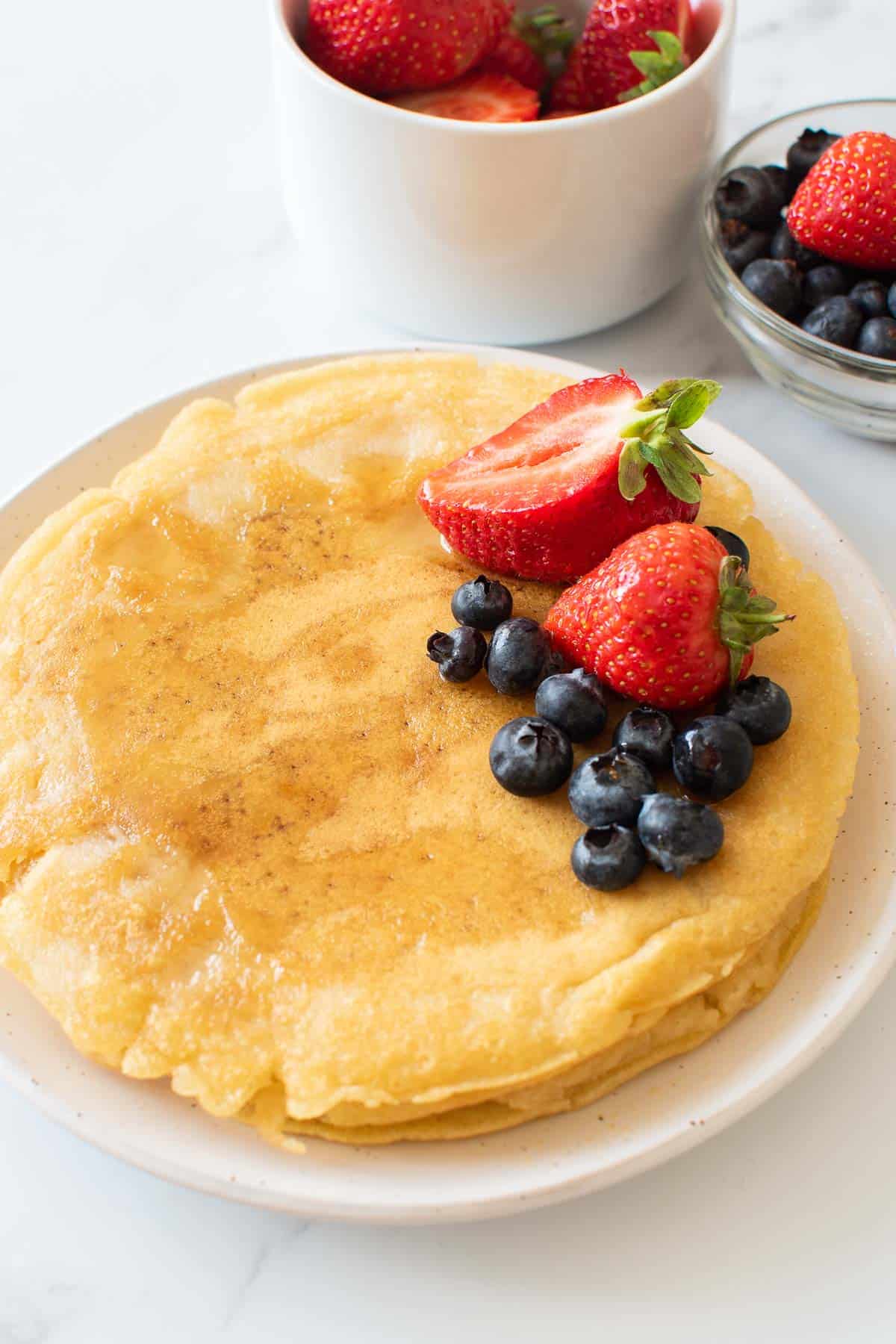 Jump to:
This post may contain affiliate links. Read more about it in the privacy policy.
These pancakes were made out of necessity: I was craving dessert, and had no eggs in the house. I had never made a pancake without eggs, but it was a bigger success than I imagined.
These pancakes are soft and fluffy. They are more fragile than regular pancakes, but the flavor is much softer. I also find that these pancakes soak up much more maple syrup than other pancakes!
Why you'll love it
Easy to make
Egg free, with a vegan option available
Made with common, and affordable ingredients
Perfect as a sweet breakfast, brunch or dessert
Really soft and fluffy pancakes
Perfect for kids and toddlers
Tastes like regular pancakes
🥞 More PANCAKES AND WAFFLES from Hint of Healthy
Ingredients
All-purpose flour: Whole wheat flour works too.
Milk: Any milk, like skim milk, oat milk or almond milk.
Baking powder: The key rising agent in the pancakes. Not to be confused with baking soda!
Water: Only a splash is needed.
Vegetable oil: Makes the pancakes soft and flexible.
Butter: Softens the pancakes. The butter has to be melted.
Vanilla extract: Adds a little flavor.
Salt: Brings out the flavor of the pancakes.
Sugar: I use granulated sugar, but brown sugar should work too. You might be able to use a sweetener like honey or maple syrup if you prefer, but I have not tried this.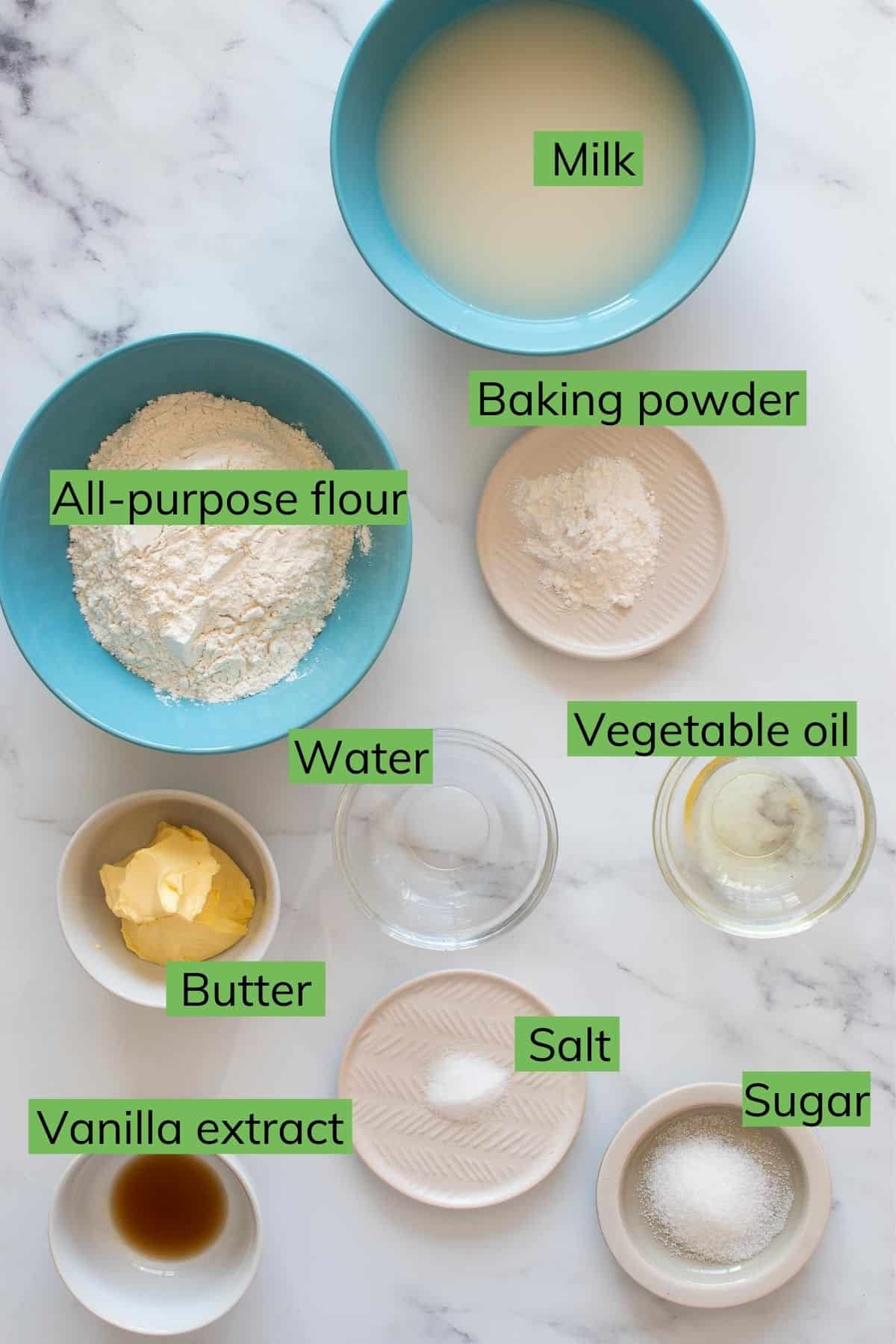 Instructions
You can find full instructions + ingredient measurements in the recipe card at the bottom of this page
One: Add the dry ingredients to a mixing bowl.
Two: Add the wet ingredients to the mixing bowl. Whisk to combine until the ingredients are just incorporated. Leave the batter to sit for at least 5 minutes, or overnight.
Three: Heat up some butter or vegetable oil in a small frying pan or skillet on medium heat. Ladle some pancake batter into it, and cook the pancakes.
When the pancake seems to take on a solid form, you can use a spatula to gently flip it. Cook until the pancake is golden brown on both sides.
💡 TIP! The pancake will be very soft when warm, and much more fragile than regular pancakes. Be very careful not to break them when you flip the pancakes. As they are cooling down, the texture will become denser.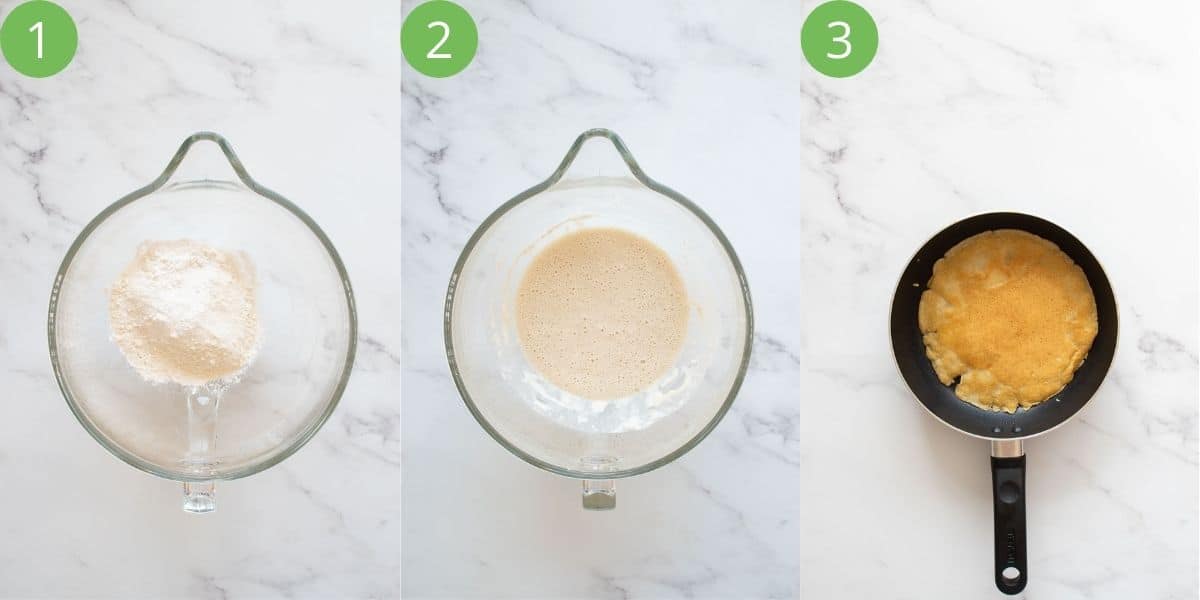 Top tips
Gently use a spatula to flip the pancakes.
The egg free pancakes will hold together better after they cool down slightly.
Leave the cooked pancakes under a clean kitchen towel to keep them warm as you finish making the other pancakes.
Add different seasoning, or use different toppings to change the flavor of the pancakes. See the Variations section below for suggestions.
The pancakes will be quite thin, and the batter spreads out in the pan. I like to use a smaller frying pan to make smaller pancakes. If you use a large pan, your pancakes will be larger, and you will make fewer of them.
Serving suggestions
Pancakes are best served for breakfast, brunch or dessert. These European pancakes are commonly served with sweet toppings or fillings, and often as a dessert or treat. Here are some of my favorite toppings: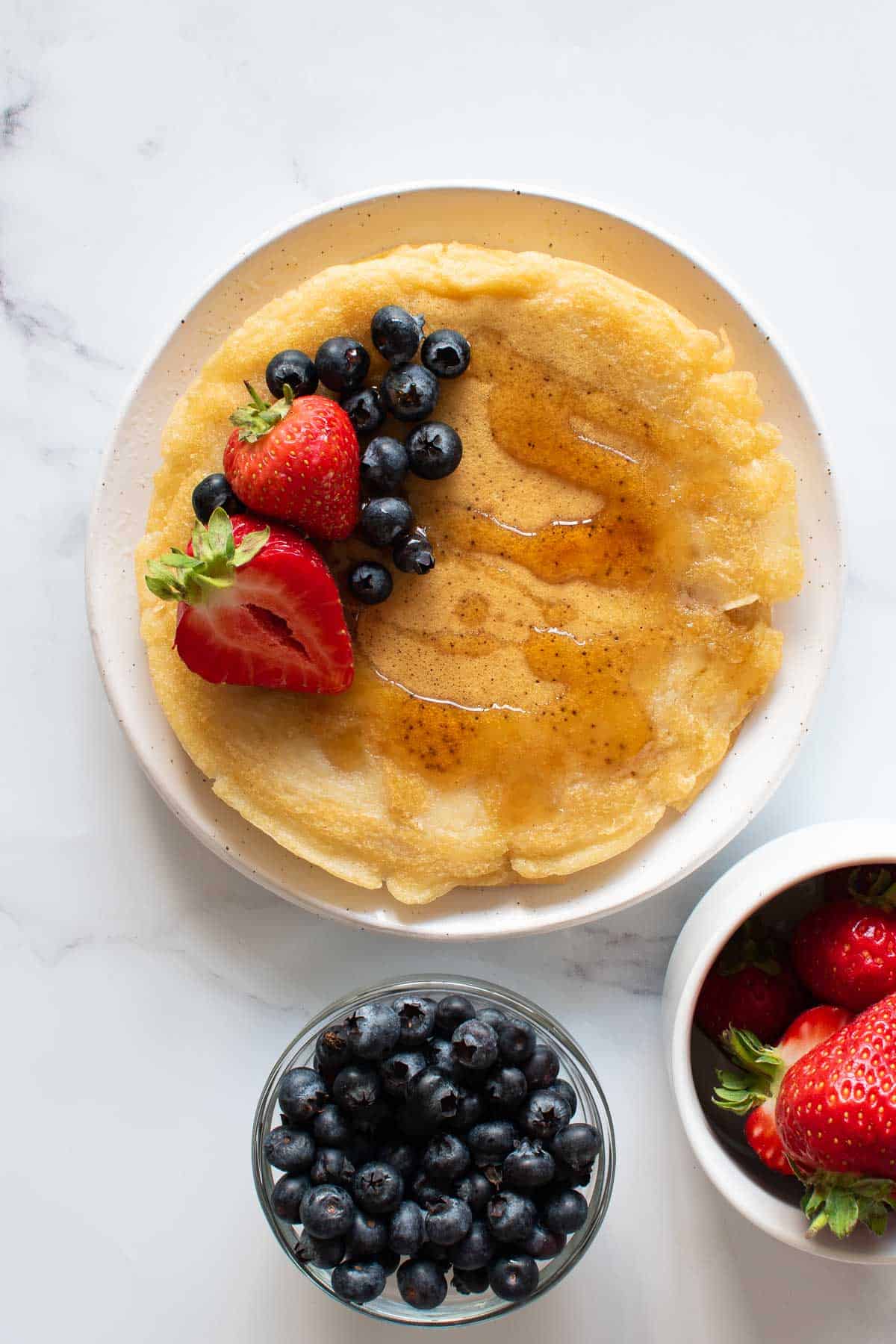 Variations
Vegan pancakes: To make these vegan, simply use a vegan milk alternative. I tend to use oat milk, but almond milk or soy milk are excellent alternatives.
Different flavors: Use spices (gingerbread spice, cinnamon, pumpkin spice), powdered flavors (cacao powder, flavored protein powder), or flavor extracts (orange extract, strawberry extract) to add some flavor to the pancakes.
Gluten free: I have not tried making gluten free pancakes without eggs, but I imagine it would work well with a gluten free all-purpose flour alternative. If you try this version, please let me know how it went!
Whole wheat eggless pancakes: You can also make these pancakes using whole wheat flour. Simply substitute some or all of the all purpose flour with the wholemeal version. The texture of whole wheat pancakes is a little coarser, but they still taste great.
Equipment
For this recipe, you will need a mixing bowl to mix the pancake batter, a frying pan or skillet to cook the pancakes in, and a spatula to flip the pancakes.
I like to use a wide spatula, and a smaller frying pan in this recipe. The wide spatula makes it easier to flip the pancakes, and can prevent them from breaking.
Use a smaller frying pan to keep the pancakes small, as the batter tends to spread out over the entire surface of the pan.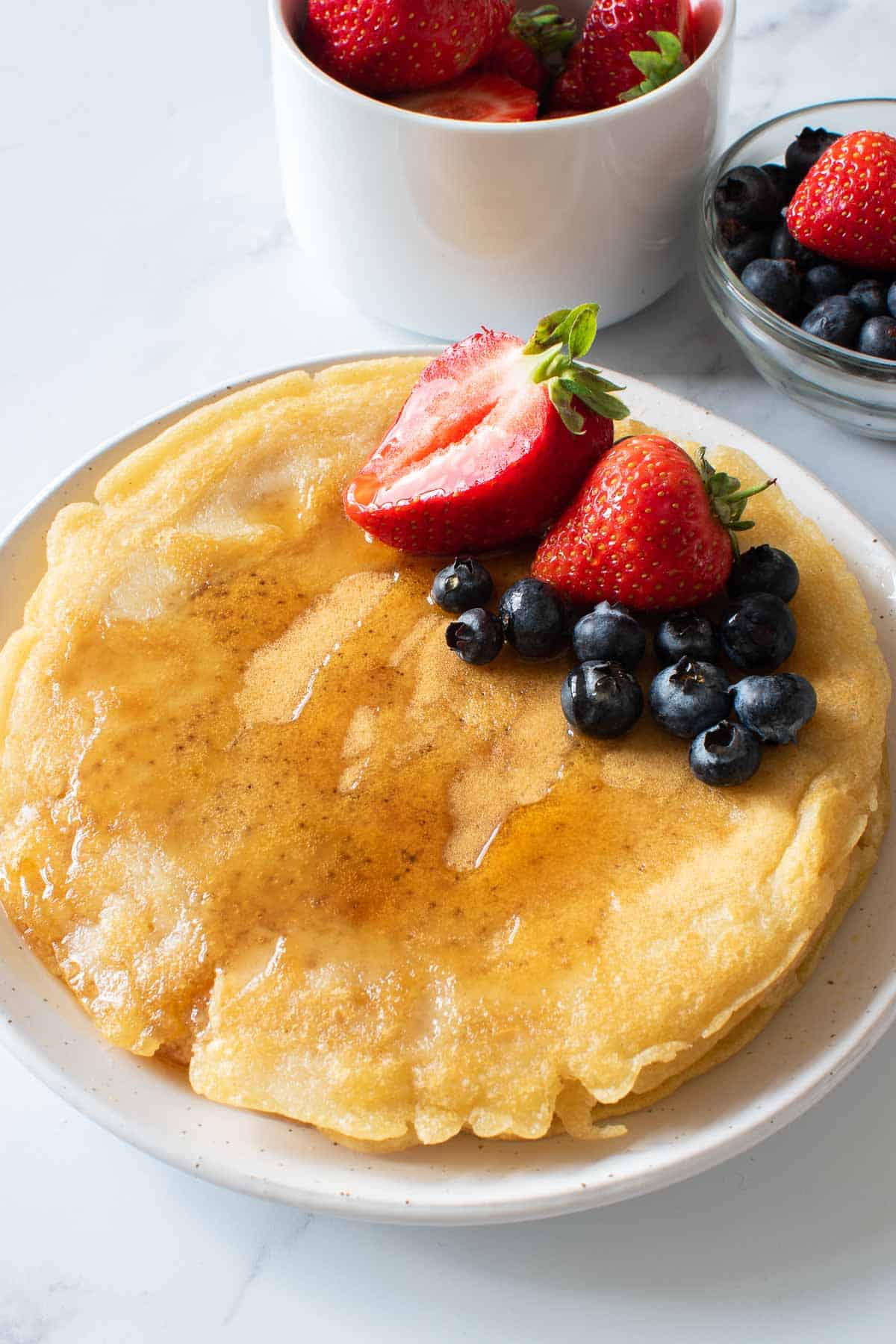 Storage
Leftover eggless pancakes can be safely stored in a sealed container in a refrigerator for up to 4 days.
You can enjoy the pancakes cold, or reheat them in a microwave. Serve them with your favorite toppings.
This is a great option for a sweet meal prep breakfast or dessert, as you can cook pancakes for several days in advance.
Alternatively, you can also store the pancake batter in a sealed container in the fridge for up to 3 days. A great shortcut to freshly made pancakes!
🥞 More PANCAKES AND WAFFLES from Hint of Healthy
Frequently asked questions
What can I use instead of eggs in pancakes?
Bananas and applesauce are often used as a replacement for eggs in pancakes. It's also possible to make pancakes without eggs, without having to add any extra ingredients.
Why would you make pancakes without eggs?
Egg free pancakes are a great option for those suffering from allergies, or those with dietary restrictions. The egg free pancakes tend to be softer and fluffier compared to pancakes with eggs, so some people also prefer the flavor of them.
Are eggless pancakes healthy?
Eggless pancakes are not more or less healthy than any other pancakes. They are perfectly fine to eat as part of a balanced diet.
You might also like these recipes
If you make this recipe, make sure to post a photo to Instagram with #hintofhealthy!
Recipe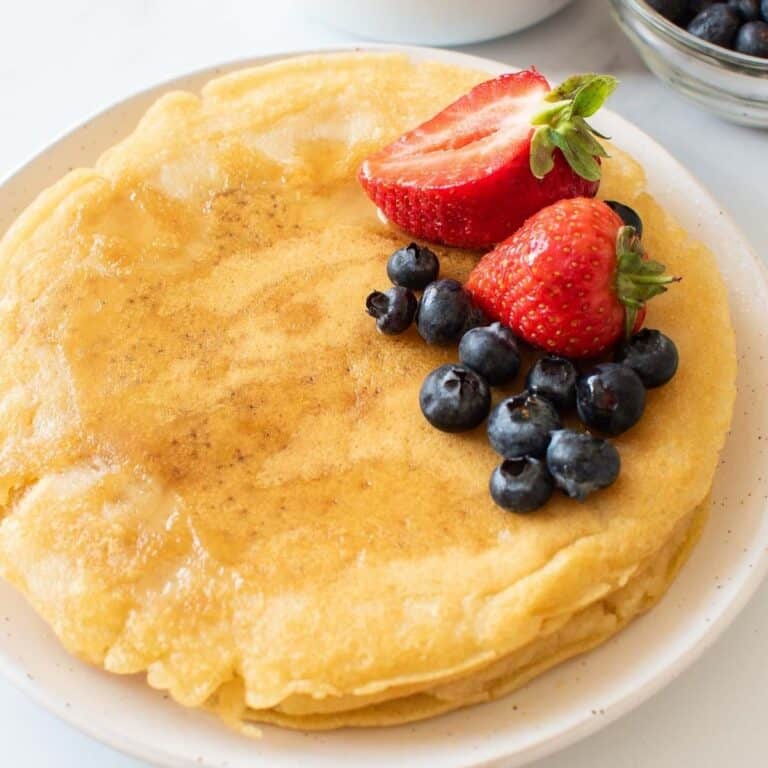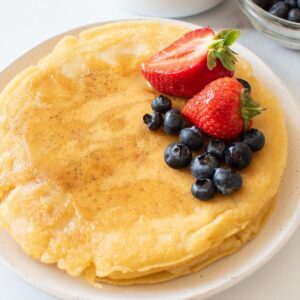 Eggless Pancakes
These delicious eggless pancakes are the softest pancakes you will ever eat. It's easier to make pancakes without eggs than you'd think, and this recipe is made without any special ingredients or equipment.
Instructions
Melt the butter. You can do this in a frying pan on the stove, or in a bowl in a microwave.

Add the dry ingredients to a mixing bowl. Stir to combine.

Add the wet ingredients, including the melted butter, to the dry ingredients. Whisk to incorporate the ingredients.

Leave the pancake batter to rest for at least 5 minutes.

Heat up a splash of vegetable oil or melted butter in a frying pan on medium heat. If you're using a non-stick pan, you might not need the extra grease.

Pour some batter into the pan. Cook the pancake until it's solid, then use a spatula to gently flip the pancakes. These pancakes are really soft when warm, so be careful not to rip them.

Cook the pancake on the other side until golden. Transfer to a plate, and repeat step 6 until you have used all the pancake batter.
Notes
I use a slightly smaller than average frying pan. If you use a larger frying pan, you will get larger, but fewer pancakes.
These are thin, European style pancakes.
Store leftover pancakes in a refrigerator for up to 4 days, or leftover pancake batter for up to 3 days.
Nutrition
Calories:
103
kcal
Carbohydrates:
7
g
Protein:
2
g
Fat:
7
g
Saturated Fat:
5
g
Trans Fat:
1
g
Cholesterol:
14
mg
Sodium:
289
mg
Potassium:
62
mg
Fiber:
1
g
Sugar:
3
g
Vitamin A:
183
IU
Calcium:
126
mg
Iron:
1
mg
Food safety
Practice safe cooking with these tips: