Growing up, my family had two large apple trees in our garden, and autumn always meant homemade apple cake. This Norwegian apple cake recipe is as authentic as it gets. Although I had to borrow this recipe to get the right measurements, the method, flavor and ingredients are just like I remember them from my childhood. Apple cake is such a classic, traditional cake in Norway. However, it's usually only made in autumn when apples are in season. This cake is definitely best when made with apples you handpicked from your back yard, but if that's not an option, Granny Smiths will do.
What do you need to make Norwegian apple cake?
Apples
Cinnamon
Butter
Sugar
Eggs
Baking powder
You'll also need a 22 cm springform pan, a baking sheet, and an oven. All in all, it takes about 1 ½ hours from the minute you start until you're ready to serve this delicious, warm, soft Norwegian apple cake.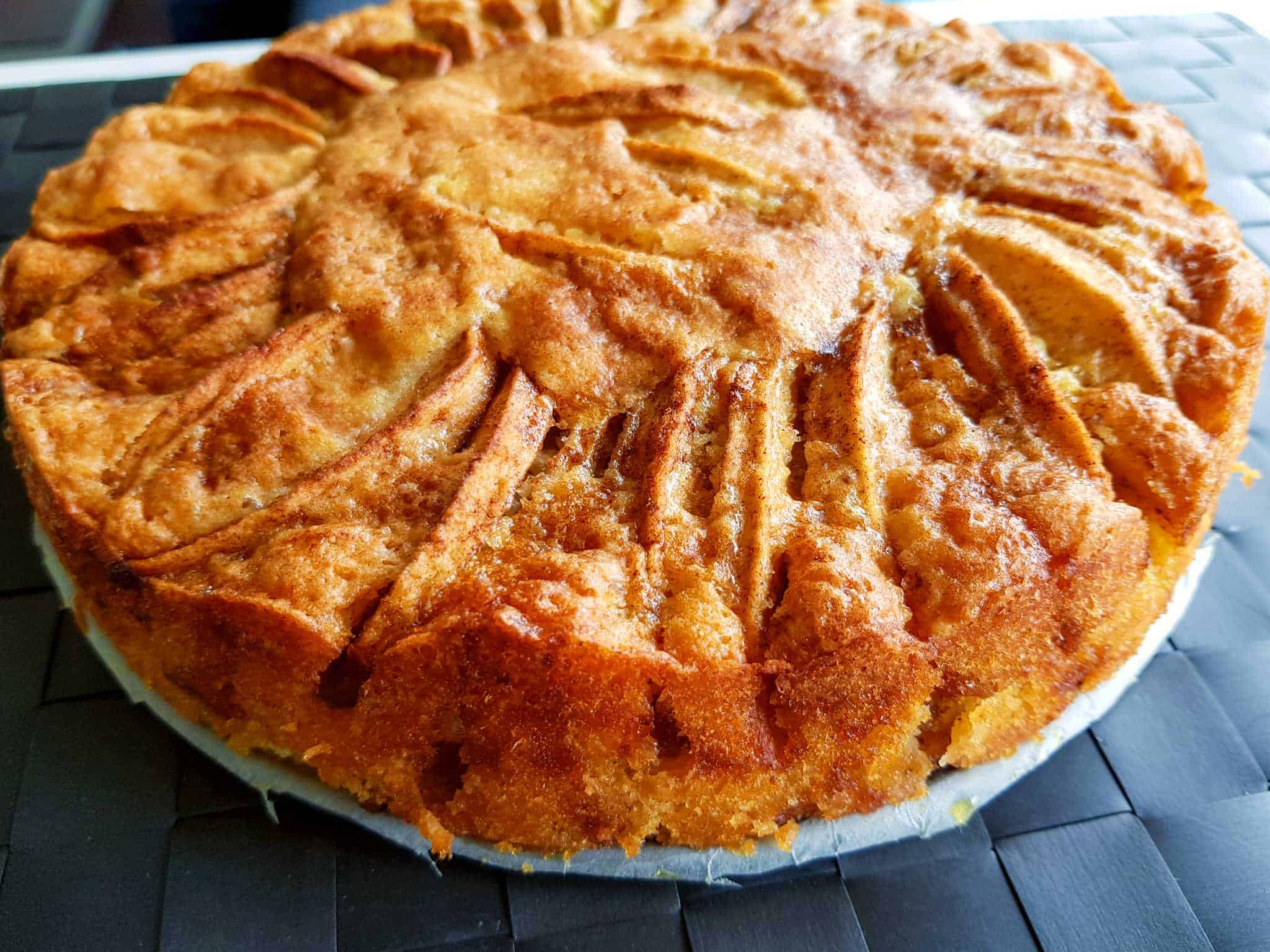 In Norway it's customary to always offer your guests coffee and baked goods. In fact, not offering cake or biscuits is considered rude and thoughtless, and a sign that your guests are not welcome. Therefore you need to make sure to always keep treats around just in case someone pops by. That's where this cake comes into play. This apple cake freezes really well, and defrosts in the oven in less than half an hour. Perfect when you're in desperate need of homemade cake. To freeze, simply wrap it up in plastic wrap, and store in the freezer for up to 6 months.
How can you make a healthy cake?
Most cakes are based on sugar, white flour, eggs, and butter. There are some great options out there for cakes made with sweeteners, honey or fruit instead of sugar, with nuts instead of flour, and without any butter. Frosting is usually made by combining sugar and butter, so cakes without frosting are typically healthier options. As I don't eat cake very often, I don't mind the sugar and butter, I just have my slice, feel satisfied, and leave it at that. As this cake is close to my heart, I try to stick to the traditional ingredients, but if you try to make a healthier version of it, let me know how it goes!
Recipe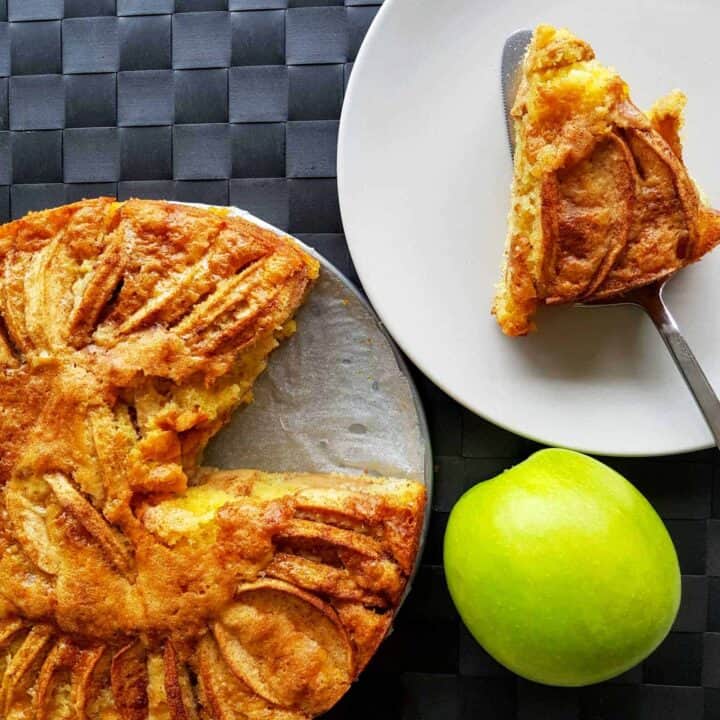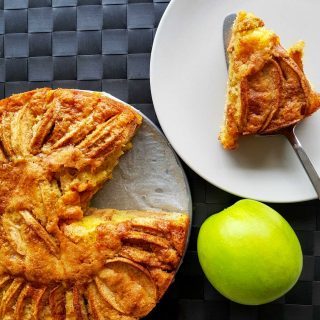 Norwegian apple cake (Eplekake)
Authentic Norwegian apple cake (Eplekake) made the traditional way. Delicious dessert that's perfect for autumn.
Ingredients
Apple filling
4

apples

3

tablespoon

sugar

2

tablespoon

cinnamon
Instructions
Peel the apples and remove the cores. Cut them into thin wedges. Place in a bowl or plastic bag, and coat with 3 tablespoon sugar and 2 tablespoon cinnamon. Stir or shake to coat the apples evenly.

In a mixing bowl, combine butter and sugar with an electric whisk until creamy.

Add the eggs one at a time, and whisk in between.

Through a sieve, add the flour and baking powder to the batter.

Carefully use a spatula or spoon to mix the flour with the wet ingredients. Careful not to overmix.

Using a 22 cm springform tin, add a baking sheet to the bottom, and grease the sides of the tin.

Add half the batter to the tin, and place the apple wedges with the thin sides down in circles to completely cover the bottom of the tin.

Add the second half of the batter over the apples, and repeat with the remaining apples.

Bake in the oven for 50 min to 1 hour. To check if the cake is done, insert a metal skewer to the middle and see if it comes out clean. If there is not batter on the skewer, the cake is ready to come out.

Leave the cake to rest for at least 10 minutes, and serve warm with vanilla ice cream or custard.
Nutrition