This easy Instant Pot apple cider recipe is the perfect comforting beverage for cold fall and winter evenings. Made with apples, oranges, maple syrup and cinnamon, it's a hearty and healthy warm beverage that everybody will love.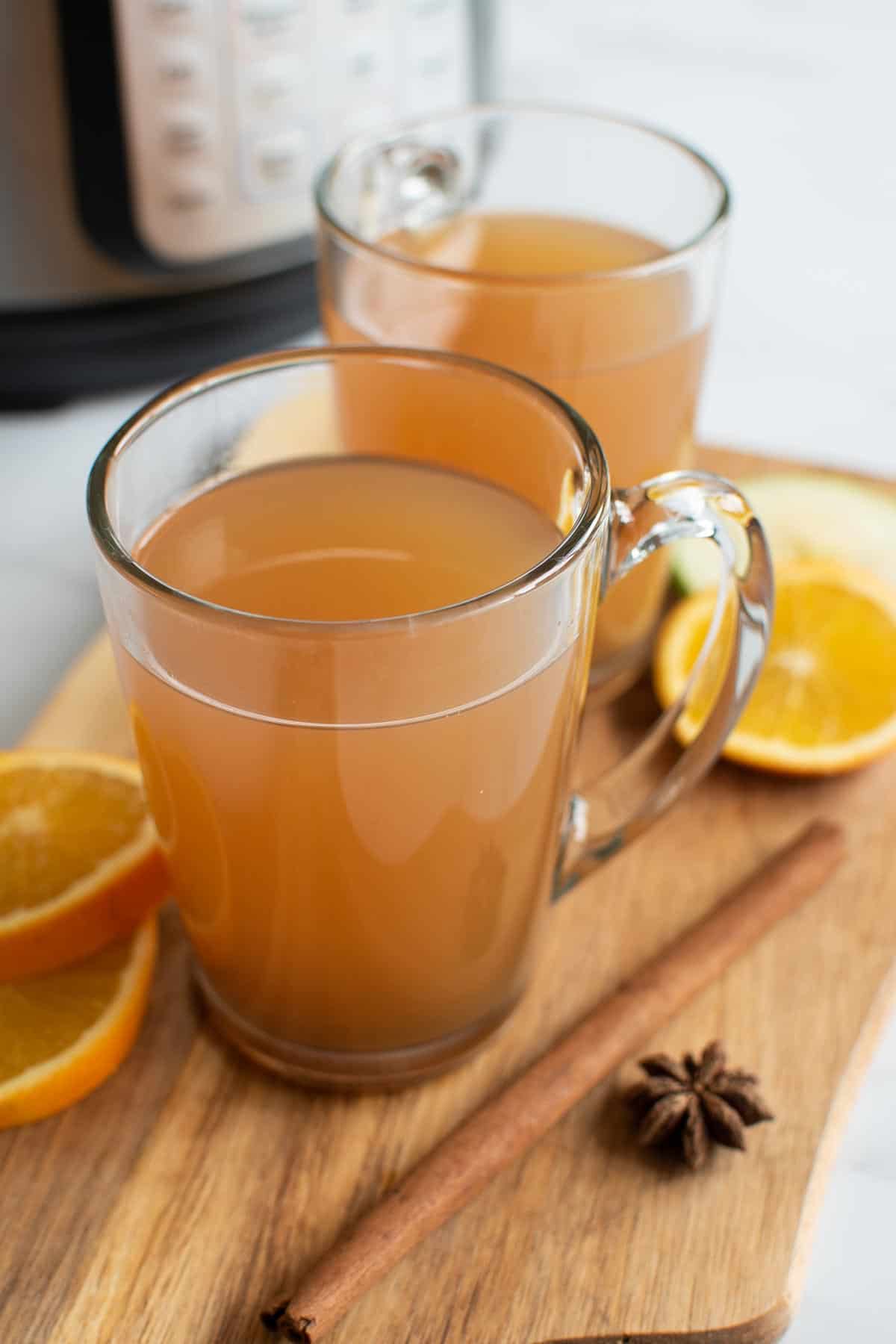 Jump to:
This post may contain affiliate links. Read more about it in the privacy policy.
This is the best hot apple cider you will ever make, and it's prepared in less than 30 minutes. Spiced apple cider is a traditional American beverage. It's usually served hot, and unlike European cider, it's completely non-alcoholic (unless you don't want it to be!).
Homemade apple cider is easier to make than you'd think, and only requires a few minutes of actual effort. The result is a comforting beverage that both kids and adults will love. It's a healthier alternative to hot chocolate, and tastes just as yummy!
🥘 More INSTANT POT RECIPES From Hint of Healthy
Why you'll love it
Comforting beverage for winter or fall
A great way to use up leftover apples
Tastes amazing
Healthy and refined sugar free
The pressure cooker method is quick and easy
Customize the recipe to suit your preferences
Refined sugar free apple cider
Gluten free, dairy free, vegan cider
Perfect leading into the colder months in October and November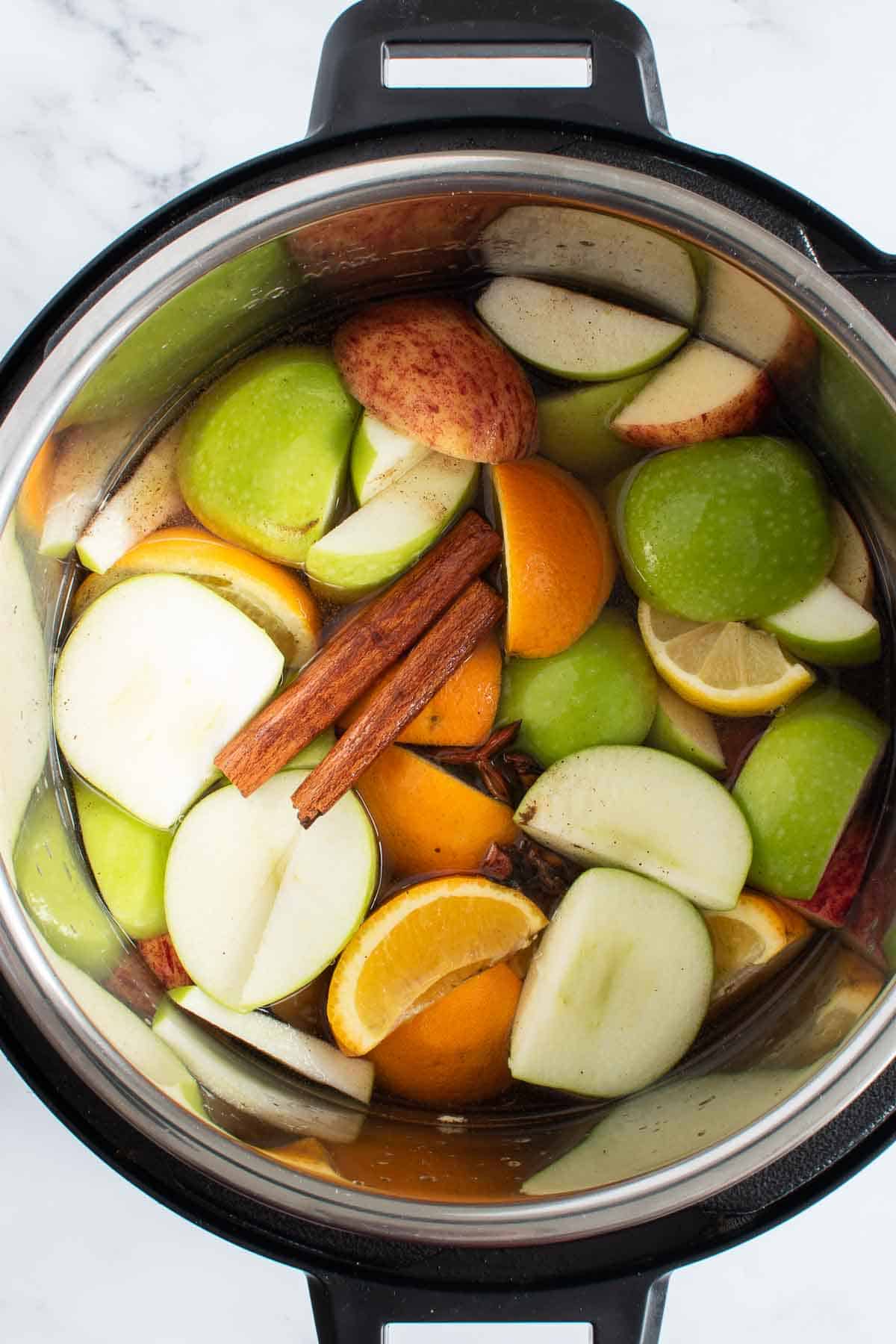 Ingredients
Apples: Use your favorite apples, a combination of different varieties, or whatever you have available. I like to use Granny Smith and Gala apples.
Water: Used as the main liquid component.
Oranges: Adds a little extra flavor. Use unwaxed, organic oranges, as there is a noticeable difference in flavor. You can omit them if you prefer to make the drink without.
Lemon: Adds a more acidic flavor. Omit it if you prefer a sweeter cider.
Maple syrup: A great sweetener for fall. You can also use brown sugar, honey or agave nectar if you prefer.
Cinnamon sticks: Or use ground cinnamon.
Cloves: Whole cloves or ground cloves both work well.
Star anise: Tastes fantastic in any winter drink. Also looks great as a garnish!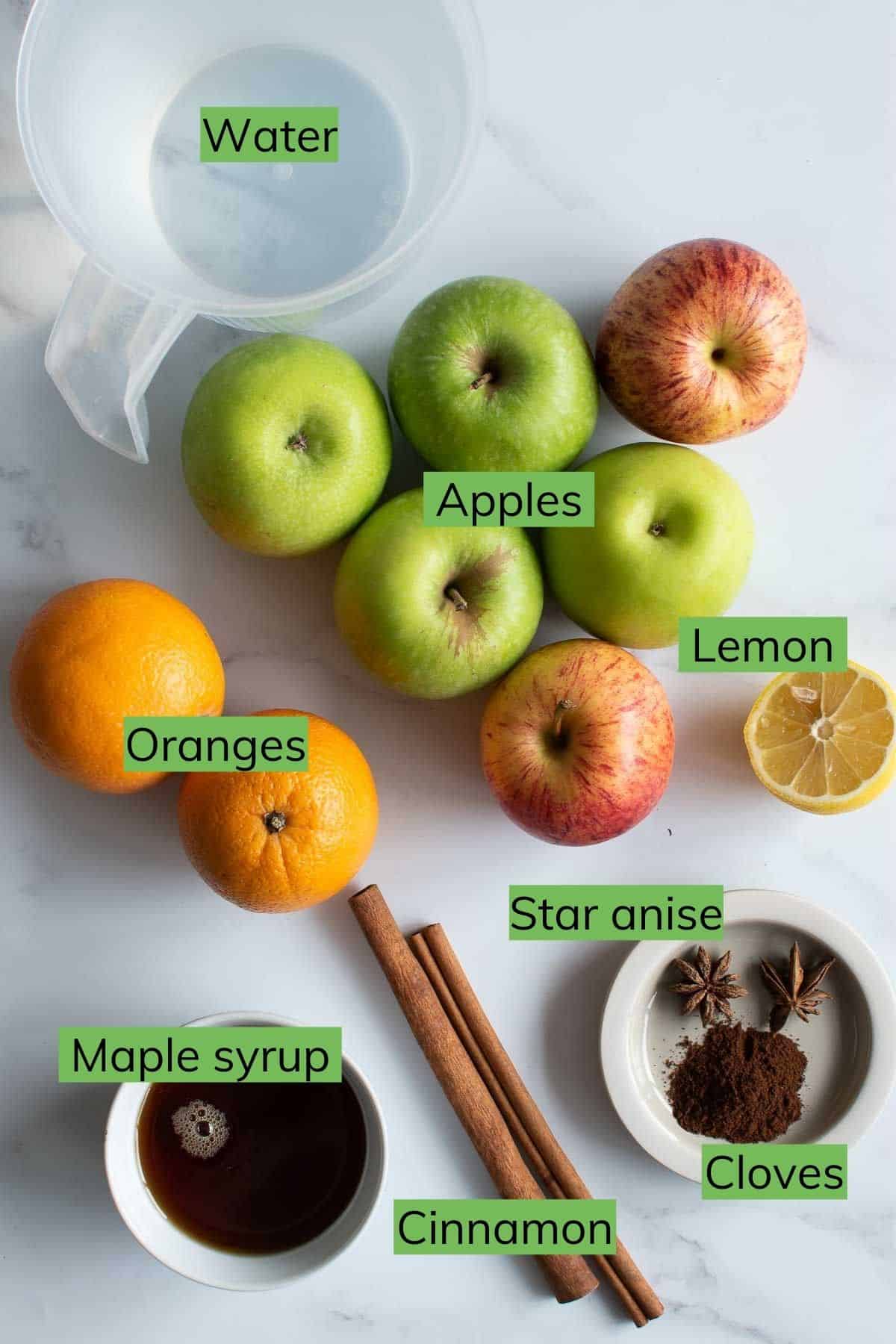 Instructions
You can find full instructions + ingredient measurements in the recipe card at the bottom of this page
One: Remove the cores from the apples, and cut them into chunks. Add them to a pressure cooker or Instant Pot along with quartered oranges, and the remaining ingredients. Seal the lid on the pressure cooker, and cook on MANUAL or PRESSURE COOK setting for 15 minutes. The pot will take about 10 minutes to pressurize before the timer starts counting down.
Two: Perform a quick release to release the steam from the Instant Pot, and remove the lid. Use a wooden spoon or potato masher to mash the soft fruit in the liquid.
Three: Strain the liquid with a fine mesh sieve or cheesecloth to remove any pieces of fruit. Use a spoon to squeeze the liquid out of the fruit pulp.
Four: Serve the hot apple cider immediately, or allow it to cool down first if you prefer to enjoy it cold.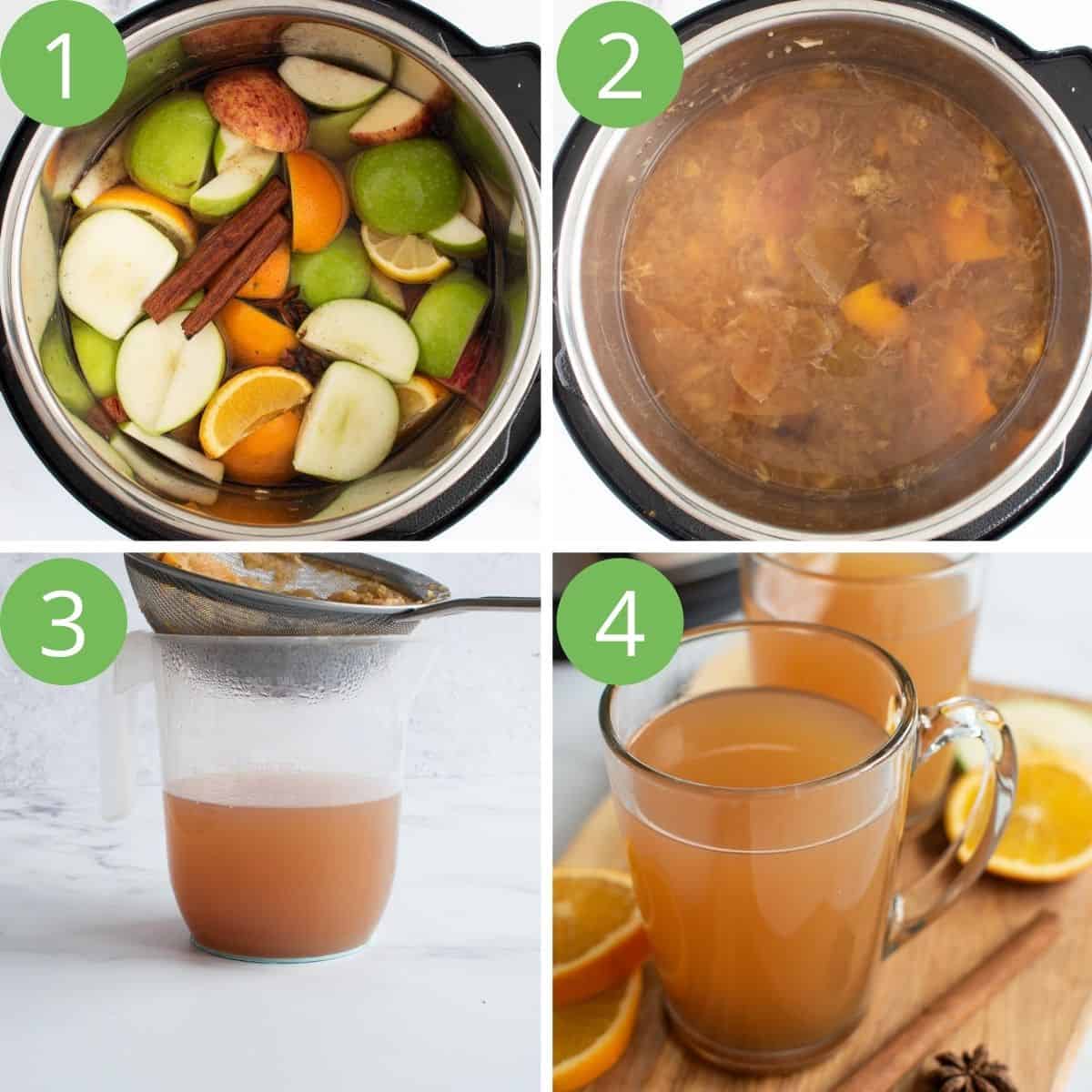 Top tips
You don't have to peel the fruit, as the drink is strained thoroughly before serving.
People have different preferences when it comes to their hot mulled cider. See the Variations section below for some inspiration to how you can change the flavor of the drink.
Use a kitchen utensil like a wooden spoon or turn the sealing valve to release any steam. This will keep your hands further away from the hot steam.
I recommend making this in an Instant Pot that's at least 6 quarts. If you have a smaller pressure cooker, you should reduce the recipe.
Serving suggestions
Mulled apple cider is usually enjoyed as a warming beverage during fall or winter, and is a popular choice during apple season. You can serve it as a treat whenever you feel like it, but this is also a great choice when you're hosting.
Serve the Instant Pot mulled cider in cups, and optionally garnish with apple slices, orange slices, cranberries or star anise and cinnamon sticks if you like.
You can also serve the drink with a snack, like Apple and Plum Crumble, Air Fryer Baked Apples, Puff Pastry Mince Pies or Blueberry and White Chocolate Muffins.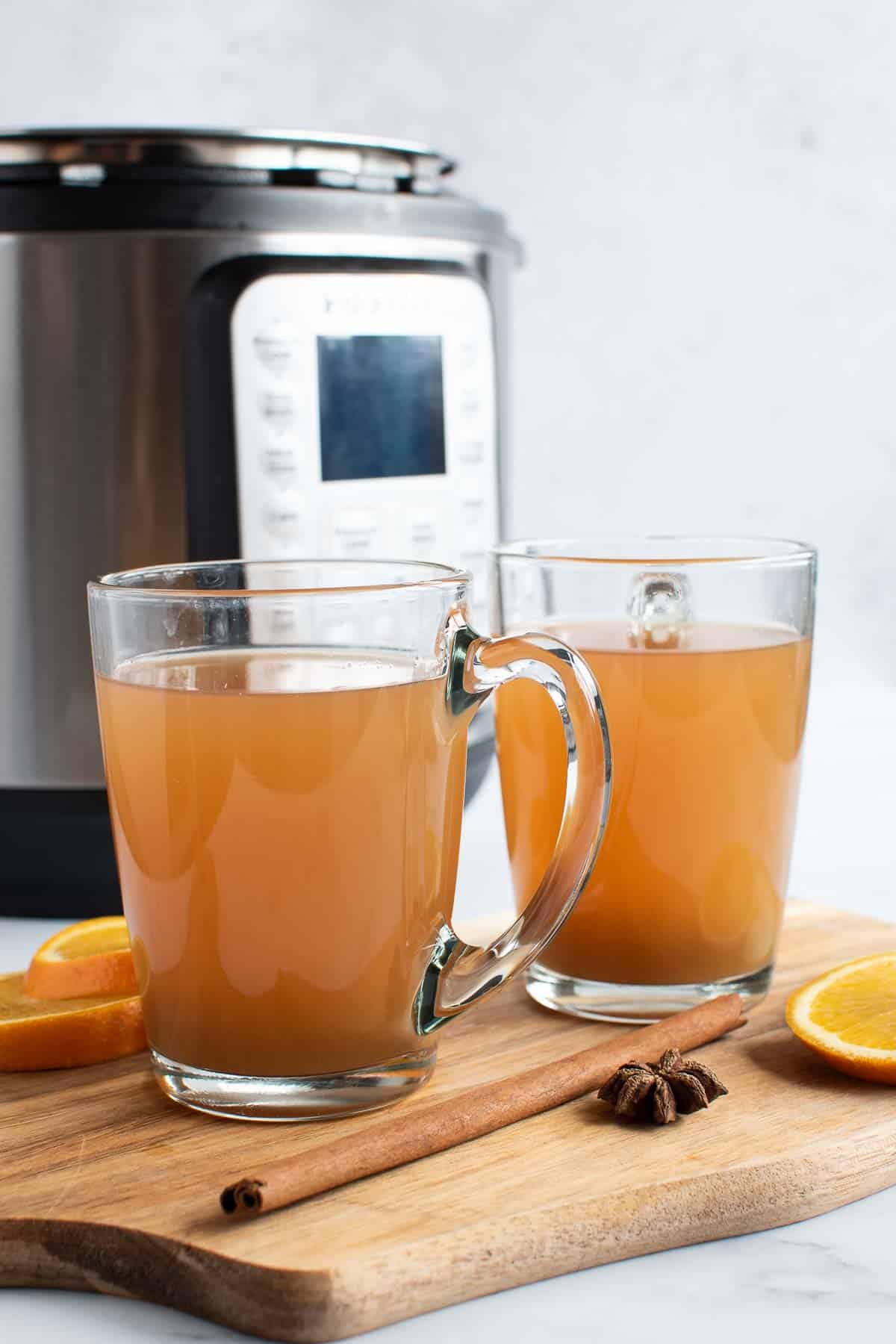 Variations
Extra sweet: Omit the lemon, and add extra sweetener like maple syrup or brown sugar. Honey is also a great option.
Other fruits: You can also adjust the flavor by adding other fruits, such as cranberries or pears. You can also omit the oranges, and only use apples. Try different versions to discover your favorite.
Adjust the amount: It's easy to make a smaller or bigger batch of cider, as long as your Instant Pot is large enough. Simply place diced fruit in the pot, and add enough water until they are covered completely. Follow the instructions for cooking time and straining.
Other spices: Change up the spices by adding nutmeg, ginger, turmeric, all spice or gingerbread spice mix.
Mulled cider with pulp: If you want to keep some pulp in your cider, you can strain the drink through a sieve with slightly larger holes. This will remove any large pieces or chunks of fruit, but keep the pulp in the beverage.
🥘 More INSTANT POT RECIPES From Hint of Healthy
Equipment
To make this recipe, you will need an Instant Pot that's at least 6 quarts in size. You can also use any other pressure cooker of a similar size.
Additionally, you will need a fine mesh sieve or cheesecloth to strain the liquid to remove the fruit pulp. Using a sieve with larger holes will give you cider with pulp in.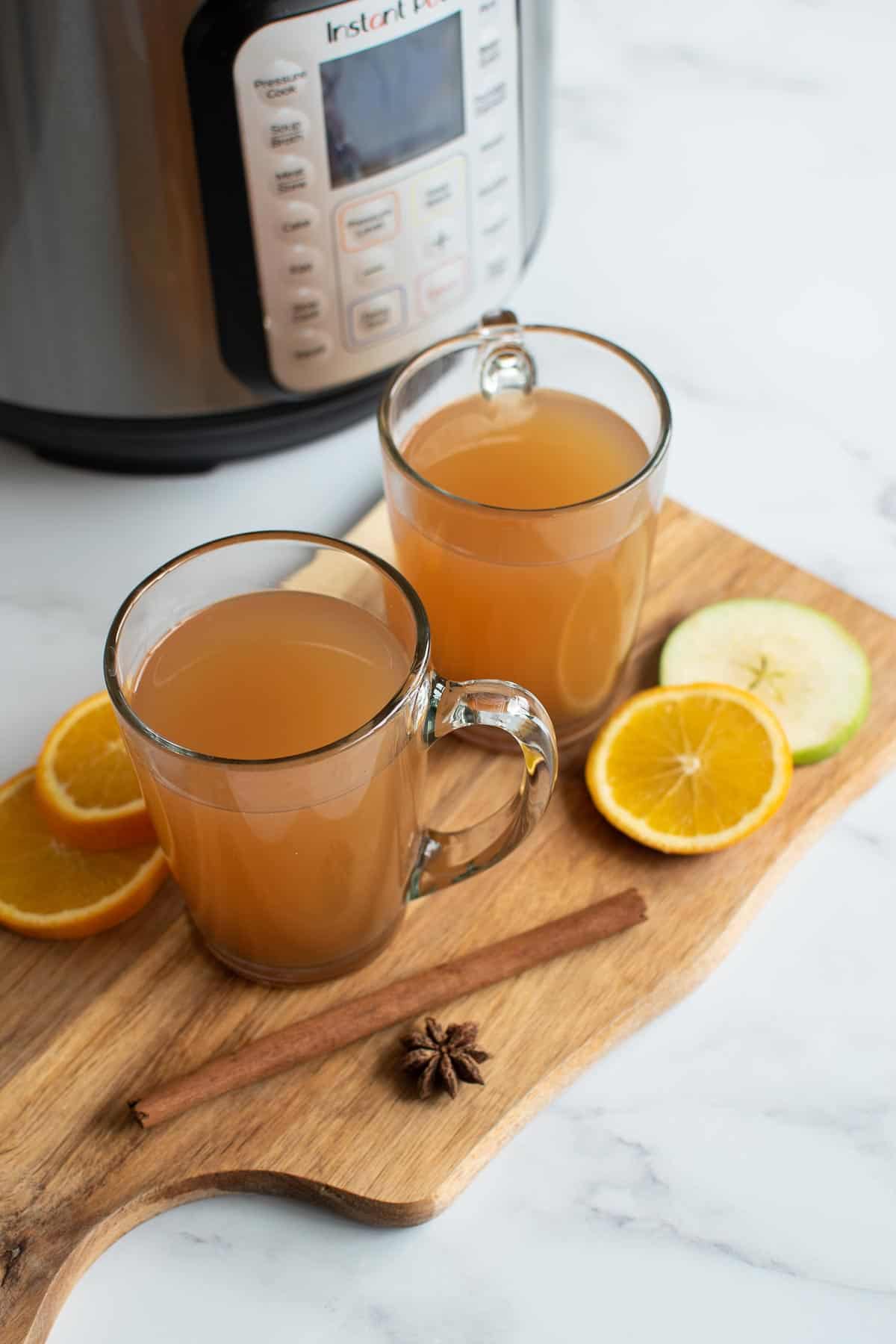 Storage
Serve the hot cider immediately, or refrigerate for up to 3 days. You can then enjoy it cold, or reheat in an Instant Pot, microwave or on the stove top to serve it warm.
This is a great make ahead beverage to enjoy on cozy, cold evenings, or to prepare in advance for dinner parties or movie nights.
Frequently asked questions
Can you make apple cider with apple juice?
Yes! Make hot apple cider by combining apple juice and spices in a pot or Instant Pot, and cook until the liquid is warm. This is a very quick way to make a simple cider.
How long does it take to make Instant Pot apple cider?
You can make apple cider in your pressure cooker in only 15 minutes.
You might also like these recipes
If you make this recipe, make sure to post a photo to Instagram with #hintofhealthy!
Recipe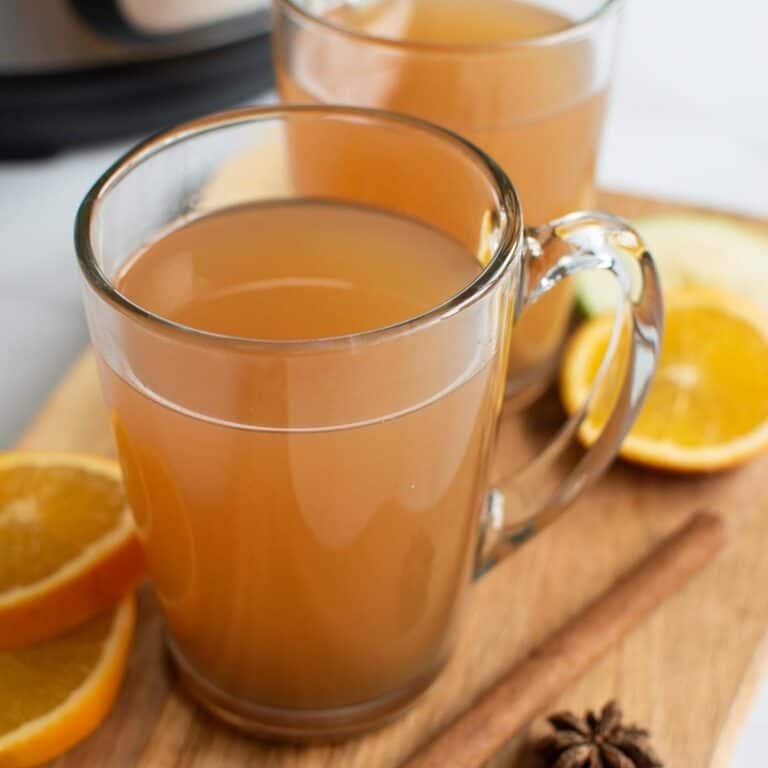 Instant Pot Apple Cider
This comforting Instant Pot apple cider is homemade mulled apple cider that you prepare in your pressure cooked in a few minutes. A healthy, delicious hot beverage for fall and winter.
Ingredients
6

apples

(Granny Smith, Gala or other types)

¼

cup

maple syrup

(or other sweetener, like honey or brown sugar)

5

cups

water

2

oranges

1

teaspoon

ground cloves

(5 whole cloves)

½

lemon

(optional)
Instructions
Remove the cores from the apples, and cut them into quarters. Add them to the Instant Pot.

Add the lemon, quartered oranges, and the remaining ingredients to the Instant Pot.

¼ cup maple syrup,

5 cups water,

2 oranges,

2 star anise,

2 cinnamon sticks,

½ lemon,

1 teaspoon ground cloves

Seal the lid, and turn on the PRESSURE COOK or MANUAL setting, and set the timer for 15 minutes. The Instant Pot will take around 10 minutes to build up pressure before it starts counting down.

Preform a quick release, following the manufacturer's instructions to manually release the pressure when the time is up. You can also leave the pressure to release naturally if you wish, but this will take quite a while.

Use a potato masher to mash the ingredients in the pot.

Sieve the mixture with a fine mesh sieve or a cheesecloth to remove the fruit pulp and whole seasoning.

Serve the apple cider hot, or leave it to cool down if you want to serve it cold. Store it in a sealed container in a refrigerator for up to 5 days.
Notes
Serve the hot cider immediately, or refrigerate it and enjoy it chilled later. You can store cider for up to 3 days, and reheat it in a microwave or on the stove as needed.
Feel free to omit the lemon, and to adjust the spices to suit your preferences.
Use unwaxed, organic oranges if possible. There is a noticeable difference in flavor!
This recipe has only been tested in a 6 qt Instant Pot. 
Nutrition
Calories:
119
kcal
Carbohydrates:
31
g
Protein:
1
g
Fat:
1
g
Saturated Fat:
1
g
Polyunsaturated Fat:
1
g
Monounsaturated Fat:
1
g
Trans Fat:
1
g
Sodium:
11
mg
Potassium:
247
mg
Fiber:
5
g
Sugar:
23
g
Vitamin A:
153
IU
Vitamin C:
27
mg
Calcium:
50
mg
Iron:
1
mg
Food safety tips
Don't leave food sitting out at room temperature for extended periods
Never leave cooking food unattended
Be careful not to touch the hot steam from the Instant Pot