This easy gingerbread latte is a fantastic coffee for fall and winter. It tastes just like liquid gingerbread, and doesn't need any special equipment to make!
Jump to:
This post may contain affiliate links. Read more about it in the privacy policy.
This copycat Starbucks gingerbread latte is a healthier and more affordable version that you can make at home with little effort.
Homemade coffee drinks are easier to make than you might think, and this is a flavorful and comforting beverage perfect for fall.
Why you'll love it
Really easy to make in 5 minutes
Easy to customize to suit your preferences
Gluten free, and can be made vegan and dairy free
No coffee maker or special equipment needed
Extra healthy swaps available
Comforting and delicious coffee
Ingredients
Espresso: Any strong brewed, black coffee works fine.
Molasses: Use traditional molasses, also sometimes known as black treacle. You can also use brown sugar instead, or maple syrup for a lighter version.
Milk: Skim milk, oat milk or soy milk all works well.
Spices: Cinnamon, ginger, nutmeg and cloves add the traditional gingerbread flavor to your coffee. You can also use gingerbread spice mix instead if you prefer.
💡 TIP! Use a shot of espresso from your coffee machine, brew extra strong coffee with your coffee maker, or make a quick version by adding instant coffee to hot water.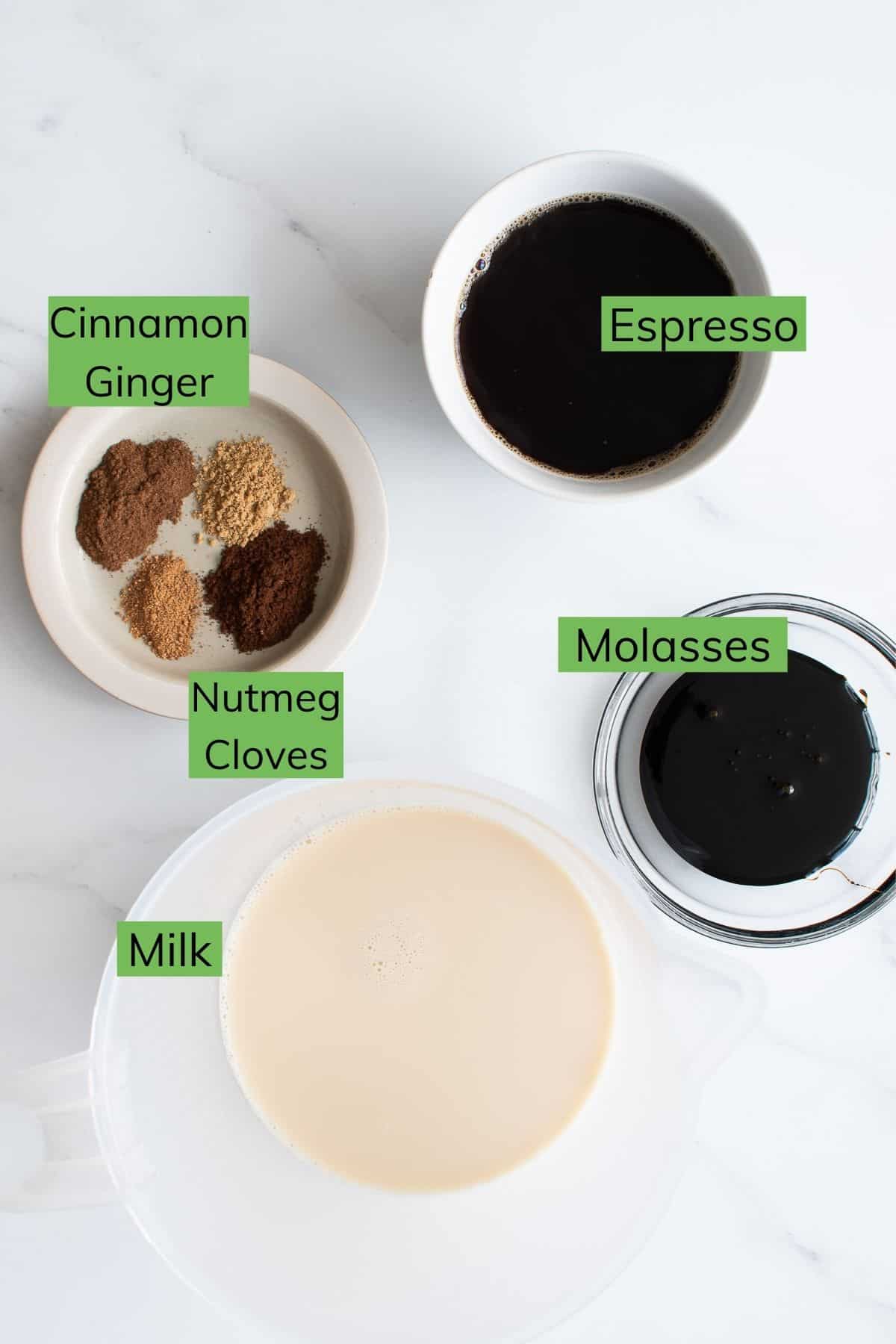 Instructions
You can find full instructions + ingredient measurements in the recipe card at the bottom of this page
One: Add milk, molasses and spices to a small pot or sauce pan. Place it on the stove, and allow it to warm up over medium heat. You want the milk to become warm, but not boil. Meanwhile, prepare your espresso.
Two: Add espresso, or strong brewed coffee, to the pot. Stir to combine.
💡 TIP! If you have a milk frother, you can use it to froth up the gingerbread latte before you serve it. This will add a foamy layer to the top of the coffee.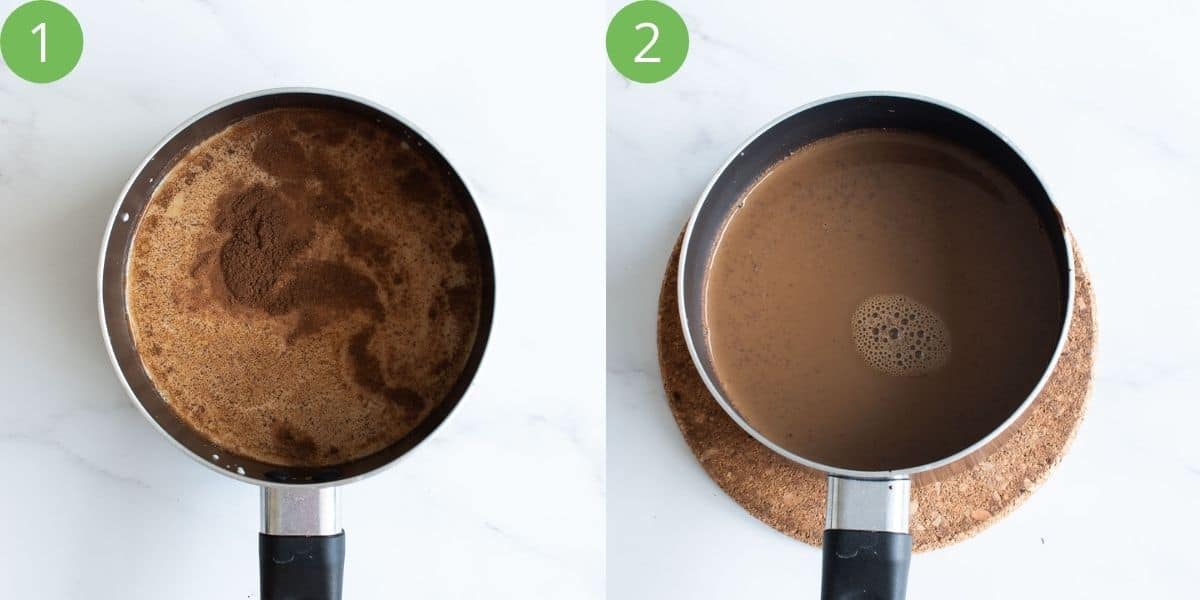 Top tips
Watch your latte, and stir it occasionally. The milk will warm up within minutes.
If the gingerbread flavor is too intense, you can add more milk if you prefer.
Optionally, top your latte with whipped cream and mini gingerbread men.
Serving suggestions
This latte is perfect for any time you want a nice coffee drink! Gingerbread is a popular flavor in the fall, or in winter leading up to Christmas. I love to make this for breakfast, or as a treat during the day.
The latte can also be paired with a nice snack like Gingerbread Pancakes, Pumpkin Protein Muffins or Banana Carrot Muffins. Gingerbread cookies or gingerbread men would also be a nice treat!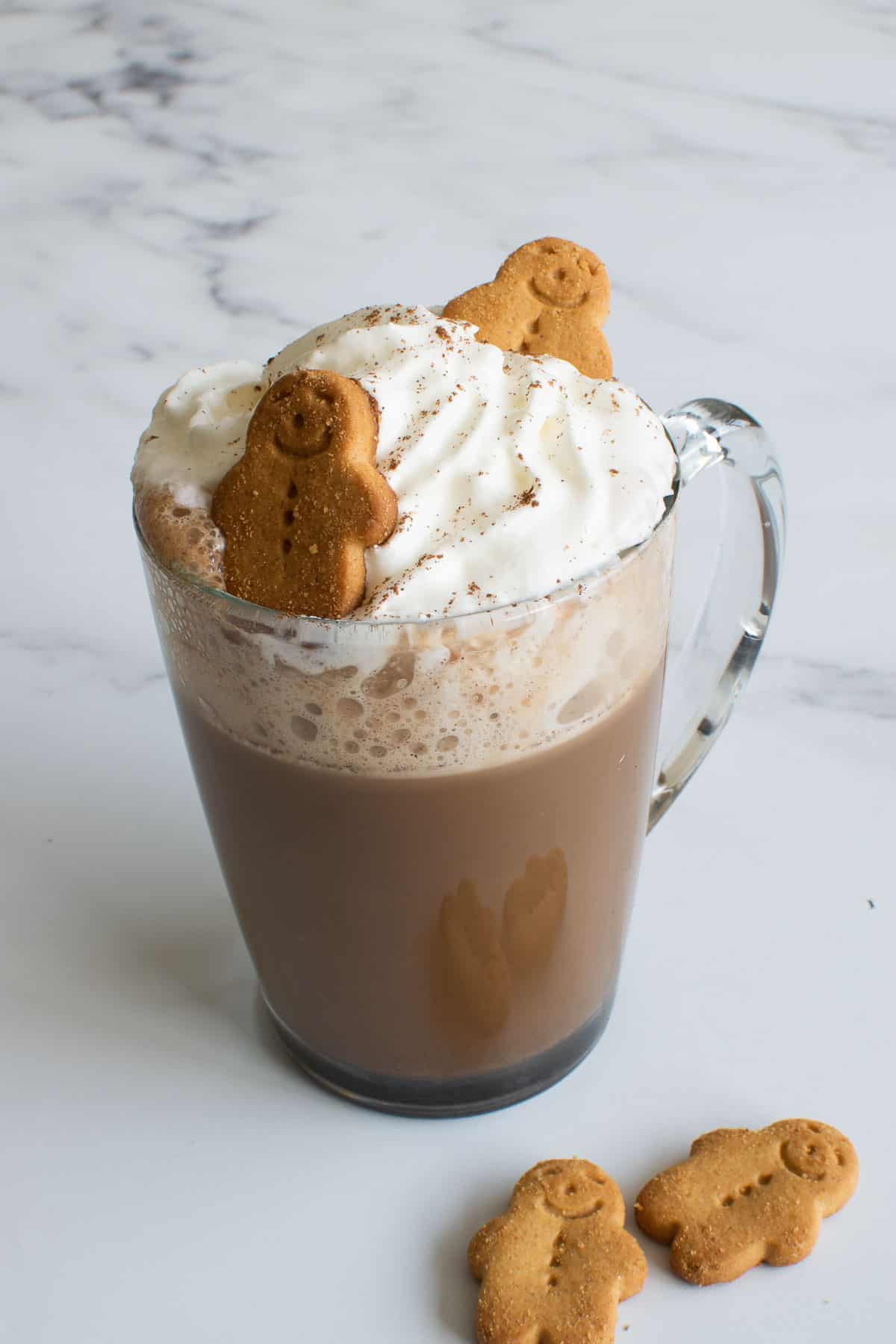 Variations
Change the milk: Try making the latte with different milks to find your favorite. Skim milk and soy milk makes a lighter drink, while whole milk and oat milk makes it more creamy.
Vegan: Make sure to use a vegan milk option. Oat milk is my favorite!
Change the sweetener: Molasses is a traditional ingredient in gingerbread, and gives the drink the distinct flavor. You can also use honey, maple syrup, brown sugar or agave nectar if you prefer a lighter flavor.
Decaf version: Use decaf coffee.
Equipment
All you need to make this recipe is a small pot and a whisk to make the latte on the stove.
Additionally, you will need some method to brew your coffee. You can do this by combining boiling water with instant coffee, or by using a coffee maker or espresso maker.
If you want to top the coffee with a layer of foam, you will need a milk frother, however this is completely optional.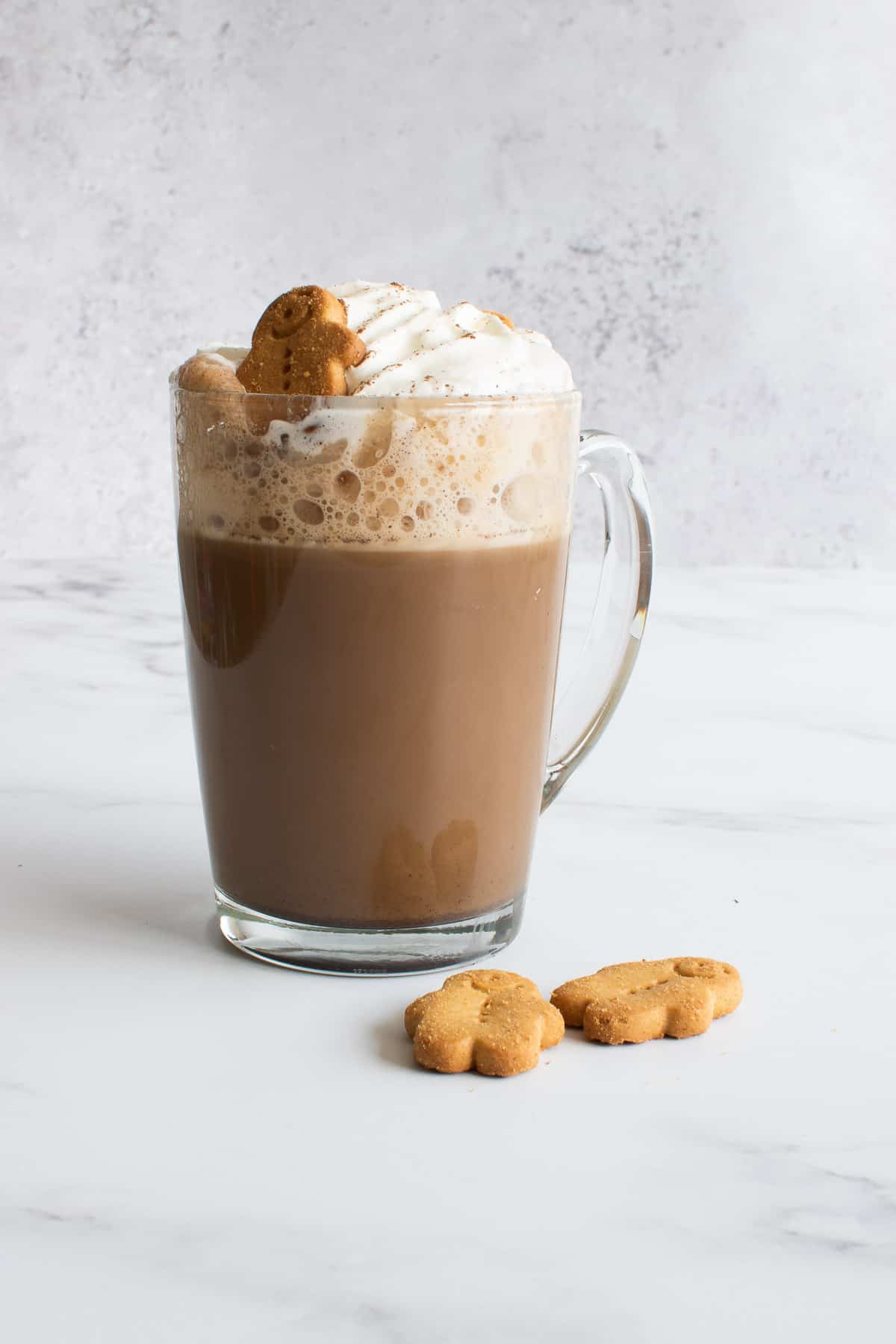 Storage
Gingerbread latte is best served immediately. If you want it to last longer, you can store it in a flask or thermos. These can often keep hot beverages warm for up to several hours.
You can prepare the seasoning mix and coffee in advance to save some time when you want to make your latte. This is a great way to cut down on preparation time in the morning, or if you like to make several cups of coffee throughout the day.
Frequently asked questions
What goes in gingerbread latte?
Gingerbread latte is a traditional latte, with gingerbread spices and molasses added to it. The drink tastes, like you would expect, like a combination of coffee and gingerbread.
Do you need a coffee machine to make gingerbread latte?
No! You can make gingerbread latte at home on the stove, without any special barista equipment needed.
Can you make gingerbread latte without gingerbread spice?
Absolutely. If you don't have access to gingerbread spice, you can use a combination of cinnamon, ginger, nutmeg and cloves instead. You can also use gingerbread syrup.
You might also like these recipes
If you make this recipe, make sure to post a photo to Instagram with #hintofhealthy!
Recipe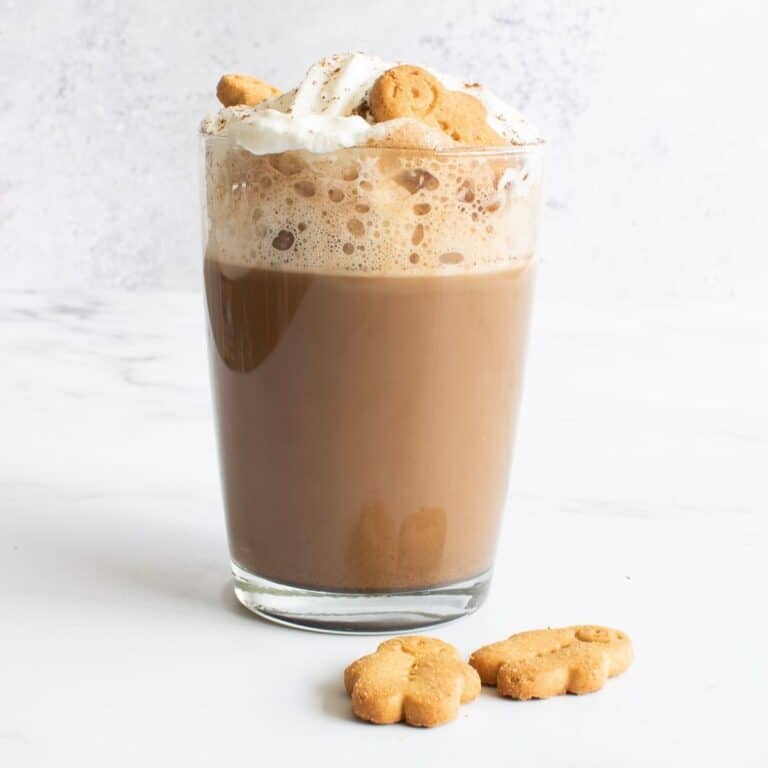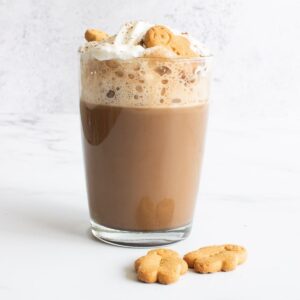 Gingerbread Latte
This homemade copycat Starbucks gingerbread latte is easy to make without a coffee maker. A delicious coffee recipe perfect for fall or winter.
Ingredients
½

tablespoon

molasses

2

cups

milk

⅓

cup

strong brewed coffee

(or espresso)

½

teaspoon

cinnamon

¼

teaspoon

ground ginger

¼

teaspoon

ground cloves

⅛

teaspoon

ground nutmeg
Instructions
Add molasses, seasoning and milk to a pot on the stove. Stir regularly while you warm the mixture up over low to medium heat. The milk should only be warm, not boil or simmer.

½ tablespoon molasses,

2 cups milk,

½ teaspoon cinnamon,

¼ teaspoon ground ginger,

¼ teaspoon ground cloves,

⅛ teaspoon ground nutmeg

Add the strong brewed coffee to the milk, and stir to incorporate evenly.

⅓ cup strong brewed coffee

Optionally, if you have a milk frother, you can use it to make the latte more foamy.

Pour into a cup, and serve.
Notes
Use any milk that you like, such as skim milk, oat milk or soy milk.
Optionally, top the latte with whipped cream and gingerbread men.
If you want the latte to keep warm for longer, you can pour it into a thermos or a flask suitable for warm beverages.
Keep an eye on the milk as it heats up, as it can boil over very quickly.
Nutrition
Calories:
332
kcal
Carbohydrates:
32
g
Protein:
16
g
Fat:
16
g
Saturated Fat:
9
g
Polyunsaturated Fat:
1
g
Monounsaturated Fat:
4
g
Cholesterol:
49
mg
Sodium:
216
mg
Potassium:
839
mg
Fiber:
1
g
Sugar:
32
g
Vitamin A:
794
IU
Vitamin C:
1
mg
Calcium:
586
mg
Iron:
1
mg
Food safety tips
Don't leave milk sitting out at room temperature for extended periods
Never leave cooking food unattended
Milk can boil over really fast, so always keep an eye on it
Always have good ventilation when using a gas stove