These delicious chocolate chip pumpkin protein muffins are perfect for pre workout or healthy breakfasts. With extra protein added, they are healthier and more filling than most muffins, and they still taste amazing!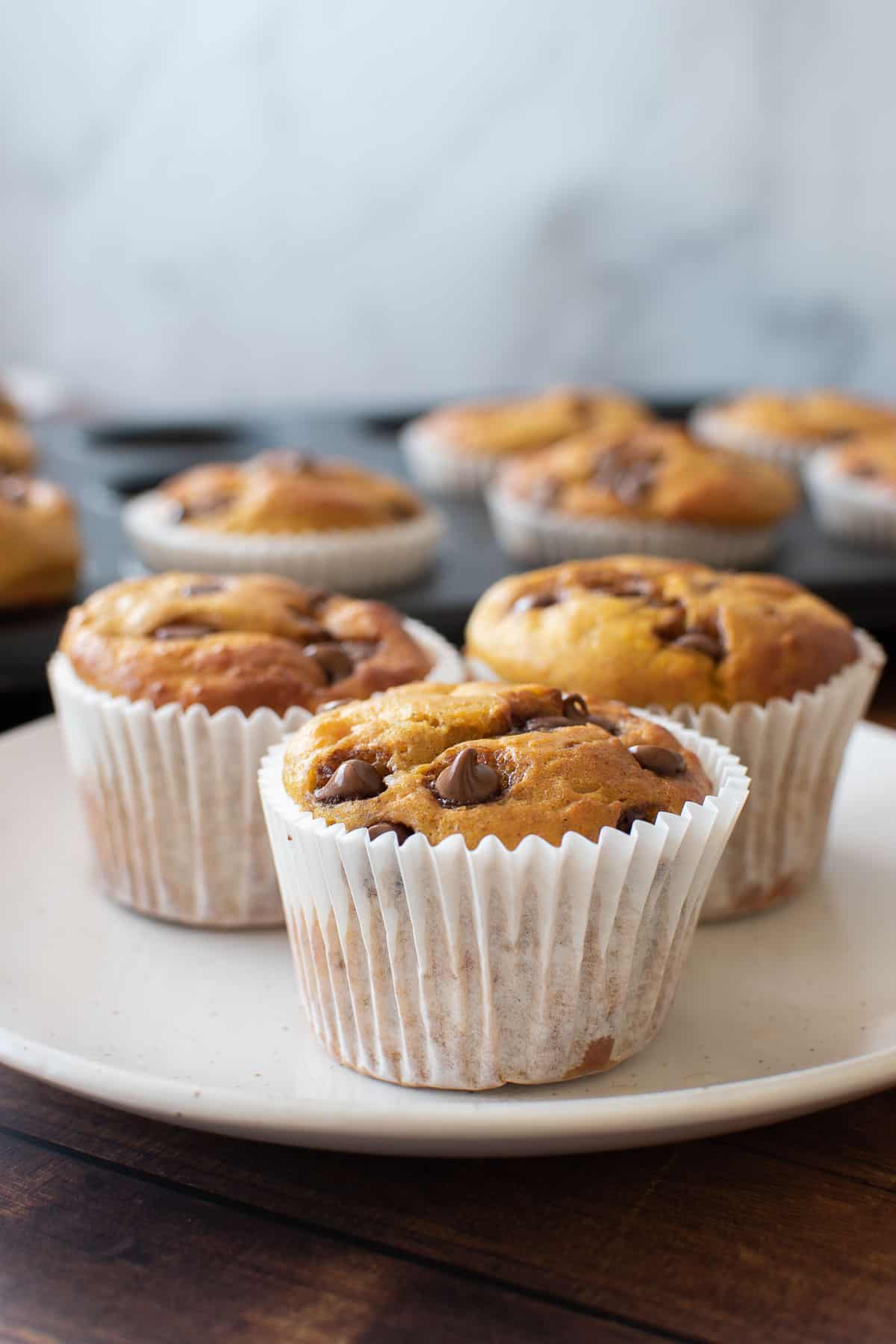 Jump to:
This post may contain affiliate links. Read more about it in the privacy policy.
Pumpkin spice might be one of my favorite flavors, and pumpkin muffins have always been one of my favorite treats for fall. These muffins have a hidden bonus of added protein powder, which makes them even more filling.
This has quickly become a staple recipe in our household. The protein muffins have a great flavor and texture, and are so simple to make. Healthy pumpkin protein muffins are perfect any time of the year, but especially in the fall.
Looking for more pumpkin flavored treats? Check out my Pumpkin Spice Latte, Iced Pumpkin Spice Latte or Pumpkin Oatmeal Cookies.
Why you'll love these muffins
Easy to make
They taste amazing
High protein content
Perfect for a healthy snack or breakfast
Kid friendly
Ingredients
Pumpkin puree: Use homemade or canned pumpkin puree. This adds nutrients, as well as a delicious pumpkin flavor.
Eggs: Binds the muffins together. This ingredient is important to ensure the right texture.
Baking powder + baking soda: A combination of both is needed to give the muffins an excellent rise.
All-purpose flour: Gives the muffins a nice, fluffy texture. You can also use whole wheat flour for a more dense and filling option.
Pumpkin pie spice: Adds flavor to the muffins.
Protein powder: Use your favorite protein powder. I tend to use vanilla flavored, pumpkin flavored or peanut flavored powder.
Greek yogurt: Keeps the muffins moist and delicious.
Chocolate chips: Completely optional, and can be omitted if you want to reduce the amount of calories and sugar in the muffins. But the combination of chocolate and pumpkin is irresistible!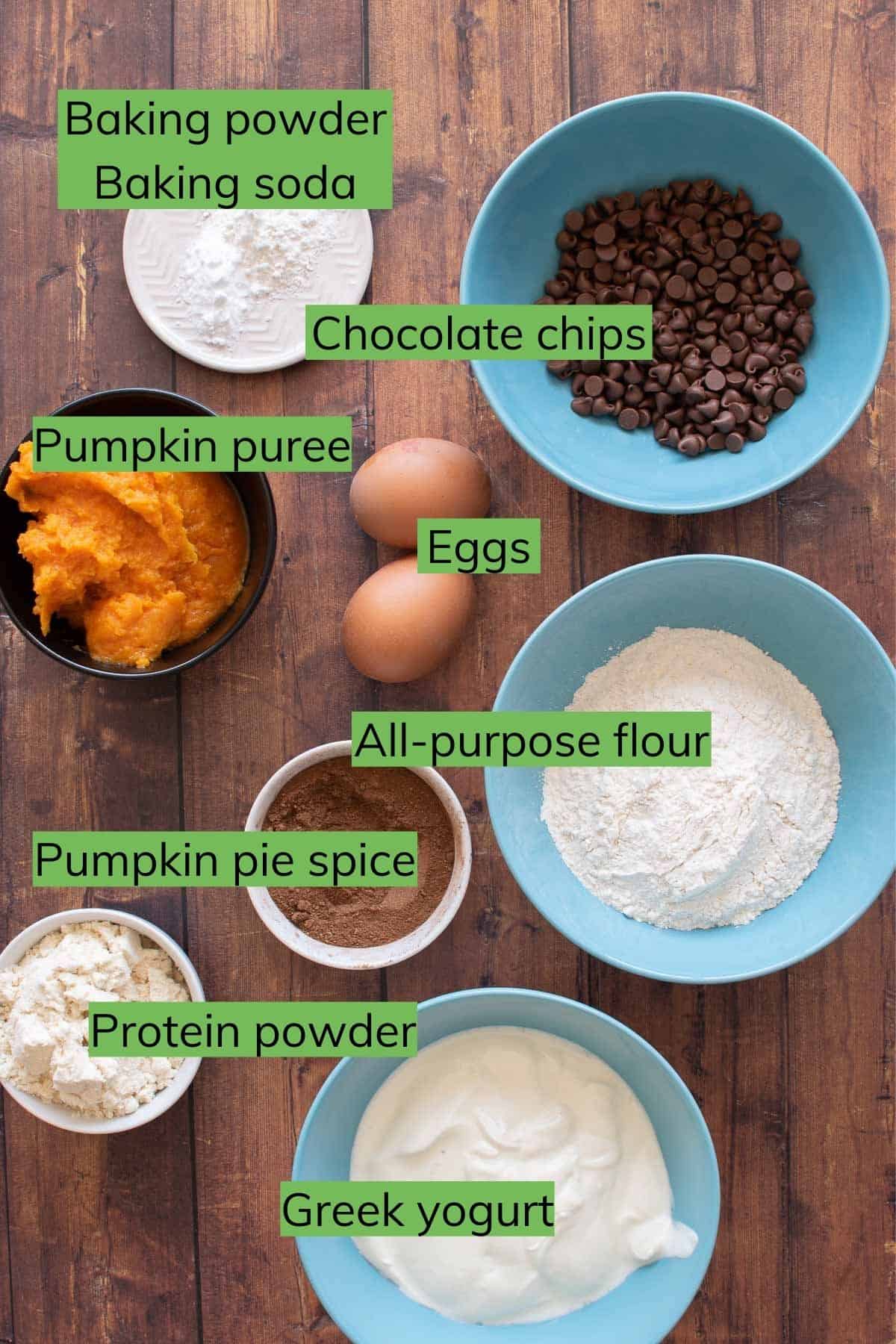 Instructions
You can find full instructions + ingredient measurements in the recipe card at the bottom of this page
One + two: Add Greek yogurt, pumpkin puree and eggs to a mixing bowl. Whisk until they are combined.
Three: Add all remaining ingredients except chocolate chips, and whisk to combine the ingredients evenly.
Four: Lastly, add the majority of chocolate chips to the batter, and gently fold them in.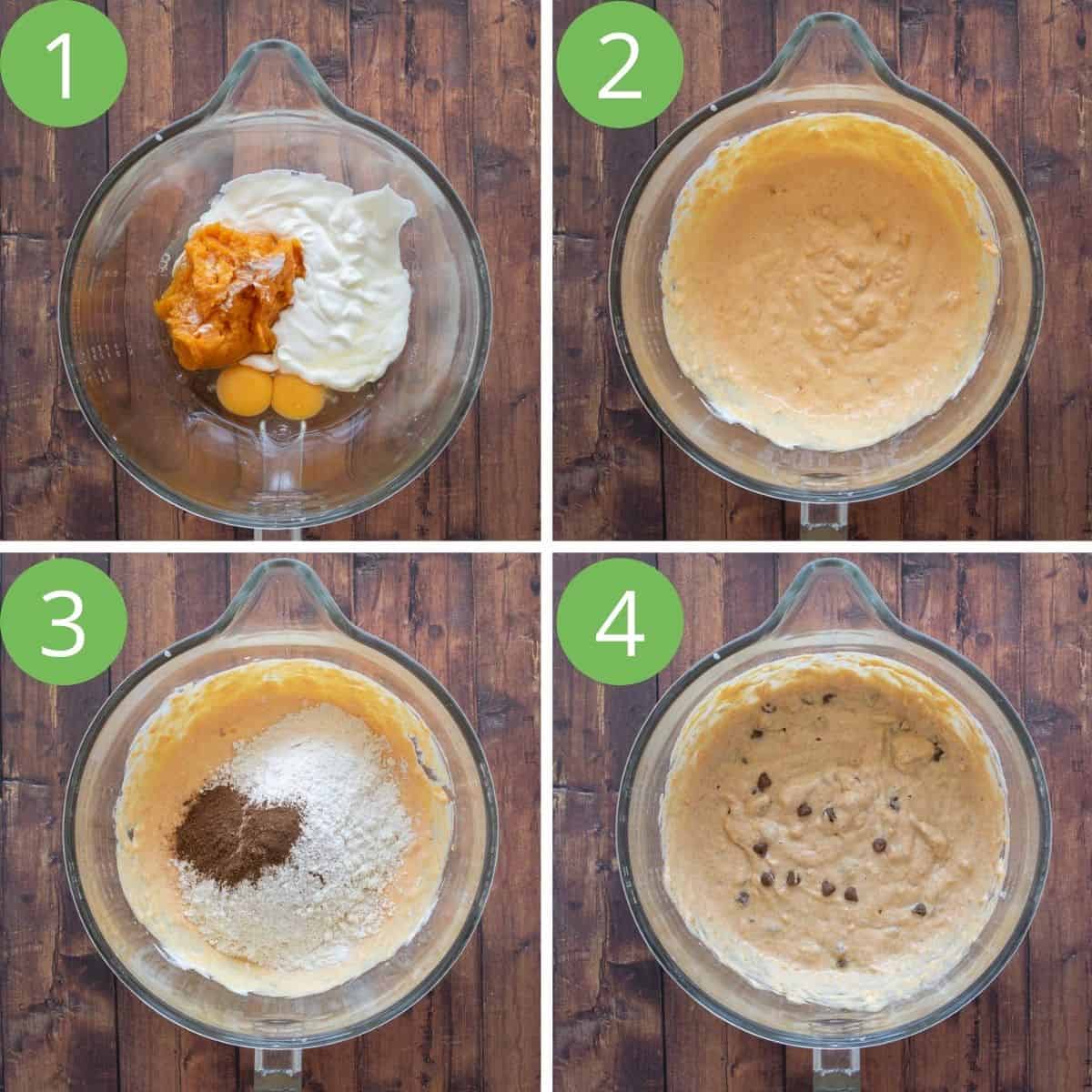 Then, it's time to add the muffin batter to muffin tins. I use a muffin tin with 12 slots. If you have more or fewer slots, your muffins will be slightly larger or smaller, and the cooking time will also be affected.
One: Line a muffin pan with muffin liners, and divide the batter evenly between them.
Two: Sprinkle the remaining chocolate chips on top of the muffins.
Three: Bake at 360 F / 180 C for about 25 minutes, or until the muffins have baked through.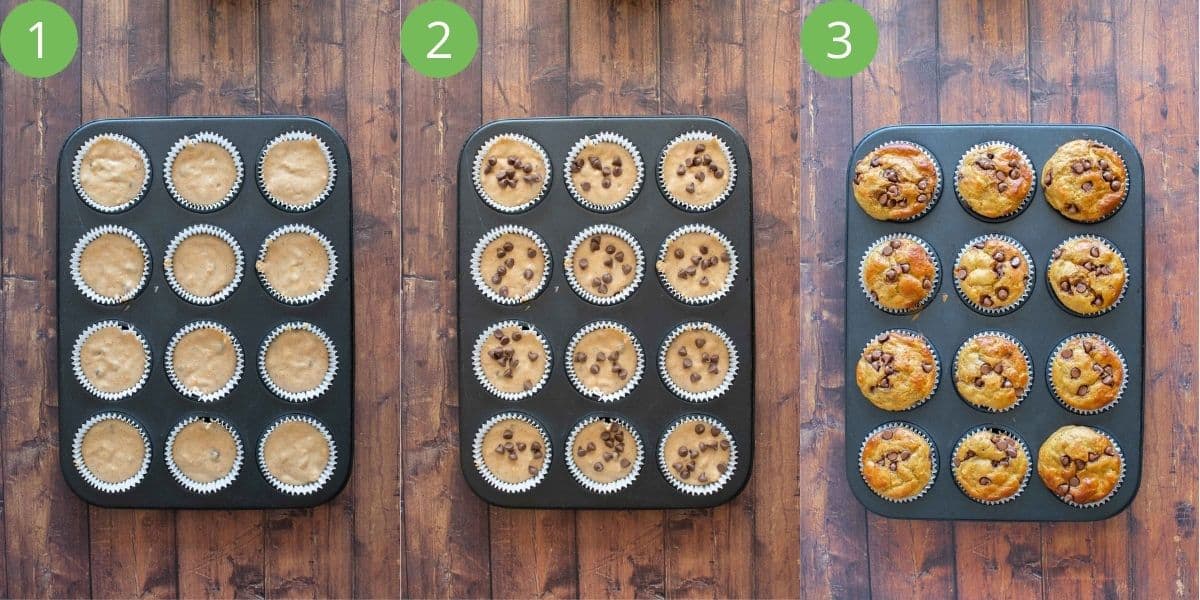 Top tips
Be careful not to over mix the ingredients. You only have to mix the ingredients together until they are evenly incorporated, which only takes a few seconds.
You can omit the chocolate chips, or reduce or increase the quantity to suit your preferences.
Use a protein powder that you like, and a flavor which works well with pumpkin. If you use something like licorice flavored protein powder, for example, the result might not be as nice.
If you want to avoid using muffin liners, you can use silicone cases, or spray the muffin tin with a non-stick cooking spray instead.
The exact cooking time needed can vary depending on the exact temperature in your oven, as well as other factors. Keep an eye on them to prevent them from burning.
Insert a skewer, toothpick or another sharp object into the middle of a muffin to check that it's done. The toothpick should come out clean. If there's any liquid on it, you should leave the muffins to bake for a further few minutes, then try again.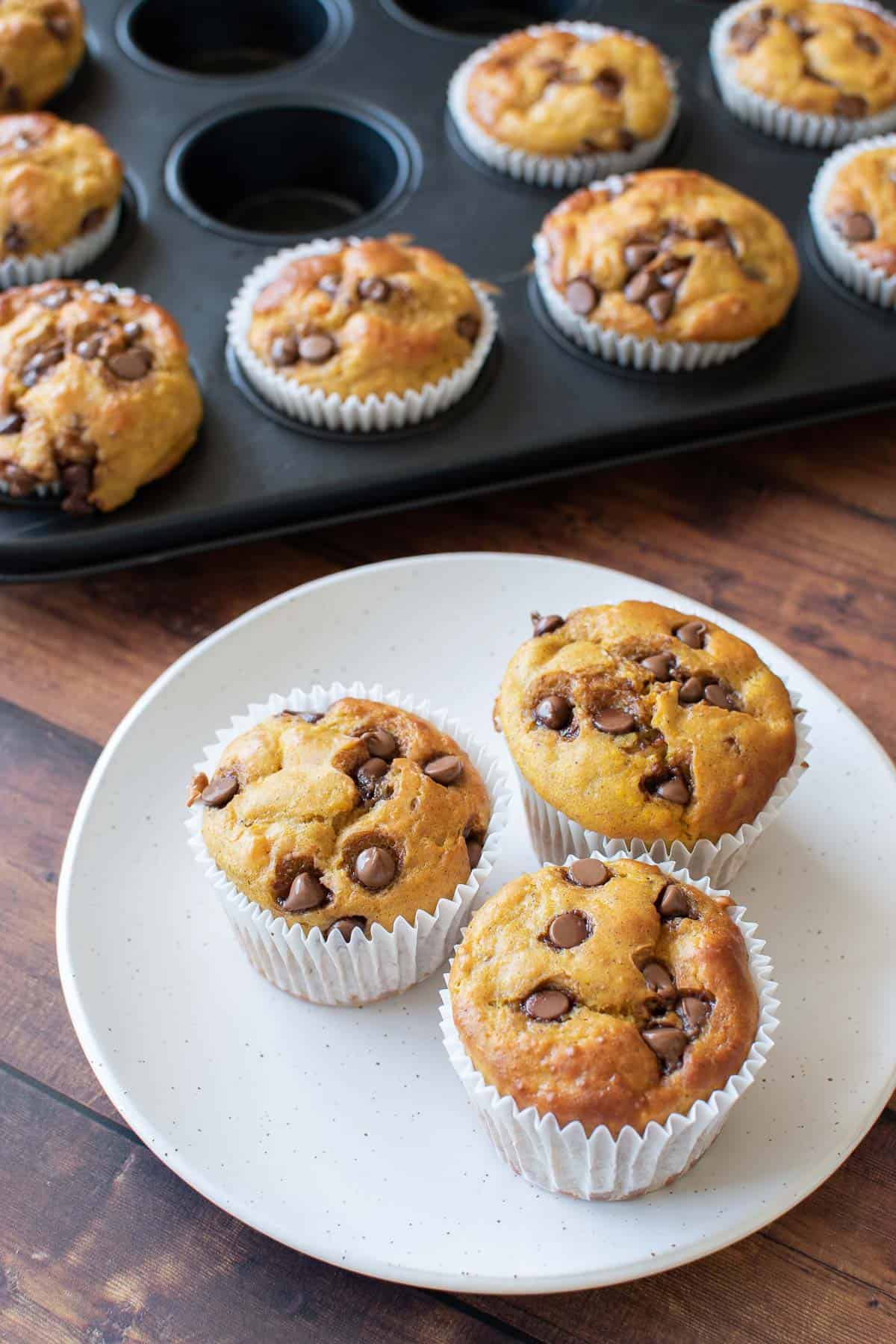 Serving suggestions
Pumpkin protein muffins are best served as a healthy breakfast, snack, or an alternative to pre-workout. Muffins are also perfect for the lunchbox!
I love to serve my muffins with a hot beverage like Pumpkin Latte, or Hot Chocolate.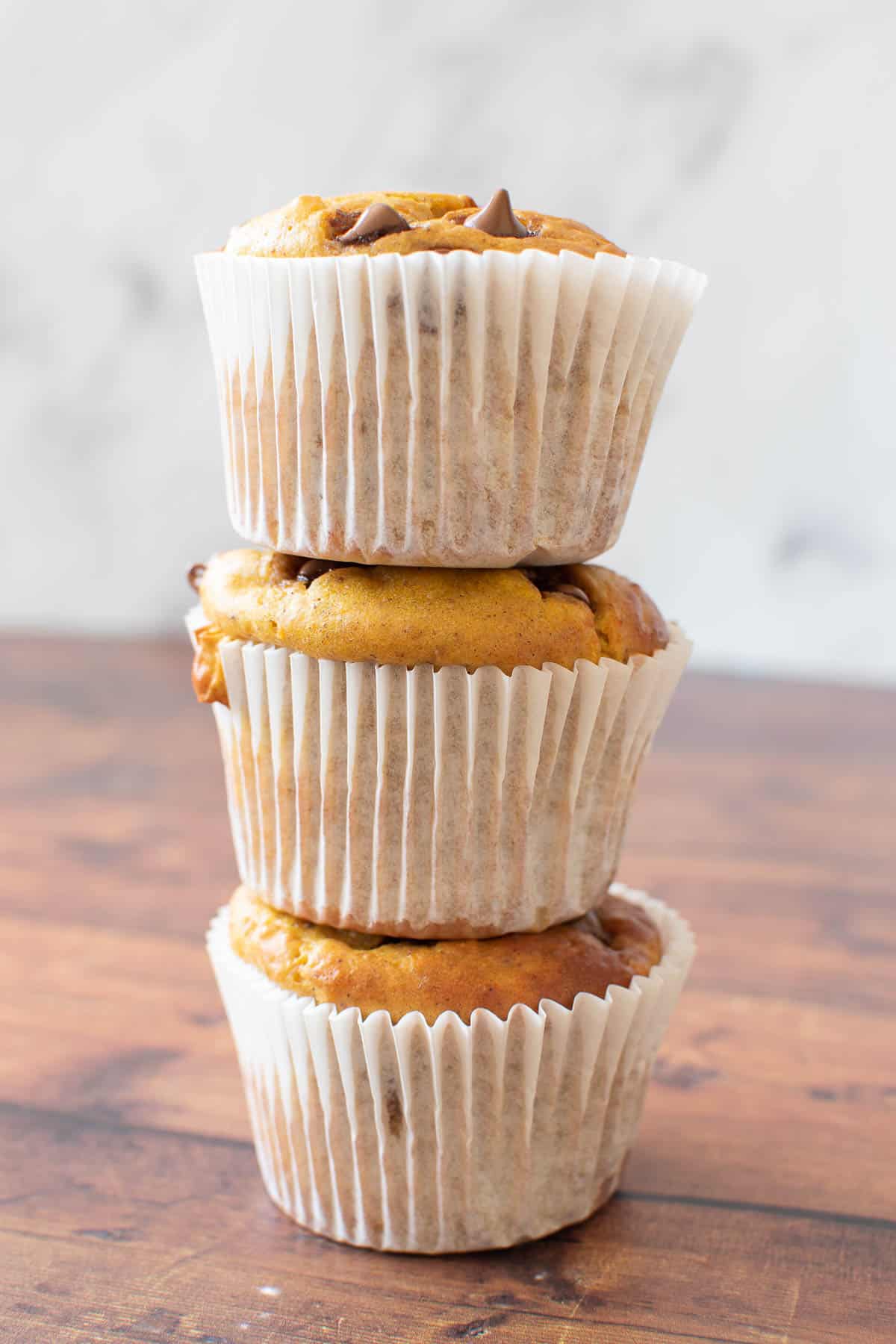 Variations
Other fillings: Substitute the chocolate chips with other fillings like raisins, dried fruit, blueberries, walnuts or chocolate chunks.
Vegan muffins: Use any egg replacer, and make sure to use a dairy free and vegan Greek yogurt alternative.
Gluten free: I have made these with gluten free all-purpose flour, and that worked really well. Also, make sure that the remaining ingredients are certified gluten free. If you try to use specialty flour like almond flour, I'd love to hear your results!
Leftovers
These pumpkin spice protein muffins can be stored in a sealed container at room temperature for up to 5 days.
You can also freeze the muffins for up to 6 months. Allow them to thaw at room temperature for a few hours, and enjoy.
If you prefer to eat warm muffins, you can reheat them in a microwave or air fryer for 30 seconds before serving. This makes them taste as if they were freshly made!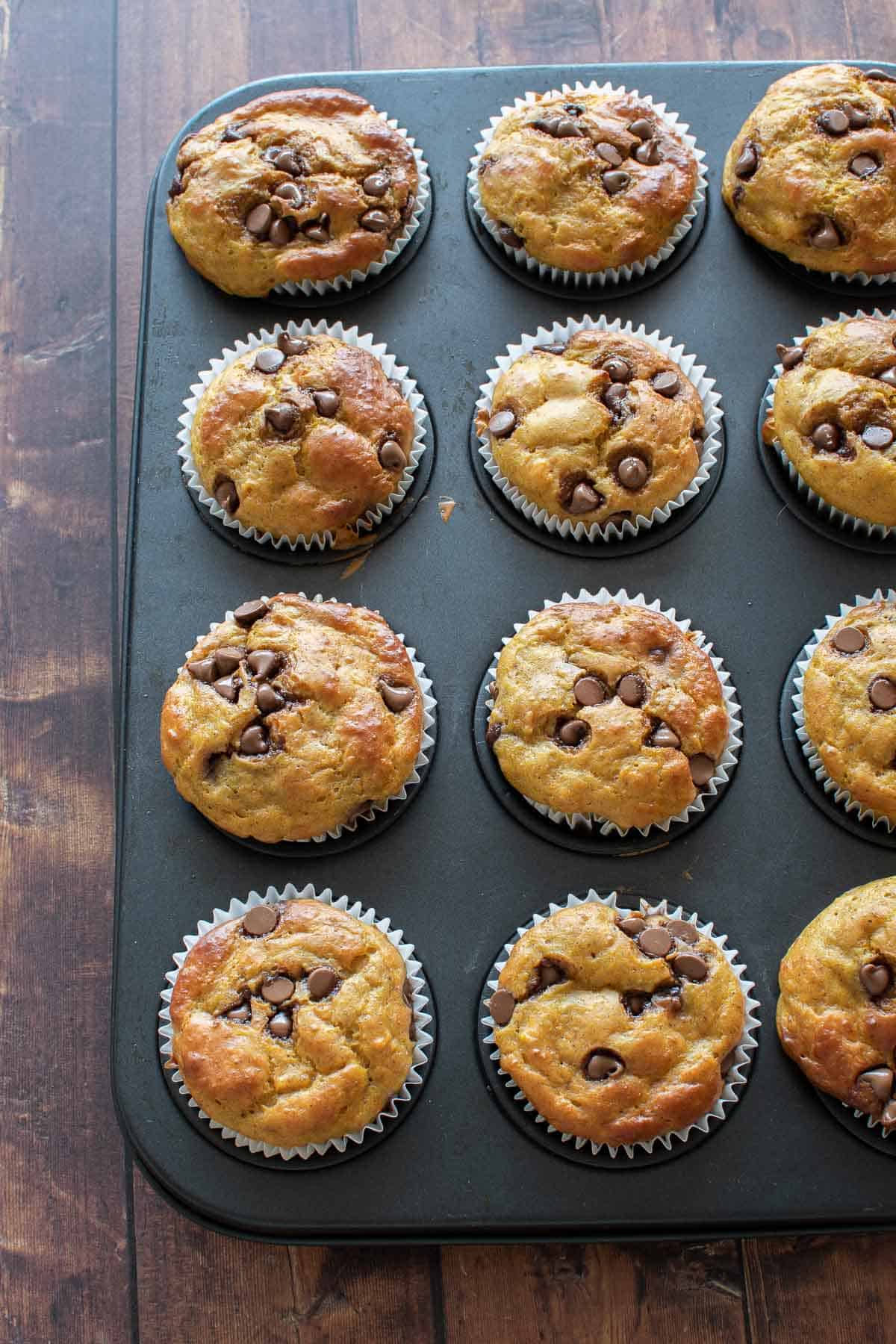 Frequently asked questions
Are muffins unhealthy for breakfast?
It depends on which ingredients you use in your muffins. Muffins made with healthier ingredients are perfect for breakfast.
Can you add canned pumpkin to muffins?
Absolutely! Muffins with canned pumpkin are moist and delicious.
Are pumpkin protein muffins good for workouts?
Yes. If you usually eat protein powder, or drink a protein shake before or after your workout, you can replace it with protein muffins instead.
You might also like these recipes
If you make this recipe, make sure to post a photo to Instagram with #hintofhealthy!
Recipe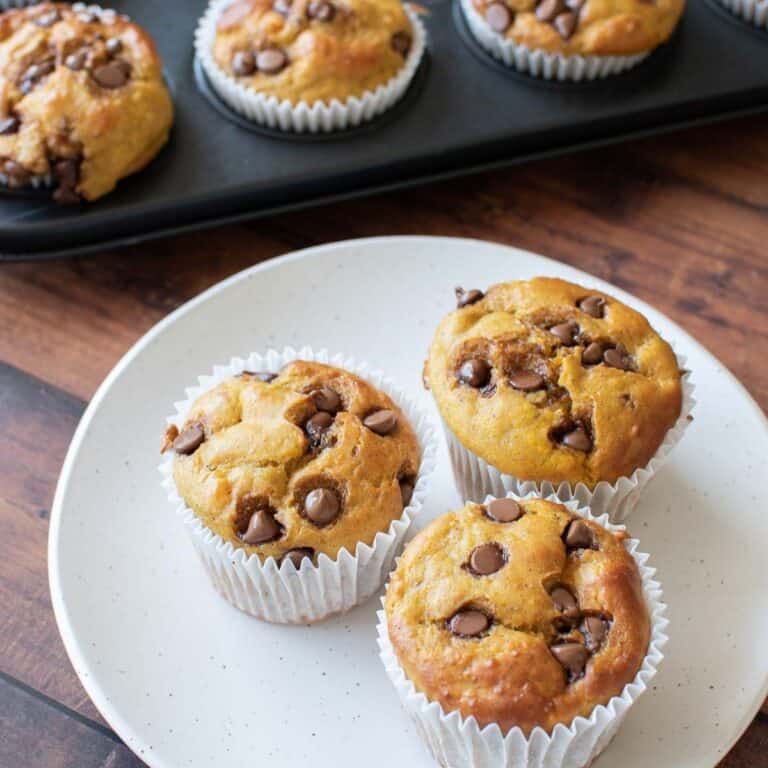 Pumpkin Protein Muffins
These healthy pumpkin protein muffins with chocolate chips are delicious, easy to make, and a great way to start the day. Freezer friendly pumpkin spice muffins with a fantastic texture.
Ingredients
1

cup

pumpkin puree

1

cup

all-purpose flour

1

cup

Greek yogurt

½

cup

vanilla protein powder

2

eggs

⅓

cup

chocolate chips

1

teaspoon

baking powder

½

teaspoon

baking soda

1

teaspoon

pumpkin pie spice
Instructions
Preheat your oven to 360 F / 180 C.

Add eggs, Greek yogurt and pumpkin puree to a mixing bowl. Whisk until the ingredients are combined.

Add all-purpose flour, baking powder, baking soda, pumpkin pie spice, and protein powder to the mixing bowl, and stir to incorporate everything evenly.

Lastly, add the majority of the chocolate chips to the muffins batter. Make sure to set a small handful of chocolate chips to the side.

Line a muffin pan with muffin liners, and pour the muffin batter into each of them. Try to divide the batter evenly between all 12 liners.

Sprinkle the remaining chocolate chips on top of the muffins.

Bake the muffins in the middle of the oven for about 25 minutes, or until a toothpick inserted into the middle of a muffin comes out clean.

Leave the muffins to chill on a cooling rack for a few minutes, then serve.
Notes
Store leftover pumpkin spice muffins in a sealed container at room temperature for up to 5 days, or freeze for up to 6 months. You can thaw frozen muffins at room temperature.
Feel free to use any protein powder that you like. Make sure that you use a flavor which works well with pumpkin, such as peanut butter, vanilla, pumpkin spice or peanut butter.
Cover the muffin pan with non-stick cooking spray if you don't want to use liners. 
Nutrition
Calories:
83
kcal
Carbohydrates:
11
g
Protein:
7
g
Fat:
1
g
Saturated Fat:
1
g
Trans Fat:
1
g
Cholesterol:
37
mg
Sodium:
110
mg
Potassium:
106
mg
Fiber:
1
g
Sugar:
2
g
Vitamin A:
3218
IU
Vitamin C:
1
mg
Calcium:
73
mg
Iron:
1
mg