This comforting Crockpot mulled wine is the perfect hot drink for Christmas and winter. Traditional mulled wine, or gluhwein, is easy to make in your slow cooker, and the traditional cocktail is always a holiday favorite.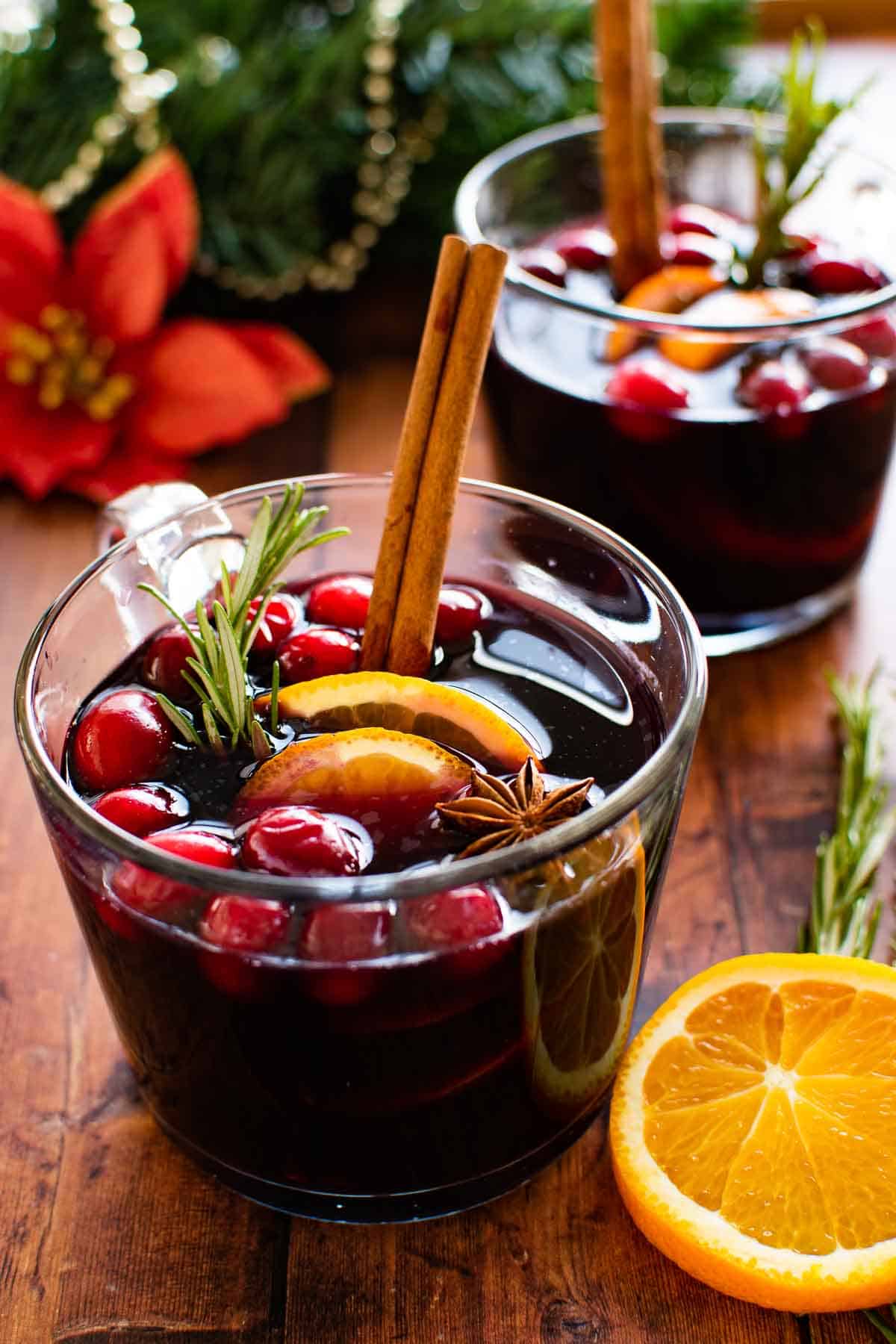 Jump to:
This post may contain affiliate links. Read more about it in the privacy policy.
Mulled wine, or German gluhwein, is a traditional European Christmas drink. It's made by heating up red wine with seasonal spices like cinnamon, and fruits like cranberries or oranges.
I love making gluhwein in a slow cooker, as I can prepare the ingredients in advance, and turn on the Crockpot when I'm almost ready to serve it. You can also easily transport the slow cooker, or keep it in your living room when hosting a Christmas party.
Why you'll love it
Easy to make mulled wine
Comforting hot drink
Customize the flavors to suit your preferences
Use your favorite red or white wine
Really simple recipe
A great way to prepare and keep mulled wine warm
Vegan, gluten free, dairy free, nut free, soy free
🍸 More COCKTAIL RECIPES from Hint of Healthy
Ingredients
Red wine: Mulled wine is typically made with a fruity, dry red wine, but you can use any wine that you like, including white wine. Although the wine will be flavored by the other ingredients, it can make a big difference to use a good one.
Bourbon: This adds a lovely kick of flavor, and increases the alcohol content in the drink. You can omit this if you prefer, or substitute it with brown or spiced rum, whiskey, or cognac.
Oranges: Freshly sliced oranges will add some extra flavor to the mulled wine. This is optional, but oranges are a traditional ingredient in mulled wine. Alternatively, you can use a little orange zest, orange peel, or even orange juice instead.
Lemon zest: Lemon balances the other flavors, but lemon juice can be a little intense. I like to use lemon zest, or just lemon peel, instead of adding the fruit or juice. Choose unwaxed lemons if you can, as they taste much better.
Cloves: Whole cloves or ground cloves will both work. If you use whole cloves, you have to remember to remove them before you serve the wine.
Star anise: These look lovely as a garnish, and give the mulled wine a fantastic flavor. Don't use ground anise, or aniseed, as these taste a little different.
Cinnamon sticks: A great way to infuse mulled wine with cinnamon.
Maple syrup: Adds a little sweetness to the gluhwein. You can omit it, or substitute it with honey or brown sugar if you prefer.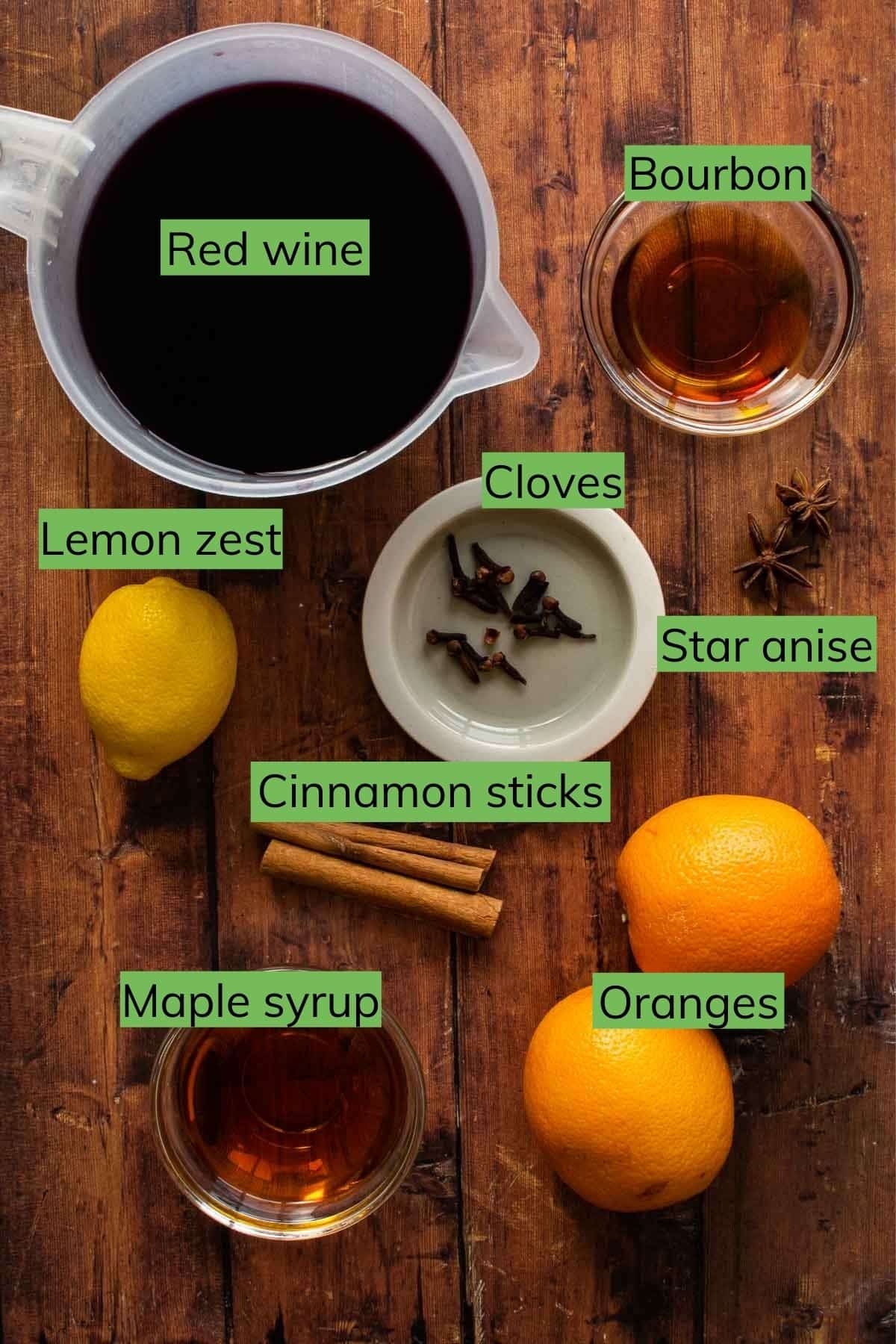 Instructions
You can find full instructions + ingredient measurements in the recipe card at the bottom of this page
Peel the lemon, and slice the oranges. Place lemon peel and orange slices in a crock pot, along with the other ingredients.
Cook the mulled wine on LOW for 2-3 hours, or on HIGH for 1 hour. The wine should only heat up. Don't allow it to boil, as this can make the wine taste bitter.
If you want to leave the gluhwein in the slow cooker for a little longer, you can keep it on low, or on keep warm. This allows the flavors of the spices to become even more potent.
If you prefer to make mulled wine in your pressure cooker, you can try my Instant Pot Mulled Wine instead!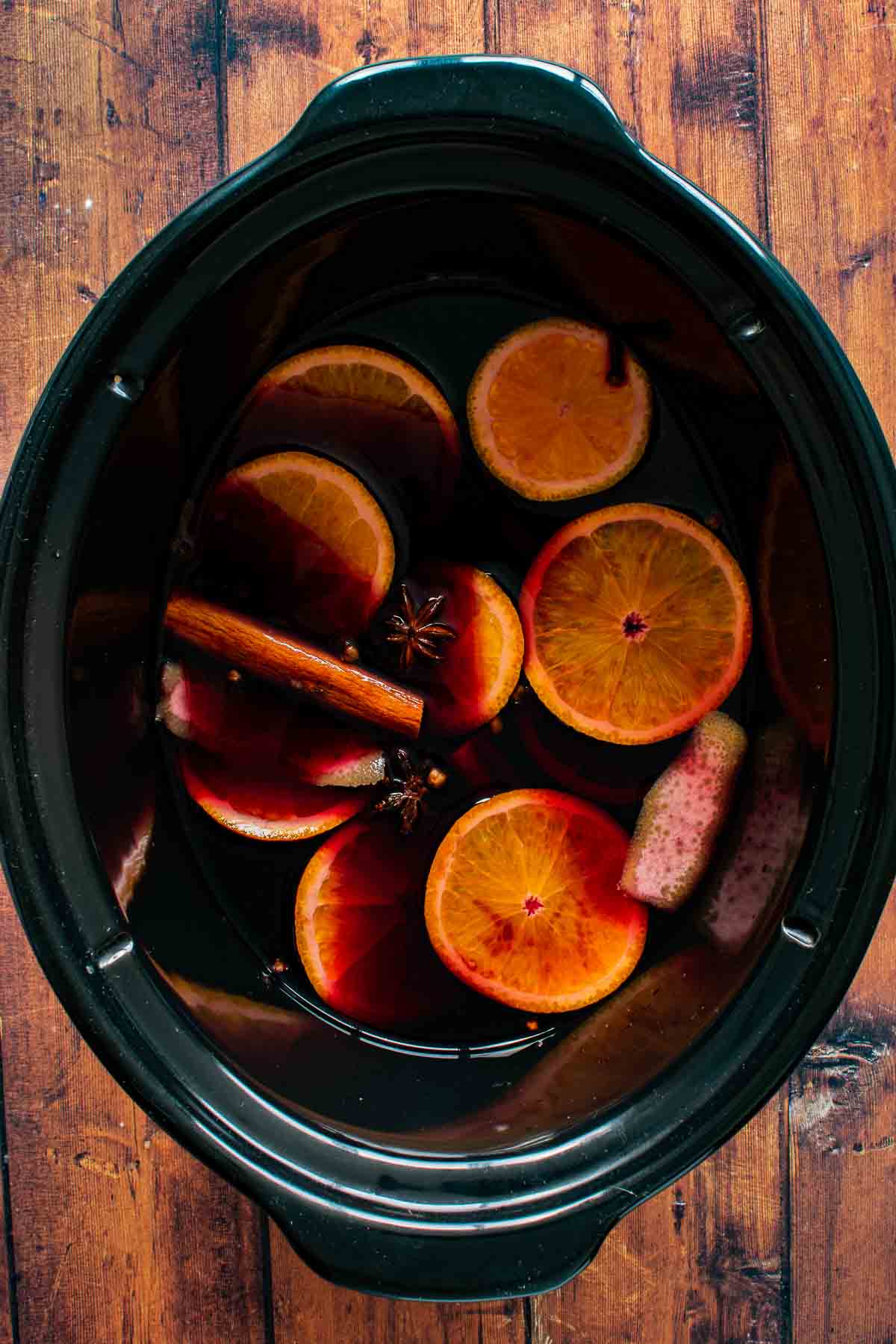 Top tips
The spiced flavors of the mulled wine will intensify over time. The longer you leave it in the slow cooker, the more flavor it will have.
Use a sieve or cheesecloth to remove the spices and fruit from the mulled wine before you serve it.
If the slow cooker has a KEEP WARM setting, you can leave the wine on this setting for a few hours. This is perfect for entertaining, if you want your guests to be able to help themselves throughout the day.
Serving suggestions
Crockpot mulled wine is a hot cocktail best served as an evening treat during winter, and especially around the holiday season. Serve it as a welcome drink for a holiday party, or enjoy it as a comforting beverage in the evening.
If you want to, you can pair it with a seasonal snack or dessert. Try serving it with Honey Roasted Almonds, Puff Pastry Mince Pies, Eggnog Bread Pudding, or Baked Camembert with Honey.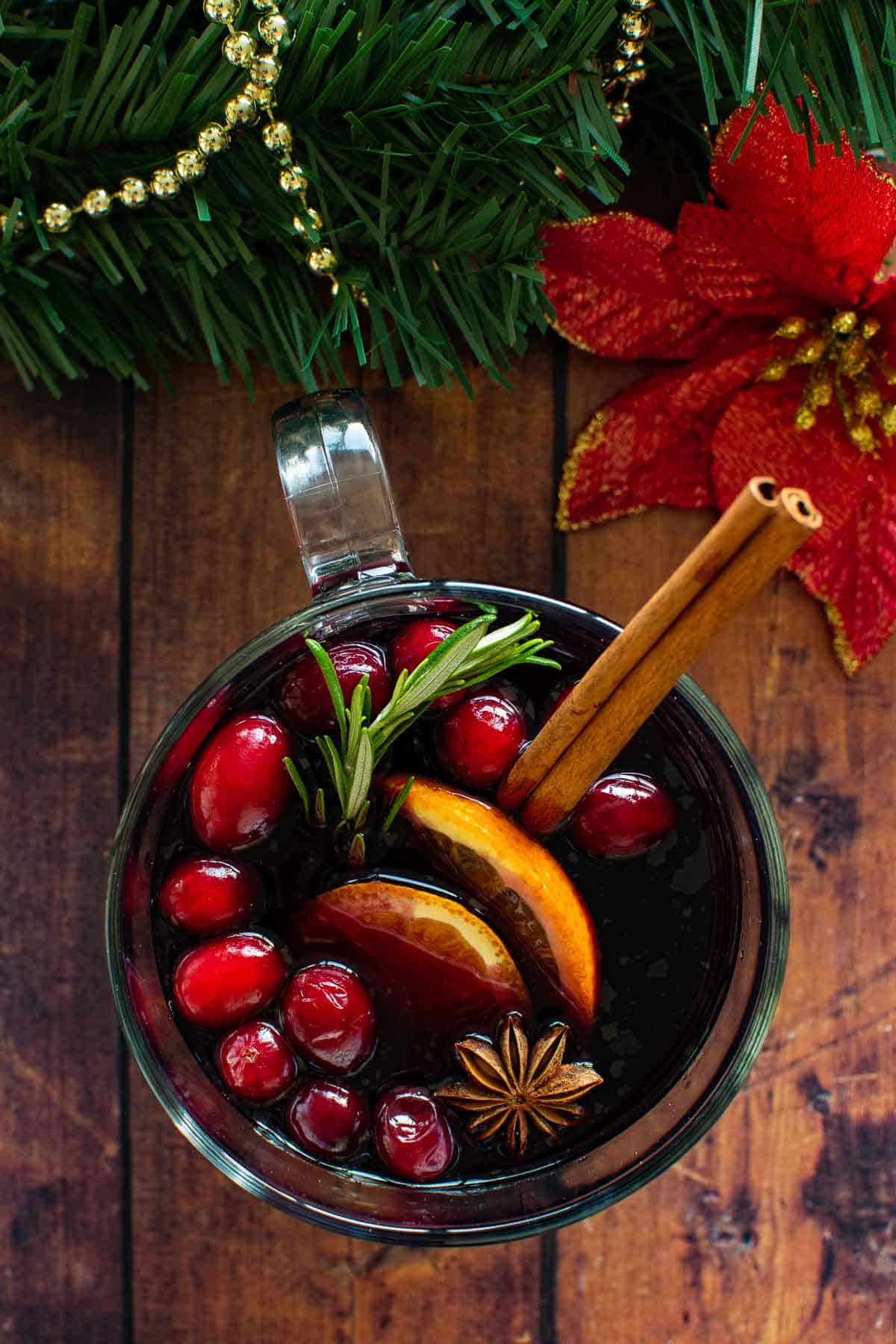 Variations
Other flavors: There are many ways to change the flavors of mulled wine. For example, you can add some vanilla extract, cranberries, apple juice, nutmeg, or various liqueurs.
Other cooking methods: Mulled wine can also be made on the stove, or in an Instant Pot.
Equipment
To make this recipe, you will need a Crockpot or any slow cooker. Make sure that your slow cooker can comfortably fit the ingredients. A 3 quart slow cooker is perfect for 1-2 bottles of red wine. If you want to make a bigger batch, you might want to use a larger Crockpot.
Additionally, you might need a sharp knife and a cutting board to prepare the citrus fruit, and a sieve or muslin cloth to strain the wine before you serve the cocktail.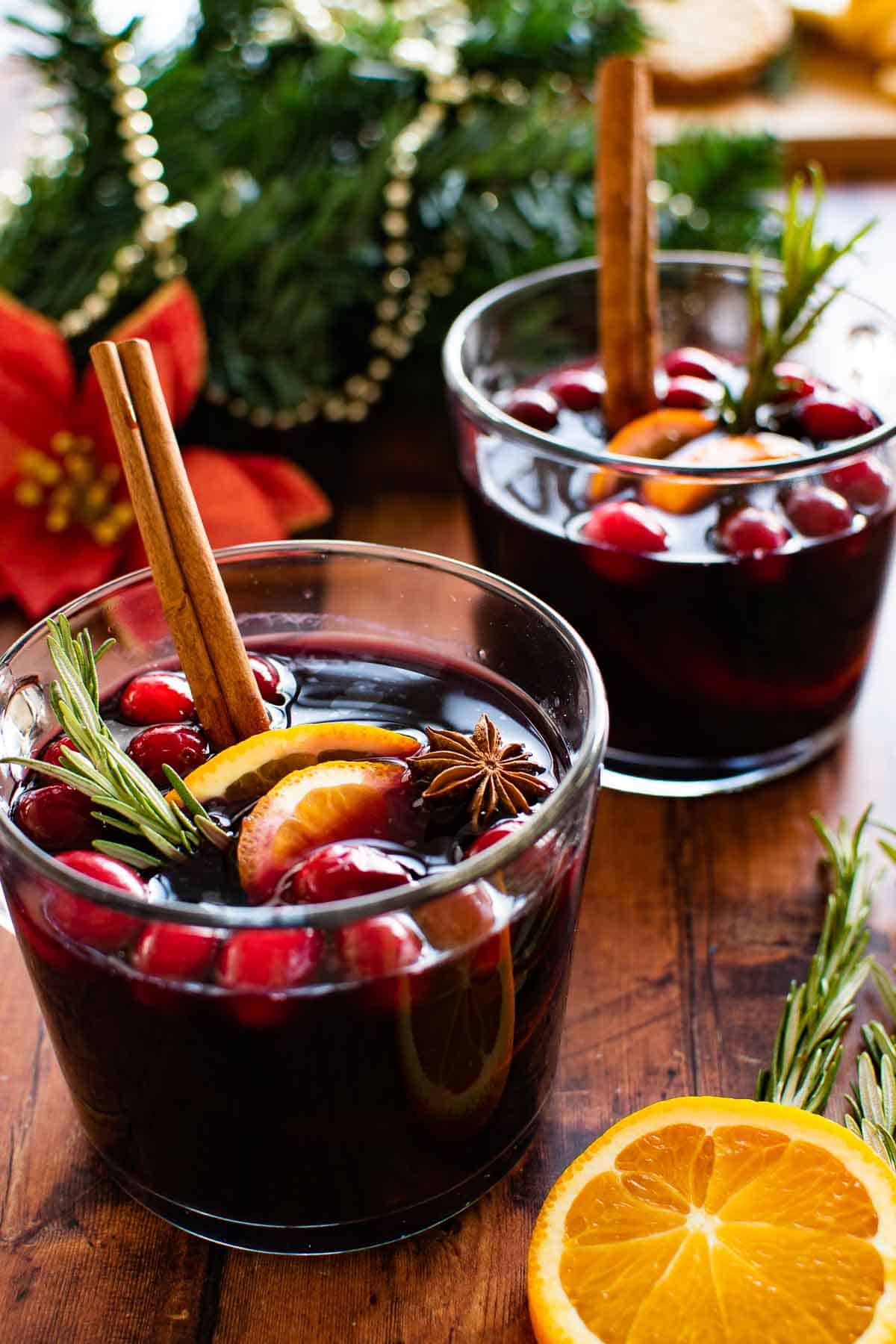 Storage
Mulled wine is best served warm, but you can store any leftovers in a refrigerator for up to 2 days. Reheat it in a Crockpot or microwave, and serve it hot.
Keep in mind that the wine might develop a stronger flavor from the spices while stored, so it could be a little intense the next day.
Frequently asked questions
Why should you not boil mulled wine?
The trick is to heat up the wine but to keep it from boiling. Boiling wine will cook off most of the alcohol, and it can lead the wine to taste bitter.
Which wine is best for mulled wine?
Some great wines for mulled wine include merlot and zinfandel. Any dark and fruity red wine will work.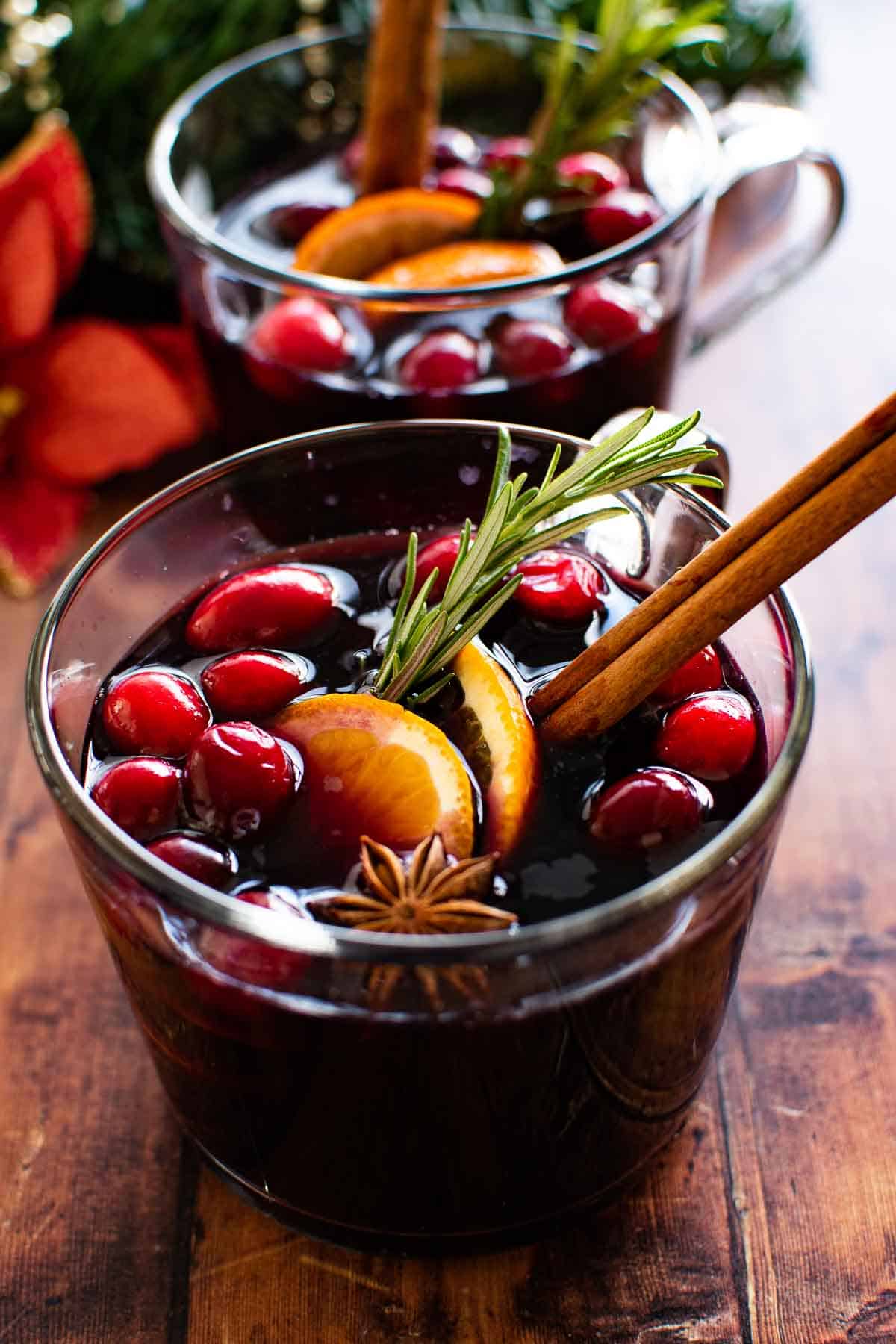 You might also like these recipes
If you make this recipe, make sure to post a photo to Instagram with #hintofhealthy!
Recipe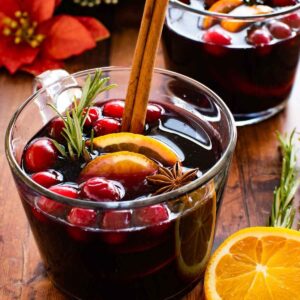 Crockpot Mulled Wine
This comforting Crockpot mulled wine is a delicious hot cocktail for winter and Christmas. The perfect drink for holiday parties!
Ingredients
1

bottle

red wine

2

oranges

1

lemon

8

cloves

⅓

cup

brandy

1

tablespoon

maple syrup
Instructions
Peel the lemon, and slice the oranges.

Place lemon peel and orange slices in a crock pot, along with the other ingredients.

Cook the mulled wine on LOW for 2-3 hours, or on HIGH for 1 hour.
Notes
Use a dark, dry, fruity red wine. Merlot is my favorite for mulled wine.
Feel free to adjust the spices used, or add any other flavorful ingredients like apple slices, cranberries, nutmeg, bay leaves, ginger, or sugar.
Nutrition
Calories:
265
kcal
Carbohydrates:
20
g
Protein:
1
g
Fat:
1
g
Saturated Fat:
1
g
Polyunsaturated Fat:
1
g
Monounsaturated Fat:
1
g
Sodium:
10
mg
Potassium:
424
mg
Fiber:
3
g
Sugar:
11
g
Vitamin A:
164
IU
Vitamin C:
49
mg
Calcium:
77
mg
Iron:
1
mg
Food safety tips
Don't leave the drink sitting out at room temperature for extended periods
Be careful, as the slow cooker will become warm