This delicious baked camembert with honey and rosemary is a fantastic dish that you can make in just 20 minutes. The flavorful melted cheese is the perfect dip for sourdough bread or crackers, and although it might sound fancy, it's really easy to prepare.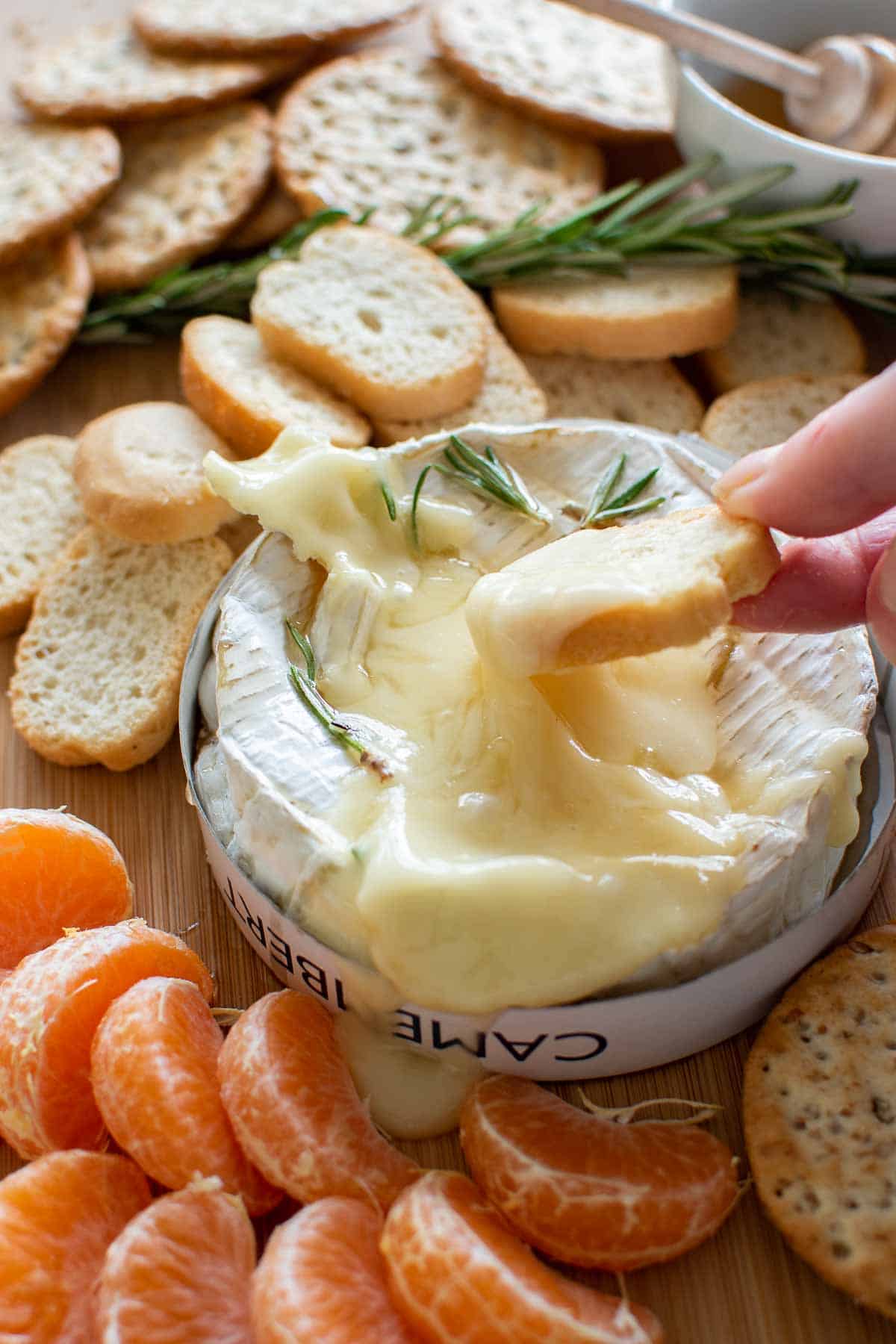 Jump to:
This post may contain affiliate links. Read more about it in the privacy policy.
This honey baked camembert recipe is my go-to fancy treat for grown-up gatherings, easy desserts, or even as a social appetizer. The soft cheese is melted in the oven and used as a dip for fresh bread, fruit, or anything else that you like.
Baking camembert is incredibly easy, but the dish looks incredibly impressive on the table. This is often a talking point whenever I serve it, and since everyone can pair it with whichever sides they like, it's always a success!
Why you'll love it
Easy to make cheesy snack
Perfect as a light meal, dessert or snack
A great dish to share with others
Serve it as part of a cheese board or charcuterie board
Only requires 3 ingredients
Pair it with any sides that you like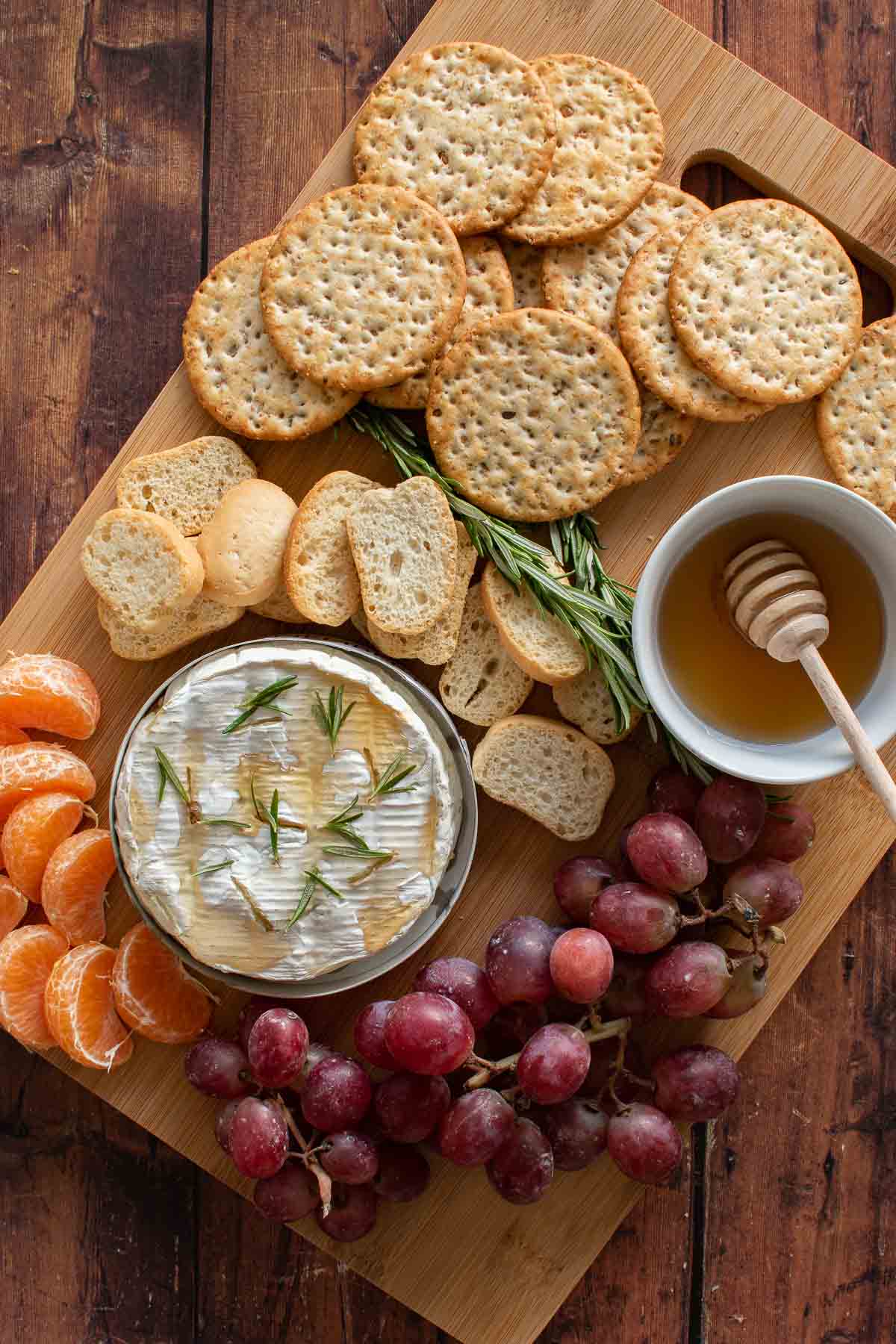 Ingredients
Camembert: This is a soft, creamy French cheese. It's ripened on the surface, and the middle of the cheese is much creamier. Camembert is quite similar to brie, and both kinds of cheese are popular for cheese boards, or to serve with crackers and fruit.
Honey: I like to drizzle the cheese with runny honey to add a little sweetness. You can also use thicker, harder honey, or maple syrup if you prefer.
Rosemary: Adding herbs is completely optional, but I love how well fresh rosemary pairs with cheese and honey. I don't recommend using dry rosemary. To prevent it from getting burned, I like to add it as a garnish after the camembert is baked.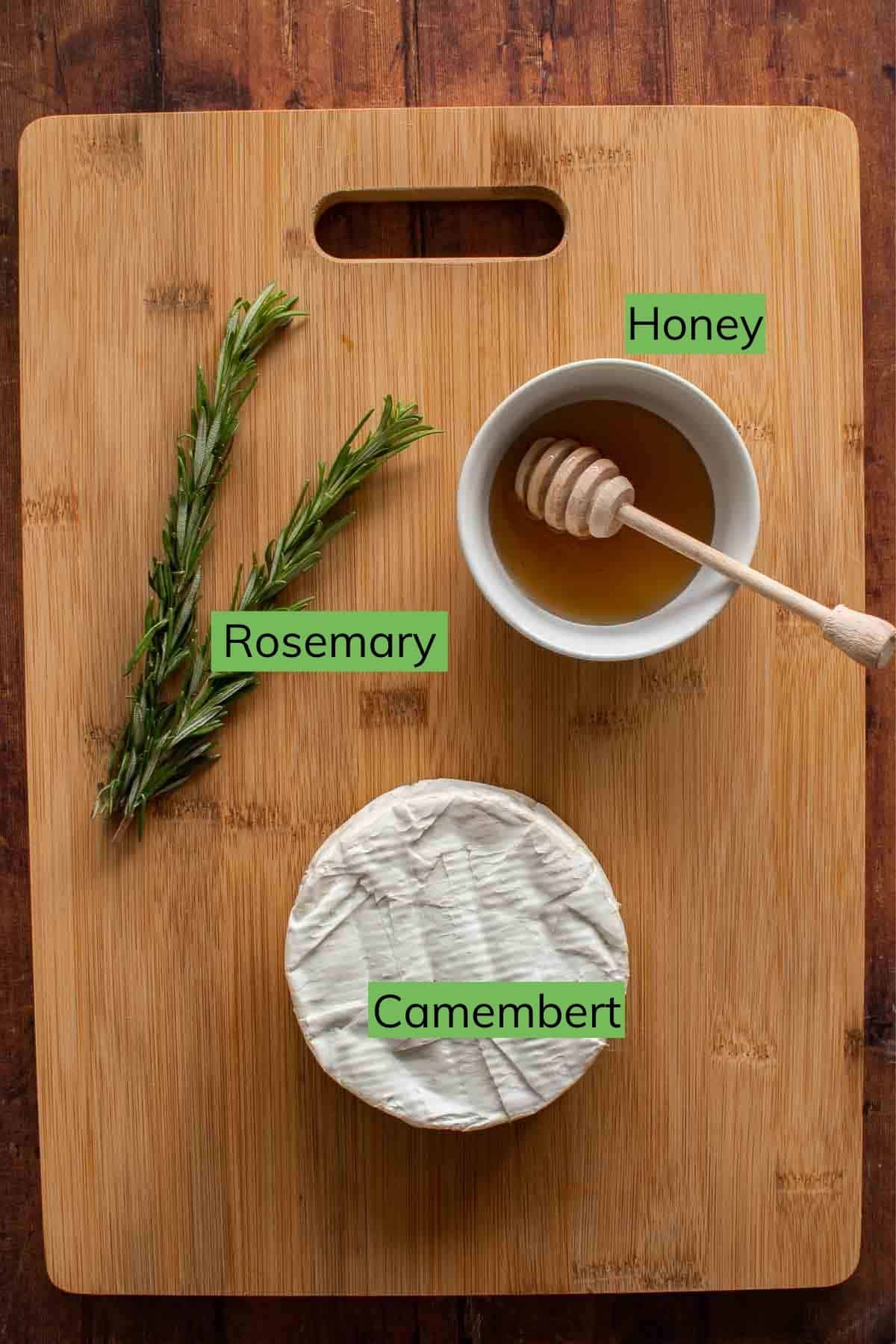 Instructions
You can find full instructions + ingredient measurements in the recipe card at the bottom of this page
One: Place the camembert on a baking sheet or baking tray covered with parchment paper, or in a baking dish. This cheese is often sold in packaging that's safe to use in the oven, so make sure to check the label for instructions.
Two: Pierce a few holes in the cheese with a sharp knife or fork, and drizzle honey over the camembert. The holes will allow the cheese to bake more evenly.
Three: Bake the cheese at 350 F / 180 C for about 15-20 minutes. You can check that it's ready by carefully nudging the edge of the cheese. The surface should be solid, but it should feel as if the inside of the camembert is completely liquid. Remove the camembert from the oven, garnish with fresh rosemary and extra honey, and serve immediately.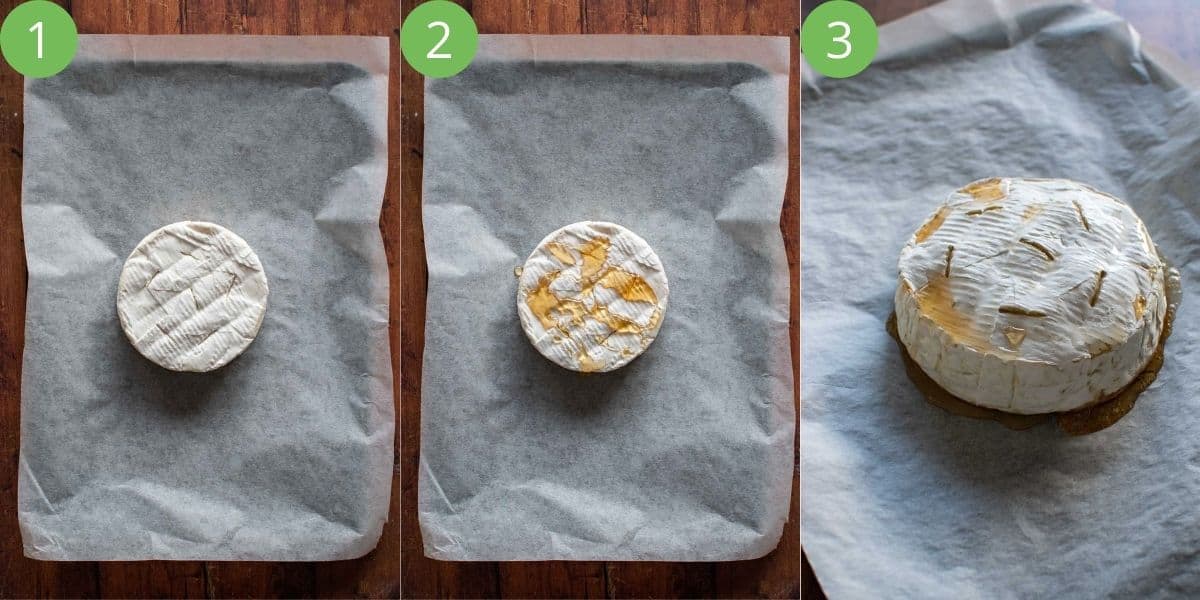 Top tips
If you want your camembert to taste even stronger, you can leave it on your kitchen counter for a few hours before you bake it. This will allow the cheese to ripen further, which intensifies the flavor.
You'll know when the camembert is baked by carefully poking it with a finger or kitchen utensil. It will be completely liquid on the inside, which makes it wobbly, kind of like a water balloon.
Add the rosemary after baking to prevent it from burning in the oven.
Serving suggestions
Baked camembert with honey is best served as a luxurious, light meal, as an appetizer, or as a snack or dessert. It's absolutely perfect for entertaining, or you can enjoy it alone.
Serve camembert with toasted bread, crackers, fruit salad, berries, honey, sweet or savory spreads, pickles, grapes, deli meats, charcuterie, raw vegetables, jam, cranberry sauce, grilled vegetables, breadsticks, caramelized onions, garlic bread, or baguettes.
You can either slice a hole in the rind of the cheese or simply remove the top rind to access the gooey center. Then, spread the melted camembert onto your bread, or simply dip the accompaniments into the hot cheese.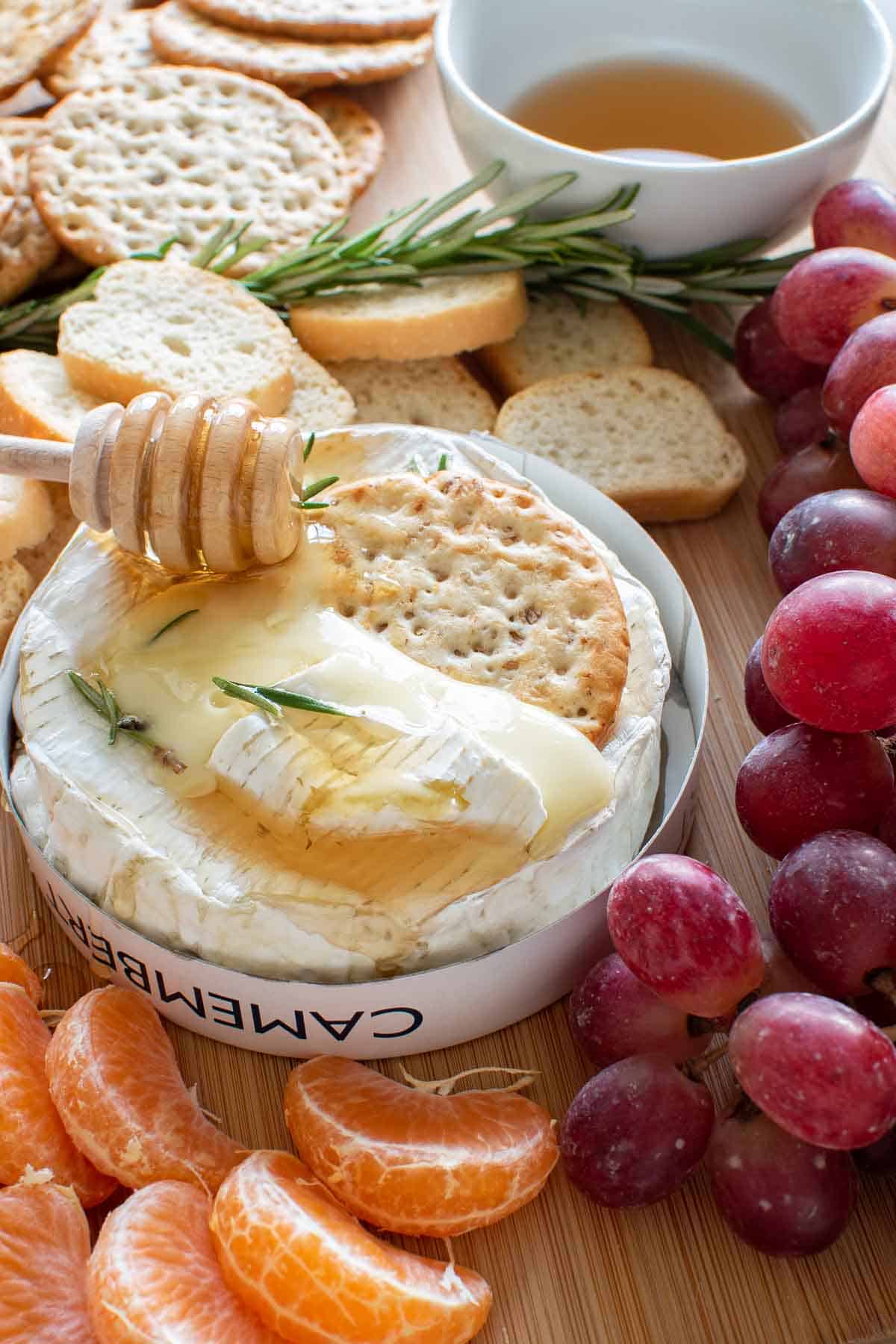 Variations
Other garnishes: Instead of honey and rosemary, you can garnish your camembert with baked garlic, cranberry sauce, fig jam, chili flakes, black pepper, olive oil, crispy bacon, toasted almonds, or any other sweet or savory spread. You can also bake the cheese plain, without any toppings at all.
Camembert in bread: Carve out a camembert-sized hole in a round loaf of bread. Then, bake the cheese in the bread. You can rip off pieces of bread to dip into the cheese, as well as serve additional bread or fruit on the side. Using a cheese bowl can turn this easy cheese recipe into an impressive centerpiece!
Other cheeses: This recipe is best made using camembert, but you can also use brie instead. Brie is quite similar to camembert in both flavor and texture.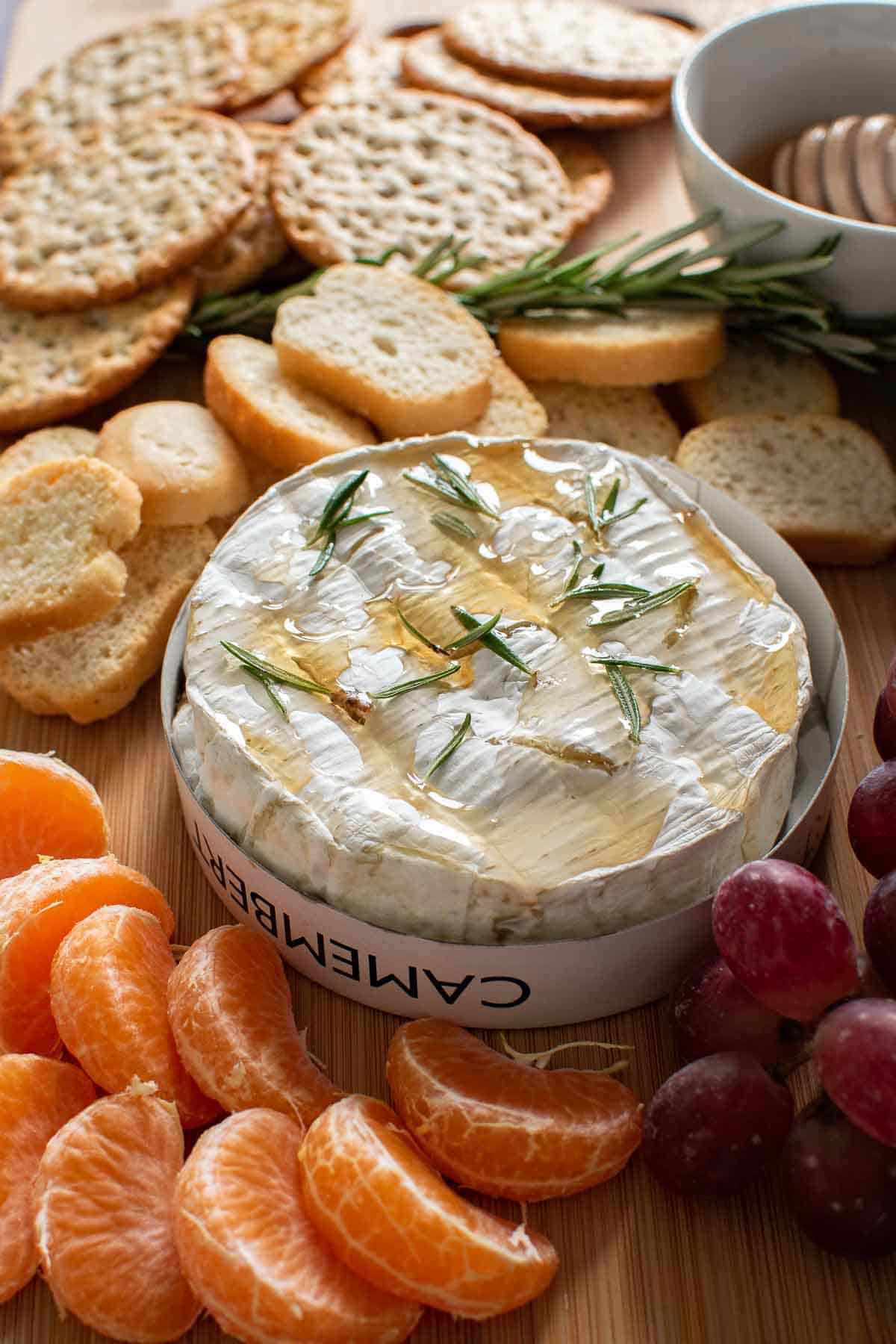 Storage
Store any leftover baked camembert with honey in a sealed container in a refrigerator for up to 2 days. The cheese will firm up a little as it cools down, similar to any other melted cheese, but is still perfectly fine to eat.
You can usually reheat baked camembert in the oven. Keep in mind that any exposed areas of the cheese might not melt as well as they did the first time around, so I only recommend baking it for a second time if you have quite a lot of leftover camembert.
Frequently asked questions
Can you eat the rind of a baked camembert?
Yes, you can absolutely eat the rind of camembert, whether it's cold or baked. The rind does not melt but still tastes amazing.
Can you bake camembert in cardboard?
No, if your camembert cheese comes in a cardboard box, you will have to remove it from the packaging before you bake it. Some cheeses are sold in wooden boxes, which can be safe to use in the oven.
What happens if you bake camembert for too long?
If you bake the cheese for too long, it can turn from soft and gooey, to suddenly being hard and inedible. Make sure to remove the cheese from the oven as soon as you suspect that the middle of the cheese has melted.
Why does baked camembert smell so strong?
Camembert cheese has quite a strong smell compared to for example brie, cheddar, or cream cheese. The smell becomes more intense as the cheese ripens, and especially if it's warm or baked.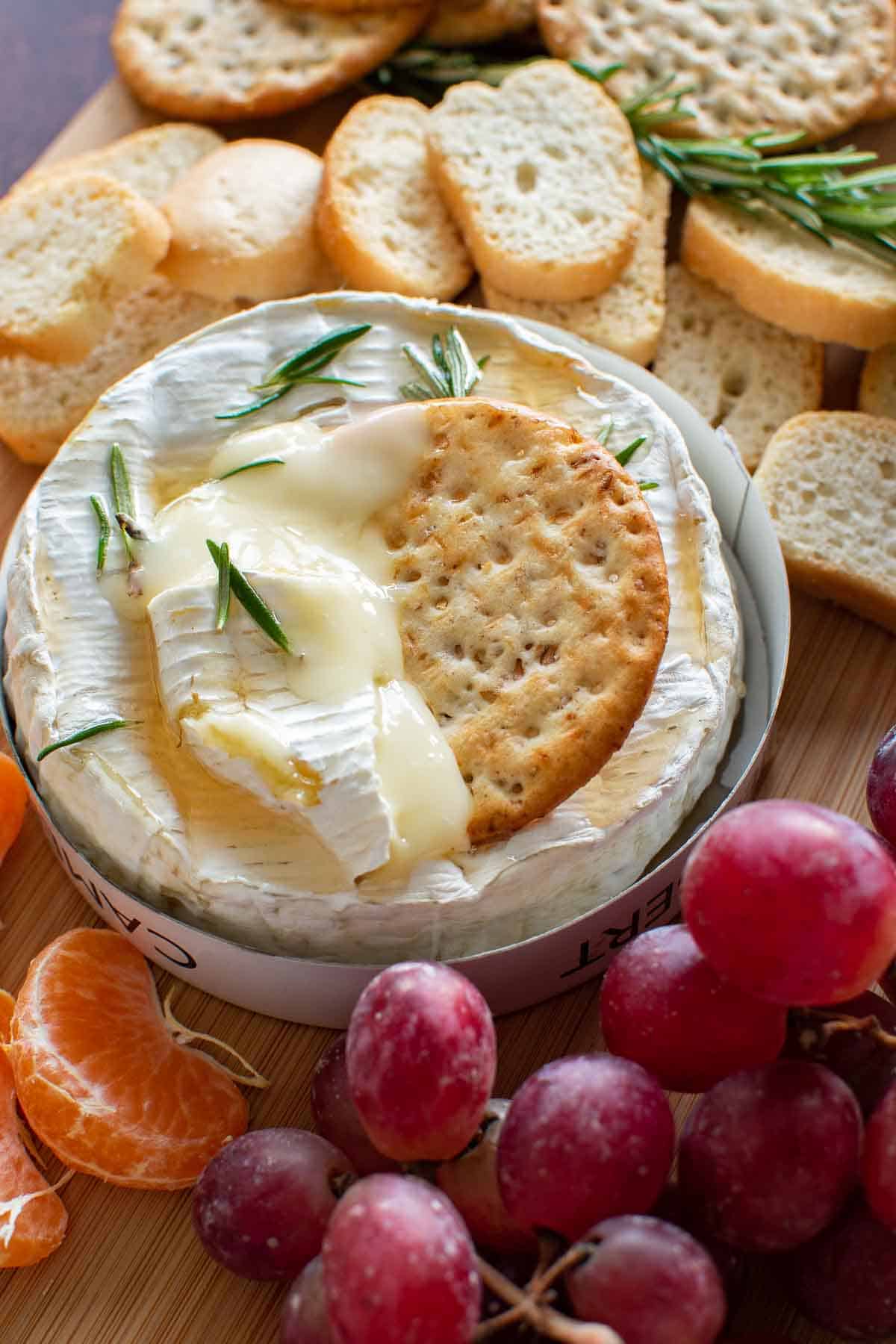 You might also like these recipes
If you make this recipe, make sure to post a photo to Instagram with #hintofhealthy!
Recipe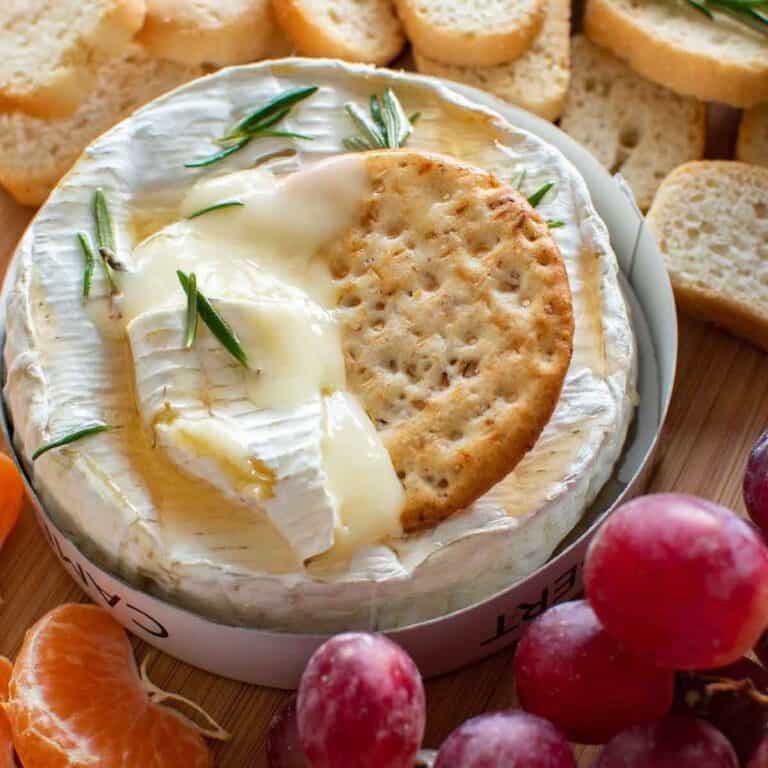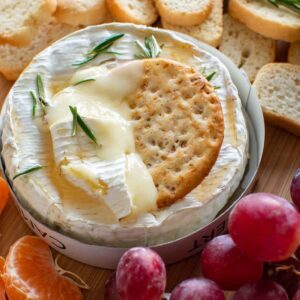 Baked Camembert with Honey
This easy baked camembert with honey and rosemary is a fantastic snack, dessert, appetizer or light meal for any occasion. Serve it with bread, crackers or fruit.
Ingredients
1

round

camembert

2

tablespoons

honey

2

sprigs

rosemary
Instructions
Preheat oven to 350 F / 180 C / 160 C fan oven.

Place the camembert on a baking sheet covered with parchment paper, or in a baking dish.

Pierce a few holes in the cheese with a sharp knife or fork, and drizzle 1 tablespoon of honey over the camembert.

Bake the cheese for about 15-20 minutes.

Remove it from the oven, garnish with fresh rosemary and the remaining honey, and serve.
Notes
You can tell that the cheese is baked by carefully nudging it with a kitchen utensil. The inside of the camembert will be liquid, which makes it wobble like a water balloon. 
Serve the camembert as part of a cheeseboard, or just pair it with some crackers, sourdough bread, or fruit.
Feel free to replace the honey and rosemary with other garnishes like garlic, caramelized onions, jam, nuts, or berries.
Nutrition
Calories:
202
kcal
Carbohydrates:
9
g
Protein:
11
g
Fat:
14
g
Saturated Fat:
9
g
Polyunsaturated Fat:
1
g
Monounsaturated Fat:
4
g
Cholesterol:
41
mg
Sodium:
476
mg
Potassium:
112
mg
Fiber:
1
g
Sugar:
9
g
Vitamin A:
465
IU
Vitamin C:
1
mg
Calcium:
220
mg
Iron:
1
mg
Food safety tips