This creamy broccoli smoothie with pineapple and banana is perfect as a healthy breakfast, or a refreshing snack. This is a great way to enjoy raw broccoli, and because of the added fruit it tastes much better than you'd think!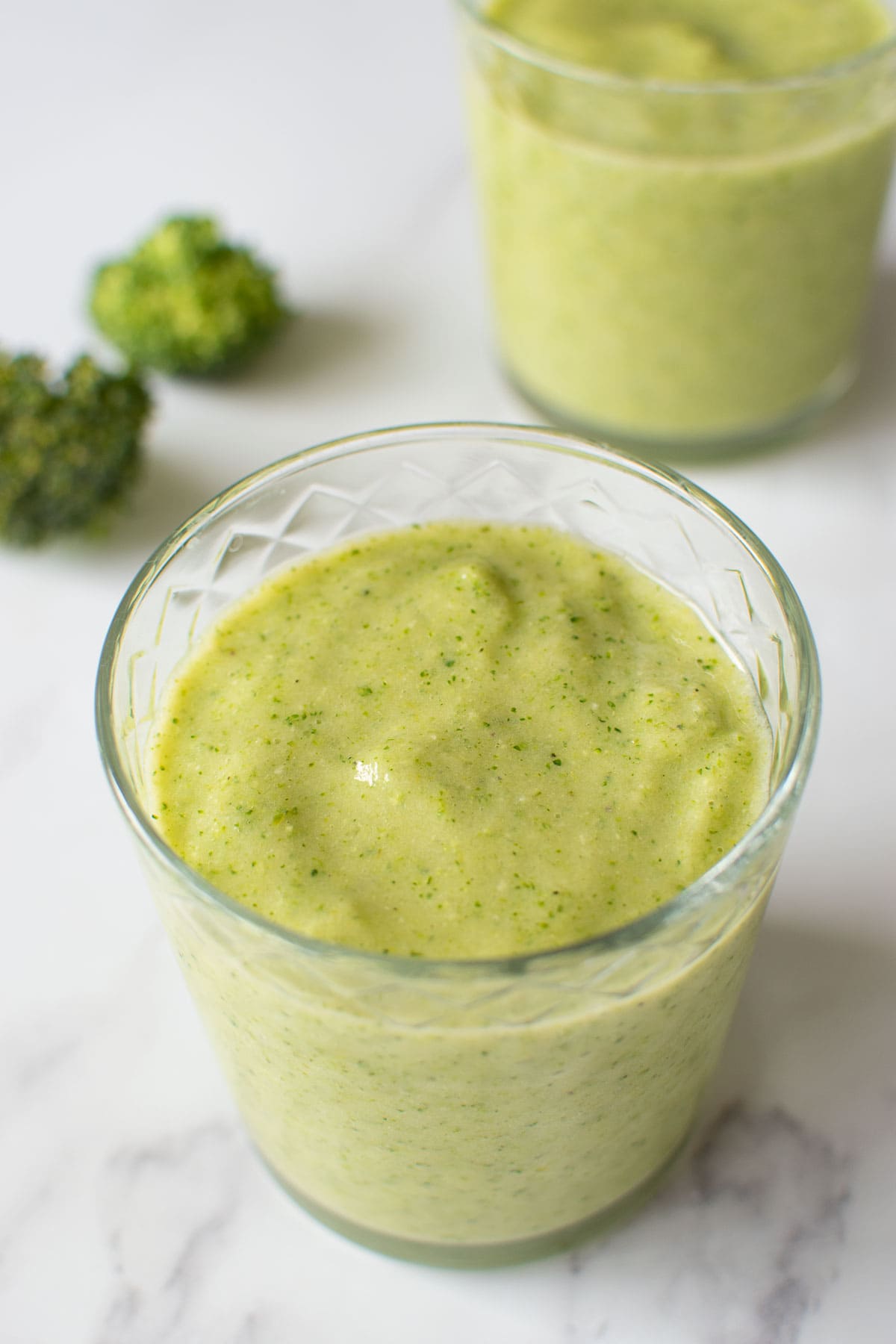 Jump to:
This post may contain affiliate links. Read more about it in the privacy policy.
Smoothies are the perfect easy breakfast for summer! They are quick to make, refreshing in the heat, and packed with nutrients and fruity flavors.
Have you ever tried putting raw broccoli in a smoothie? It might seem strange, but I promise that it tastes better than it sounds! The broccoli adds fiber to the drink, and with the addition of banana and pineapple, it tastes just like any fruity green smoothie.
Why you'll love it
So easy to make
Customize it to suit your preferences
A great way to enjoy broccoli
Healthy smoothie
Gluten free, dairy free, nut free, vegan and low calorie
🥤 More SMOOTHIE RECIPES from Hint of Healthy
Ingredients
Banana: A ripe banana will make your smoothie creamy, and adds some sweetness.
Frozen pineapple: I like to use frozen fruit in smoothies, because it makes the beverage a little thicker and colder. Pineapple pairs perfectly with broccoli, and makes the smoothie sweeter and more fruity.
Lemon juice: A little lemon juice balances out all the sweetness. You can omit this if you want.
Oat milk: I like to use oat milk, but you can use any milk like cow's milk, coconut milk, soy milk or almond milk. You can also use water or fruit juice, but this will alter the consistency of the smoothie.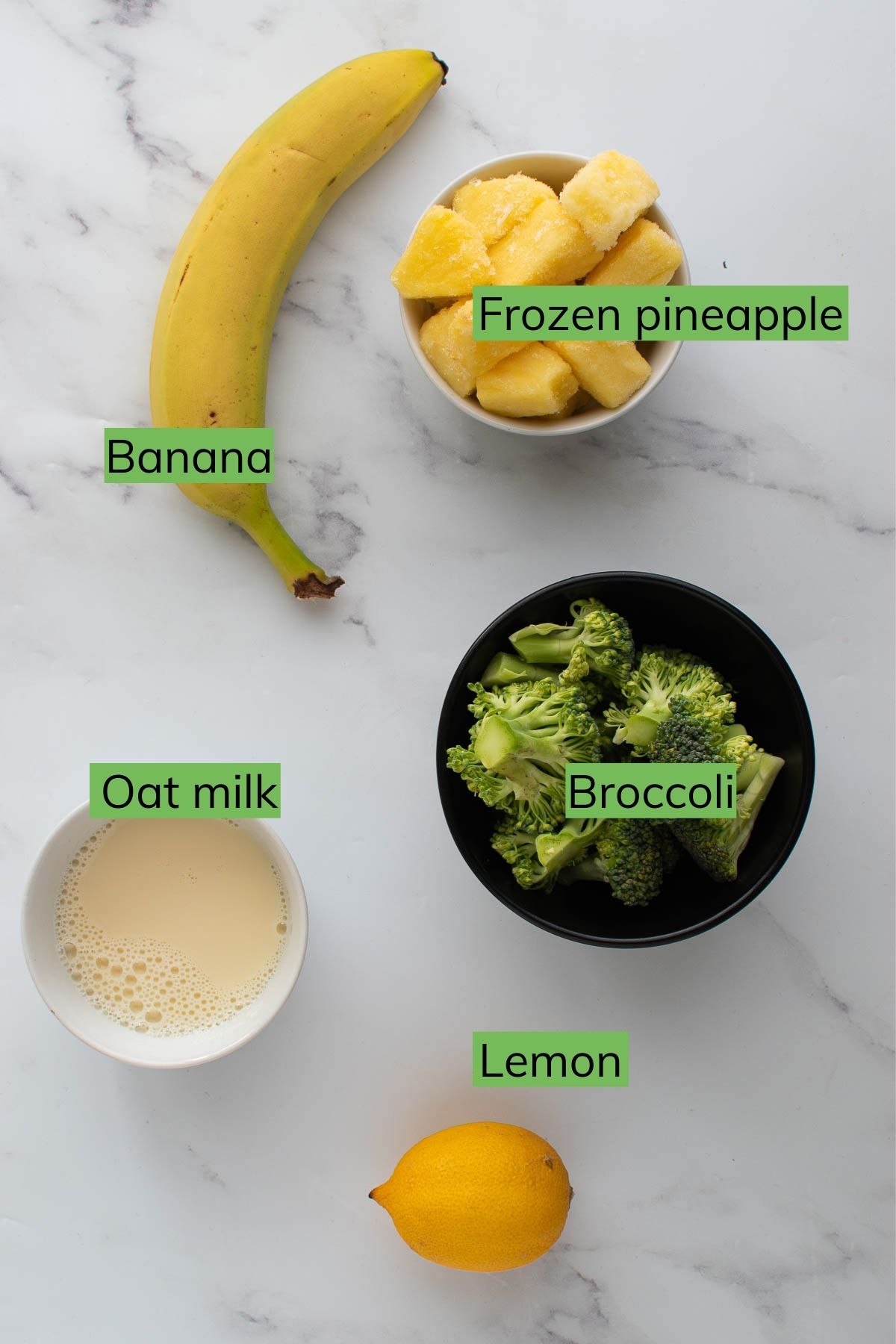 Instructions
Making a smoothie is easy, but there are some things can make the process a little simpler.
Cut your broccoli into florets. Next, add all ingredients to your blender. I like to add the liquid and soft ingredients like the banana first, topped by the harder or frozen ingredients on top. This makes it easier for the blender to actually blend the ingredients.
Now, blend the ingredients until smooth. You might have to stop the blender a few times to scrape down the sides.
This recipe makes a thick, creamy smoothie. If you want to make it a little thinner, you can add some more oat milk after blending.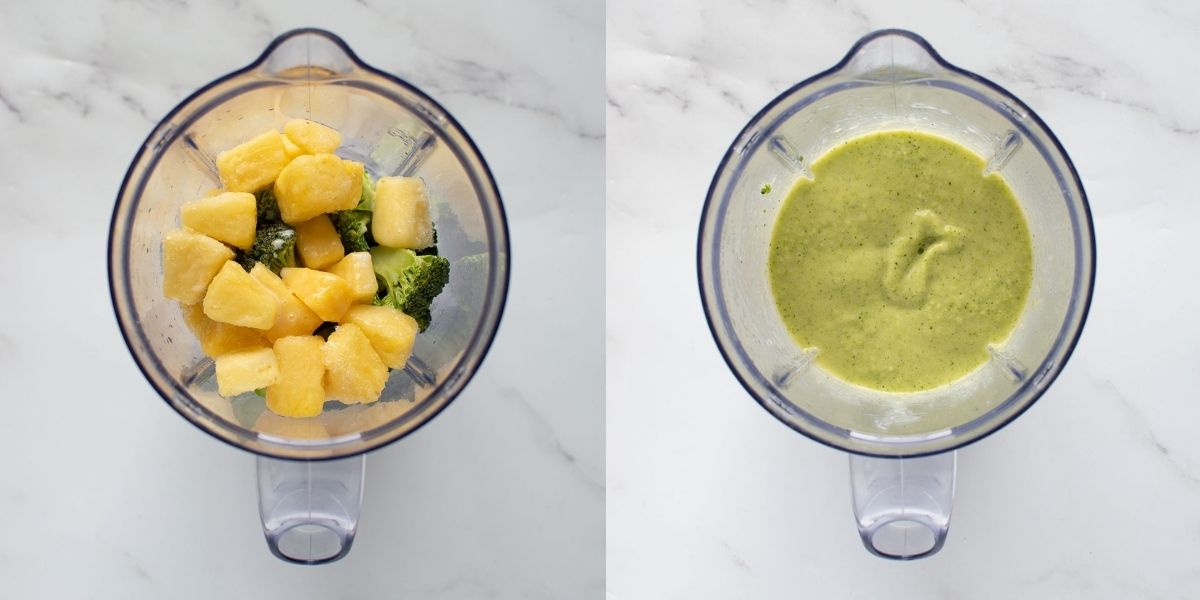 Top tips
Adding frozen fruit to your smoothie will make it extra cold.
If your blender is struggling to blend, you might have to stop it and stir the ingredients occasionally.
Cut the broccoli into smaller pieces to help out your blender!
Serving suggestions
Smoothies are popular as a light breakfast, healthy snack or simply as a refreshing beverage. This broccoli smoothie is well suited for all purposes. If you plan to serve it as part of a meal with other dishes on the side, here are some excellent pairing you might want to try: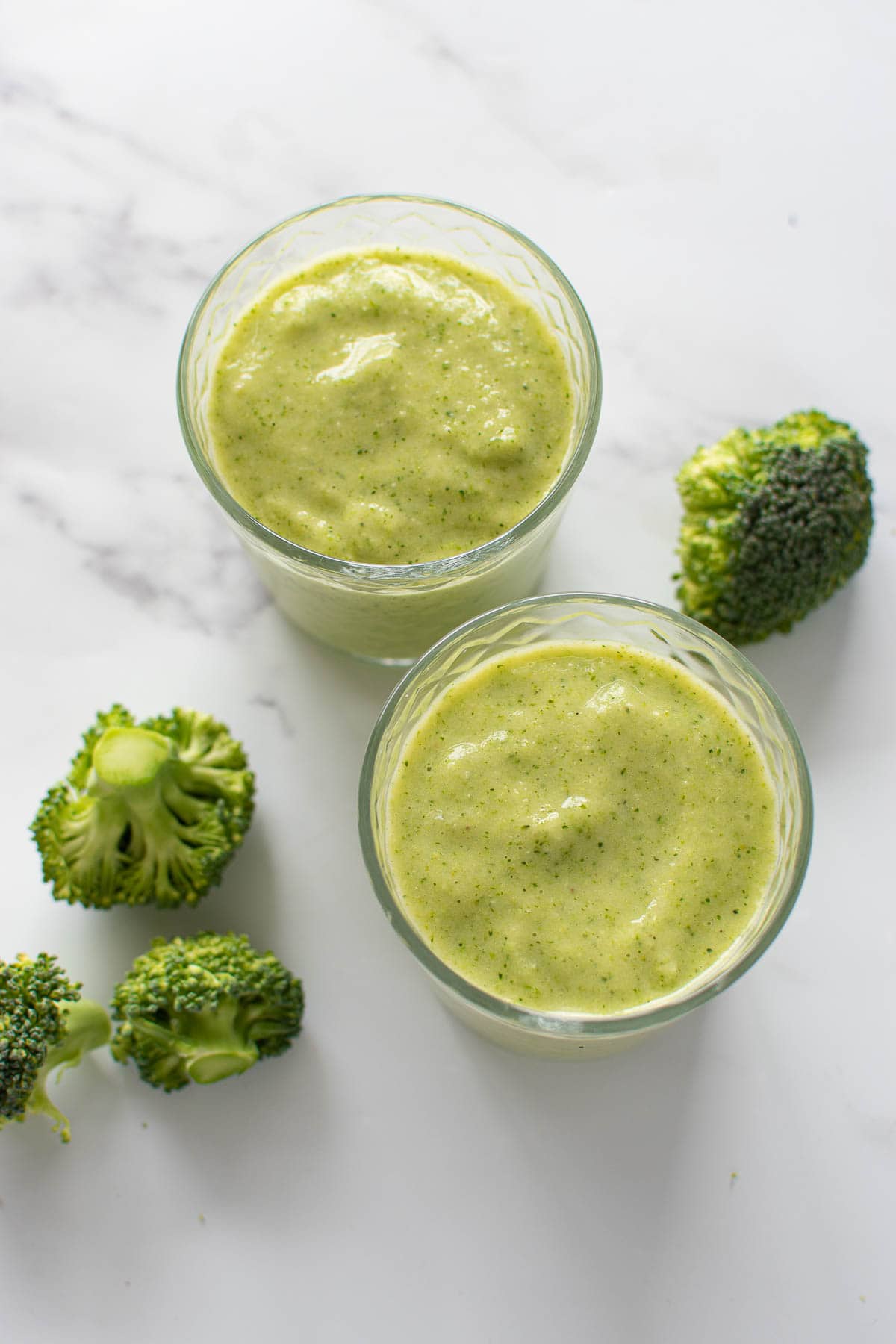 Variations
Extra veggies: Add more green veggies to make the ultimate green smoothie. Leafy greens like spinach or kale are excellent options. Keep in mind that if you add extra vegetables, you might also have to add extra oat milk.
Extra fruit: Add any extra fruit that you like. Raspberries, mango, apples, pears or oranges would be great additions to a broccoli smoothie.
Leftovers
Although smoothies are often served immediately, you can safely store any leftovers in a refrigerator for up to 2 days.
Keep in mind that as the frozen broccoli defrosts, the texture of the smoothie will become a little thinner and less creamy.
Smoothies tend to separate when stored, and the fruit pulp will often fall to the bottom of the container. Make sure to give it a shake or stir before you serve it.
🥤 More SMOOTHIE RECIPES from Hint of Healthy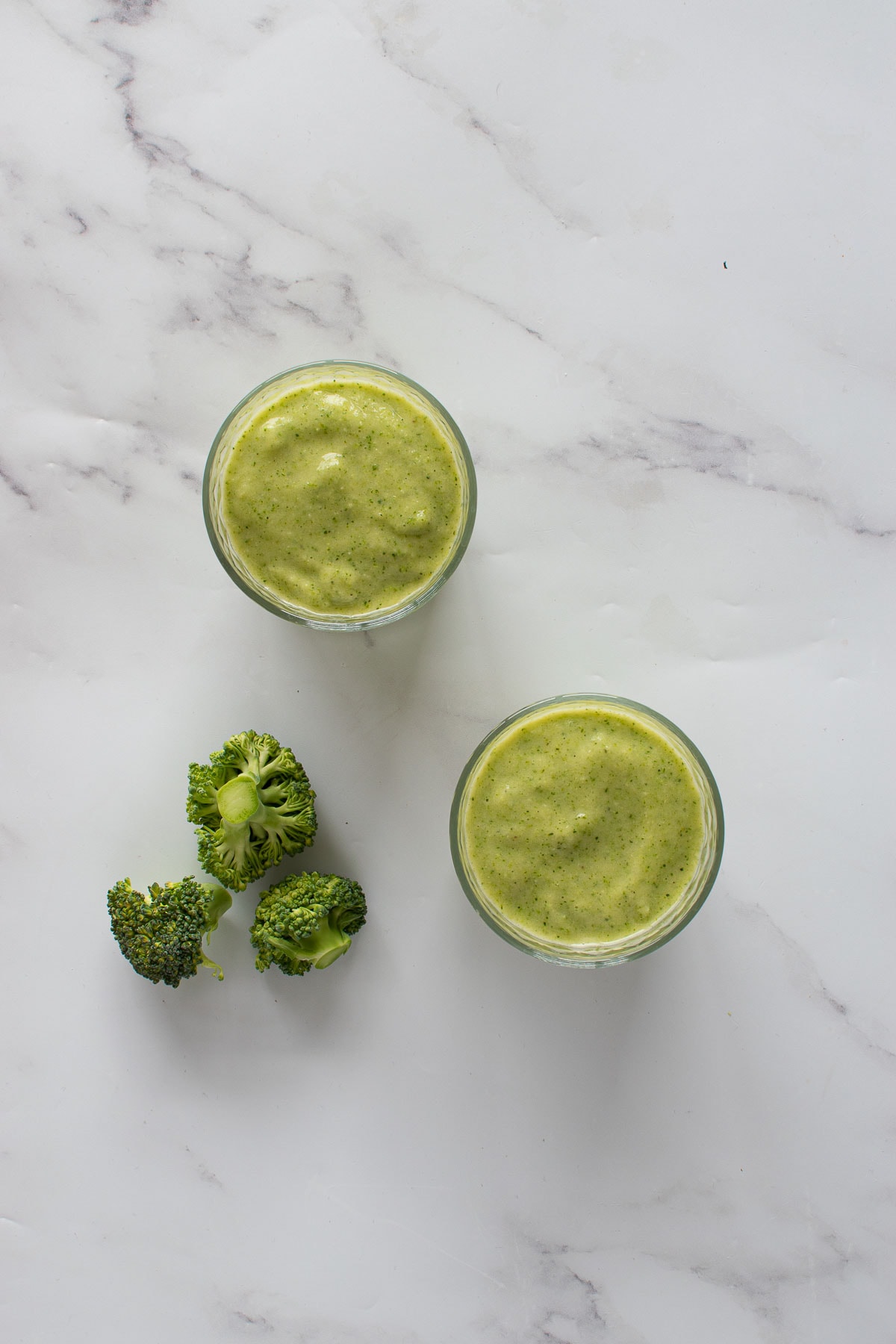 Frequently asked questions
Can you eat raw broccoli in a smoothie?
Absolutely! Use fruit or berries to hide the broccoli flavor, and to improve the texture of the beverage.
What veggies go well in smoothies?
Most vegetables go well in smoothies. Hard vegetables such as carrots or broccoli should be grated or cut into small pieces to make them easier to blend.
Can you use frozen broccoli?
Yes, you can use frozen broccoli to make smoothies. To make it easier to blend, I recommend adding extra oat milk, or to cut the frozen broccoli florets into smaller pieces before you add them to the blender.
You might also like these recipes
If you make this recipe, make sure to post a photo to Instagram with #hintofhealthy!
Recipe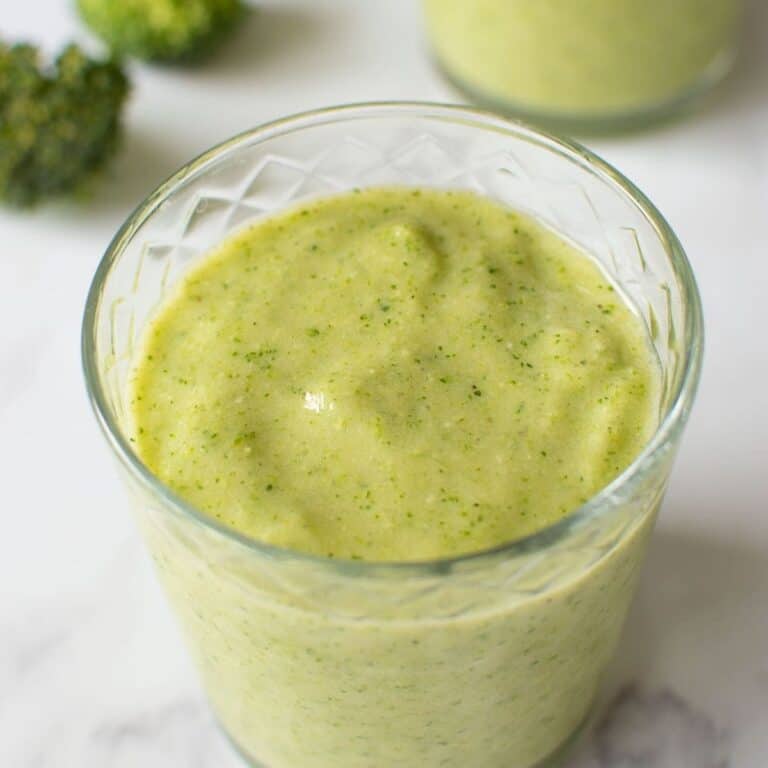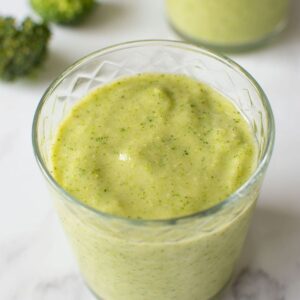 Broccoli Smoothie
This thick and creamy broccoli smoothie with pineapple and banana is an excellent healthy breakfast or refreshing beverage. Start your day with a green smoothie!
Ingredients
1

cup

broccoli florets

1

cup

frozen pineapple

½

cup

oat milk

1

teaspoon

lemon juice

1

banana
Instructions
Cut the broccoli into small florets.

Add the ingredients to the blender in the following order: oat milk, lemon juice, banana, broccoli florets and frozen pineapple chunks.

Blend until smooth. You might have to stop and scrape down the sides a few times.
Notes
Store leftovers in a refrigerator for up to 2 days. Remember to shake or stir the smoothie before you serve it.
Feel free to add any other vegetables or fruit that you like such as carrots, apples, pears or spinach.
Use any milk that you like, such as cow's milk, coconut milk or almond milk.
Nutrition
Calories:
142
kcal
Carbohydrates:
33
g
Protein:
3
g
Fat:
1
g
Saturated Fat:
1
g
Sodium:
45
mg
Potassium:
477
mg
Fiber:
4
g
Sugar:
21
g
Vitamin A:
492
IU
Vitamin C:
86
mg
Calcium:
121
mg
Iron:
1
mg