Make these refreshing orange popsicles this summer! Otherwise known as orange ice lollies, these frozen treats are an affordable and healthy treat that everyone will love.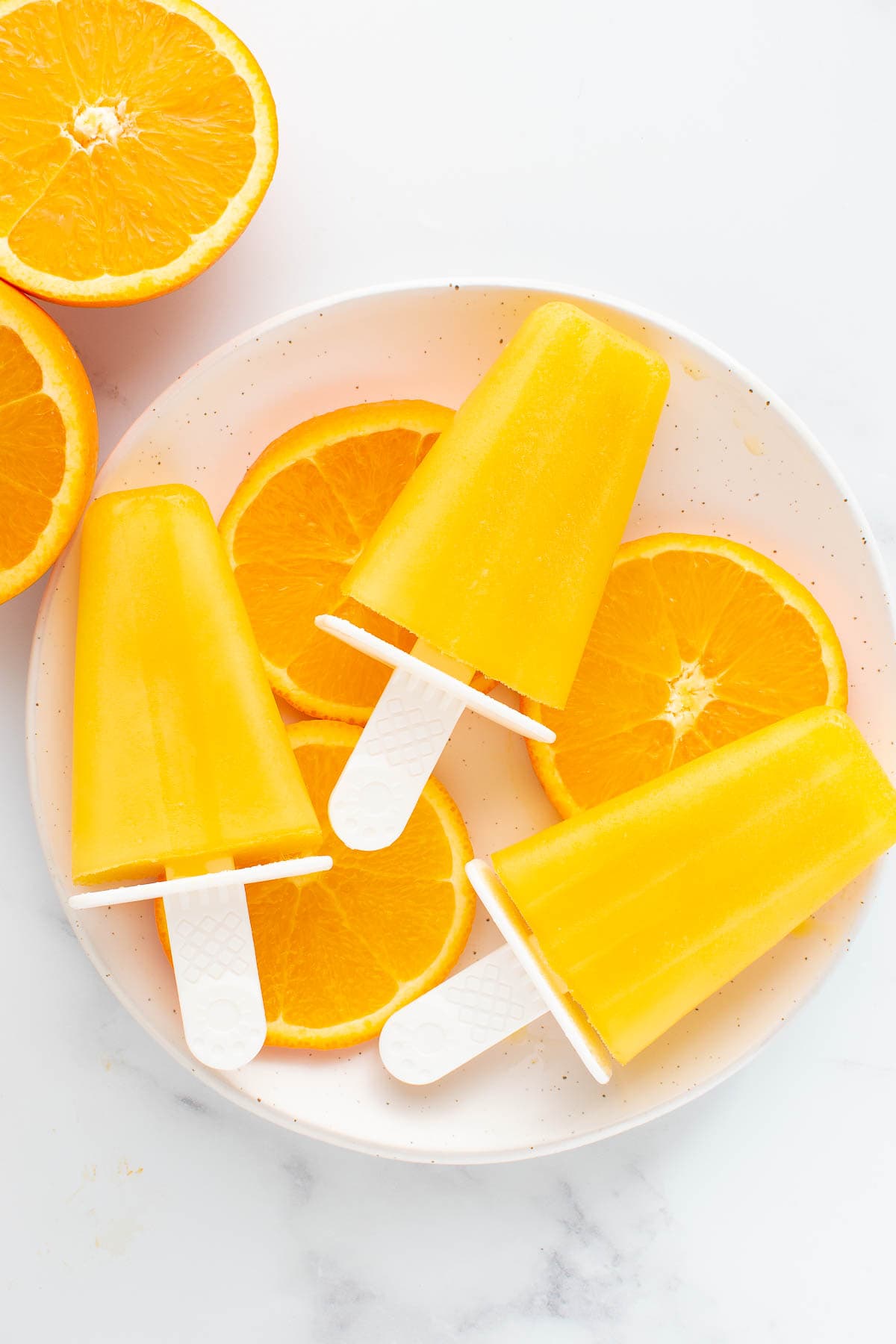 Jump to:
This post may contain affiliate links. Read more about it in the privacy policy.
Why you'll love it
Refreshing treat in the summer heat
Really easy to make, and the kids can help too
A delicious way to enjoy orange juice
Much healthier than most store bought popsicles
These are dairy free, gluten free, nut free and vegan popsicles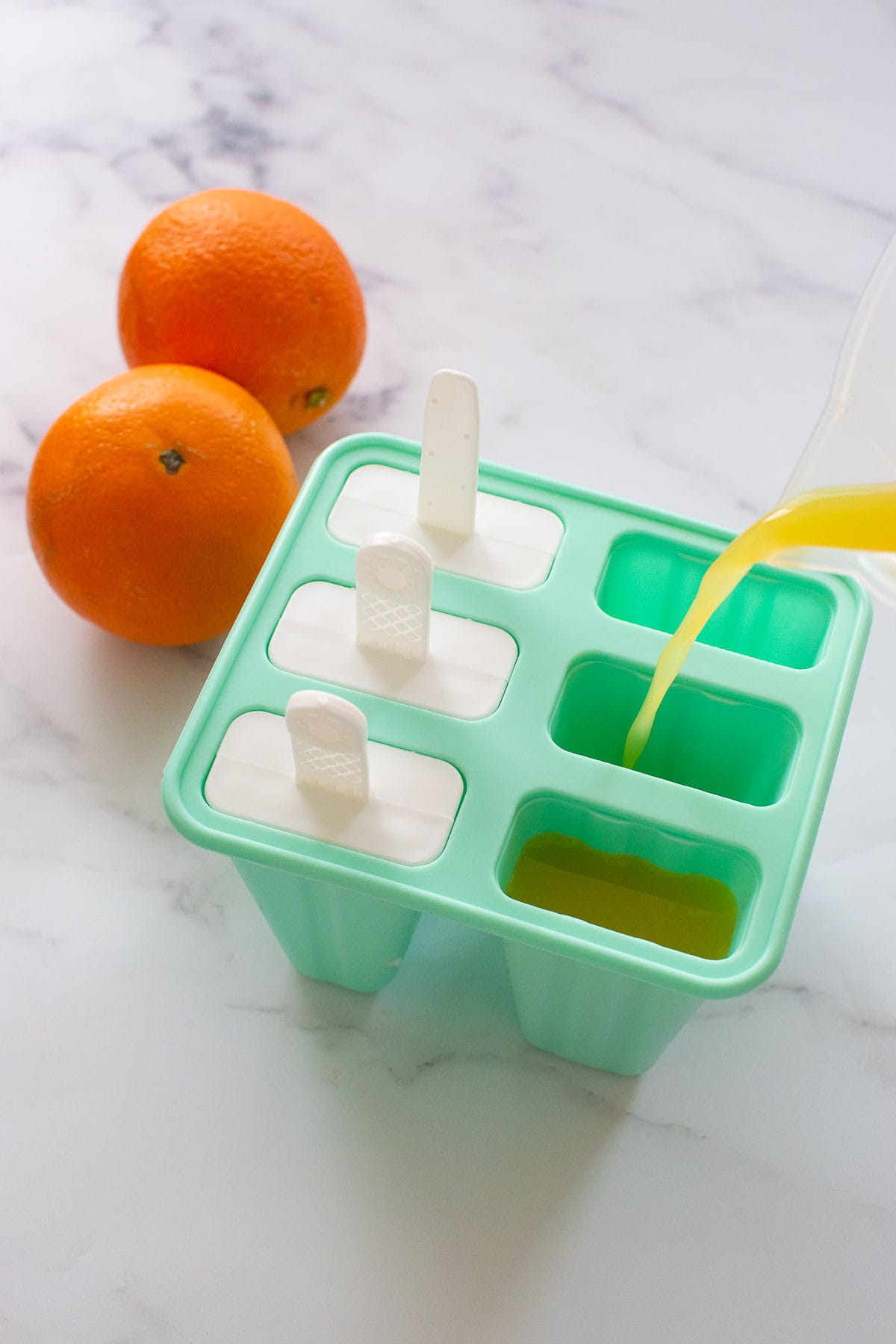 Ingredients
Orange juice: The popsicles get their orange flavor from orange juice. You can use any brand of store bought orange juice, or use freshly squeezed orange juice if you have that available. I like to use good quality juice for this recipe, as the popsicles will taste almost identical to the juice.
Lemon juice: A splash of lemon juice gives the popsicles a little pop of flavor. The lemon enhances the orange flavor, and don't worry, they won't taste like lemon at all.
Sugar: Adding a little sugar to the popsicles prevent them from freezing completely solid like an ice cube, and instead gives them a more enjoyable popsicle consistency. You can substitute for honey or agave nectar if you prefer, but I find that sugar gives the best results.
Vanilla extract: Gives the popsicles a mild vanilla flavor. This makes them taste really nice, but you can omit it if you want.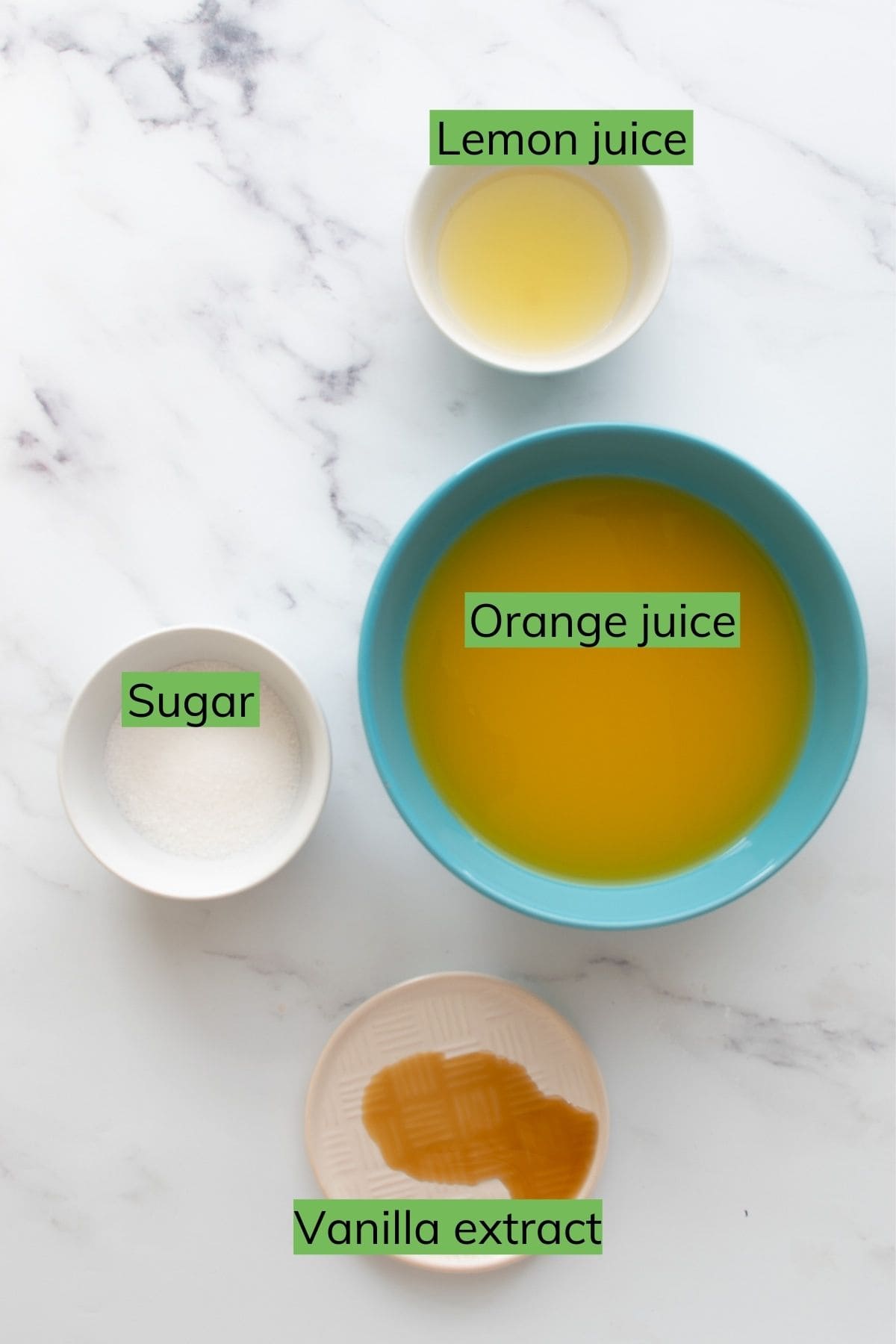 Instructions
Making your own popsicles at home is really easy!
First, mix all the ingredients in a mixing bowl until the sugar has completely dissolved.
Transfer the liquid to a jug, and pour into your popsicle molds. Depending on the size of your molds, this recipe should be enough for about 6 popsicles.
Then, place the popsicle sticks over the juice, and move the molds to the freezer. Leave them until the orange juice has frozen completely. This usually takes at least 4 hours.
Remove the orange popsicles from their molds, and enjoy!
💡 TIP! If your popsicle mold didn't come with plastic or metal popsicle sticks, you can use wooden ice cream sticks instead. Wait for the popsicles to partially freeze, which takes about 1 hour, before you insert the sticks and leave them to freeze completely.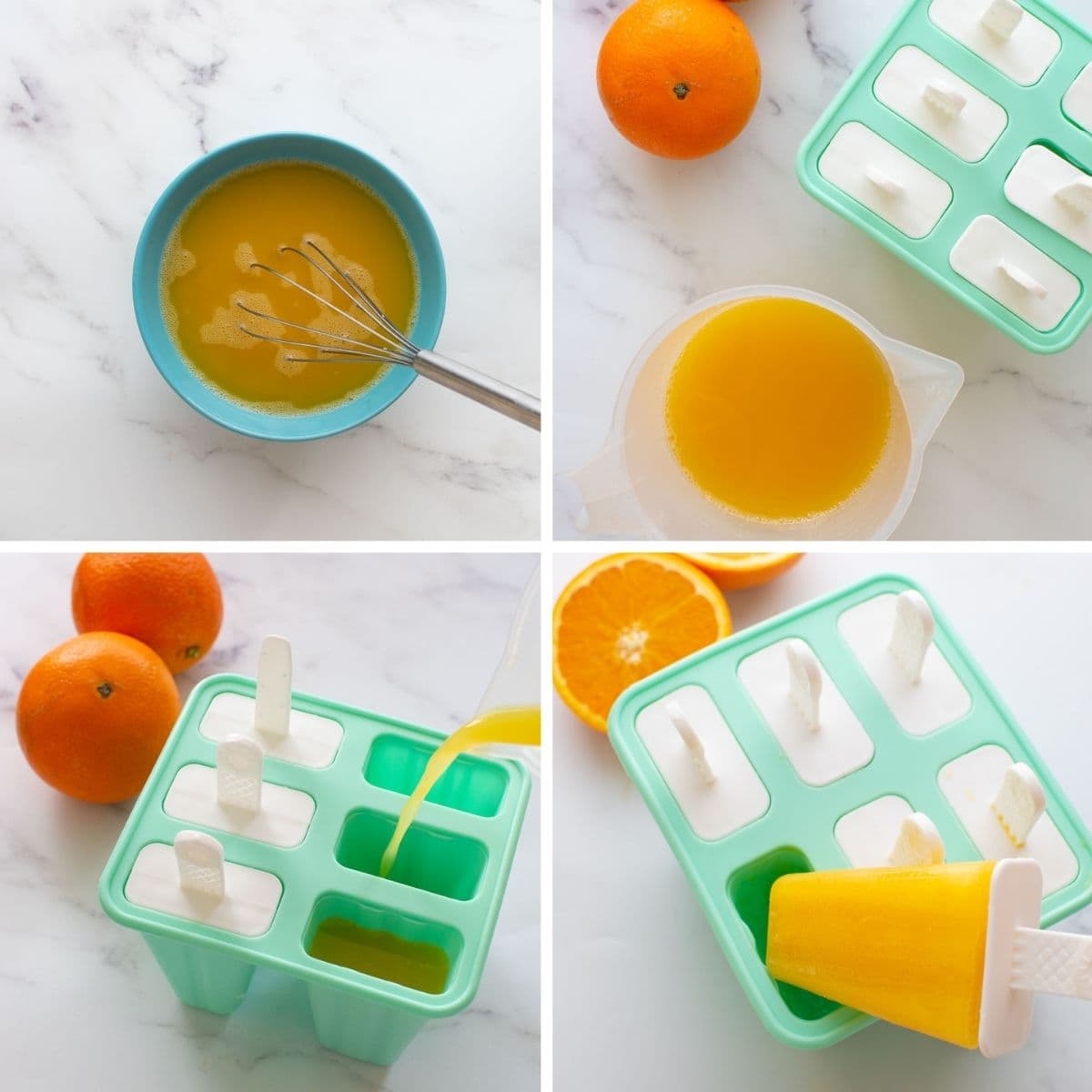 Top tips
I like to use silicone popsicle molds. It's super easy to pull frozen popsicles out of the molds without having to thaw them or apply heat, unlike steel or plastic molds.
If you're looking for REALLY easy orange popsicles, you can pour orange juice directly into the molds without adding any other ingredients. They won't be quite as nice, but still very tasty.
Serving suggestions
Popsicles are by far most popular to serve in the summer. They are great to enjoy as a quick and simple dessert, or as a refreshing treat in the heat.
Here are some other chilled foods and drinks that I love for summer: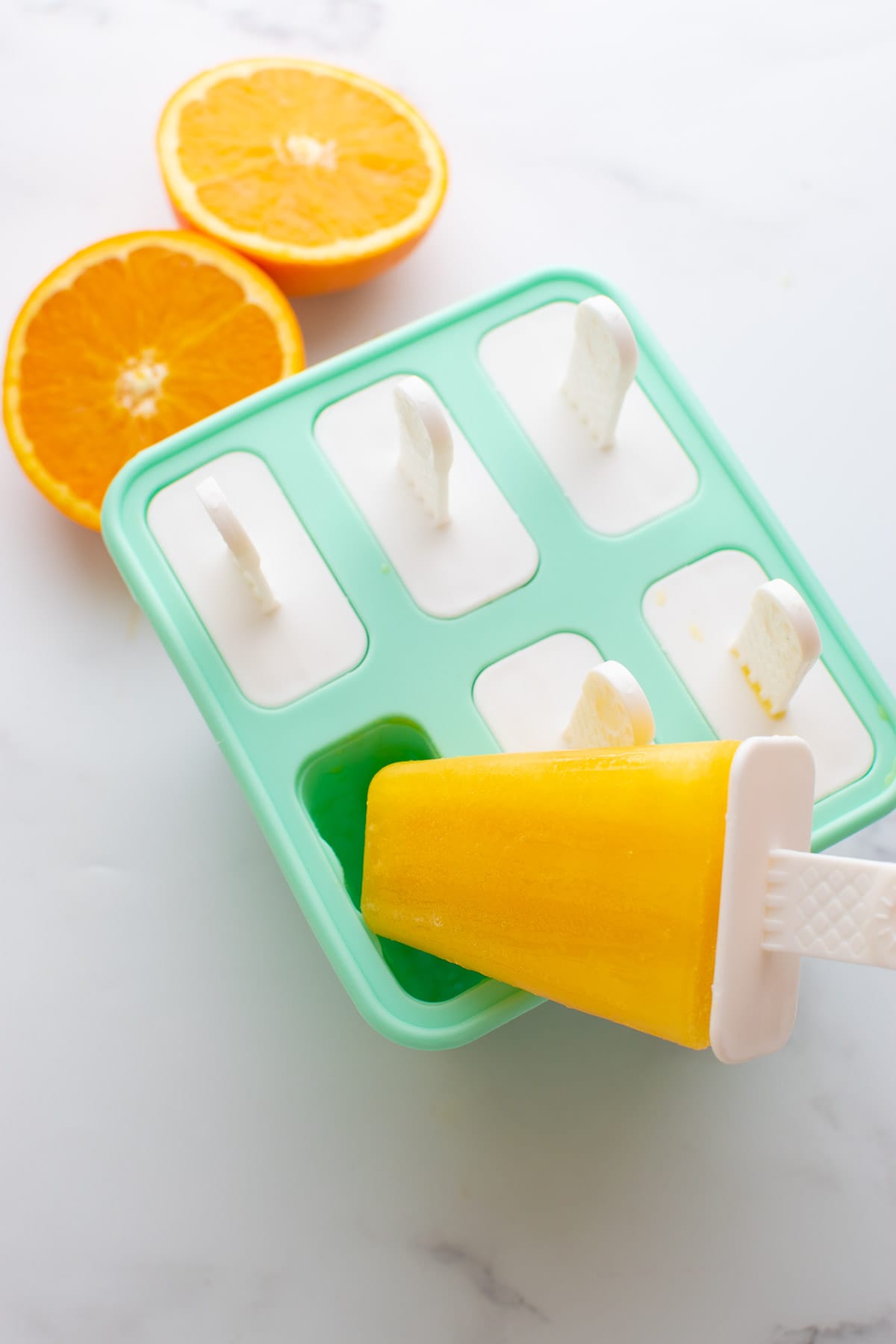 Variations
Mixed fruit juices: Swap some or all of the fruit juice with other juice, such as tropical juice, mango juice, pineapple juice, cranberry juice or apple juice are great options. Combine juices for a fun variation!
With fruit chunks: Add diced or cubed fruit such as oranges or strawberries. Hidden fruit in the popsicles can be a fun surprise!
With seasoning: Add a tiny dash of cinnamon or chili powder to the orange juice to change the flavor of the popsicles. Cinnamon orange popsicles are great for fall and winter!
Leftovers
Store your orange popsicles in a freezer for up to 3 months. These are really easy to make ahead of time in large quantities as long as you have enough popsicle molds.
Having popsicles on hand is really convenient in the summer, in case the weather is extra nice, and you want a frozen treat. It's also a great healthy snack for kids to enjoy in the hot weather.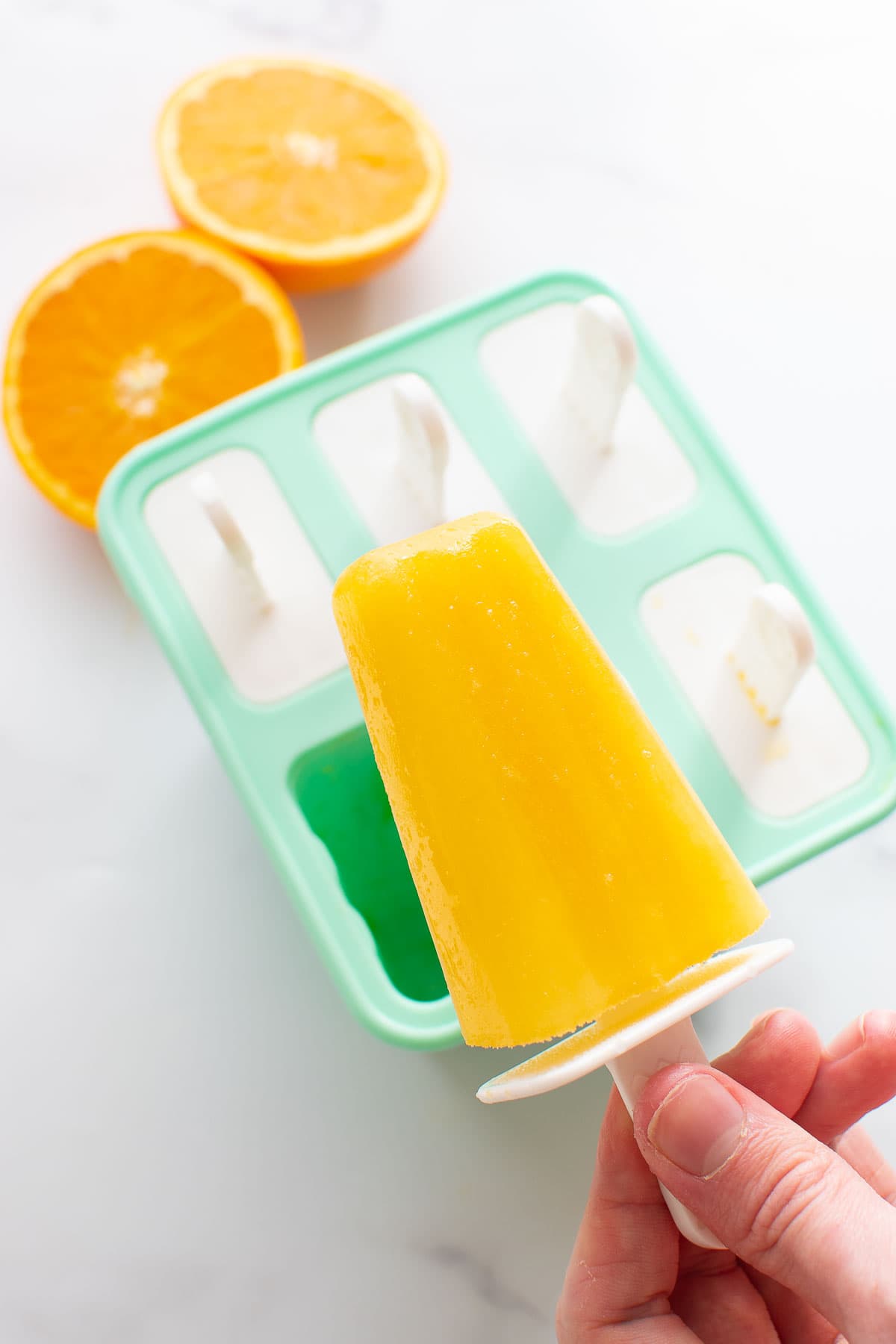 Frequently asked questions
What flavor is yellow popsicle?
Most yellow popsicles are orange flavored. If you love the yellow popsicles, you will definitely love these!
Are popsicles hydrating?
Absolutely! Although it's good to drink water regularly, popsicles are a great way to stay hydrated in the summer.
Can popsicles go bad in the freezer?
Popsicles don't "go bad", but after some time they can develop ice crystals or freezer burn. This just means that they won't taste as good anymore. Most popsicles taste best when they are consumed within 6-8 months.
You might also like these recipes
If you make this recipe, make sure to post a photo to Instagram with #hintofhealthy!
Recipe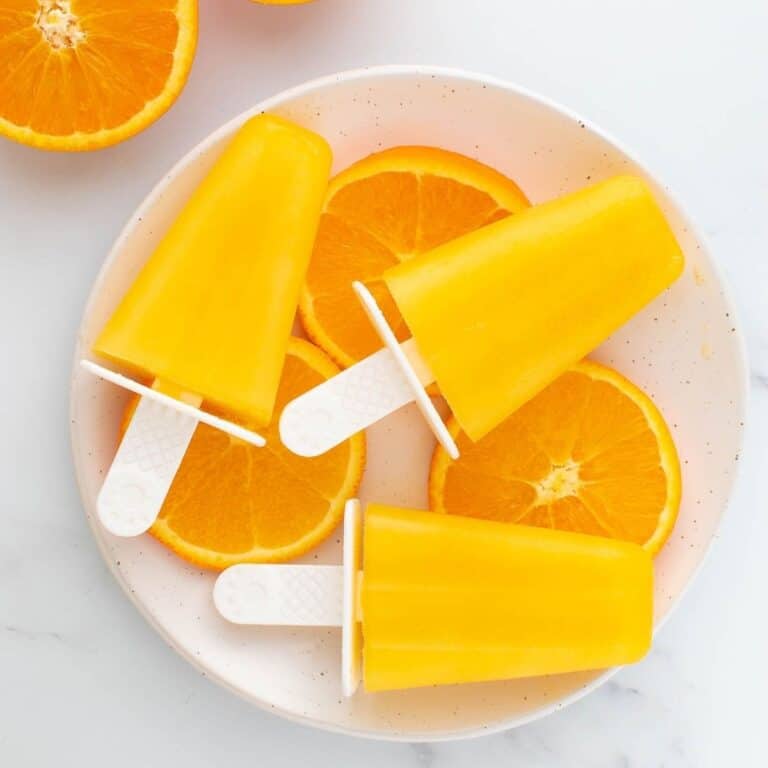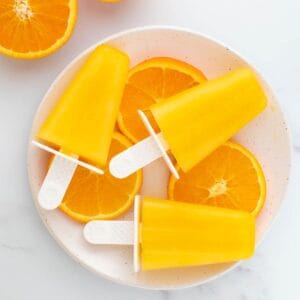 Orange Popsicles
Make these refreshing orange popsicles this summer for a healthy chilled treat. Made with orange juice, these orange ice lollies are healthy, easy to make and absolutely delicious.
Ingredients
2

cups

orange juice

2

teaspoons

lemon juice

2

teaspoons

sugar

1

teaspoon

vanilla extract
Instructions
Mix all ingredients in a bowl until the sugar has completely dissolved.

Pour the popsicle liquid into clean popsicle molds.

Cover with the popsicle sticks that came with the molds, and place the popsicles in the freezer. Leave them to set until they are completely frozen, about 4 hours.

If you're using wooden popsicle sticks: Place the popsicles in the freezer without the sticks inserted until the liquid has started to set, about 30 minutes to 1 hour. Then, insert the popsicle sticks into the middle of them. This should allow the sticks to sit in place in the middle of the popsicles.

Remove the popsicles from the mold when you are ready to eat them.
Notes
The popsicles take about 4 hours to freeze completely, but you can store them in a freezer for up to 8 months.
If you use silicone popsicle molds, the popsicles are really easy to remove. However, if you use plastic or metal popsicle molds, the popsicles can be harder to get out. The trick to getting popsicles out of harder molds is to let them defrost slightly first. You can do this either by placing the molds under running lukewarm water for a few seconds, or by leaving the frozen popsicles at room temperature for a few minutes. The slightly defrosted popsicles should then easily slide out of the molds.
Nutrition
Calories:
45
kcal
Carbohydrates:
10
g
Protein:
1
g
Fat:
1
g
Saturated Fat:
1
g
Sodium:
1
mg
Potassium:
168
mg
Fiber:
1
g
Sugar:
8
g
Vitamin A:
165
IU
Vitamin C:
42
mg
Calcium:
9
mg
Iron:
1
mg