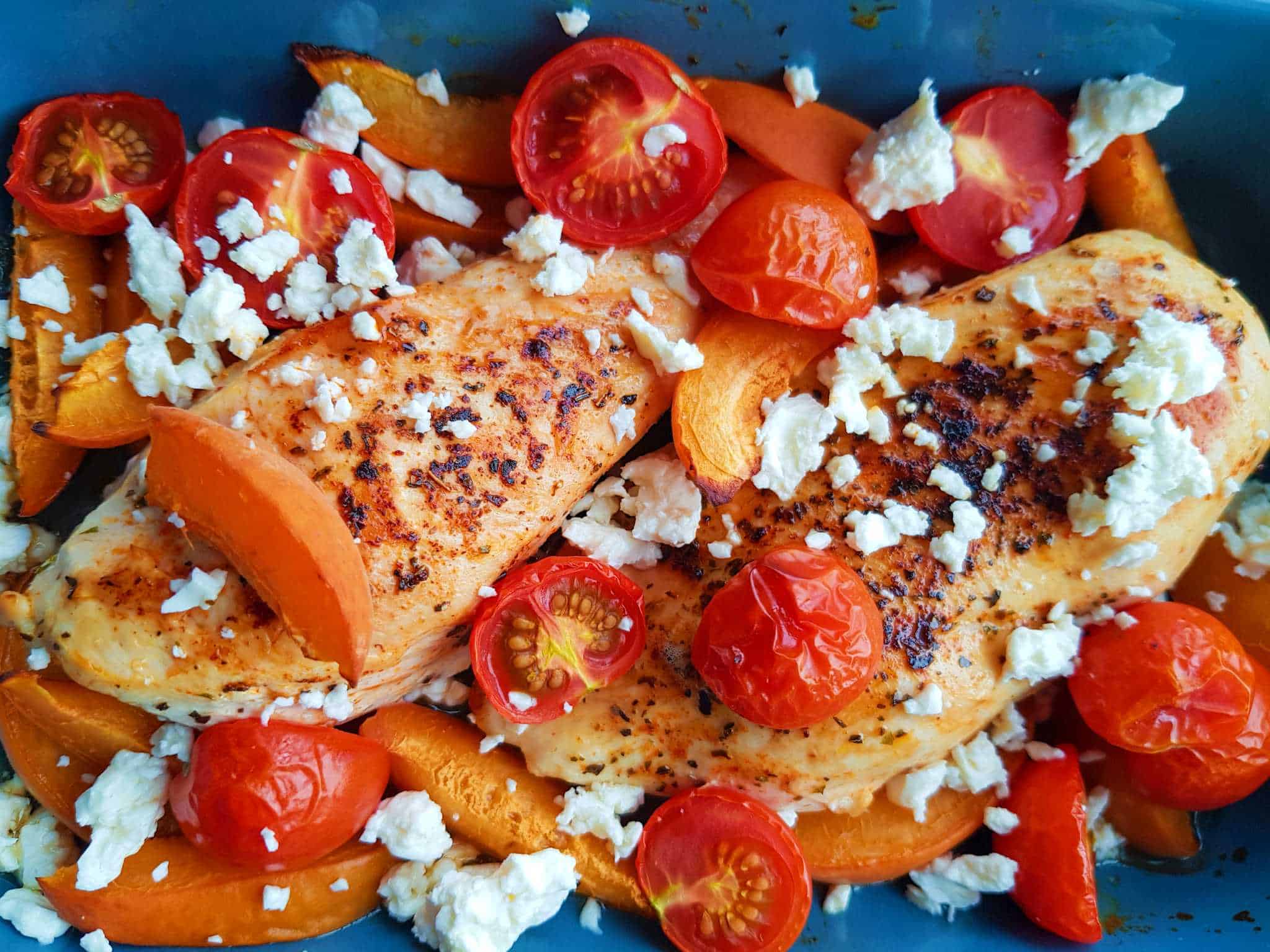 17 Aug

Mediterranean apricot chicken bake

As a rule I always try to encourage my friends to eat more fruits with their meat. How have people not yet released that the combination of sweet and savory is literally the best? Sweet potatoes are great. Tomatoes are excellent. Sweet vegetables get a lot of praise when used in savory dishes. So why not fruit? Well, if you're new to the idea, look no further for your first recipe – this Mediterranean apricot chicken bake is just what you need to get hooked.

That being said, I don't often cook with apricots. It's not a fruit commonly found in Norway since they don't grow there. And I have to admit that I didn't even plan on making this recipe. I actually bought some apricots for something completely different, and happened to have a few spare. I also had feta cheese, chicken and tomatoes, as they are staples in our household. One day when I was in bed browsing food blogs, which by the way is completely normal, I came across a recipe for a chicken bake with peaches, and I immediately thought of those two apricots in my fruit bowl that deserved a final destination (in my tummy). Peaches and apricots are quite similar after all. It was meant to be. And I am so incredibly happy with the result!
What do you need to make a great apricot chicken bake?
Chicken fillets
Apricots
Cherry tomatoes
Feta cheese
You also need 30 minutes of time, an oven dish, a frying pan and preferably some dried herbs like basil or thyme. I would also recommend having a side dish, as one chicken fillet with a few tomatoes and a little apricot won't keep you full for very long. Stay away from the evening snacks by adding satiating sides to your meals!
What side dishes go well with chicken?
Chicken is incredibly versatile, and goes so well with a number of side dishes. Try it with some rice, couscous, or a quinoa salad. I served my apricot chicken bake with a green spinach salad and this lemon pepper vinaigrette for a lighter option, and it was delicious!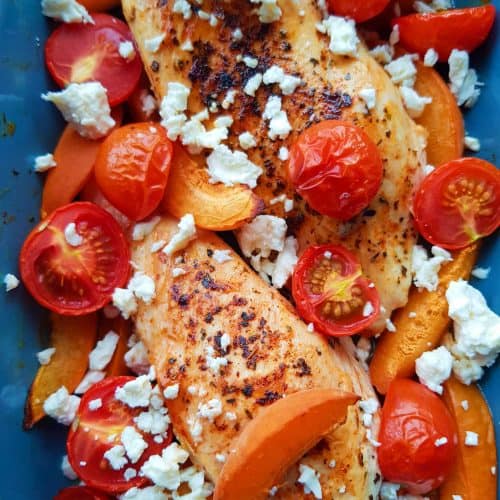 Mediterranean apricot chicken bake
Delicious and super easy Mediterranean apricot chicken bake. This easy dinner is made in less than 30 minutes, and is a healthy take on baked chicken!
Ingredients
2

chicken fillets

10

cherry or plum tomatoes

2

apricots

20

g

feta cheese

dried basil

salt, pepper
Instructions
Season the chicken fillets with basil, salt and pepper

Fry the chicken in a pan on high heat for 2 minutes on each side until the outside is brown

In a baking dish, add the chicken fillets, halved cherry tomatoes, and apricots cut in wedges

Bake in oven for 20 minutes, or until the chicken is cooked and apricots are softened

Crumble feta cheese over the top and serve
Notes
You can store leftovers in an airtight container in the fridge for up to 3 days. If you use frozen chicken, defrost thoroughly before you start cooking. 
Try other ingredients
You can try adding other vegetables to this dish if you want to change it up. I suggest adding olives, courgettes, red onion or plums!
Print Recipe