Make a healthier version of your favorite takeaway dish at home with this easy salt and pepper chicken recipe. An excellent meal that you can prepare in only 15 minutes!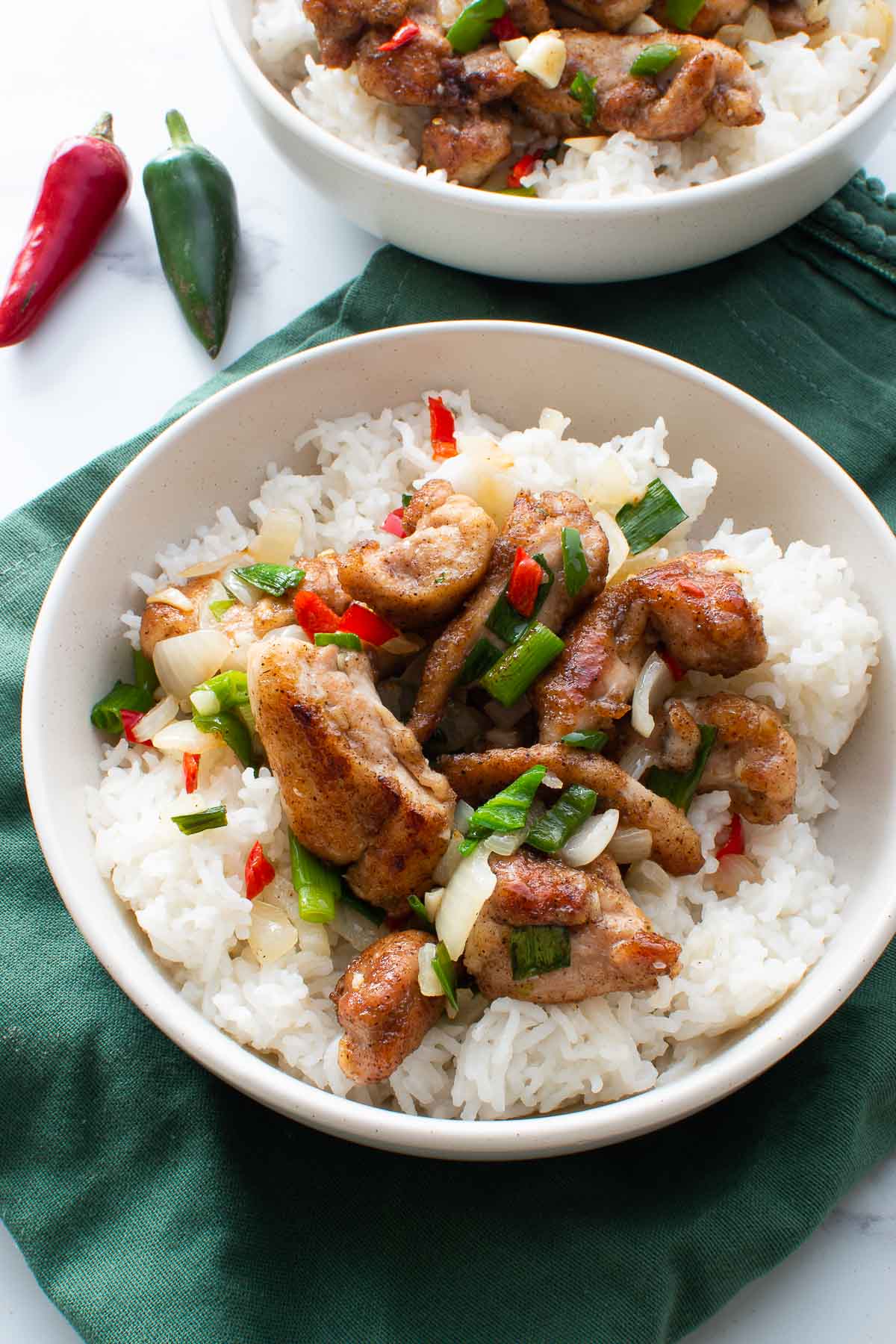 Jump to:
This post may contain affiliate links. Read more about it in the privacy policy.
I love making my own "takeaway" dishes at home, and it's even better when I can do a healthy twist on a classic recipe. So naturally I had to make my own version of this British favorite.
Most recipes for salt and pepper chicken require you to deep fry the chicken, before stir frying it with the chili and onions. This easy recipe simplifies the recipe by pan frying the chicken with the onions and chilies. Only one skillet is needed, and you don't have to deep fry the chicken in excess oil!
Why you'll love it
Only takes 15 minutes, which is faster than waiting for a takeaway
Quick and simple recipe
Serve it with your favorite side dishes
Uses inexpensive ingredients
Much healthier than getting a takeaway
🥡 More TAKEAWAY RECIPES from Hint of Healthy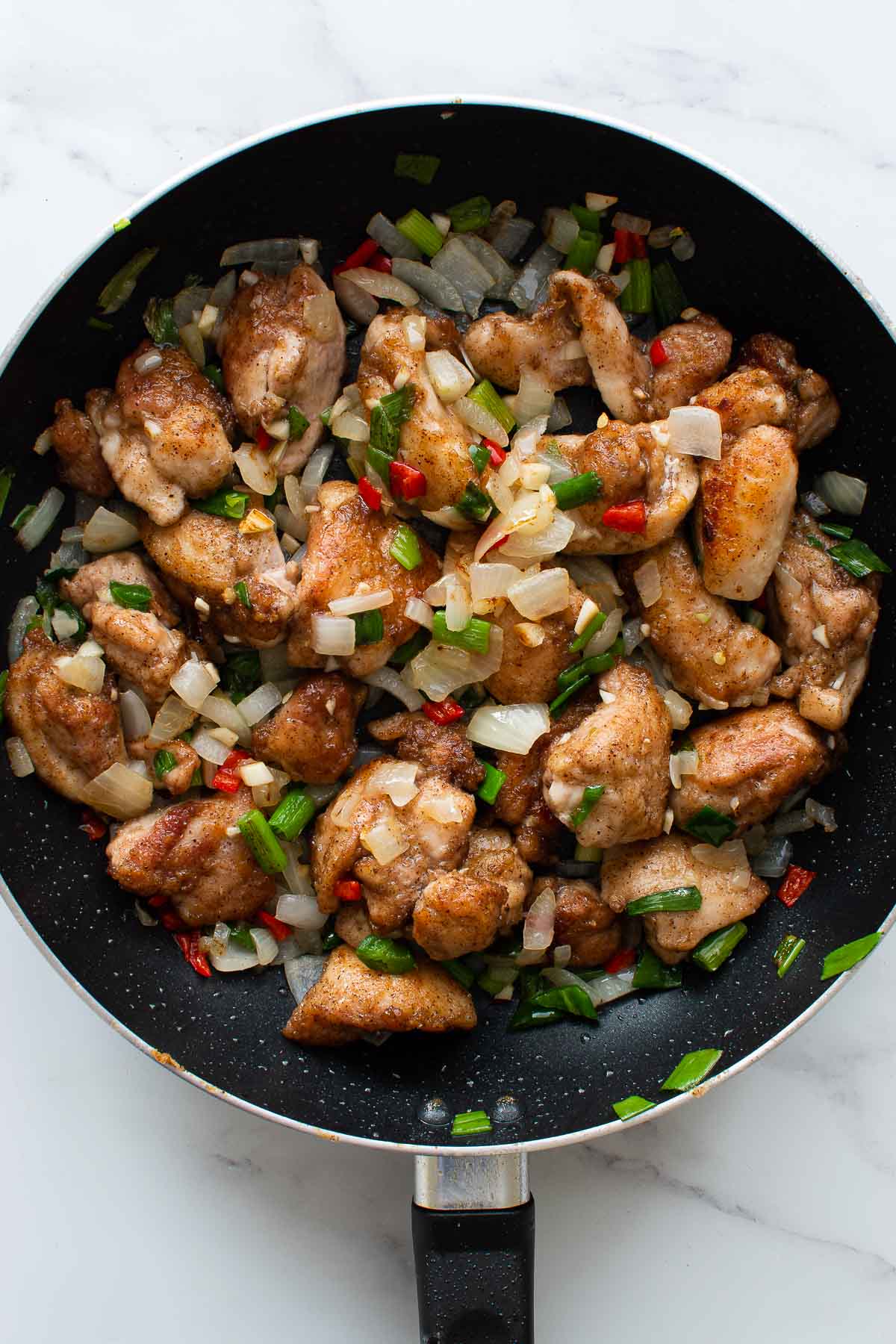 Ingredients
Boneless skinless chicken thighs: Chicken thighs contain more fat, and will therefore be more juicy and tender after cooking it over high heat. You can also use chicken breasts as a low calorie option, but the breast fillets are more likely to become dry while cooking.
Cornstarch: This is the secret to crispy pan fried chicken! This is also known as cornflour in the UK (but if you're in the US you need to use cornstarch, not cornflour).
Vegetable oil: Vegetable oil has a high smoke point, as is well suited for shallow frying.
Seasoning: Salt, pepper and Chinese five spice gives the chicken a fantastic flavor. You can use your own seasoning instead, but I highly recommend trying this combination.
Onion + garlic: Added for flavor!
Green onions: These onions, also known as scallions or spring onions, add a lot of flavor to the dish.
Chili: Red and green chilies add spice and flavor to the chicken. You can choose to only use one color chili if you prefer.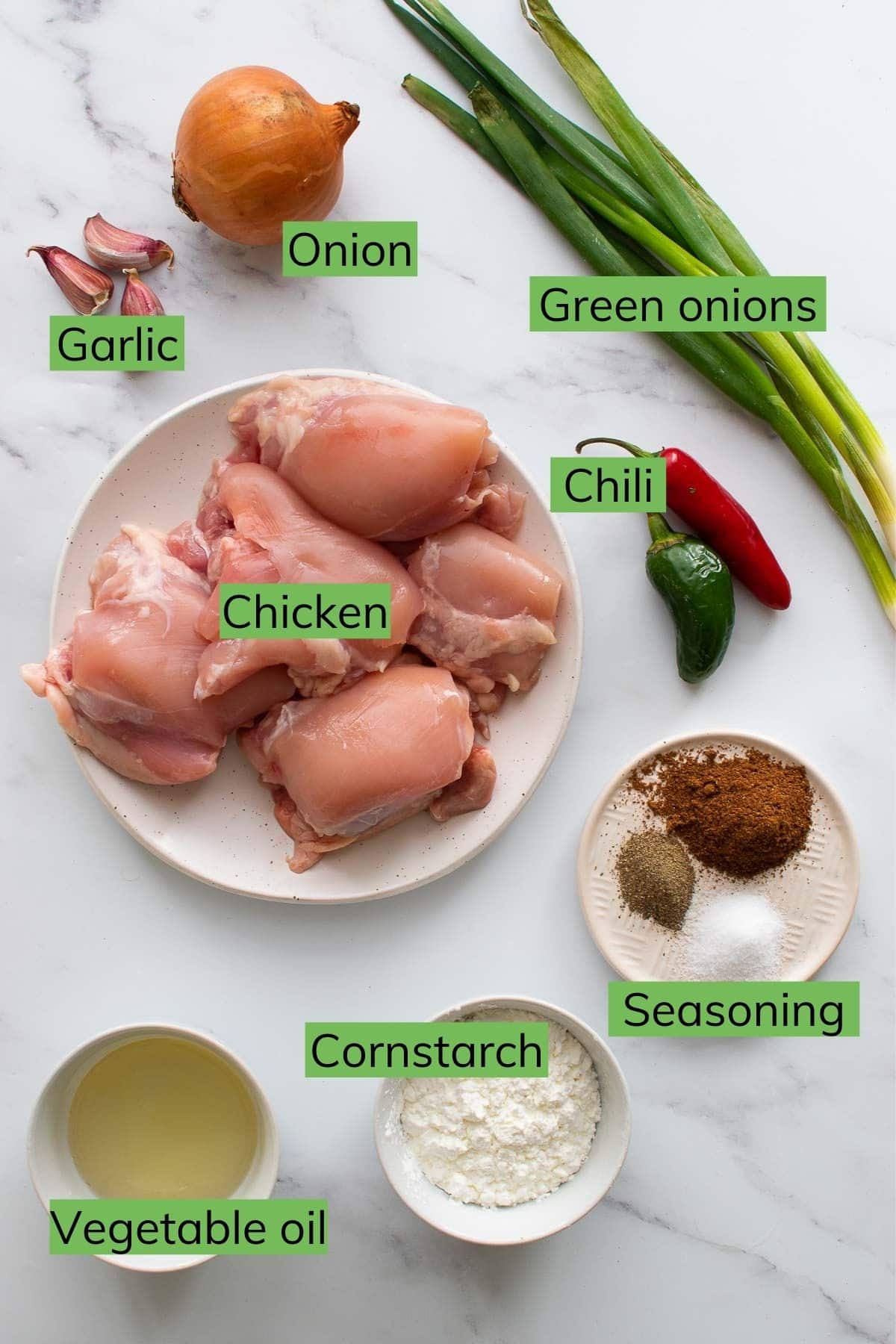 Instructions
For full instructions and ingredient measurements, see the recipe card at the bottom of this page.
This recipe is really easy to make, and only takes a few minutes. The cooking process goes fast, so I recommend preparing all ingredients before you start.
First, dice the chicken thighs into bite sized pieces, and coat with cornstarch, salt, pepper and Chinese five spice. This will give the chicken fantastic flavor, and make sure that it cooks crispy.
Heat oil in a skillet or wok on very high heat. Add the chicken pieces, and coat them in the oil. Allow them to cook for a few minutes until the chicken is almost cooked through, and golden brown all around.
Then, add diced garlic, onion, green onions and chili to the pan along with the chicken. Finish cooking all the ingredients together, and serve them immediately with your favorite side dish.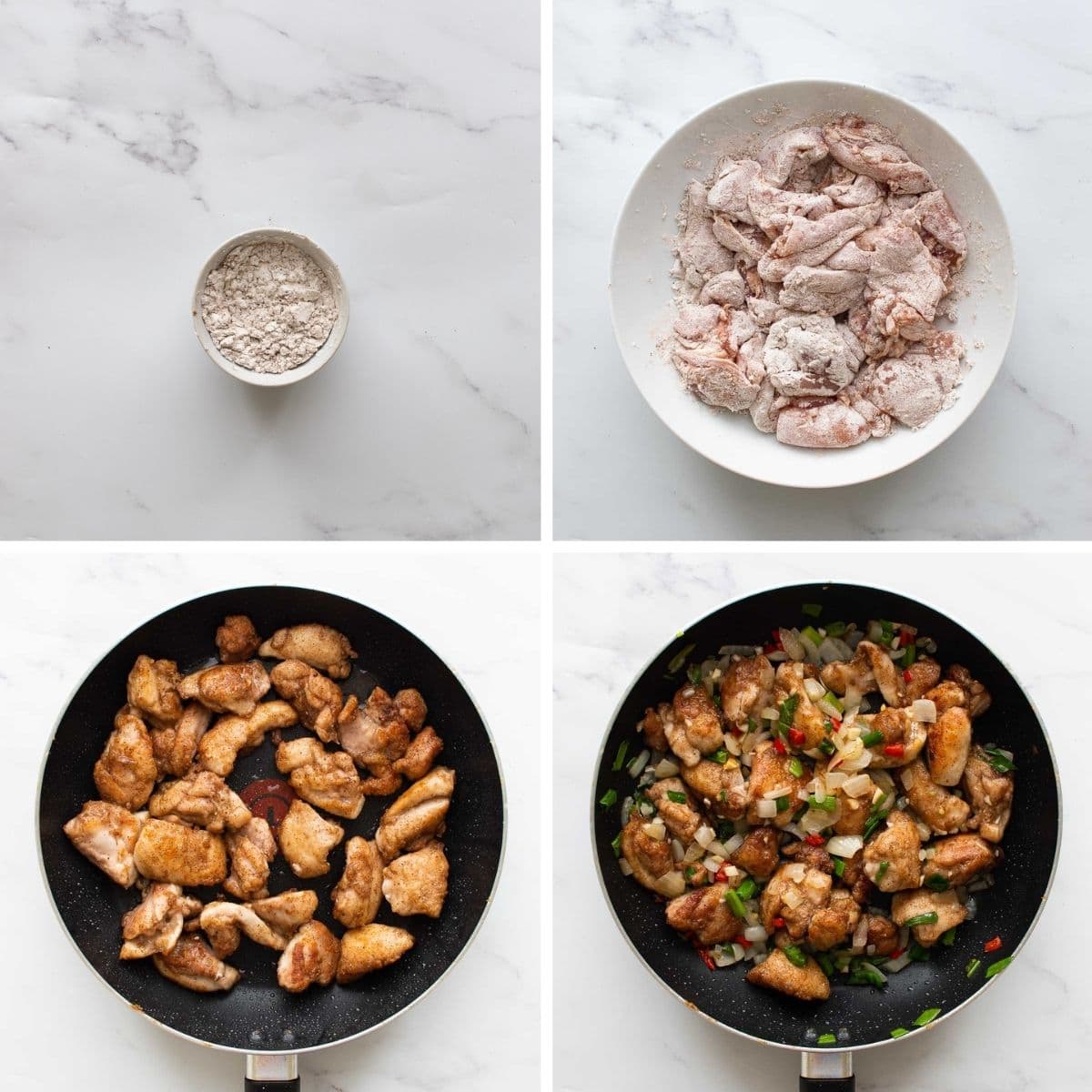 Top tips
To check if the chicken is done, you can cut one of the largest chicken pieces in half. The meat should be white throughout.
Leave the chicken to fry on high heat on all sides. This will make every piece of chicken perfectly crispy.
When you add the chicken to the pan, make sure to rotate the pieces with a spatula to coat them completely in oil. This also makes them extra crispy!
Serving suggestions
Salt and pepper chicken is best served as a main course or entree for lunch or dinner. Although you can enjoy the chicken on its own, I love to serve it with side dishes, or alternatively as a part of a buffet with other homemade takeaway dishes.
Here are some of my favorite dishes to pair it with: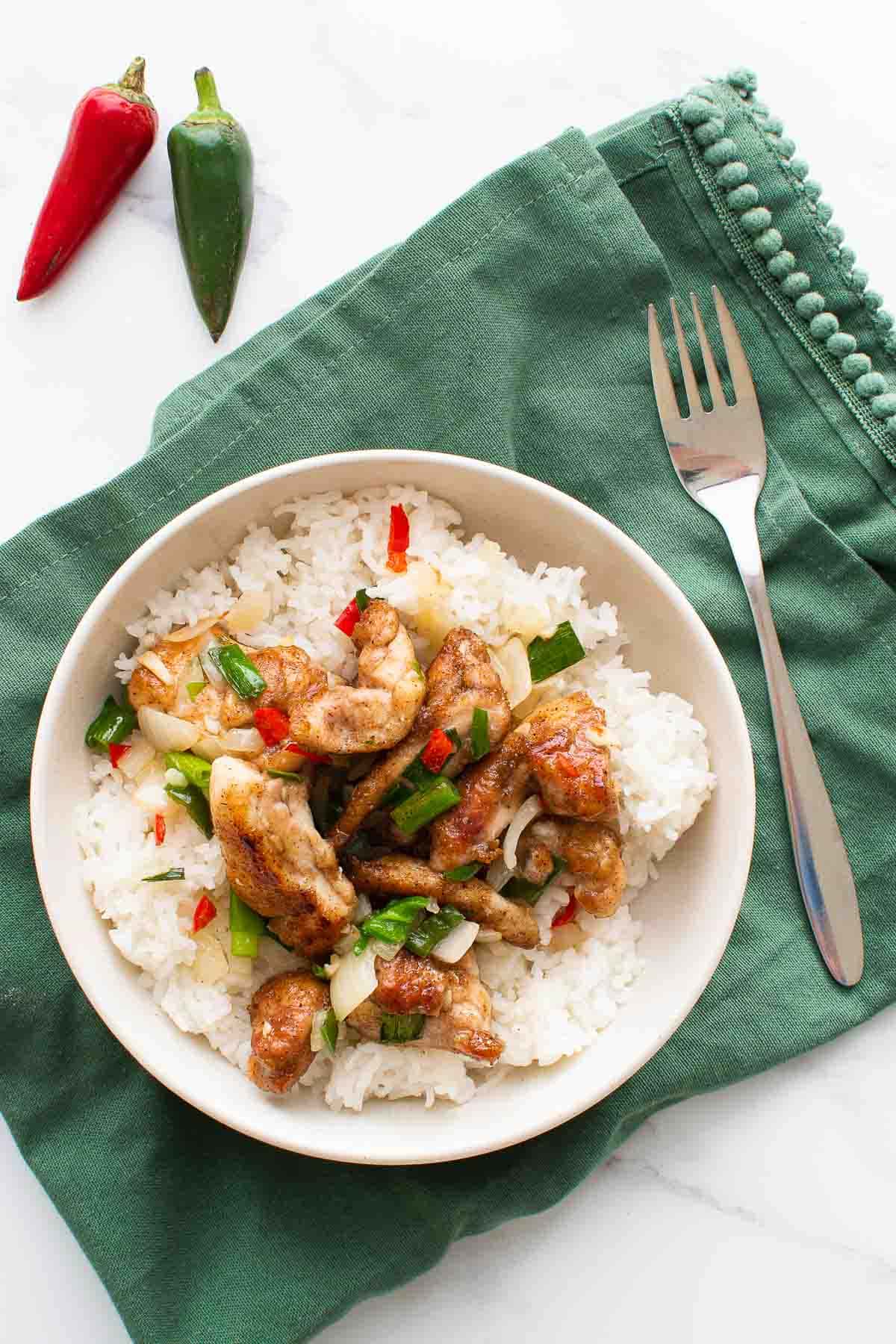 Variations
With vegetables: Turn this chicken dish into a complete stir fry by adding sliced and diced vegetables. Peppers, sugar snap peas, broccoli, beansprouts and baby corn are great options.
With other meat: You can replace the chicken thighs with chicken breasts, beef strips, pork strips or sliced salmon if you prefer other protein.
Vegetarian: Try making a veggie version by using a vegetarian substitute for chicken strips. You can find veggie "chicken" in most large supermarkets.
Leftovers
You can store leftover salt and pepper chicken in a refrigerator for up to 3 days. Reheat it in a microwave or skillet, and serve the chicken warm.
Leftover salt and chili chicken will not be as crispy as when it's freshly prepared, but it will still taste good.
🥡 More TAKEAWAY RECIPES from Hint of Healthy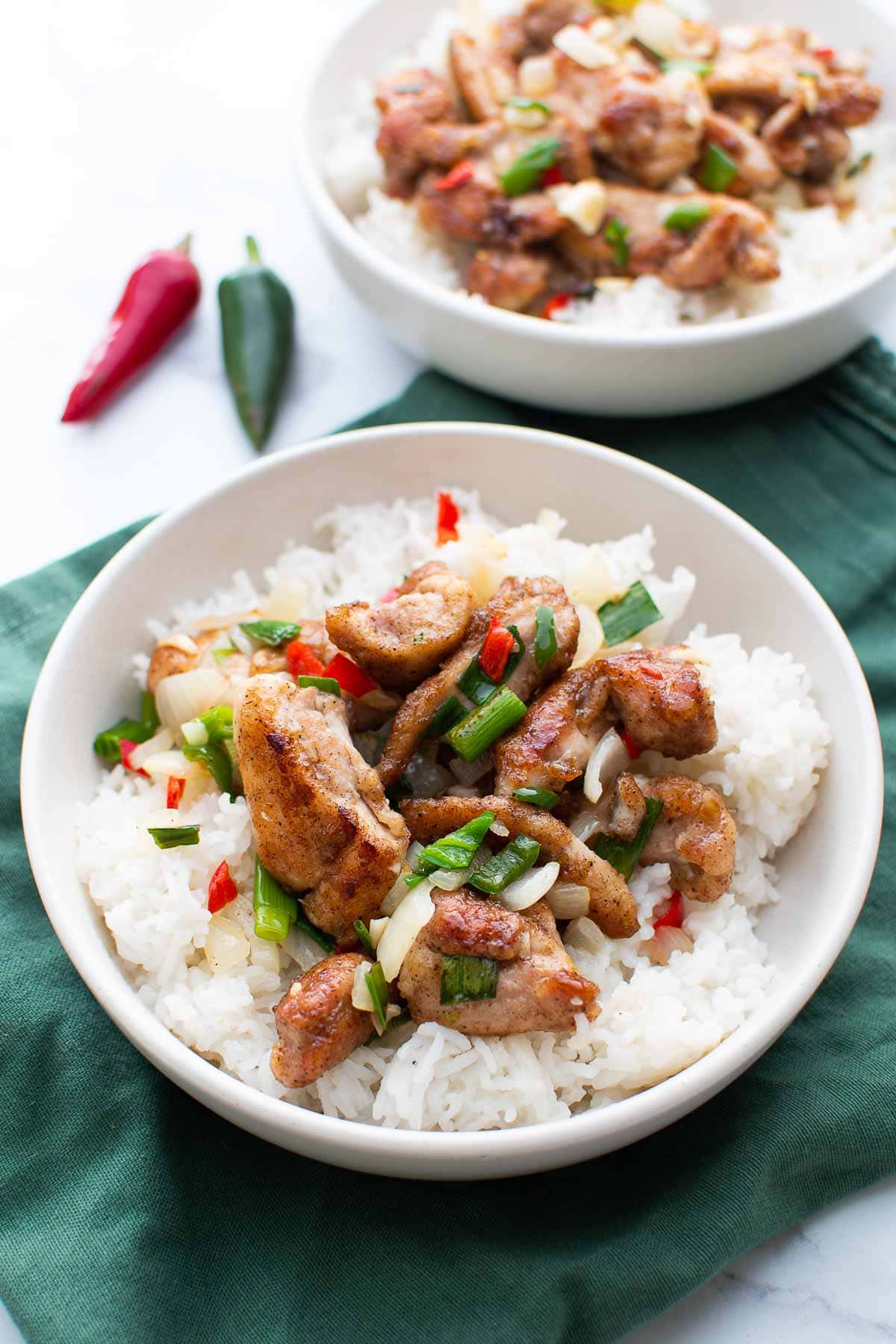 Frequently asked questions
Where does salt and pepper chicken come from?
This dish was made in Chinese takeaway shops in England. The picky British customers kept asking for plain chicken with salt and pepper, and the restaurants met the demands with this simple dish!
Can you make salt and pepper chicken without chili?
Absolutely! If you prefer a mild version of this dish, you can omit the chili, or substitute it with finely diced peppers instead.
You might also like these recipes
If you make this recipe, make sure to post a photo to Instagram with #hintofhealthy!
Recipe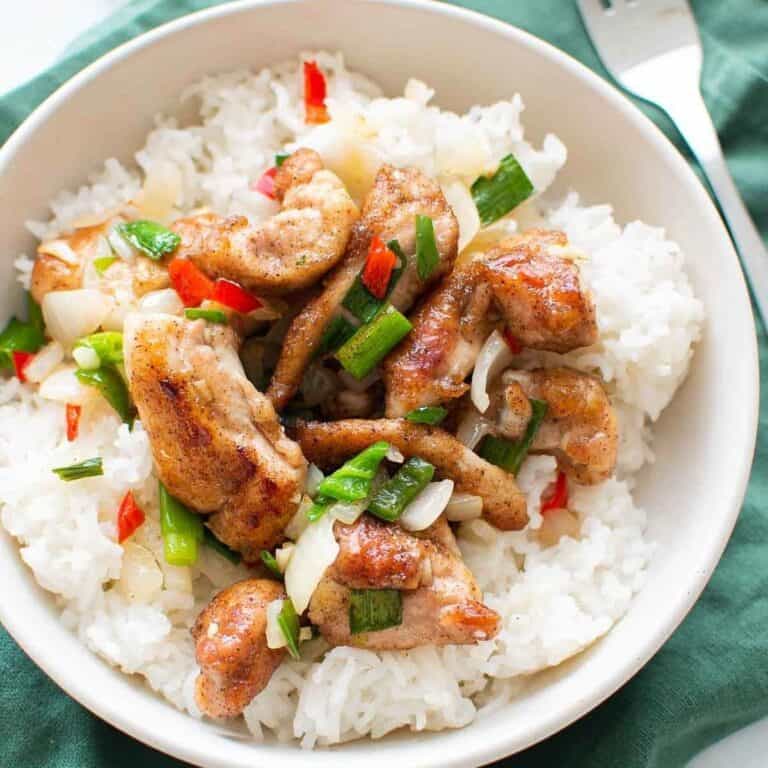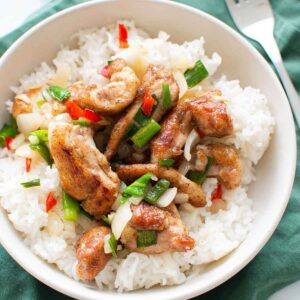 Salt and Pepper Chicken
Make your favorite takeaway dish at home with this easy salt and pepper chicken recipe. Seasoned chicken thighs are pan fried with onion and chili, and served with rice for a complete meal.
Ingredients
1

pound

boneless skinless chicken thighs

(or chicken breasts)

1

onion

3

garlic cloves

3

scallions

(green onions, spring onions)

1

green chili

1

red chili

⅓

cup

cornstarch

(UK: cornflour)

½

tablespoon

Chinese five spice

½

teaspoon

table salt

½

teaspoon

black pepper

⅓

cup

vegetable oil
Instructions
Combine cornstarch, salt, pepper and Chinese five spice in a bowl.

Dice the chicken thighs into bite sized pieces, and add them to a mixing bowl. Add the seasoned cornstarch, and make sure to coat each piece of chicken evenly in the flour.

Heat up vegetable oil in a wok or large skillet on high heat. When the oil is hot, carefully add the chicken pieces. Allow them to shallow fry on all sides until they are golden and crispy.

Add finely diced onions, garlic, scallions, and chili to the pan, and stir fry for about a minute or two, or until the onion is soft and translucent.

Remove the chicken from the heat, and serve it with your side dish of choice.
Notes
Store leftovers in a refrigerator for up to 3 days. Leftover chicken will not be as crispy as when it's freshly cooked, but will still taste great.
For a mild version of this dish, you can substitute the chili with finely diced peppers.
Nutrition
Calories:
346
kcal
Carbohydrates:
13
g
Protein:
22
g
Fat:
23
g
Saturated Fat:
16
g
Trans Fat:
1
g
Cholesterol:
108
mg
Sodium:
433
mg
Potassium:
355
mg
Fiber:
1
g
Sugar:
1
g
Vitamin A:
228
IU
Vitamin C:
19
mg
Calcium:
25
mg
Iron:
2
mg