Chow mein is a Chinese dish with stir-fried noodles, vegetables and meat or tofu. It's one of the more well-known Chinese dishes, and has become widely popular worldwide. Chow mein is probably one of the most common dishes to find at most Chinese restaurants and take away places. This chow mein with chicken is heavily inspired by the varieties I have been served from Chinese take away shops in the UK. I like to call this dish a perfect fakeaway (fake takeaway).
This post may contain affiliate links. Read more about it in the privacy policy.
Here are some of the reasons why you should make your own chow mein with chicken instead of ordering a take away: It's way less calories and can almost be considered a healthy dinner. Waiting for take away takes ages and this recipe is way faster. Take away chow mein is more greasy and has less flavor. When you order Chinese take away you'll probably end up ordering a bunch of extra side dishes that you won't finish anyway. Chicken chow mein might not be expensive - but making it yourself is way cheaper.
Listen. This recipe takes like 15 minutes, is super yummy, and it's just as healthy as any other pasta or noodle dish. You just can't beat that!
Chow mein ingredients
As a part of the recipe, we make our own super simple stir fry sauce. If you prefer, you can of course use a store bought chow mein sauce, which you can find in most large supermarkets. To make the best chow mein with chicken, all you need is the following:
Chicken
Egg noodles
Beansprouts
Red pepper
Spring onions
Garlic
Oyster sauce
Cornstarch

How to make chow mein
Cook your noodles according to package instructions. Do not add any spice packets or flavoring to the noodles. Drain off the water and leave it to the side. Meanwhile, make the sauce in a small bowl. Add cornstarch and soy sauce, and stir until combined. Add the oyster sauce, rice vinegar and sesame oil. Combine thoroughly, and set to the side. If you are using a store bought sauce, prepare it as we need to work quickly during the stir fry process.
Heat a bit of oil in a large wok. I prefer to use sesame oil, but vegetable oil or sunflower oil will do just fine. You want to cook stir fries on very high heat, so set it to the highest heat possible. Also, as the name suggest, because of the high heat you want to stir while frying the ingredients as not to burn them.
Add sliced chicken and minced garlic and cook until the chicken is slightly browned and mostly cooked on the outside. Add slices of red pepper,and chopped spring onions, and let it cook for a minute until it's slightly softened. Then add beansprouts, and stir fry for a few minutes until they are slightly soft as well. Add the sauce and the noodles, stir to combine thoroughly and stir fry for another minute to let the flavors combine. Remove from the heat and serve.
Difference between chow mein and chop suey
Chow mein can in many cases resemble chop suey, but the dishes are in fact very different. Chow mein is vegetables, noodles, sauce and sometimes meat stir fried together in a wok. Chop suey is vegetables and sometimes meat or eggs stir fried in sauce and served on top of noodles or rice. The key difference is that in a chow mein, the noodles are mixed into the stir fry. This is not the case with chop suey, which is enjoyed with rice more often than noodles. In take away shops you might find that a chop suey only includes the vegetable stir fry, and you're expected to order the rice or noodles as a side dish.
You can use this recipe to make your own chop suey. Instead of adding the noodles to the wok, you simply want to serve the stir fried chicken and vegetables on top of the cooked noodles. There you have it, chow mein with chicken is incredibly versatile and becomes chicken chop suey with just one small change. Super easy!
Chow mein noodles
You can either use egg noodles, or single packed ramen noodles to make your chow mein. If using ramen noodles, throw away the spice packet as you won't need it.

Is chow mein healthy?
As it is a noodle dish, chow mein with chicken is not a particularly nutritious meal. However, if the alternative is ordering take away, this is way better for you as you use a lot less oil than take away shops typically would. There are some veggies in there and lean protein from the chicken, which is great. Similarly to all pasta and noodle dishes, this meal can absolutely be enjoyed as a part of a balanced diet. One portion of chicken chow mein counts as 1 of your recommended 5 vegetables a day.
More easy chicken dishes
Recipe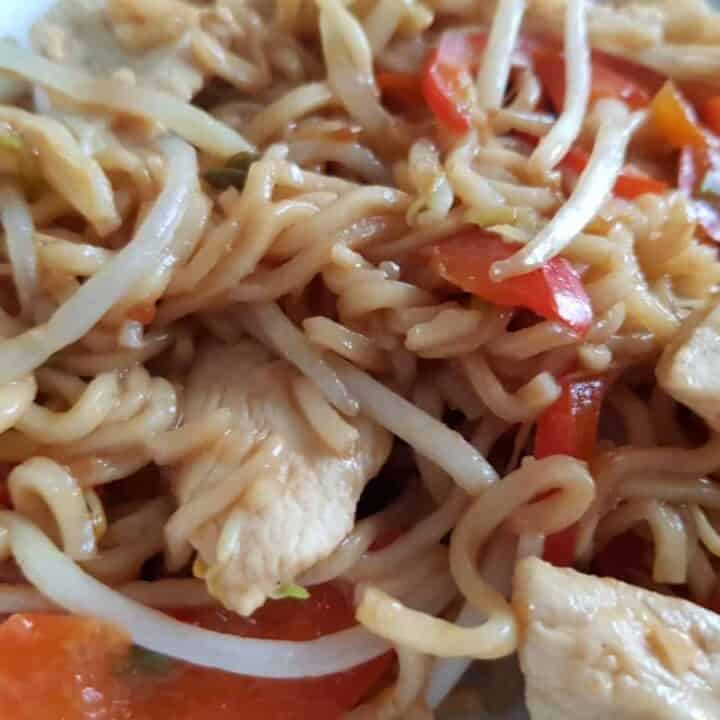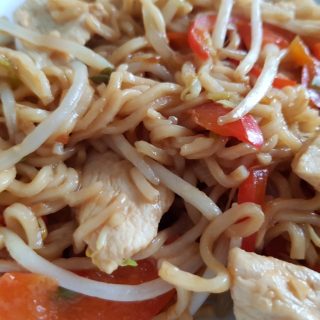 Chow mein with chicken
Delicious and easy weeknight meal. This kid friendly Chinese take away classic is even quicker, better and way healthier made at home.
Ingredients
2

chicken breast fillets

1

red bell pepper

300

g

beansprouts

2

spring onions

2

garlic cloves

5

tablespoon

dark soy sauce

3

tablespoon

oyster sauce

½

tablespoon

rice vinegar

1

tablespoon

sesame oil

1

tablespoon

cornstarch

150

g

egg noodles

2 packs of ramen noodles
Instructions
Make the noodles
Cook noodles according to package instructions. Drain and leave on the side until the stir fry is ready.
Make the sauce
In a small bowl, whisk cornstarch and soy sauce until combined

Add oyster sauce, rice vinegar and sesame oil. Stir to combine and leave while making the stir fry.
Make the stir fry
Prepare the vegetables and chicken before you start making the stir fry. Thinly slice chicken and peppers, chop spring onions and finely dice the garlic cloves.

Notice before you continue: the stir fry process only takes about 10 minutes. A stir fry is cooked in very hot oil over very high heat while continuously stirring. Do not leave the wok, or you risk burning the food. Make sure that you have the noodles, sauce, vegetables and chicken ready before you start.

Heat a small amount of oil in a wok or saute pan on very high heat. Make sure that it's really hot before continuing.

Add the chicken and garlic. Stir fry for a minute until the chicken has slightly browned on the outside. Remember to keep stirring - this is essential to a stir fry to prevent burning.

Add peppers and spring onions and cook for a minute until they start to soften.

Then, add the beansprouts and keep stirring the wok.

After a few minutes, the beansprouts will start to soften. At this point, add the noodles and the sauce, stir to combine and keep stirring over the heat for a few more minutes.

The stir fry is done when the beansprouts are sufficiently softened. Plate up, and it's ready to serve!
Nutrition
Calories:
405
kcal
Carbohydrates:
51
g
Protein:
30
g
Fat:
9
g
Saturated Fat:
2
g
Cholesterol:
90
mg
Sodium:
2275
mg
Potassium:
719
mg
Fiber:
5
g
Sugar:
7
g
Vitamin A:
1396
IU
Vitamin C:
67
mg
Calcium:
55
mg
Iron:
3
mg