This chicken and mango salad recipe is the perfect combination of sweet fruit with savory veggies and grilled protein. Serve this as a main dish for a light dinner or an easy lunch. This recipe includes grilled or pan fried chicken as a main component, but you can leave it out to make a vegan version, or to use it as a side dish.
I love salads. They are my go to lunch most days. I love how easy they are to make, and how much color and flavor there is in one dish. It's such an easy way to make sure you eat enough fruit and veggies! There are many salad recipes on the blog, and if you like this recipe, I'm sure you'll love my Greek pasta salad with feta and spinach or Halloumi and butternut squash salad too. Chicken and mango salad definitely tastes like summer to me. It might be all the bright colors, or the sweet mango with the grilled meat and crunchy veg, but it's definitely got a taste of sunshine.
This post may contain affiliate links. Read more about it in the privacy policy.

What do you need to make a great mango salad?
Mango
Chicken
Red onion
Watercress (or other leafy green)
Rocket (US: Arugula)
Red pepper
Avocado

How do you make this chicken and mango salad?
First, cook the chicken. You can add it to the grill, or pan fry it with some olive oil. I prefer to cook chicken fillets whole and then cut them into smaller pieces to add to the salad. You can cut the chicken before cooking, but cooking the fillets whole preserves more liquid, and makes for juicy, tender chicken meat.
After the chicken is cooked, leave it to cool for a few minutes, and prepare the rest of the salad in a salad bowl or on a serving platter. Add watercress and rocket, or your choice of leafy greens. Finely chop red onion, and dice mango, avocado and red pepper. Plate it in layers, or use salad servers to combine all the ingredients. Finally, add the chicken, and optionally, top with a fitting dressing. The flavors go really well with a lemon pepper vinaigrette.
[vc_row css_animation="" row_type="row" use_row_as_full_screen_section="no" type="full_width" angled_section="no" text_align="left" background_image_as_pattern="without_pattern"][vc_column width="½"][vc_single_image image="17041" img_size="large" qode_css_animation=""][vc_column_text]Try it without chicken - a perfect side dish or a lighter meal[/vc_column_text][/vc_column][vc_column width="½"][vc_single_image image="17042" img_size="large" qode_css_animation=""][vc_column_text].. or serve with pieces of grilled chicken as a complete meal![/vc_column_text][/vc_column][/vc_row]
Which dishes go well with mango salad?
Served as a main course, I like to have this salad with a nice dressing. You could also serve it with some nice crusty bread.
If you want to serve this as a side dish, try it with slow cooker apricot chicken or on pulled chicken thigh tacos. I also think this would be great on top of avocado toast.. yum!
Tips and substitutes
Make it vegan - Leave out the chicken and the dish is dairy free, egg free and vegan friendly!
Omit ingredients - If there is a specific ingredient you don't have available, or don't like, you can leave it out and the mango salad will still be delicious.
Add ingredients - Feel free to add your favorite veg to this salad! I think olives, mozzarella, tomatoes, cucumber, chopped basil, fresh mint, peaches, blueberries and chickpeas would be great additions.
Recipe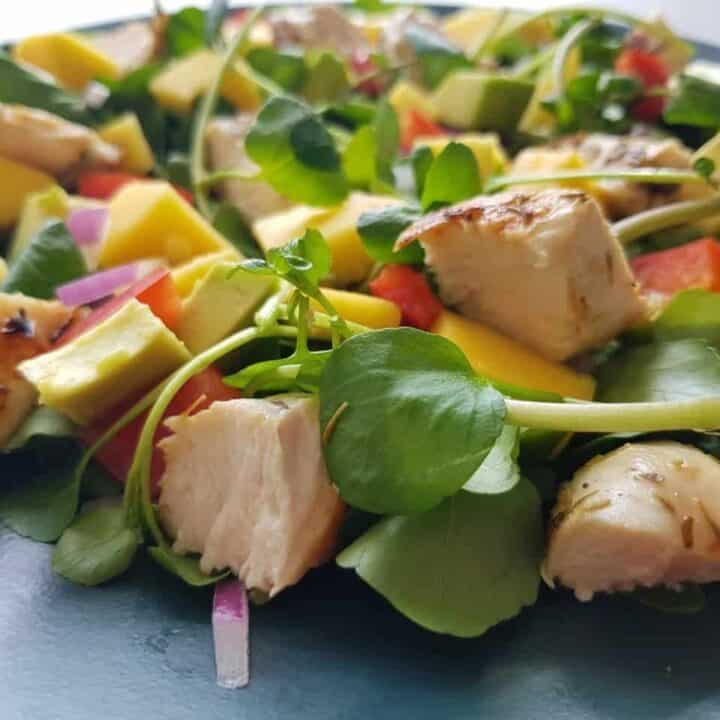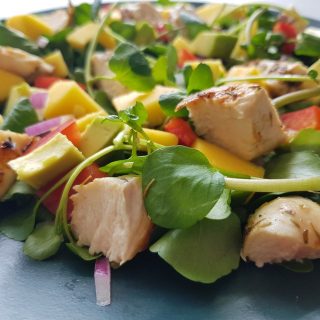 Chicken and mango salad
A quick and easy chicken and mango salad is a perfect light lunch or dinner. This recipe is made in 15 minutes or less, and combines excellent colors with beautiful flavors in the best ways possible.
Ingredients
1

avocado

1

red pepper

2

chicken fillets

1

mango

½

red onion

handful

watercress

handful

rocket
Instructions
Cook the chicken
Set a pan to medium high heat. Add some oil or non stick spray, and add the chicken fillets.

Add thyme and oregano to the chicken, along with some salt and pepper.

Cook for a few minutes until golden, then turn. Chicken cooks in 5-10 minutes. Insert a skewer in the thick parts of the fillets to make sure that the juices run clear - this means it's done.

Leave the chicken to cook down slightly while assembling the salad.
Assemble the salad
Dice red onion, mango, avocado and red pepper.

Add to a serving platter or salad bowl along with a few handfuls of watercress and rocket.

When the chicken has slightly cooled down, dice it and add to the salad.

Optionally, add dressing, and serve.
Notes
Store the salad in an airtight container for up to 3 days. Avocado has a tendency to turn brown very quickly, so if you want to make this recipe ahead, leave the avocado out and only add it before serving.
Nutrition
Calories:
382
kcal
Carbohydrates:
30
g
Protein:
28
g
Fat:
18
g
Saturated Fat:
3
g
Cholesterol:
72
mg
Sodium:
143
mg
Potassium:
1245
mg
Fiber:
10
g
Sugar:
18
g
Vitamin A:
3163
IU
Vitamin C:
127
mg
Calcium:
35
mg
Iron:
2
mg