Albondigas are delicious Spanish meatballs cooked in a lovely tomato sauce. It's a popular tapas dish, or an excellent entree, and you can make them in less than 30 minutes.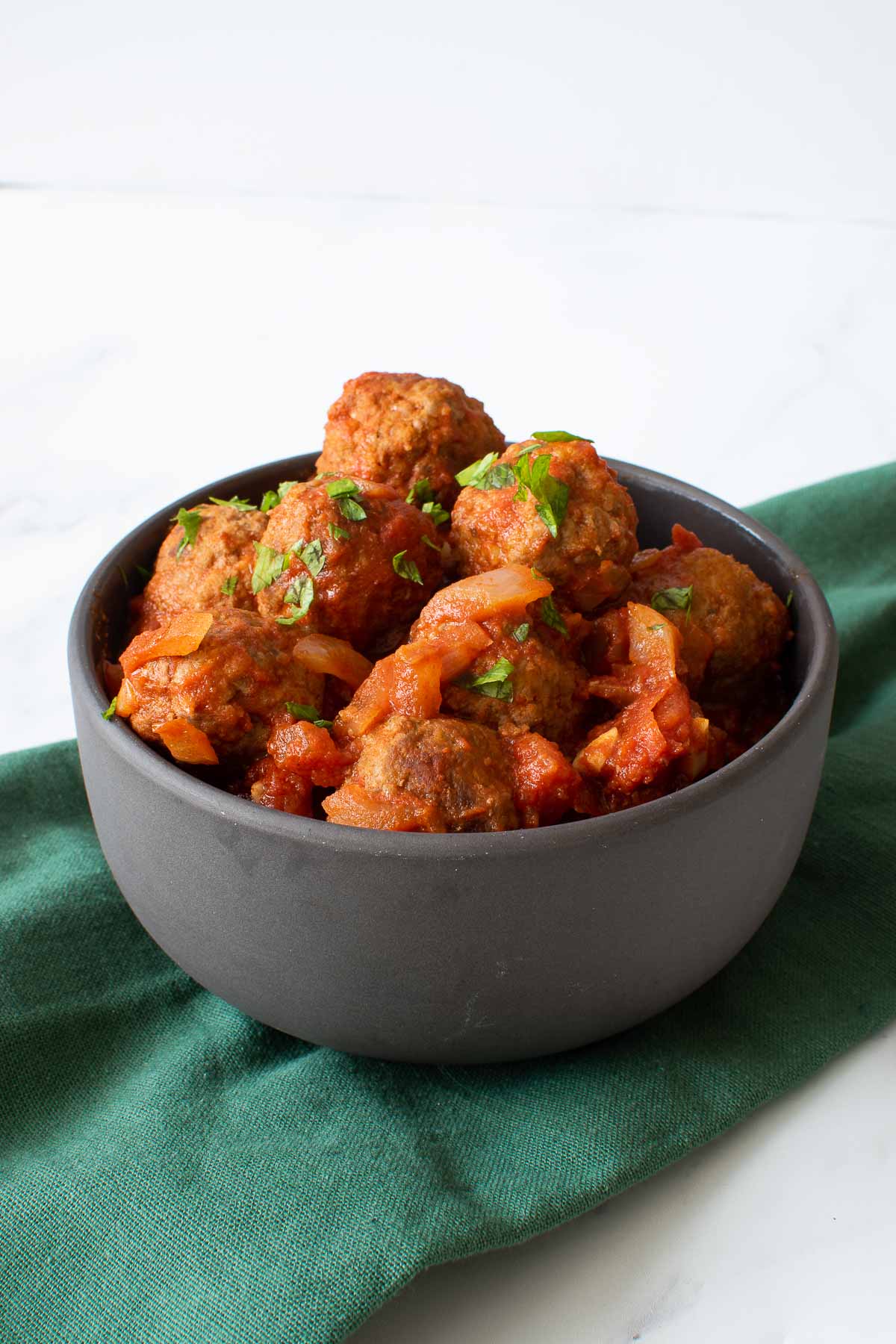 Jump to:
This post may contain affiliate links. Read more about it in the privacy policy.
You'll always find albondigas on the table whenever we make tapas. We love to eat them as finger foods with little toothpicks, but they can also be served with side dishes as an entree.
This recipe is one of the easiest meatball recipes that I have ever made (and I've made quite a few, like my Honey Sriracha Meatballs or Sausage Meatballs). Cooking the meatballs and the sauce together in one skillet is a great time saver, and makes the dish incredibly flavorful.
Why you'll love it
Perfect tapas dish
Kid friendly
Pair it with any side dish and serve as a main course
So easy to make
The leftovers store really well
Ingredients
Ground beef: Ground beef is flavorful and a traditional choice for meatballs. I use lean ground beef to make the dish a little lighter, but you can use whatever meat that you like.
Breadcrumbs: Breadcrumbs help the meatballs hold together. Use gluten free breadcrumbs if you want.
Egg: Binds the meatballs together.
Seasoning: Bay leaf, salt, black pepper, cayenne pepper, smoked paprika and paprika add flavor to the meatballs and sauce.
Garlic + onion: Add flavor to the sauce.
Canned diced tomatoes (UK: tinned chopped tomatoes): This is the base for the tomato sauce. Alternative, use tomato sauce or tomato passata.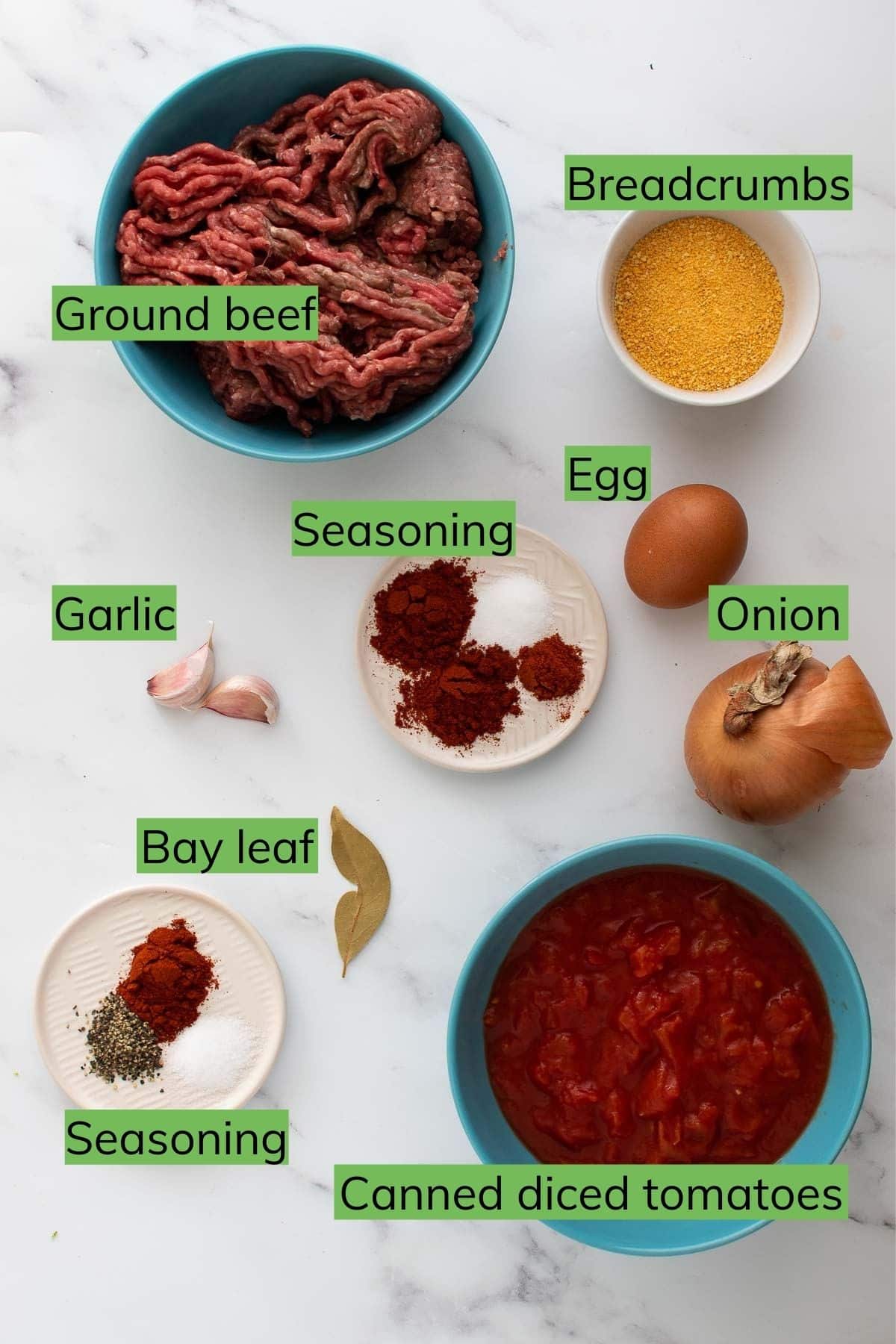 Instructions
First, prepare the meatballs by adding all ingredients to a mixing bowl. Use your hands to mix the ingredients together until they are just combined. Then, roll the meatball mixture into about 30 small meatballs.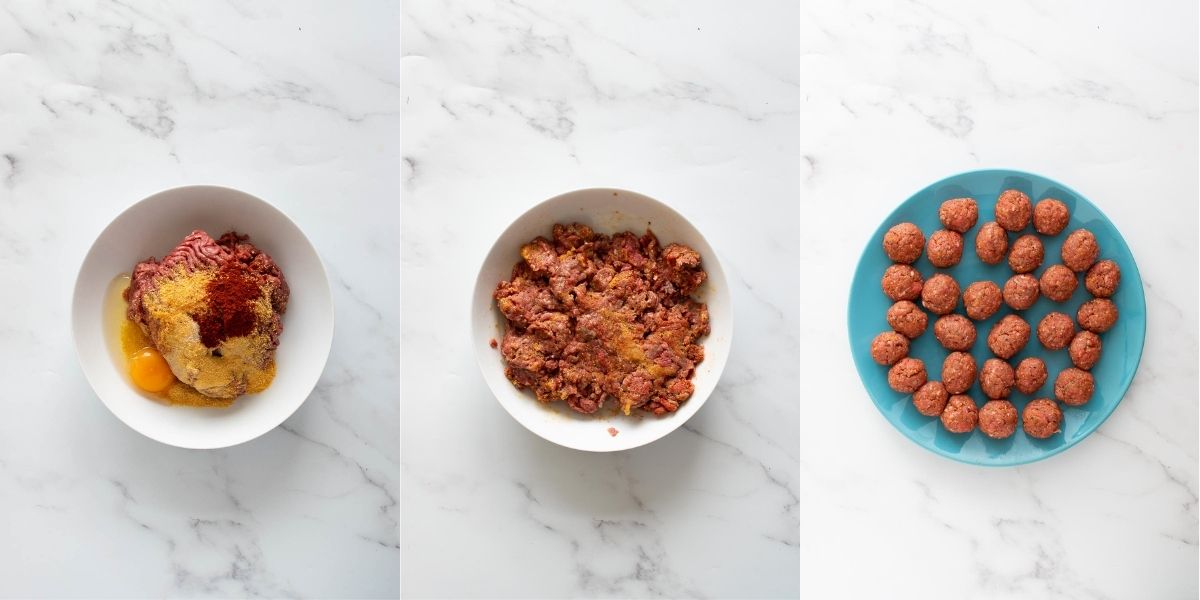 Heat up some olive oil in a skillet on medium to high heat, and add the meatballs. Cook for a few minutes while turning the meatballs occasionally, until they are mostly browned on the surface.
Add diced onion and garlic, and sauté until the onion is soft. Finally, add the remaining sauce ingredients, stir to combine, and leave to simmer on medium to low heat until the meatballs have cooked through, about 10 minutes.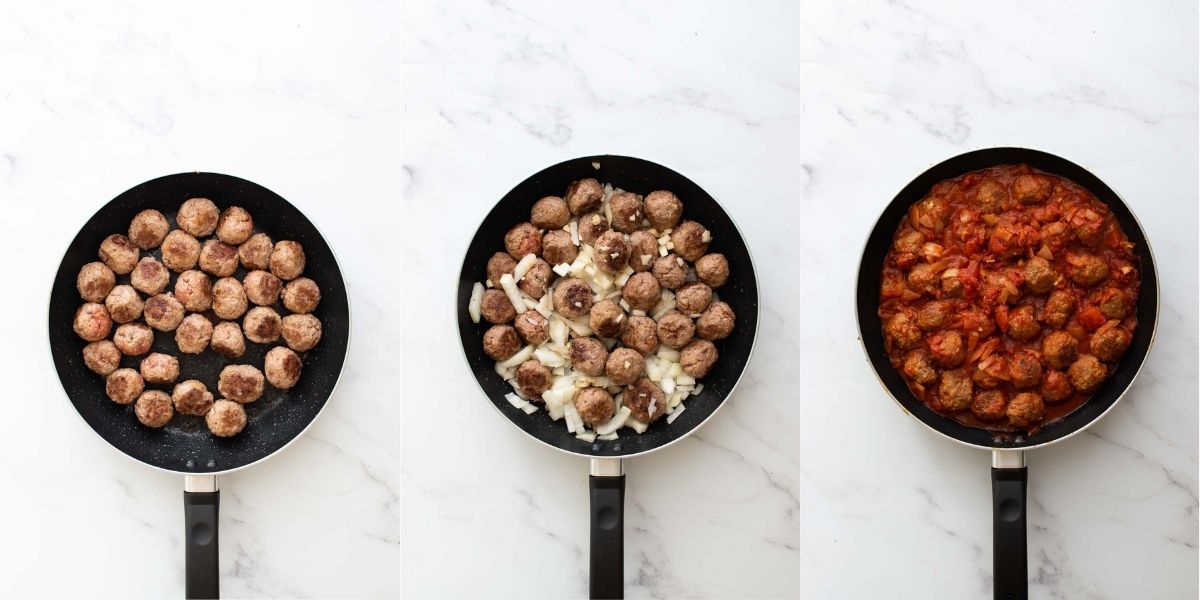 Top tips
Be careful not to overcook the meatballs, or they might become a little dry
Use a splatter guard, as the tomato sauce could splatter a little while it cooks
Make sure to sauté the onions until they are soft
Serving suggestions
Serve Spanish meatballs as an appetizer or finger food, or as a part of a buffet. You can also pair it with some tasty side dishes, and make it a complete meal. Here are some of my favorite sides to serve with them: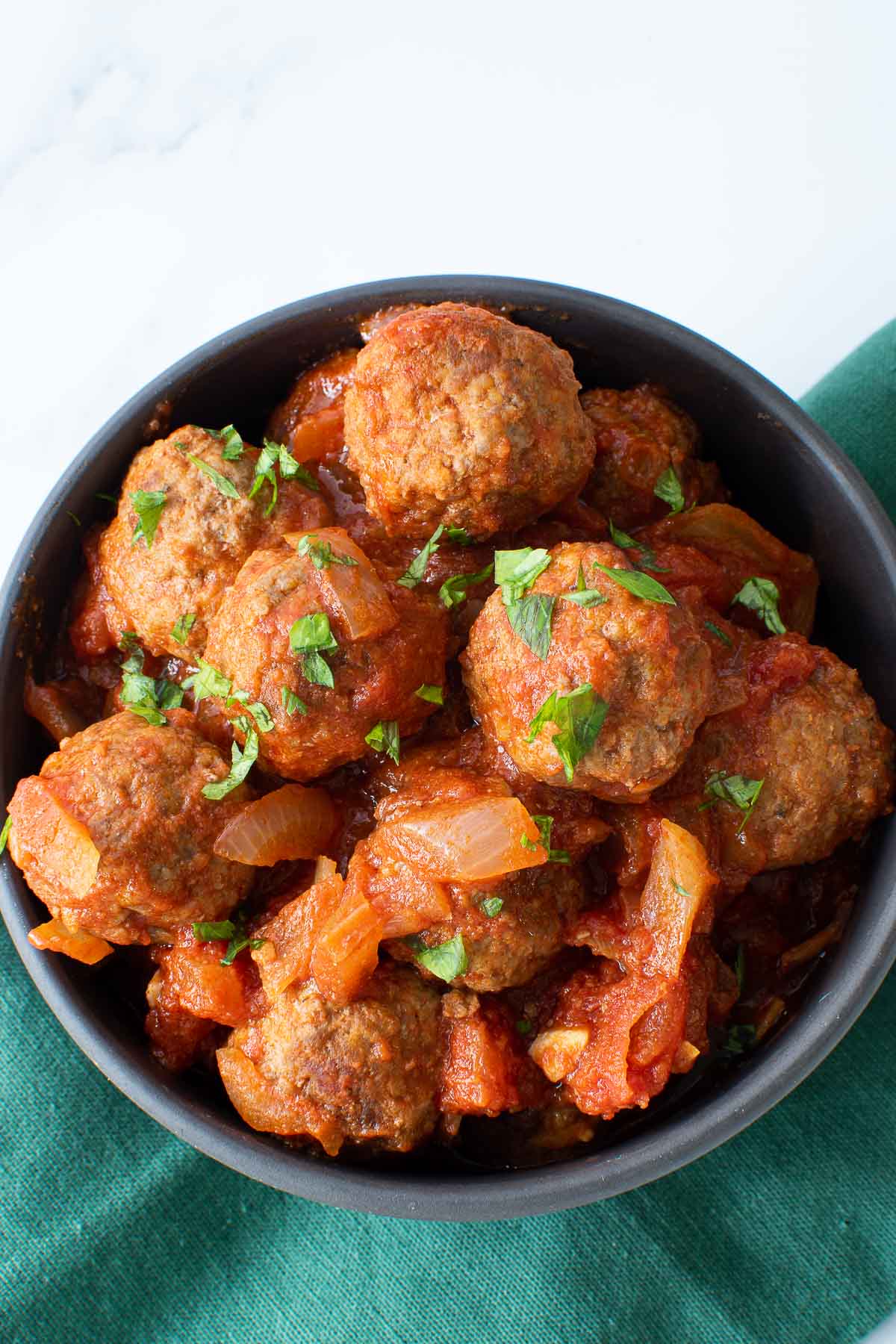 Variations
Spicy albondigas: Add some freshly diced chili, red pepper flakes or extra cayenne pepper to bring more heat to the dish.
Lean meatballs: Use ground turkey instead of ground beef. This will reduce the amount of fat and calories in the dish.
Extra flavor in the sauce: There are lots of ingredients that can add a little more flavor to the sauce. Try adding liquid smoke for more smokiness, sun dried tomatoes, olives or fresh basil to taste.
Leftovers
Store leftover Spanish meatballs in a sealed container in a refrigerator for up to 4 days, or freeze them for up to 3 months.
You can defrost and thaw the frozen meatballs in the refrigerator overnight, and reheat the chilled meatballs in a skillet or microwave until they are warm throughout.
💡 TIP! Make a double batch, and freeze half of the meatballs down for later. This is a great way to prepare future dinners, as doubling the recipe doesn't actually require any more time or effort.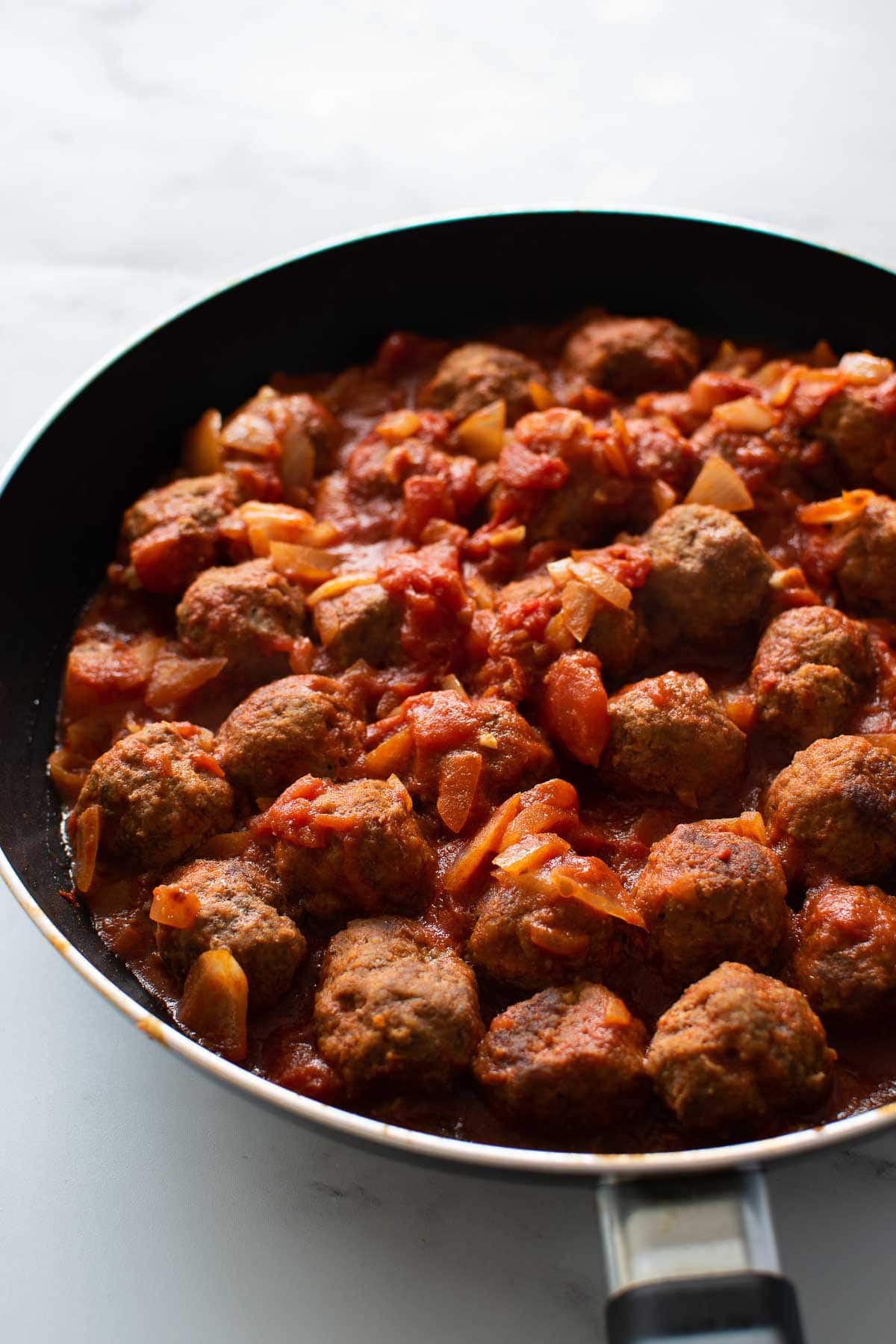 Frequently asked questions
Why are my meatballs tough?
Meatballs can become tough or dry if you don't add enough moisture, if you over mix the ingredients, or if you overcook them. Make sure to add enough egg, and only mix the ingredients until they are just combined.
What are albondigas in English?
Albondigas are the Spanish word for meatballs. The word is often used to describe meatballs that are cooked Spanish style, in a paprika flavored tomato sauce.
Do you have to put an egg in meatballs?
Yes. Eggs are added to meatballs to bind the ingredients together, and without it the meatballs will simply fall apart. You can also use alternative egg substitutes.
You might also like these recipes
If you make this recipe, make sure to post a photo to Instagram with #hintofhealthy!
Recipe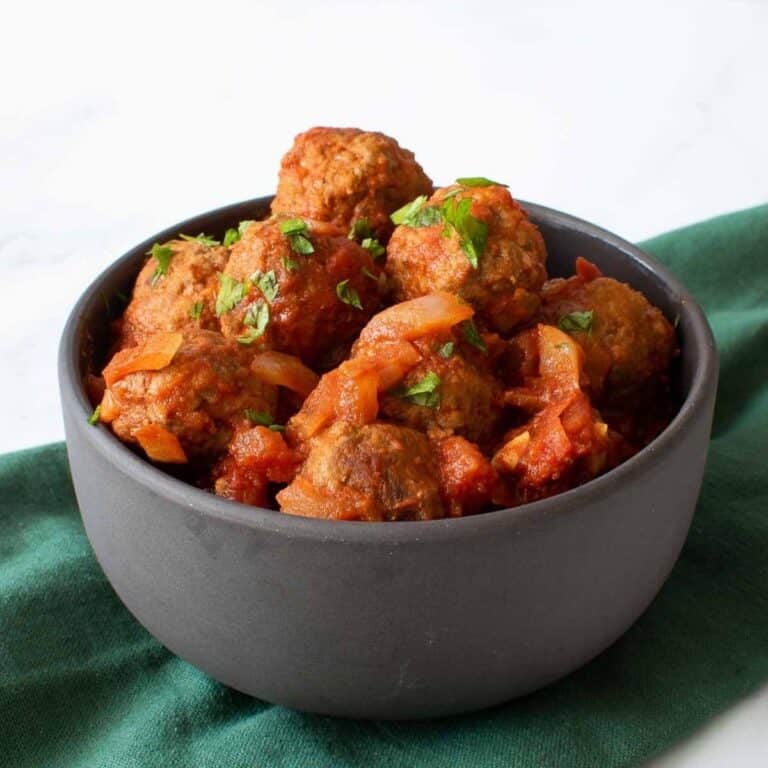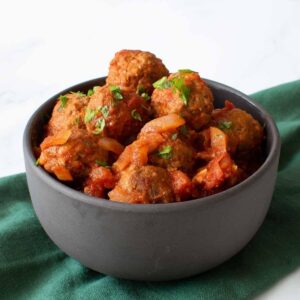 Spanish Meatballs (Albondigas)
These Spanish meatballs, or Albondigas, are perfect for easy tapas, or as a healthy entree for your weeknight dinner. Small beef meatballs are cooked in a paprika flavored tomato sauce to juicy, tender perfection, and served on little cocktail sticks or with side dishes.
Instructions
Add the ingredients for the meatballs to a mixing bowl, and mix until just combined.

Heat up the olive oil in a skillet on medium to high heat, and add the meatballs. Cook for about 5 minutes while turning occasionally to brown them on all sides.

Add diced onion and grated garlic to the skillet, and sauté for a few minutes until the onion is soft and translucent.

Finally, add the sauce ingredients to the skillet. Stir to coat the meatballs evenly, and reduce the temperature to medium to low. Leave the sauce to simmer for about 10 minutes, or until the meatballs have cooked through.
Notes
Store leftover Spanish meatballs in a refrigerator for up to 4 days, or in a freezer for up to 3 months. Thaw and reheat in a microwave or skillet before serving.
Nutrition
Calories:
33
kcal
Carbohydrates:
1
g
Protein:
4
g
Fat:
1
g
Saturated Fat:
1
g
Trans Fat:
1
g
Cholesterol:
15
mg
Sodium:
97
mg
Potassium:
66
mg
Fiber:
1
g
Sugar:
1
g
Vitamin A:
65
IU
Vitamin C:
1
mg
Calcium:
6
mg
Iron:
1
mg