Slow cooker brussels sprouts is the perfect side dish for your roast dinner. With this easy recipe, you'll be able to cook sprouts to perfection every single time!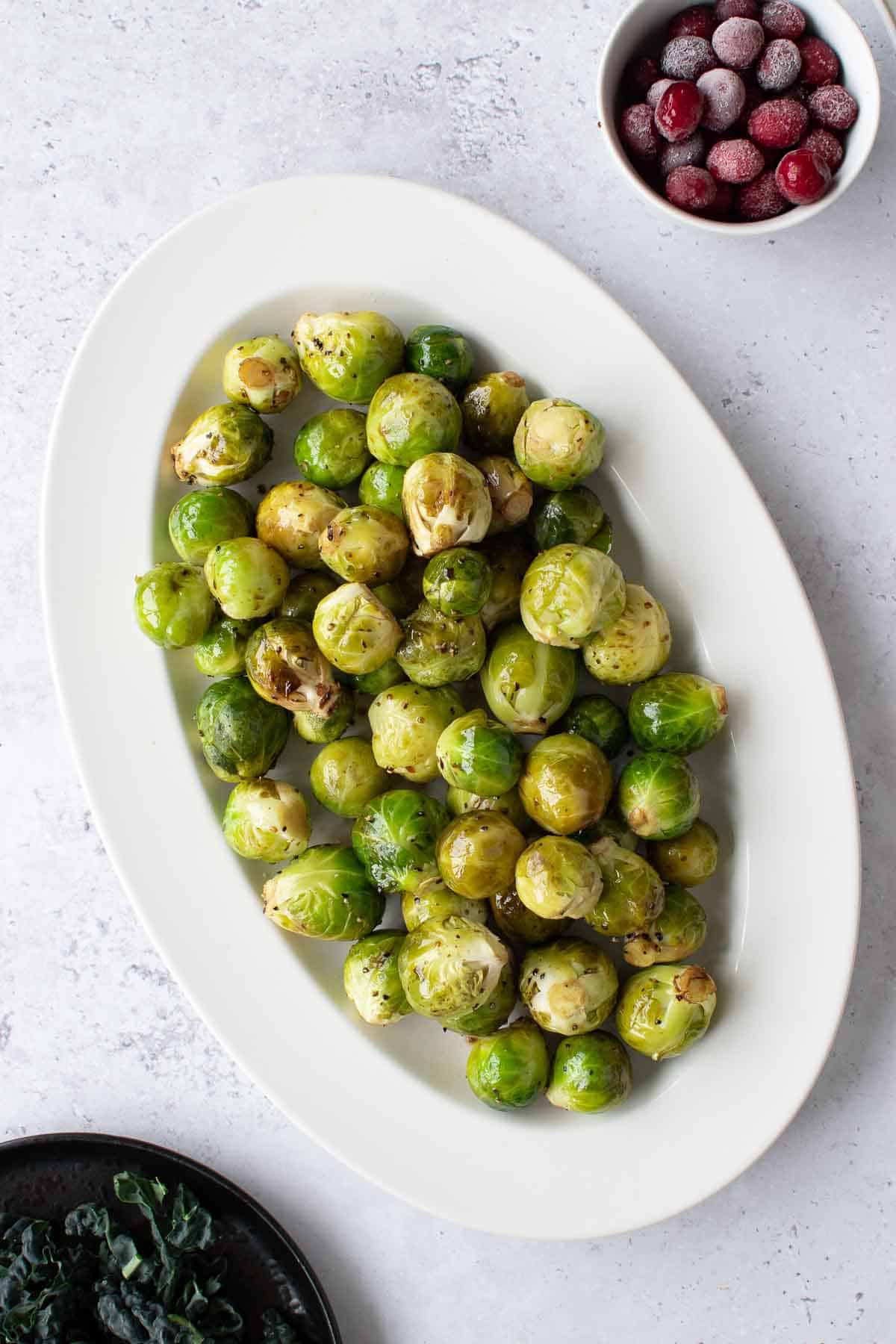 Jump to:
This post may contain affiliate links. Read more about it in the privacy policy.
If you love brussels sprouts, then you will definitely enjoy this recipe. Sprouts are an essential part of any British roast dinner, especially at Christmas. With this easy recipe, you can prepare them in the morning, and leave them to cook until you're ready to serve dinner in the afternoon.
This is also a great way to prepare sprouts ahead of time if you plan to use them in other dishes, for example, my Brussels Sprouts Pasta Salad.
🥘 More SLOW COOKER RECIPES from Hint of Healthy
Why you'll love it
Free up space on your stove by making your sprouts in your slow cooker
Easy, healthy side dish recipe
Prepare the sprouts in the morning, and leave them to slow cook all day
Set and forget - you don't have to keep checking on them all day as the slow cooker will ensure a perfect result on its own
Ingredients
Brussels sprouts: Although frozen sprouts will work, I recommend using fresh brussels sprouts for the best results.
Olive oil: Prevents the sprouts from sticking to the bottom of the pot, or from drying out during the initial stages of cooking. You can omit this, or use vegetable oil instead if preferred.
Balsamic vinegar: Adds some flavor to the sprouts. Optional.
Salt + freshly ground black pepper: Adds a little flavor. Reduce the amount or omit these if you prefer.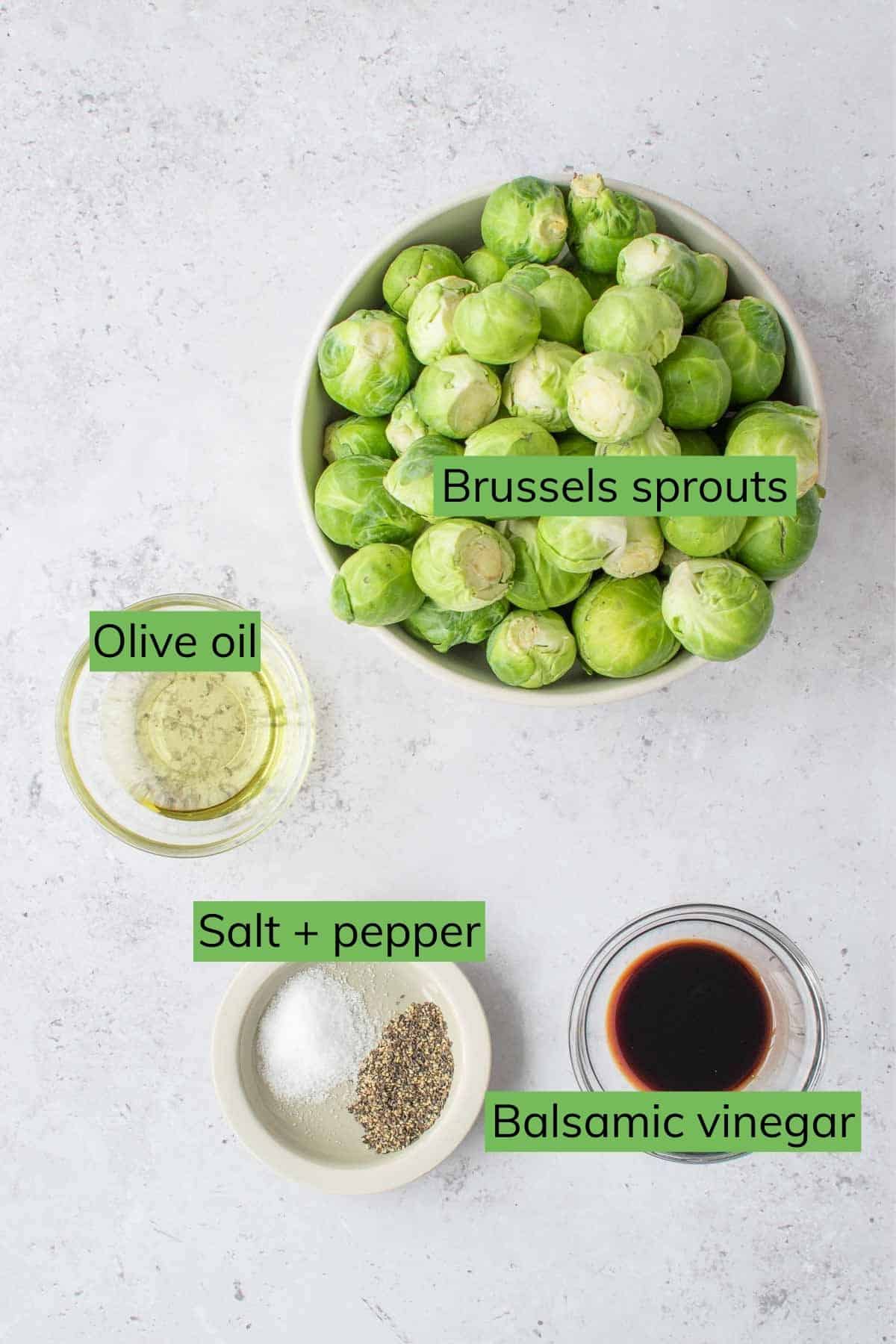 Instructions
You can find full instructions + ingredient measurements in the recipe card at the bottom of this page
Wash and clean the brussels sprouts. I like to remove the outer layer of tough leaves, as this removes some of the bitter flavor.
Then, add them to your slow cooker. Add the olive oil, balsamic vinegar, salt and pepper, and stir to combine.
Place the lid on top of the slow cooker, and cook on HIGH for 2=4 hours, or on LOW for 4-6 hours. The sprouts will be perfectly tender, and ready to eat.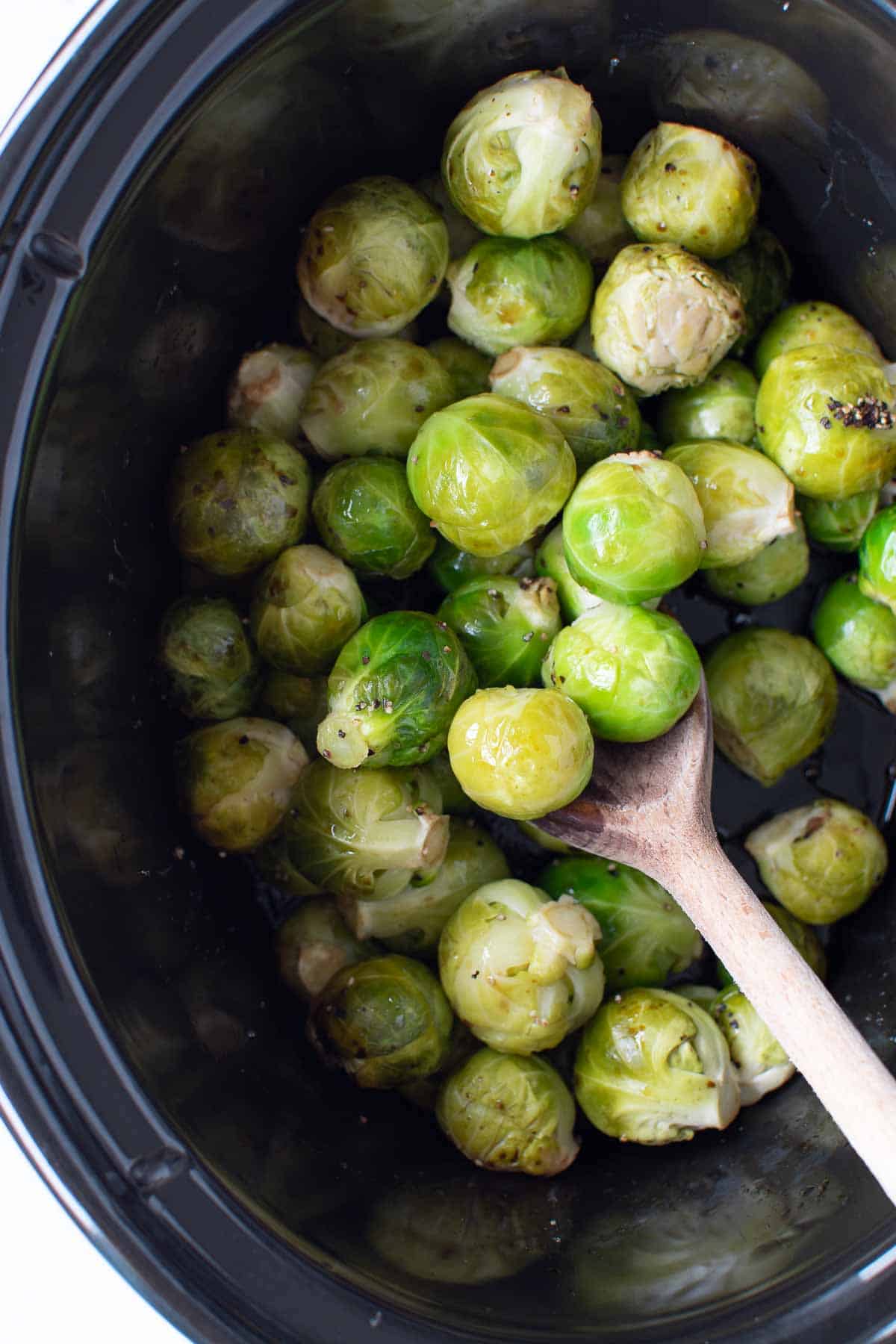 Top tips
This method of cooking brussels sprouts does not require any water. The result will be more like steamed sprouts than boiled sprouts.
You can check to see if the sprouts are done by piercing them with a fork. The fork should fall through the sprout with little resistance.
Prepare the brussels sprouts the day before, and store them in the refrigerator over night. This allows you to save some time on the day you plan to serve them, which is very useful if you're preparing a big family meal.
Serving suggestions
Slow cooker brussels sprouts are best served as a side dish, paired with a meaty entree. This recipe is perfect for your roast dinner or traditional Christmas dinner.
I like to serve the sprouts with Air Fryer Roast Beef, Roast Topside of Beef, Slow Cooker Hunters Chicken, Slow Cooked Whole Duck, Instant Pot Pot Roast, or Gammon Steaks.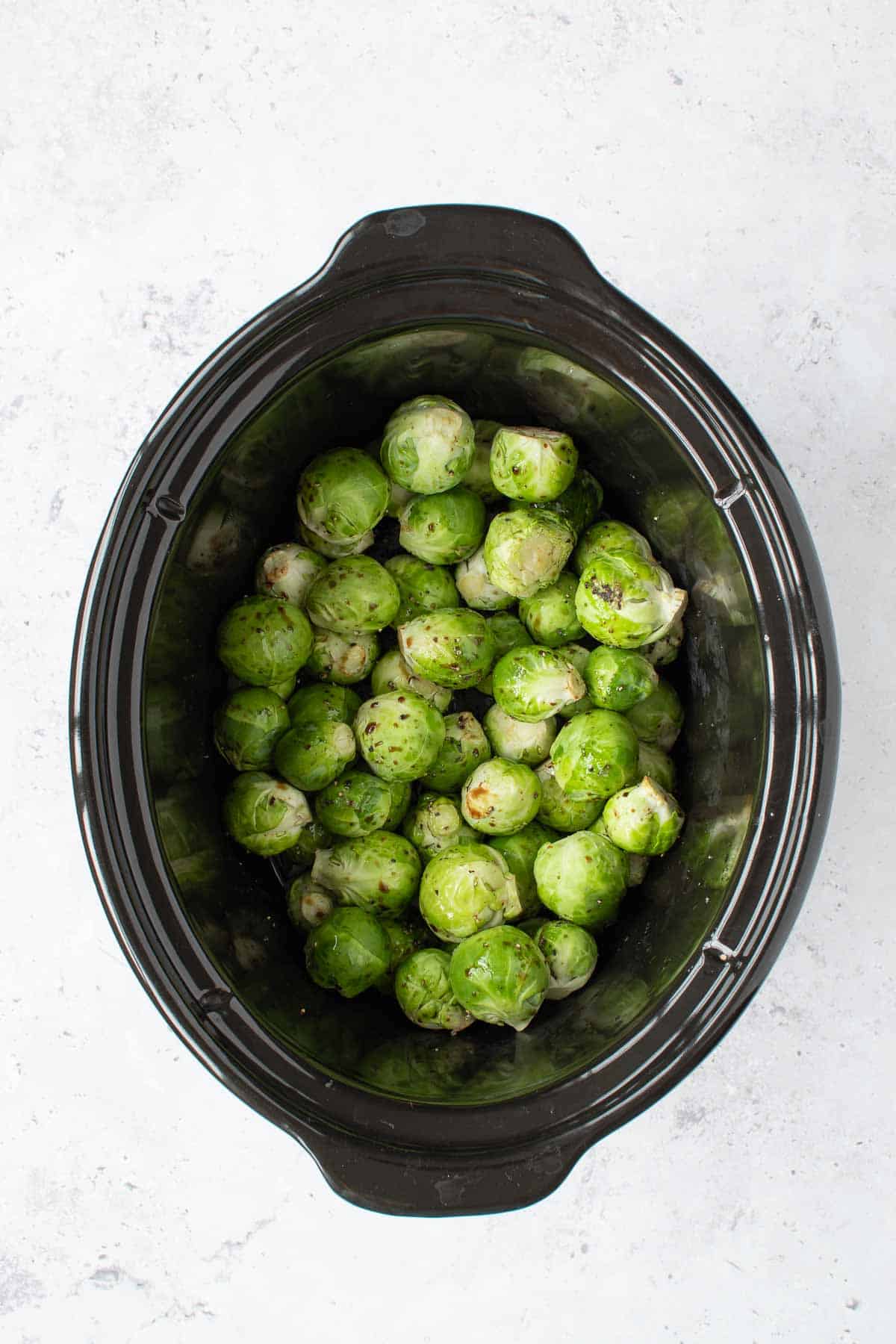 Variations
This recipe can easily be adjusted to suit your preferences.
You can add any seasoning, sauce or other component to adjust the flavor of the sprouts. For example, try adding grated Parmesan cheese, Dijon mustard, maple syrup, honey, brown sugar or garlic powder.
Equipment
For this recipe, you will need a slow cooker or a crock pot. Any 3 qt or 6 qt slow cooker will work. If you wish to cook a larger amount, you might need a larger cooker.
Additionally, you will need a sharp knife and a cutting board to clean the brussels sprouts.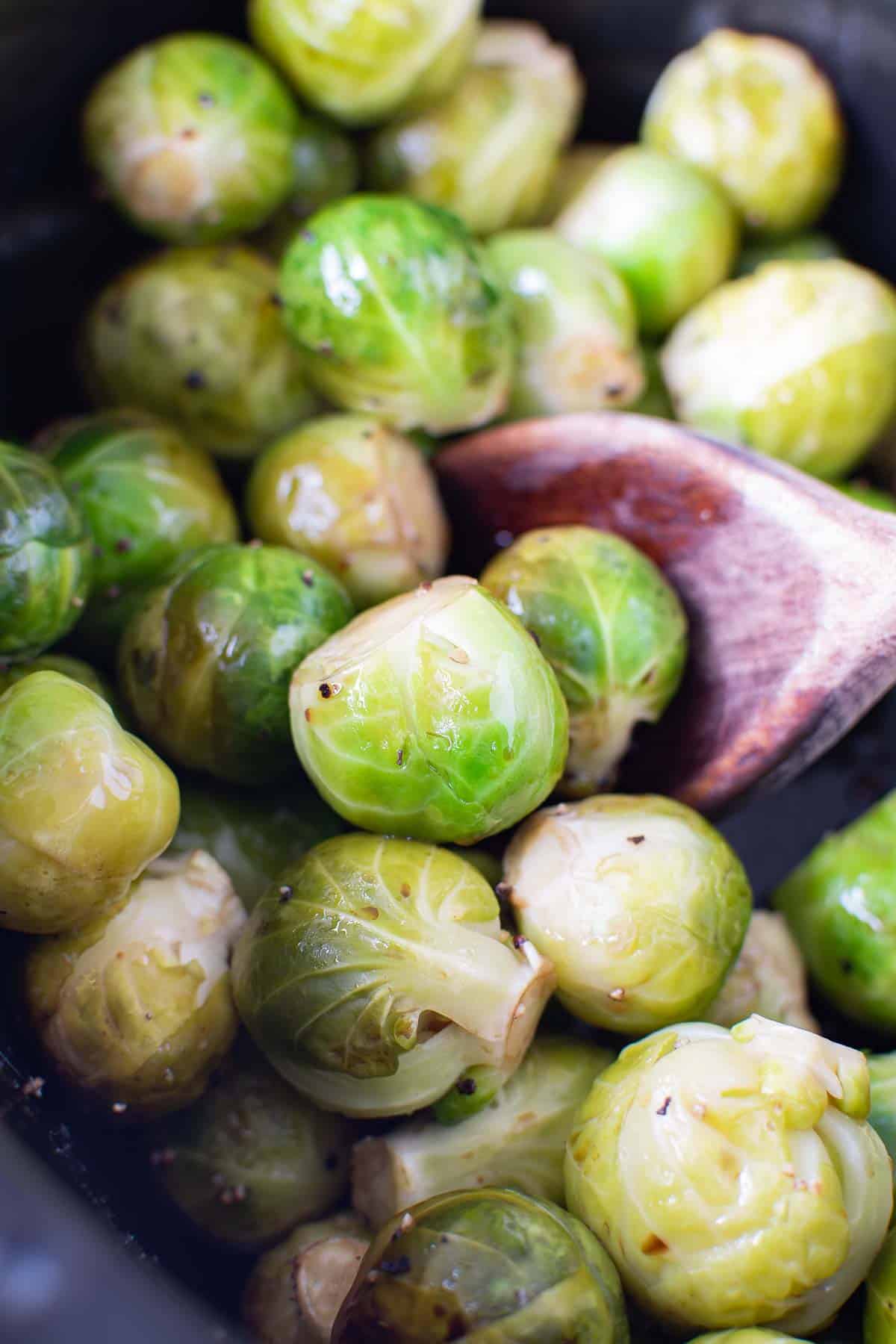 Storage
Any leftover slow cooker brussel sprouts can be refrigerated for up to 4 days. Reheat them in a microwave or on the stove, and serve them warm.
Frequently asked questions
Can you slow cook brussels sprouts?
Absolutely! Slow cooked brussels sprouts are soft and tender, with plenty of flavor.
Can you put frozen sprouts in the slow cooker?
Yes, you can slow cook frozen brussels sprouts. As they have been previously frozen, they might have a slightly softer texture compared to using fresh sprouts.
Should you cut brussels sprouts in half before cooking?
Cutting sprouts in half before cooking is a great trick if you're pan frying or roasting them. However, it's not typically needed if you plan to slow cook them.
You might also like these recipes
If you make this recipe, make sure to post a photo to Instagram with #hintofhealthy!
Recipe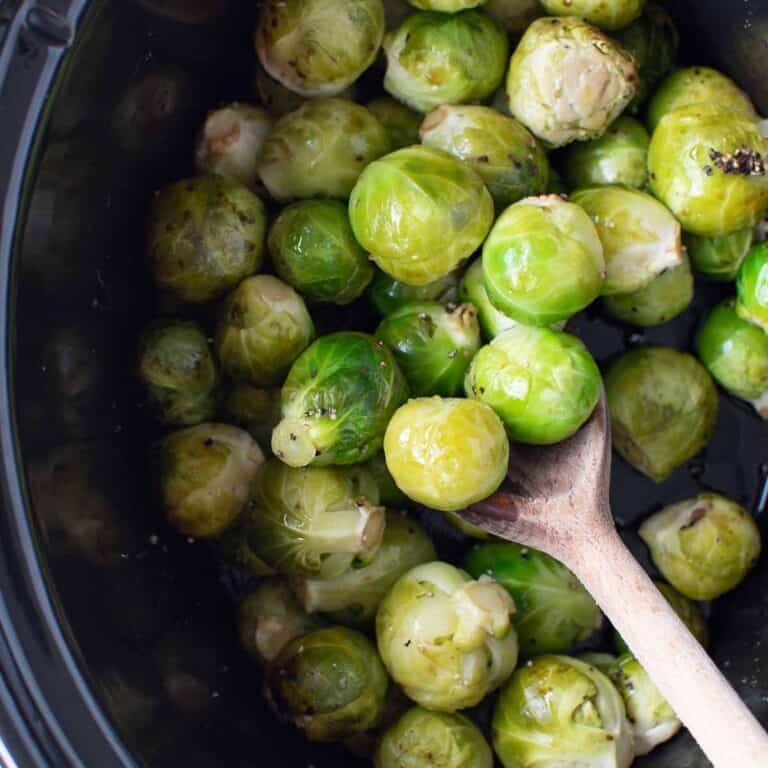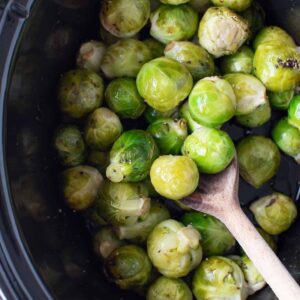 Slow Cooker Brussels Sprouts
These easy slow cooker brussels sprouts are the perfect side dish for Christmas or roast dinner. Absolutely delicious, with minimal effort!
Ingredients
Instructions
Wash and peel the brussels sprouts.

Add the ingredients to a slow cooker and combine well.

Slow cook for 2-4 hours on HIGH, or 4-6 hours on LOW.
Notes
Add some flavor by adding Parmesan cheese, cranberries, maple syrup, Dijon mustard, or any seasoning or sauce that you like.
Prepare the brussels sprouts in advance to save time when cooking.
Slice the sprouts in half to reduce the cooking time required.
Nutrition
Calories:
62
kcal
Carbohydrates:
11
g
Protein:
4
g
Fat:
1
g
Saturated Fat:
0.2
g
Polyunsaturated Fat:
0.3
g
Monounsaturated Fat:
1
g
Sodium:
320
mg
Potassium:
449
mg
Fiber:
4
g
Sugar:
3
g
Vitamin A:
856
IU
Vitamin C:
96
mg
Calcium:
50
mg
Iron:
2
mg
Food safety tips
Don't leave food sitting out at room temperature for extended periods
Never leave cooking food unattended