This fruity and sparkling red wine spritzer is the perfect summer cocktail for a garden party or BBQ. It's easy to make, refreshing, and looks absolutely amazing. Enjoy this simple red wine drink the next time the weather is nice!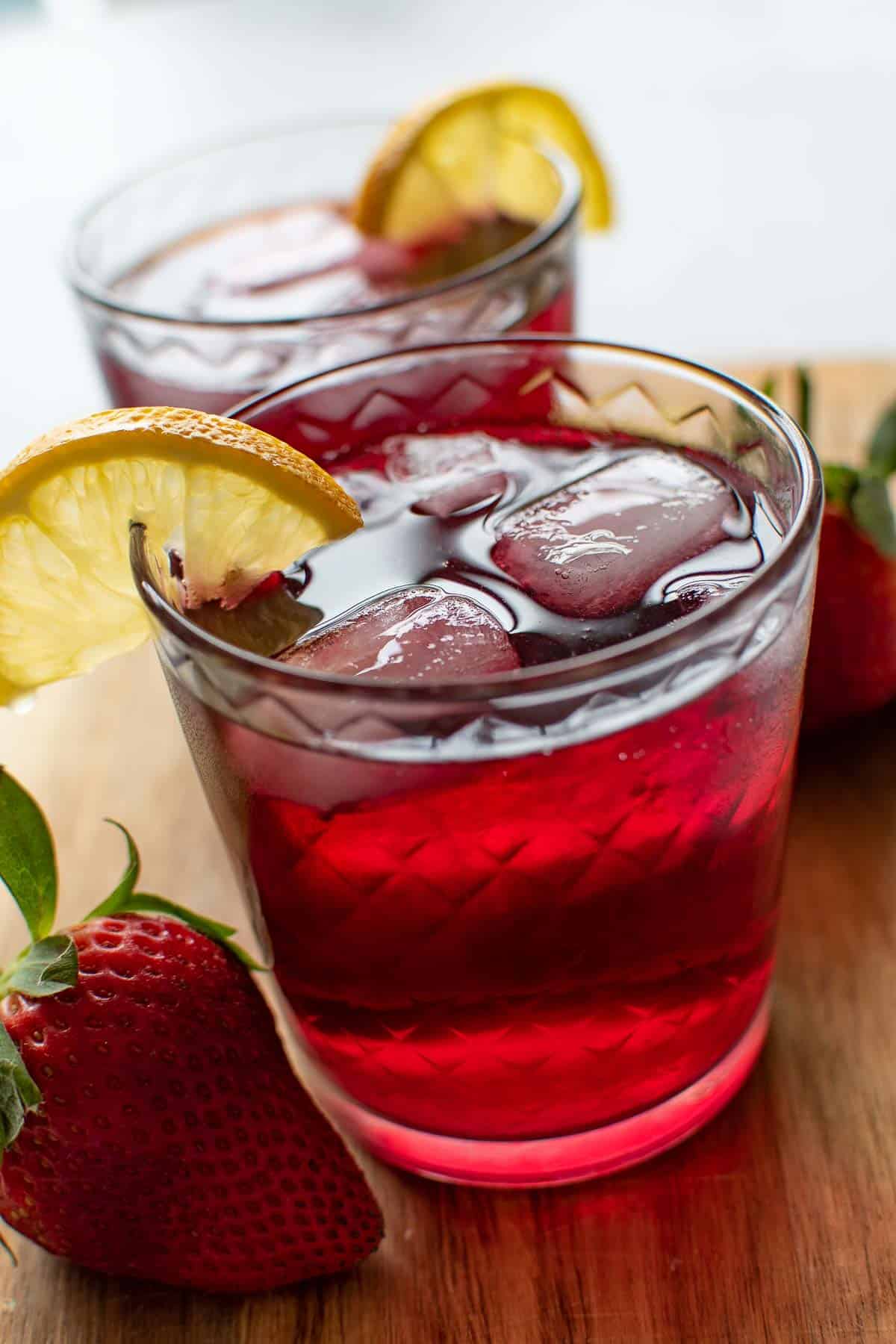 Jump to:
This post may contain affiliate links. Read more about it in the privacy policy.
This drink is one of my all-time favorite summer cocktails. It's fruity, it's cooling, and it's sparkling; all the factors I'm looking for in a drink when the sun is out.
Spritzers are incredibly popular for many reasons. They are really easy to make, very affordable, and taste fantastic. Chances are that you'll love this drink even if you don't normally drink wine, as the wine adds a very subtle flavor (unless you add extra!).
🍸 More COCKTAIL RECIPES from Hint of Healthy
What is a spritzer?
A spritzer is a cocktail made using alcohol, typically wine, and a fizzy liquid such as sparkling water, club soda, tonic or lemonade. Other alcoholic drinks can also be used, such as vodka or gin.
Spritzers are easy to make in large quantities, and often contain a smaller amount of alcohol compared to other cocktails. They are therefore really well suited for parties and gatherings, as you can serve it in pitchers.
Wine spritzers are particularly popular in summer, as they are light, fruity and refreshing.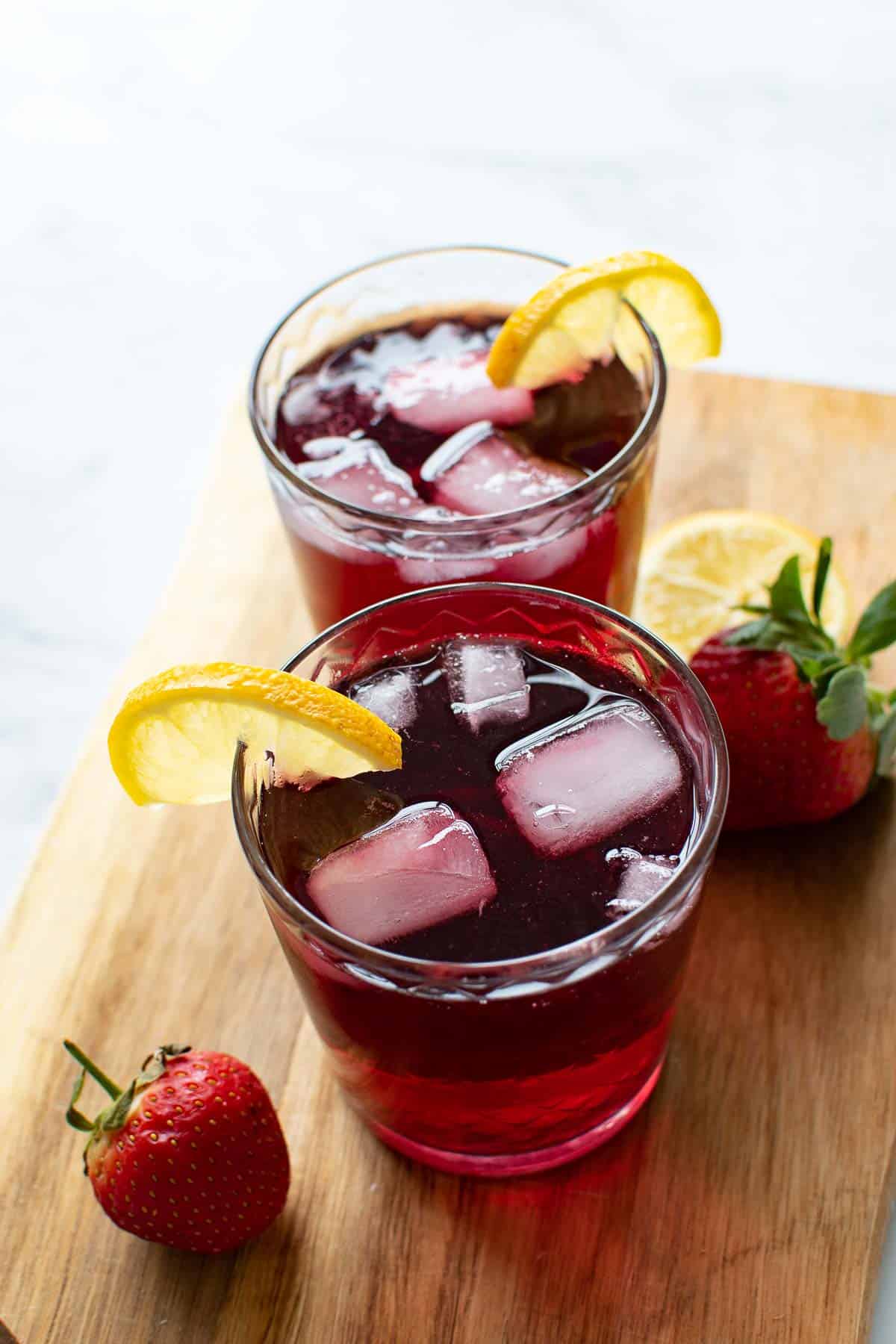 Ingredients
Red wine: You can use any of your favorite wines in this recipe, but I recommend using a light and fruity wine.
Lemonade: Sparkling lemonade is the perfect mixer for a red wine spritzer, as the lemon flavor compliments the wine so well. Alternatively, you can also use sparkling water.
Ice cubes: Serve the drink over ice cubes to keep it cool.
Toppings: I like to top my spritzer with diced fresh fruit, berries or lemon wedges. For other topping ideas, see the Variations section below.
💡 TIP! Add frozen berries to spritzer. They will add a hint of fruitiness to the drink, and keep it cool at the same time.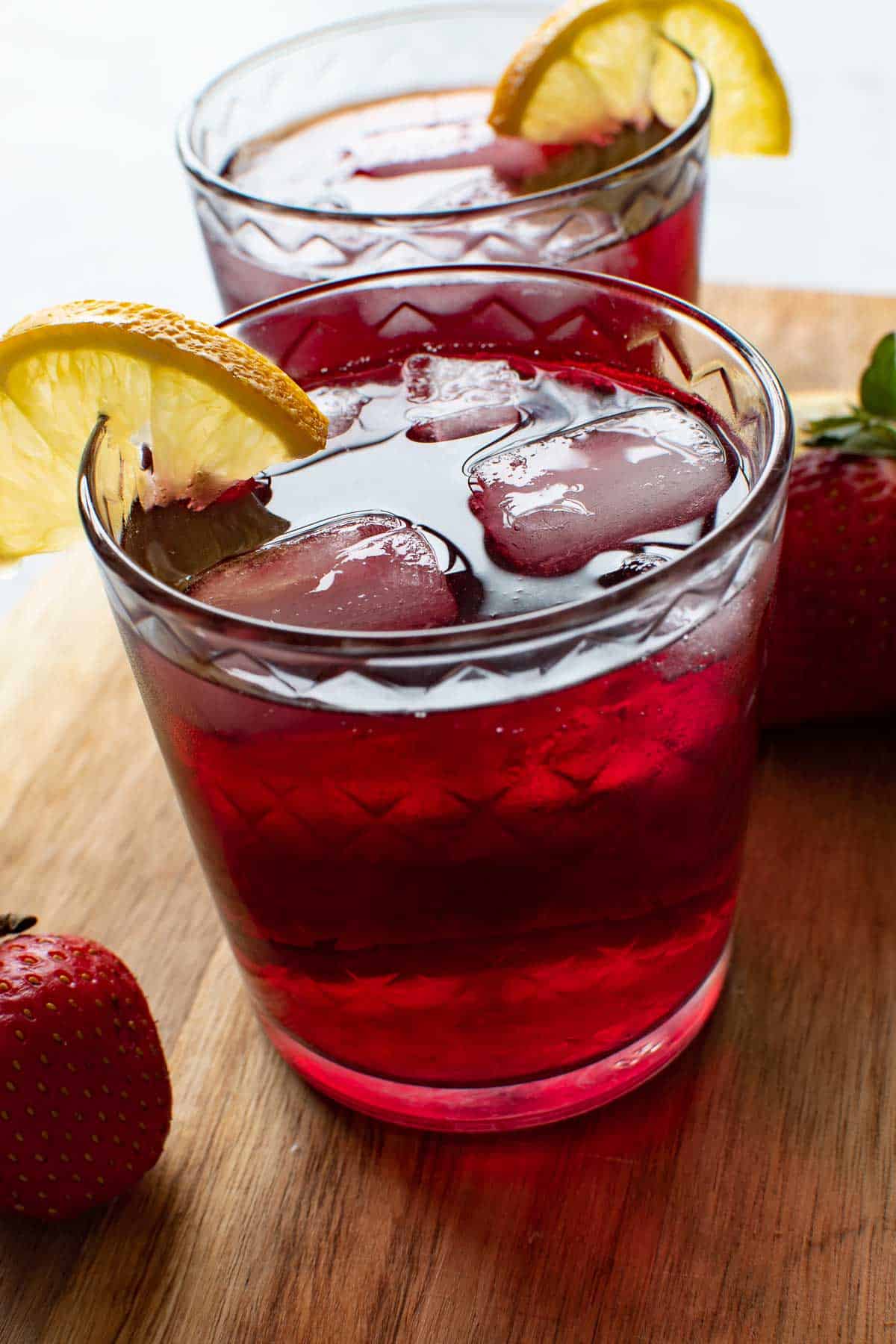 Instructions
Start with a 1 to 4 ratio of wine to lemonade. This means that you fill ⅕ of your glass or pitcher with red wine, and the rest should be lemonade. To make 5 cups, you would use 1 cup of wine and 4 cups of lemonade.
Stir to combine the wine and lemonade, and add extra red wine to taste if you prefer it a little stronger.
Add ice cubes to your glass or pitcher, and optionally add any toppings such as lemon slices, raspberries or diced strawberries.
Serve the spritzer immediately while it's cold, or store it in a refrigerator to keep it chilled.
Top tips
As a red wine spritzer is so easy to make, there's no need to make it ahead of time. However, feel free to prepare any toppings such as lemon slices or berries.
Adjust the wine to lemonade ratio to suit your preference. You can easily just add a little more wine or a little more lemonade to taste.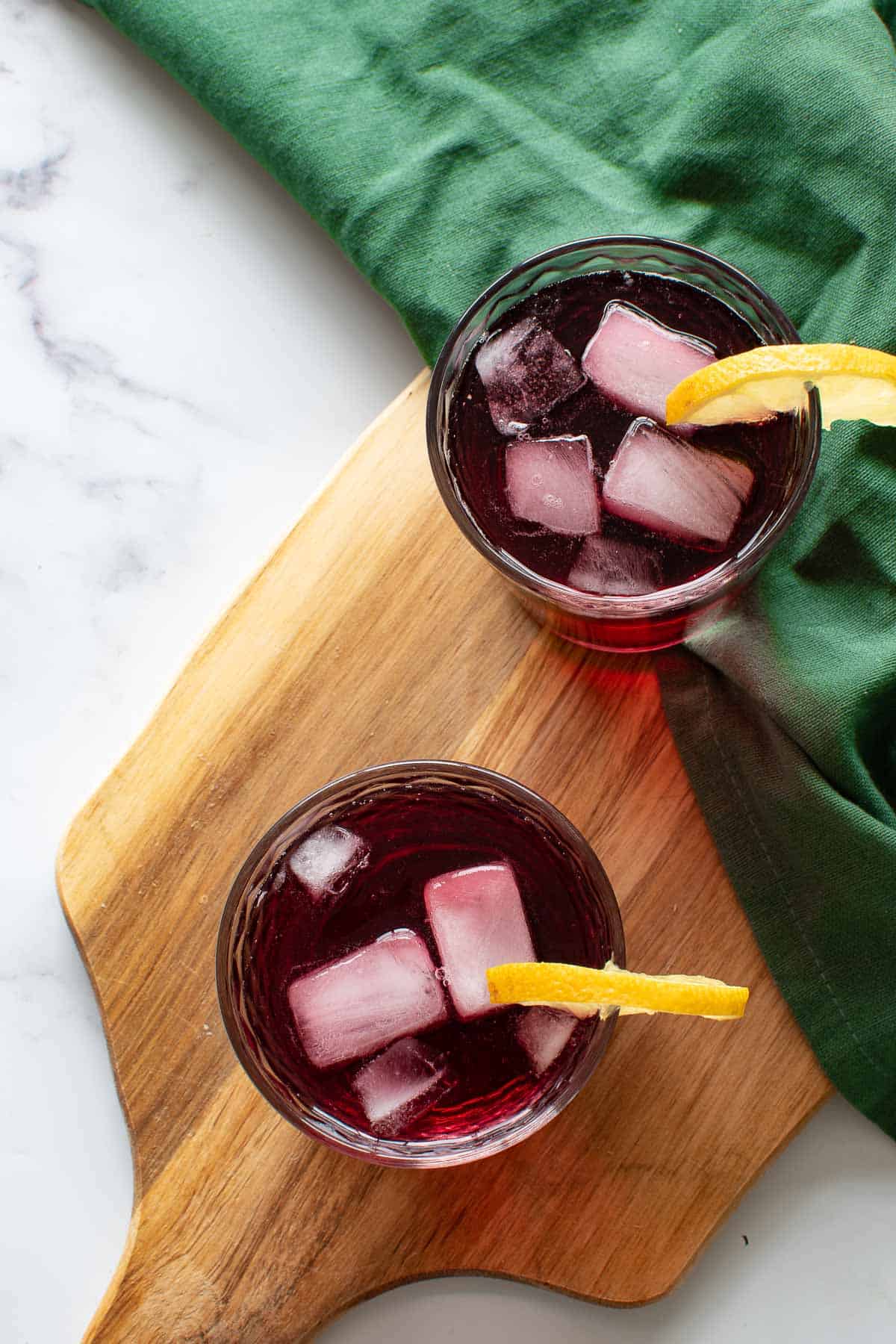 Serving suggestions
This red wine cocktail is perfect for spring or summer!
As it's an affordable drink, and easy to make in large quantities without any barware, it's perfect for parties and gatherings. Think garden party, picnic, BBQ, an outdoor wedding, or birthdays parties.
You don't need any excuses to make a spritzer, however; it's also an excellent refreshing drink to enjoy by yourself on hot summer days.
The dark red color of this drink also makes it perfect as a chilled Christmas cocktail for the holiday season. Serve it with cranberries!
Variations
Garnishes: I love to top my cocktails with a little garnish. For my red spritzer cocktail, I think lemon slices, strawberries or raspberries are great options.
Other sparkling beverages: Instead of lemonade, you could try mixing your wine with other sparkling drinks such as club soda, sparkling water or tonic. Try them all to find your favorite!
Low calorie: Use sugar free lemonade, or diet lemonade for a low calorie alternative.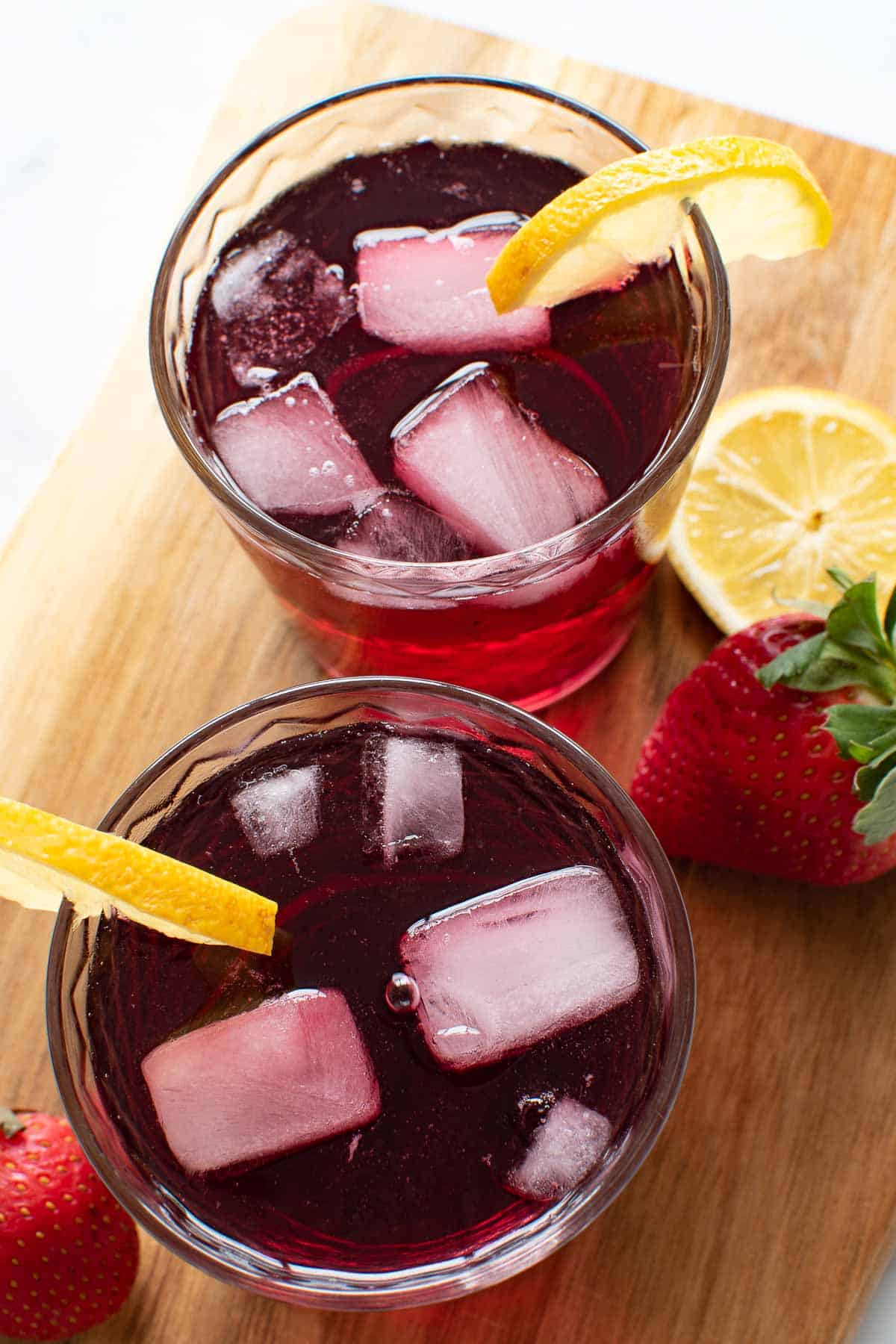 Leftovers
Store leftover red wine spritzer in a pitcher, bottle or jug in a refrigerator for up to a day. Like any sparkling drink, it will eventually go dull, so I don't recommend storing it for extended periods of time.
🍸 More COCKTAIL RECIPES from Hint of Healthy
Frequently asked questions
Can we mix soda with red wine?
Absolutely, that's how you make a wine spritzer cocktail. Some flavors of soda will taste better mixed with wine than others.
You might also like these recipes
If you make this recipe, make sure to post a photo to Instagram with #hintofhealthy!
Recipe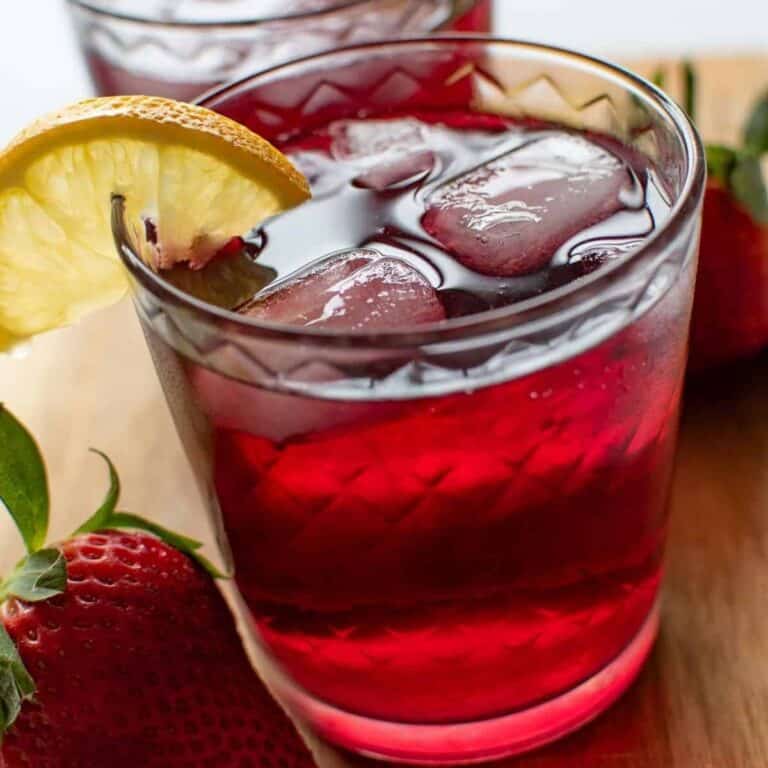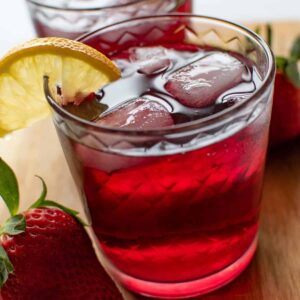 Red Wine Spritzer
This easy and refreshing red wine spritzer is a fantastic red wine cocktail with lemonade. Perfect for a hot summer day, garden party and more!
Ingredients
1

cup

red wine

(fruity)

4

cup

lemonade

10

ice cubes

½

lemon

(wedges, optional)
Instructions
Combine all ingredients in a pitcher or jug.

Add extra red wine to taste.
Notes
The lemonade can be substituted with sparkling water, club soda or tonic if you prefer.
Use frozen berries instead of ice cubes to add an extra hint of fruit.
Nutrition
Calories:
140
kcal
Carbohydrates:
26
g
Protein:
1
g
Fat:
1
g
Saturated Fat:
1
g
Sodium:
16
mg
Potassium:
76
mg
Fiber:
1
g
Sugar:
23
g
Vitamin A:
3
IU
Vitamin C:
6
mg
Calcium:
7
mg
Iron:
1
mg