Toasted muesli is a flavorful, simple and healthy breakfast option. Oats, nuts, seeds and dried fruit is combined and toasted lightly to make a big batch of the best muesli.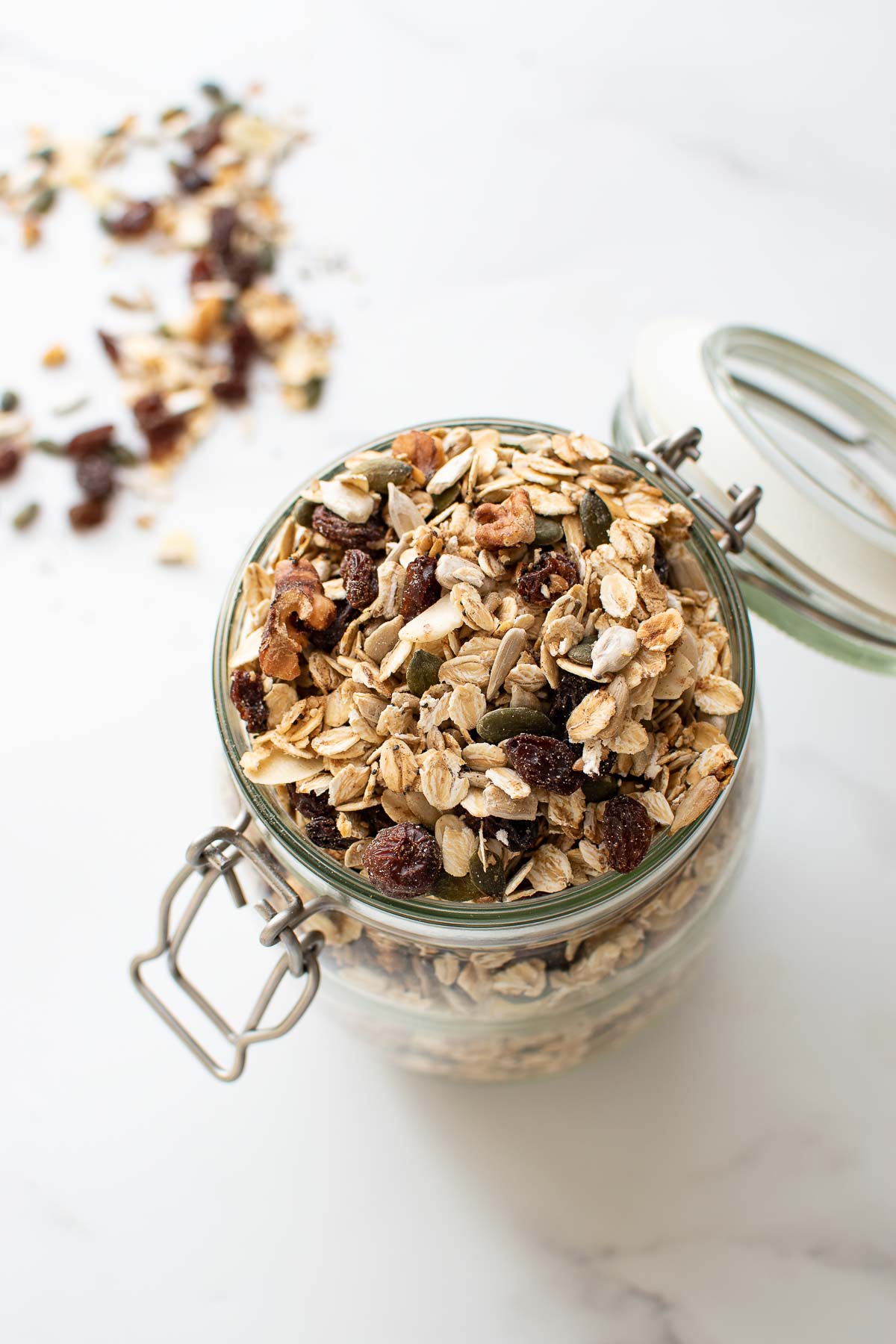 Jump to:
This post may contain affiliate links. Read more about it in the privacy policy.
This homemade toasted muesli is a healthy alternative to granola. It's refined sugar free, vegan and oil free, and perfect for simple, healthy breakfasts.
Why you'll love it
Easy recipe
Muesli is perfect for quick and easy breakfasts
Adjust the recipe to suit your preferences, or use what you have available
Inexpensive and easily available ingredients
Use it with a variety of breakfast dishes, like smoothie bowls, yogurt and oatmeal
Tastes better than raw muesli
This is a healthy toasted muesli recipe, as it contains a lot less sugar than store bought muesli
Toasted muesli vs granola
What's the difference between muesli and granola? They seem to be basically the same?
Muesli and granola usually contain similar ingredients. They are often based on oats, and contain dried fruit, nuts and seeds.
Granola is usually coated in a sweetener such as honey, maple syrup or sugar. The granola is then baked, which makes the ingredients clump together in crispy clusters.
Muesli on the other hand, is often not baked at all, but rather served raw.
In this toasted muesli recipe, we bake the muesli, but since it only contains a small amount of sweetener, the ingredients will not clump together to form clusters like granola.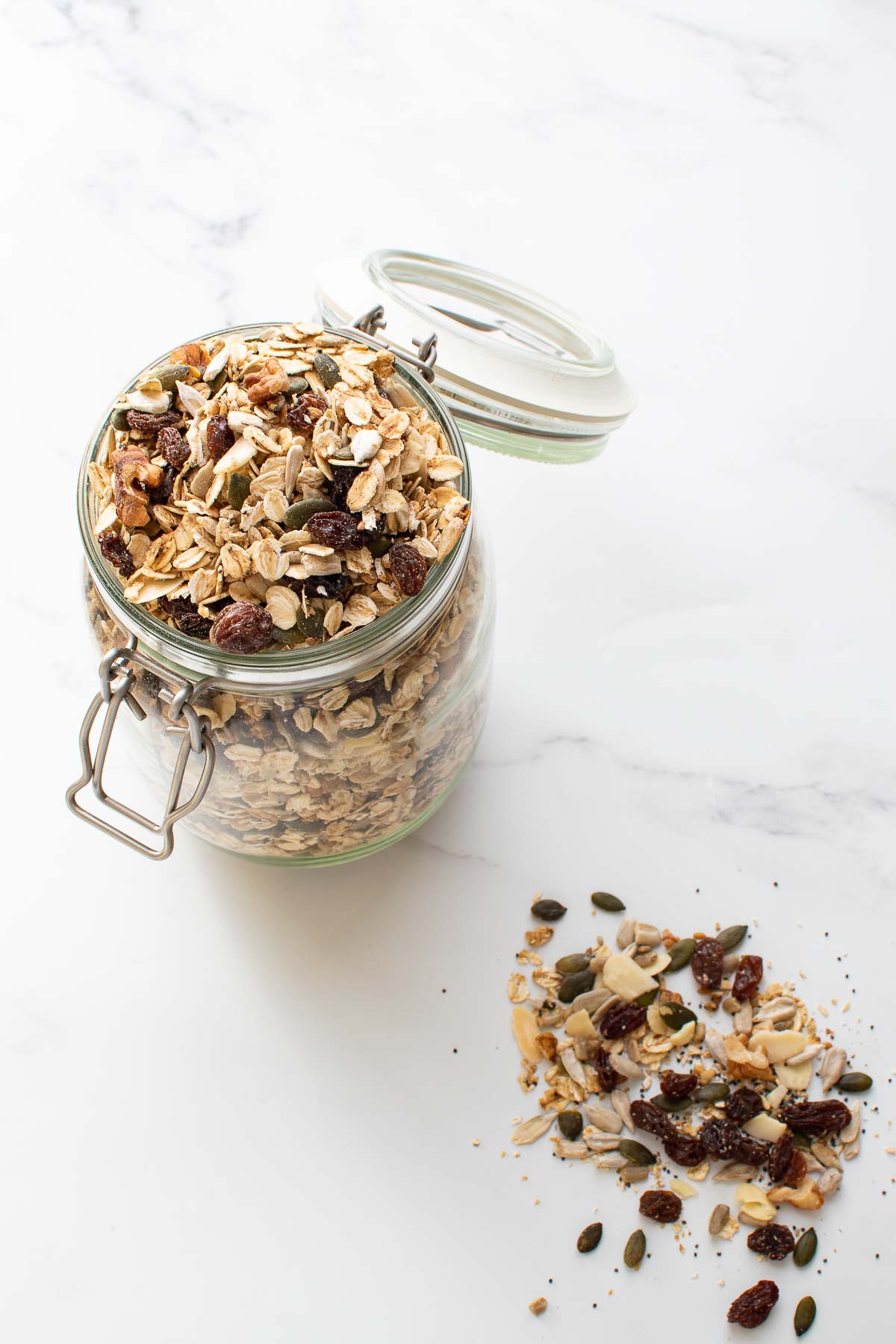 Ingredients
You can vary your muesli ingredients based on what you like and what you have available. Baked muesli can be made using pretty much any combination of oats, seeds and nuts, so feel free to adjust the recipe however you like!
Oats: Use rolled oats, also known as jumbo porridge oats. These have a better texture than quick cook oats. Steel cut oats will not work in this recipe.
Seeds: Use a combination of any seeds that you like. Sesame seeds, pumpkin seeds, sunflower seeds, chia seeds and flax seeds are great options. I usually just add whichever seeds I have available in my pantry.
Nuts: Use any combination of nuts that you like. Chopped of flaked almonds, hazelnuts, walnuts, pecans, macadamia nuts, Brazil nuts, unsalted peanuts and pistachios (without shells) are great options. Again, just use what you like or have available.
Dried fruit: I love adding dried fruit like raisins, cranberries or apricots. In this recipe I have used raisins, but you can substitute them for any other dried fruit, or omit the fruit altogether if you want to make a low sugar toasted muesli.
Maple syrup: A little maple syrup adds some sweetness to the muesli. You can omit this, or substitute with honey or agave syrup.
Cinnamon: Adds a little flavor to the muesli. This can be omitted.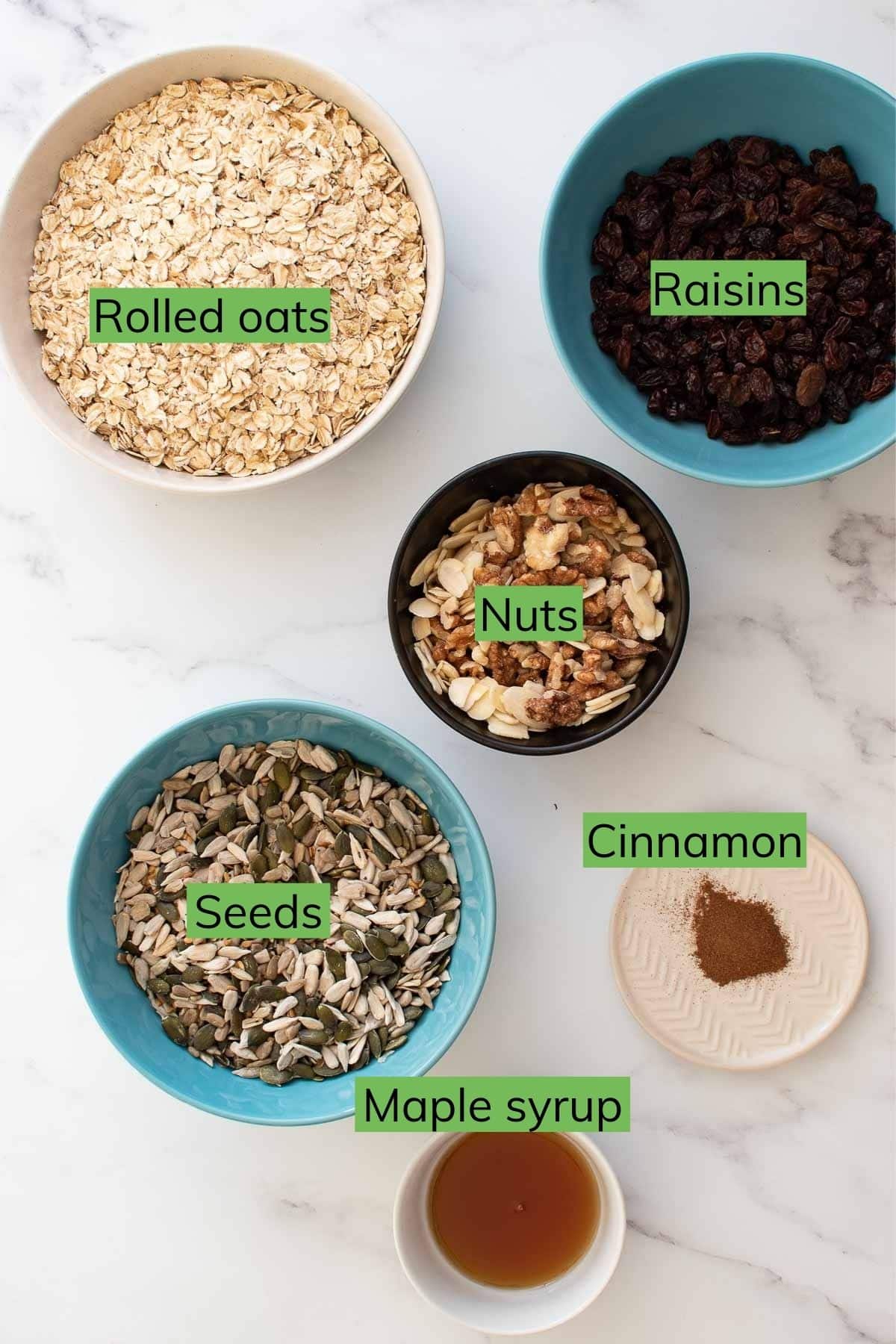 Instructions
This recipe could not be any easier! Simply combine all ingredients on a baking sheet, and bake at 350 °F / 180 °C for about 10-15 minutes, or until the nuts and oats are slightly golden.
You can usually tell that the muesli is toasted when the kitchen is starting to smell of toasted nuts.
Remove the muesli from the oven, and leave it to cool down on the baking sheet before you transfer it to an airtight container for storage.
💡 TIP! Double, triple or quadruple the recipe to make a big batch of muesli. Homemade muesli makes for a great gift, and it's a fantastic way to meal prep breakfasts for weeks and months at a time.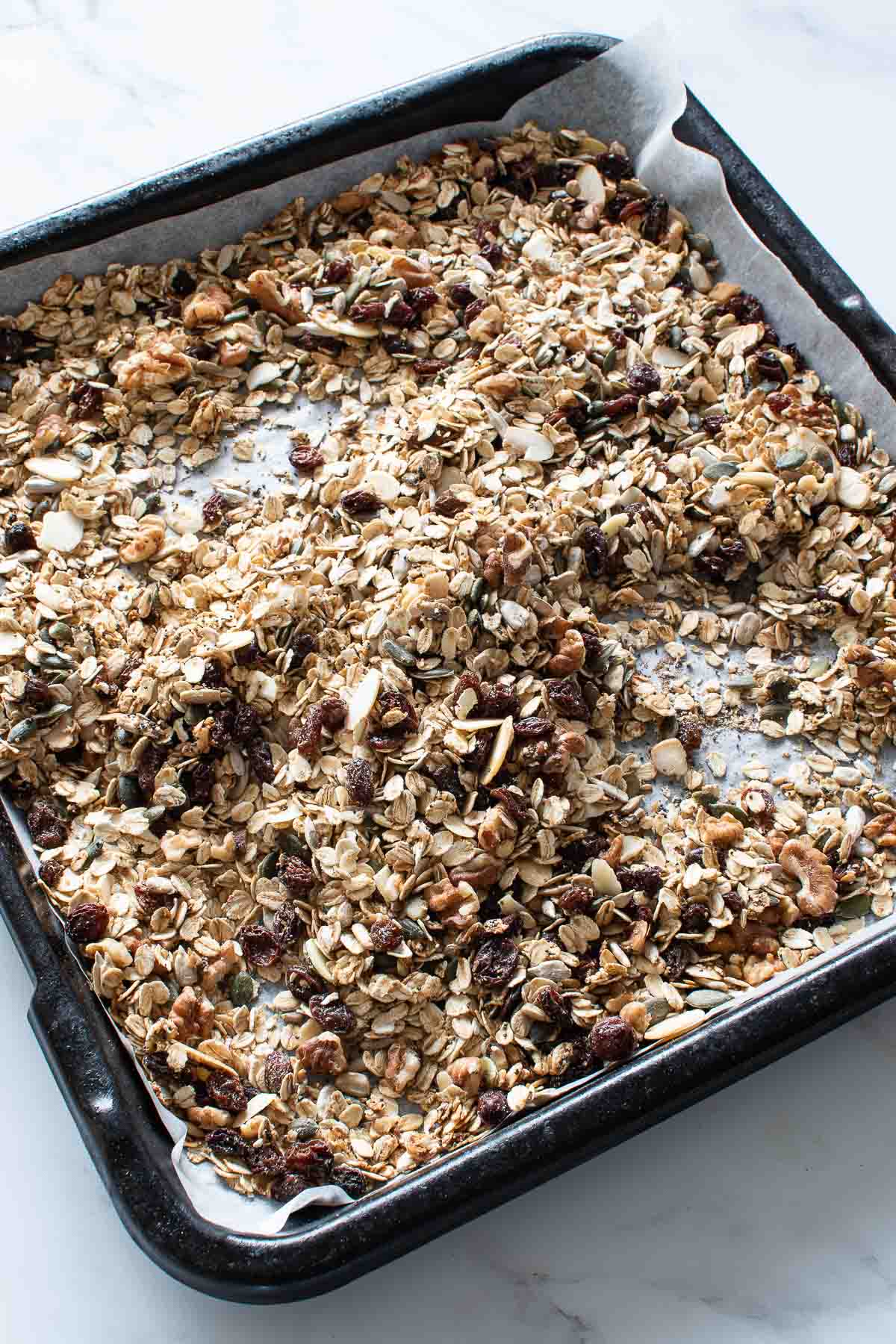 Top tips
Depending on which seeds and nuts you use, your muesli could toast faster than the time suggested. Keep an eye on it, as you don't want to burn the muesli.
As muesli is typically served raw, you can't "undercook" this dish.
Serving suggestions
Toasted muesli is best served as a breakfast food, ideally in a smoothie bowl, with yogurt and fresh fruit or berries, or as a crunchy topping for oatmeal. Eat muesli the same way as you would eat granola! Here are some of my favorite dishes to pair it with:
Variations
This recipe can be varied endlessly by using different dried fruit, nuts, seeds or seasoning. Here are some of my favorite flavor combinations:
Apple and cinnamon: Use dried apples and extra cinnamon. This is such a great flavor for fall!
Gingerbread muesli: Add gingerbread seasoning, and maybe even some crushed up gingerbread cookies.
Chocolate chips: Add chocolate chips to the muesli AFTER toasting it. Avoid baking the chocolate in the oven, or it will melt.
Leftovers
You can store leftover toasted muesli in an airtight container at room temperature for at least a few weeks.
This recipe makes a big portion of muesli, and is enough for 20-30 meals. I love having toasted muesli available for quick and easy breakfasts on busy mornings, and you will always find a jar of homemade muesli or granola in my pantry!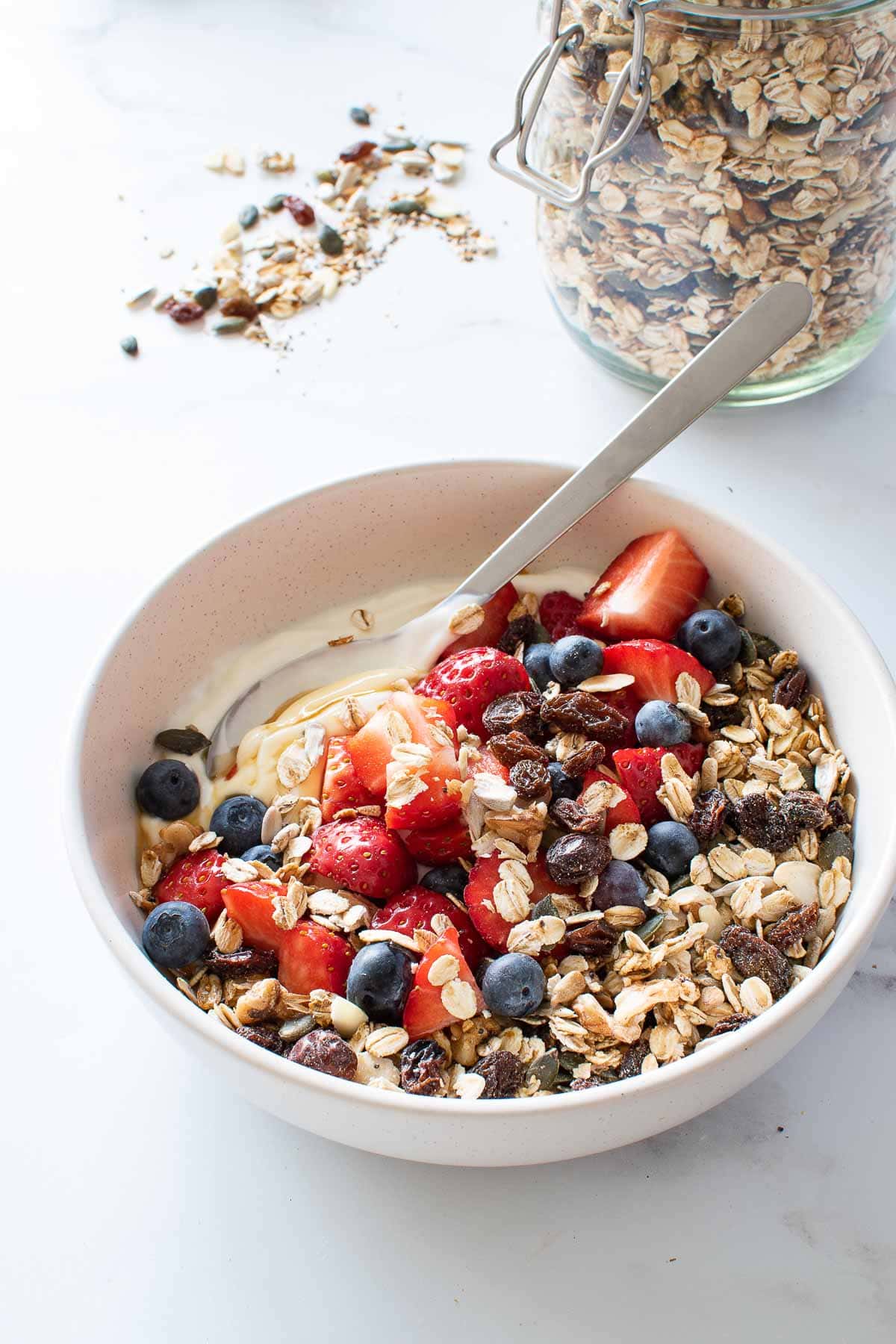 Frequently asked questions
How do you eat toasted muesli?
Eat toasted muesli as a cereal with milk, with yogurt, or in a smoothie bowl.
Can you eat muesli raw?
Absolutely! I like to toast my muesli, as it gives the ingredients more flavor, but you can absolutely eat it raw as well. If you're not going to toast it, I recommend omitting the maple syrup.
You might also like these recipes
If you make this recipe, make sure to post a photo to Instagram with #hintofhealthy!
Recipe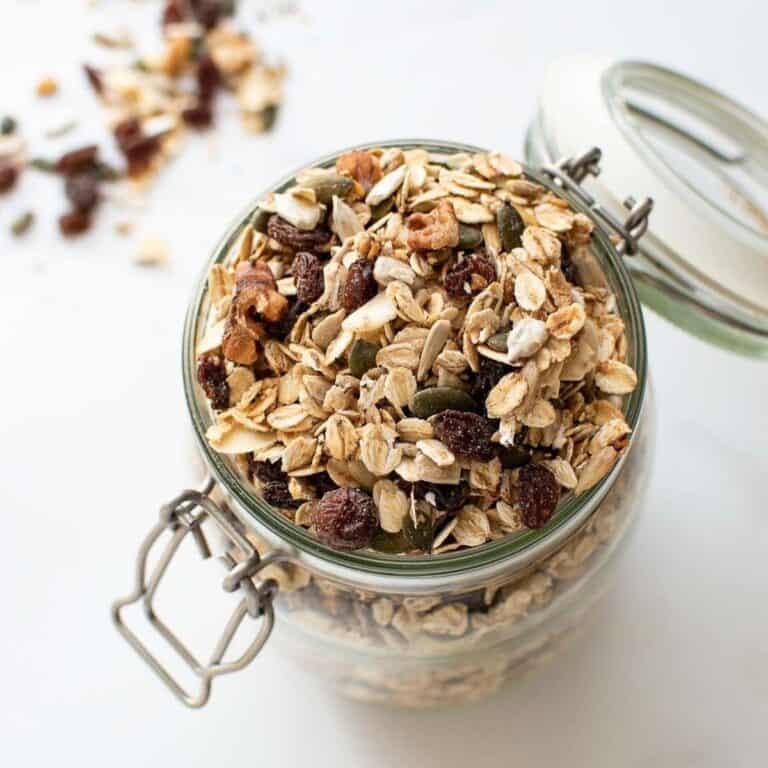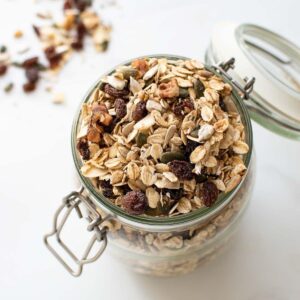 Toasted Muesli
This easy toasted muesli is a healthy, delicious breakfast that you can make in a matter of minutes. Nuts, seeds, oats and dried fruit are toasted to perfection in the oven. Serve muesli with yogurt, milk or smoothie bowls for an easy, filling meal.
Ingredients
3

cups

rolled oats

(UK: jumbo porridge oats)

2

cups

mixed seeds

1

cup

mixed nuts

(roughly chopped)

1

tablespoon

maple syrup

1

teaspoon

cinnamon

1

cup

dried fruit
Instructions
Preheat the oven to 350 °F / 180 °C.

Combine the ingredients in a mixing bowl.

Cover a baking sheet with parchment paper, and spread the muesli evenly across it.

Bake in the oven for about 10-15 minutes, or until the oats are slightly golden. Your kitchen might smell like toasted nuts.

Remove the muesli from the oven, and leave it to cool down before you transfer it to an airtight container for storage.
Notes
Store in an airtight container at room temperature for up to several weeks.
Serve muesli with milk, yogurt, oats or smoothie bowls, or use in place of granola in other recipes.
Nutrition
Calories:
128
kcal
Carbohydrates:
12
g
Protein:
4
g
Fat:
8
g
Saturated Fat:
1
g
Trans Fat:
1
g
Sodium:
2
mg
Potassium:
138
mg
Fiber:
2
g
Sugar:
2
g
Vitamin A:
3
IU
Vitamin C:
1
mg
Calcium:
20
mg
Iron:
1
mg