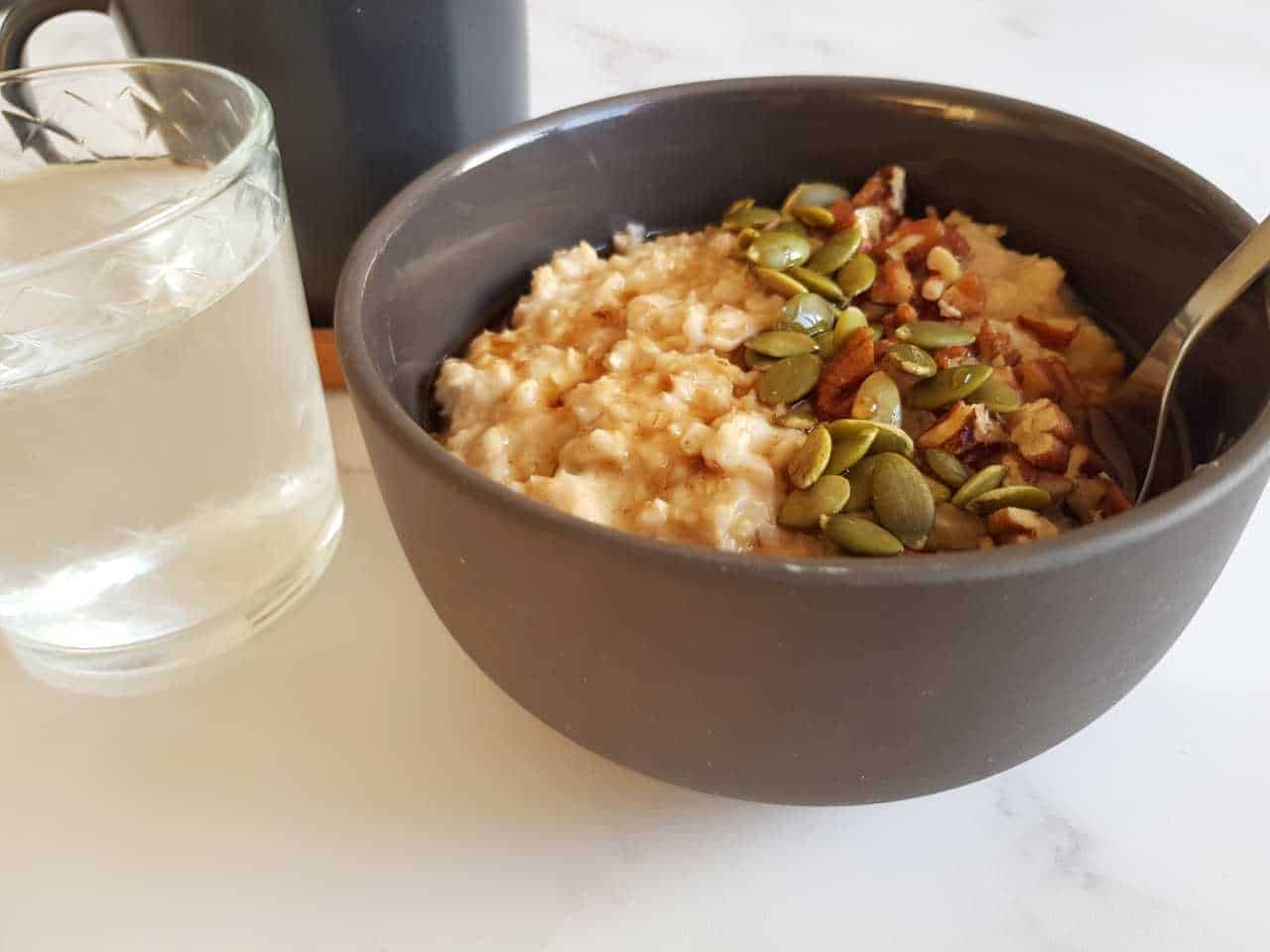 22 Aug

Maple oatmeal

This warming, comforting maple oatmeal is a great autumn breakfast. Brighten up chilly, dark mornings with a delicious bowl of porridge. All you need is three ingredients and five minutes!

Oatmeal is my go to morning meal through autumn and winter. It's such a quick meal to throw together, and it's incredibly filling too. This recipe is definitely one of my favorites! As a lover of maple syrup, this dish gives me everything I need. Maple syrup gives a natural sweetness, and has a very unique flavor that suits this porridge perfectly.
How do you make oatmeal?
For two portions of oatmeal, add 100 g porridge oats and 300 ml milk to a pot. Combine and cook for approximately 5 minutes, or until the porridge has reached the desired consistency. Place in bowls, and serve with your choice of toppings. It is really that easy!
Some people prefer to buy microwave porridge pots, or porridge that has already been flavored. These porridge cups typically contain a fair amount of added sugar, along with other unnecessary ingredients and additives. Oatmeal is so easy to make from scratch, and you can choose exactly which ingredients to include. If you have never tried making your own oatmeal, I encourage you to give it a go so you can see for yourself just how simple it is.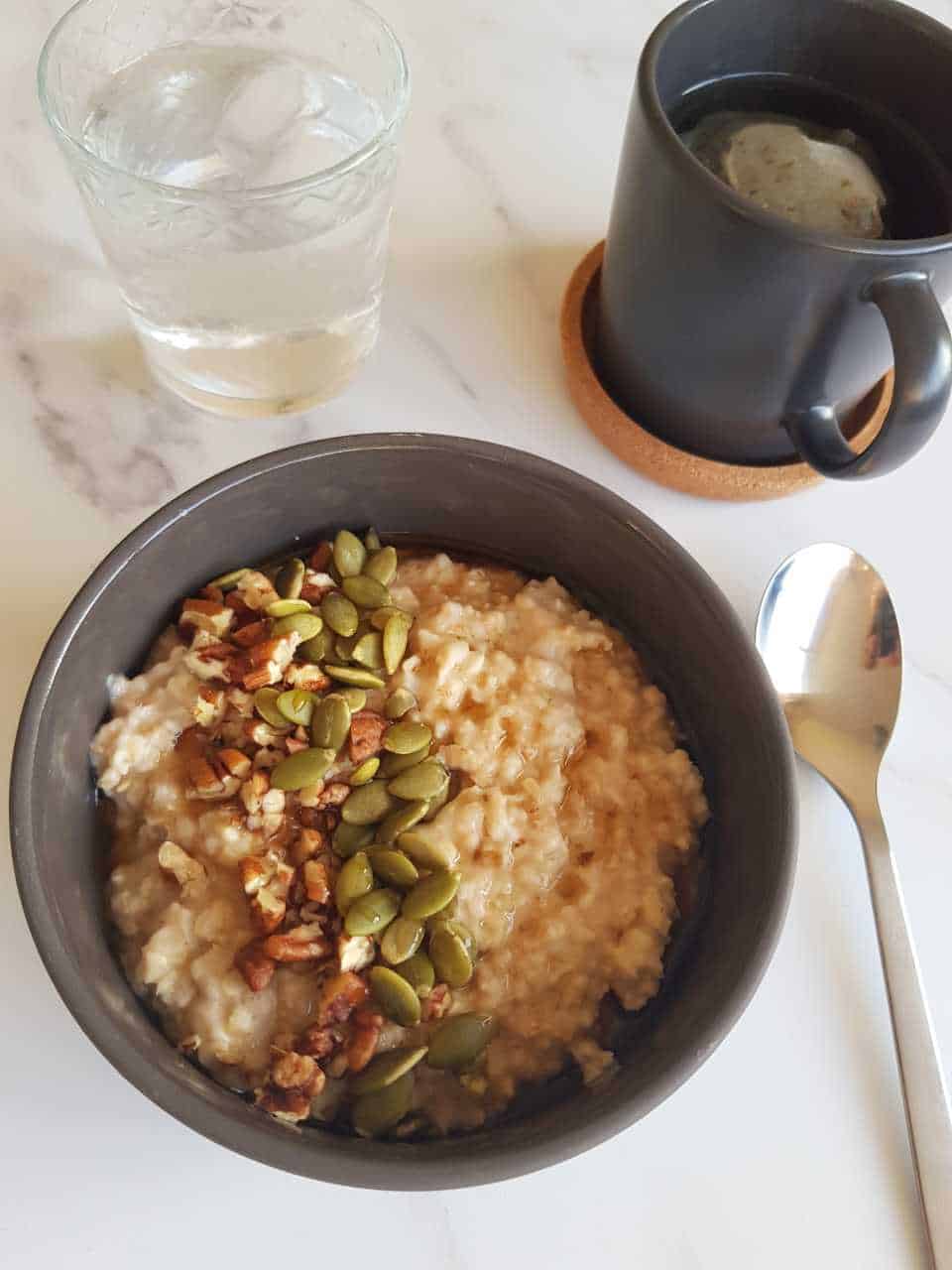 What can you use to make oatmeal sweet?
Many recipes call for sugar to be added to the oatmeal, either during cooking, or before serving. You can easily remove the sugar, or replace it with a natural sweetener. Agave syrup, honey and date syrup are good options. You can also simply add chopped fresh or dried fruits for some extra sweetness. In this recipe we use maple syrup, which both gives the oatmeal a great flavor, and also makes the porridge taste a bit sweeter. There is therefore no need to add sugar to this recipe, even if you prefer a sweet porridge.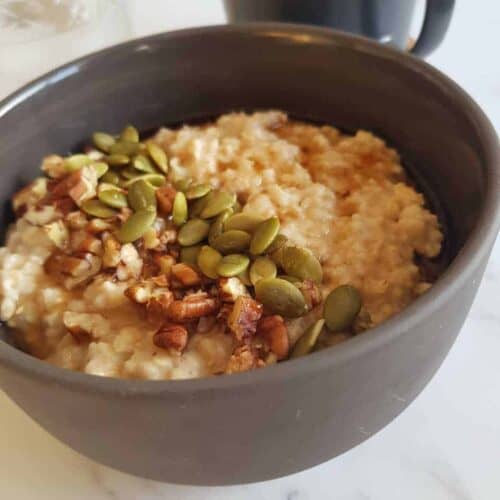 Maple oatmeal
A delicious, comforting maple syrup oatmeal. This easy breakfast recipe is made in only 5 minutes, and is incredibly filling.
Ingredients
100

g

porridge oats

300

ml

milk (I used almond milk)

3

tsp

maple syrup
Optional toppings
1

tbsp

chopped pecans

1

tbsp

pumpkin seeds

2

tsp

maple syrup
Instructions
Add porridge oats, your choice of milk and 3 tsp maple syrup to a pot. Cook on medium heat for 5 minutes until you have porridge consistency.

Place in a bowl, and add toppings. I used pecans, pumpkin seeds and maple syrup, but feel free to use the ones you prefer.
Notes
Note: the calorie count does not include toppings.
Try other toppings
You can choose to exclude toppings altogether, or use other toppings if you prefer. I suggest trying walnuts, almonds, sunflower seeds, nut butters, banana, apples, cinnamon, roasted pumpkin or plums.
Make it vegan and dairy-free
Remember to use a dairy free milk if you want to make vegan oats. I always make my oats with almond milk, as that's my personal favorite, but this recipe can be made with oat milk, soy milk, or any other plant based milk, as well as cow's milk.
Print Recipe