Let's get ready for autumn with this creamy, delicious chocolate peanut butter oatmeal. As if a satisfying porridge wasn't enough, try adding a little bit of dark chocolate and some peanut butter to it. What's not to love?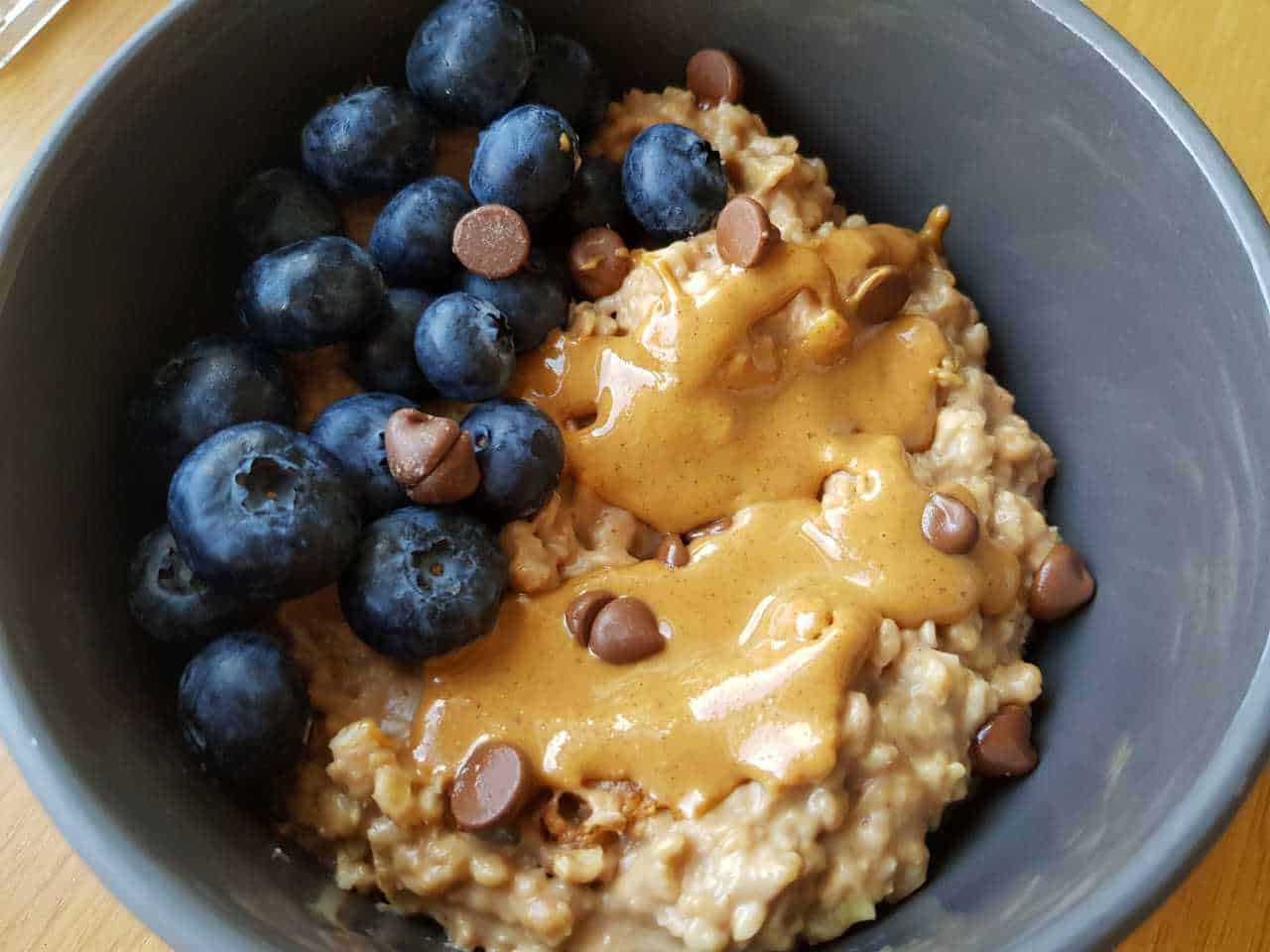 Jump to:
This post may contain affiliate links. Read more about it in the privacy policy.
Ingredients
Porridge oats - Easy cook oats are perfect.
Milk - I used almond milk but you can also use oat milk, soy milk or cow's milk
Peanut butter - I prefer the brands that are 100% peanuts.
Chocolate - dark or dairy chocolate to suit your preference.
That's it! Super easy, and if you're anything like me, chances are you already have all the ingredients sitting in your cupboard waiting for you.
Is dark chocolate good for you?
Yes! Chocolate in general might not be particularly healthy in large amounts, mostly because it often contains a large amount of sugar and saturated fats. Dark chocolate however is closer to pure cacao, which is absolutely healthy in small amounts. Dark chocolate is very rich in magnesium, and the amounts required for this recipe absolutely fits well with a balanced diet. This recipe is also incredibly filling and will keep you feeling full for hours, so don't worry about a high calorie count.
How to make chocolate peanut butter oatmeal porridge
Porridge is incredibly easy to make on the stove top! You combine milk and porridge oats, cook for a few minutes until it thickens, and then add the extras - in this case peanut butter and chocolate.
First, add milk and oats to a sauce pan on medium heat.
Cook for 3-4 minutes until it thickens to a porridge consistency. Stir to prevent burning.
Stir in the chocolate and peanut butter. You can either leave it with stripes of melted peanut butter and chocolate, or stir until it's completely incorporated.
Which peanut butter is good in oatmeal
Any peanut butter works in oatmeal, but I always recommend trying to find one that consists of 100% peanuts. Many peanut butter are full of added oil, sugar and other unnecessary ingredients. Plain peanut butter is really healthy and filling, with a lot of good fats. Adding some peanut butter to your porridge is a great way to make sure it keeps you full for a long time. However, if you use a brand that adds sugar and salt to the peanut butter, you should be mindful of your intake. For those living in the UK, Morrison carries my favorite peanut butter.
Tips and substitutions
Making it vegan - This recipe is vegan if you make sure to use a vegan milk alternative, like almond milk or soy milk, and vegan dark chocolate.
Substitute peanut butter - You can leave the peanut butter out, or substitute with almond butter, sunflower seed butter or cashew butter for an allergy friendly version.
Toppings - I love adding toppings to my oatmeal, and with this recipe I think extra peanut butter and chocolate chips work really well. Additionally, you can add some sliced banana, blueberries, peaches, or any other fruit. Chopped almonds or nuts are also great options!
Storing and reheating - Oatmeal is definitely best when served immediately, but can also be stored in an airtight container in the fridge for up to 3 days. You can eat oatmeal cold, or you can reheat it in the microwave. If you want to reheat this recipe, I suggest stirring in a splash of milk as it can become quite dense.
More breakfast recipes
Start your day right with one of these delicious dishes!
Recipe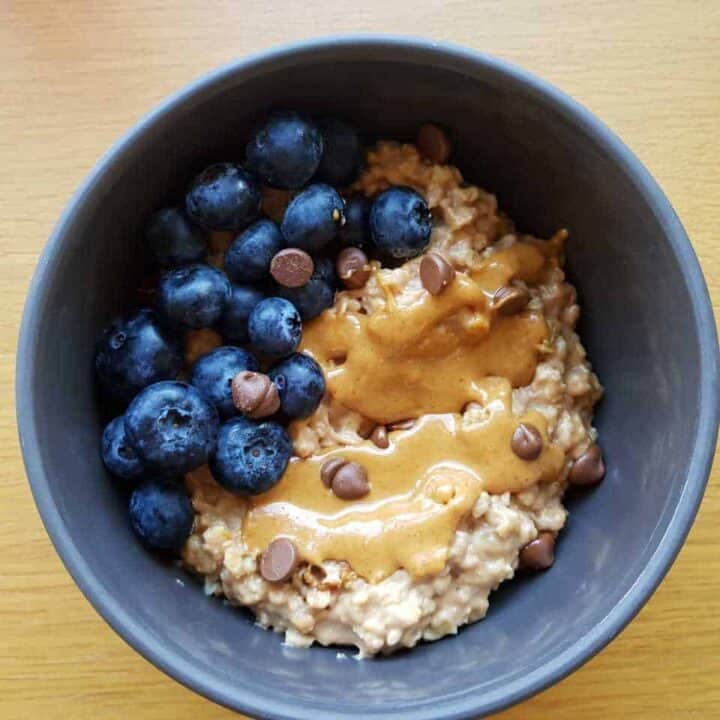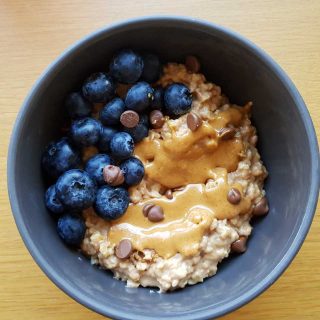 Chocolate peanut butter oatmeal
This filling and satisfying recipe for oatmeal with chocolate and peanut butter is both quick to make in the morning, and tastes absolutely delicious!
Ingredients
50

g

porridge oats

200

ml

almond milk, or your milk of choice

1

tablespoon

peanut butter

1

tablespoon

dark chocolate
Instructions
Add 100 ml porridge oats and 250 ml milk to a pot and cook on medium heat. Stir occasionally.

After a few minutes the oats will absorb the liquid, and the porridge starts to thicken. Stir in the peanut butter and dark chocolate, and place the porridge in a bowl.

Add your favorite toppings and eat.
Notes
This recipe makes one large portion of oatmeal. 
Make it vegan
This dish is vegan if you make sure that your milk is plant based and the dark chocolate is dairy free.
Nutrition
Calories:
401
kcal
Carbohydrates:
45
g
Protein:
13
g
Fat:
20
g
Saturated Fat:
6
g
Cholesterol:
1
mg
Sodium:
339
mg
Potassium:
392
mg
Fiber:
8
g
Sugar:
6
g
Calcium:
277
mg
Iron:
4
mg