Make your own healthy teriyaki sauce from scratch in only 5 minutes with this simple recipe. Teriyaki sauce is a fantastic pantry staple, and can be used in a variety of meals.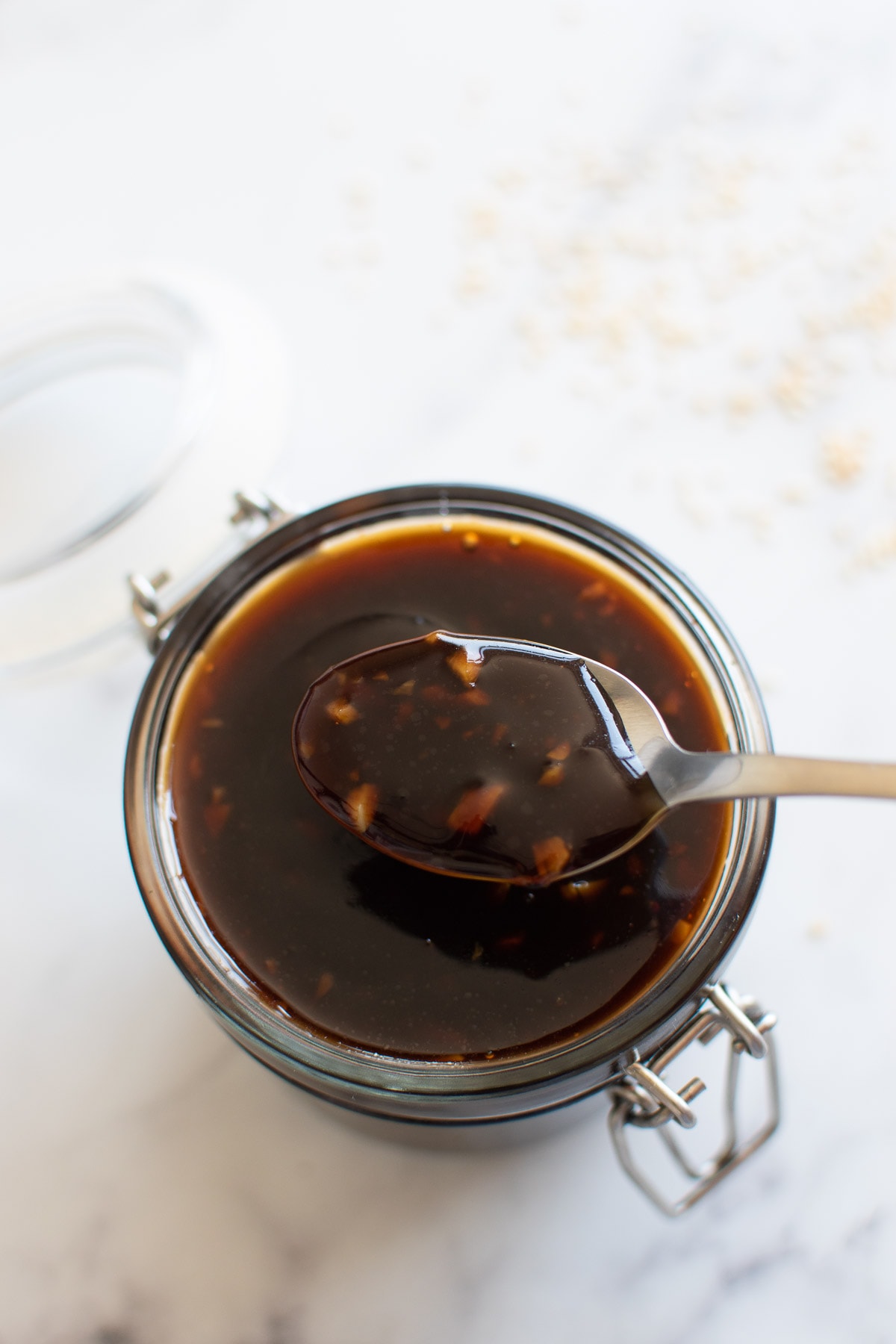 Jump to:
This post may contain affiliate links. Read more about it in the privacy policy.
I absolutely love teriyaki sauce. It's one of my favorite stir fry sauces, with the perfect combination of salty and sweet. I even love to marinate meat with it for a delicous BBQ!
Generic store bought sauce isn't the best for you, and I have actually been making my own for years. It's so easy, and only takes 5 minutes. I usually make a big batch, and freeze it down in portion sizes to use later.
Why you'll love it
Refined sugar free teriyaki sauce
Low sodium compared to most store bought options
Easy to make in 5 minutes
Stores for 2 weeks
Amazing flavor
Can be used in several dishes and recipes
🥃 More SAUCE RECIPES from Hint of Healthy
Ingredients
Pineapple juice: This is the main base of the sauce. Pineapple juice is mild, and has a natural sweetness that works well for teriyaki sauce.
Soy sauce: Traditional soy sauce contains a lot of sodium, so I like to use a low sodium brand. Alternatively, you can use coconut aminos instead to reduce the amount of sodium even further.
Rice vinegar: Also known as rice wine vinegar, this balances out the flavor from the other ingredients. I have not tried using other types of vinegar, but I imagine apple cider vinegar could work fine.
Honey: Adds sweetness to the sauce. For a vegan teriyaki sauce, you can substitute this with agave nectar.
Garlic and ginger: Adds flavor! I like to use garlic paste and ginger paste when I am able. If you use fresh garlic and ginger, you will have to grate them very finely.
Cornstarch: This will thicken the sauce, and give it the right texture. In the UK this is often called cornflour, but don't use American cornflour as that's something completely different.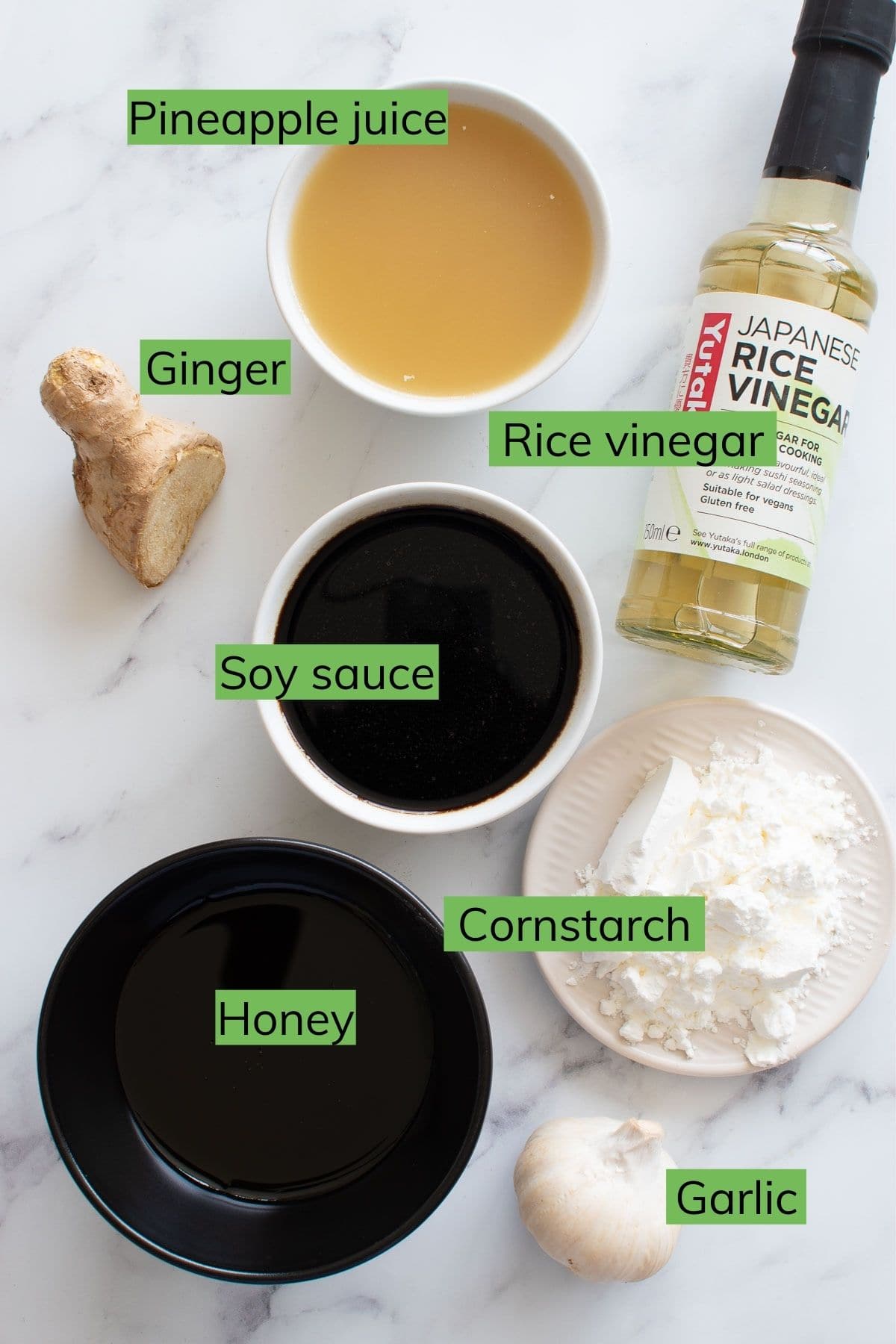 Instructions
You can find full instructions + ingredient measurements in the recipe card at the bottom of this page
One: Very finely grate or chop the ginger and garlic. The more pureed you can get them, the better.
Two: Combine cornstarch with 1 tablespoon of water in a small bowl. Stir to form a paste.
Three: Sauté ginger and garlic in a little oil in a skillet to soften the flavors. You can skip this step if you're using ginger and garlic paste.
Four: Add pineapple juice, soy sauce, rice vinegar, and honey to the pot. Bring to a simmer. Then, add the cornstarch slurry. Stir while the sauce quickly thickens, then remove the sauce from the heat.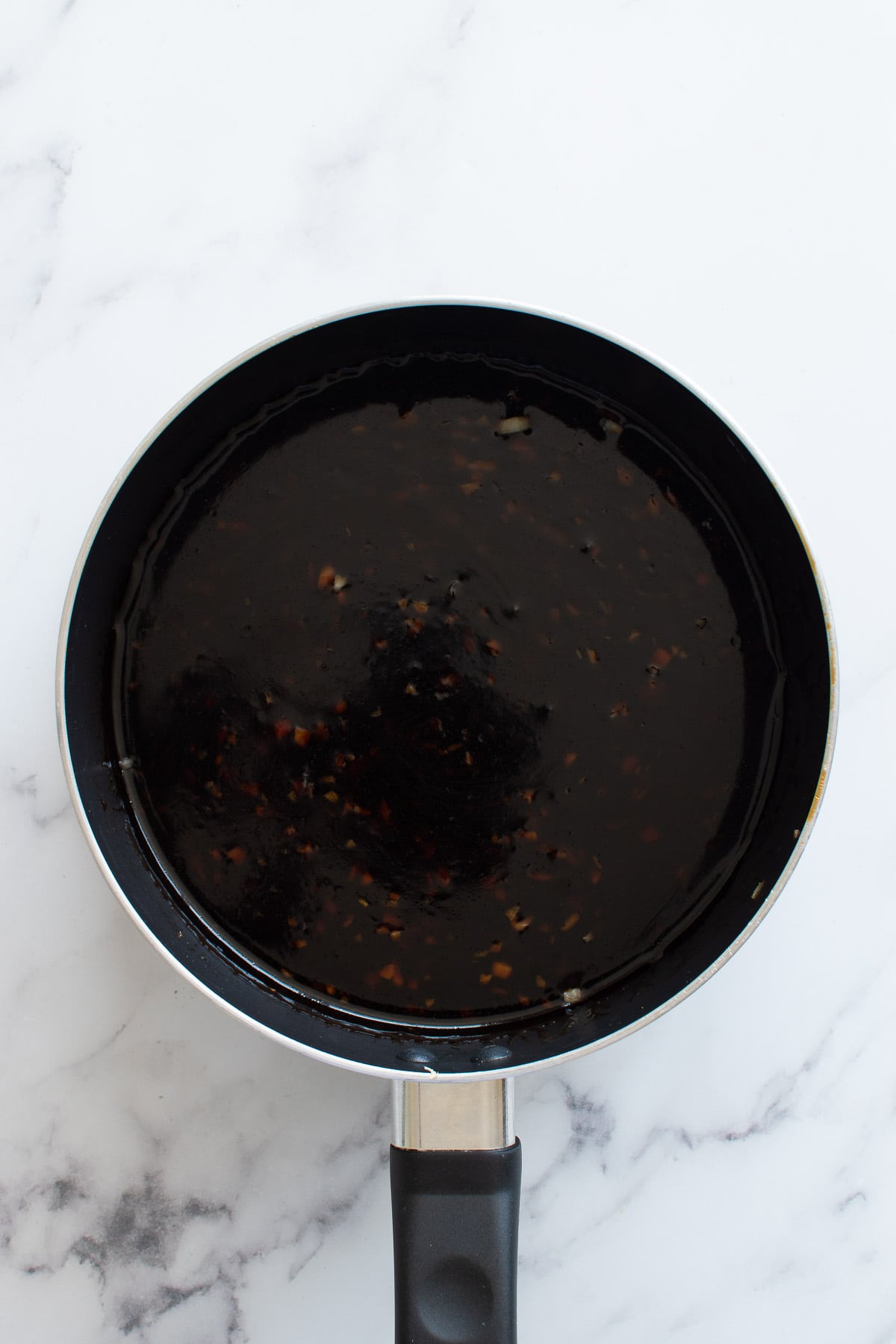 Top tips
Use ginger and garlic paste to make the process much easier and faster.
Low sodium soy sauce will reduce the sodium content in the sauce.
Add more cornstarch slurry if you want the sauce to be thicker, like a really thick glaze or marinade.
Serving suggestions
This healthy teriyaki sauce can be used as a marinade for chicken or vegetables. It is also commonly added to stir fries and other dishes. Here are some of my favorite recipes to use homemade teriyaki sauce: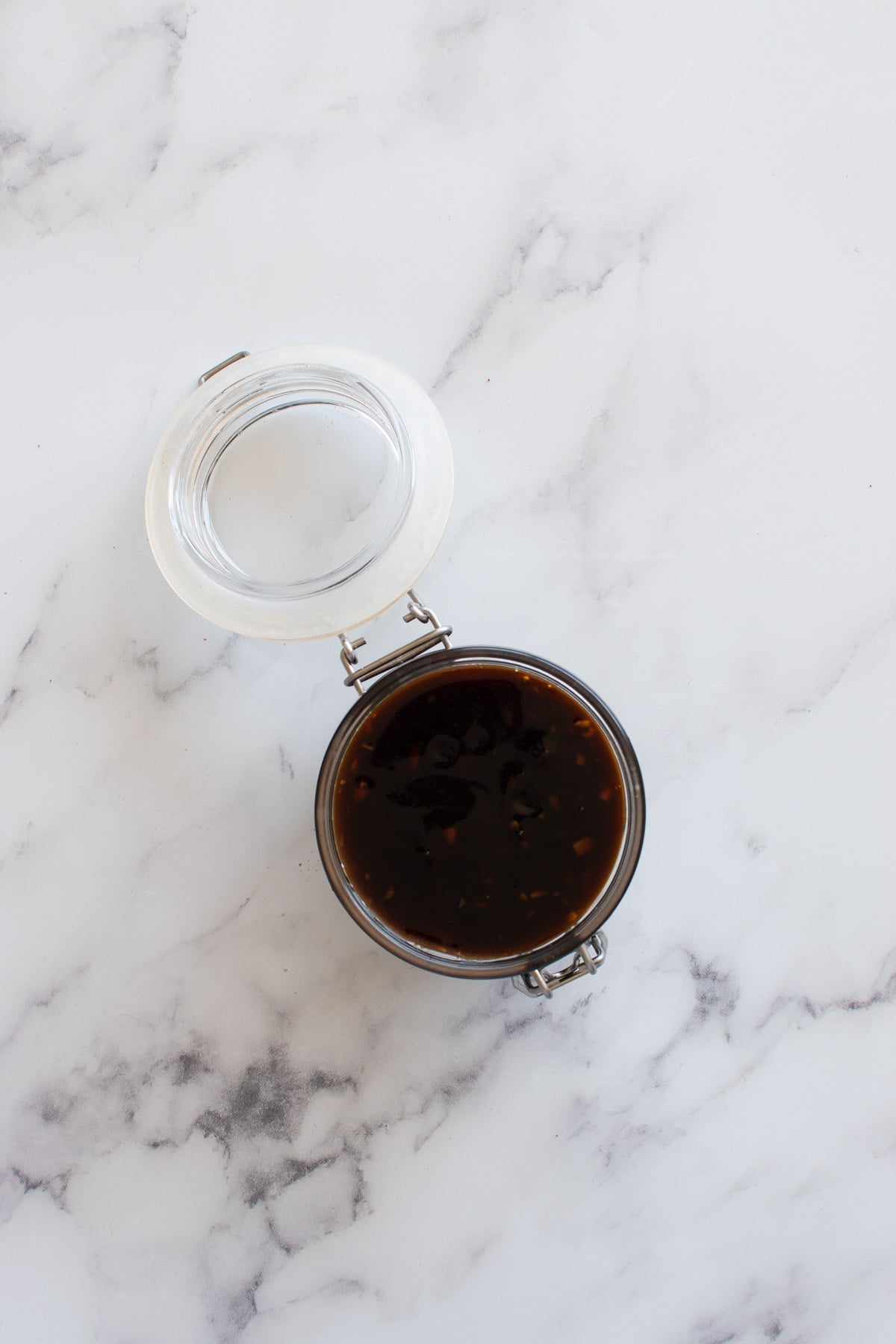 Variations
Spicy teriyaki sauce: Add red pepper flakes, or a little sriracha to the sauce. This is a great option if you use the sauce as a topping or marinade, and you want to add a little kick of heat.
With sesame seeds: Some people like to add toasted sesame seeds to their healthy teriyaki sauce. This will add a little bite, and also some extra flavor.
Extra thick sauce: If you prefer a super thick teriyaki marinade, you can double the amount of cornstarch. This could be an excellent option for certain uses. Keep in mind that the sauce will thicken a little as it cools down as well.
🥃 More SAUCE RECIPES from Hint of Healthy
Leftovers
You can store leftover healthy teriyaki sauce in a sealed container in a refrigerator for up to 2 weeks, or freeze it for up to 6 months.
It's easy to make a double or triple batch of this recipe, and freeze some of it down in portion sized containers for later meals.
Defrost frozen teriyaki sauce in a refrigerator overnight, and use it as you would use refrigerated sauce.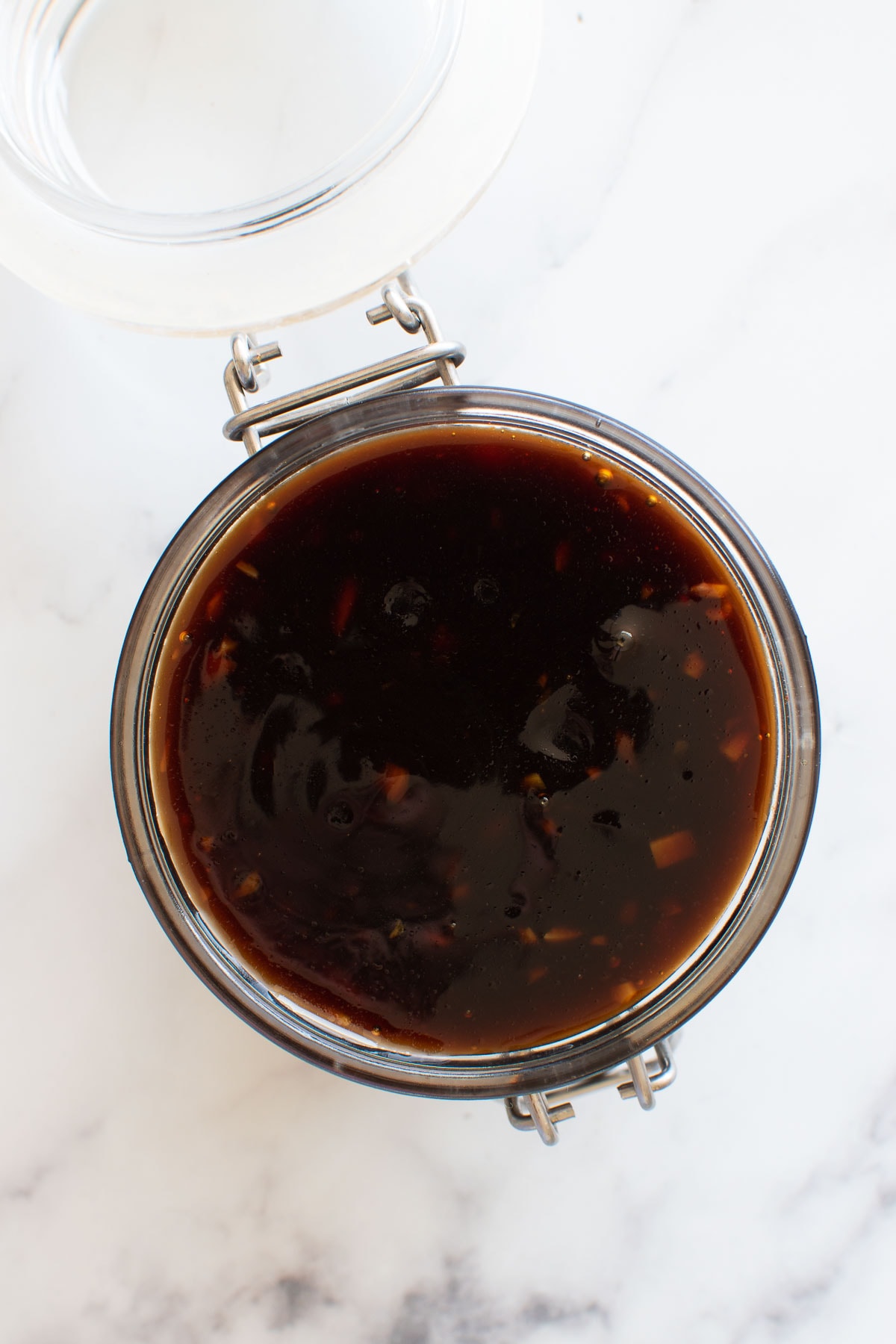 Frequently asked questions
Is teriyaki sauce healthy?
Traditional teriyaki sauce is often not considered "healthy", as it contains too much sugar and salt. If you make your own, you can adjust this and make it healthier.
Can you marinate meat in teriyaki sauce?
Absolutely! Cover whole or diced pieces of meat in teriyaki sauce, and leave to marinate in a refrigerator for a few hours before cooking. This will give any meat a lovely flavor.
What is the best way to store homemade teriyaki sauce?
I recommend storing homemade teriyaki sauce in a refrigerator, or to freeze it if you want it to last longer.
You might also like these recipes
If you make this recipe, make sure to post a photo to Instagram with #hintofhealthy!
Recipe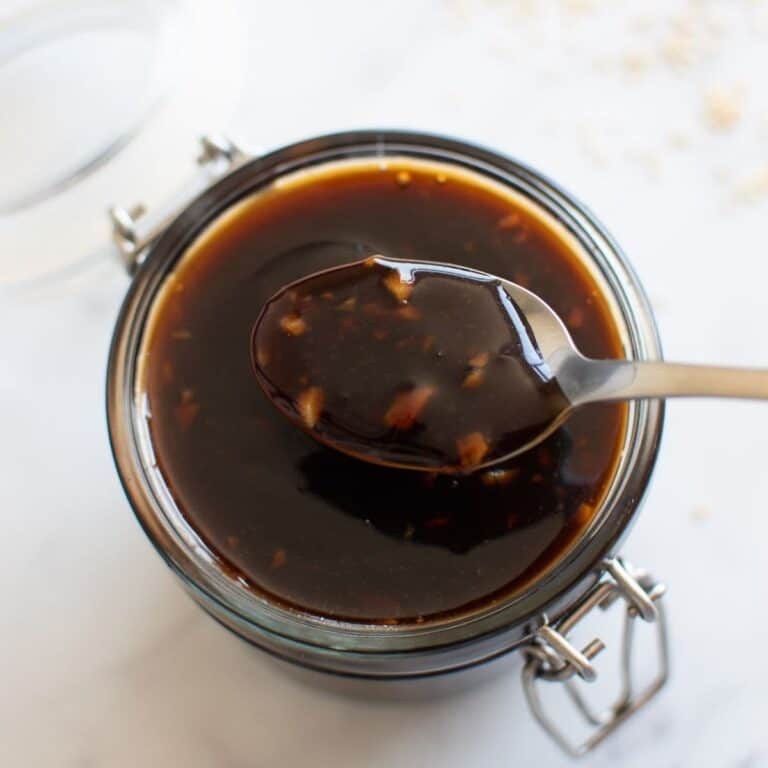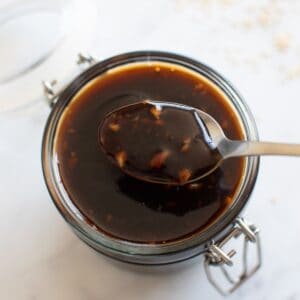 Healthy Teriyaki Sauce
This refined sugar free teriyaki sauce is easy to make in only 5 minutes. Make a healthy teriyaki sauce, and use it in any of your favorite dishes.
Ingredients
½

cup

pineapple juice

½

cup

low sodium soy sauce

3

garlic cloves

2

teaspoons

rice vinegar

2

tablespoons

honey

1

tablespoon

water

1

tablespoon

cornstarch

1

teaspoon

shredded ginger

1

teaspoon

olive oil
Instructions
Very finely dice or grate the garlic and ginger. Alternatively, use pureed ginger and garlic.

Add the ginger and garlic to a small pot along with olive oil. Sauté on medium heat for about a minute to allow the aromatics to soften.

Combine cold water and cornstarch in a small bowl, and stir to form a paste. Set this aside.

Add the remaining ingredients to the pot with the ginger and garlic. Bring the sauce to a gentle simmer, then add the cornstarch slurry. Stir while the sauce quickly thickens.

Leave the sauce to simmer for a further 2-3 minutes while stirring, then remove the sauce from the heat. Use it immediately, or allow it to cool down before you transfer it to a storage container.
Notes
Store the sauce in a sealed container in a refrigerator for up to 2 weeks. Use in a variety of dishes of your choice.
To further reduce the amount of sodium in the sauce, you can substitute coconut aminos for soy sauce.
Nutrition
Calories:
15
kcal
Carbohydrates:
4
g
Protein:
1
g
Fat:
1
g
Saturated Fat:
1
g
Sodium:
213
mg
Potassium:
22
mg
Fiber:
1
g
Sugar:
2
g
Vitamin A:
1
IU
Vitamin C:
1
mg
Calcium:
3
mg
Iron:
1
mg