Cod is a tasty, affordable and very versatile fish, that's perfect for meal prep. It has a mild flavor that pairs really well with a wide range of sauces, marinades and sides.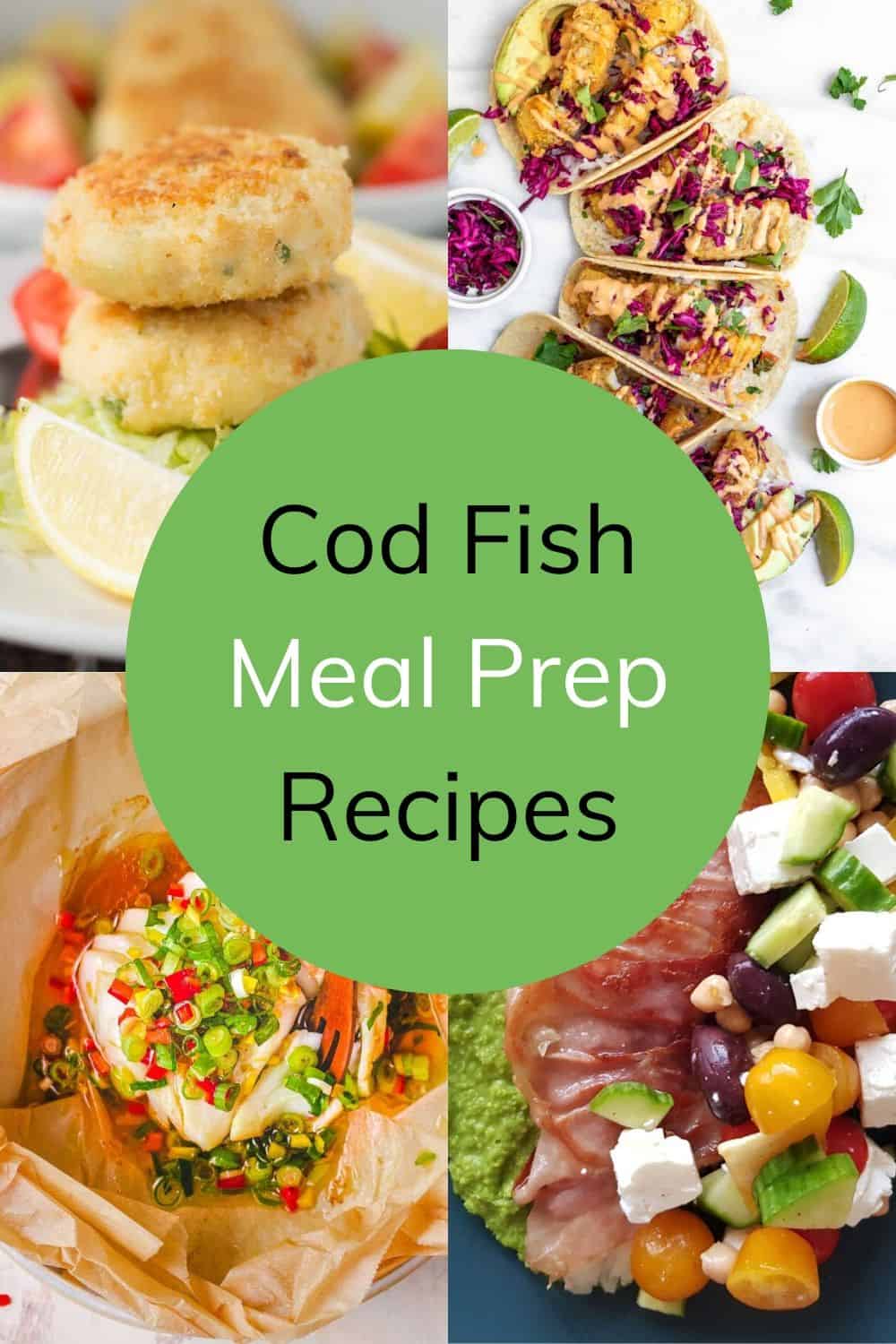 This collection of cod meal prep recipes will help you prepare healthy fish dinners or lunches. If stored correctly, cooked cod can last up to 4 days in the fridge, and some of these recipes can even be frozen for up to 3 months.
If you love these recipes, you might want to check out our full collection of fish and seafood recipes.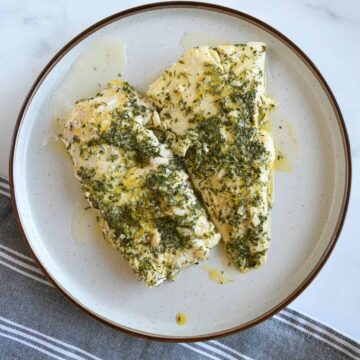 Lemon Butter Cod
Lemon butter cod is a flavorful and easy main dish you can make in less than 10 minutes. This lean entree goes great with a range of delicious side dishes, and is a perfect quick weeknight dinner.
Get the recipe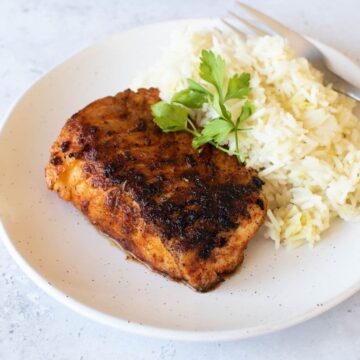 Blackened Cod
Blackened cod is a healthy and easy fish entree that you can prepare in as little as 10 minutes. Cod fish fillets are coated in blackened seasoning, and pan seared to perfection. A quick fish dinner, perfect for busy weeknights.
Get the recipe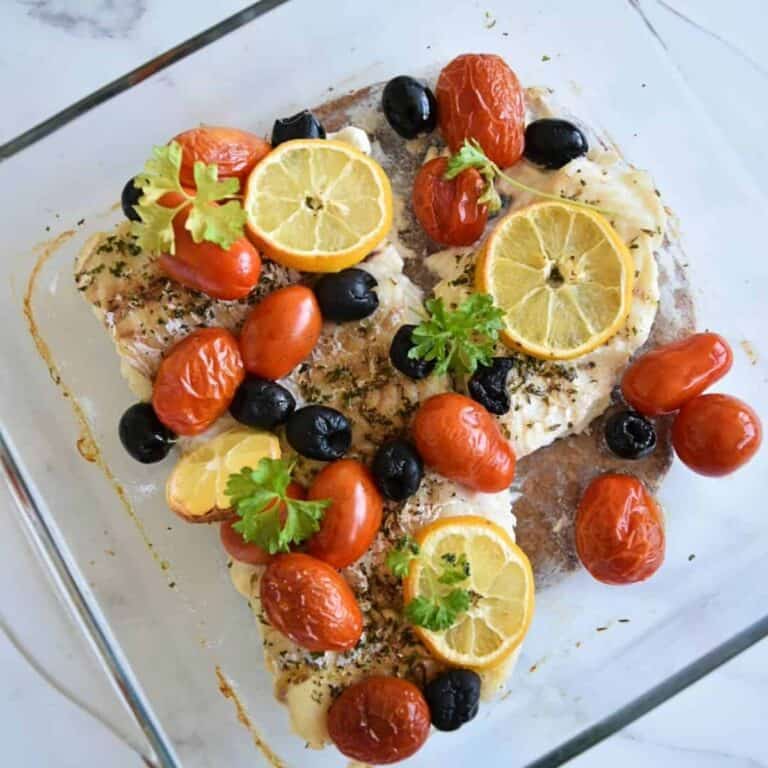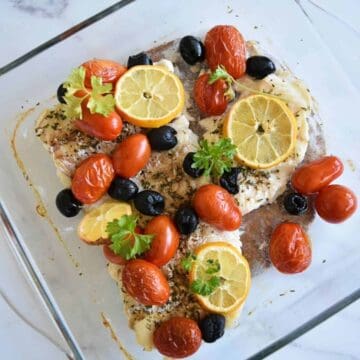 Mediterranean Baked Cod
This tasty Mediterranean baked cod with olives, lemon and tomatoes is a quick and healthy dish perfect for weeknight dinners. Tender white fish with vegetables and herbs make a lean main dish with plenty of flavor.
Get the recipe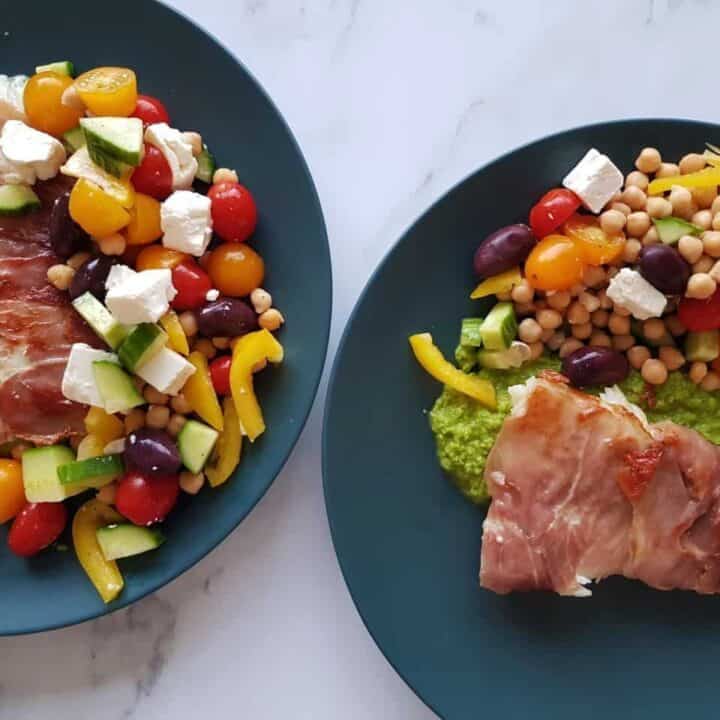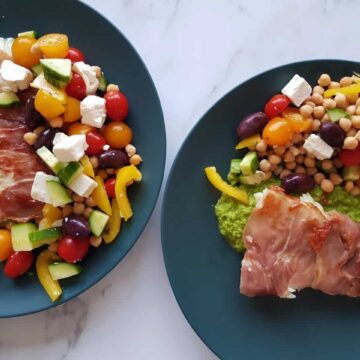 Cod wrapped in prosciutto
An easy and tasty fish meal, this cod wrapped in prosciutto is always a success at the dinner table. Serve it with pureed peas, roast veggies or a colorful salad. It's low on calorie and super healthy.
Get the recipe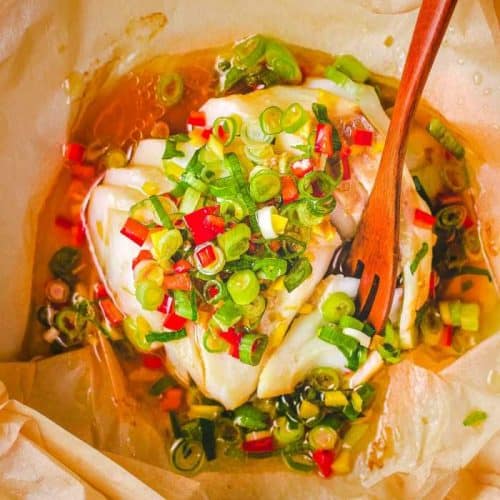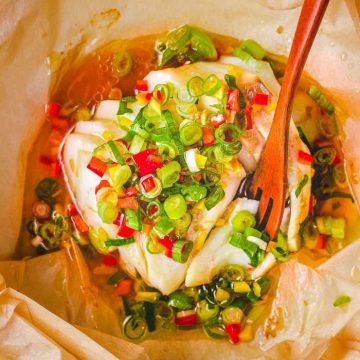 Chinese Steamed Cod Fish
Silky smooth Chinese Steamed Cod Fish Recipe is super simple yet incredibly delicious. With 6 ingredients only, no bamboo steamer required. Simply fold them in a pouch and freeze for later.
Get the recipe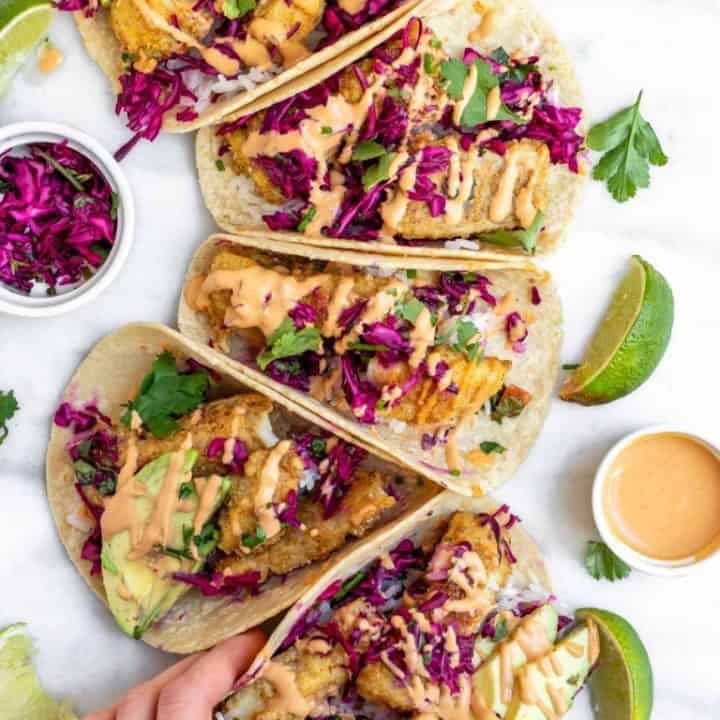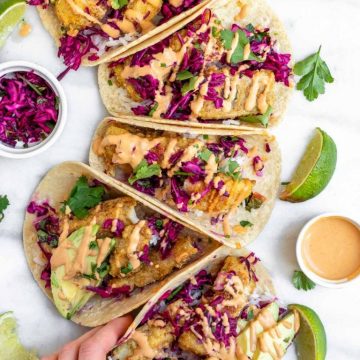 Baked Cod Fish Tacos
These baked cod fish tacos are an easy dinner. They're gluten free, dairy free and simple enough for a weeknight dinner, but tasty enough for a crowd! They taste deep fried and are drizzled with a spicy tahini dressing.
Get the recipe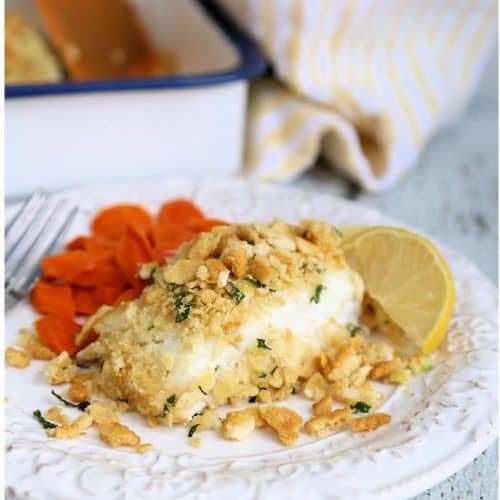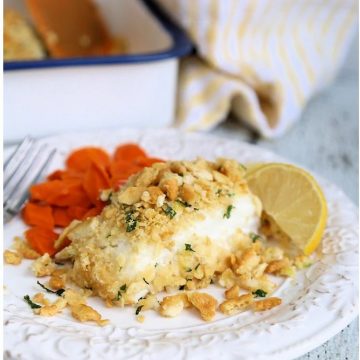 Baked Cod
Baked Cod with cracker topping is the traditional way of serving this fish in the New England area. An easy family friendly way to prepare fish and you only need a vegetable side with it.
Get the recipe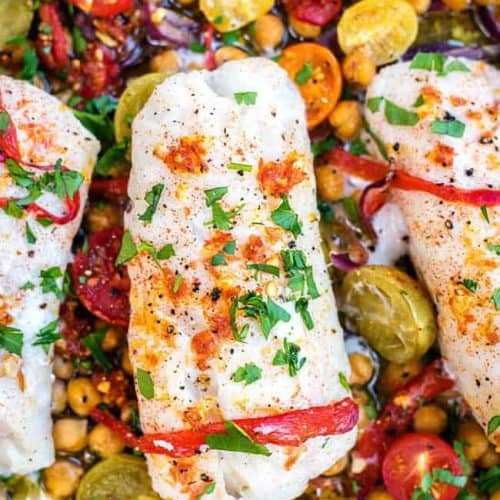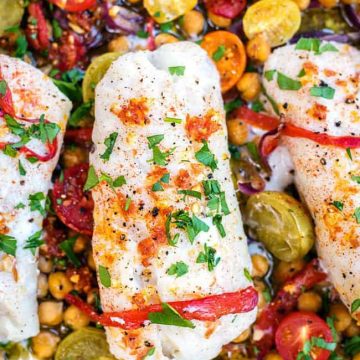 Cod with Chorizo and Chickpeas
Make this sheet pan cod with chorizo and chickpeas once and it will become a regular at the dinner table. Healthy, quick and above all packed with flavour!
Get the recipe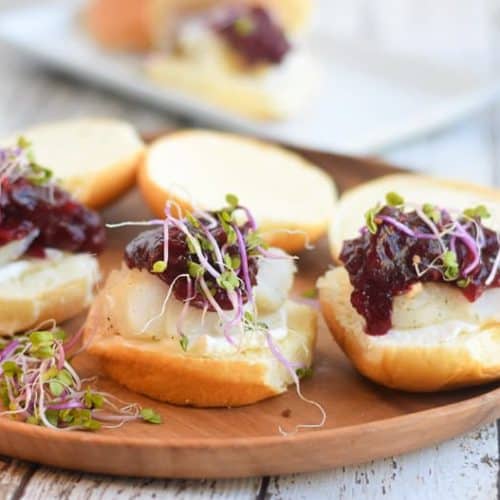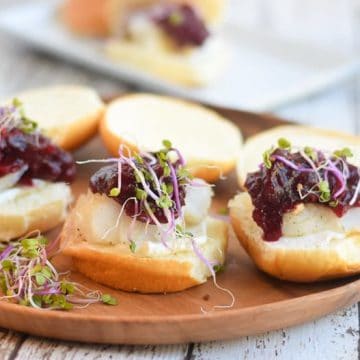 Alaskan Cod Sliders
Alaska Cod Sliders with Cranberry Chutney is a healthy, festive appetizer, perfect for your holiday gatherings! The combination of grilled fish with a tart, savory homemade cranberry sauce makes for a perfect match.
Get the recipe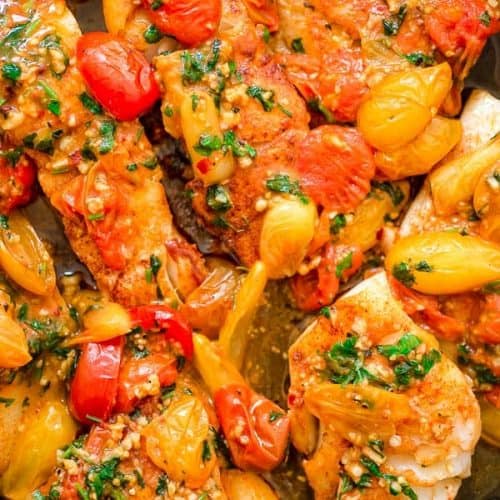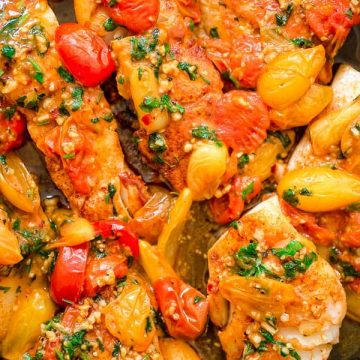 Cod Fish in Tomato Sauce
This super easy and tasty Cod Fish in Tomato Sauce is perfect for pairing with rice, grits, or pasta. Your meal will be ready to serve in about 30 minutes.
Get the recipe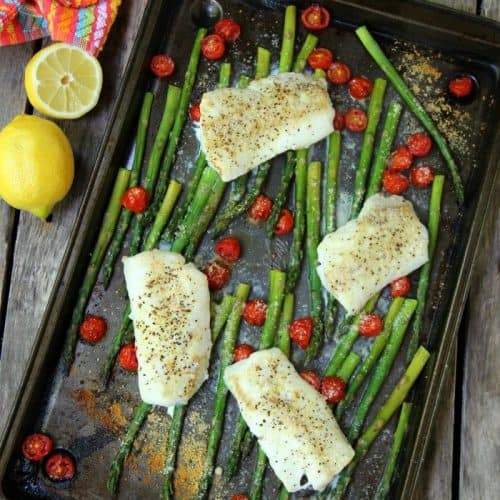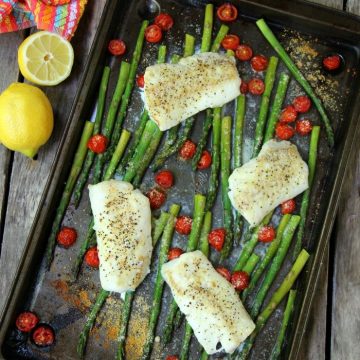 Sheet Pan Cod
Sheet Pan Cod – A simple one-sheet recipe that features light, flaky cod alongside colorful asparagus and tomatoes. Lemon pepper, fresh lemon juice and grated Parmesan cheese top off the dish.
Get the recipe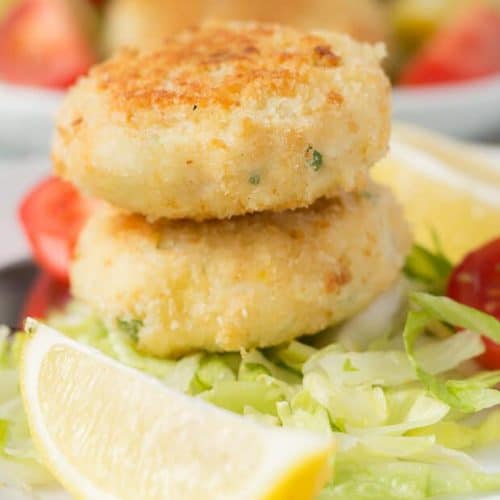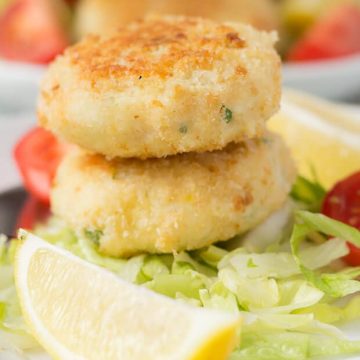 Quick Healthy Fish Cakes
These quick healthy fish cakes are really easy to make and delicious too. At only 128 calories each, this healthy fish cakes recipe makes 8 fishcakes packed full of flavour.
Get the recipe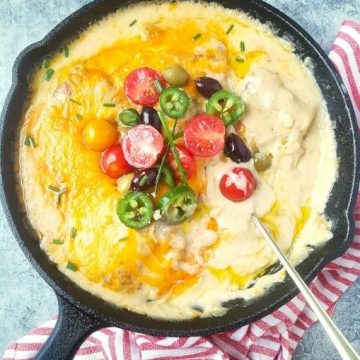 Baked Cod in Cheese Sauce
Baked Cod in Cheese Sauce is a 30-minute dish made from cod fish fillets smothered in a creamy cheese sauce. It's served with a colorful vegetable salsa.
Get the recipe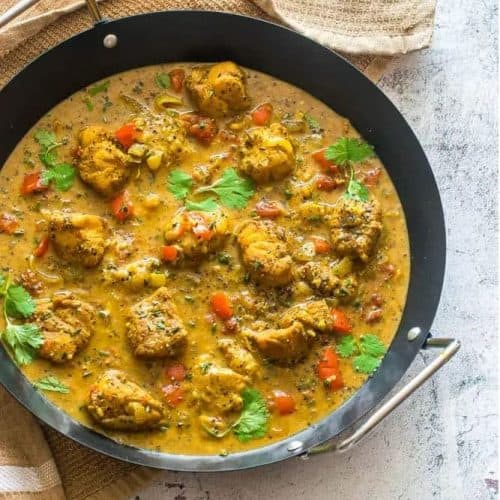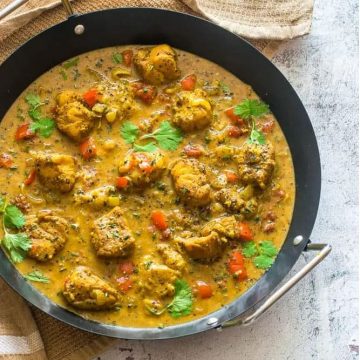 Curried Cod
This Curried cod is a fusion of Caribbean and Indian flavours made in one pan, high protein and low fat. Great for aiding weight loss.
Get the recipe
Frequently asked questions
Is it safe to meal prep fish?
Absolutely! Make sure to use airtight containers, and store the fish in the fridge or freezer to keep it fresh.
What should I serve with cod?
Cod is a versatile fish, and can be enjoyed with different side dishes. Try serving it with roasted vegetables, salads, potatoes, rice, or add it to a casserole.
How long does meal prep cod last in fridge?
Stored safely, in airtight containers, cod can last up to 4 days in the fridge. You can also freeze some prepared meals, making them last up to 3 months!