Blackened cod is pan fried cod fish coated with plenty of seasoning. Made in less than 10 minutes, it's perfect for a healthy and flavorful weeknight dinner, and it pairs perfectly with a variety of side dishes.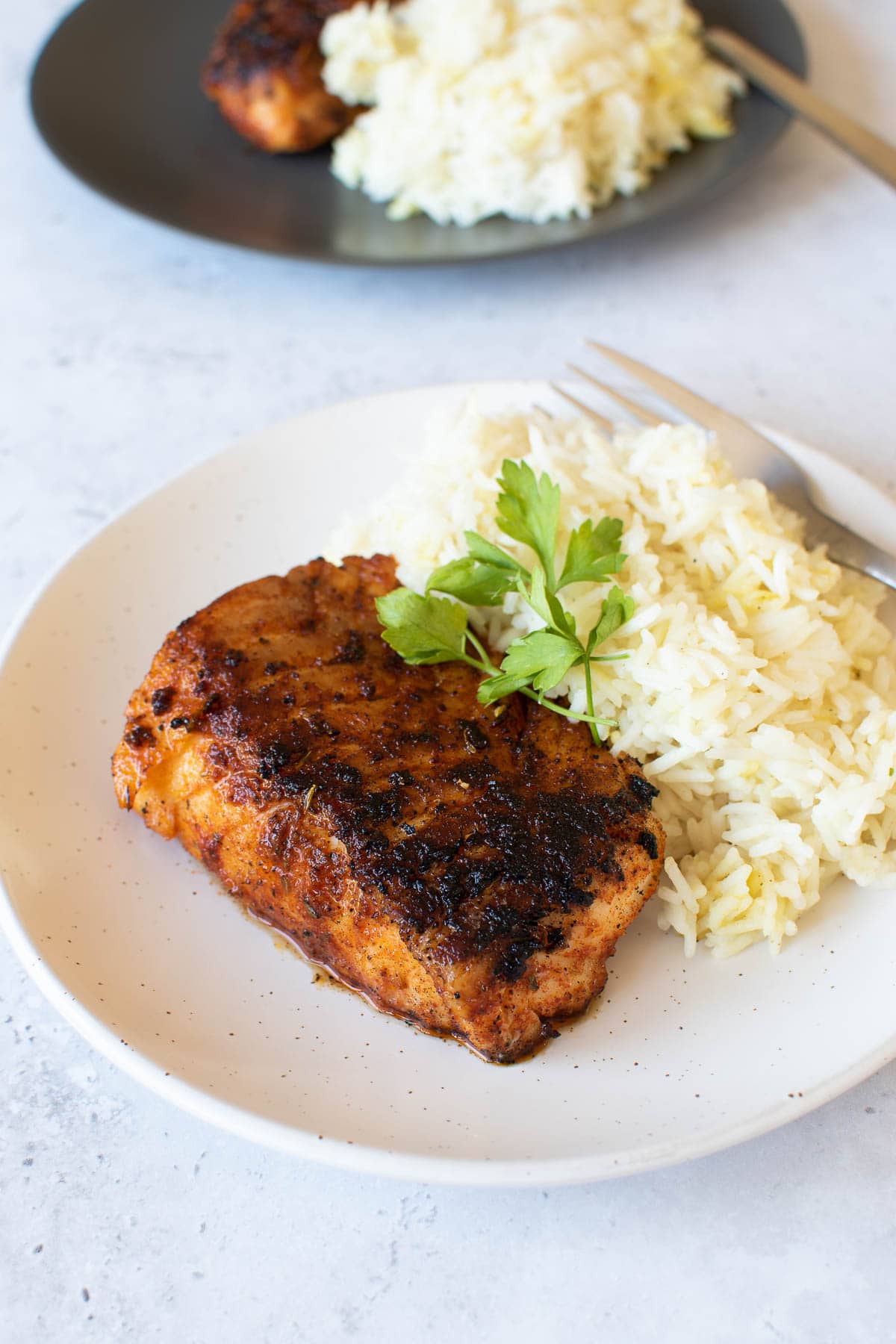 Jump to:
This post may contain affiliate links. Read more about it in the privacy policy.
Cod is a lean and affordable white fish, easily available all over the world. In the UK we usually eat it deep fried as a "fish and chip" meal, but cod can also be baked, air fried or pan seared.
This blackened cod is a healthier way to prepare cod. We use a combination of spices to make it taste exceptional, and the entire process is really quick and easy.
This recipe contains instructions for how you can make your own blackened seasoning from scratch, but you can also use any other blackened seasoning mixes, including store bought.
Why you'll love it
Easy fish dinner recipe
Packed with flavor
Make it in 10 minutes
Low calorie, lean and healthy
Dairy free, gluten free, egg free and nut free
Ingredients
Cod: Use fresh cod fillets. If you want to use frozen cod, you have to defrost it beforehand. You can defrost cod in a refrigerator overnight. Some ovens or microwaves also have defrosting settings to help you defrost frozen fish much faster.
Seasoning: In this recipe we make homemade blackened seasoning, consisting of a combination of black pepper, salt, paprika, onion powder, garlic powder, cayenne pepper, basil, oregano and thyme. You can also use any store bought blackened seasoning.
Olive oil: Adding a little oil to the pan helps the fish cook evenly, without the risk of it getting stuck to your skillet.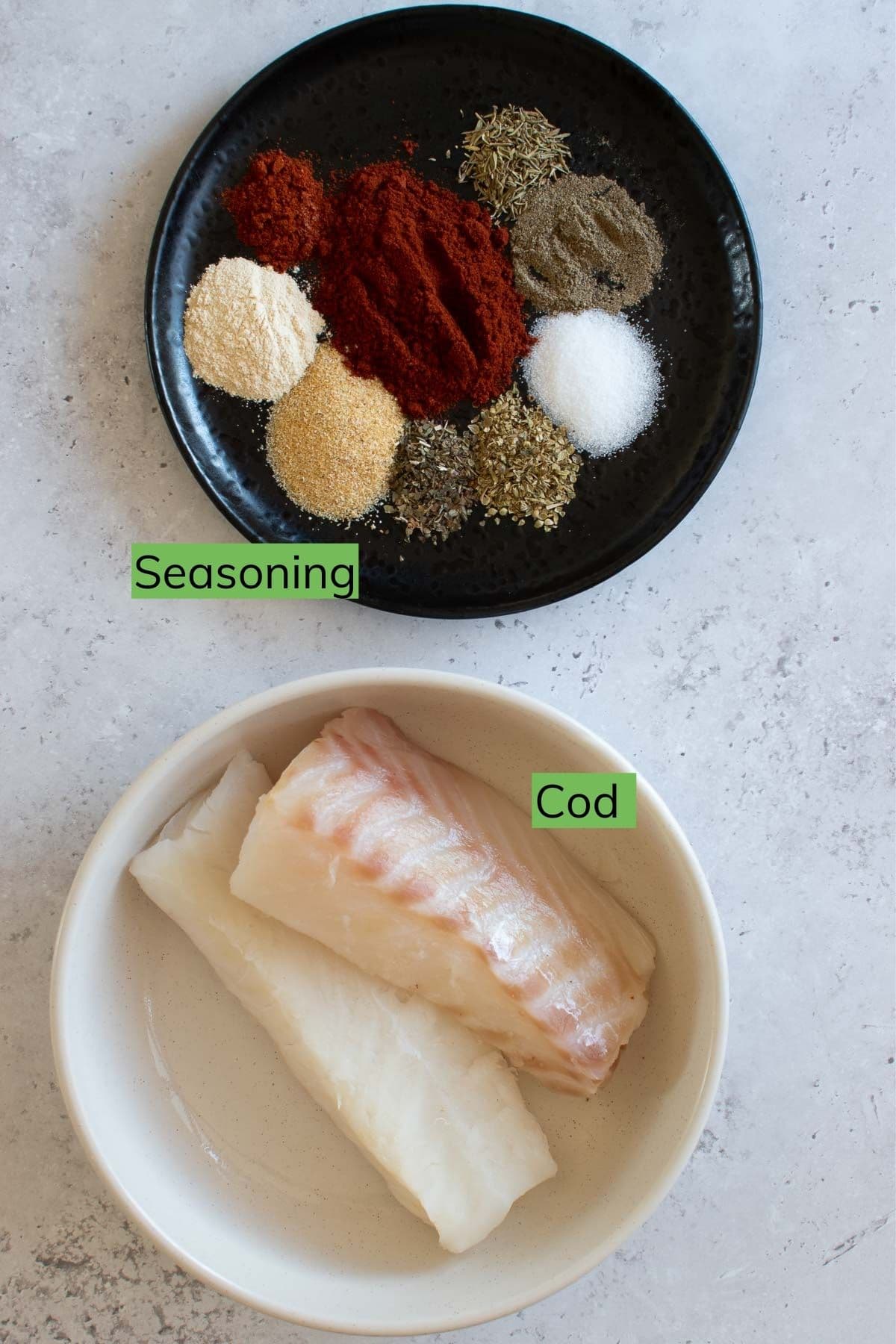 Instructions
One: Combine the seasoning to make blackened spice mix.
Two: Pat the fish fillets dry with a paper towel. This will remove any excess moisture from the fish. Then, cover the cod fillets in a layer of seasoning on all sides.
Three: Heat up some oil in a skillet or frying pan on medium high heat. Sear the cod fillets for about 3-5 minutes on each side, or until the fish has cooked through and the seasoning has blackened on the surface.
Four: Remove the blackened cod from the pan, and serve immediately.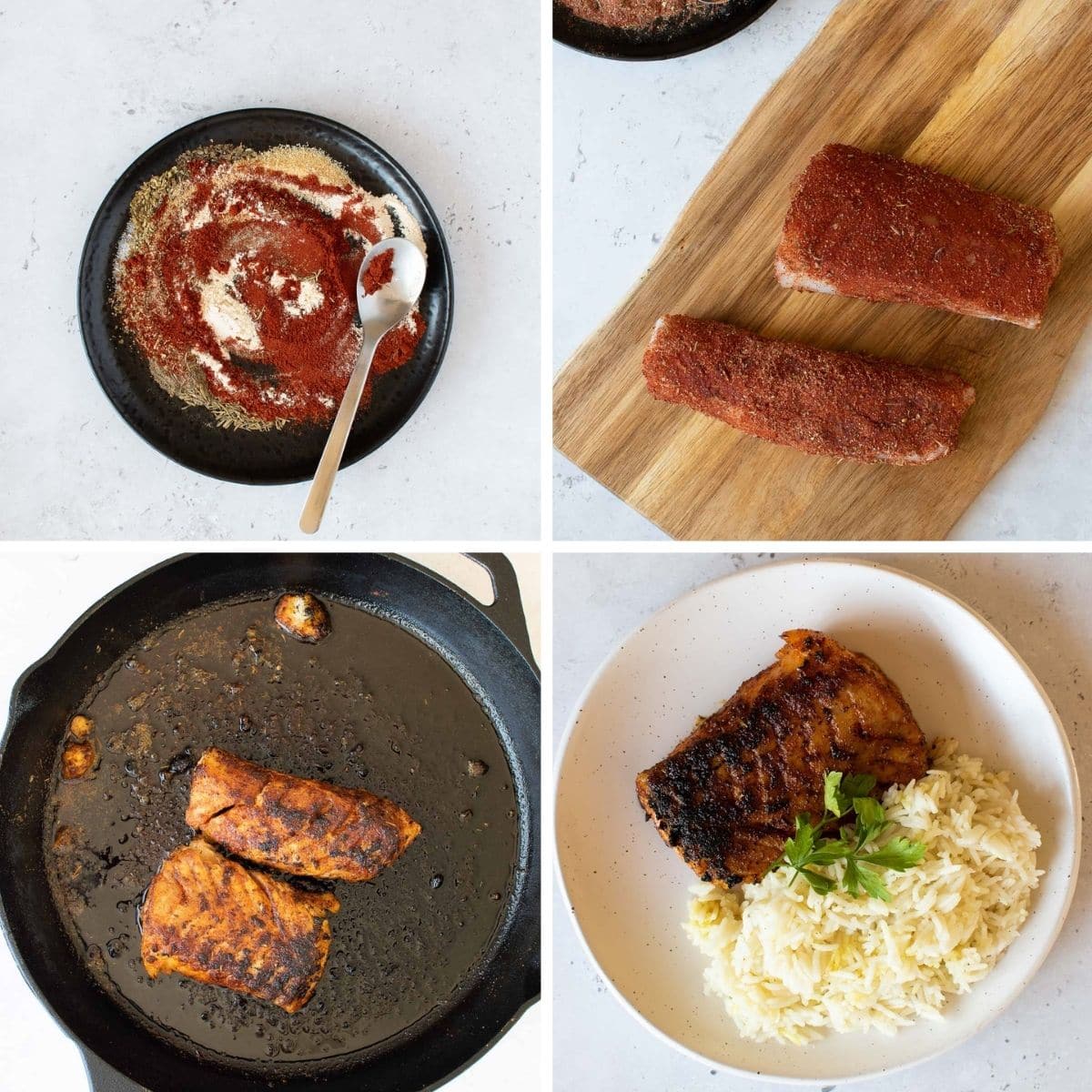 Top tips
To make the dish milder, you can leave out the cayenne pepper. To make it more spicy, double the cayenne.
You can use this recipe to make a blackened version of any white fish. This also works well with for example hake, sea bass, haddock and tilapia.
Replace to omit any spices that you don't have or don't like.
Make sure to preheat your skillet to medium hot. If the pan is too cold, the seasoning won't blacken.
The exact cooking time will vary depending on the size of your fish fillets. You will know that the blackened cod has cooked through when it flakes at the touch of a fork.
Serving suggestions
Blackened cod is a versatile entree, best served for dinner or lunch. Here are some of my favorite side dishes to pair it with: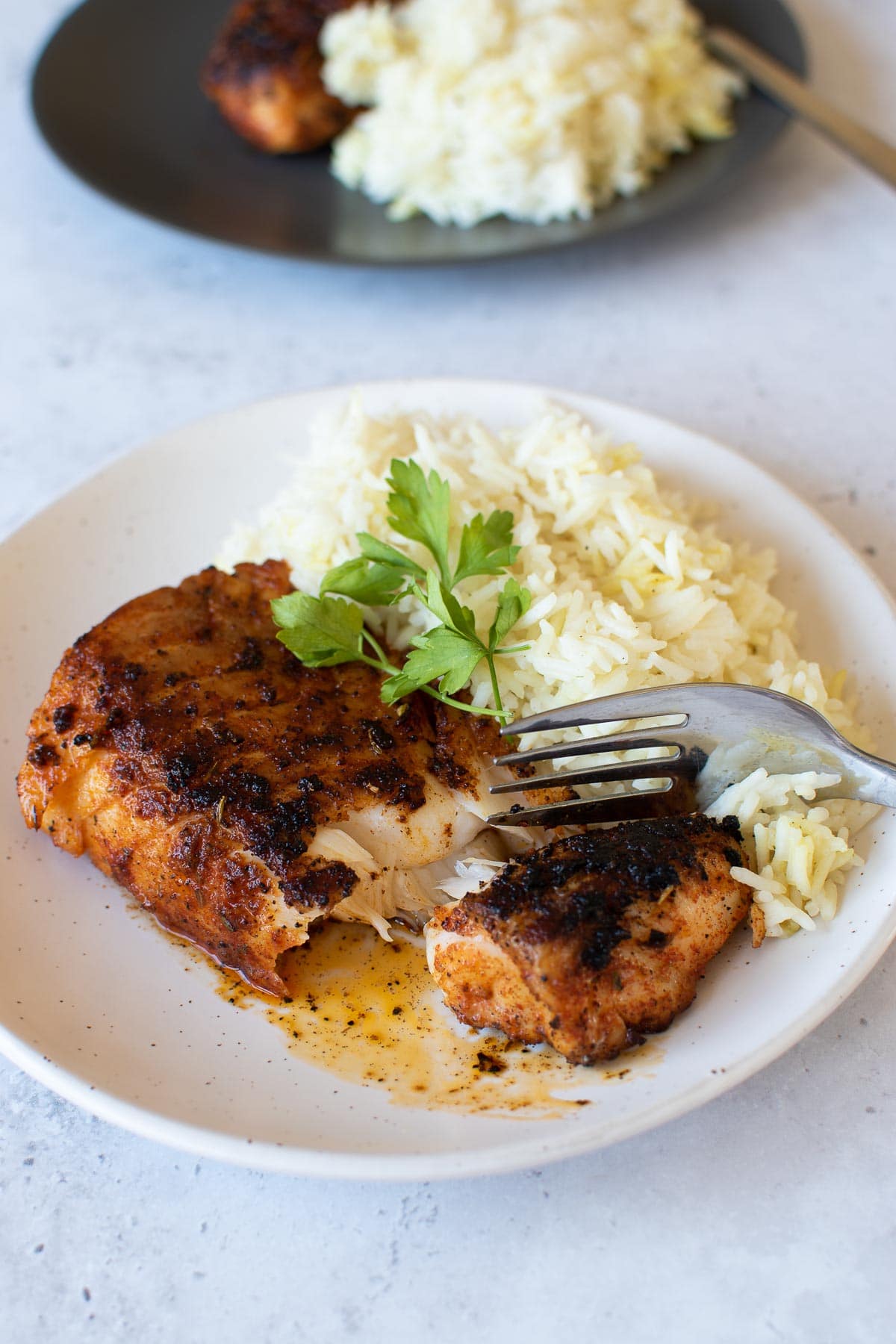 Variations
Other types of fish: Try this recipe using any other white fish, like sea bass or tilapia. You will get the best results if you use skinless fish fillets.
Adjust the seasoning: You can omit or add any spices that you like, or adjust the amounts used. For example, add more cayenne pepper to make the blackened cod spicy. Add cumin for a more earthy flavor.
Leftovers
Store leftover pan fried blackened cod in a sealed container in a refrigerator for up to 2 days. You can reheat it in a skillet or microwave for a few minutes, and serve it warm. Alternatively, break up the fish, and use it in a salad or wrap.
As this healthy cod recipe is so flavorful, this is one of my favorite ways to meal prep fish to use in multiple meals. Prepare a few fish fillets, and use it to make cod fried rice, cod burritos, fish tacos and blackened cod salads.
If you have any leftover blackened seasoning, you can store it in a sealed container for up to 6 months.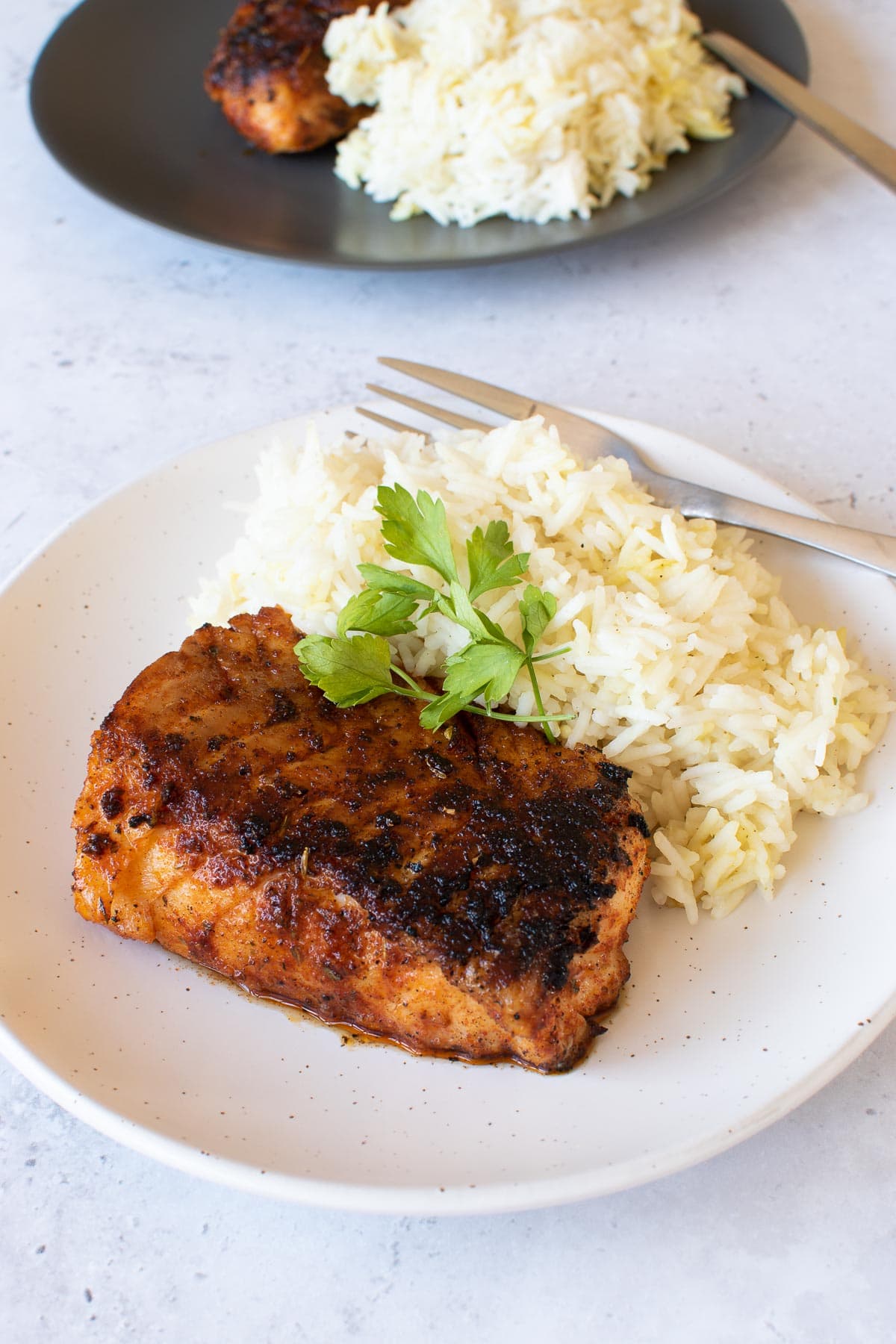 Frequently asked questions
What makes fish blackened?
Blackening is a cooking technique where seasoned fish is cooked on medium high heat in a cast iron skillet. The seasoning will quickly char, and give the fish a lot of flavor.
Can you blacken fish in a nonstick skillet?
Yes. When blackening fish, using a cast iron skillet is preferable, as it gets quite hot, and has an even temperature. A nonstick skillet might not blacken the fish as quickly, but still works well.
Is blackened fish spicy?
Blackened fish can often be spicy, but it depends on which spices you use for the blackened seasoning. You can find milder blackened seasoning in the store, or make your own and omit any spices you don't like.
You might also like these recipes
If you make this recipe, make sure to post a photo to Instagram with #hintofhealthy!
Recipe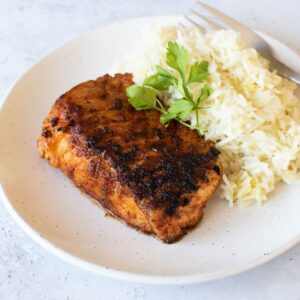 Blackened Cod
Blackened cod is a healthy and easy fish entree that you can prepare in as little as 10 minutes. Cod fish fillets are coated in blackened seasoning, and pan seared to perfection. A quick fish dinner, perfect for busy weeknights.
Instructions
Combine all seasoning in a small mixing bowl, or on a plate to make homemade blackened seasoning. Skip this step if you're using store bought seasoning.

Pat the cod fish fillets dry with a paper towel. This will help the seasoning stick better to the fish.

Coat the cod fillets with the blackened seasoning on all sides.

Heat up the oil in a skillet on medium to high heat. Pan fry the seasoned cod for 3-5 minutes on both sides, or until the seasoning has blackened, and the fish fillets flake at the touch of a fork.
Notes
Store any leftovers in a refrigerator for up to 2 days. Reheat the cod, or enjoy it cold if you prefer.
Leftover blackened seasoning can be stored in a container at room temperature for up to 6 months.
Nutrition
Calories:
272
kcal
Carbohydrates:
2
g
Protein:
31
g
Fat:
15
g
Saturated Fat:
2
g
Cholesterol:
73
mg
Sodium:
384
mg
Potassium:
739
mg
Fiber:
1
g
Sugar:
1
g
Vitamin A:
267
IU
Vitamin C:
6
mg
Calcium:
39
mg
Iron:
1
mg